Ironside Computers Minion Budget Gaming PC Review
We have another budget system in for review, this time from Ironside, and it's our first AMD-based system. Let's take a look at the Ironside Minion.
Published
12 minute read time
Introduction & Specifications, Configurations and Pricing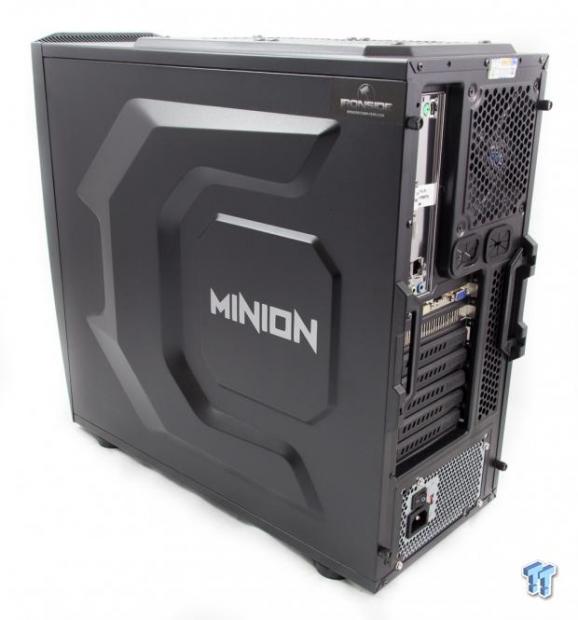 We have another gaming system in from Ironside Computers for us to take a look at. Named after those cute yellow creations from Despicable Me, our Minion gaming PC comes on a budget, rather roughly the same size as the minions from the movie.
Since this is a budget gaming system, we're also going to be taking a look at future upgradeability, as if we found more funds for an upgraded video card at a later date. This is especially interesting as it is our first AMD CPU-based system.
Ironside has previously impressed with its custom airbrushing and cable management. Will Ironside continue to impress, even with a budget offering? These questions and more will be answered in our review. Without further ado, let's dive into the meat of this review.
Specifications, Configurations and Pricing
These specs are quite a bit lower than we're used to listing here, and this is the first time I have been able to say this about a system: the CPU at the heart of our Minion is an AMD Athlon x4 750K, a quad-core FM2 APU running at 3.4GHz based on the Trinity APU architecture.
As you would expect in a budget system, cooling the CPU is AMD's standard heat sink, which will almost definitely result in fairly high CPU temperatures. Alas, this is one of the tradeoffs when working with a small budget.
Arguably one of the most important components in a system, the motherboard in our Minion is an ASRock FM2A55M-VG3+. This motherboard is a micro-ATX board, so it has limited expandability. Specifically, it features just one PCIe x16 slot, meaning only one GPU will ever be able to be installed at a time. Additionally, it features one legacy PCI slot, perfect for a wireless networking card or other expansion card. On board, it features four SATA 2 ports, four rear USB 2.0 ports, and D-Sub out (VGA). Audio is provide by Realtek's ALC662 codec, providing 5.1 channel audio out capabilities.
In what I consider a bad move, Ironside has chosen to slot just a single stick of DDR3 into the motherboard, meaning you will be limited to single-channel bandwidth. I'd much prefer to see two 2GB sticks versus the single 4GB stick included. Our 4GB stick is a Kingston HyperX Fury clocked at 1,600MHz.
Our GPU is the low-end Radeon R7 250X from AMD. The specific card is from PowerColor, model number AXR7 250X 1GBD5-HE. While a capable card for low-end gaming, those looking to play at high resolutions or high detail will definitely want to order it with an upgraded card or install one themselves. As part of our in-depth testing, we wanted to find out how future-proof this system is. In order to test upgradeability, we installed an ASUS Radeon R9 290X and re-ran the pertinent benchmarks. These results are clearly denoted in the charts by "Ironside Minion (290X)."
These components are all installed inside the RAIDMAX Cobra Z, which has been modified with custom airbrushing. Our model is specified by Ironside as Minion Case Glacial Blue. There are several different color options available. All come with the "Minion" name airbrushed on to the side panel.
Windows 8.1 64-bit is installed upon the 500GB 7,200RPM Toshiba HDD. We would love an SSD, but recognize that this would increase the cost of this budget gaming system. While the Minion starts at just $519.99, in order to do really any gaming, you'll need to upgrade from the base Ubuntu Linux to Windows, in our case Windows 8.1 64-bit, bringing the price up to $606.99.
Ironside has three base models available: Minion, Minion Advanced, and Minion Ultra. The Ultra comes with an NVIDIA GeForce GTX 760 GPU, whereas the Advanced features an R7 260X GPU. The Ultra comes stock with Windows 8.1 and retails for $849, and the Advanced comes with Linux at stock and a starting price of $619.
Packaging, Bundle & System Pictures
Packaging
I must make a note here that in order for us to get this review to you sooner, Ironside went ahead and shipped this in minimal and non-standard packaging. Ironside's packaging is undergoing a revamp and sound be available by the time this review goes live. We'll have to visit the new standard packaging during our next Ironside review.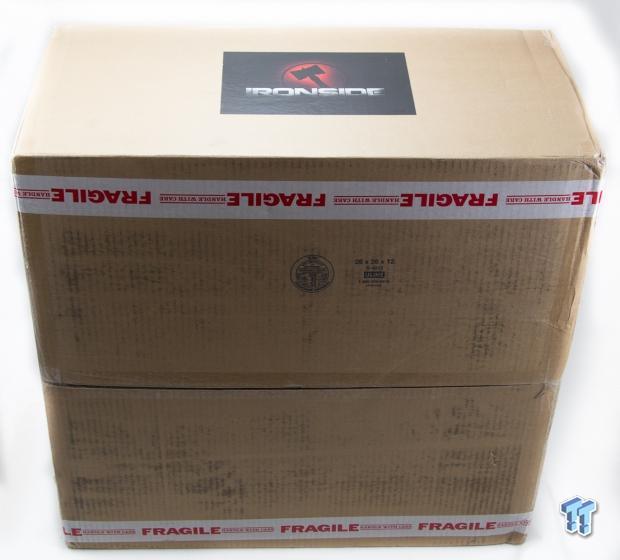 What we see above is a simple Ironside-labeled cardboard box, inside of which we find the RAIDMAX case box surrounded by some packing peanuts. I detest packing peanuts, but they really do a good job of protecting items in shipping.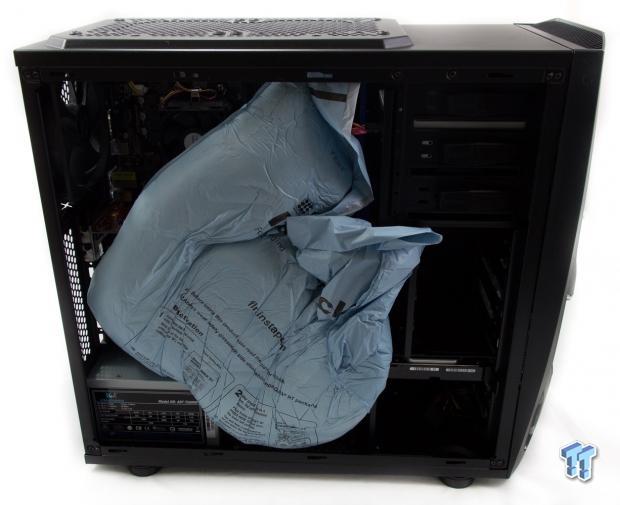 As you can see above, Ironside makes use of the industry-standard vacuum foam to protect the internal components from the various bumps along the way. It clearly works well as we have yet to receive a broken desktop from any company that has made use of this packaging method.
System Pictures
The following pictures are of the system: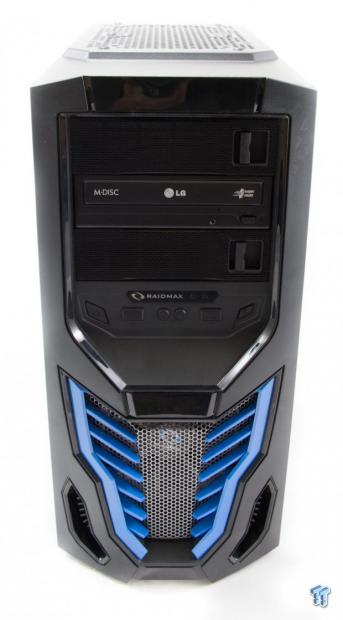 This is the front of the system. In the picture, you can see the power and reset buttons (left and right) and the audio out/in ports flanked by two USB ports.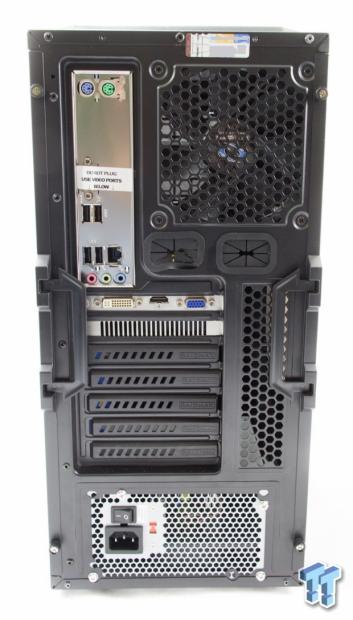 Here's a close up of the I/O. As you can see, we have the old PS/2 style keyboard and mouse ports, a D-Sub (VGA) port covered by a label advising users to use the GPU's output instead, two USB 2.0 ports followed by two more USB 2.0 ports and a gigabit Ethernet connection. Finally, we have the 5.1 channel audio connectors.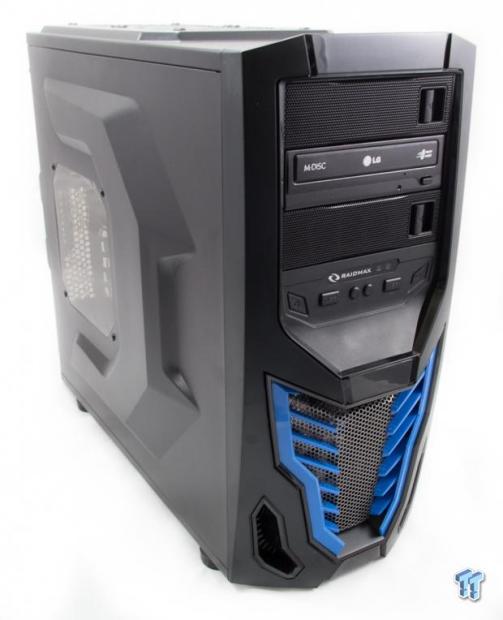 This is the left side of the machine and is the panel you would remove in order to gain entry to the system's main components.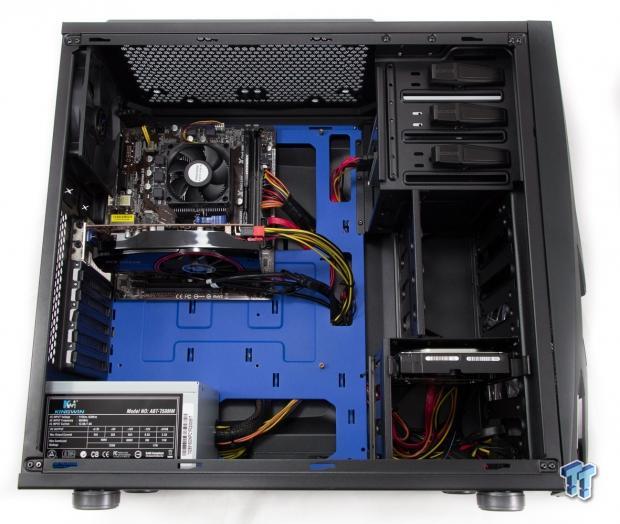 After pulling the side panel, it's easy to see how little room the internal components take up in this mid-tower case. We see a clean job of cable management, despite not making use of a modular PSU. The excess cables are tucked away in the HDD rack.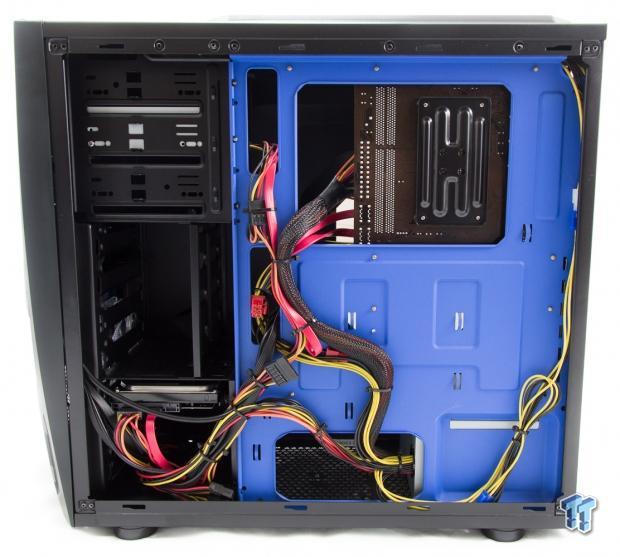 The backside of the motherboard very neat, with very few wires as there are not very many power-hungry components in the system. You can see where Ironside tucked the excess cables away in the HDD rack.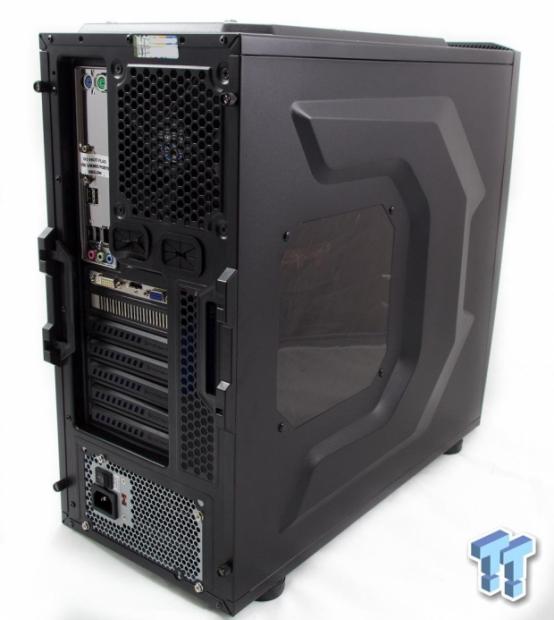 Above, you can see one final look at the system from a different angle. The window is tinted, making viewing the internals slightly harder than a clear window.
Testing Methodology
We appreciate the support provided by Corsair, GIGABYTE, and ASUS. Without their support, our job would be much more difficult.
Benchmarks and Testing Methodology
- CPU Tests
Cinebench R11.5 starts off our tests. The multi-threaded rendering test is ran and the score reported.
wPrime is ran for both the 32M calculation and 1024M calculation with the number of threads available on the system.
- Storage Tests
CrystalDiskMark is run to put a number on how well the system hard disk drive / SSD runs. It measures five different metrics, of which higher is better for all. The higher the numbers, the snappier the operating system will feel, especially if the "4K" number is high as most operating system files are small files.
HD Tune is run on any storage drives installed in the system. Maximum, minimum and average read and write speeds are reported in the charts.
- System Tests
PCMark 8 Creative is run to get an idea of how the system performs as a whole. It tests all aspects of the PC and puts a score on how well it performs overall. In this test, a low scoring area can affect the overall score, so it's important to read the analysis. A higher score is better.
- Gaming Tests
3DMark Vantage is ran on the Extreme preset to get a feel for how the computer would manage gaming. The CPU, GPU and combined scores are reported. A higher overall score is the best and a high GPU or CPU score shows particular prowess with tasks that use that part of the computer.
3DMark 11 is run on the Extreme preset and the Physics, GPU and combined scores are reported. This test is only run if the system supports DirectX 11. A higher overall score is the target, though a high individual result shows prowess in a particular area.
3DMark- Fire Strike Extreme Test is run on the system to measure DirectX 11 performance and CPU performance. 3DMark is the latest version of Futuremark's widely used gaming benchmarking software. The combined, GPU, and Physics scores are all reported in the charts.
Battlefield 4 is run at 1080p and 4K resolution with the graphics preset set to "Ultra." FRAPS is used to record 60 seconds worth of FPS data. The game is played in a similar manner each time.
Crysis 3 is run at 1080p and 4K resolution with the graphics specifications set to "Very High." No anti-aliasing is used. See picture on actual test page to see full details. FRAPS is used to record 60 seconds worth of FPS data. The game is played in a similar manner each time.
- Heat, Noise and Power Consumption
The system is fully loaded using Furmark and Prime 95. Component temperatures are recorded using CoreTemp and Furmark. Noise is recorded in front of the system, midway up, six inches from the machine using a decibel reader.
Idle power consumption is system consumption while sitting at the desktop, as recorded by a Kill-a-watt style meter. Loaded consumption is recorded during the load of Prime 95 and Furmark using the same meter.
Benchmarks - CPU Tests
Cinebench
Version and / or Patch Used: R11.5 build CB25720DEMO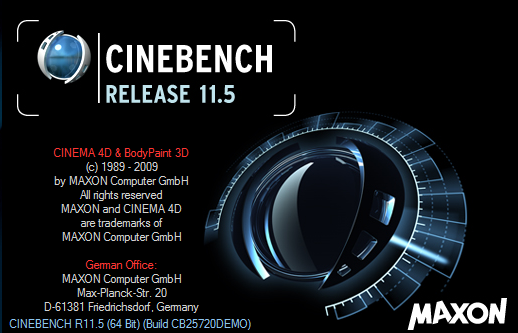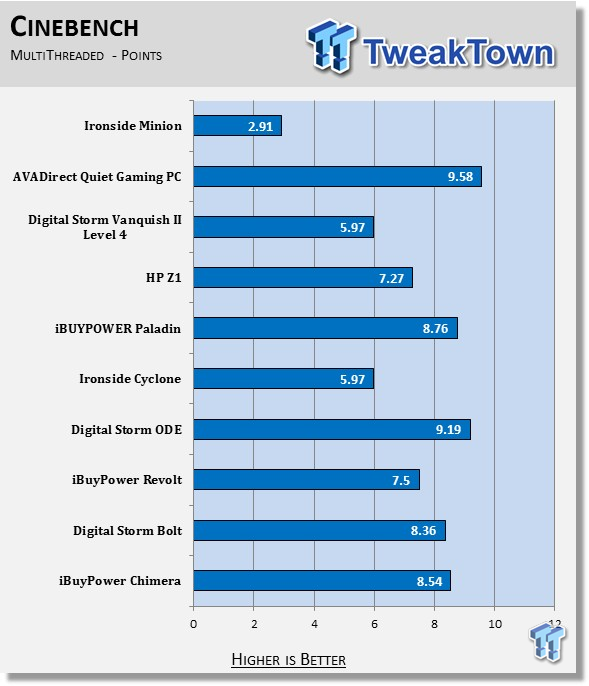 Coming in as both the cheapest and slowest gaming PC we've reviewed, we find the Athlon x4 producing just 2.91 points across its four cores. You won't be setting CPU records with this system, but we'll have to wait to see how it impacts gaming performance.
wPrime
Version and / or Patch Used: 2.09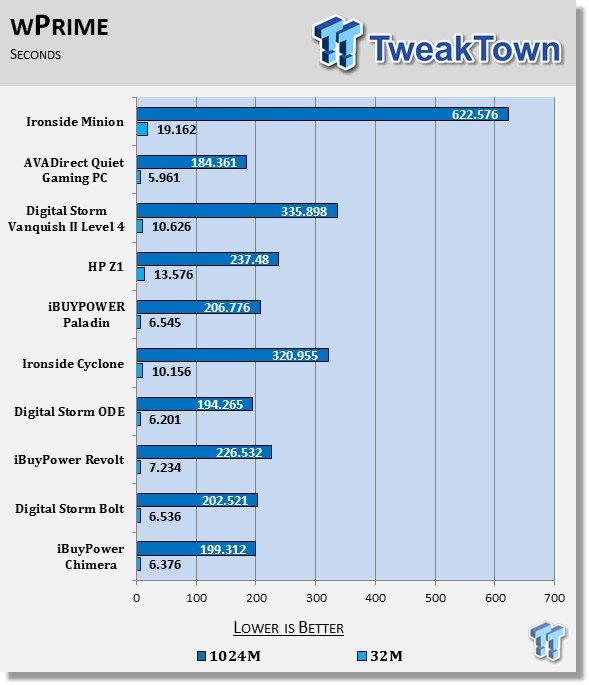 wPrime is not kind to the AMD processor, with the scores being roughly double the slowest Intel-based system's we've reviewed. However, this is not unexpected due to the price and processor used. Dual-channel memory would have very likely helped this test by quite a bit too.
Benchmarks - Storage Tests
CrystalDiskMark
Version and / or Patch Used: 3.0 Technical Preview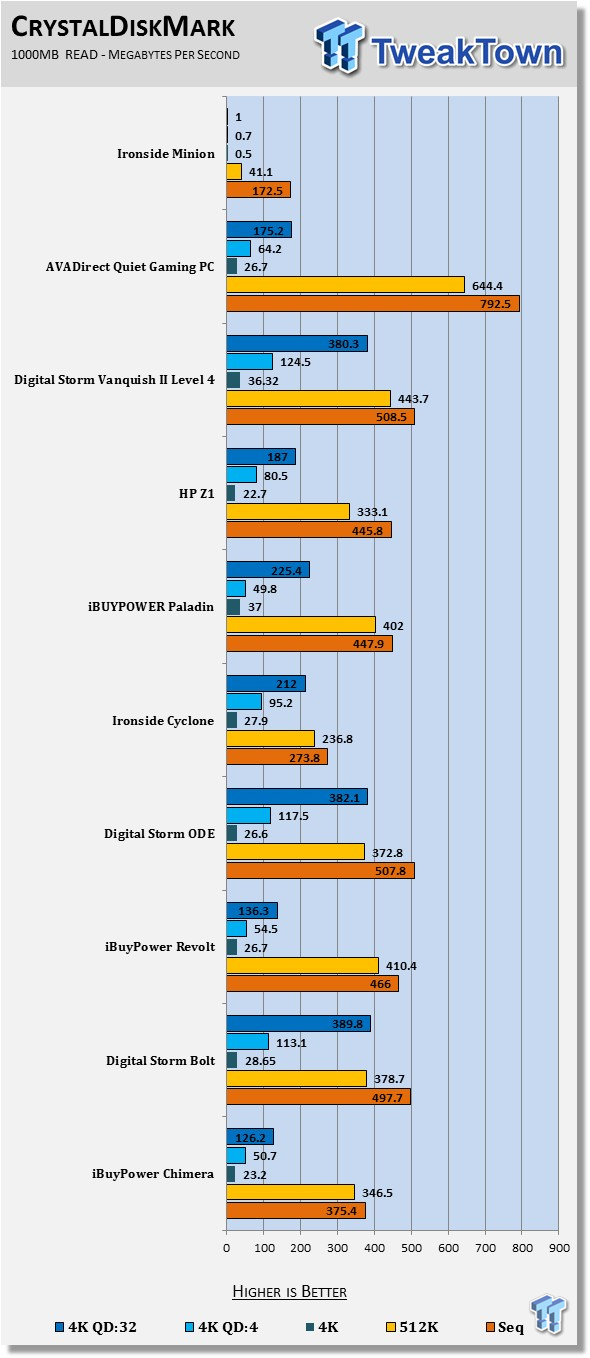 Since the boot drive is an HDD, it is going to be destroyed by the other systems, nearly all of which make use of SSDs. Looking above, you can see this is the case, with just 0.5 MB/s being seen in the all-important 4K metric.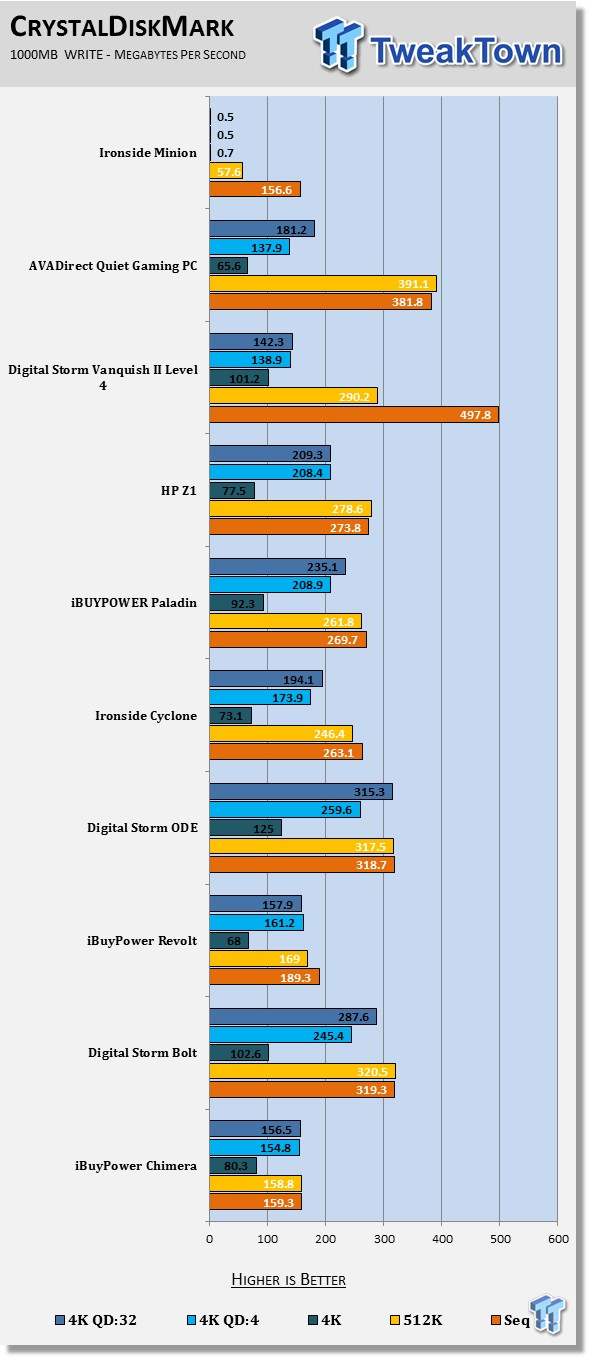 Write speeds are the same as above: pitiful compared to the SSDs in the chart. We see just 0.7 MB/s 4K write speed.
An SSD is a must upgrade to feel like you have a speedy computer and should probably be done before upgrading the GPU if you use the desktop for things other than gaming. It will help your game loading times, too, if the games are installed upon it.
Benchmarks - System Tests
PCMark 8 - Creative Test
Version and / or Patch Used: 2.0.228
PCMark 8 comes with various benchmarks to assess PC performance in key areas. As we are testing performance desktop systems, we utilize the Creative Test, non-CL accelerated.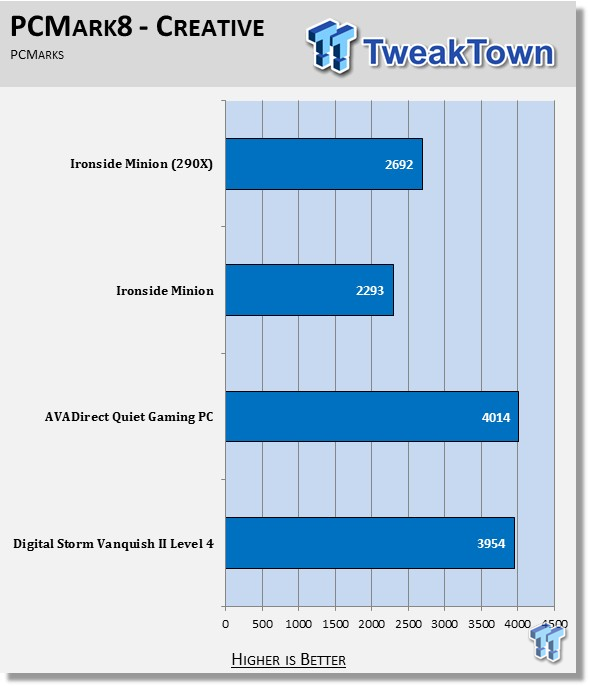 This is the first benchmark where we have included results using both the review configuration and our "upgraded" 290X version.
As you can see, the lack of an SSD and a low performing processor has impacted scores significantly compared to the Digital Storm Vanquish and AVADirect Quiet Gaming PC.
You can also see that adding in the ASUS Radeon 290X does provide a nice boost to the score, though it still fails to break 3,000 points in a test where all-around performance is paramount.
Benchmarks - Gaming Tests
3DMark Vantage
Version and / or Patch Used: 1.1.0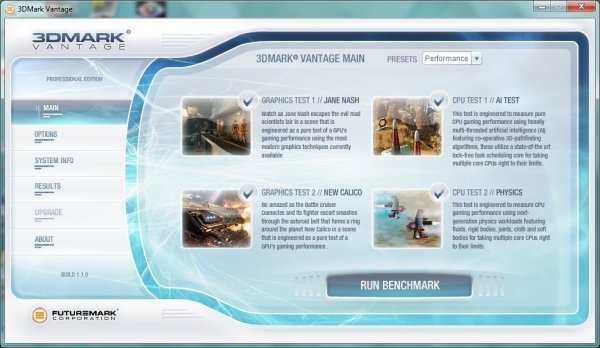 3DMark Vantage tests both processor and graphics performance and is a good indication of how systems compare. The results are generally more repeatable and consistent than other forms of benchmarking. Vantage uses DirectX 10 and can handle multi-core CPUs.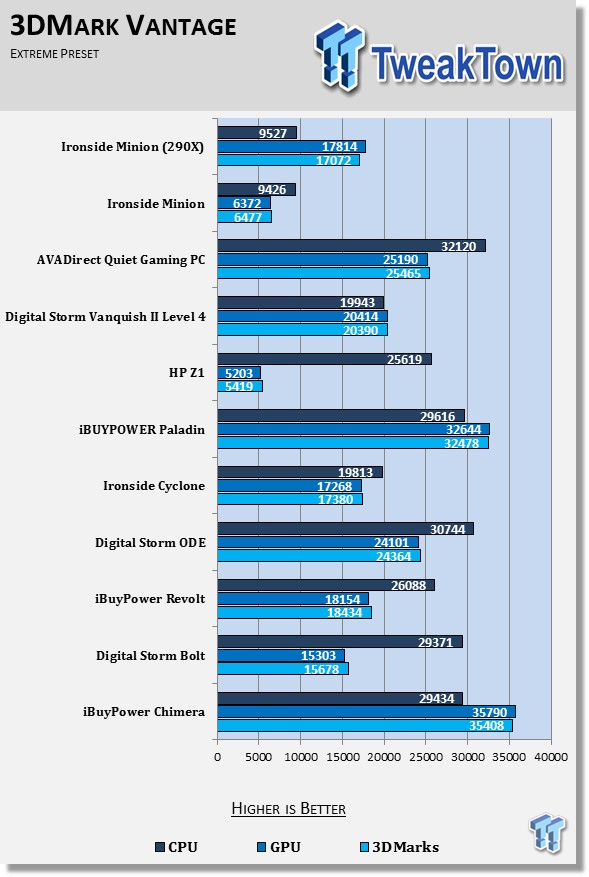 Moving to the gaming benchmarks, we can see that the Minion is just that: a budget performer. It produces an overall score of just 6,477.
Adding in the 290X causes the GPU score to go from 6,372 to 17,814, a massive increase. This causes the overall score to jump to 17,072, again a massive increase. The ASUS Radeon 290X is held back by the CPU, though not by too much.
3DMark 11
Version and / or Patch Used: 1.0.3.0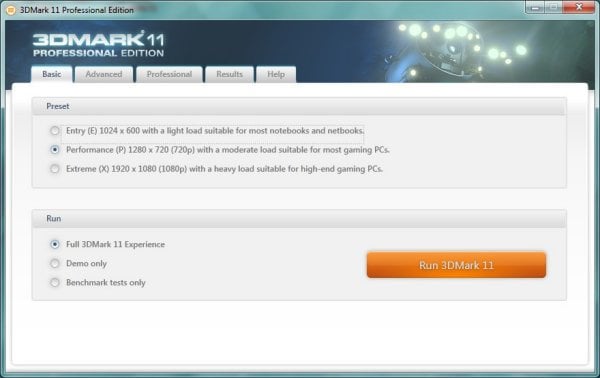 3DMark 11 is the latest version of the world's most popular benchmark. Designed to measure your PC's gaming performance 3DMark 11 makes extensive use of all the new features in DirectX 11 including tessellation, compute shaders and multi-threading. Trusted by gamers worldwide to give accurate and unbiased results, 3DMark 11 is the best way to consistently and reliably test DirectX 11 under game-like loads.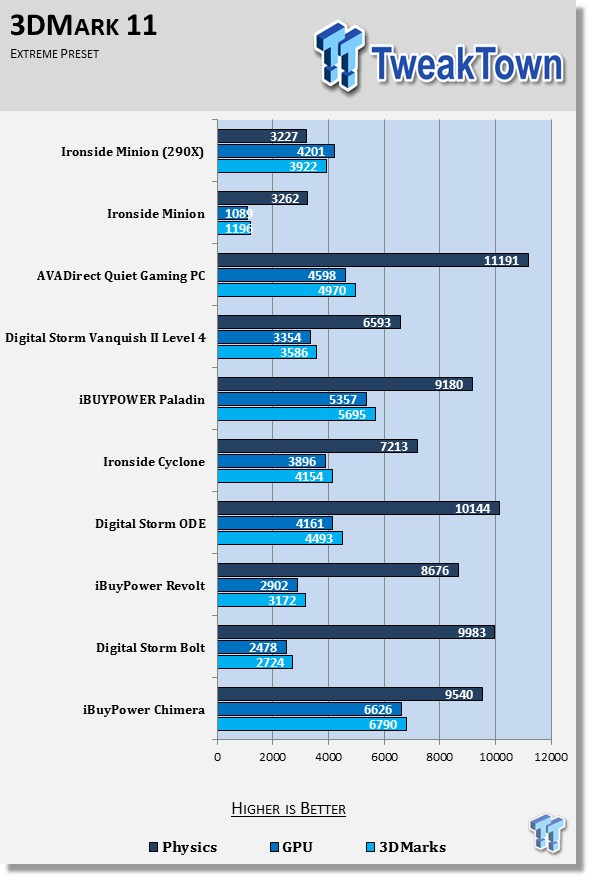 3DMark 11 shows the same results as above: a rather underwhelming gaming machine, in terms of performance. Adding in the ASUS 290X does help, boosting the GPU score from 1,089 to 4,201 and the overall score from 1,196 to 3,922.
With the 290X upgrade, the system outperforms the SFF Bolt and Revolt as well as the Vanquish II level 4 in terms of overall score.
3DMark - Fire Strike Extreme
Version and / or Patch Used: 1.0.0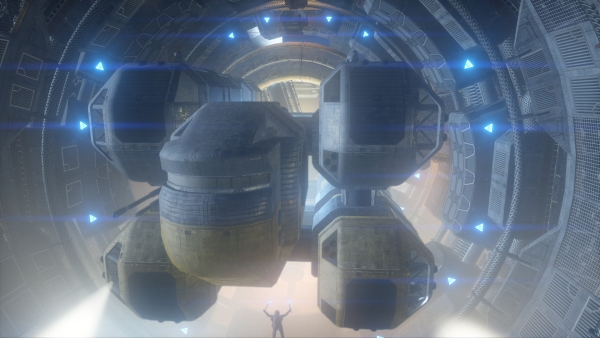 Fire Strike is a new test that is designed for powerful gaming desktops. We have checked the "Extreme" test option to make it that much more torturing on the system. Overall, CPU, and GPU scores are reported.
We continue to see the underwhelming performance of the Minion, much like the minions in the movie. At stock, we see a GPU score of just 941 and an overall score of 932. These scores are boosted massively by the ASUS 290X, increasing to 5,095 and 4,179, respectively.
With the $500 or so upgrade (total price ~$1100), we find we have a system that beats out the similarly priced Vanquish and the SFF Revolt and Bolt systems.
Battlefield 4
Version and / or Patch Used: Latest Origin Update
Battlefield 4 is the latest installation in the Battlefield franchise. We benchmark BF4 with a custom 60 second run played in a similar manner each time. Settings are 1080p and 4K for the resolution with the "Graphics Quality" set to Ultra.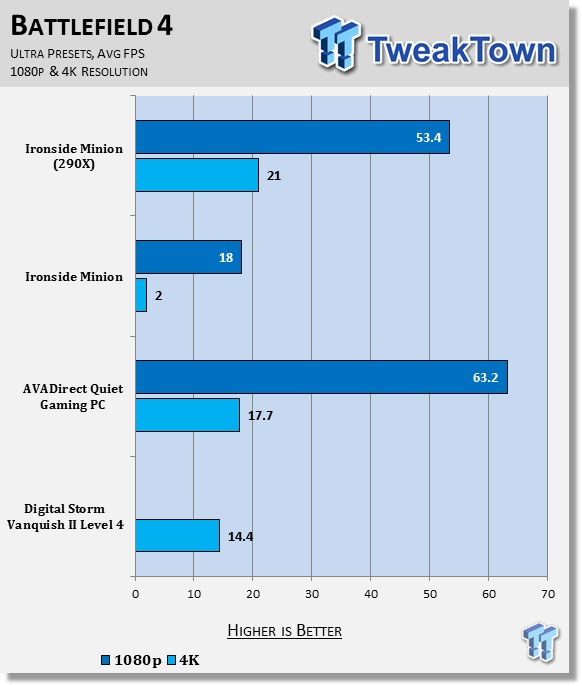 As a budget machine, it would be crazy to think that it would be able to play systems at Ultra presets, especially at 4K. In this benchmark, the stock 4K results are practically useless. However, at Ultra presets, Battlefield 4 does see 18FPS at 1080p resolution. A large detail drop will boost the FPS significantly, and make it playable.
After adding in the ASUS 290X, we find ourselves with a system capable of playing BF4 at 1080p resolution and Ultra graphics. We would recommend a small detail drop and feel that a CPU upgrade would boost the performance some. 4K is still out of the question with just 21FPS being seen.
Crysis 3
Version and / or Patch Used: Latest Origin Update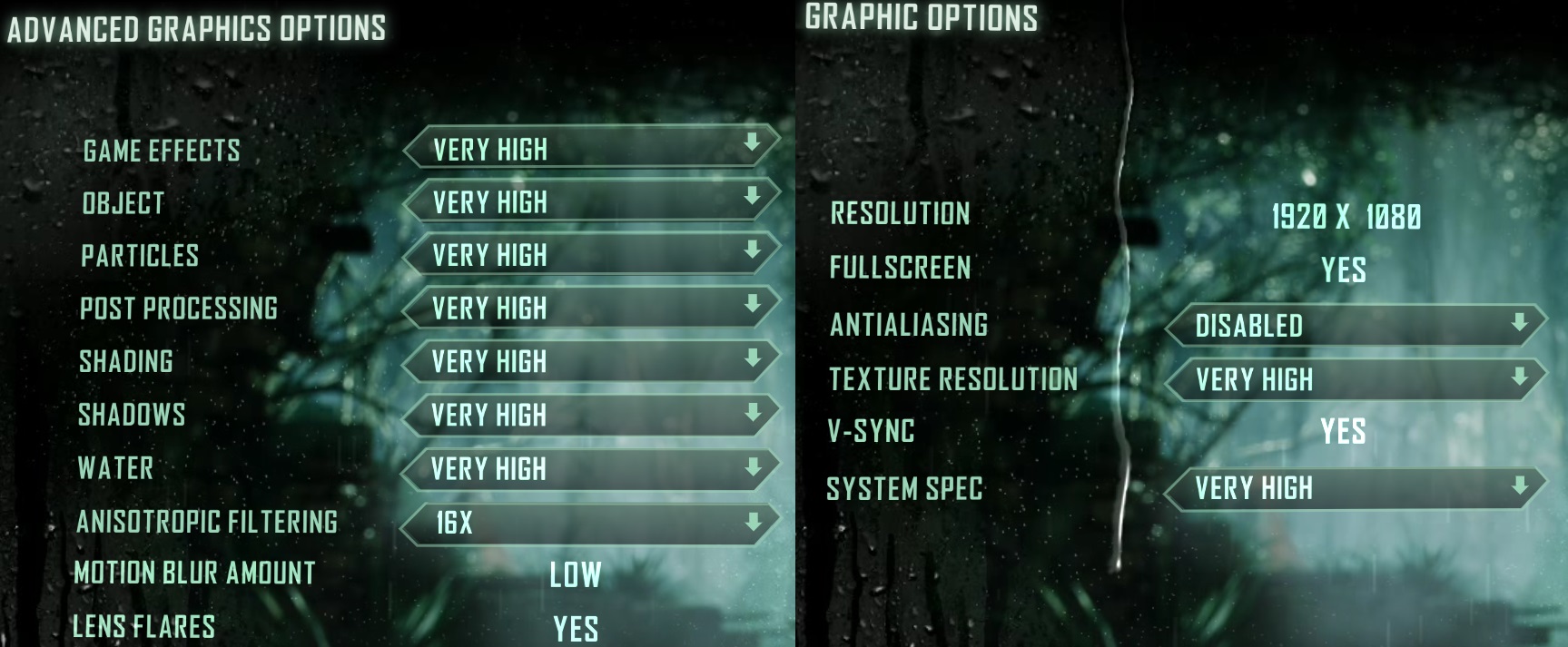 Crysis 3 is run at 1080p and 4K resolution with the graphics specifications set to "Very High." No anti-aliasing is used. See picture above for full details, aside from resolution. FRAPS is used to record 60 seconds worth of FPS data and recording starts at the start of the campaign and finishes most of the way up the tower. The game is played in a similar manner each time.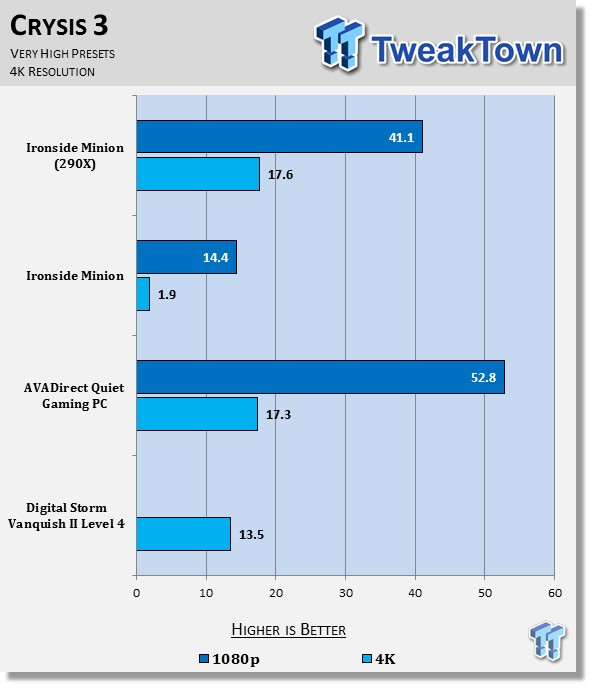 Again, we weren't expecting this system to be able to manage our demanding benchmarks, and it certainly doesn't. At stock, 1080p resolutions sees just 14.4FPS and would require a large detail drop-and possibly a resolution drop-to reach playable numbers. 4K is completely out of the question.
With the ASUS 290X added, we find ourselves getting 41.1FPS at 1080p, which is almost playable in Crysis. It might not be the smoothest, and a detail drop is recommended, but it certainly is playable at 1080p. 4K is still out of the question at Very High presets.
Temperatures and Noise & Power Consumption
Temperatures, Cooling and Noise
The system is fully loaded using Furmark and Prime 95, similar to our laptop testing. The sound recordings are made in front of the machine, about 6 inches from the center of the tower. Temperatures are reported as recorded by CoreTemp and Furmark.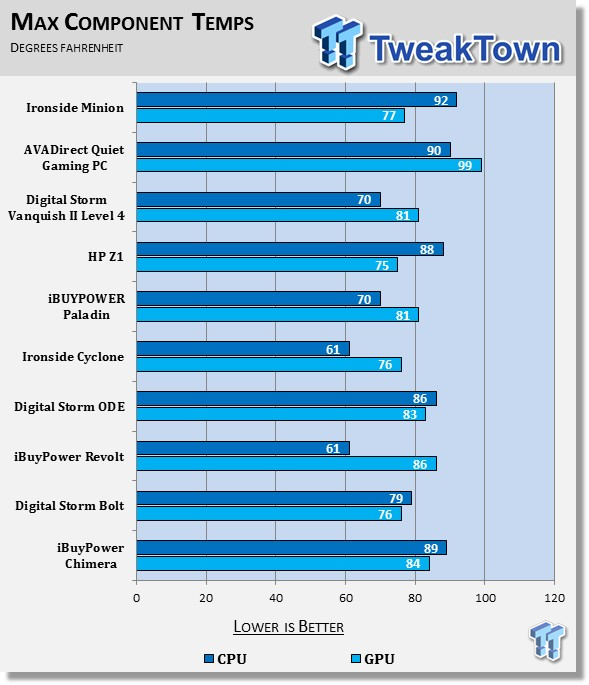 As we guessed earlier, the stock AMD heat sink doesn't do a very good job at keeping the CPU cool, with it reaching a max temperature of 92C. The GPU, on the other hand, is quite reasonable at 77C.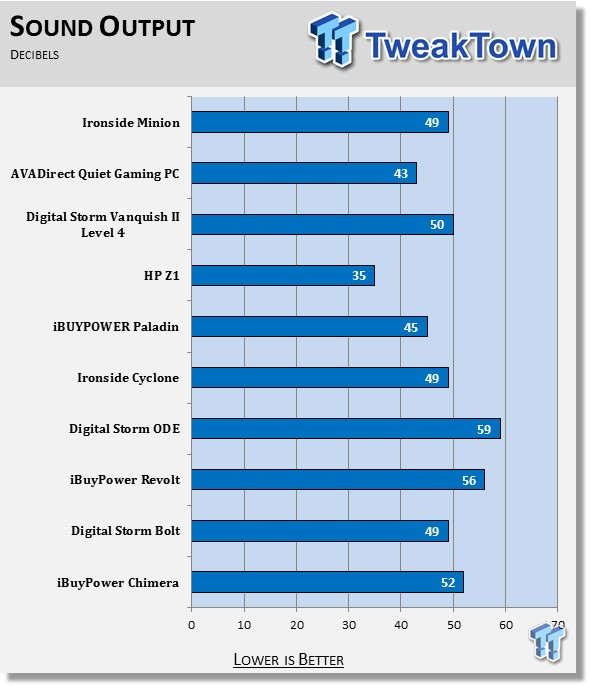 Despite the high temperatures and stock heat sink, noise production wasn't horrible. At just 49 decibels, it is right in line with a number of other gaming systems we have reviewed. However, those systems did feature much higher performance.
Power Consumption
Power consumption is measured while the system is loaded for the temperature test and while sitting idle at the desktop. Measurement is taken at the wall, so it includes everything running in the system, not including the monitor.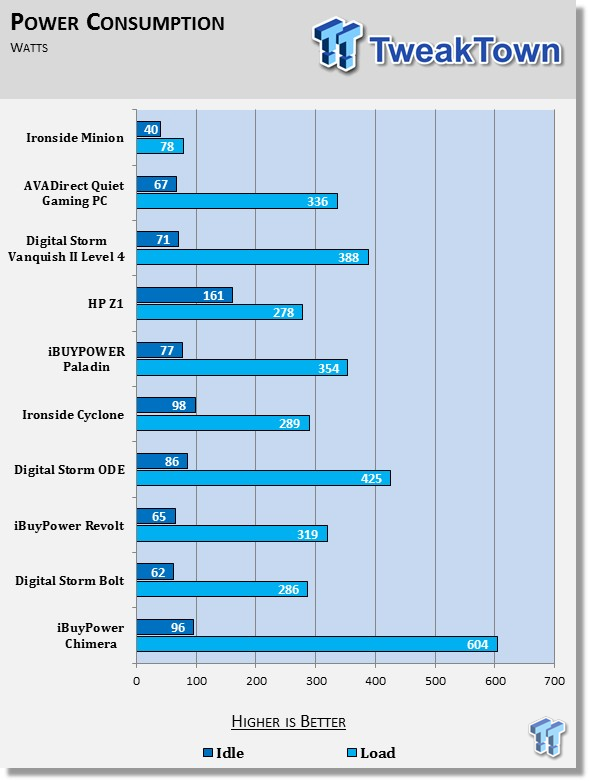 Power consumption is one place where the Minion absolutely dominates and shines. As you would expect from the low performance, we also have a very low power demand. It uses just 40W at idle and 78W under full load. For perspective, the other systems use 70W+ at idle.
Final Thoughts
We've gone through the hard numbers and have been left pretty disappointed at the performance, but should we really? Considering the price, I'd have to start leaning towards no. Let's talk about some of the upgrades that are highly recommended and then move on to the system as received.
The single most important upgrade you can do is an SSD. For $54 more, you can go from the 500GB drive to a 120GB Samsung 840 Evo. This would be a massive upgrade and make your system feel much, much faster. The 840 Evo isn't the best performing SSD on the market, but it's no slouch either.
Selecting the Minion locks you into an AMD Radeon R7 250X from Ironside, so a GPU upgrade would need to be performed at home. It's an easy task, and as demonstrated by installing in the ASUS Radeon R9 290X, can boost gaming performance significantly at a later date. We probably wouldn't go as high as a 290X as we would be somewhat CPU bound, but an AMD Radeon 280 or 280X isn't out of the question. And, you could always upgrade the CPU and motherboard at an even later date.
The final recommendation can be take care of at home or from the factory. We'd really like to see matched sticks of DDR3 to allow dual-channel memory performance increases.
With those recommendations aside, how does the system stack up as shipped? It's really a mixed bag. If you want to play the latest and greatest games at high detail and resolutions, you'll need to increase your budget, it's as simple as that.
As always, it's a bit cheaper to build your own system, but sometimes that's not always ideal. Included in the $606.99 price tag is the PC, a three-year parts and three-year labor warranty from a single entity, and lifetime US-based support. It's difficult to put a value on these, but we feel the reasons given previously, plus the assembly, installation, driver installation, and the rest make up the difference between purchasing and building yourself versus buying a Minion from Ironside.
As long as you realize you won't be setting world records with the Minion, it makes a good budget choice that allows for future upgradeability through its large chassis and decent performing CPU. We do, however, recommend equipping an SSD from the factory.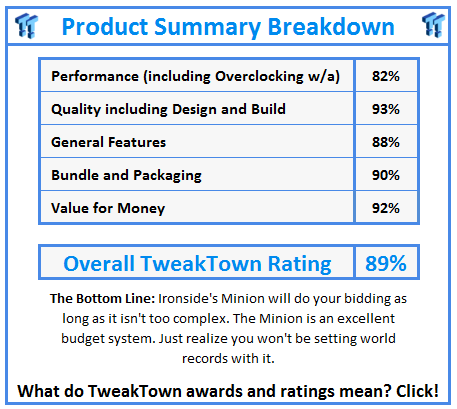 PRICING: You can find products similar to this one for sale below.

United States: Find other tech and computer products like this over at Amazon.com

United Kingdom: Find other tech and computer products like this over at Amazon.co.uk

Australia: Find other tech and computer products like this over at Amazon.com.au

Canada: Find other tech and computer products like this over at Amazon.ca

Deutschland: Finde andere Technik- und Computerprodukte wie dieses auf Amazon.de
We openly invite the companies who provide us with review samples / who are mentioned or discussed to express their opinion. If any company representative wishes to respond, we will publish the response here. Please contact us if you wish to respond.