TweakTown's Rating: 94%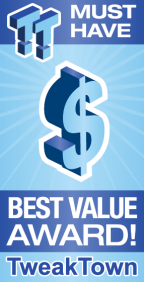 The Bottom Line
You can't build an entry-level gaming PC much cheaper at all than the solid MAINGEAR MG-1 Silver.
Pros
+

Upgradable

+

Off-the-shelf parts

+

Cable management

+

Price
Cons
Should you buy it?
Avoid
Consider
Shortlist
Buy
Introduction and Pricing
MAINGEAR has been building custom PCs for over two decades, the MG-1 being their current flagship, and is offered in several SKUs denoted Silver, Gold, Platinum, Diamond, Legendary, and Ultimate. For our review, I opted for a silver build to see how well it would perform at the bargain price of $1149.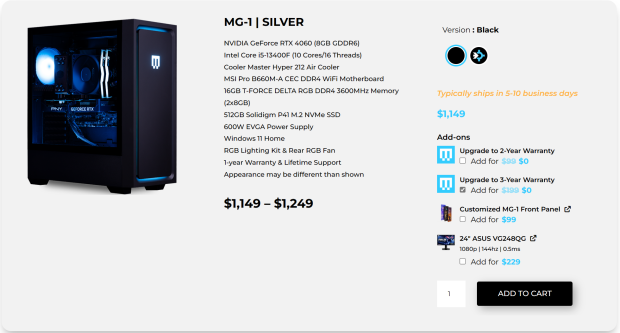 Our build is outlined above, starting with an Intel Core i5 13400F; this gives us six performance cores, hyper-threading, and another four efficiency cores. MAINGEAR has deployed this gaming PC on an MSI Pro B660M motherboard, while the memory for this machine is 16GB DDR4 3600MHz in our build. Discrete graphics for our machine included the NVIDIA GeForce RTX 4060.
The expansion includes four PCIe slots, the top slot supporting Gen4 while the other three use PCIe Gen3 from the chipset. Storage includes options for two m.2 NVMe slots, the first supporting Gen4 and the other at Gen4 from the chipset. Legacy connectivity is available with six SATA ports, four from the B660 chipset and the other two from an ASMedia 1061 chip.
The connectivity includes nine USB 3.2 ports, split up with four Gen 1 ports on the back using the traditional Type-A connections, while two Gen 2 ports are available in red, one using Type-C. We also note two USB 2.0 and HDMI on the rear panel, with 2.5Gbe LAN and Wi-Fi 6.
The MSRP of the MAINGEAR MG-1 Silver, as configured, comes in at $1149.99 with a one-year warranty. As noted in our image above, you can extend the machine's warranty up to three years for an additional cost.
The MG-1 and BIOS
Packaging and BIOS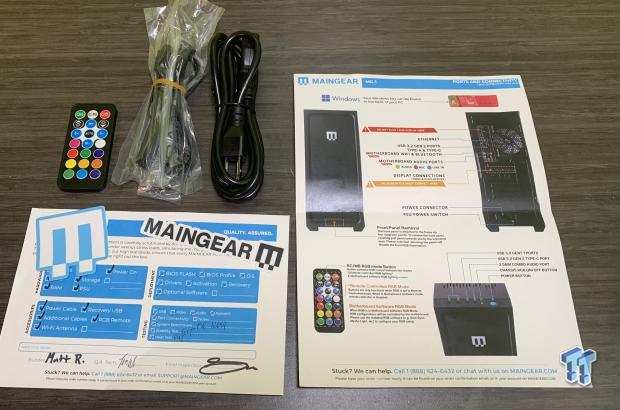 The MG-1 arrived with the accessory kit seen above, complete with a checklist and signature from the builder.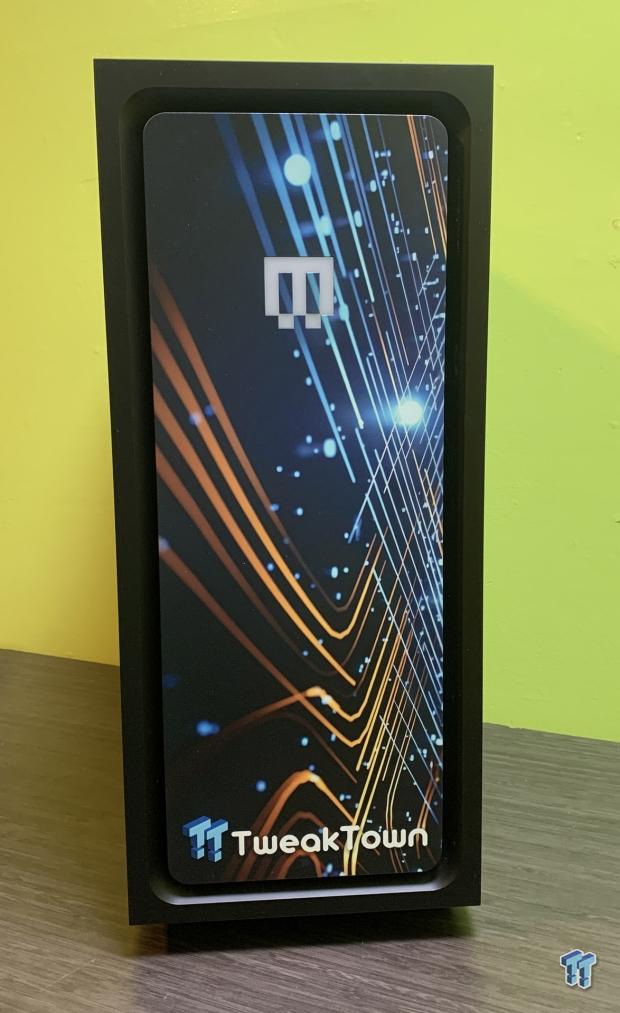 The MG-1 typically comes with a black front panel. As seen above, MAINGEAR surprised us with a custom TweakTown panel.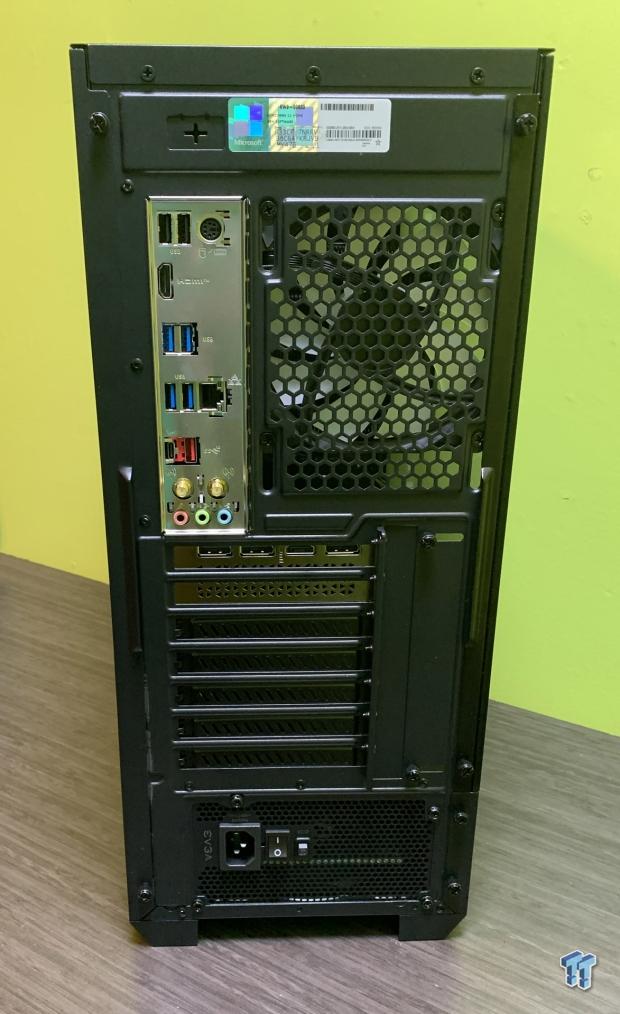 The rear I/O includes USB 2.0 and PS2 at the top, followed by HDMI, USB 3.2, and the 2.5Gbe connection.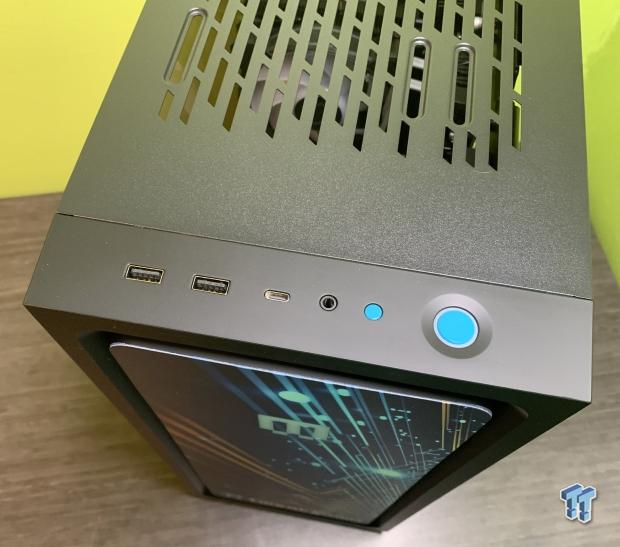 The chassis I/O includes two Type-A USB ports, Type-C, and a 3.5mm audio jack.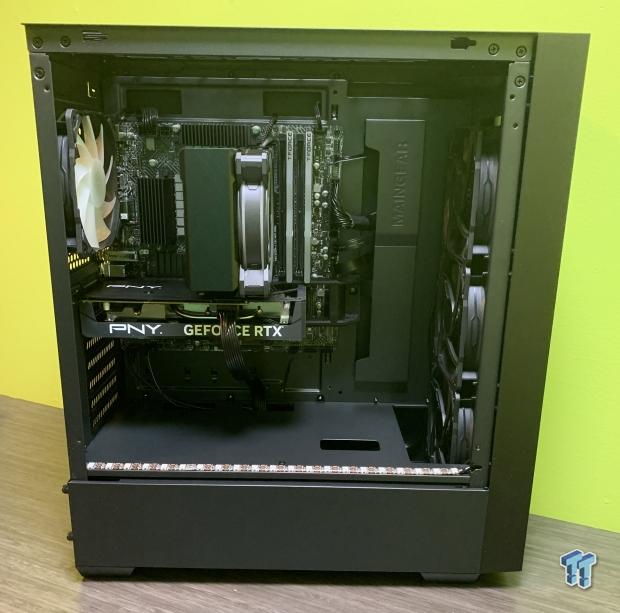 Opening the side panel, the MG-1 is meticulously built with very clean cable routing and a custom 3D-printed graphics bracket. Further, we have RGB strips along the bottom of the chassis. Fans include three intakes and one exhaust.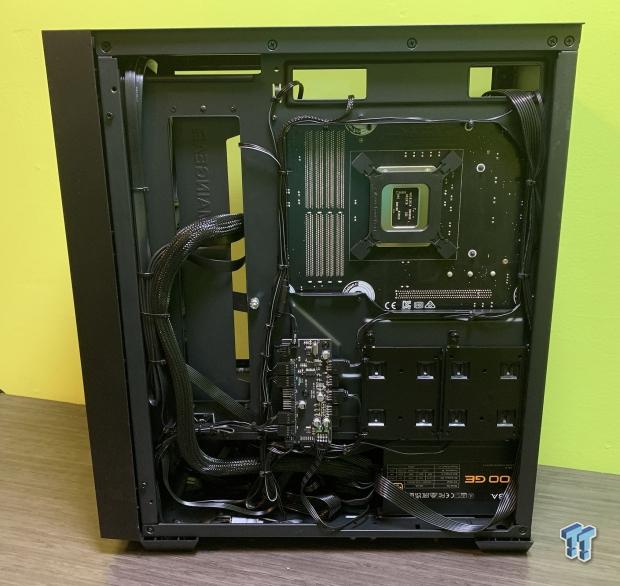 Spinning the chassis around, the back panel shows the cable routing and the custom fan controller that MAINGEAR uses.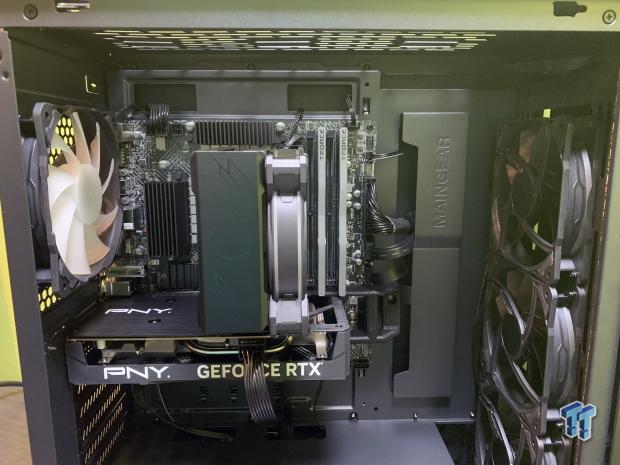 A closer look at the system's top portion, we have T-Force memory and a Cooler Master Hyper 212 cooler for the CPU. The GPU is from PNY, the GeForce RTX 4060.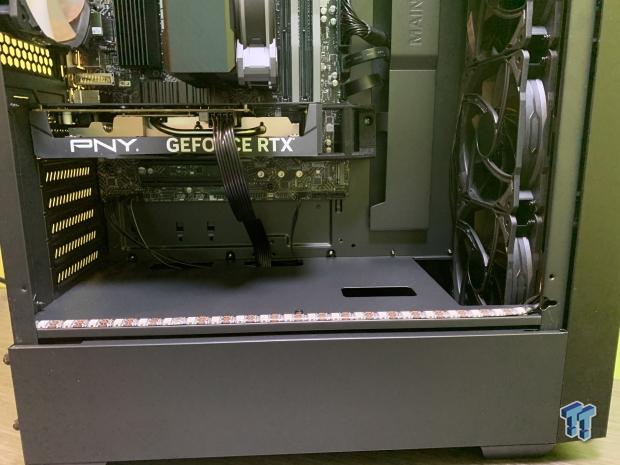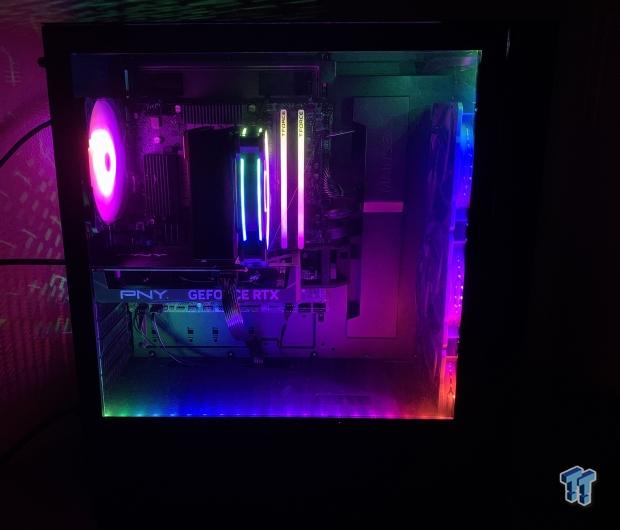 With the room lighting turned down, we can get a good look at the RGB in this chassis.
BIOS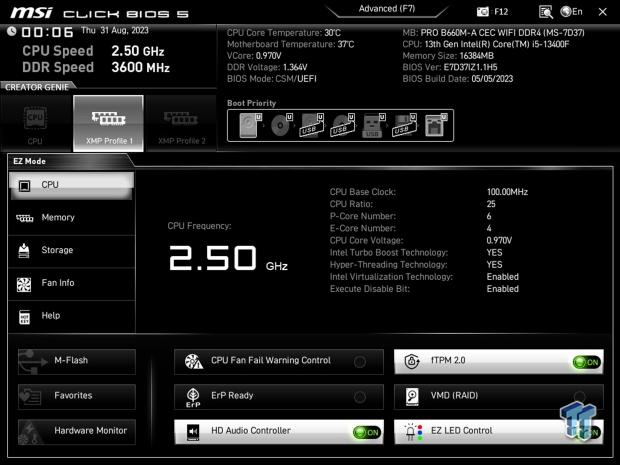 The BIOS is MSI Click BIOS 5, and the main page gives an easy mode to configure the most common options.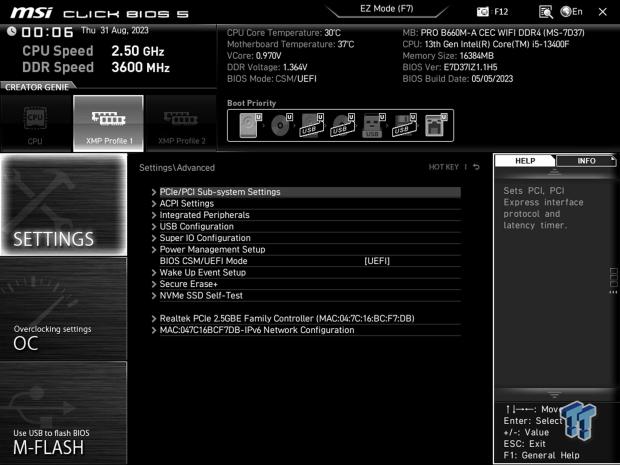 Advanced menus include settings for PCIe, USB, and integrated peripherals. We also have power management and the ability to secure erase any SSD you have installed.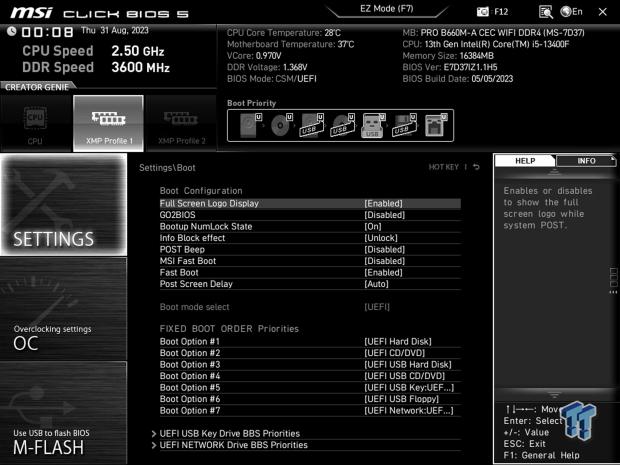 Boot settings can be seen here, and the MG-1 has many options.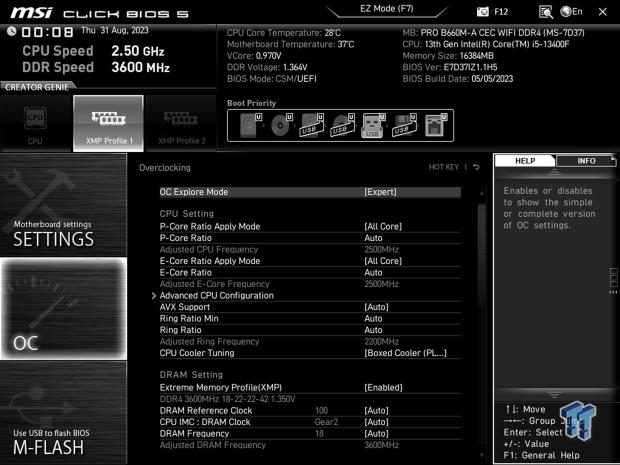 The motherboard is also ready for overclocking, with options for CPU and DRAM.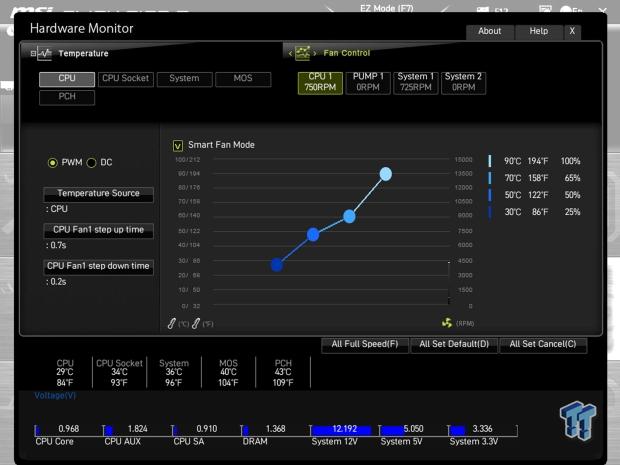 Last, we have fan tuning by connection, labeled up top.
Cinebench, PCMark and AIDA64
Cinebench R23
Cinebench is a long-standing render benchmark that has been heavily relied upon by both Intel and AMD to highlight their newest platforms during unveils. The benchmark has two tests: a single-core workload utilizing one thread or 1T. There is also a multi-threaded test that uses all threads or nT of a tested CPU.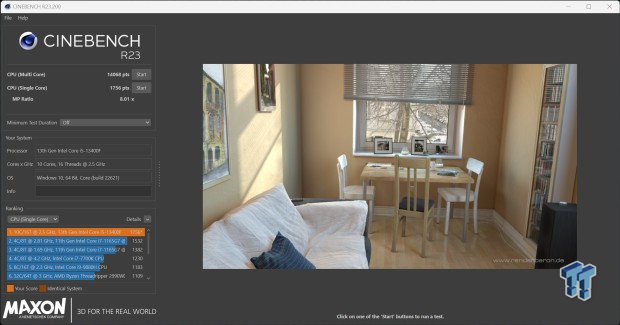 Starting with R23, we have 1756 single core and 14068 multi-cores.
Crossmark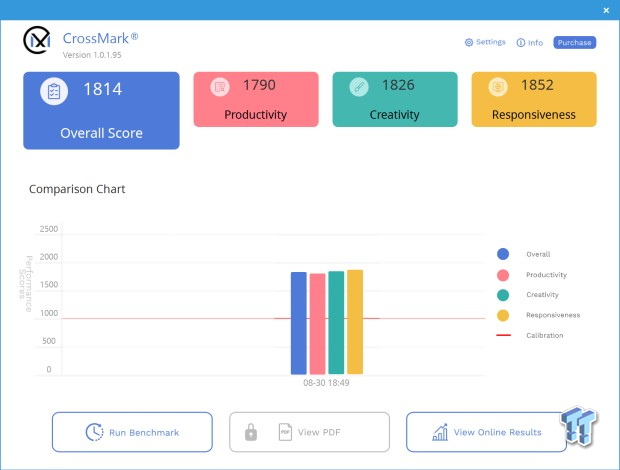 Crossmark gave us 1814 overall, with creativity and responsiveness both being solid workloads.
AIDA64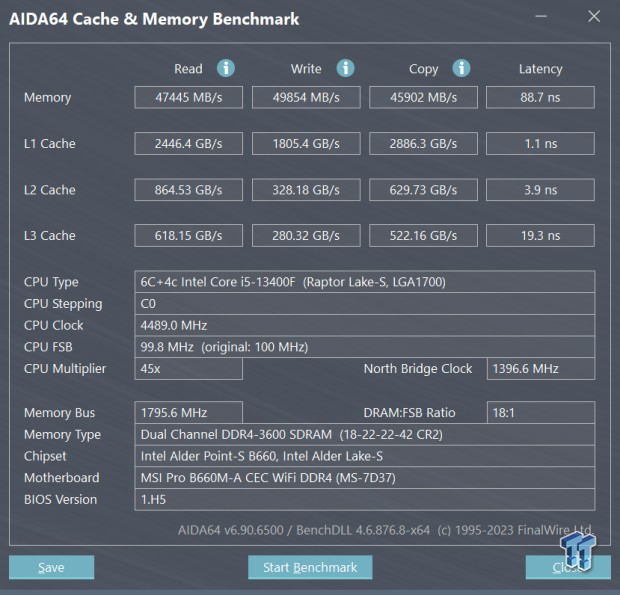 AIDA64 gave us 47K read, 49K write, and 45K copy in memory throughput, while latency landed a bit high at 88.7ns.
PCMark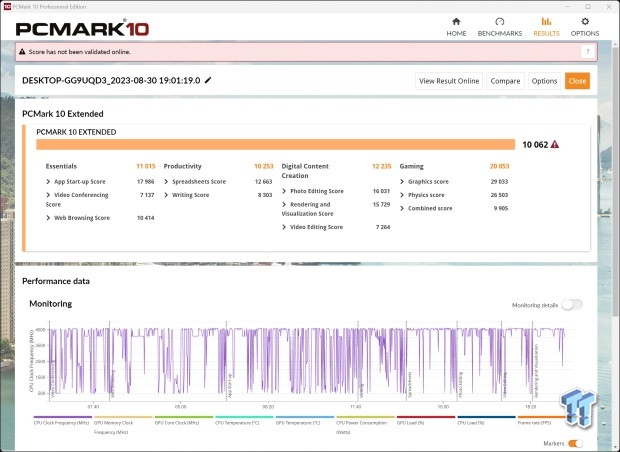 Diving into PCMark, the MG-1 Silver scored 10062 in this workload.
UL Benchmarks and Charts
3DMark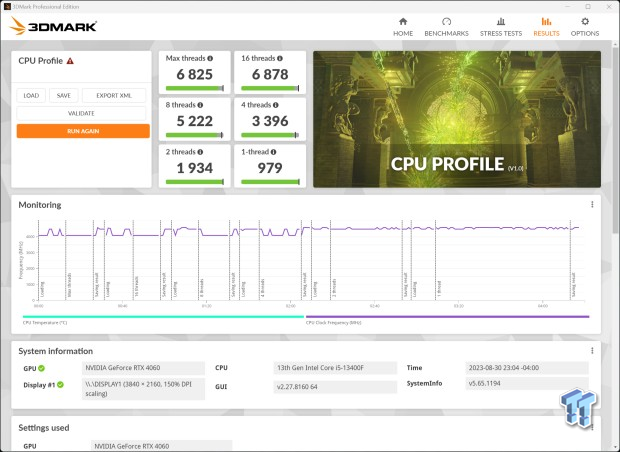 CPU Profile started at 979 single core, and moving to sixteen cores, we see 6878.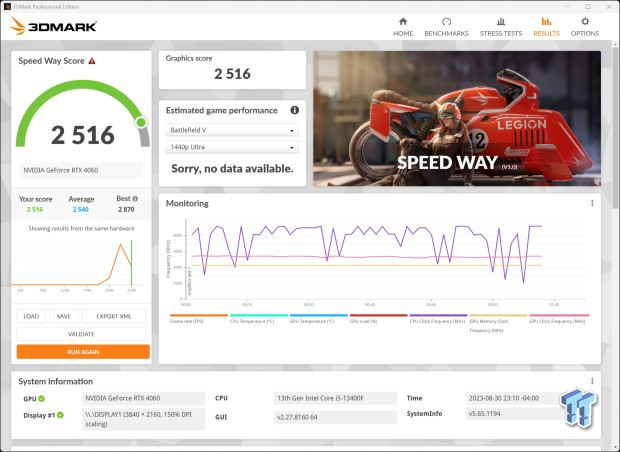 3DMark Speed Way showed 2516 for the MG-1 and the RTX 4060.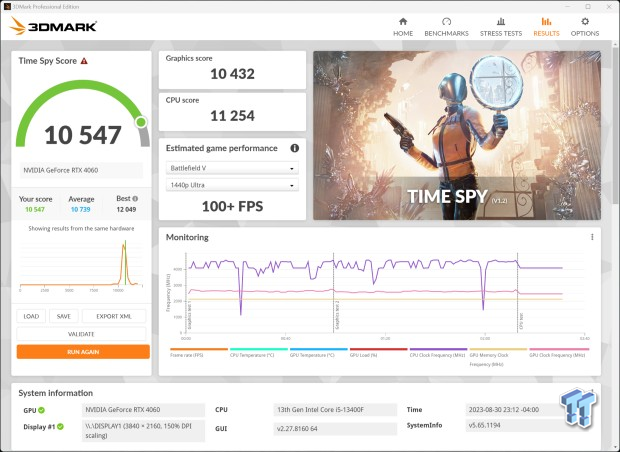 Running through Time Spy, the MG-1 scored 10547 overall and estimated game performance over 100 FPS in BFV.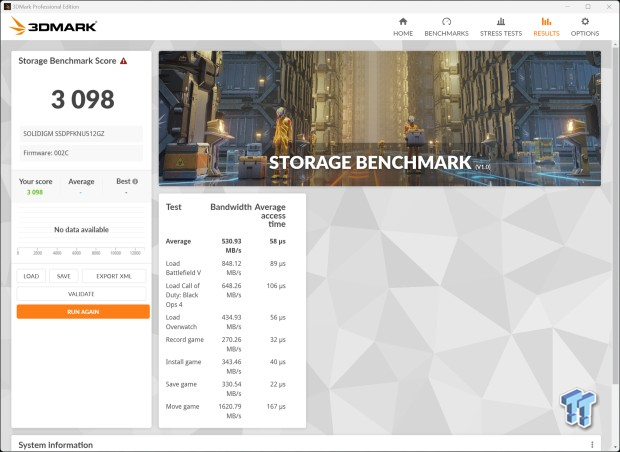 Storage performance was good. We picked up 3098 in 3DMark, with bandwidth at 530 MB/s.
Charts and Comparisons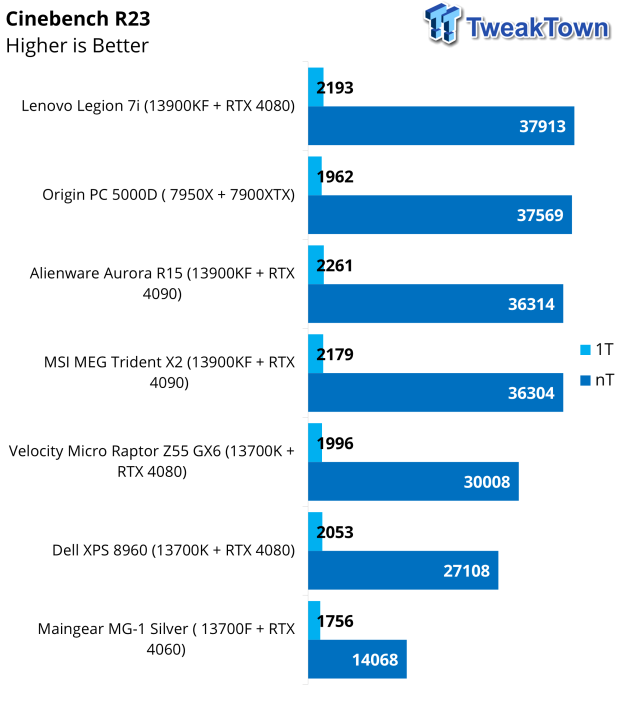 Looking at our charts, our R23 comparisons do show the MG-1 Silver at the bottom with the 13400F.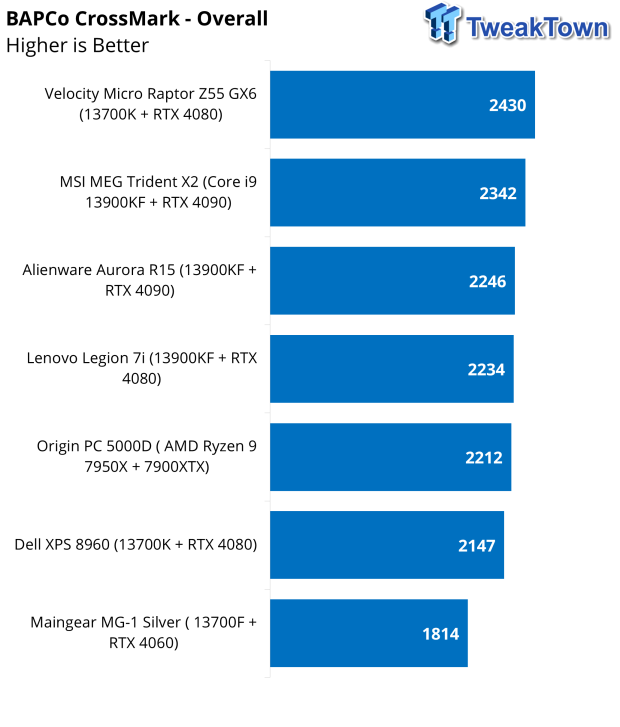 CrossMark showed solid performance from the MG-1 as well.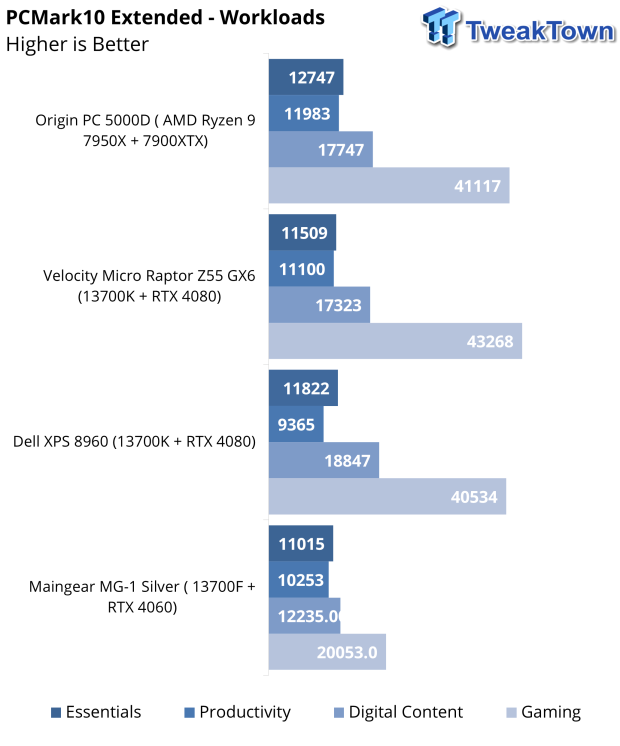 PCMark workload showed fantastic performance in essentials and productivity, with DC and gaming taking a back seat.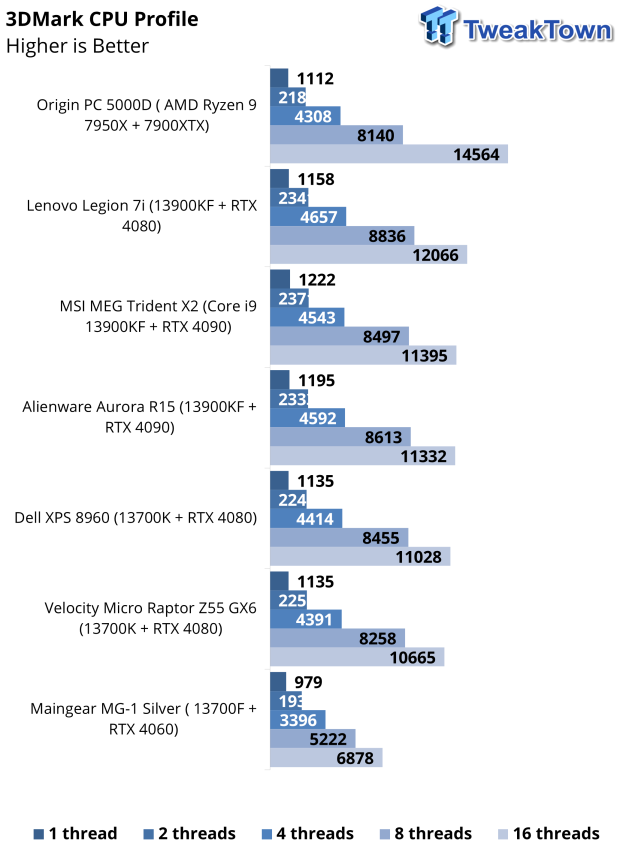 CPU Profile has our MG-1 at the bottom, but we see solid single-core performance through four threads.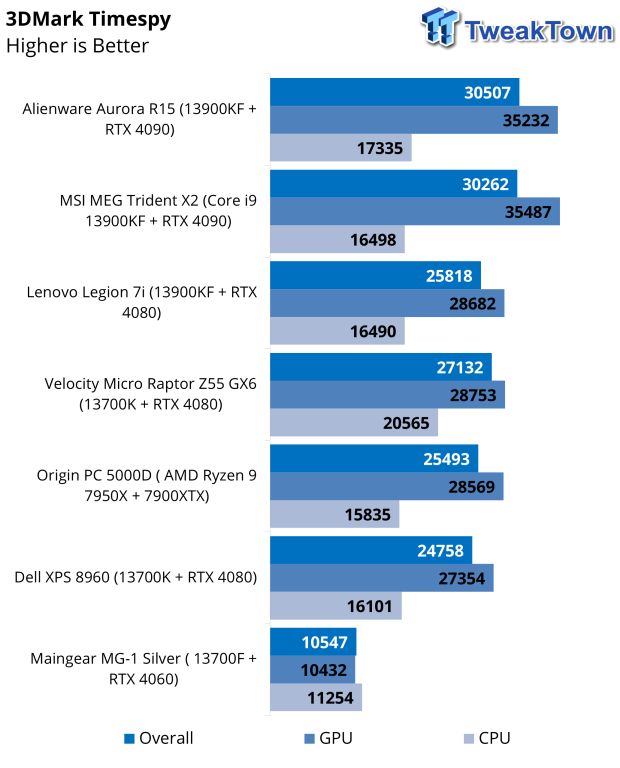 Time Spy comparisons showed the MG-1 at the bottom of our chart above.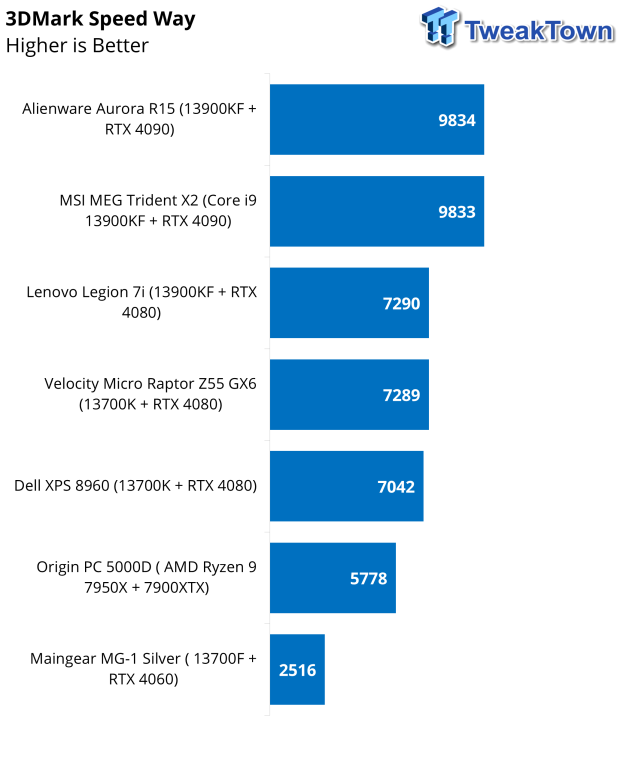 Speed Way, too, has this machine at the bottom of our charts, 2516 for the MG-1.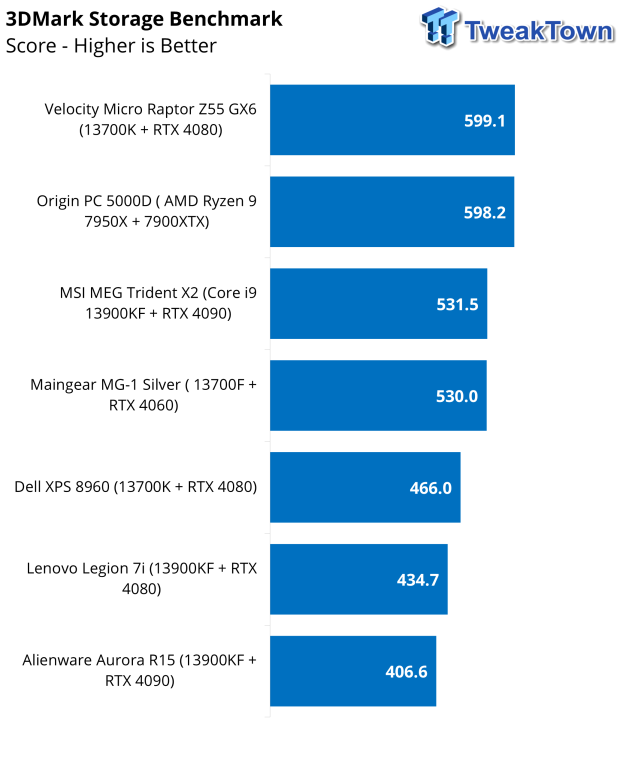 Comparing storage, the MG-1 lands in the middle of the pack with its 530 MB/s throughput.
Gaming Workloads
For gaming, we have our Cyberpunk 2077 built-in benchmark, and with the release of Starfield, we use NVIDIA FrameView to benchmark a scene walking through Akila City.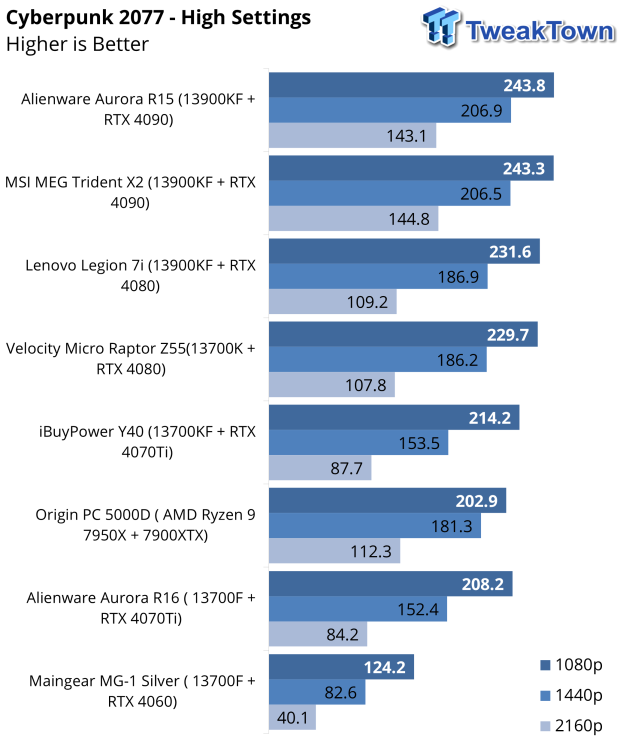 Cyberpunk starts off with a fantastic 124 FPS in 1080p, drops slightly to 82 FPS at 1440p, and is still playable at 4K with 40 FPS.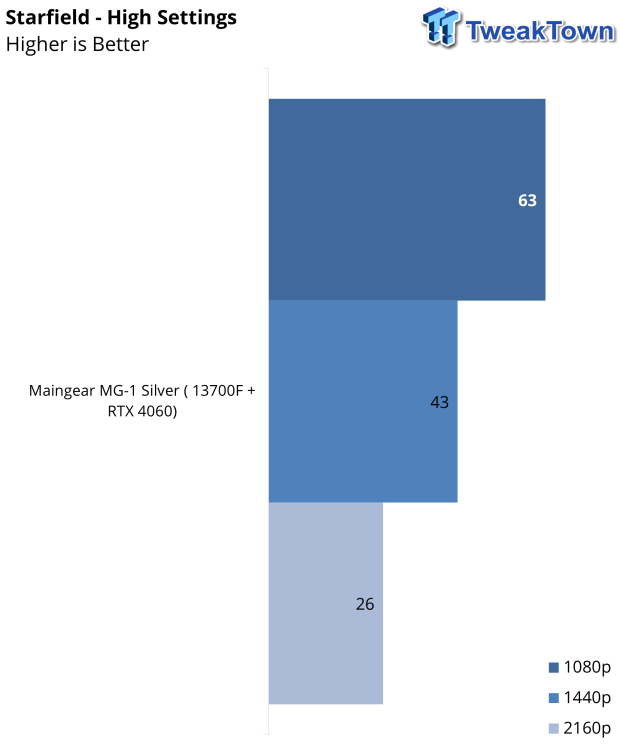 Starfield gave us 63 FPS at 1080p High while 1440p drops to 43 FPS, and 4K lands at 26 FPS.
Value and Final Thoughts
Value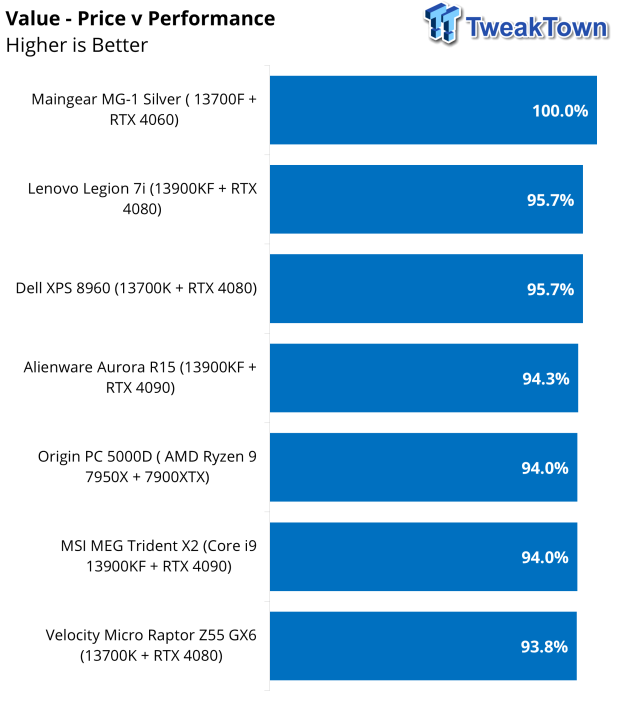 The MG-1 Silver lands at the top here quite easily simply because of its low cost and moderate performance level, a fantastic build spec for entry-level gaming.
Final Thoughts
This is the first MAINGEAR gaming PC we have tested in almost three years and our first look at the MG-1. Initial impressions are good. The chassis itself is a custom design, and more importantly, customization is at the top with interchangeable front panels with perfect diffusion in the LEDs. Cable management is done very well on the back of the chassis and internal to the system. Further, the system features off-the-shelf parts from recognizable brands, allowing the end-user to grow with and upgrade the system over time.
Performance for this machine was quite good for the build, and we never expected it, with its entry-level parts, to perform with the higher-end systems in our charts. R23 showed great numbers from the 13400F. We picked up almost 1800 in single-core and 14K in multi-core. Similar benchmarks included 3DMark CPU Profile, the MG-1 Silver grabbing 979 single core, and 6878 at sixteen threads.
System benchmarks were CrossMark and PCMark Extended, both showing solid performance for the MG-1. Gaming itself was surprising, with Cyberpunk pulling 124 FPS at 1080p and 82 FPS at 1440p, furthering the absolute bargain that this machine is. Starfield has admittedly been hard on hardware. We tested on High settings walking through Akila City, which brought us 63 FPS on average, and at 1440p, that dropped to 43 FPS; both playable without any issues, but 4K is a no-go.
Pricing is perhaps where the MG-1 Silver steals the show. At $1149.99, it's almost as if MAINGEAR dares us to try to build it cheaper, and so we attempted to and came up nearly dead even using the cheapest component in each category direct from Newegg - our cost was $1116. That doesn't consider the support team and warranty MAINGEAR provides - build it yourself, and it's on you.