TweakTown's Rating: 91%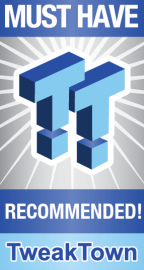 The Bottom Line
While it costs a bit more than the competition, you get what you pay for with the iBUYPOWER Y40 gaming PC.
Pros
+

Off the shelf parts

+

Upgradable

+

Performance

+

Water cooled

+

Chassis design
Cons
-

More expensive than competition
Should you buy it?
Avoid
Consider
Shortlist
Buy
Introduction and Pricing
iBUYPOWER, the parent to the fantastic chassis manufacturer HYTE, has offered prebuilt gaming machines for years. They recently updated their lineup to include 13th-generation Intel CPUs and NVIDIA GeForce RTX 4000 series graphics. With that, we put together a rather solid mid-range gaming machine for review, similar to the Alienware Aurora R16 we recently reviewed, which should give us a reliable comparison for this review.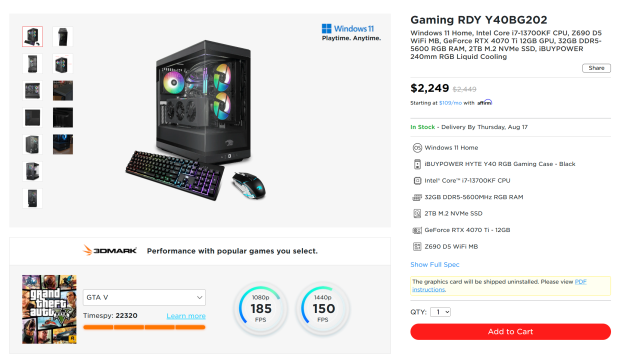 As per usual, our build is outlined above, with iBUYPOWER giving it the Y40BG202 model number for those interested in acquiring one for themselves. This machine starts with a Z690 motherboard, and from there, we have an NVIDIA GeForce RTX 4070 Ti GPU, an Intel Core i7 13700KF processor, which gives us eight performance cores and eight efficiency cores, along with the added ability of overclocking. This is a DDR5 variant motherboard, so we have support for DDR5 5600MHz memory, our unit being deployed with 32GB of RAM.
Storage on this machine was a single 2TB NVMe solution, with enough room on the motherboard to add another two NVMe drives if needed. SATA, too, is available for those using hard drives or legacy SSDs.
The expansion includes three PCIe x16 slots and one PCIe x1, the top slot being Gen5 occupied by our RTX 4070 Ti. Rear I/O connectivity includes four USB 2.0 ports, two USB 3.2 Gen 1, one Gen 2 using the Type-A connector, and one Gen2x2 using Type-C. Additionally, we have an RJ45 connection for the Intel 2.5Gbe and two antenna connections for the WiFi6e, which Intel also provides.
The MSRP of the iBUYPOWER Y40 comes in at $2249 as configured.
The Y40, BIOS and Software
The System and BIOS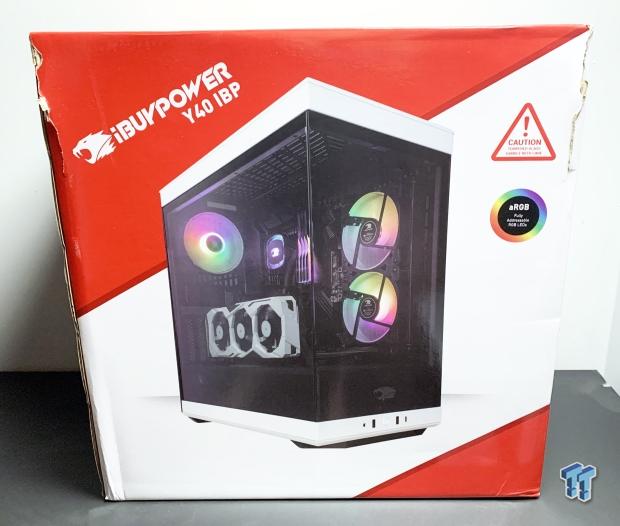 The Y40 came to us in retail packaging, as seen above, which included an image of the machine.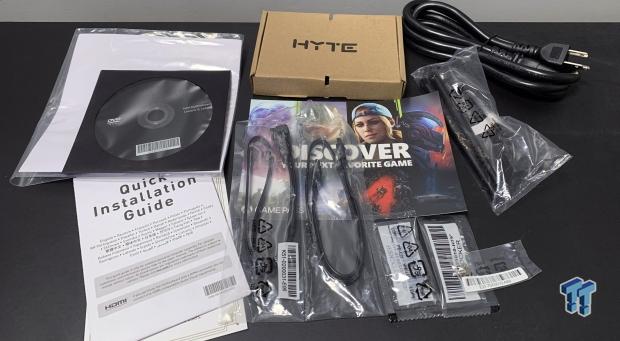 Included with the Y40, we have SATA cables, a Wi-Fi antenna, and hardware for the motherboard. We also note reading materials and drivers on disk.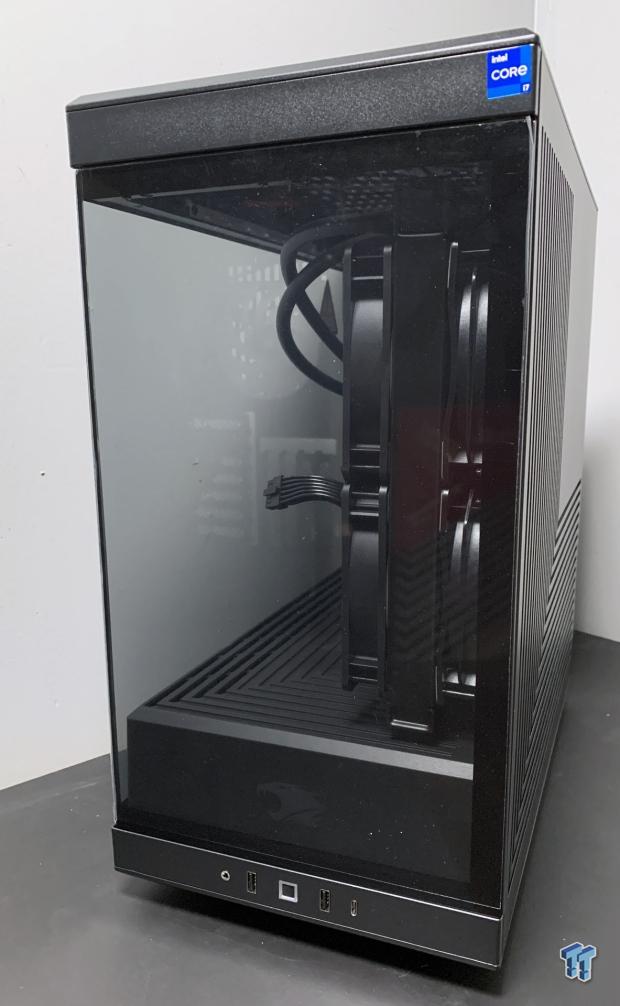 Unboxing the Y40, we are greeted by the Hyte chassis, similar in design to the Y60 with a smaller footprint. This chassis includes front panel USB and audio connections.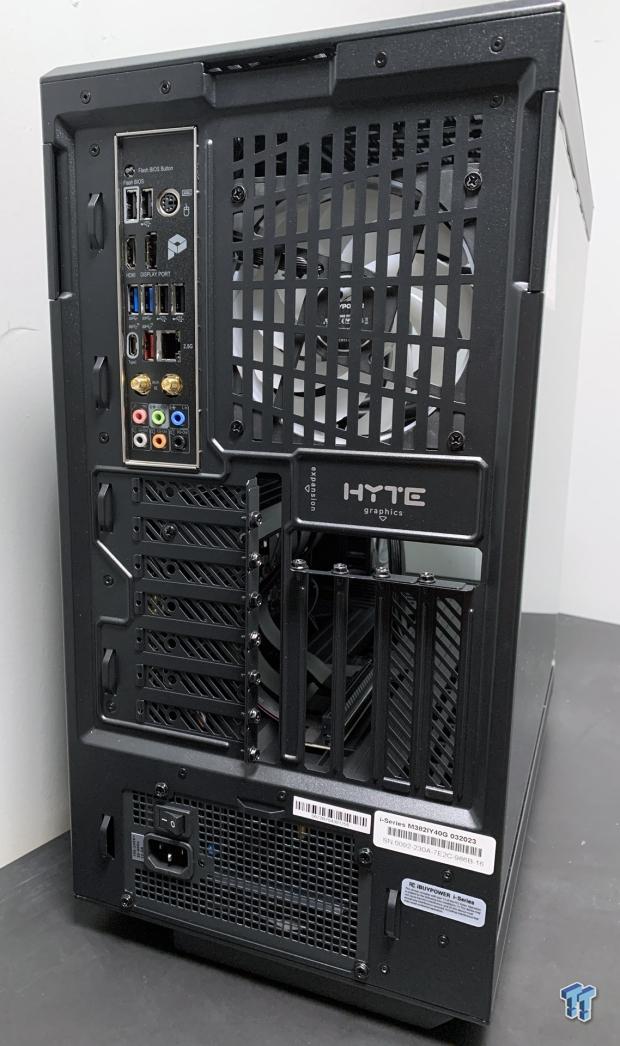 The rear I/O includes everything we mentioned above, along with the chassis supporting seven half-height expansion ports and vertical GPU support.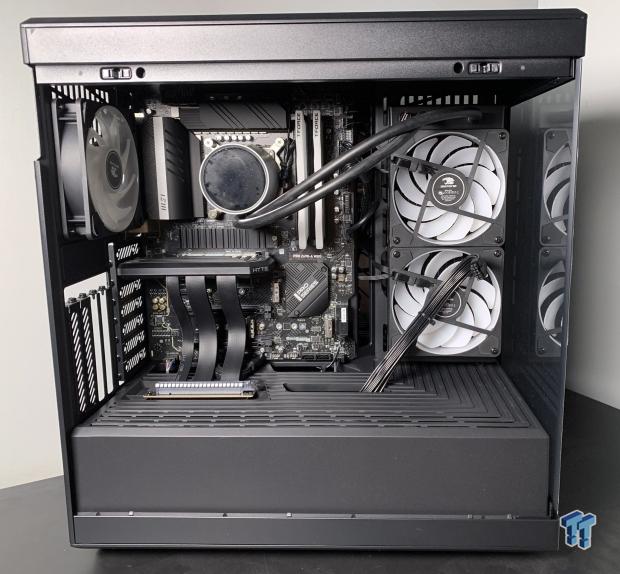 We have a very clean build inside the chassis with legitimate off-the-shelf parts. IBP even goes as far as giving this machine a solid power supply with support for 12VHPWR connections. This machine is water cooled, as you can see above. We also note the use of TForce DDR5, one of my personal favorites.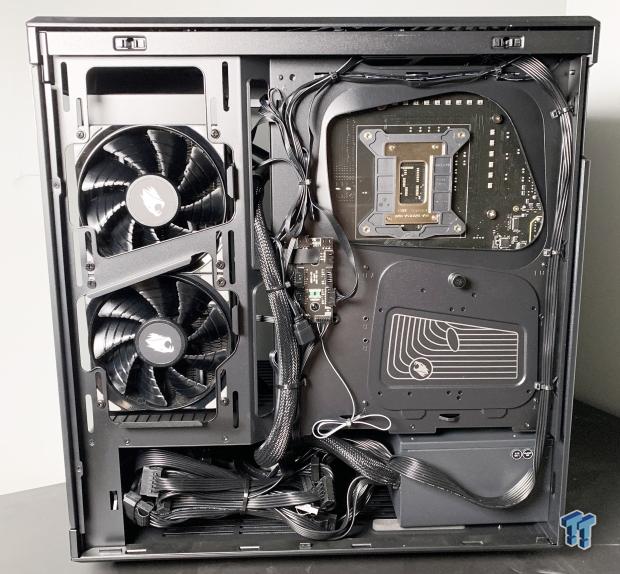 The backside of the chassis is kept very clean with extra PSU cables tied and tucked away while the cables needed are secured to the chassis as well.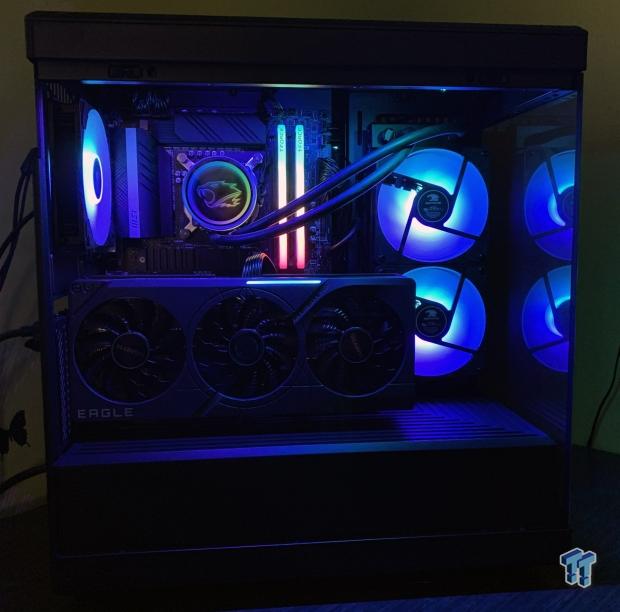 RGB on this machine is provided by the custom IBP AIO, and the memory gives off plenty of light for the system.
BIOS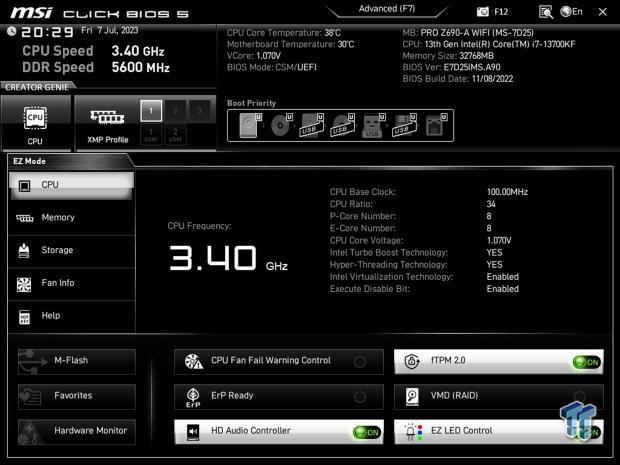 The BIOS is the MSI Click BIOS 5, a solution we have seen on any boards. The main menu gives basic options, including XMP profiles at the top and a hardware information slice at the very right.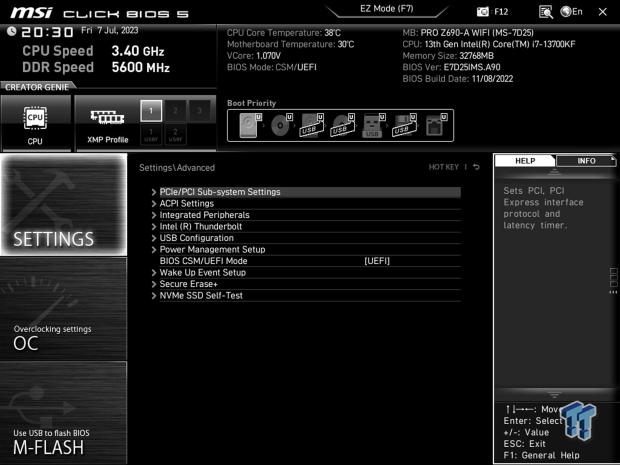 Moving into the advanced menu, we have a few more settings for the motherboard, allowing more customization. These settings include PCIe, peripherals, and Thunderbolt support. There is also the option to secure any SSD solution and a Self-Test if you are having trouble with a drive.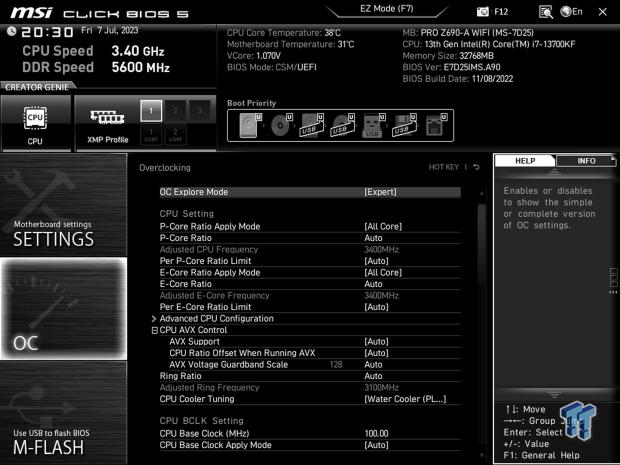 Overclocking is fully open on this board with OC Explore Mode, which will find the optimal clocks for your CPU. There is also the option to go fully manual and tweak to your heart's desire.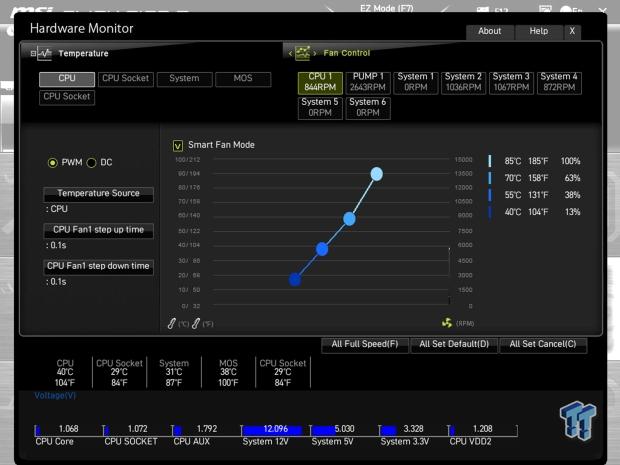 Hardware Monitor allows you to set up per-port fan curves for your system.
Software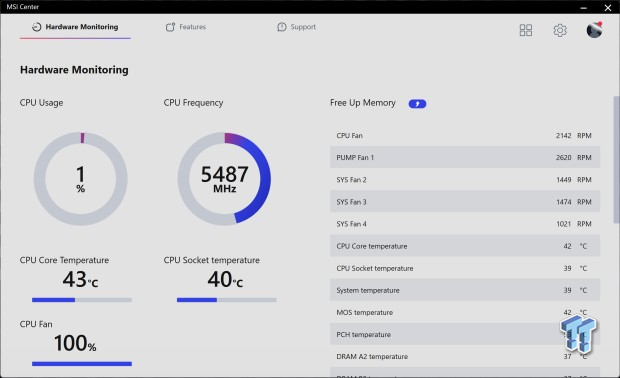 With this system having a retail MSI motherboard, you do get the advantage of using MSI Center. This allows for hardware monitoring along with available add-on modules for controlling RGB.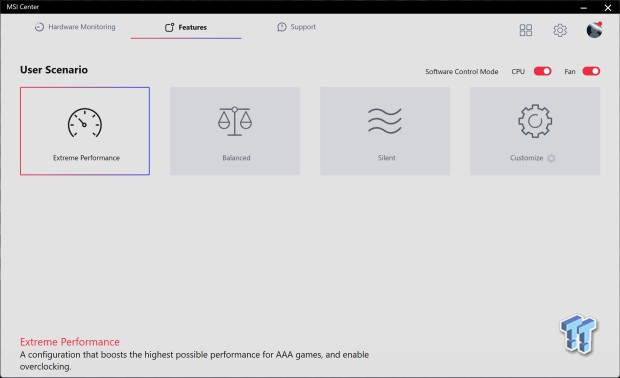 Preset scenarios are available, too. We tested under the extreme performance scenario.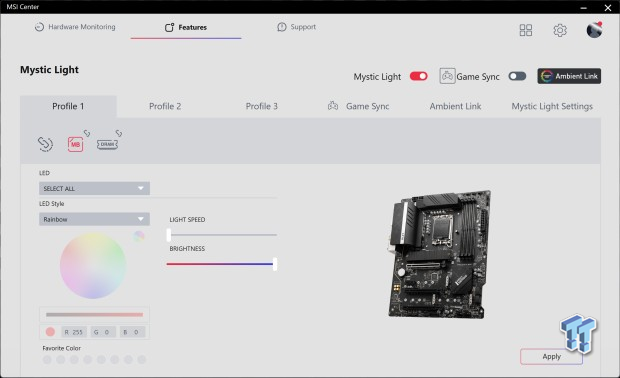 Mystic Light can be found with a module; this allows control of the board's RGB headers and memory modules.
System Benchmarks
Cinebench R23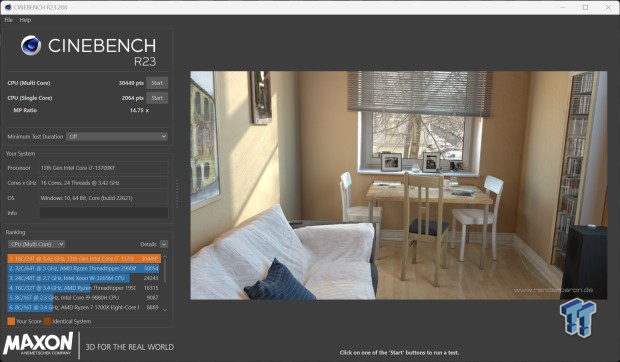 As always, we started with R23, which netted us a single-core score of 2064 and a multi-core score of 30449.
Crossmark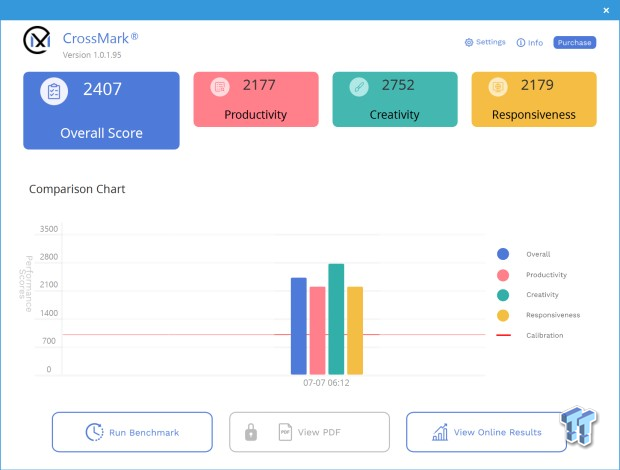 Crossmark wrapped up with an overall score of 2407.
AIDA64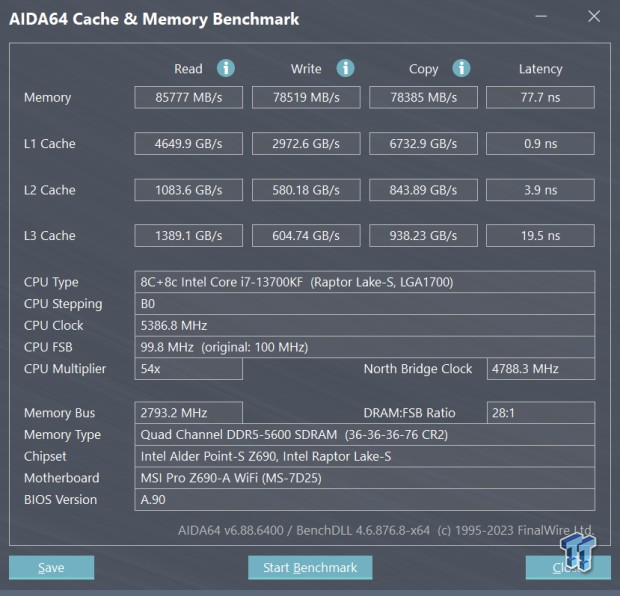 AIDA64 gave us 85K read, 78K write, and 78K copy. Latency was decent at 77ns.
PCMark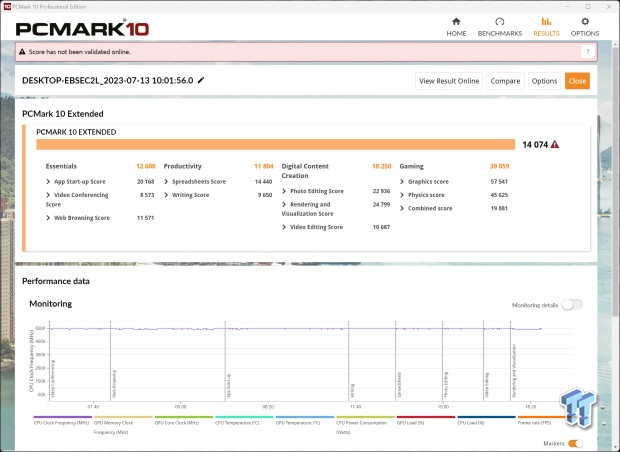 PCMark scored 14074 overall, and the gaming workload was nearly 40K points.
3DMark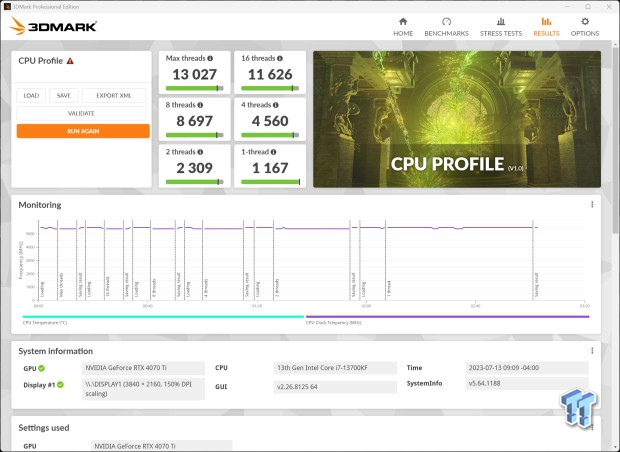 CPU Profile landed at 1167 single thread while sixteen threads finished at 11626.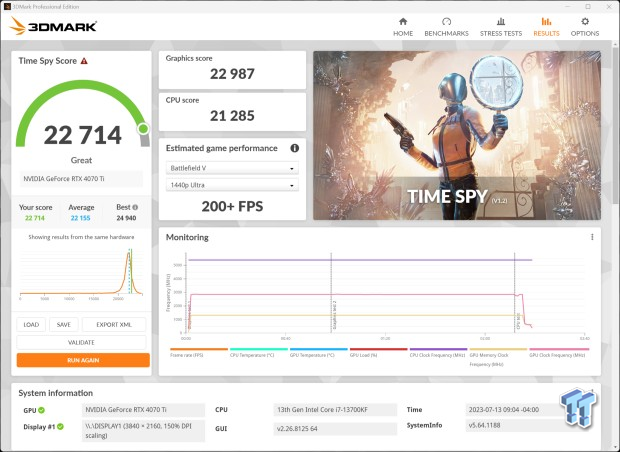 3DMark Time Spy gave us 22714 overall, with the CPU picking up 21285.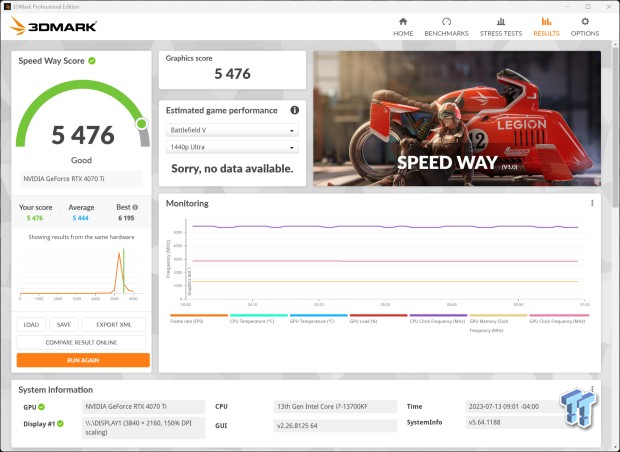 Running through Speed Way, we had a score of 5476.
Storage performance was decent, the Y40 scoring 2799 with a bandwidth of 493 MB/s.
Charts and Comparisons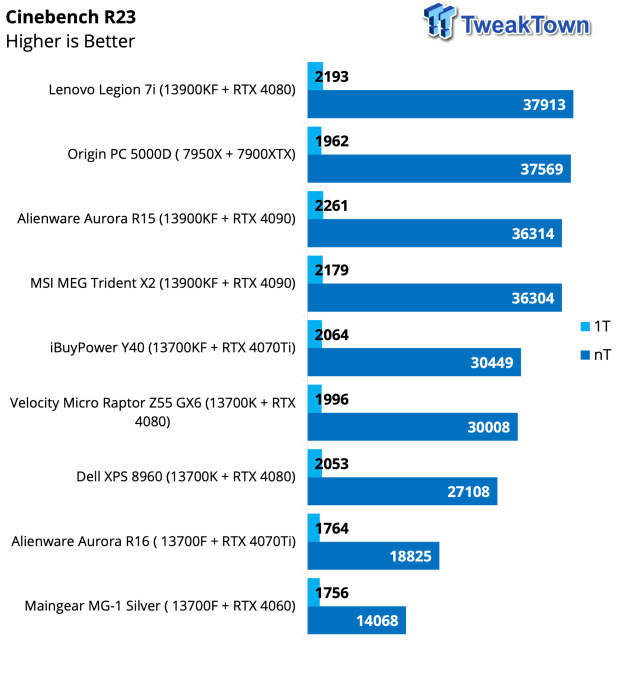 Moving into our charts, the Y40 sits in the middle of the pack in our R23 chart above, a touch better than the Velocity Micro Raptor.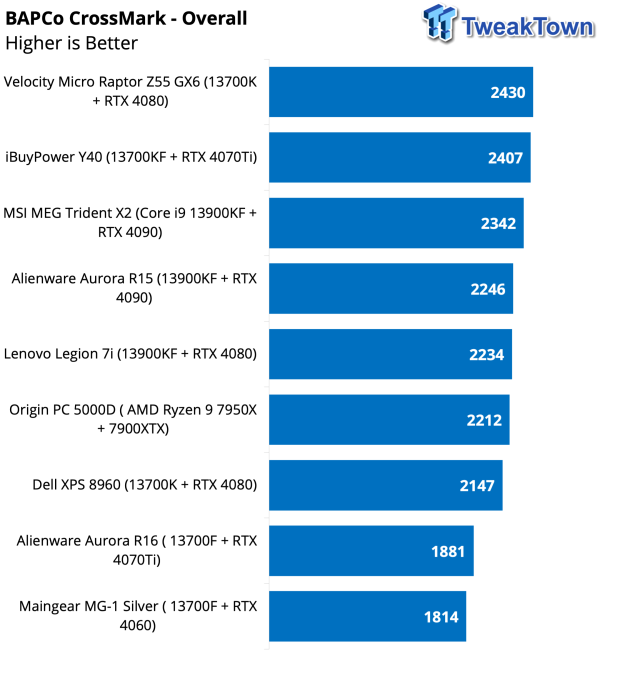 Crossmark sees the Y40 near the top. The system scored 2407, a touch above the Trident from MSI.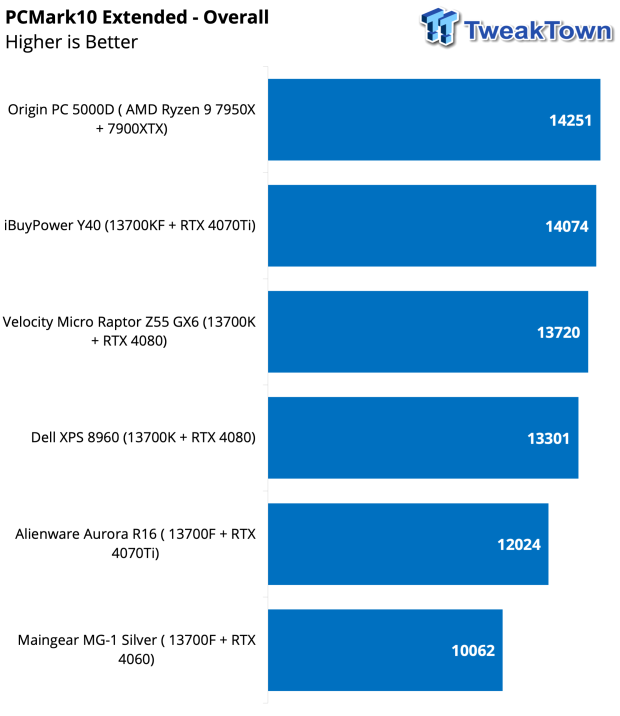 PCMark Extended lands the Y40 second to the Origin 5000D.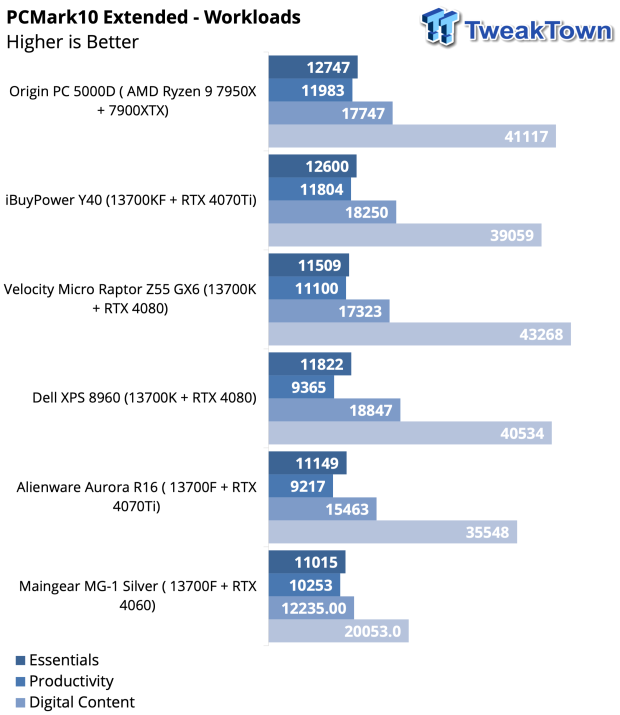 Looking at PCMark Workloads a little closer, the Y40 was again second to the Origin, its best workload being gaming.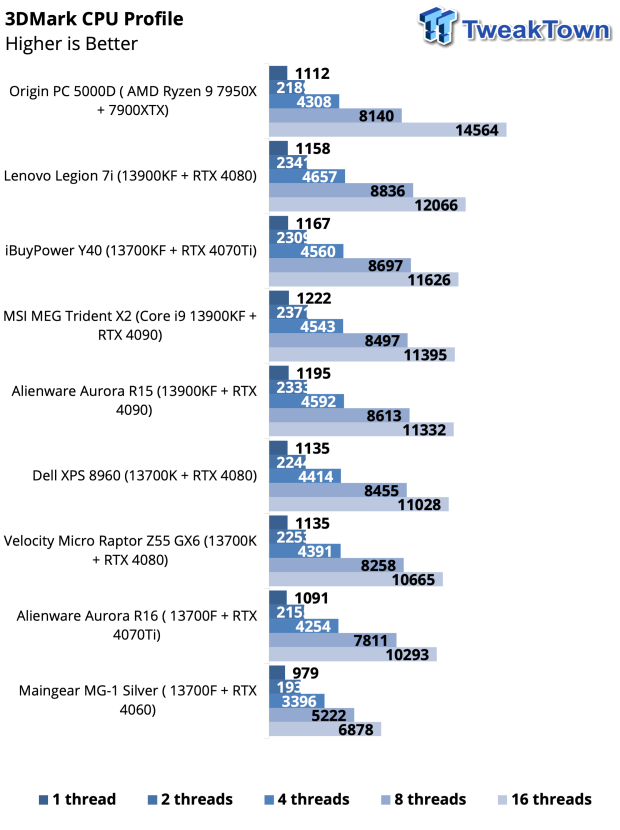 CPU Profile lands the Y40 - third in our charts.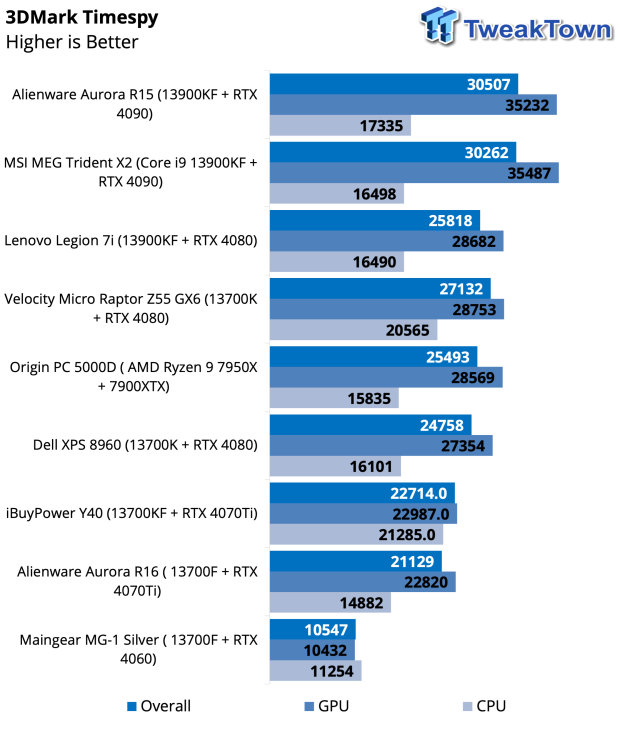 Time Spy has the Y40 just below the XPS 8960.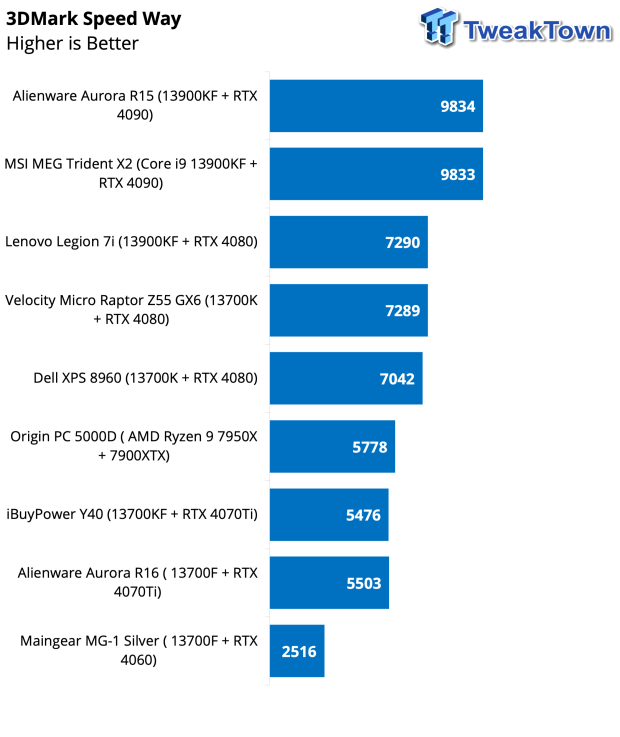 Speed Way has the Y40 on par with the Aurora R16.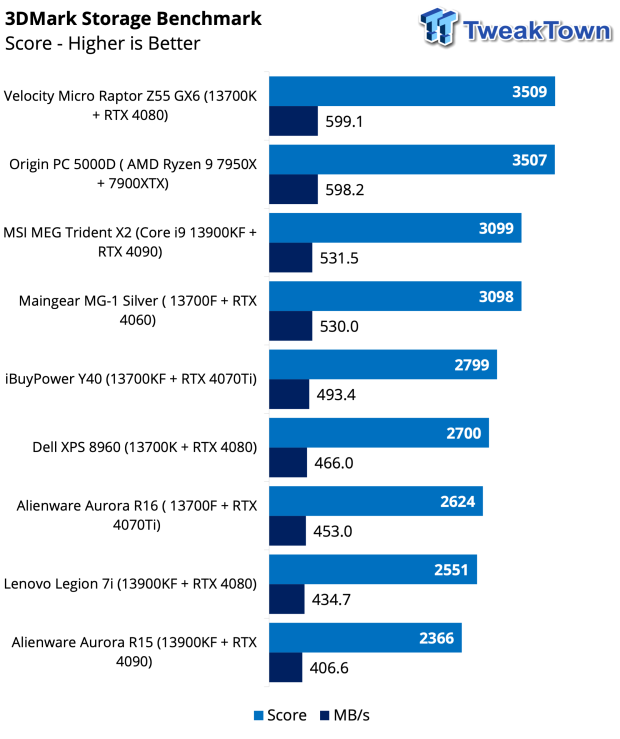 Storage was decent with the Y40, middle of the pack in our charts.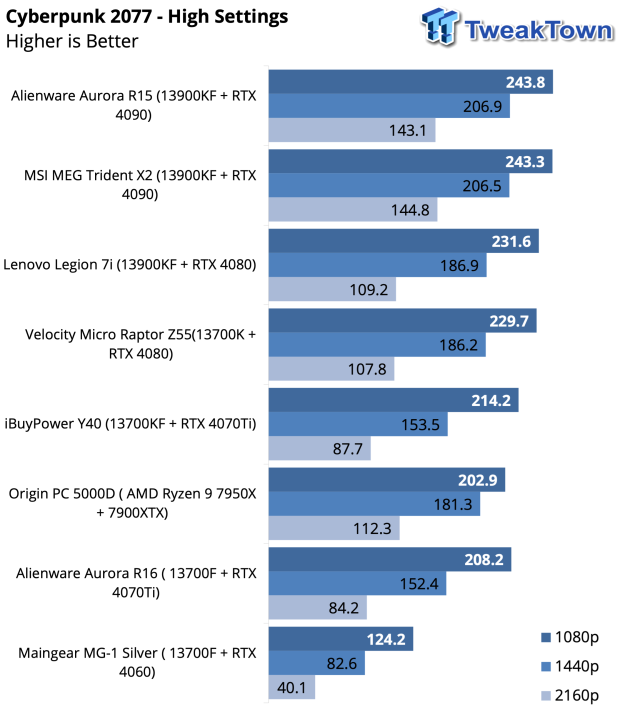 Cyberpunk 2077 showed solid performance for the Y40. The RTX 4070 Ti delivered 214 FPS at 1080p high and 153 FPS at 1440p high.
Value and Final Thoughts
Value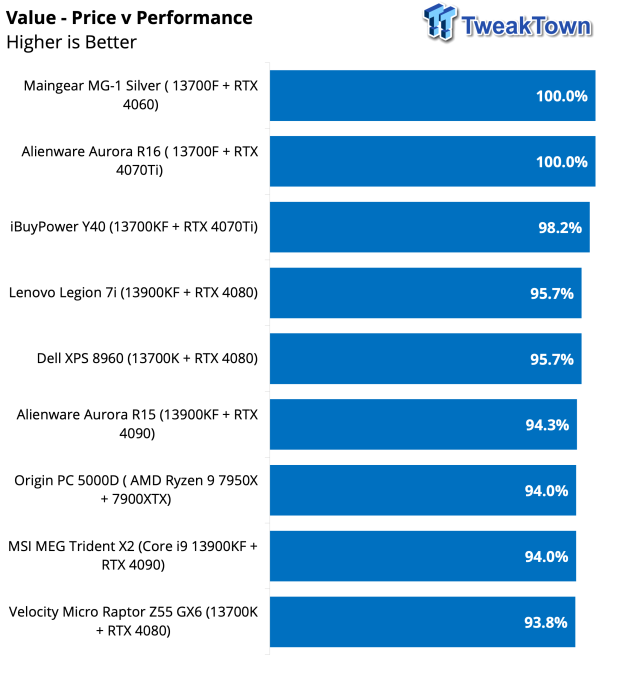 With its slightly higher price tag, the Y40 did land a slot below the Aurora R16 at 98.2%.
Final Thoughts
iBUYPOWER has put together a rather solid mid-range gamer with its Y40 lineup, and using off-the-shelf components is one way to get the keys to the city quicker, and iBUYPOWER has done that with ease.
While admittedly older with its Z690 chipset, the MSI motherboard is still being supported and could even see support for Intel's 14th-gen CPUs if upgrading is on your must-have list. DDR5 support is a must for me; the MSI board can take up to 192GB, though admittedly, with this being a Z690 chipset, you likely won't see 8000MHz +, but 6000MHz-6200MHz is certainly an attainable goal.
Performance was quite good for a mid-range machine. The Y40 hit the middle of our charts in CPU-intensive tasks, while when we use system-wide workloads, we see it climb up the charts. Gaming was quite good on the Y40. The 4070 Ti is a solid GPU with nearly the perfect balance of performance/price, allowing this system upwards of 214 FPS in Cyberpunk 2077 at 1080p and was even able to stay above 60 FPS at 4K, with our test showing a solid 87 FPS.
Aesthetically, the Y40 is a big win for me. IBUYPOWER going in-house to use one of its own HYTE chassis is a fantastic move and dresses up this entire lineup. Pricing is a tad high. At $2299, it is about $400 more than the Aurora R16 recently reviewed but offers that aesthetic appeal and uses all high-quality components right down to the thumbscrews.