ASUSTOR AS-604RD 4-bay Rackmount NAS Review
With redundant power supplies and a load of enterprise features, ASUSTOR's AS-604RD packs a powerful punch in a small 1U package. Read on for more details.
Published
9 minute read time
Introduction & Hardware Specifications and Pricing

We tested the Asustor AS-604T pedestal NAS exactly one year ago and found its performance above par compared to other products on the market in the same price range. Asustor took that same DNA and built two rackmount versions for the SMB / SME market. The first model, the AS-604RS, uses a single power supply, and the second model, the AS-604RD, uses redundant power supplies.
The AS-604RD is a cross-platform storage server. It works with everything, including Windows, Android OS, Apple, and even Linux. The ADM software is also quite powerful. Asustor's operating system has several built-in features, but the add-on packages deliver flexibility so that you can customize the server for multiple tasks that run at the same time like a virtual server but without the complication.
Hardware Specifications and Pricing
Modern NAS servers have moved beyond data storage through a wired network. In order to get the most out of a NAS, you need to look at the extra I/O hardware and the mountain of potential software features.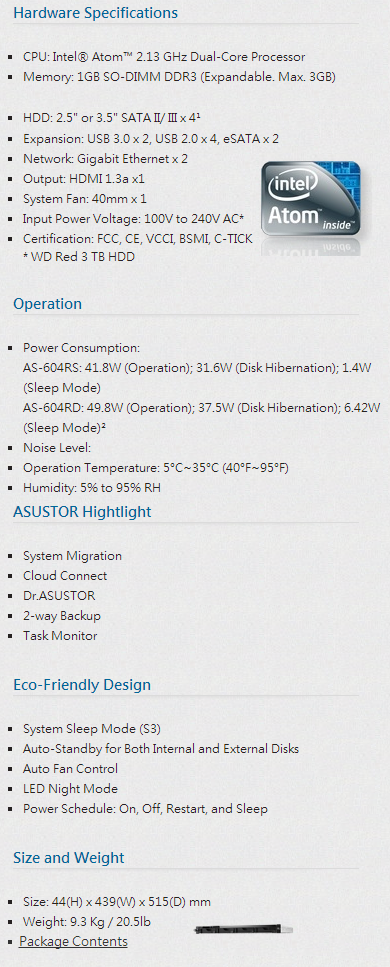 Powering all of the applications is an Intel dual-core Atom processor with HyperThreading. Asustor ships the AS-604RD with only 1GB of DRAM, but you can easily increase the capacity to 3GB by adding a single 2GB stick. We'll show that process later in this review.
The AS-604RD is different than the AS-604RS model in that it ships with a redundant power supply. The dual power supply does add around $100 to the cost. The single power supply unit sells for $997.99, and the redundant power supply model we're testing today sells for $1099.99 (all prices from Google Shopping).
Neither system ships with drive rails, so you'll need to purchase an Asustor Rail Kit, $145.99, to mount the system in a 4-post rack.
On the features side, the AS-604RD has four drive bays for either 3.5-inch or 2.5-inch disks. The NAS can run RAID 0, 1, 6, or 10 with an EXT4 file system. Two eSATA ports expand the total capacity of the system. Two USB 3.0 and four USB 2.0 ports increase the system's flexibility.
Two independent gigabit Ethernet ports can connect to separate networks or run one of six Link Aggregation modes. The NAS is a 1U design, so it easily fits in your existing rack.
PRICING: You can find the Austor AS-604RD for sale below. The prices listed are valid at the time of writing but can change at any time. Click the link to see the very latest pricing for the best deal.
United States: The Austor AS-604RD retails for $1,099.00 at Amazon.
Canada: The Austor AS-604RD retails for CDN$1,741.93 at Amazon Canada.
Software Features
NAS products are equal parts hardware performance and software features. One complements the other in a balanced product. You need more hardware performance to run more software features at the same time.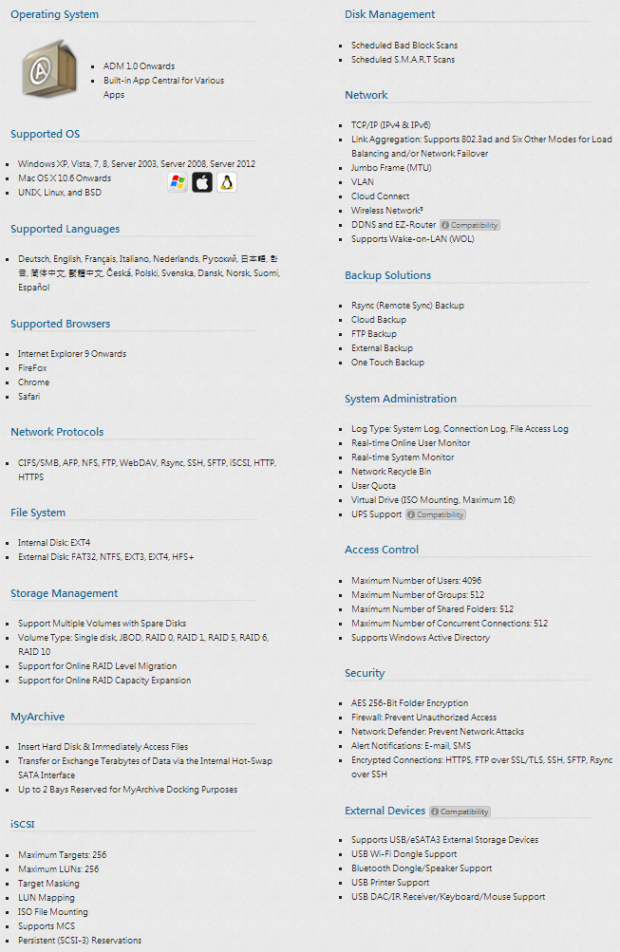 Asustor's ADM operating system is now up to version 2.1.1.R3B2. The latest release has increased system performance since we reviewed the pedestal AS-604T last year. The progression is impressive, but NAS products are equal parts performance and software features.
Asustor comes though on the software side as well. The company has a backup software package for Windows called Backup Plan as well as management software for Windows, Apple OS, including iOS, and Android.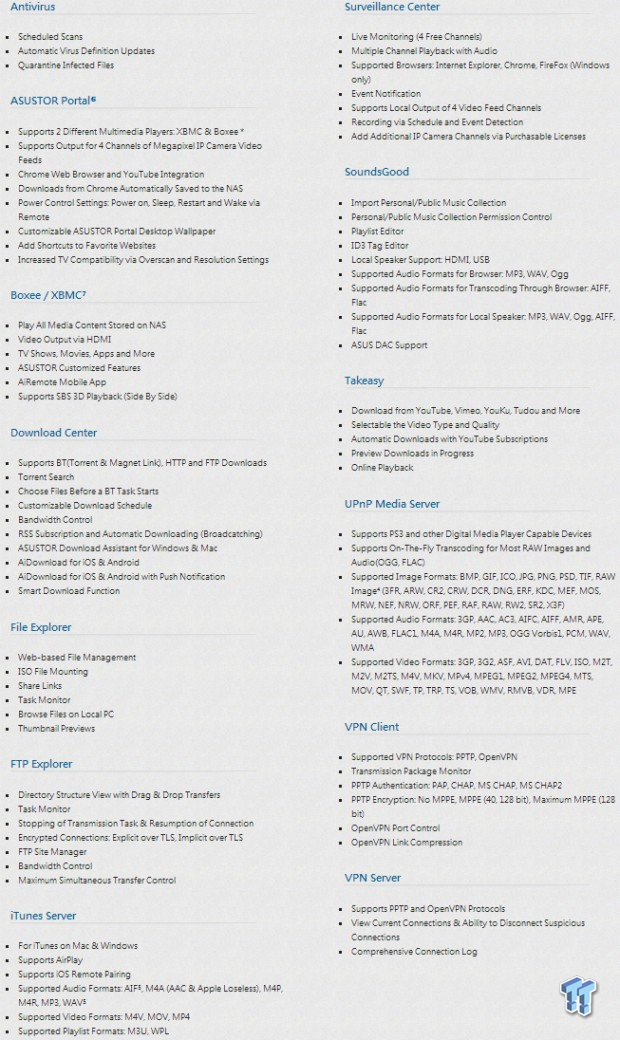 The AS-604RD product page lists a number of software add-ons, but you can find the full list in the downloads section on ASUSTOR's website. The software packages install easily from inside the ADM operating system with just a few clicks. Looking down the list above, we see a mix of both consumer and enterprise focused applications.
Packaging and Accessories
Packaging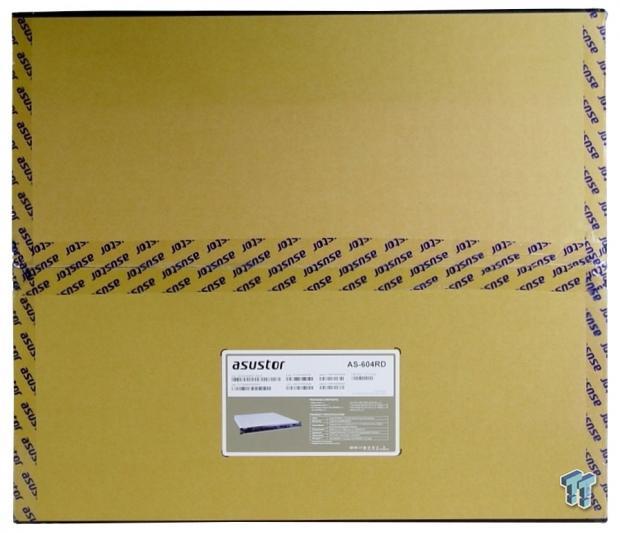 The system ships double boxed with dense foam around the server for maximum protection.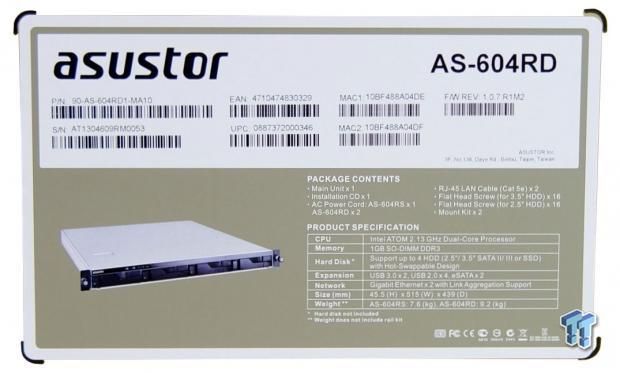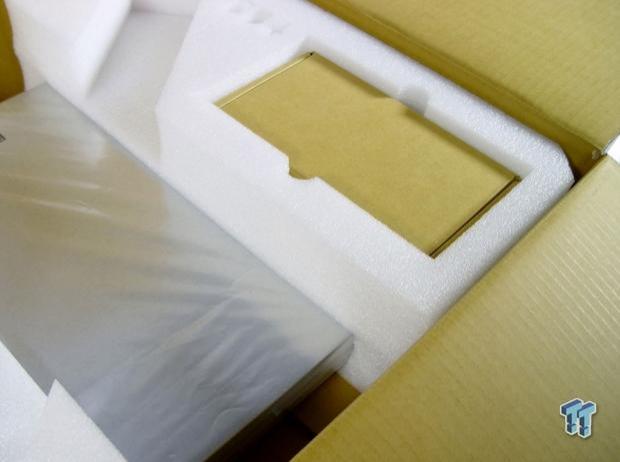 The accessory package rests in a separate box so that the components can't damage the server in transport.
Accessories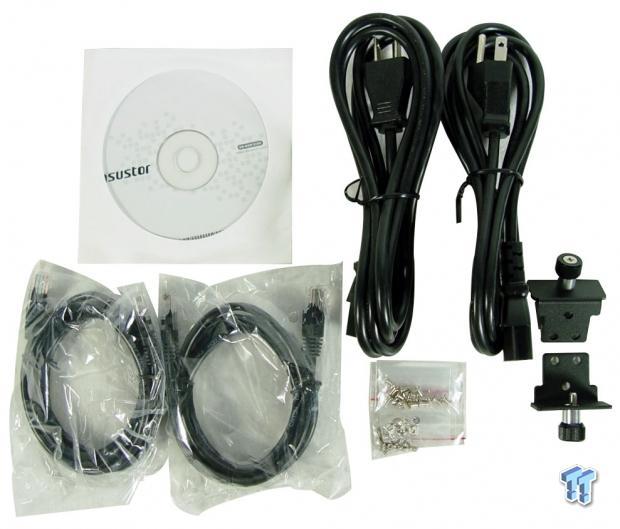 Inside the box, we found a software disk, two power cables, two Ethernet cables, screws for mounting both 2.5-inch and 3.5-inch drives, and ears for the rackmount setup.
Asustor AS-604RD

Here we get our first look at the NAS. The four drive bays are not screwed with a lock mechanism, which is one of our few complaints about the system.

Two buttons and three LEDs get the system started, and the LEDs show disk and network activity.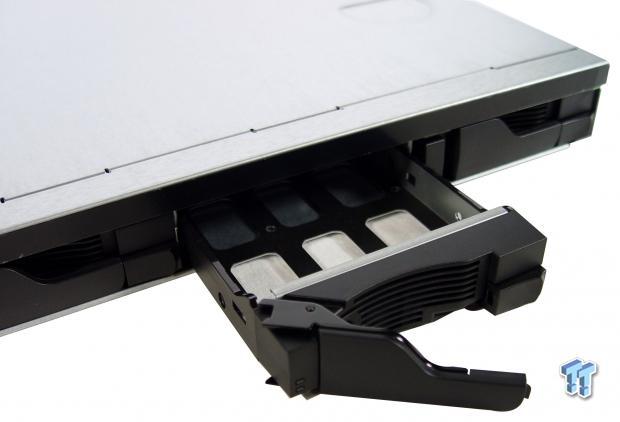 The drive cages secure both 3.5-inch and 2.5-inch drives. The cages are a mix of plastic and metal for a solid fit in the system without the cheap plastic feel or flex.

The NAS has posts on the side for Asustor-specific rails, so I doubt it would be possible to get generic rails to work.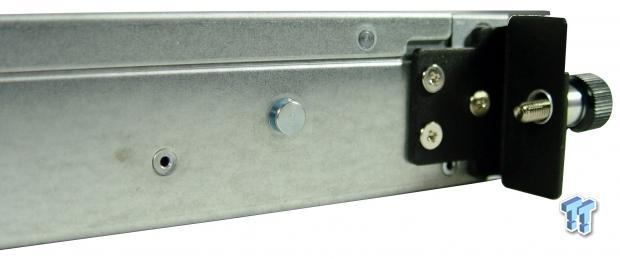 The rack ears work with the rails to secure the NAS in its 1U slot.

All of the I/O ports are located on the back, and that makes access to USB ports an issue if you just want to slap a flash drive in for easy backup.

This system also has an HDMI port, but we didn't find it useful in a rackmount system. If you have a rack for your home theater, though, you can take advantage of Asustor's multimedia add-on software packages.
Two gigabit Ethernet ports connect to your network, and six USB ports allow you to expand the capabilities of the system. Two eSATA ports increase the storage density if needed.

The AS604-RD uses dual power supplies for redundancy, a nice enterprise level feature that we rarely see on systems in this price range.
Inside the Asustor AS-604RD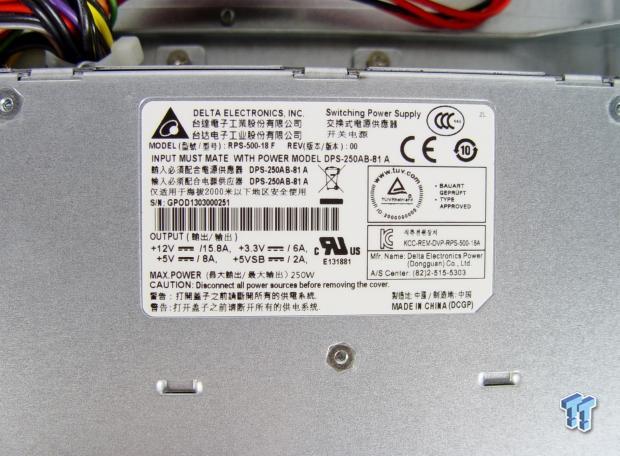 Inside, we found a 250-watt Delta power supply.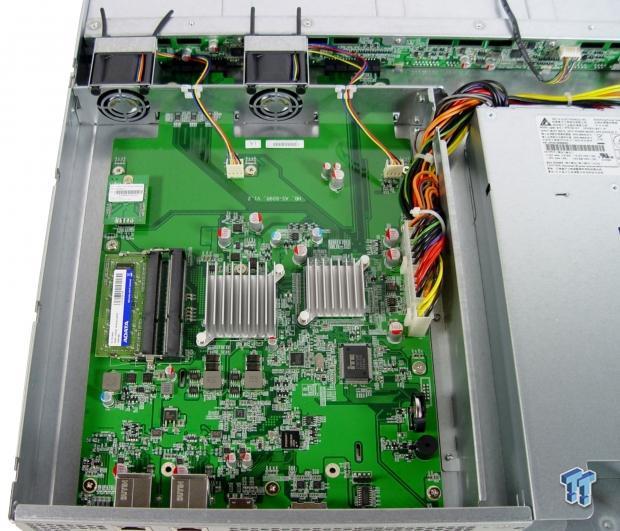 The inside components are nice and tidy, free from cable clutter, so the airflow is decent.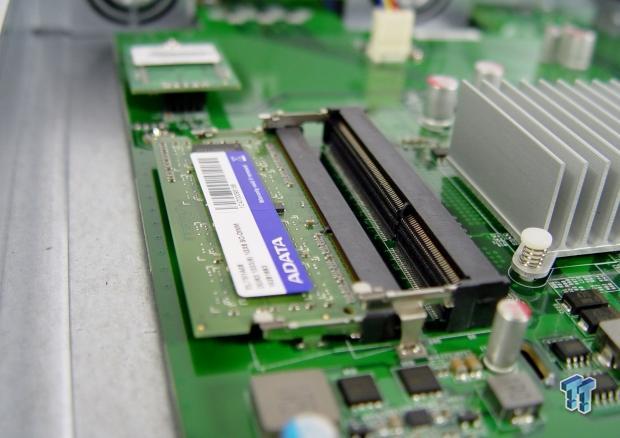 A single DDR3 SO-DIMM RAM ships in the system, but you can add a 2GB module to increase the DRAM to 3GB total.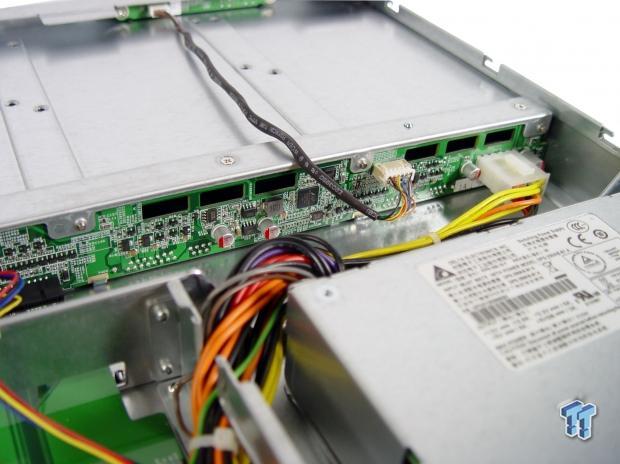 The backplane has vents behind each drive, but two 40mm fans don't cool all of the bays equally.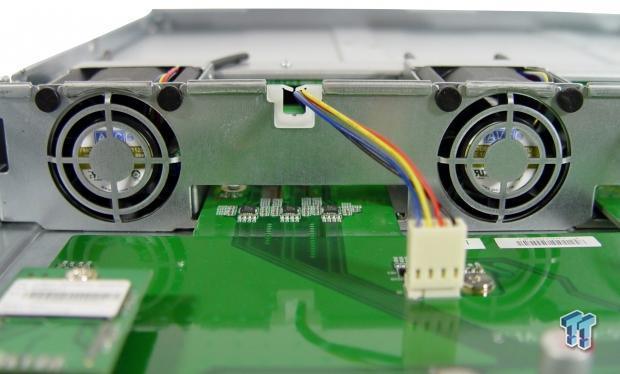 Here we see the two 40mm fans that are behind drive bay 3 and 4. SATA drives with 4 platters or less shouldn't be an issue, but new 5TB and 6TB drives might have a problem in this environment.
Test System Setup
Our NAS test 'system' has migrated to three 42U racks like what you'd find in a datacenter. There are ten servers that attack the target NAS with 120 Hyper-V installations of Windows 7 64-bit, each with a dedicated gigabit Ethernet port. The systems feed to three Extreme Networks X450e-48p switches and then to a Supermicro SSE-X3348TR top-of-rack switch. The device under test connects to the Supermicro switch via 1GbE, 10GbE, or 40GbE. The iSCSI and NASPT tests use a single machine connected to the Supermicro switch.
This level of testing wouldn't be possible without the help and support from several companies, many of which have little to do with NAS products. We would like to thank AVADirect, Antec, Corsair, GIGABYTE, Icy Dock, Kingston, LSI, Noctua, Rosewill, Seagate, Thermaltake, and Western Digital for their much-appreciated support.
Intel NASPT
The Intel NAS Performance Toolkit (NASPT) is a file system exerciser and analysis tool designed to enable direct measurement of home network attached storage (NAS) performance. Designed to emulate the behavior of an actual application, NASPT uses a set of real-world workload traces gathered from typical digital home applications. Traces of high definition video playback and recording, office productivity applications, video rendering/content creation, and more provide a broad range of different application behaviors.
TweakTown Custom 120-Client Office Test
The TweakTown Custom 120-client Office Test uses 120 Windows 7 Hyper-V installations and custom software to stress each NAS with traces from Microsoft Office tasks. Both throughput (in Mbits per second) and latency (in milliseconds) are measured.
Seagate NAS HDD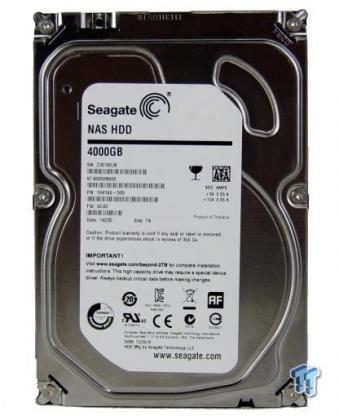 TweakTown uses Seagate NAS hard drives for all of our NAS tests. You can read our full review of the Seagate NAS HDD here.
Supermicro SSE-X3348TR 10GbE / 40GbE Switch

With a switching fabric of 1284 Gbps through forty-eight 10GbE ports with RJ45 connectors and four 40GbE QSFP connectors, the SSE-X3348TR is our switch of choice for testing SMB and enterprise network attached storage products. Many server and motherboard manufacturers have included 10GbE on top-tier offerings. 2015 will be the year for a 10GbE take over.
Benchmarks - RAID 5 Single Client Performance
Benchmarks - RAID 5
RAID 5: Block-level striping with parity data distributed across all member disks.
HD Video Playback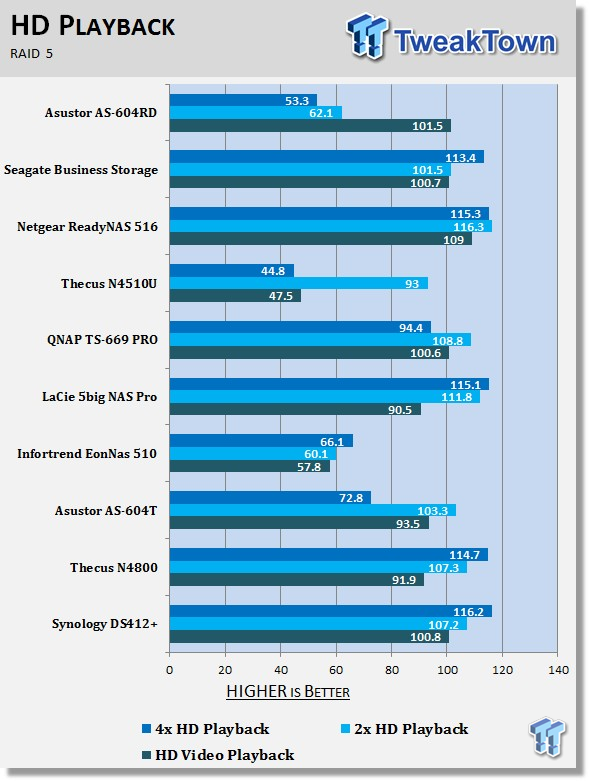 HD Video Play - 720p HD stream from Windows Media Player 256kB reads
2HD Video Play - 2x playback
4HD Video Play - 4x playback
HD Video Record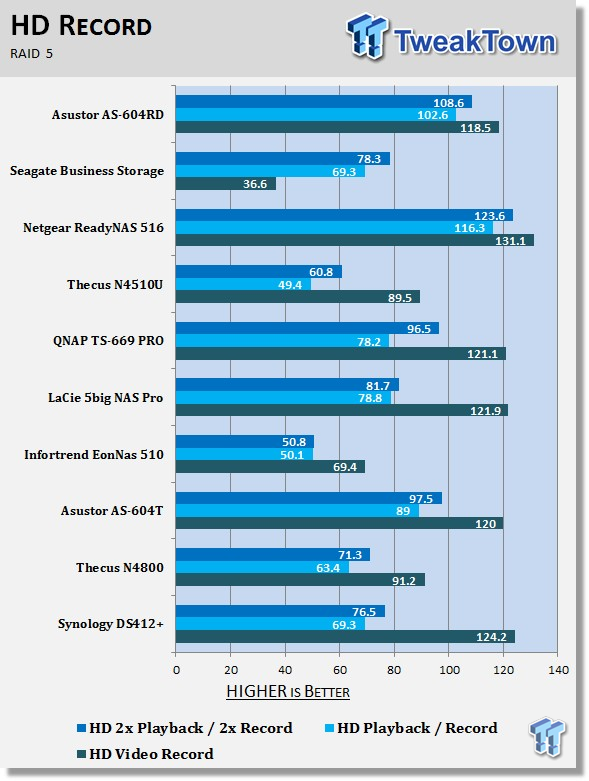 HD Video Record - 720p HD stream, 256kB writes
HD Video Play & Record - 1 playback, 1 record simultaneously
2x HD Video Play & 2x Record - 2 playback, 2 record simultaneously
Content Creation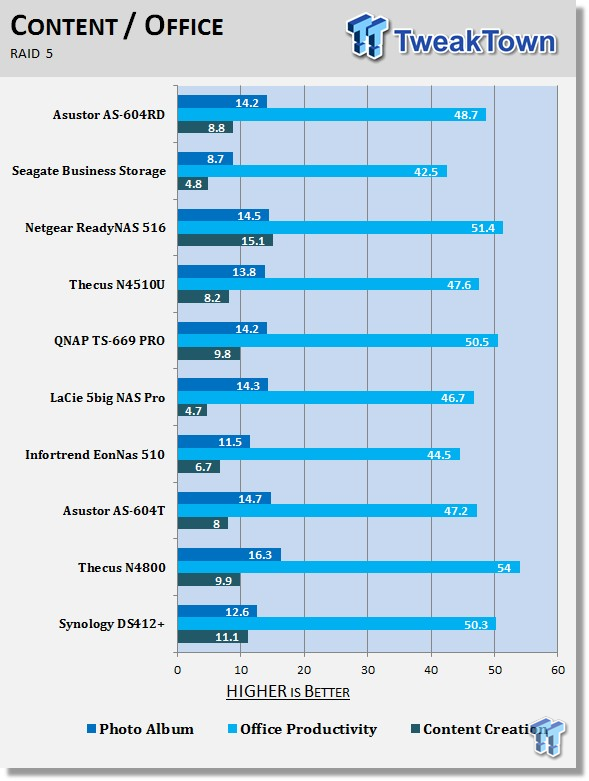 Photo Album - All reads - wide distribution of sizes
Office Productivity - Reads and writes, 1kB & 4kB reads; Mostly 1kB writes
Content Creation - 95% writes; 1k, 4k & little reads; Writes up to 64kB
File / Directory Transfer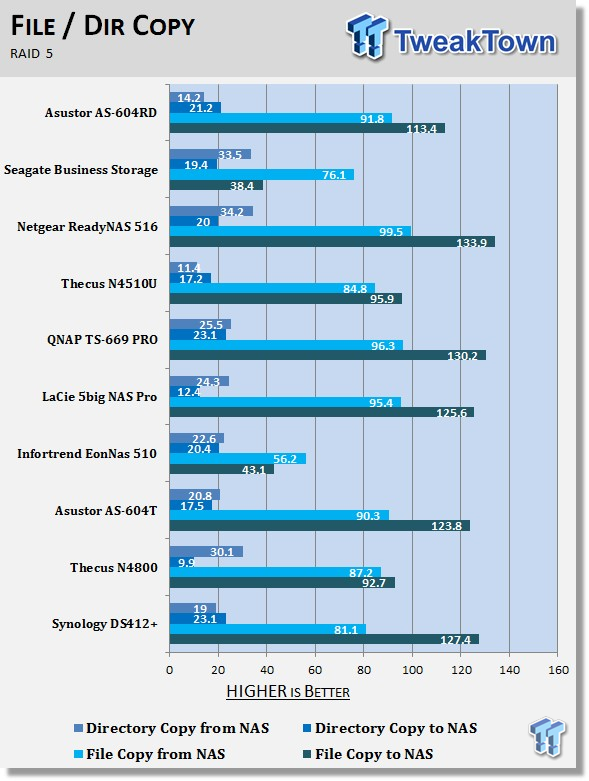 Directory Copy From NAS - 64kB reads
Directory Copy To NAS - Predominantly 64kB writes, wide scattering under 16kB
File Copy From NAS - 4GB file copy, 64kB reads
File Copy To NAS - 64kB writes
Single Client Performance Summary
In the single client tests, the Asustor AS-604RD does very well when writing data to the drives but lags behind some of the other NAS products in a few of the read tests. When using the system for multitasking, the AS-604RD slows a bit.
The write tests show the AS-604RD does very well in when you send data to the NAS. The content tests show us just how efficient the Asustor operating system is. In those tests, the system is often faster than products that cost twice as much.
When transferring data to the NAS, it's possible to write up to 113.4 MB/s to the NAS when the files are sequential. The sequential read test was nearly 92 MB/s.
Benchmarks - iSCSI Enterprise Workloads
Database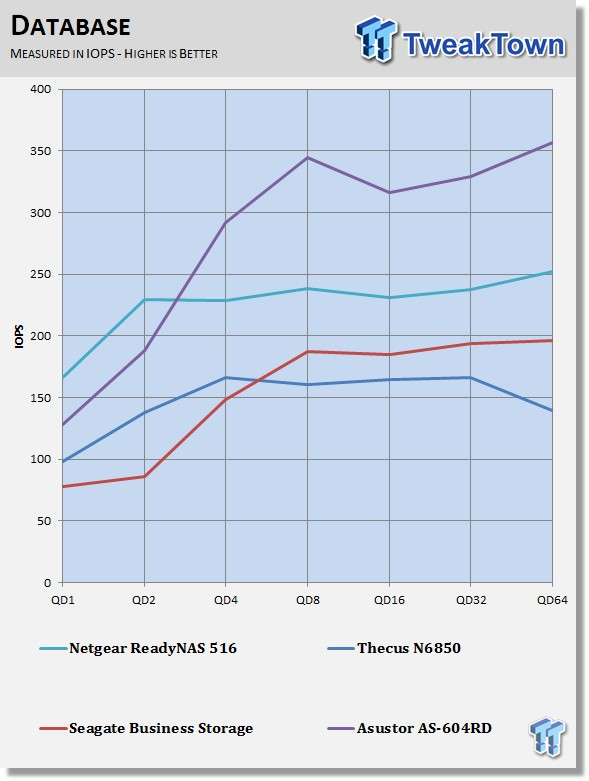 File Server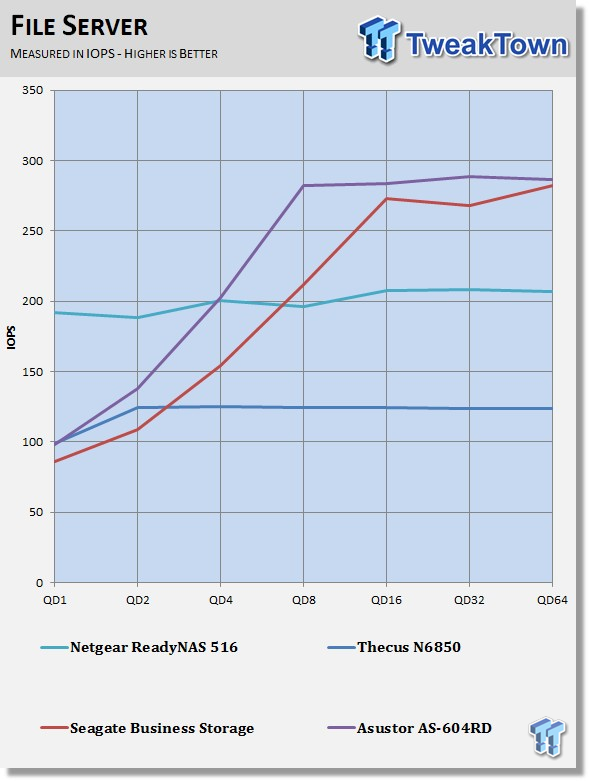 Email Server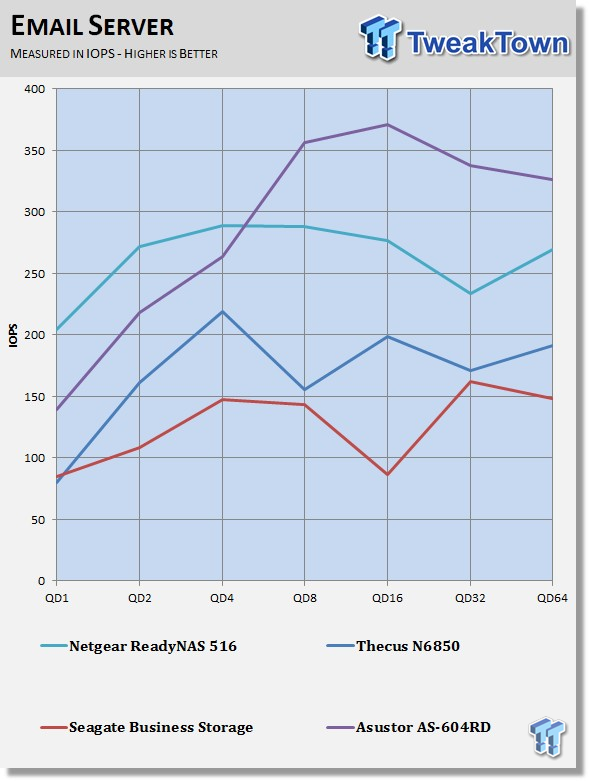 Web Server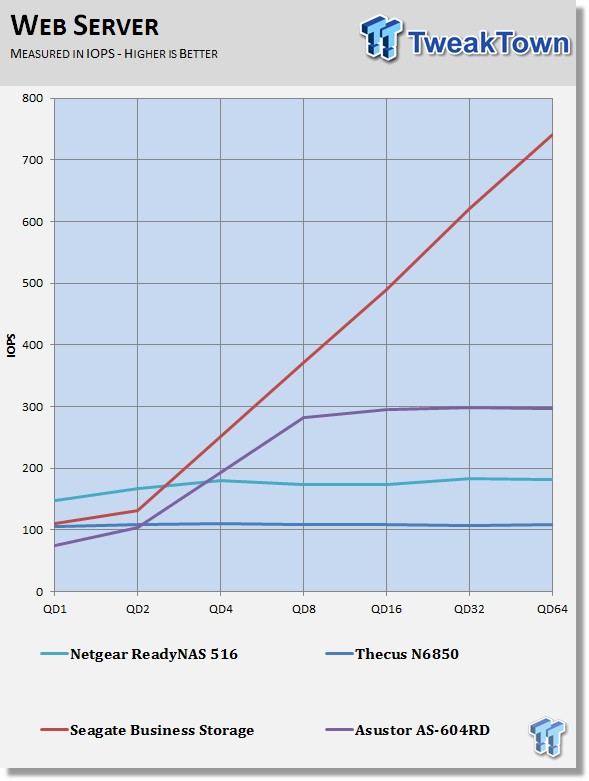 Workstation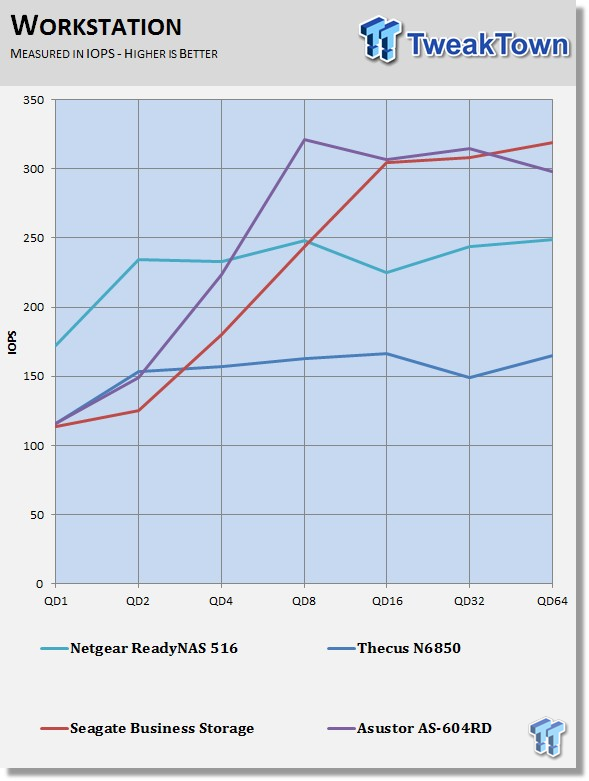 iSCSI Enterprise Workload Summary
In all but the web server test, the Asustor AS-604RD outperforms the other NAS systems in these tests. In the web server test, the AS-604RD scales well until after queue depth 8, which is where the AS-604RD steadies out.
Benchmarks - iSCSI Workload Latency
Database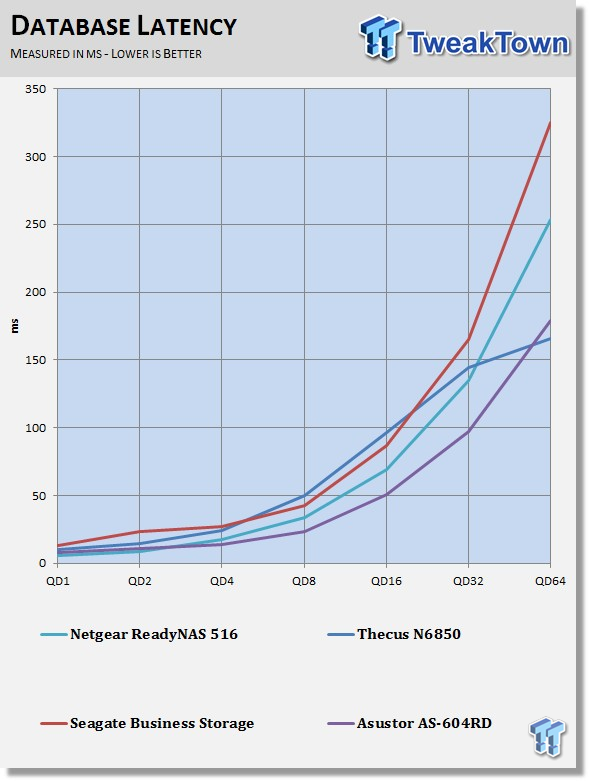 File Server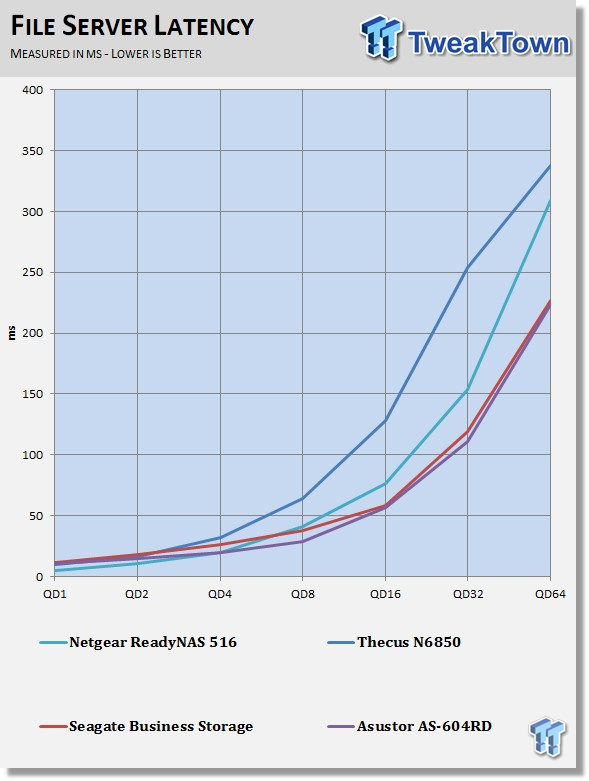 Email Server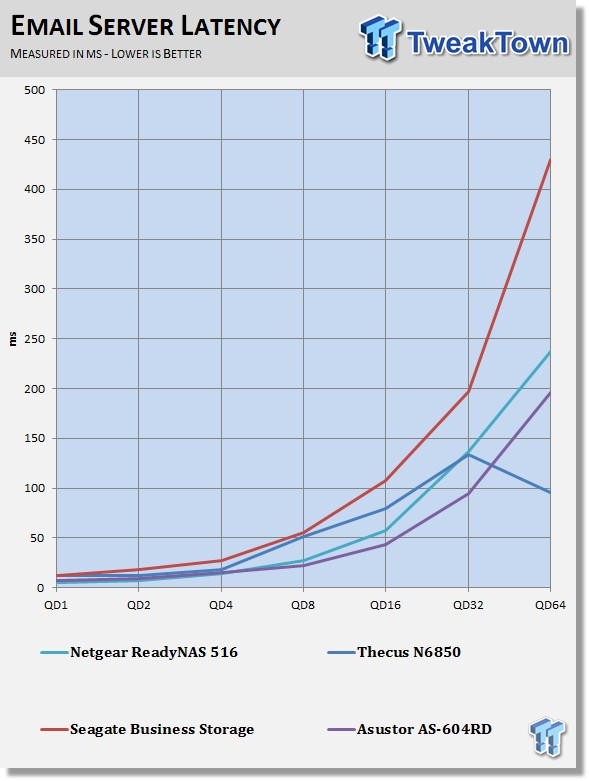 Web Server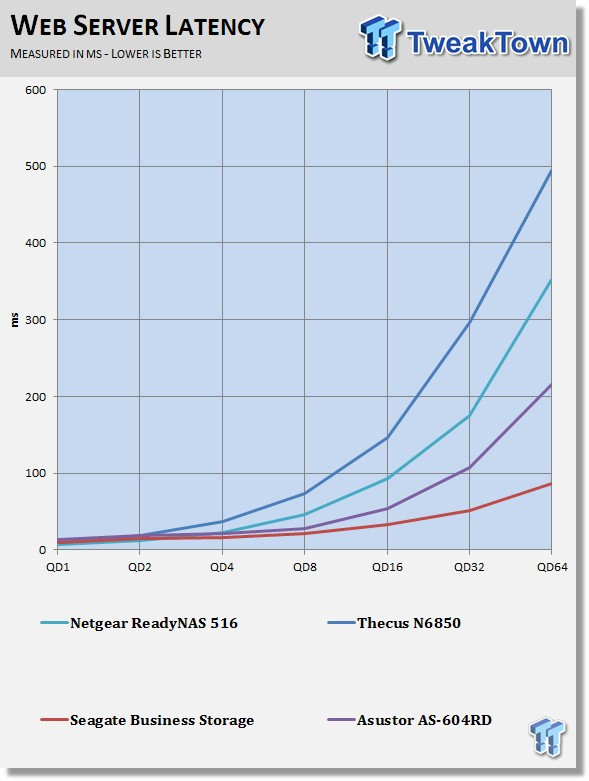 Workstation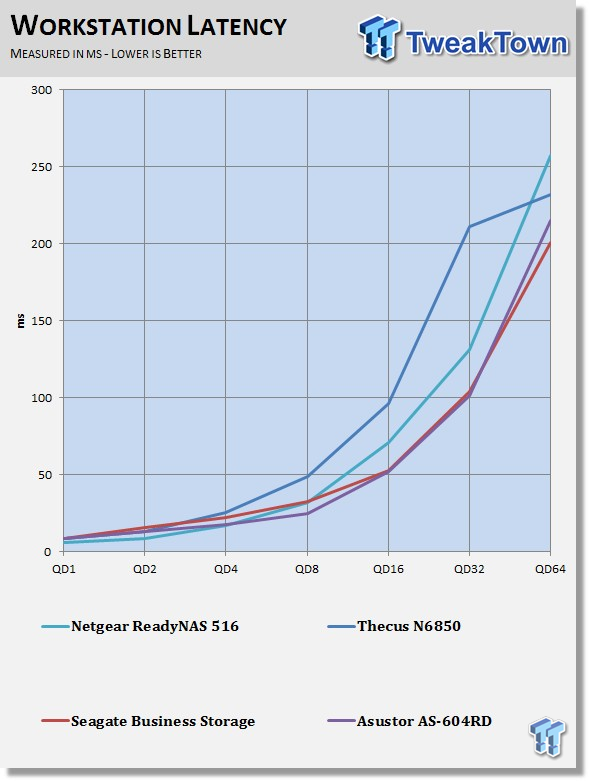 iSCSI Enterprise Latency Summary
The AS-604RD delivers solid performance with very low latency in these standard tests ran in Iometer. The low latency can be attributed to Asustor's operating system that is very efficient.
Benchmarks - Multi-Client Test
The Intel NAS Performance Tool (NASPT) is an excellent way to determine NAS performance in a single user environment. Any review that only uses NASPT assumes that only a single computer will access the target NAS at one time. We took issue with this method of testing and spent over a year designing, building, programming, and finally validating the TweakTown Multi-Client Test.
The test uses Microsoft Office data recorded to traces and played back to the NAS from up to 120 client Windows 7 installations (clients). We record total throughput of all clients and average response time per client.
Over time, we'll populate the two multi-client charts with several NAS products from a span of categories. The products range from a dual Xeon server with two 10GbE to a two-bay NAS with a single gigabit Ethernet connection. The products will fall into their performance categories based on performance and not marketing material or opinion.
Throughput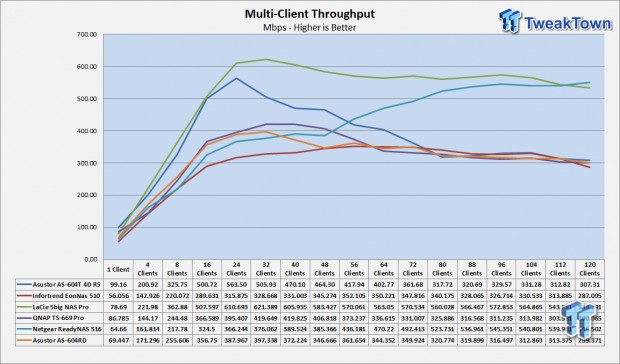 The Asustor AS-604RD doesn't have the fastest processor on the list of comparison systems used in this review, and that can be seen in the multi-client test where several users are reading and writing to the NAS at the same time. The AS-604RD still performs very well under this mixed load.
Latency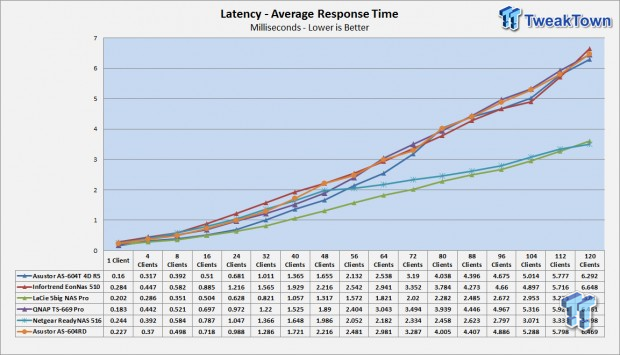 The multi-client latency is in line with the other NAS products on the chart except for the two more powerful systems listed: LaCie's 5big NAS Pro and Netgear's ReadyNAS 516.
Final Thoughts

Asustor is still a young company even though the parent company, ASUS, is a worldwide brand. In its short time, Asustor grew its distributor network, and we can now purchase products on Newegg, Amazon, Tiger Direct, and a few other well-known e-tailers in the US.
Asustor also has one of the best operating systems on the market right now. In our testing, we've noticed that even when the hardware specifications are equal to other products, the Asustor performance is almost always a bit higher. The systems are very efficient with the CPU cycles as shown in the IOPS tests where we work the NAS hard at high queue depth.
In terms of features, it's difficult to find anything wrong with the AS-604RD, but the lack of locking drive sleds may be an issue for some businesses. The redundant power supply makes up for the drive bays, though, as most SMBs will want redundancy all the way around. In the 1U size, we rarely see redundant PSUs, but that isn't the only useful feature. The software packages open the NAS up for several uses, and you can use more than one at the same time. This reduces the cost of having dedicated servers for each task. Sadly, this unit does not ship with rack rails, and they are an expensive, but necessary, add-on.
When it comes to price, the AS-604RD comes in at around $1,100. You can save around $100 on the AS-604RS, but you lose the redundant power supplies. Competing directly with the AS-604RD for market share, we found the QNAP TS-469U-SP ($1,149.99) and Thecus N4510U Pro-R ($1019.00). All three systems use the same Intel Atom dual-core processor at 2.13 GHz, but the Thecus ships with 2GB of DRAM, rack rails and a redundant PSU.
PRICING: You can find the Austor AS-604RD for sale below. The prices listed are valid at the time of writing but can change at any time. Click the link to see the very latest pricing for the best deal.
United States: The Austor AS-604RD retails for $1,099.00 at Amazon.
Canada: The Austor AS-604RD retails for CDN$1,741.93 at Amazon Canada.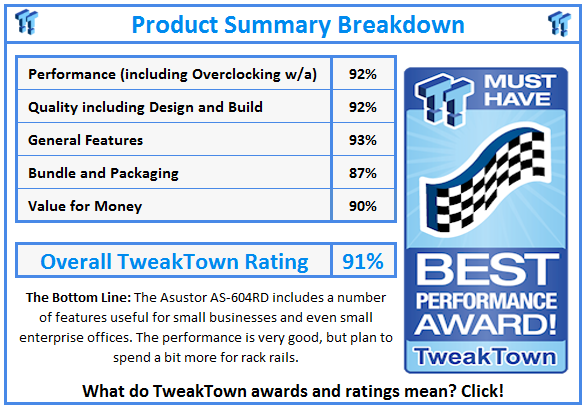 PRICING: You can find products similar to this one for sale below.

United States: Find other tech and computer products like this over at Amazon.com

United Kingdom: Find other tech and computer products like this over at Amazon.co.uk

Australia: Find other tech and computer products like this over at Amazon.com.au

Canada: Find other tech and computer products like this over at Amazon.ca

Deutschland: Finde andere Technik- und Computerprodukte wie dieses auf Amazon.de
We openly invite the companies who provide us with review samples / who are mentioned or discussed to express their opinion. If any company representative wishes to respond, we will publish the response here. Please contact us if you wish to respond.