Introduction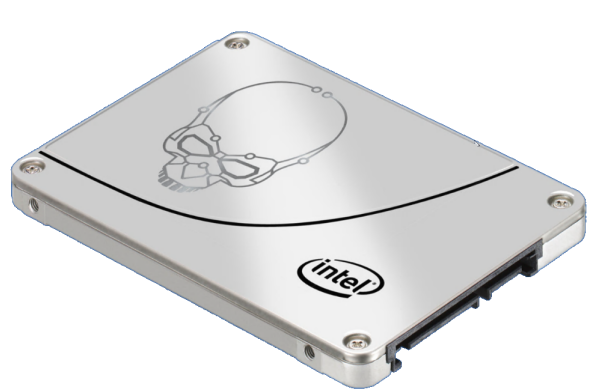 Intel has a history of bringing datacenter products to market as high-end prosumer products. The first time this occurred to my knowledge was Skulltrail, a special dual socket LGA771 motherboard paired with two QX9775 processors for the ultimate, at the time, performance experience. The Intel Extreme Edition Skull was born.
It's not a secret that LSI's SF3700 controller is late or will be late to market, depending on who you talk to. Companies in the LSI camp are loyal for the most part. This is because either they really love the SandForce technology, lack the experience to write custom SSD firmware or they put all of their eggs in one basket. Intel is rarely in a single basket position, but when it became clear that SandForce wouldn't have a PCIe based offering ready for CeBIT, the company only had a few options ready to come off the burner.
The Intel 730 Series is the same drive Intel displayed at a gaming event a few months back with an overclocking option. Everyone was buzzing about the world's first overclocking SSD and just days ago another news report hit the web about overclocking the 730 Series. Too bad it was wrong - and for good reason. If every drive could hit the 600MHz controller speed and 100MHz NAND speed, who would run the drive at a lower speed? Thus, the 730 Series does not get the knobs and switches, but instead every drive ships with a 600MHz controller and 100MHz NAND flash - no knobs, no switches, and no fuss.
What we get instead is a performance SSD based on Intel's DC S3500 datacenter SSD with higher clock speeds, lower price and a really cool graphic that pays tribute to Intel's Extreme heritage. Although Intel calls this Tisdale, I call it the "Skulltrail of SSDs". Let's take a close look now.
Specifications, Pricing and Availability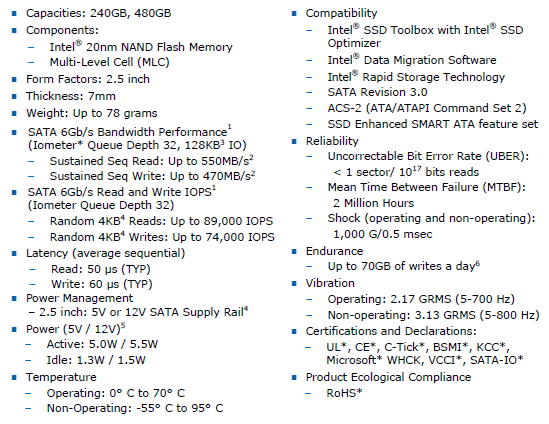 Offered in only two capacity sizes, 240GB and 480GB, the 730 Series is unlike any of Intel's previous consumer SSD products. The drive will use 12 volts of power if available, but is also capable of running on 5 volts as well, like in a notebook. The 480GB model has an endurance rating of 70GB per day, while the 240GB model has a 50GB per day rating. Host power loss protection capacitors are also in the drive, just like the DC S3500, an enterprise feature that we rarely see in a consumer SSD.
The 730 Series uses Intel's third-generation SSD controller with eight channels. The controller clock is 600MHz, a significant increase over the enterprise DC S3500. Intel paired the controller with Intel 20nm NAND flash running at 100MHz. The combination gives a claimed sequential read speed of 550 MB/s and a sequential write speed of 470 MB/s. 4K random reads are 89,000 IOPS with 4K writes at 74,000 IOPS for the 480GB model we're testing today. The 240GB model has slightly lower IOPS performance, but the sequential write speed drops to just 270 MB/s.
In the value-add category, Intel's SSD Toolbox and Data Migration software works with the 730 Series. This is also the first SSD advertised to run in RAID 0 on Intel chipsets. Intel is pushing RAID for power users, enthusiasts and prosumers. If you frequently work with 4K video, then RAID is one of the few options available to view video without frame loss.
We've shown in the past that RAID also reduces game load times and works amazingly well when dealing with sequential data. Our two 480GB drives are already on the way to Jon - look for a full RAID Report soon at TweakTown.
When released to the public on March 17 2014, the 730 Series should come just under $1 per GB. Amazon briefly had a preorder page online. Newegg didn't follow tradition and post a product page before the NDA lifts.
Intel 730 Series SSD
Here we get our first look at the new 730 Series with its full enterprise to consumer symbolism. Personally, I like the look. Now, if we could get some David Hunt edition, unlocked 12-core Xeons to go with an array of 730 drives.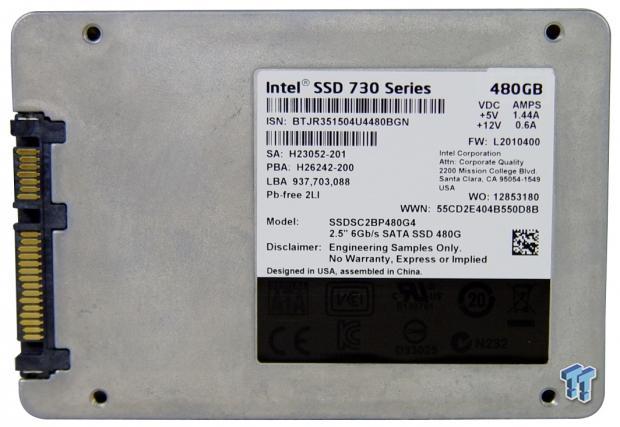 Intel lists the serial, model and part numbers on the back of the drive.

Although not recommended for notebook use, the 7mm z-height form factor means the 730 Series will fit in height restricted Ultrabooks.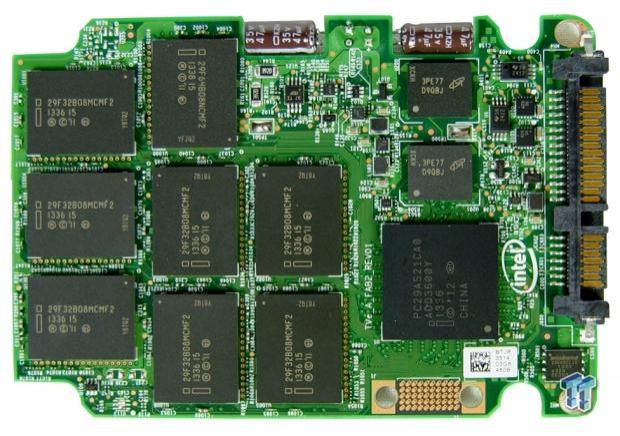 Inside we found 16 NAND flash packages, two DRAM packages and an Intel controller. At the top of this image, you can also see the two host power loss protection capacitors.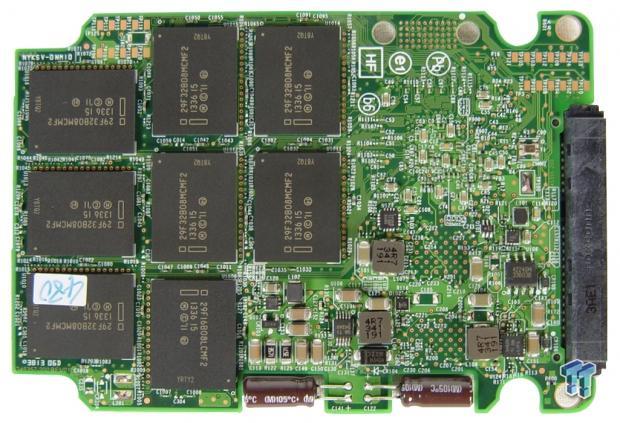 This product has several surface mount components on both sides of the PCB.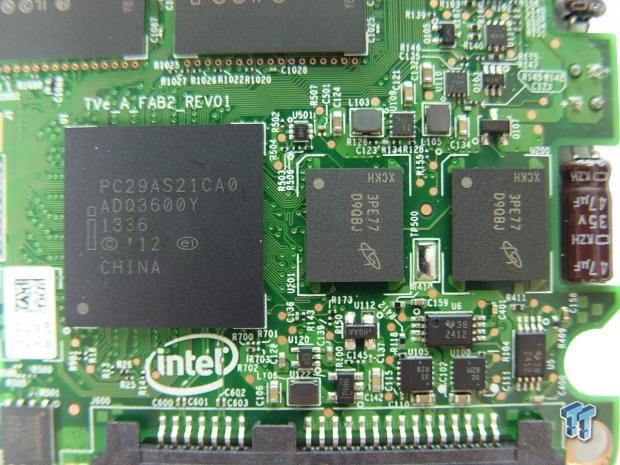 We haven't seen an Intel controller for the consumer market for a few years. Intel first chose Marvell for the 510 Series and later SandForce for 520 and 530 at the flagship level. The 530 Series may be the shortest run Intel SSD to date, it seems like I just finished the review a few weeks ago. The performance was less than the 520 it replaced, SF-2200 works with 20nm flash but not as well as it does with 25nm flash.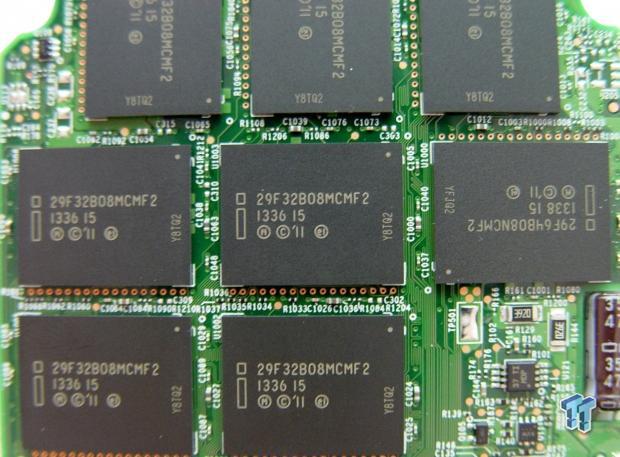 25nm flash is long gone. Intel started using 20nm NAND flash early 2013.

Benchmarks - Test System Setup and ATTO Baseline Performance
Desktop Test System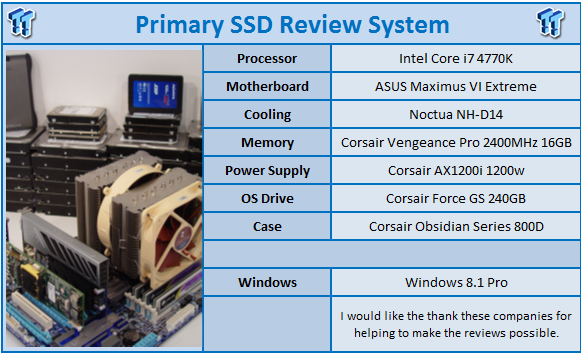 Lenovo W530 - Mobile Workstation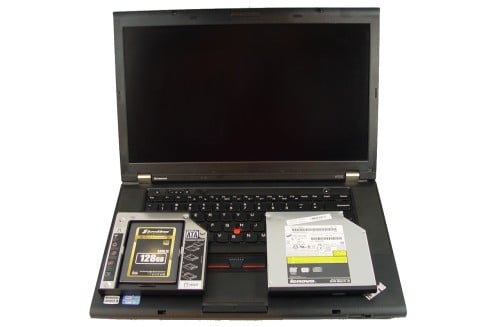 We use two systems for SSD testing. The desktop runs a majority of the tests and the Lenovo W530 runs the notebook power tests as well as the real-world file transfer benchmark.
ATTO Baseline Performance
Version and / or Patch Used: 2.34
ATTO is a timeless benchmark used to provide manufactures with data used market storage products.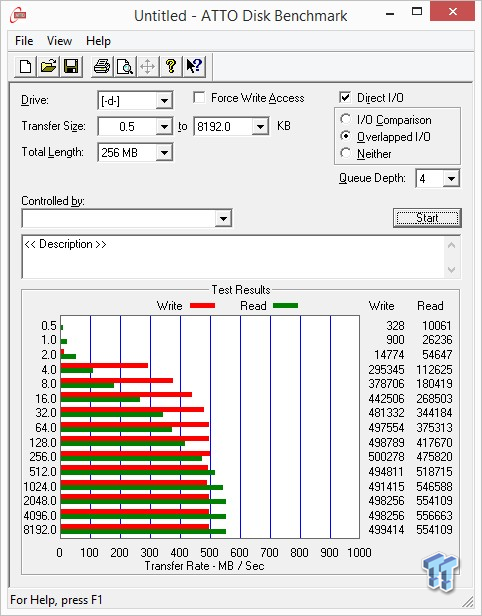 In our ATTO test, we scored a little better than Intel's claimed performance. Our sequential read came in at just under 555 MB/s and our sequential write nearly broke the 500 MB/s mark.
Benchmarks - Sequential Performance
HD Tune Pro
Version and / or Patch Used: 4.00
Developer Homepage: http://www.efdsoftware.com
Product Homepage: http://www.hdtune.com
HD Tune is a Hard Disk utility which has the following functions:
Benchmark: measures the performance
Info: shows detailed information
Health: checks the health status by using SMART
Error Scan: scans the surface for errors
Temperature display
HD Tune Pro gives us accurate read, write and access time results and for the last couple of years has gained popularity amongst reviewers. It is now considered a must have application for storage device testing.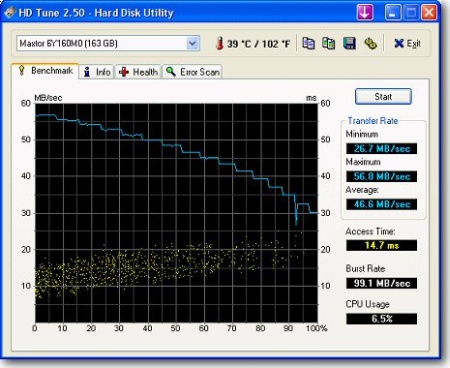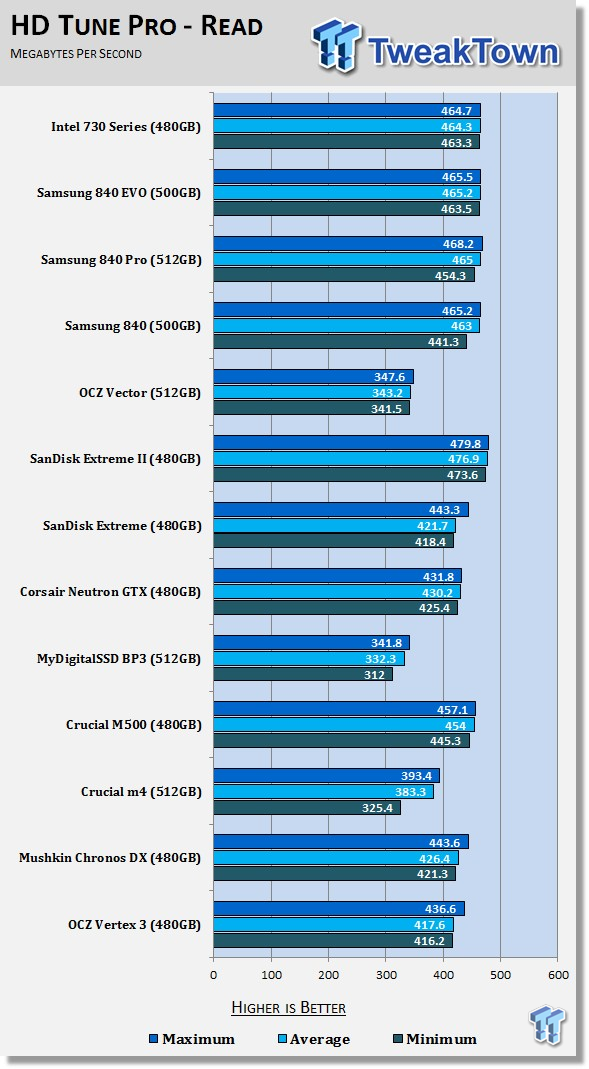 I think it's easy to see why the SSD market will soon shift to PCIe based storage. When it comes to sequential performance, we've reached the plateau of what SATA III can sustain.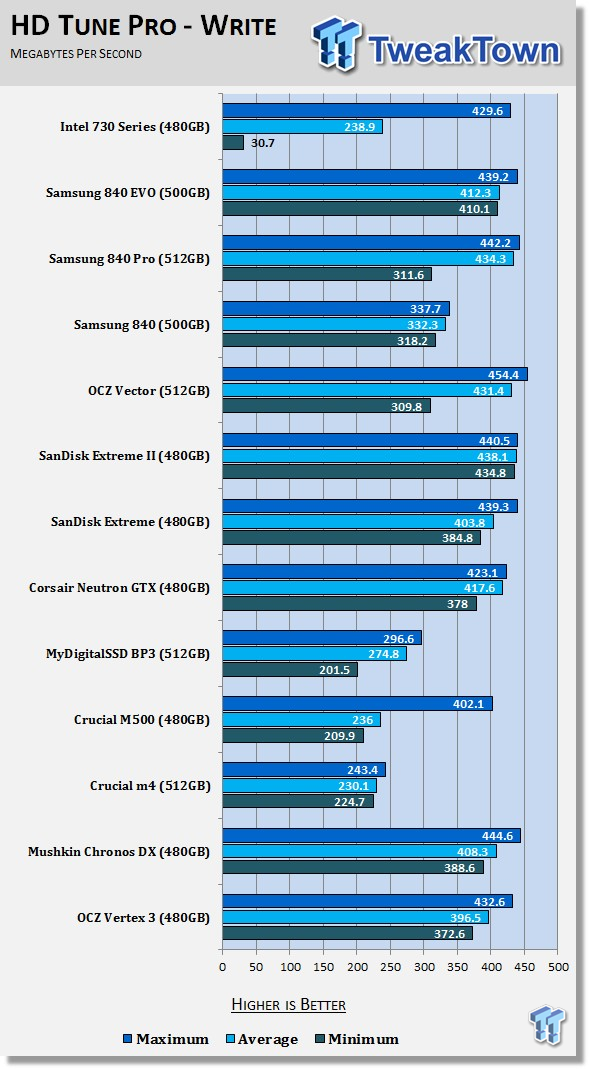 Both of our Intel 730 samples arrived in a used state. Most likely Intel tested them prior to shipping, a common occurrence with sample drives for launch day reviews. No harm or foul with that, but our initial write test for sequential performance took a hit.
HD Tach - Sequential Write Performance after Random Writes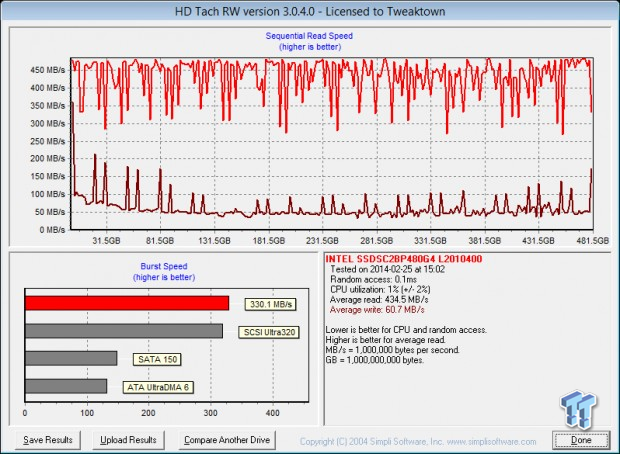 Nothing could prepare me for the next text result after running a light load of random writes. The 730 Series 480GB write performance dropped to a very low state. We've seen drives touch the 50 MB/s line before in this test, but never ride the line like this. We'll have to keep an eye on write performance and see what happens during the rest of the tests.
Benchmarks - AIDA64 Random Access Time
AIDA64 Random Access Time
Version and / or Patch Used: 1.60
Developer Homepage: http://www.aida64.com
Product Homepage: http://www.aida64.com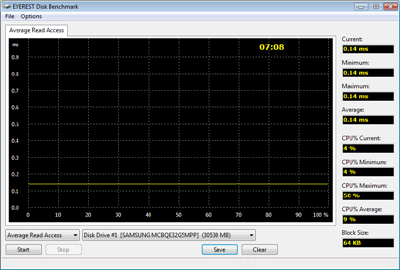 AIDA64 offers several different benchmarks for testing and optimizing your system or network. The Random Access test is one of very few if not only that will measure hard drives random access times in hundredths of milliseconds as oppose to tens of milliseconds.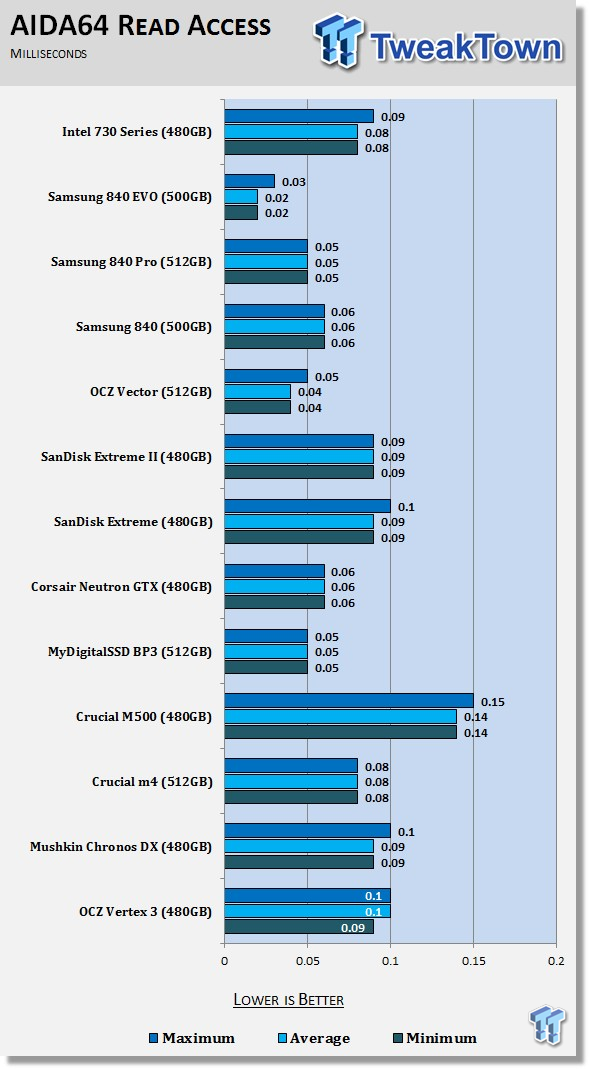 I was also surprised to see the read latency at the higher-end of the scale. With Toshiba, Samsung, SanDisk and OCZ programing an 'SLC like' area via the flash translation layer, I expected Intel to follow suite to decrease random read and write latency.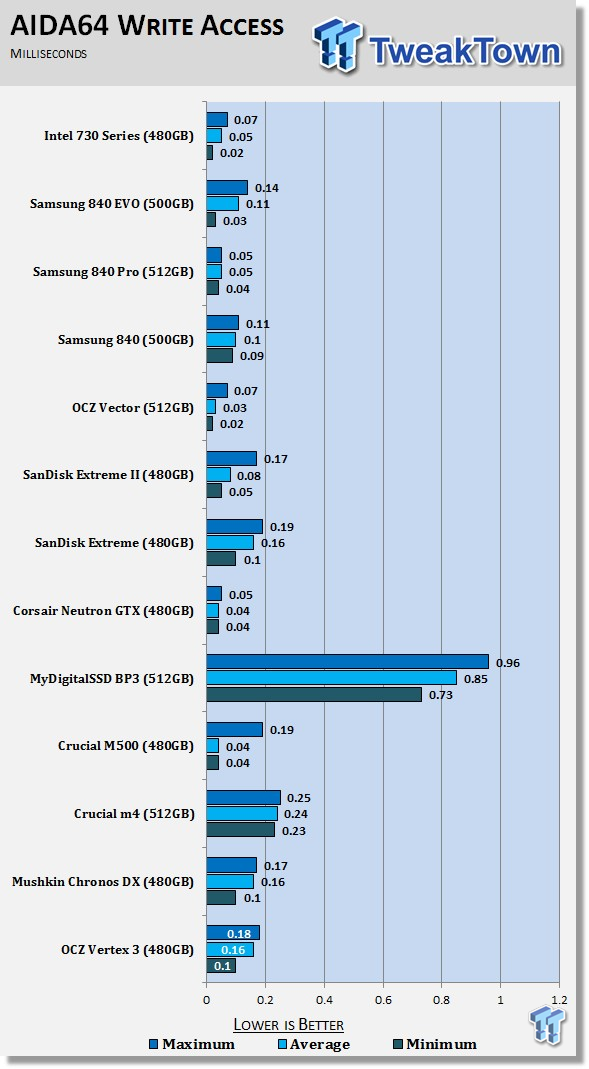 Write latency faired a bit better, although the 20nm flash used should take a little longer to write data to the drive.
Benchmarks - Anvil Storage Utilities
Anvil Storage Utilities
Version and / or Patch Used: RC6
So what is Anvil Storage Utilities? First of all, it's a storage benchmark for SSDs and HDDs where you can check and monitor your performance. The Standard Storage Benchmark performs a series of tests, you can run a full test or just the read or the write test or you can run a single test, i.e. 4K DQ16.
Anvil Storage Utilities is not officially available yet but we've been playing with the beta for several months now. The author, Anvil on several international forums has been updating the software steadily and is adding new features every couple of months.
The software is used several different ways and to show different aspects for each drive. We've chosen to use this software to show the performance of a drive with two different data sets. The first is with compressible data and the second data set is incompressible data. Several users have requested this data in our SSD reviews.
0-Fill Compressible Data
Incompressible Data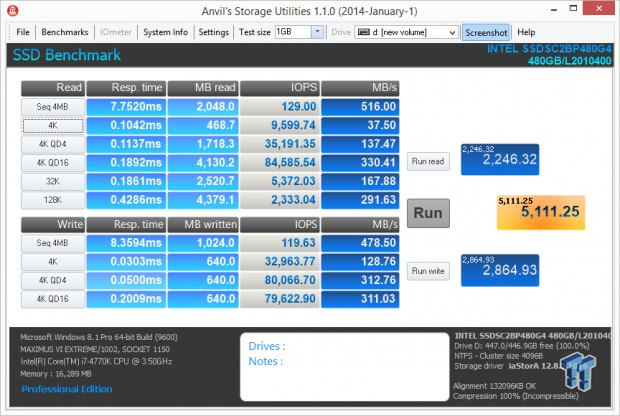 The Intel 730 Series doesn't slow when writing incompressible data like the 530 Series.
Read IOPS through Queue Depth Scale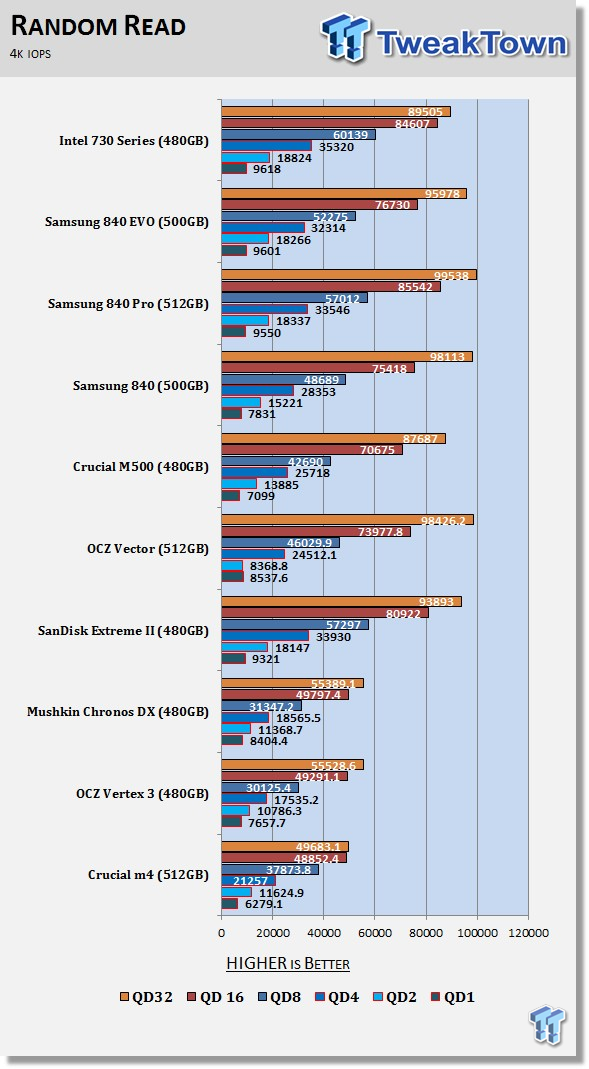 The read IOPS performance was very good especially at low queue depths where most of us find our SSD running. The QD1 read is actually the highest we've tested for the 512GB class size. Read IOPS scale well too as queue depth increases.
Scaling Write IOPS through Queue Scale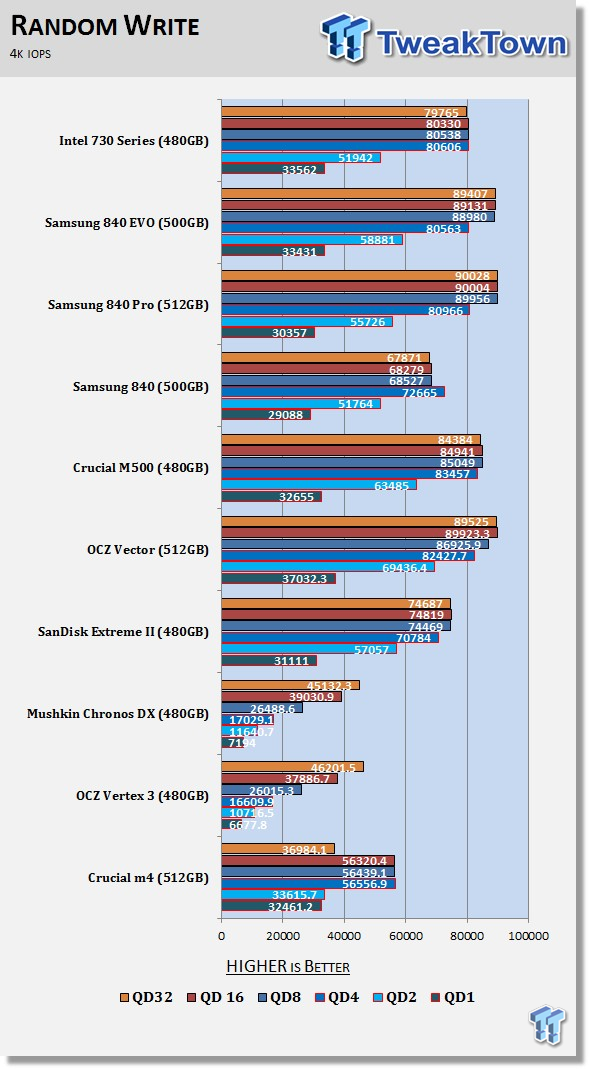 The 730 Series 480GB also sits high atop our write IOPS chart, only the original Vector outperforms it in QD1 4K write performance. The drive scaled well until reaching peak performance at QD4.
Benchmarks - CrystalDiskMark
CrystalDiskMark
Version and / or Patch Used: 3.0 Technical Preview
Developer Homepage: http://crystalmark.info
Product Homepage: http://crystalmark.info/software/CrystalDiskMark/index-e.html
Download here: http://crystaldew.info/category/software/crystaldiskmark
CrystalDiskMark is a disk benchmark software that allows us to benchmark 4K and 4K queue depths with accuracy.
Key Features:-
* Sequential reads/writes
* Random 4KB/512KB reads/writes
* Text copy
* Change dialog design
* internationalization (i18n)
Note: Crystal Disk Mark 3.0 Technical Preview was used for these tests since it offers the ability to measure native command queuing at 4 and 32.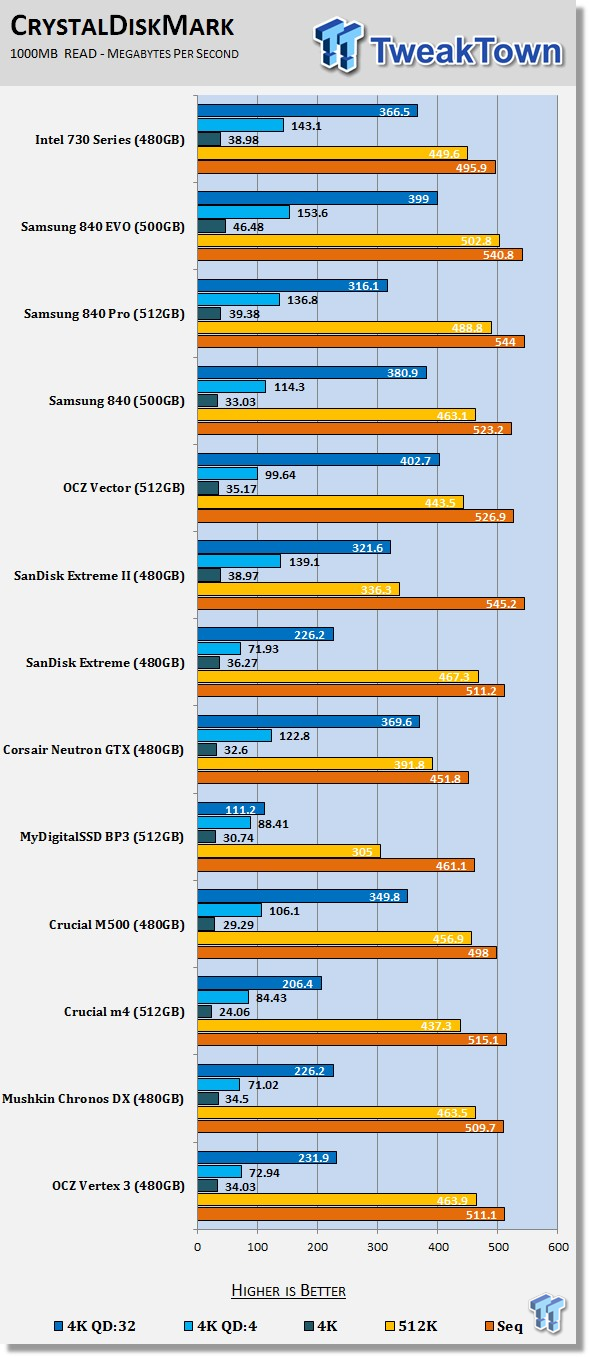 The 730 Series 480GB nearly broke the 40 MB/s 4K read mark in our test. Here we see the drive scaling well in the 4K tests.
The 4K write performance was in line with what we expected. This test also acts as our check for the sequential write speed after the flash has been written to several times. The sequential write speed is quite a bit higher now than it was when we first started testing the drive.
Benchmarks - PCMark Vantage Hard Disk Tests
PCMark Vantage - Hard Disk Tests
Version and / or Patch Used: 1.0.0
Developer Homepage: http://www.futuremark.com
Product Homepage: http://www.futuremark.com/products/pcmarkvantage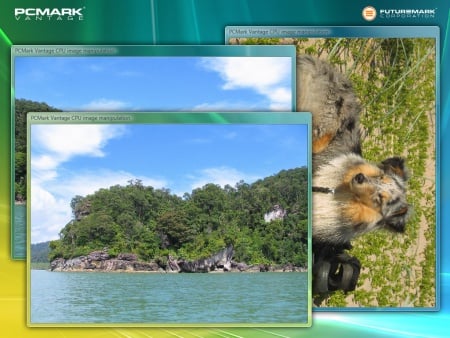 PCMark Vantage is the first objective hardware performance benchmark for PCs running 32 and 64 bit versions of Microsoft Windows Vista. PCMark Vantage is perfectly suited for benchmarking any type of Microsoft Windows Vista PC from multimedia home entertainment systems and laptops to dedicated workstations and high-end gaming rigs. Regardless of whether the benchmarker is an artist or an IT Professional, PCMark Vantage shows the user where their system soars or falls flat, and how to get the most performance possible out of their hardware. PCMark Vantage is easy enough for even the most casual enthusiast to use yet supports in-depth, professional industry grade testing.
FutureMark has developed a good set of hard disk tests for their PCMark Vantage Suite. Windows users can count on Vantage to show them how a drive will perform in normal day to day usage scenarios. For most users these are the tests that matter since many of the old hat ways to measure performance have become ineffective to measure true Windows performance.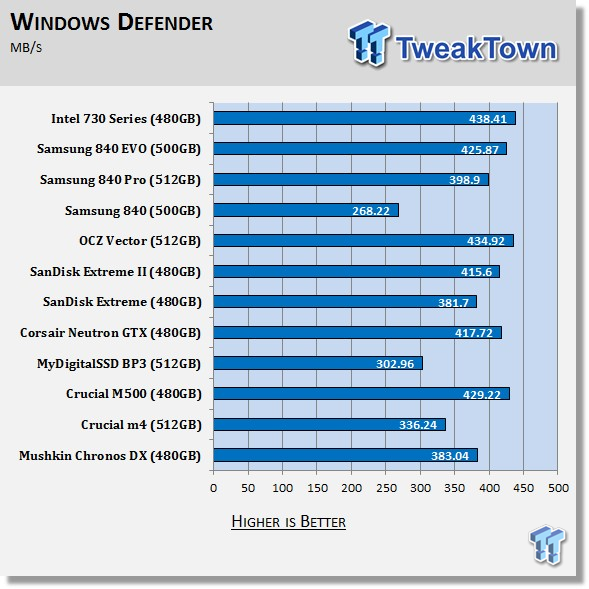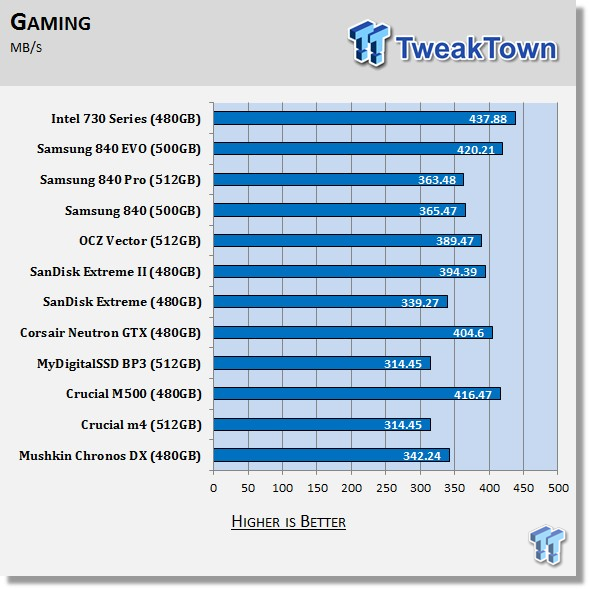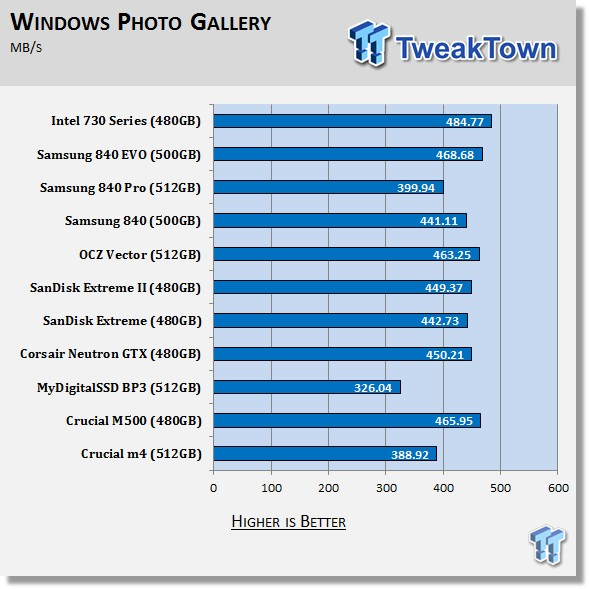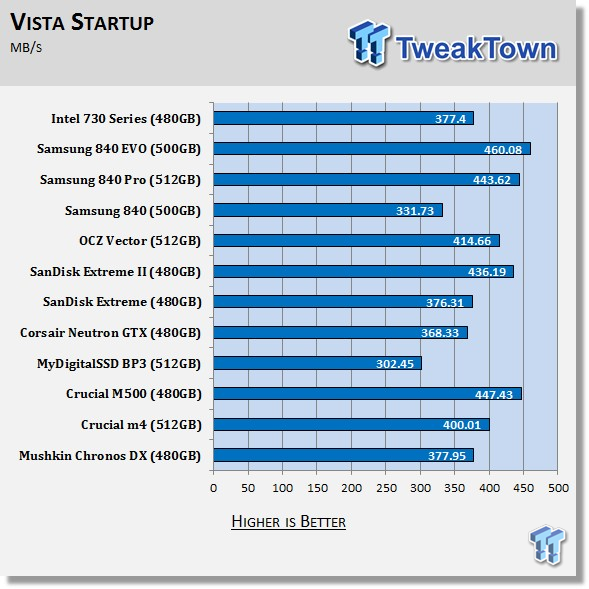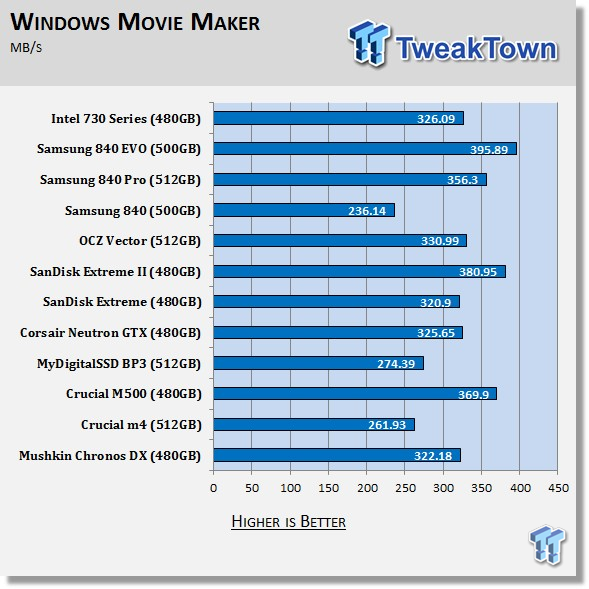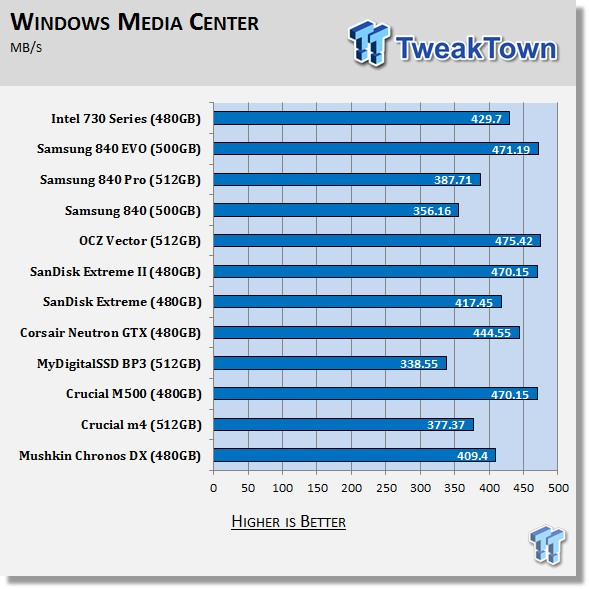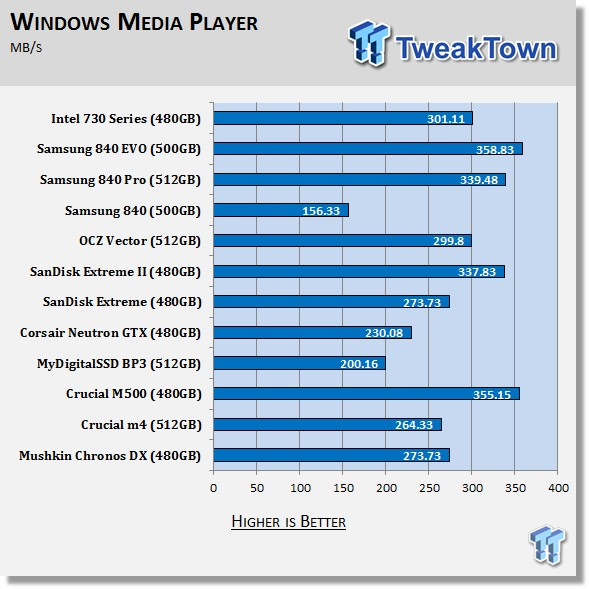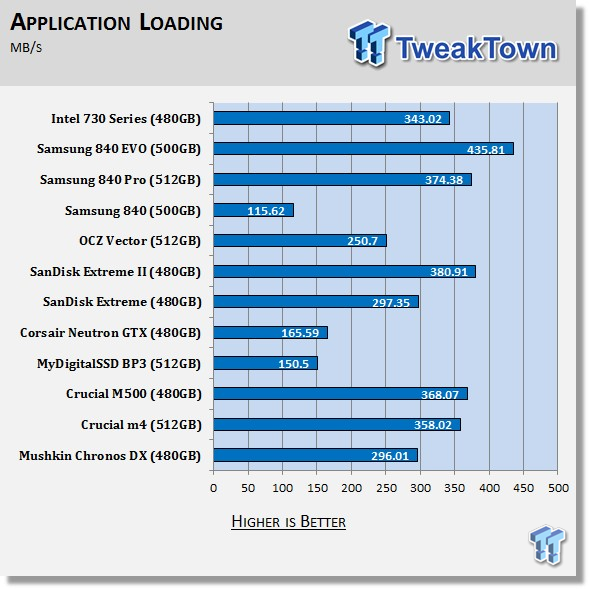 The 730 Series 480GB takes the top spot in a few of the real-world trace tests and is competitive in many others.
Benchmarks - PCMark Vantage - Drives with Data Testing
For a complete breakdown on the Drives with Data Testing please read this article. You will be able to perform this test at home with the files provided in the article - full instructions are included.
- Brief Methodology
SSDs perform differently when used for a period of time and when data is already present on the drive. The purpose of the Drives with Data testing is to show how a drive performs in these 'dirty' states. SSDs also need time to recover, either with TRIM or onboard garbage collection methods.
Drives with Data Testing - 25%, 50%, 75% Full States and Dirty / Empty Test
Files needed for 60 (64GB), 120 (128GB), 240 (256GB)
60GB Fill - 15GB, 30GB, 45GB
120GB Fill - 30GB, 60GB, 90GB
240GB Fill - 60GB, 120GB, 160GB
Empty but Dirty - a test run just after the fill tests and shows if a drive needs time to recover or if performance is instantly restored.

With data on the drive, the Intel 730 reaches a steady state of performance and rides the line with consistent performance.
Benchmarks - PCMark 8 2.0 Advanced Tests
Version and / or Patch Used: 2.0
Developer Homepage: http://www.futuremark.com
Product Homepage: http://www.futuremark.com/products/pcmark8
Note: PCMark 8 Storage benchmark is ideal for testing the performance of SSDs, HDDs and hybrid drives. Using traces recorded from Adobe Creative Suite, Microsoft Office and a selection of popular games, PCMark 8 Storage highlights real-world performance differences between storage devices.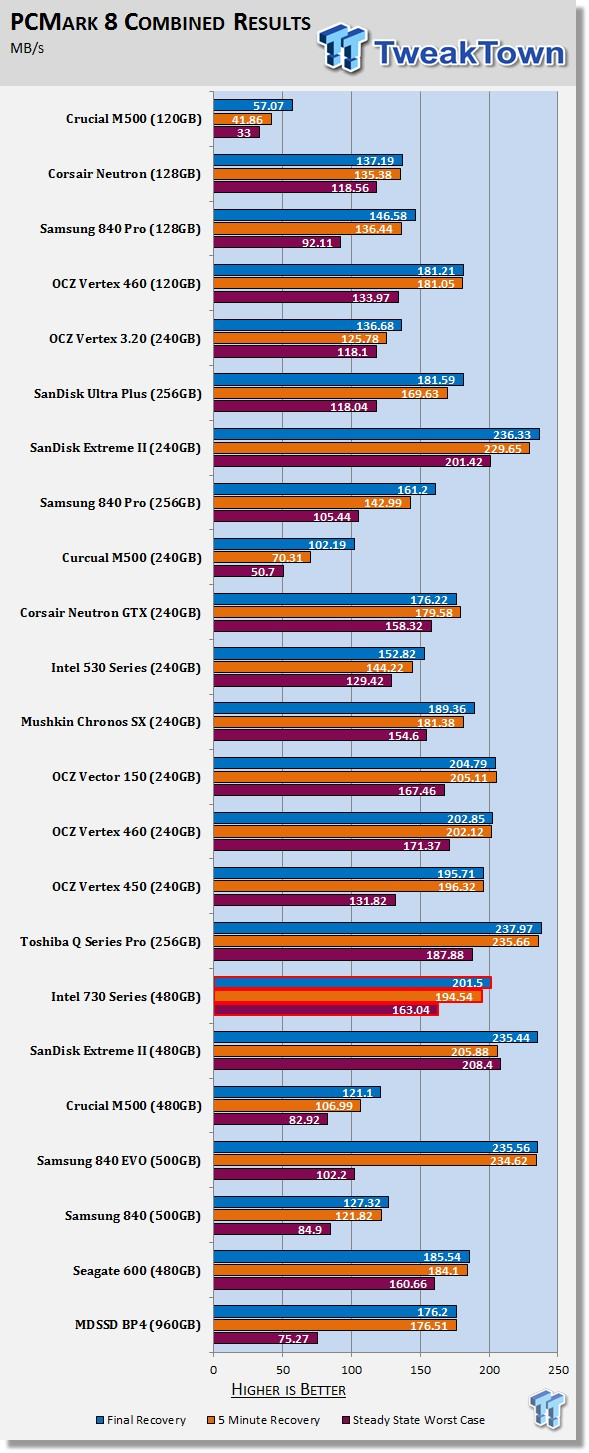 If you have yet to read about our new worst case / recovery test please feel free to do so. We are oversimplifying a complicated test in this section.
The Intel 730 Series 480GB is at the lower-end of the chart, at the top of the 512GB class drives. The worst case test has the 730 Series drive down to just 163 MB/s. This isn't bad for a drive at all and once you consider that drive has 20nm flash, it's actually really good.
After five minutes of recovery time, the performance increases to 194 MB/s. This shows that Intel didn't delay garbage collection to increase flash life. After five periods of inactivity of five minutes in length between tests, the 730 makes it back to just over 201 MB/s. This is competitive with other SSDs on the market, but not the best the market has to offer.
Benchmarks - DiskBench
DiskBench - Directory Copy
Version and / or Patch Used: 2.6.2.0
Developer Homepage: Nodesoft
Product Homepage: DiskBench
Download here: http://www.nodesoft.com/diskbench/download
Note: In this test we use the Lenovo W530 Mobile Workstation and a SuperSSpeed S301 SLC 128GB SSD to move a 15GB block of data to and from the target drive. This is part of our real-world test regiment. Roughly 45GB of data resides on the target drive before the '15GB Block' is transfer. The 15GB Block is the same data we built for the Data on Disk Testing and is a mix of compressible and incompressible data.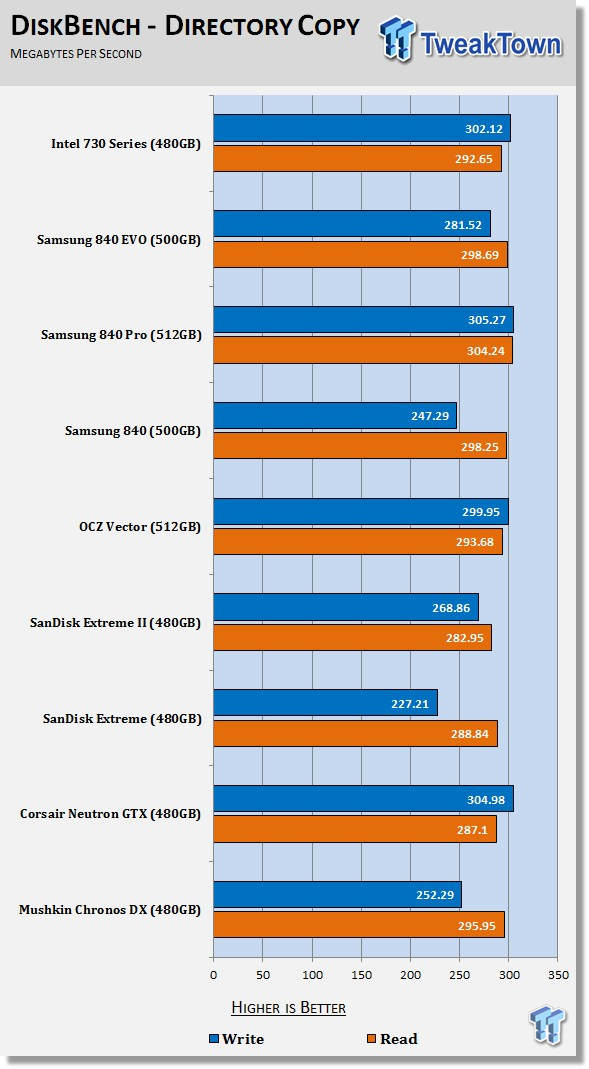 In a notebook, the power management states limit SSD performance. In this test, we transfer data to and from the target drive while staying within the constraints of the link management by the system.
The Intel 730 Series 480GB does well, but as you will see on the next page, this isn't a drive designed for notebook use.
Benchmarks - Power Testing
Bapco MobileMark 2012 1.5
Version and / or Patch Used: 2012 1.5
Developer Homepage: http://www.bapco.com
Test Homepage: http://www.bapco.com
MobileMark 2012 1.5 is an application-based benchmark that reflects usage patterns of business users in the areas of office productivity, media creation and media consumption. Unlike benchmarks that only measure battery life, MobileMark 2012 measures battery life and performance simultaneously, showing how well a system design addresses the inherent tradeoffs between performance and power management.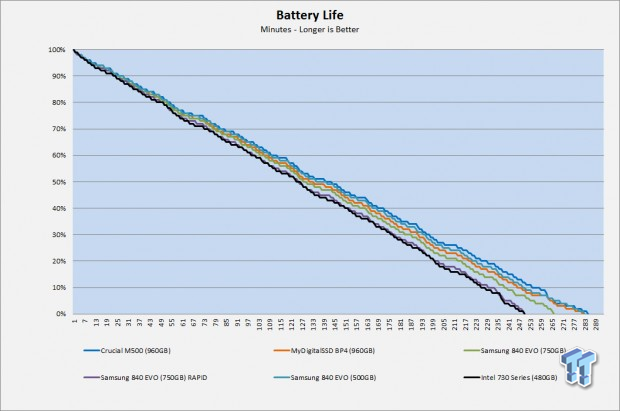 What did you expect from an overclocked enterprise drive? Power consumption is a bit of an issue, but at least the 730 adds some pizazz to power. The drive will use the 12v line if available like an enterprise SAS SSD. If 12v is not provided, the 730 will run off the 5v line.
The drive also gets quite hot for a consumer SSD. Sadly, we didn't have time to meet the rushed NDA lift time and get thermal images.
Final Thoughts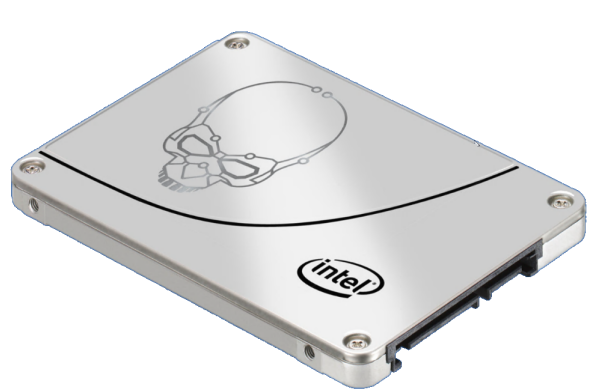 Unlike the original enterprise to enthusiast product, Skulltrail, the Intel 730 Series 480GB didn't blow us away with more performance than we can handle. The truth is, 730 is more of a compromise product that offers enough performance to carry momentum, but not the product we wanted to see at this time.
The issue is outside of Intel's control, but we all have to suffer since PCI Express based SSD controllers are still outside of our reach. Marvell has a PCIe 2.0 x2 controller and we've tested it on the SanDisk A110. We also have the Plextor M.2 M6e, but the drive arrived 24 hours before you can read this review. Intel seems pretty firmly in LSI SandForce's camp when it comes to consumer drives, but how long that relationship lasts depends on how late SF3700 really is. LSI says in time for Computex and they may be right, but Intel bringing the 730 to the market now tells me we won't see a consumer SF3700 until January. I hope I'm wrong.
Let's assume I'm right and the 730 Series was reeled in from the datacenter to fill the gap. The DC S3500 was built for consistent performance under heavy use. The model is quite a bit different from what a consumer SSDs run, short periods of heavy use with very long idle time in between. I think we caught a glimpse of 730 running in a degraded state with HD Tach, but the drive quickly recovered. It would make sense for Intel to tune the garbage collection scheme to be more aggressive for consumer use. The only part that has me worried is that we didn't hit the drive very hard before finding the write performance down to 50 MB/s.
Other tests in our suite tell a different story, one of exemplary performance. Often times though the drive is just behind the market leaders. That is a polite way of saying the 730 Series 480GB purchasing decision is really going to come down to price. It's a good drive, within the top five fastest on the market today in the 512GB capacity class, but performance alone doesn't make it exceptional.
Enter the value added features and accessories. This is a datacenter drive with a year of proven datacenter reliability, host power fail protection (a feature not found on many consumer SSDs), and then you can add on the standard Intel flagship features. These include a desktop adapter bracket on the retail products, a sticker, a five-year warranty, Intel SSD Toolbox and data migration software. With SATA III limiting performance, the value added features really come into play.
I haven't had the time to test the 730 Series 480GB in a daily use environment yet, but I do have a DC S3700 in a notebook. The base architecture is similar and I use the notebook for editing our videos from shows like Flash Memory Summit, AIS and Storage Visions. The drive does very well editing 1080p video and multitasks very well. I chose the drive for several reasons, performance with incompressible data and reliability top the list. The 730 Series offers nearly the same performance and still has a very high endurance rating. The combination makes for a very good prosumer drive where a solid all-around drive is required.