Introduction, Specifications, Availability and Pricing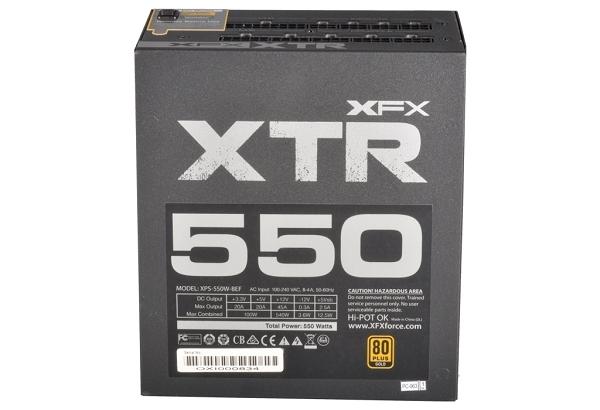 XFX is a company that we've always found to never mess around. All of the products that they offer are well respected amongst enthusiasts. While they are most notable for their overclocked video cards that run rock solid, they have quite a few accessories for enthusiasts, on top of their power supplies. They even have some cases coming soon, which look rather promising. Sorry to get your hopes up, but we aren't looking at one of their unreleased cases just yet, but rather one of their new XTR power supplies.
The new XTR series is available in three wattages; 550W, 650W, and 750W. Today we are taking a look at the 550W model. The series features 80 PLUS Gold efficiency, and fully modular cabling. On top of that, XFX has incorporated their hybrid fan technology, which allows the user to select whether the fan is always-on, or doesn't kick on until a preset temperature or load is reached. XFX doesn't compromise on their quality no matter what, and judging by the outside of the box, the XTR 550W is no exception; even despite the low price tag on this unit. However, looks can be deceiving, so let's rip into this thing and find out what it is made of.
Specifications, Availability and Pricing

The XFX XTR 550W features a single 12V rail that is rated for 45A of power, or 540W. The 3.3V and 5V minor rails are each rated for 20A, with a combined maximum output of 100W. The 5VSB rail is rated for 2.5A, or 12.5W. Maximum combined output for the XFX XTR 550W power supply is 550W.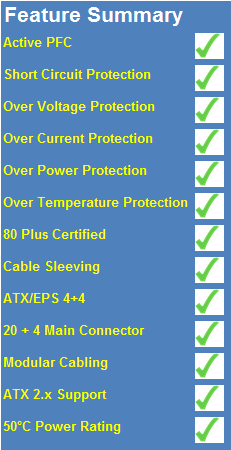 As I said before: XFX doesn't compromise on quality, at least not that I have ever seen. They include all the features that you could really want in a power supply. As far as protections are concerned, SCP, OVP, OCP, OPP, and OTP are all present. The XFX XTR 550W is rated for 80 PLUS Gold efficiency. The unit features fully modular cables. All of the cables are of the flat ribbon type, with the exception of the 24-pin main, which is fully sleeved with nylon mesh. XFX does in fact rate the XTR 550W for 100% continuous output at 50C.
The XFX XTR 550W power supply has an MSRP of $89.99 at the time of writing. This is a great price, and it puts the unit in the low to mid price section of 500W-600W units. There might be others available that promise better efficiency, but you will hard pressed to find one that is comparable, and fully modular, in that price range. Price hunting won't do you much good, as it the XTR isn't widely available right now, but XFX is working on that. NCIX will save you a few bucks at of the time of writing this article, as they have it $10 off. Once that expires, it won't matter where you get it from, and XFX will back it with a five-year warranty.
Packaging
[img]04[/img]
XFX's packaging teases you with a few images of the unit on the front, as well as a handful of logos for their certifications.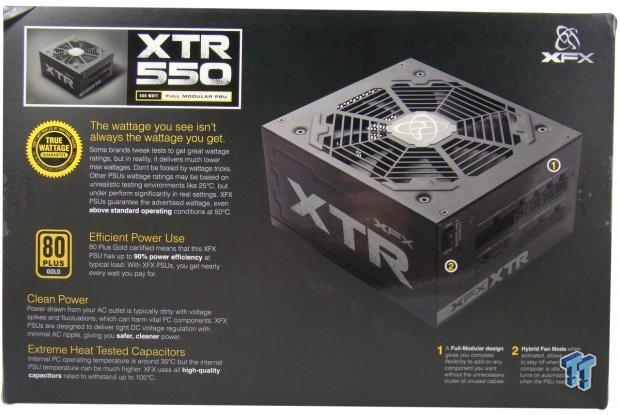 The back normally gives us a lot more to go by, but XFX would rather you get a large image of the unit, and a few highlights. Apparently the two most important features of this unit are the fully modular cables, and the hybrid fan mode.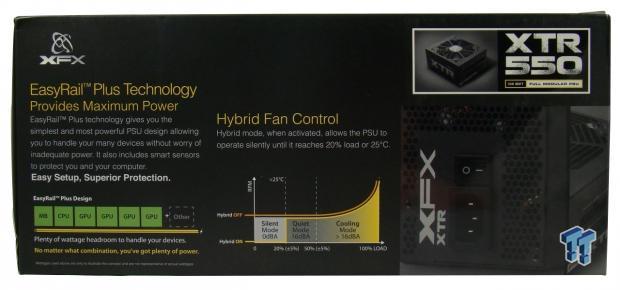 We find a little more information on the side, as XFX tells you about their EasyRail Plus technology. For those who are wondering, that means it has a single 12V rail. Marketing tickets and gimmicks never cease to amaze me, especially with how petty they can be.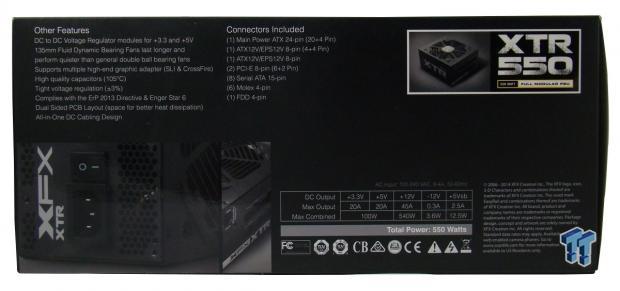 Finally, some good information. This side gives the I/O specifications for the unit, along with the connectors available. The other sides simply feature the XFX and XTR logos.
Inside the Box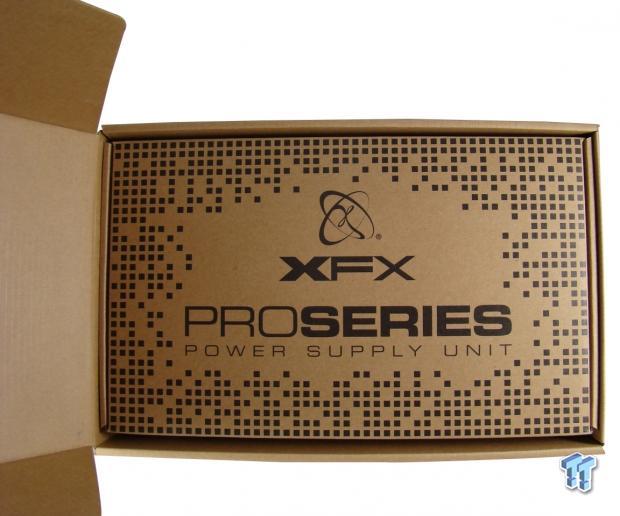 Upon cracking the box open, we are greeted with another box. This box sits on top of the power supply itself, and holds all of the modular cables.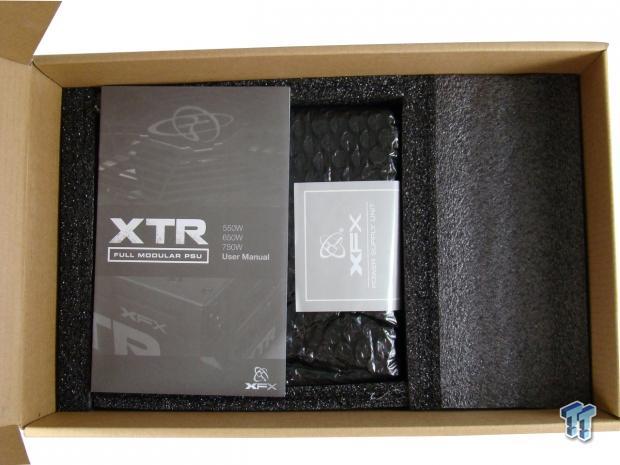 Remove the cable box, and you find that the power supply is very well protected.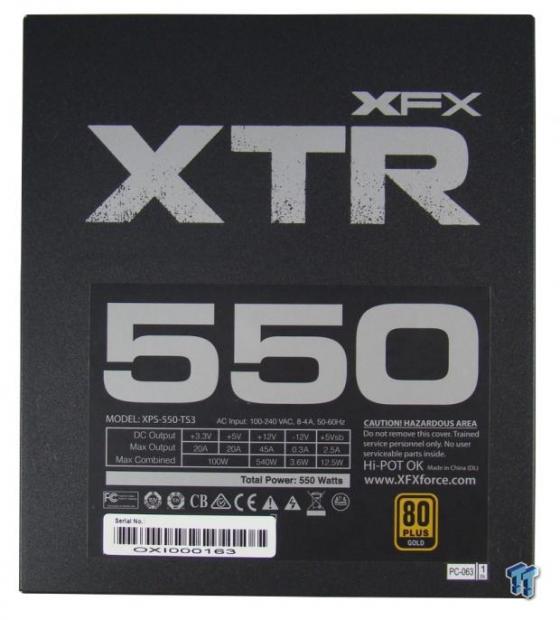 On top of the power supply, you can find the I/O specification label for the unit, and see the black textured finish of the XTR 550W power supply.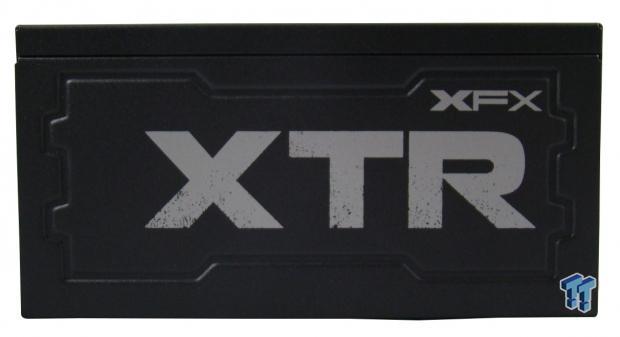 Both sides feature the same XTR logo, with the opposite being inverted.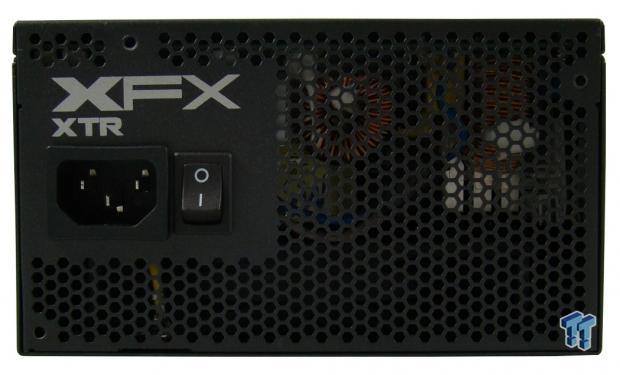 About 80% of the back is meshed, so that as much air as possible can flow through. The AC input, and on/off rocker switch are also back here.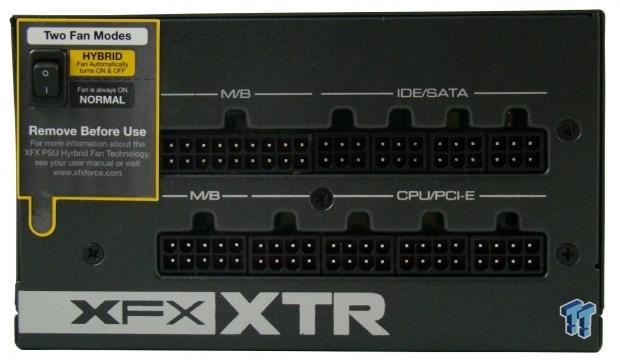 All of the connectors on the front are well labeled for the modular cables.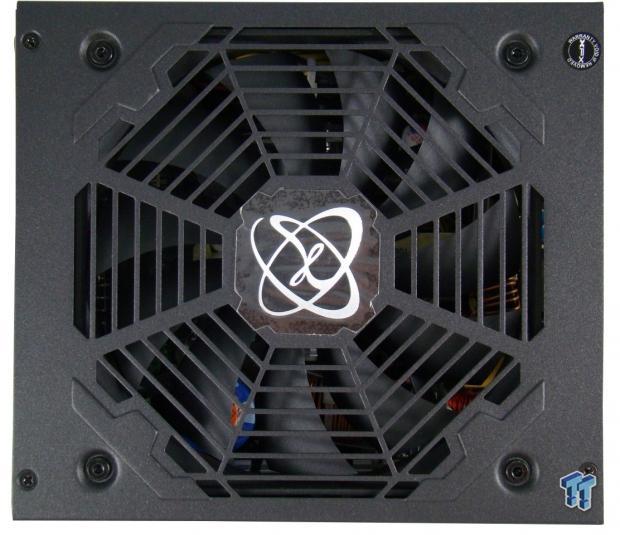 The octagonal fan grill is integrated into the case, and is a pleasant difference from the norm.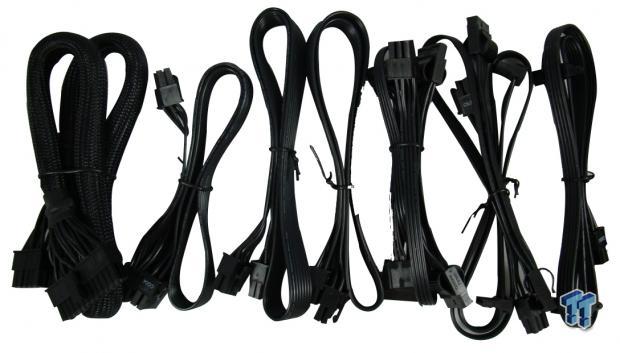 All cables are modular and of the flat ribbon type, with the exception of the 24-pin Main. It is sleeved with black nylon mesh.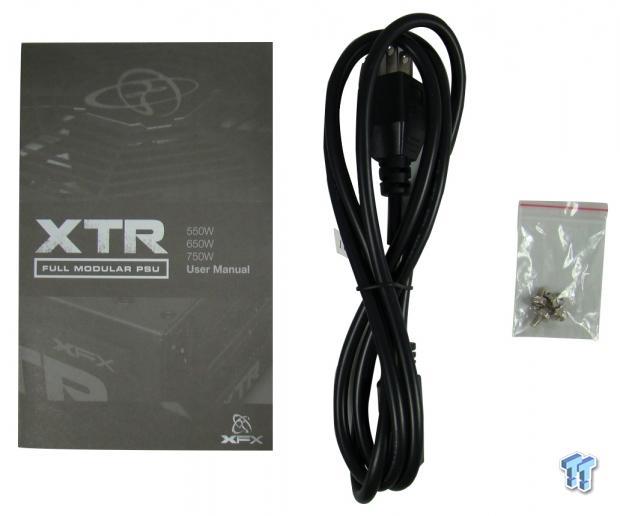 Rounding out the contents of the box are the user manual, the AC power cord, and the mounting screws.
Cabling Arrangement and A Look Inside
Cabling Arrangement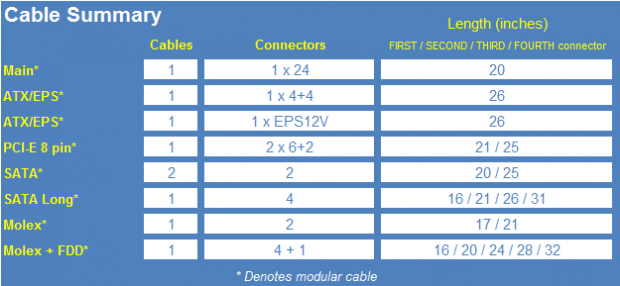 The cable summary looks much more complicated than we're used to seeing for a 550W unit, but this an almost perfect lineup. As always, we have the 24-pin Main connector. What we don't always have is a power supply with dual ATX 4+4/EPS12V connectors. There is a single cable with two PCI-E 8-pin connectors on it. This will take care of many people, but I'd like to see a second included for those who want to run a pair of lower-end GPUs. There are a total of 8 SATA and 6 Molex connectors spread across five cables of varying lengths. There is also a single FDD connector on one of the Molex cables.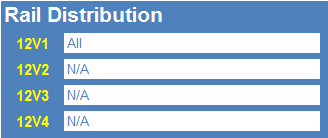 Rail distribution is as simple as it gets, with a single 12V rail. There is no need to worry about load balancing here.
A Look Inside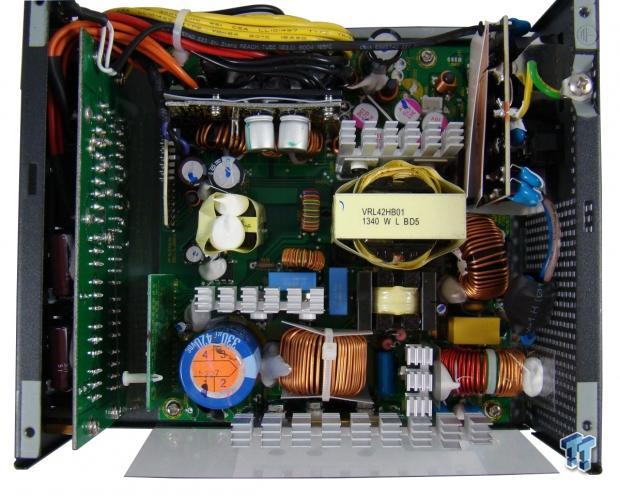 Low wattage units don't have anywhere near the thermal dissipation requirements that the higher wattage units do. Nevertheless, it is nice to see plenty of cooling, as that helps with efficiency.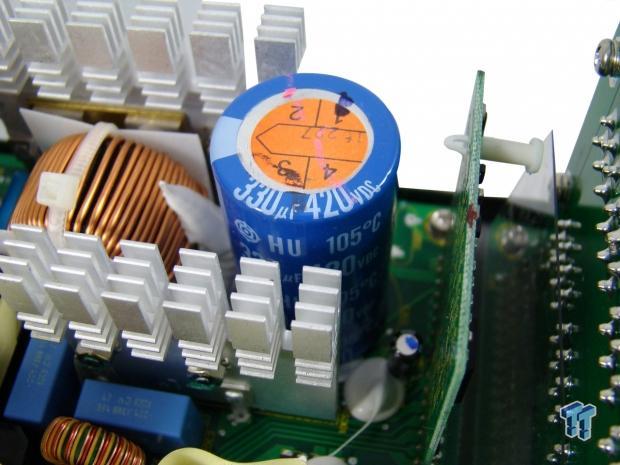 A single Hitachi capacitor resides on the primary side of the power supply.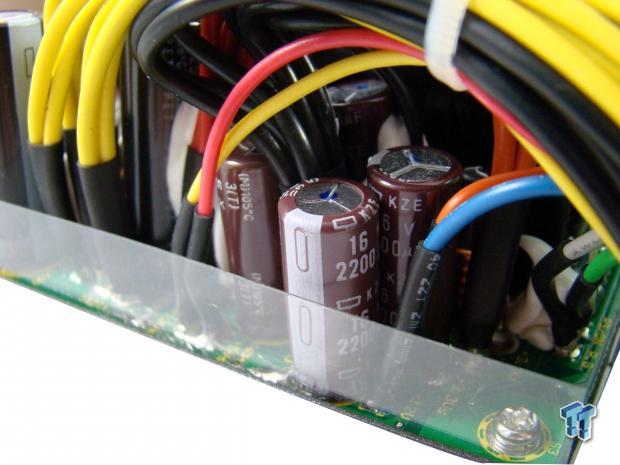 The secondary side of the power supply is fitted with Rubycon and Nippon Chemi-Con capacitors.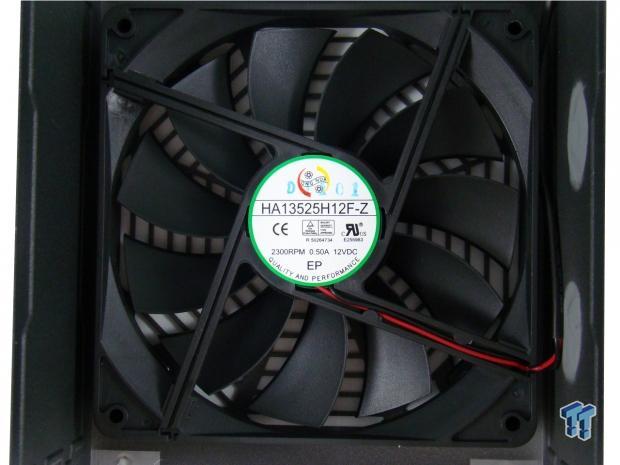 Rounding out the inside of the power supply is the Ong Hua HA13525H12F-Z 135mm fan. It is rated for .5A, and 2300 RPM. I highly doubt that you'll ever get it to spin that fast, since this is a low wattage unit.
Test Results and Final Thoughts
Test Results
Our load tests utilize a couple of FAST ATE active load testers, and a variety of other equipment such as an oscilloscope, power conditioner, temperature probe, and a power consumption meter. You can read more about our standard testing approach here.
The tests performed are based around six conceivable setups that are out there, and progressively load down the PSU up to the power supply's limits, or 1000W; whichever comes first. Since our test equipment's limits are higher than that of the XFX XTR 550W power supply, we can test it to the maximum.

The tests above represent typical loads that we have measured from various systems, and are meant to give a rough idea of where your computer might fall in line with our tests. Please keep in mind that each system is different, and actual loads can vary greatly; even with similar hardware.

Let's start by taking a look at the voltages, to see how well this unit did during testing. Starting with the 12V rail, we see 2% regulation from start to finish, with a total drop of .13V. The 5V rail managed to stay within 2% of specification, with a total drop of .05V from start to finish. Moving towards the 3.3V rail, we see that regulation was within 1% of specification, with a total voltage drop of .03V.
DC Output quality for the XFX XTR 550W was good, and well within specifications. During Test One, we saw 13mV of noise on our scope. When we increased the loads in Test Two, the ripple climbed to 18mV at just over half load. During Test Three, under a load of 550W, the oscilloscope showed a maximum of 26mV on noise on the 12V rail.
The XFX XTR 550W is rated for 80 PLUS Gold efficiency. This means that the power supply must perform at 87% / 90% / 87% efficiency, at 20% / 50% / 100% loads respectively. As you can see, the XTR 550W passed on our bench, and wasn't close to failing at any point.
Final Thoughts
I'm always happy when an XFX power supply shows up on my doorstep. I have the utmost faith in that whatever it is, it will be a quality unit. Even though this is the lowest wattage unit that we've tested from them, I was confident from the start that it would pass with flying colors, and that is exactly what the XTR 550W power supply has done. Only once along the lines of testing was this unit a disappointment, and my conversation with XFX makes me confident that it will be resolved shortly.
The disappointment that I speak of is the limited availability of the unit. Having only a few places that sell the unit is bad for competition and prices as far as the consumer is concerned. Once the XTR has a little bit deeper market penetration, it will be a near perfect unit. It has great performance all the way around, as displayed by our test results, and it did so without as much as a hiccup. Add in the low price for a fully modular Gold rated unit, along with their five-year warranty, and you've got one hell of a formula for success. It won't be too long, and you will start to see this baby showing up in all sorts of single GPU gaming rigs, as it represents the perfect balance between price, performance, and features for a sub-700W power supply.