FSP Aurum Pro 1000-Watt 80 PLUS Gold Power Supply Review
FSP's Aurum Pro 1000W PSU has been around for quite a while. Let's find out now if everything is golden with this unit or not.
Published Dec 20, 2013 8:00 AM CST
|
Updated Tue, Nov 3 2020 7:00 PM CST
6 minute read time
Introduction, Specifications, Availability and Pricing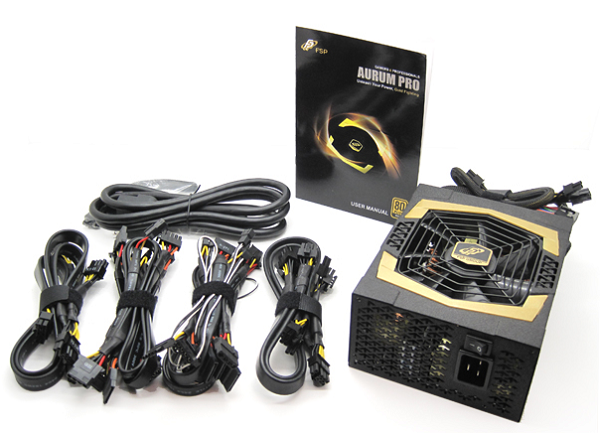 FSP has built up a very good image here at TweakTown. The units that we have seen have been of quality and benched very well. Some have been a little on the pricey side, but the quality they have shown is often worth a little bit more of your hard earned money. We also can't help but smile and chuckle a little bit every time we look at most of their units which feature their arrow shaped cooling vents which they claim helps increase airflow.
Marketing ploys aside, the fact that their units just simply deliver where it matters most can't be denied. We've got another Aurum Pro model on our bench today and this time around it is the 1kW model. We looked at the 1200W model well over a year and a half ago and the Aurum Pro series is still going strong. That much power just tends to be a bit much for most so we thought it might be a good idea to take a look at the 1000W model. It fits more users' needs without pushing into the area that requires a week's paycheck to do so.
Specifications, Availability and Pricing

Just as we saw with the Aurum Pro 1200W, the 1000W model also utilizes a single 12V rail. It is a bit weaker, providing 83A of power or 996W total. The 3.3V and 5V rails remain the same, providing 25A each with a combined maximum output of 160W. The 5VSB rail is rated for 15W and maximum combined output for the FPS Aurum Pro 1000 is 1000W.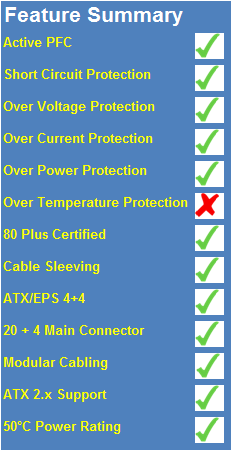 When we start looking at the features of the FSP Aurum Pro 1000W, we find that all of the protections are present that we want to see. SCP, OVP, OCP, OPP and OTP are all present. The FSP Aurum Pro 1000W is semi-modular. All natively wired cables are sleeved with nylon mesh and all modular cables are sleeved to be flat. The power supply is rated for 80 PLUS Gold efficiency. FSP states that the FSP Aurum Pro 1000W is also rated for 100% continuous output at 50C.
FSP has an MSRP of $229.99 on the Aurum Pro 1000W. That's a bit more than we were hoping to see considering similar power supplies can be had for well below the $200 mark. Newegg has dropped the price down to $189.99, which is much more reasonable and competitively priced. FSP backs the Aurum Pro 1000W with a five year warranty.
Packaging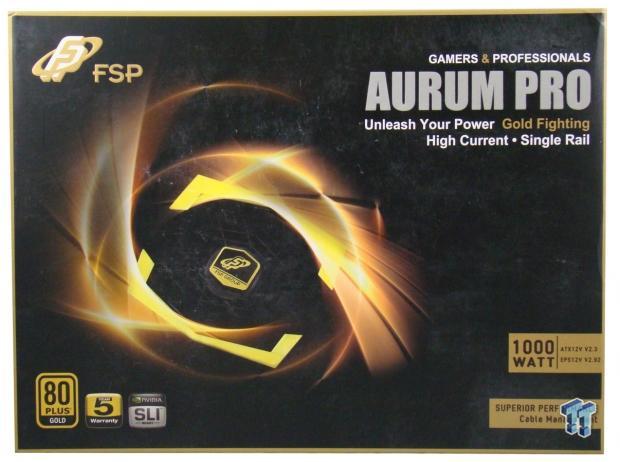 There's nothing out of the ordinary with the packaging. Simple items are included on the front such as wattage, efficiency and warranty. It's too bad there isn't a nice shot of the unit for you to look at in place of the abstract image that is present.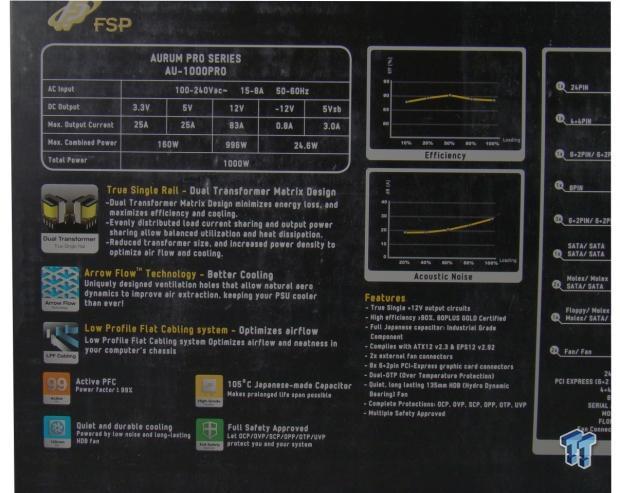 The back is packed full of information. This side gives us the I/O specs, some efficiency and noise charts, and some individual highlights. I still laugh at the Arrow Flow technology. Perhaps FSP's marketing department should speak with a few NASA engineers. I'm sure they would love to use this technology to cool items reentering into Earth's atmosphere.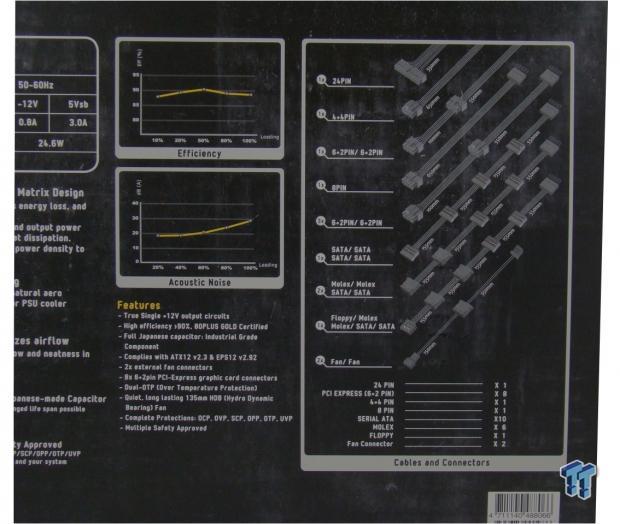 The other half gives us a great cable and connector chart. You can't ask for more than this because it doesn't get any better.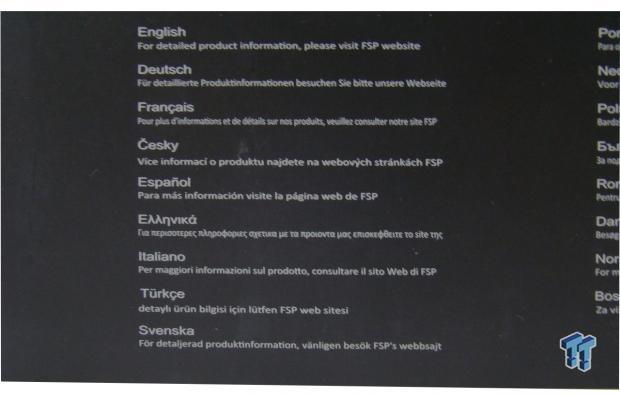 The rest of the sides yield nothing more than directions to go to FSP's website. It's a shame that they don't give you the URL to go to it. I guess that's what Google is for.
Inside the Box
Once we pull the foam off the top of the contents, we are left with this. Everything is well protected, just as you'd hope for.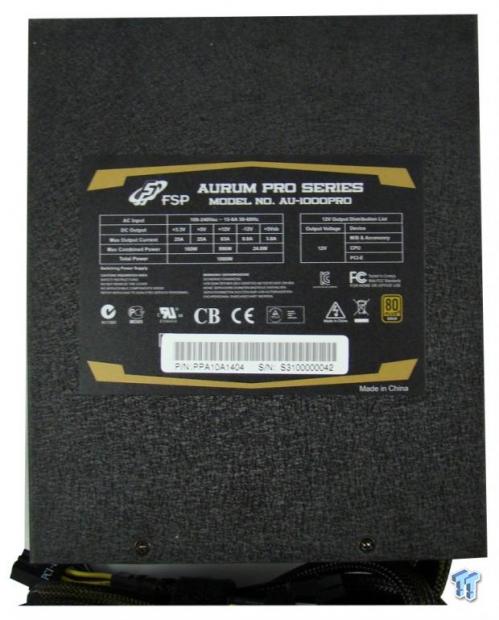 On the top we can see the I/O specification label as well as the rough black texture covering power supply.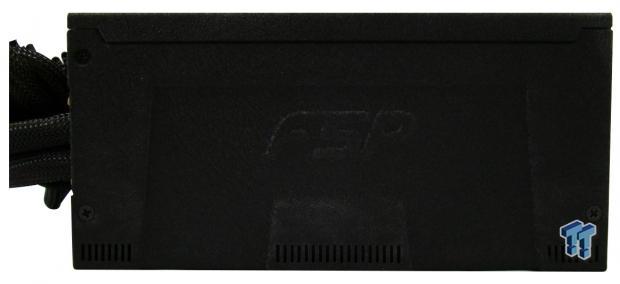 Both sides have the same logos on them along with a small amount of additional cooling in the form of three vent areas.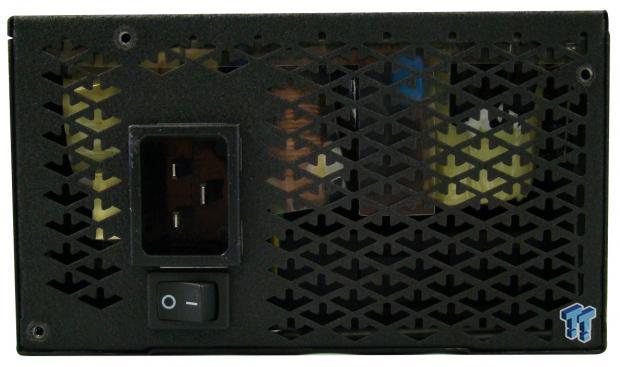 We have the on/off rocker switch along with AC input in the back. Note that this power supply requires a C19 style cable. It is far from necessary, but my guess is that it was cheaper to keep this the same between the 1200W and 1000W models instead of changing it for each one.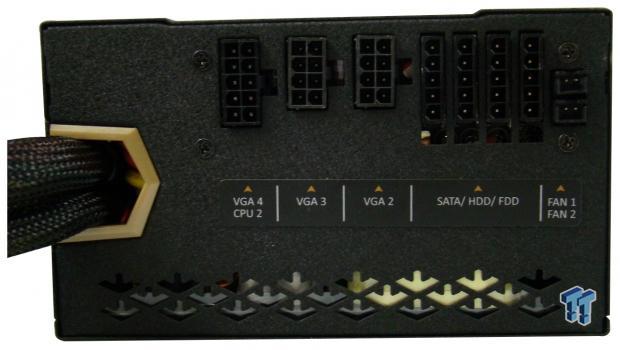 Everything is well labeled on the front of the power supply.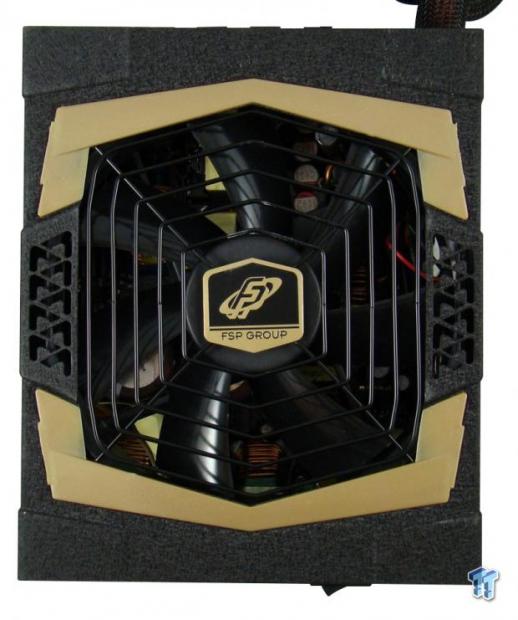 The bottom of FSP's power supplies are always different than the competition. You'll either love it or hate it. The black 135mm fan cools this unit.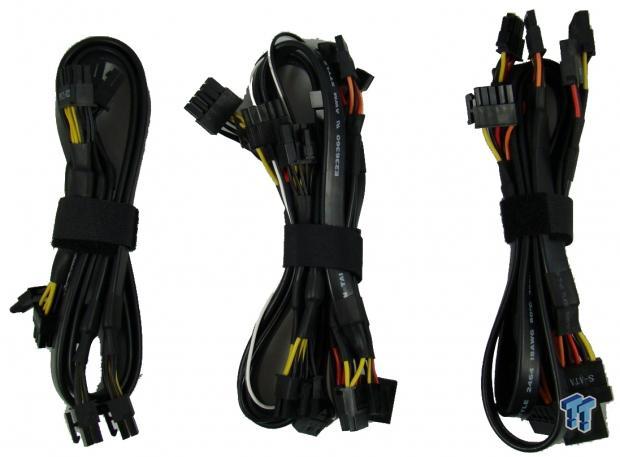 All of the modular cables come wrapped with reusable Velcro cable ties.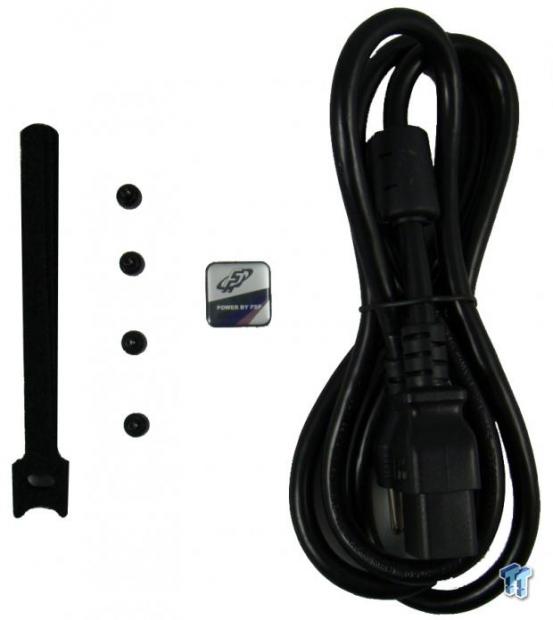 There are a few more goodies in the box such as some more Velcro ties, mounting screws, case badge, and of course the C19 power cable.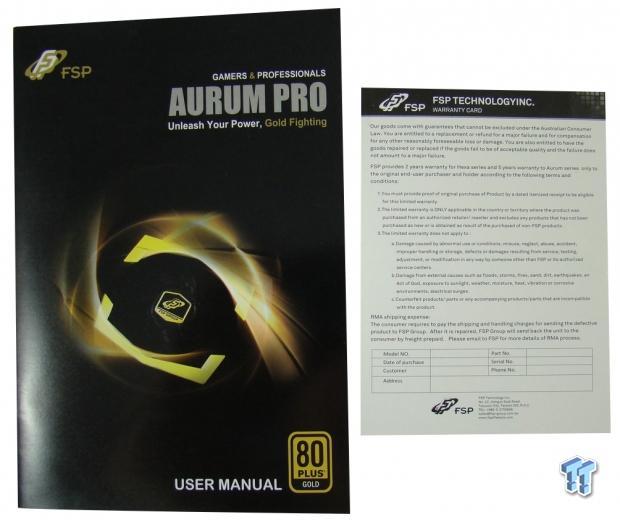 Also present in the box is a user manual and a warranty card.
Cabling Arrangement and A Look Inside
Cabling Arrangement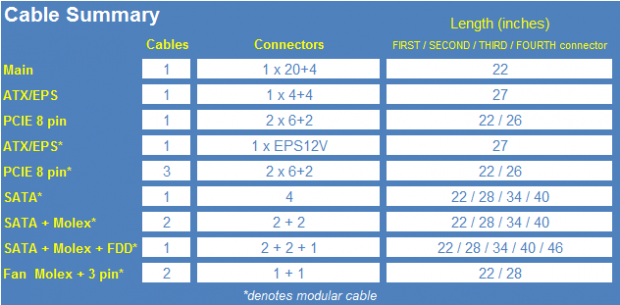 There are quite a few different cables here and it increased the flexibility of the power supply. I'm still not a fan of how they treated the PCI-E and EPS12V cables. Forcing them to share the same spot on the power supply limits the power supply a little bit in that you can't power four video cards and supply dual EPS12V cables to the motherboard.
I'm also not sure why the FDD connector isn't just an adapter. I've not seen one used in ages and I'm sure very few people using a power supply of this cable have any use for it. They are much more likely to need that second EPS12V connector along with their four video cards first.

Rail distribution is as simple as it gets with a single 12V rail. There is no need to worry about load balancing here.
A Look Inside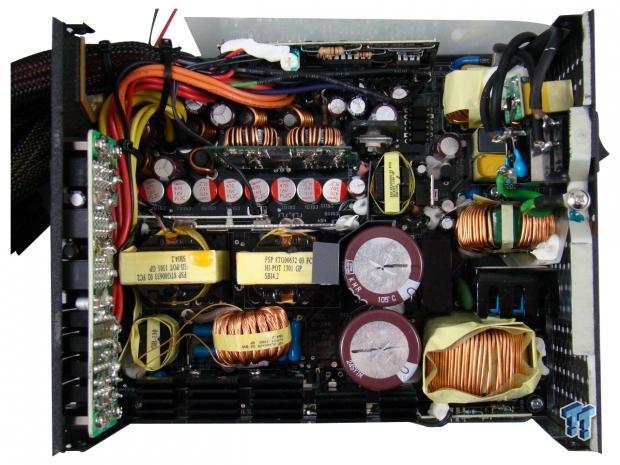 There isn't much passive cooling going on here as there are only one long and one short heat sinks present. Thankfully the design keeps clutter to a minimum and allows the air to penetrate deep to the PCB and move the hot air out of the unit.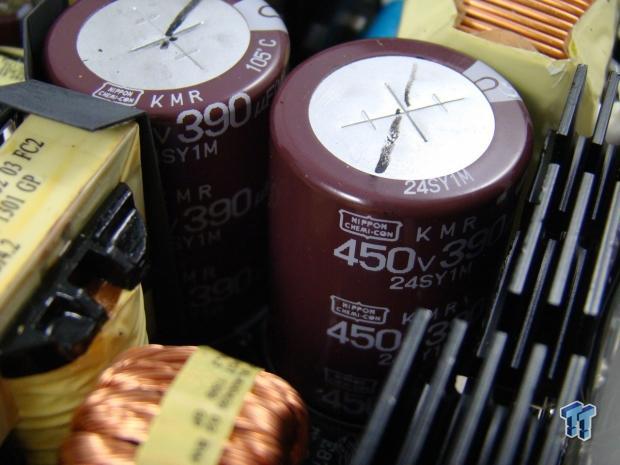 Two Nippon Chemi-Con capacitors reside on the primary side of the power supply.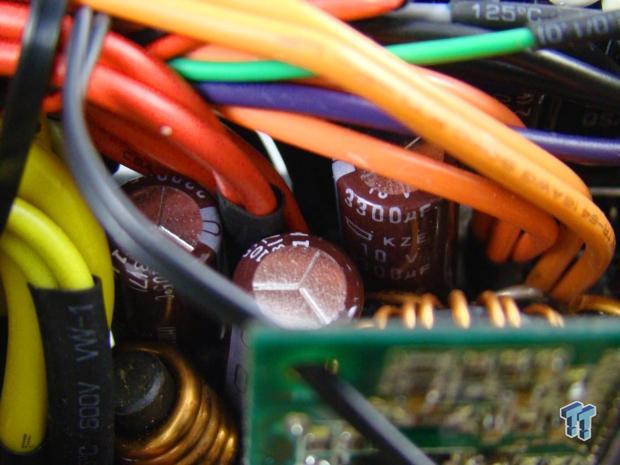 The secondary side is filled with more Chemi-con caps.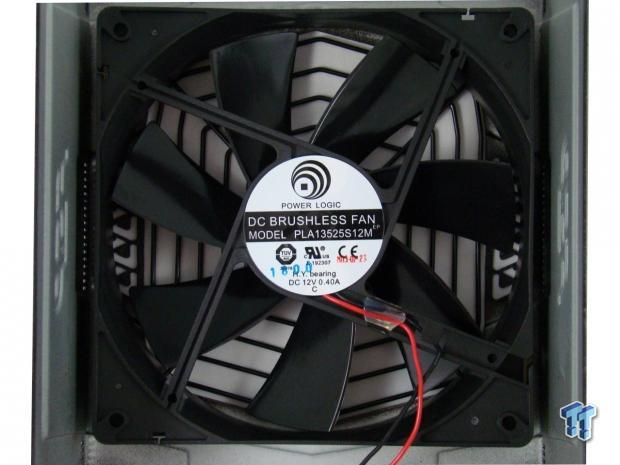 FSP uses the Power Logic PLA13525S12M 135mm fan to provide all of the active cooling for the Aurum Pro 1000W.
Test Results and Final Thoughts
Test Results
Our load tests utilize a couple of FAST ATE active load testers and a variety of other equipment such as an oscilloscope, power conditioner, temperature probe and a power consumption meter. You can read more about our standard testing approach here.
The tests performed are based around six conceivable setups that are out there and progressively load down the PSU up to the power supply's limits or 1000W, whichever comes first. Since our test equipment's limits are higher than that of the FSP Aurum Pro 1000W power supply, we can test it to the maximum.

The above tests represent typical loads that we have measured from various systems and are meant to give a rough idea of where your computer might fall in line with our tests. Please keep in mind that each system is different and actual loads can vary greatly even with similar hardware.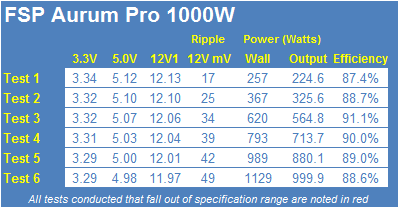 Let's start by taking a look at the voltages to see how well this unit did during testing. Starting with the 12V rail, we see 2% regulation from start to finish with a total drop of .16V. The 5V rail managed to stay within 2% of specification with a total drop of .14V from start to finish. Moving towards the 3.3V rail, we see that regulation was within 2% of specification with a total voltage drop of .05V.
DC Output quality for the FSP Aurum Pro 1000W was good and well within specifications. During Test 1, we saw 17mV of noise on our scope. When we increased the loads in Test 3, the ripple climbed to 34mV at a little over half load. During Test 6 under a load of 1000W, the oscilloscope showed a maximum of 49mV on noise on the 12V rail.
The FSP Aurum Pro 1000W is rated for 80 PLUS Gold efficiency. This means that the power supply must perform at 87%/90%/87% efficiency at 20%/50%/100% loads respectively. As you can see, the Aurum Pro 1000W passed on our bench, and wasn't close to failing at any point.
Final Thoughts
The FSP Aurum Pro 1000W is an awesome unit. It exhibits all of the same qualities that we found in the 1200W model, except that it is cheaper. As a matter of fact, it is identical to the 1200W model in every way that we can find except that it has 200W less power available and is roughly $25 cheaper. It literally has the same connectors, cables, accessories, etc.
You would think that there would be more differences and there usually are, but that just isn't the case here. One almost wonders if they didn't just make the 1200W unit just to say they have one since they didn't put any effort into differentiating it some more.
That being said, the performance is just what you would expect out of a power supply priced right in the middle of the market. DC output quality is very respectable with the 12V and 3.3V rails being within 2% of specifications and the 5V rail just barely creeping into the 3% range. The noise suppression on the 12V rail could be a little bit better, but you can't have it all with a unit that is competitively priced. The efficiency is great though for a unit priced as such.
Even though the FSP Aurum Pro 1000W is priced decently and performs just the same, there isn't anything that really makes it stand out amongst the crowd. That always seems to be a problem in the power supply market. It is very saturated with the good, the bad, the ugly, and everything in between. Being just another unit isn't enough these days, especially when it feels like just another unit from the same company.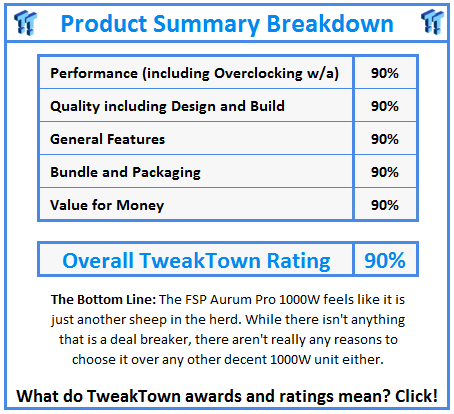 PRICING: You can find products similar to this one for sale below.

United States: Find other tech and computer products like this over at Amazon.com

United Kingdom: Find other tech and computer products like this over at Amazon.co.uk

Australia: Find other tech and computer products like this over at Amazon.com.au

Canada: Find other tech and computer products like this over at Amazon.ca

Deutschland: Finde andere Technik- und Computerprodukte wie dieses auf Amazon.de