Introduction and Specifications, Configurations and Pricing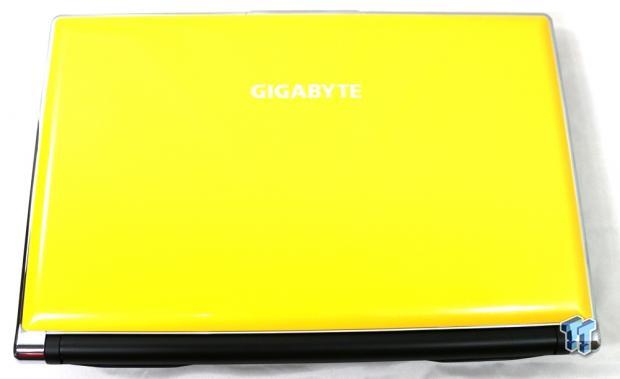 GIGABYTE has sent out their latest gaming notebook to us for review. The P25W-CF3 is a refreshed version of their P2542G gaming notebook that we reviewed several months ago. This system features a similar design, retaining the gorgeous yellow lid that I raved about during the original review.
Despite having a similar appearance, the hardware featured inside is completely revamped to include the latest hardware from NVIDIA and Intel, making this one powerhouse of a machine.
Can it take over the performance crown from the recently reviewed ASUS G750 or MSI GT70? Keep reading to find out.
Specifications, Configurations and Pricing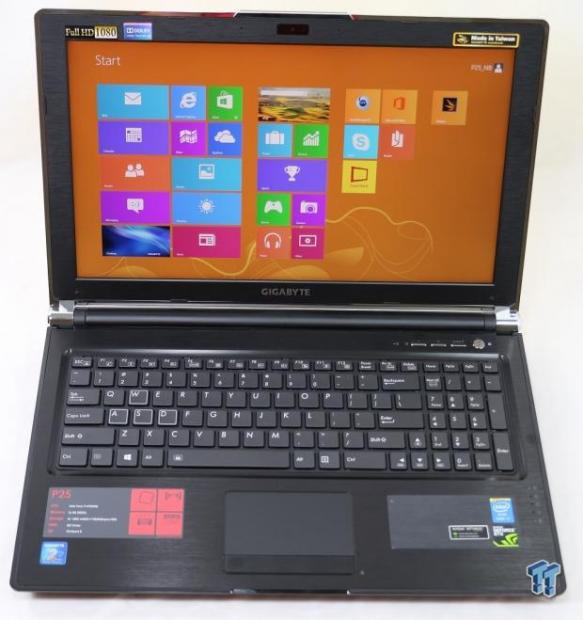 Our specific GIGABYTE P25 features Intel's Haswell-based Core i7-4700MQ quad-core mobile processor. This processor comes clocked in at 2.4GHz across four cores and eight threads, thanks to HyperThreading, and can boost all the way up to 3.4GHz, thanks to Intel's TurboBoost technology.
Coupled with the 4700MQ is 16GB of DDR3L SDRAM. 16GB of RAM is a pretty standard amount to expect on a gaming machine, though GIGABYTE could have probably gotten away with just 8GB to save costs.
Graphics are provided via a discrete NVIDIA GTX 770M with 3GB of vRAM. The GTX 770M is a very capable video card and will perform somewhere between the older GTX 675M and GTX 680M. It offers a total of 960 CUDA cores. It also requires less power, is clocked faster, and features GPU Boost 2.0 to increase performance when additional thermal headroom is available.
Despite being equipped with Windows 8, the GIGABYTE P25 does not feature a touch-enabled screen. It does, however, come with a full HD 1920x1080 panel with a matte surface coating.
Windows 8 is installed upon a pair of 128GB mSATA SSDs in RAID 0, providing for speedy read and write speeds, though for some things, such as Windows booting, a single larger SSD can be faster. The 256GB of SSD storage is complemented by a 1TB 5,400RPM HDD.
Packaging
You can check out the GIGABYTE P25W packaging in the unboxing video below.
Temperatures, Cooling and Noise
The GIGABYTE P25W is a fairly slim laptop that packs a fair amount of performance. As such, it's very possible that the temperatures we are about to see could be a bit on the high side.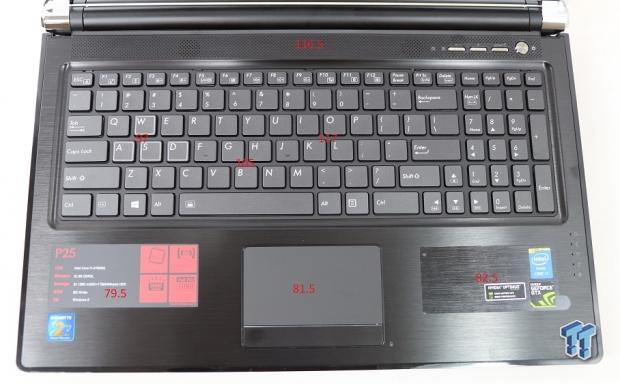 As you can see, on the front of the system, we logged a maximum temperature of 117 degrees Fahrenheit. This high temperature was located right underneath the KOL keys, which is away from the all-important WSAD keys. Those keys, however, reached a maximum temperature of 97. The palm rests, meanwhile, stayed relatively cool.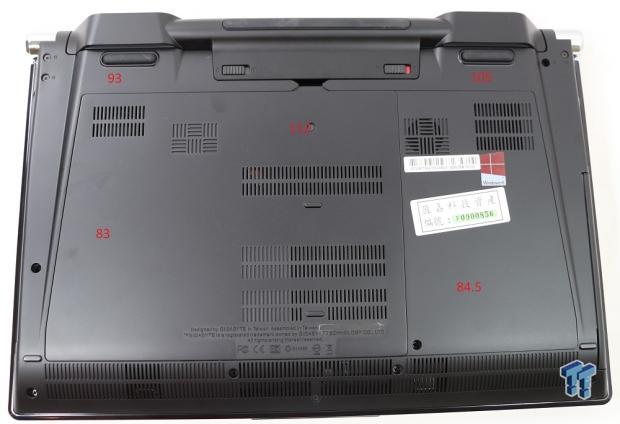 Moving around to the backside, temperatures were slightly better. The maximum observed temperature was 112 degrees Fahrenheit. Using the loaded system on your laptop would likely be uncomfortable.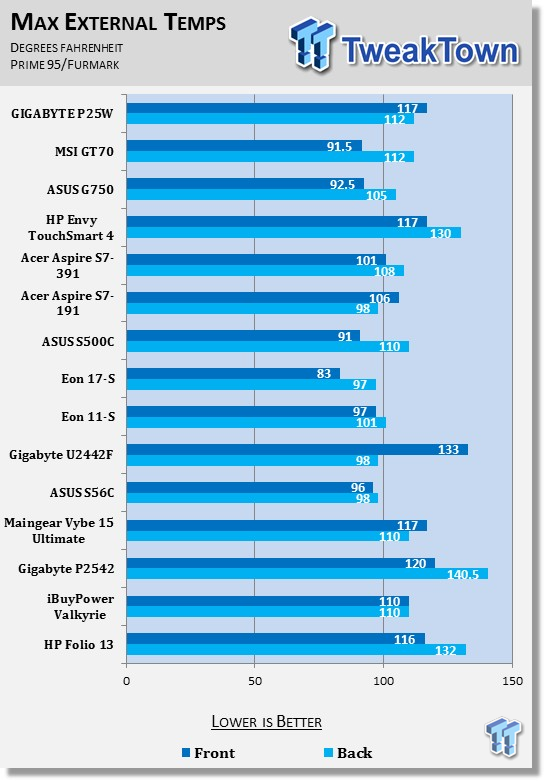 The maximum observed GPU temperature was 80 degrees Celsius. The CPU reached a maximum of 98 degrees Celsius. The GPU was kept plenty cool by the laptop's cooling system. The CPU, however, was much warmer than I'd like, running at a temperature that could damage the chip over time.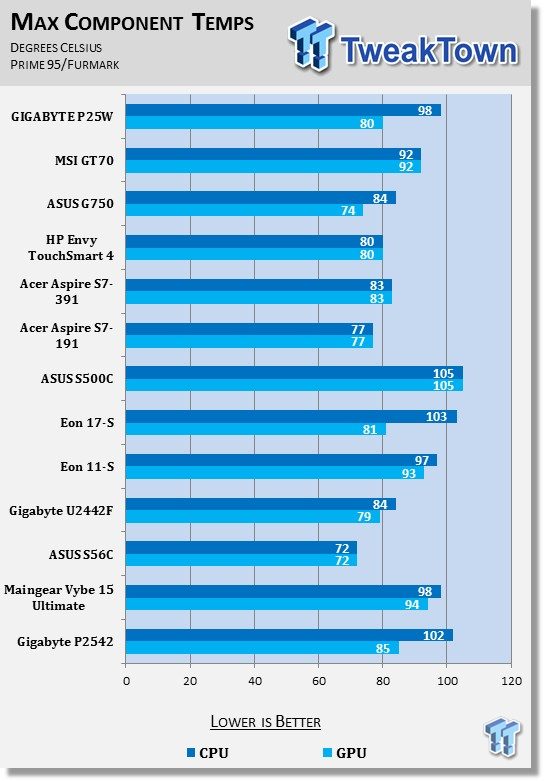 The P25W produced a sound level of 51 decibels. This noise was likely increased due to the slimmed down size of the chassis over larger 17-inch models in our chart. Our measurement is taken in front of the laptop at roughly head level. For comparison, 30dB is a totally quiet night time in the desert, 40dB is whispering and 60dB is a normal conversation.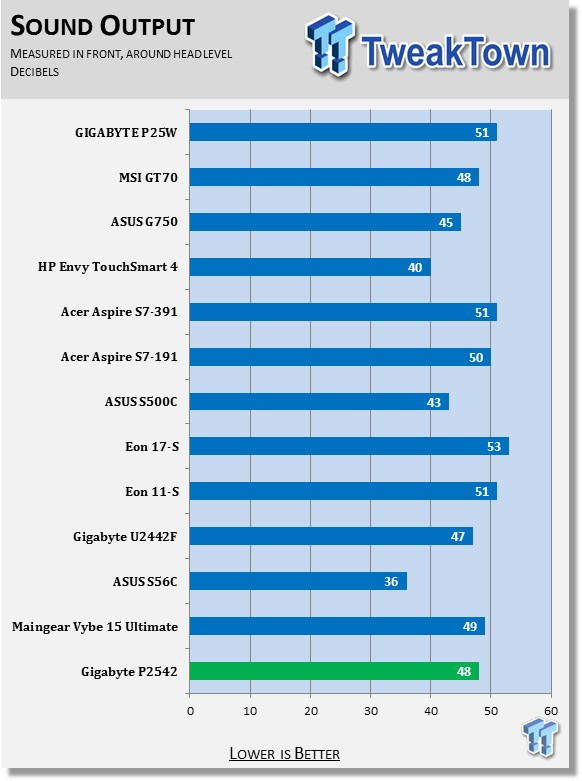 Keyboard, TouchPad, Screen and other User Interfaces
Keyboard and TouchPad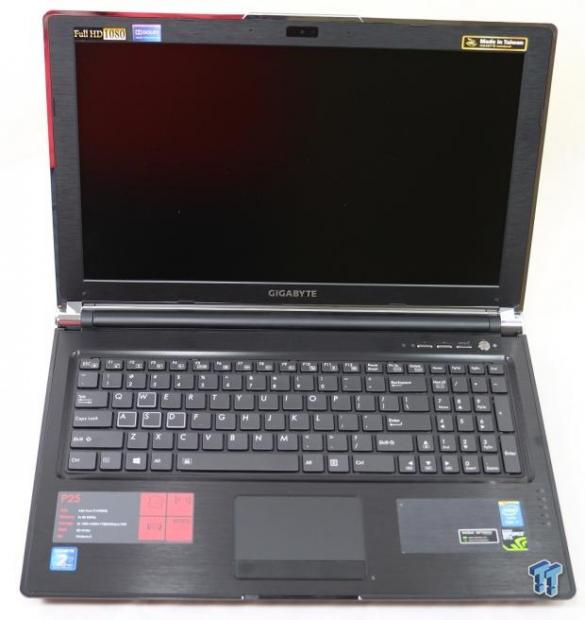 The P25W comes with the now-standard island style keyboard. The keyboard is definitely comfortable to use and feels more like a desktop keyboard than a laptop keyboard, something I count as a big plus.
The keys have a great travel distance. The WSAD keys are solid and feature next-to-no flex, whereas the KOL key area has a fair amount of flex present. Some of the keys are also not level with each other, which causes me concern as to the quality or longevity of the keyboard.
Key travel and sound are good. The overall typing experience is quite excellent. I experienced zero errors while typing on the keyboard, which is a good sign and testament to the keyboard's quality.
The P25W comes with a simple white backlit keyboard, a must have on any premium notebook, by my standards. The backlight provides a simple, dim glow to the keys that doesn't kill your night vision when being used at night.
The touchpad is made from two pieces of material. The touchpad is fairly wide, but is a bit short. The left-click and right-click buttons are fashioned from a single piece of material, something I wish manufacturers would get away from.
The touchpad is even with the palm rests, though a slight bump offsets the touch-enabled portion of the touchpad. The texture of the touchpad also differs from the rest of the system, making it easy to detect when you're on the touchpad without looking.
Screen
The GIGABYTE P25W features a 15.6-inch Full HD display meaning it pumps out a resolution of 1920x1080. The surface of the screen is of the matte texture and despite running Windows 8, it does not feature a touchscreen.
Looking at the display from off-angles doesn't seem to affect the color of the screen at all, which is impressive considering I believe this system makes use of a TN panel. Extreme angles are required before anything looks too abnormal.
Testing Methodology
View our full testing methodology article.
- Accessory Port Testing
Ports to which an external storage device can be connected to are tested using HD Tune Pro to obtain their maximum, minimum and average read and write speeds. USB 2.0, USB 3.0 and eSATA ports are tested using a Corsair Neutron GTX 240GB SSD that is capable of saturating the theoretical bandwidth available.
The Corsair Neutron GTX is housed inside an Icy Dock external enclosure which features a SATA I/II/III to USB 3.0 and eSATA converter.
- Gaming Tests
3DMark Vantage is ran on the Performance preset to get a feel for how the computer would manage gaming. The CPU, GPU and combined scores are reported. A higher overall score is the best and a high GPU or CPU score shows particular prowess with tasks that use that part of the computer.
3DMark 11 is run on the Performance preset and the Physics, GPU and combined scores are reported. This test is only run if the system supports DirectX 11. A higher overall score is the target, though a high individual result shows prowess in a particular area.
3DMark is the latest benchmark by Futuremark. The Cloud Gate test is ran with all of the default settings and the score, GPU score, and physics score are all recorded in the chart. The Cloud Gate test is intended to be run on home desktops and notebooks.
- System Tests
PCMark 7 is run to get an overall idea of how the system performs as a whole. It tests all aspects of the PC and puts a score on how well it performs overall. In this test, a low scoring area can affect the overall score, so it's important to read the analysis. A higher score is better.
CrystalDiskMark is run to put a number on how well the system hard disk drive / SSD runs. It measures five different metrics, of which higher is better for all. The higher the numbers, the snappier the operating system will feel, especially if the "4K" number is high, as most operating system files are small files.
- Battery Life
PowerMark is used to measure battery life of the system when set to the "Balanced" power plan. This test simulates several different activities, but uses custom built applications.
Accessory Port Layout and Performance

The left side, from back to front, features the power jack, VGA port, a USB 2.0/eSATA combo port, and a Blu-Ray drive.

The right side, from back to front, features the Kensington lock, Ethernet port, HDMI port, card reader, two USB 3.0 ports, and a headphone and microphone jack.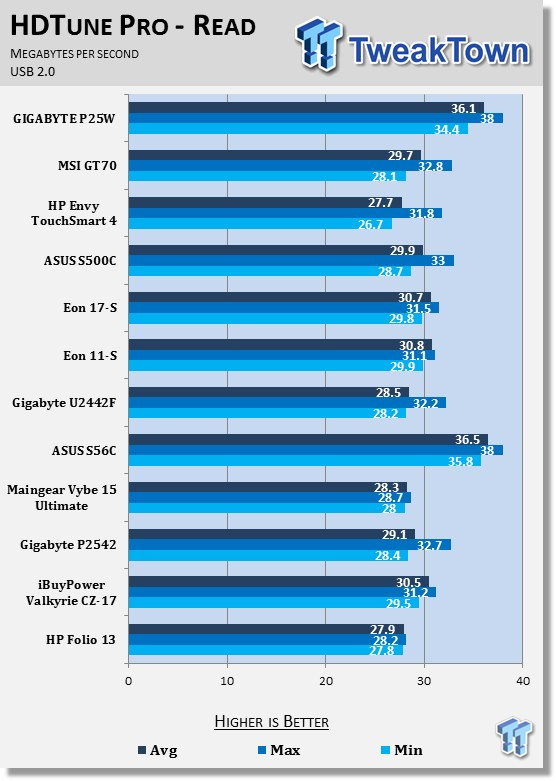 The P25W produces an average USB 2.0 read speed of 36.1 MB/s, which is the second fastest machine we've had the pleasure of testing.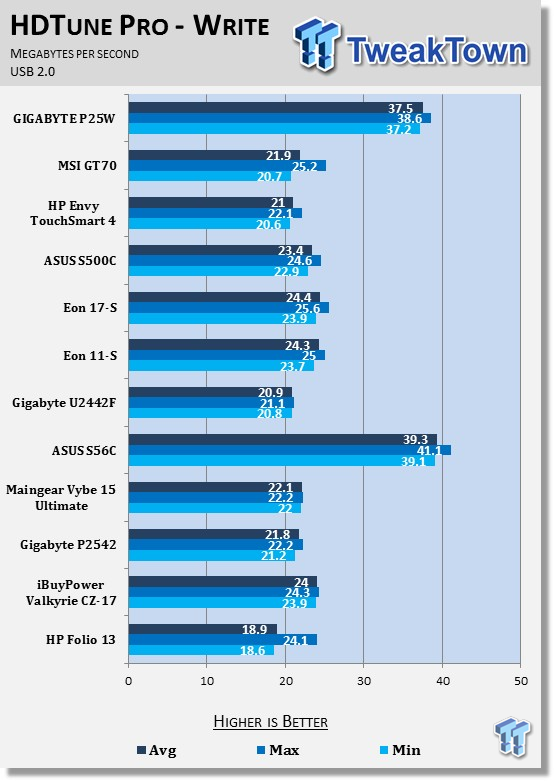 The trend continues with USB 2.0 write speed. The P25W pushes out an average of 37.5 MB/s, again putting it squarely in second place.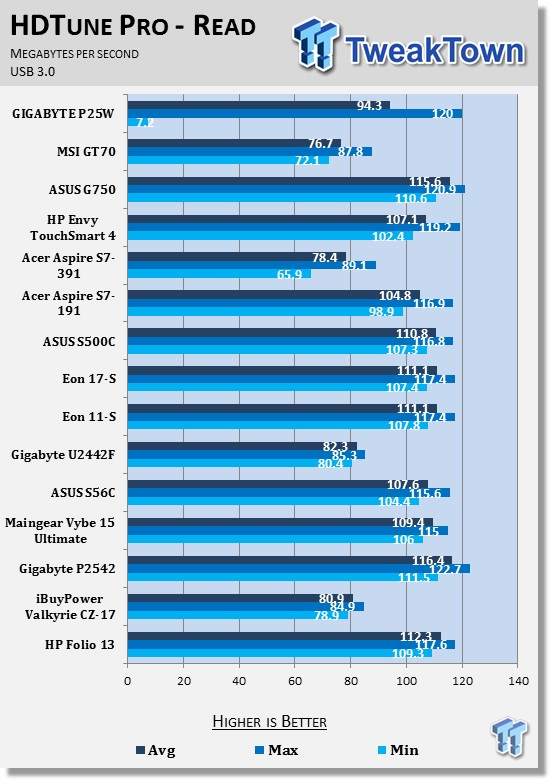 As far as USB 3.0 performance goes, the P25W falls behind the pack, producing a read speed of just 94.3 MB/s. While not the slowest we've ever tested, it failed to enter into the triple digits like most other systems.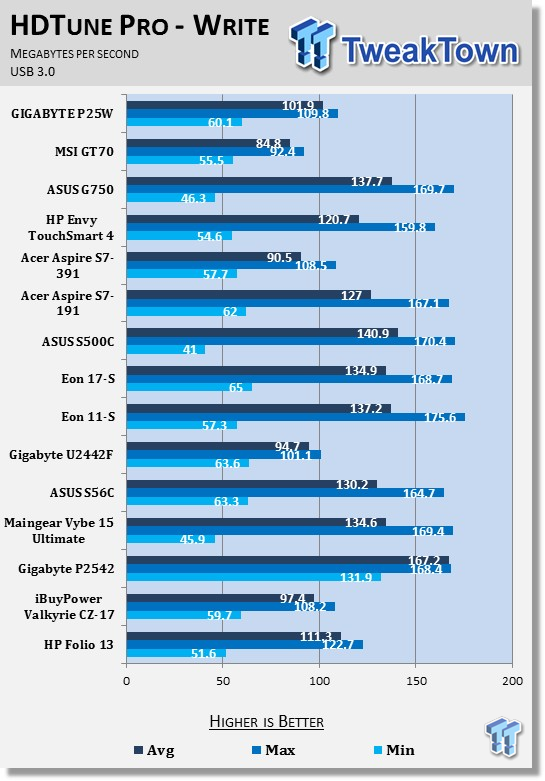 The trend continues with USB 3.0 write speeds, putting the system towards the back of the pack. It barely broke into triple digits with an average write speed of 101.9 MB/s.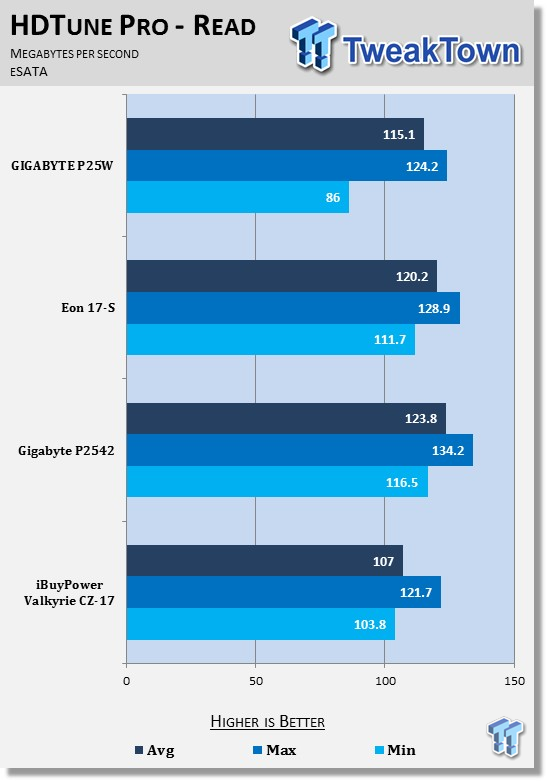 As you can see above, the GIGABYTE P25W produced an average eSATA read speed of 115.1 MB/s, putting it in third place.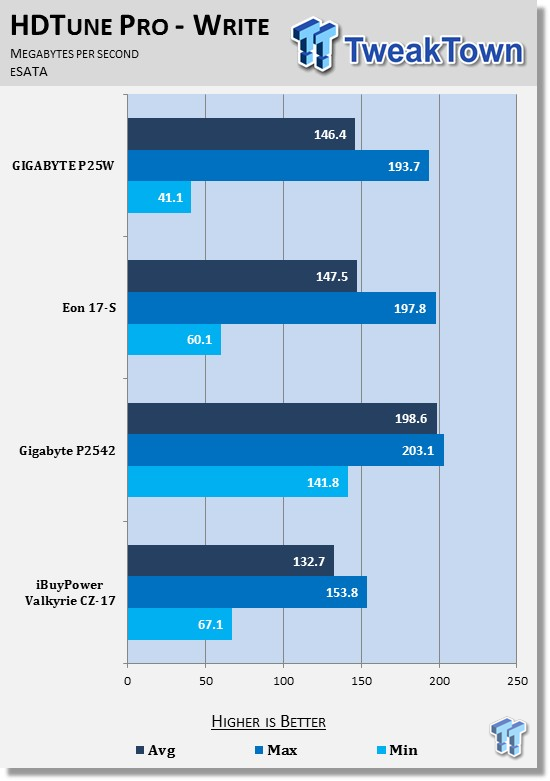 The trend continues, with the P25W falling into third place with an average write speed of 146.4 MB/s.
Gaming Performance
3DMark Vantage
Version and / or Patch Used: 1.1.0
Developer Homepage: http://www.futuremark.com
Product Homepage: http://www.3dmark.com/3dmarkvantage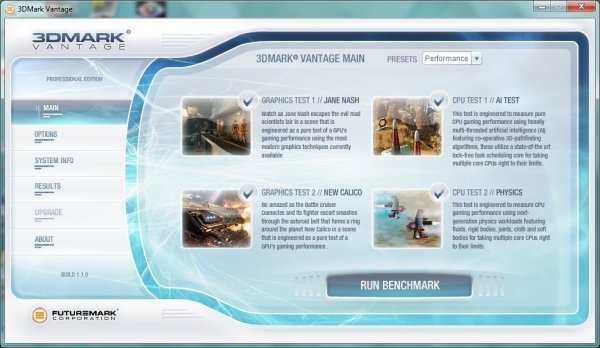 3DMark Vantage tests both processor and graphics performance and is a good indication of how systems compare. The results are generally more repeatable and consistent than other forms of benchmarking. Vantage uses DirectX 10 and can handle multi-core CPUs.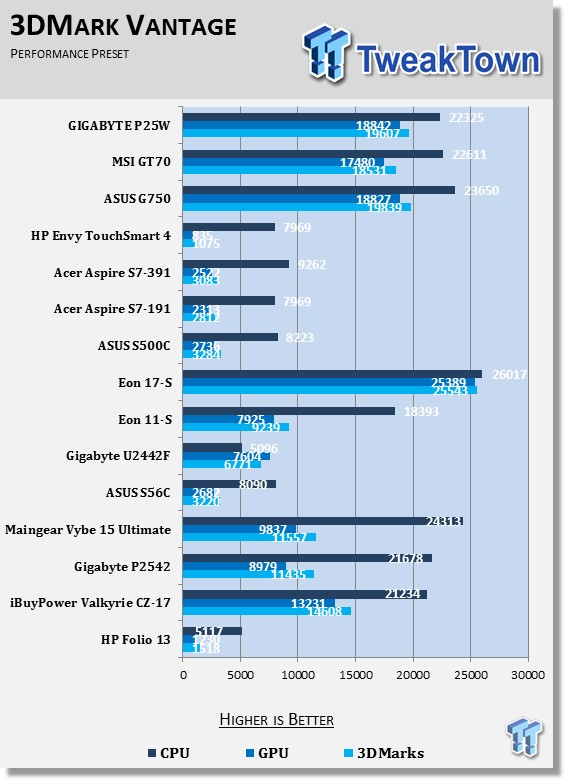 The GIGABYTE P25W came in third place, just behind the ASUS G750, with a score of 19607. The Eon 17-S still holds the record with a score of 25543.
Looking at the individual scores, the P25W managed to produce a third place GPU score of 18842 and a fifth place CPU score of 22325. Both of these scores are impressive and show that this system is a capable gaming machine.
3DMark 11
Version and / or Patch Used: 1.0.1.0
Developer Homepage: http://www.futuremark.com
Product Homepage: http://www.3dmark.com/3dmark11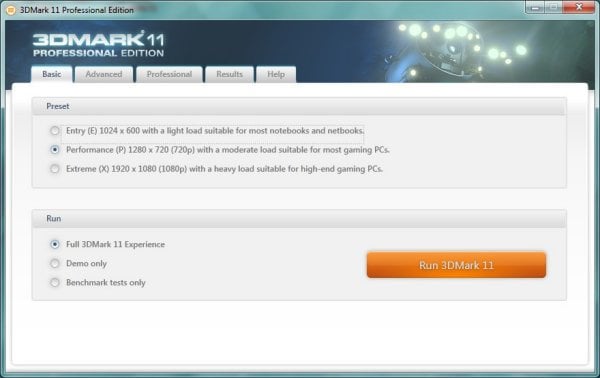 3DMark 11 is the latest version of the world's most popular benchmark. Designed to measure your PC's gaming performance 3DMark 11 makes extensive use of all the new features in DirectX 11 including tessellation, compute shaders and multi-threading. Trusted by gamers worldwide to give accurate and unbiased results, 3DMark 11 is the best way to consistently and reliably test DirectX 11 under game-like loads.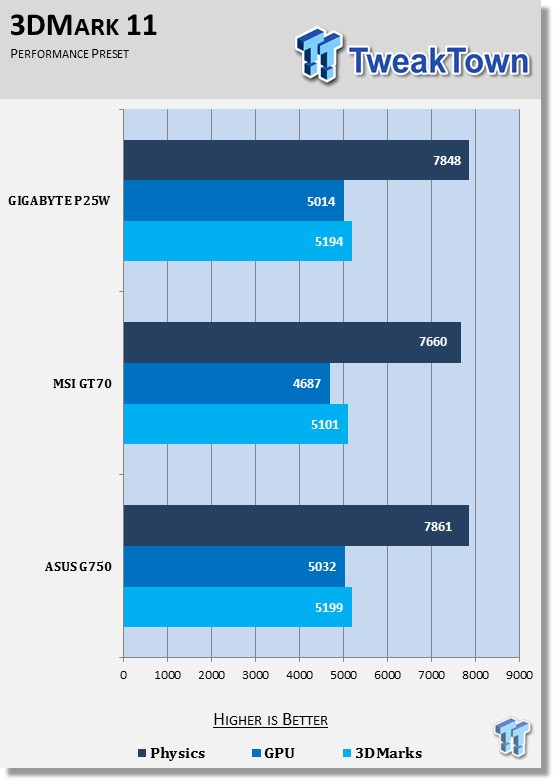 Due to our updating of the 3DMark 11 benchmark, previous scores have been archived.
All three of the systems that we have ran through the updated 3DMark 11 benchmark have scored nearly identical. The P25W produced a score of 5194, just five marks behind the leader. Individual scores are also nearly identical between the G750 and the P25W, proving the P25W can hang with larger 17-inch machines.
3DMark - Cloud Gate Test
Version and / or Patch Used: 1.0.0
Developer Homepage: http://www.futuremark.com
Product Homepage: http://www.futuremark.com/benchmarks/3dmark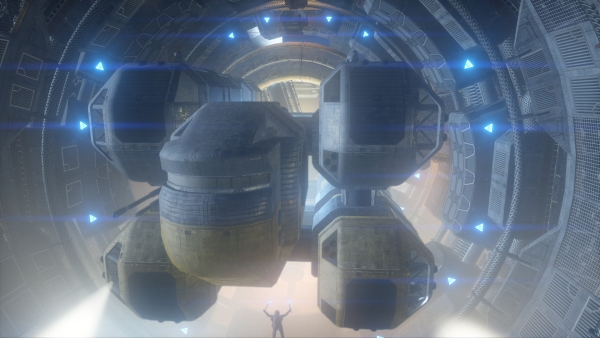 Cloud Gate is a new test that is designed for Windows notebooks and typical home PCs. Cloud Gate includes two graphics tests and a physics test. Cloud Gate uses a DirectX 11 engine limited to Direct3D feature level 10 making it suitable for testing DirectX 10 compatible hardware. Cloud Gate will only be available in the Windows editions of 3DMark initially.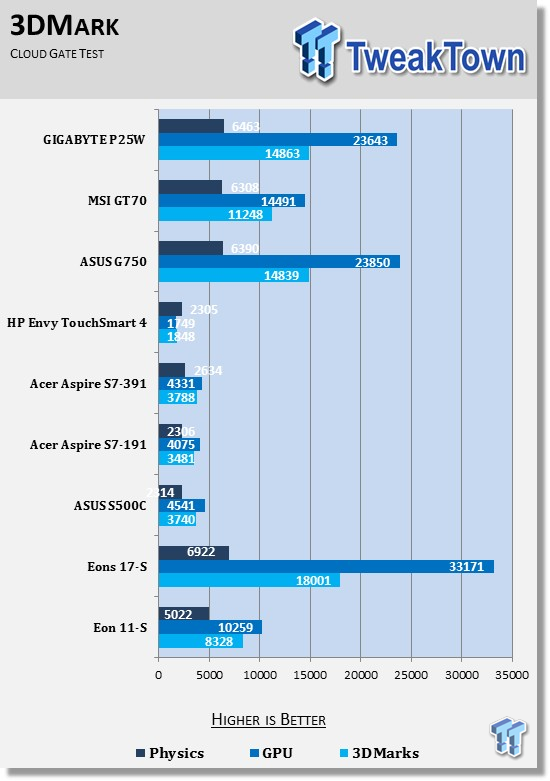 The P25W managed to come in second place, barely edging the ASUS G750 out with a score of 14863. Looking at the individual scores, the P25W still comes in second place with a GPU score of 23643 and CPU score of 6463.
Battlefield 3
Developer Homepage: http://www.dice.se/
Product Homepage: http://www.battlefield.com/battlefield3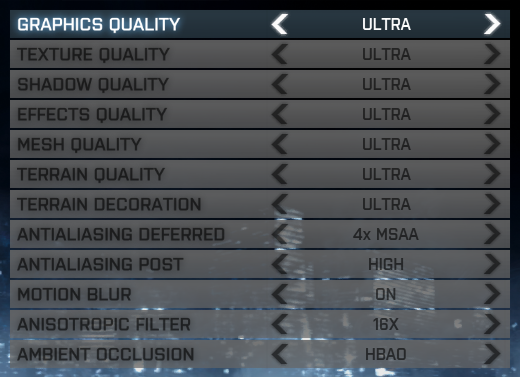 Battlefield 3 is one of the most requested benchmarks, so we have finally added it. Frame rates are recorded for 60 seconds starting in the first part of campaign when the character picks up the gun and is played through until just after the train explodes. The game is played three times in that manner with the results being averaged together and reported.
Settings are 1920x1080 for the resolution with the "Graphics Quality" set to Ultra.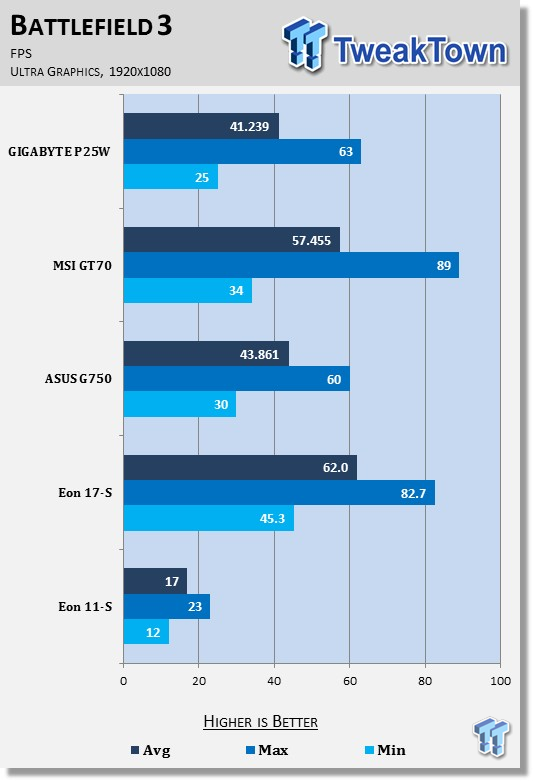 The P25W came in fourth place, behind three larger 17-inch machines. It produced an average of 41 FPS, though the minimum was 25 FPS, just below the 30 FPS mark. However, playability did not see any impact.
Crysis 3
Developer Homepage: http://crytek.com/
Product Homepage: http://www.crysis.com/us/crysis-3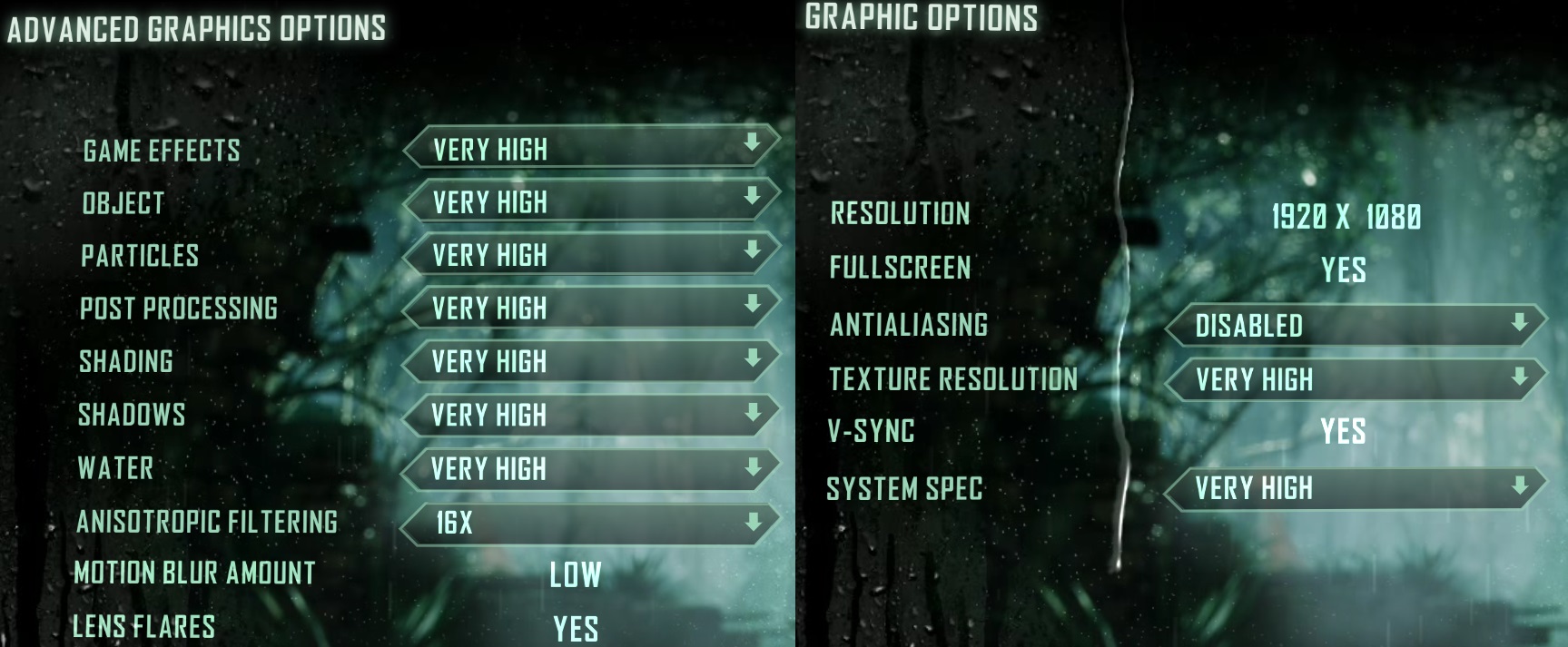 Crysis 3 is run at 1920 x 1080 resolution with the graphics specifications set to "Very High." No anti-aliasing is used. See picture above for full details. The test is ran three times due to higher variability than the other benchmarks. FRAPS is used to record 60 seconds worth of FPS data and recording starts at the start of the campaign and finishes most of the way up the tower. The game is played in a similar manner each time.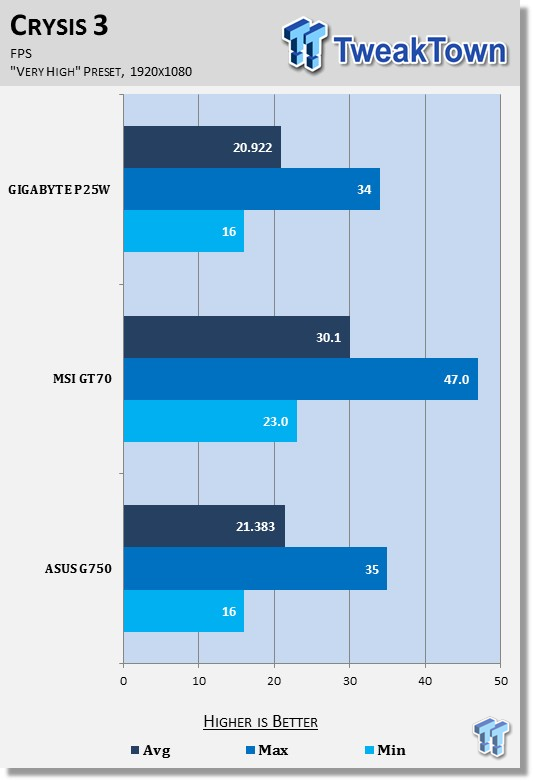 To play Crysis 3 on the P25W, you'll need to turn down a couple of settings. It managed to produce an average of 20.9 FPS, with a minimum of 16 FPS, which did hamper playability.
System Performance
PCMark 7
Version and / or Patch Used: 1.0.4.0
Developer Homepage: http://www.futuremark.com
Product Homepage: http://www.pcmark.com/benchmarks/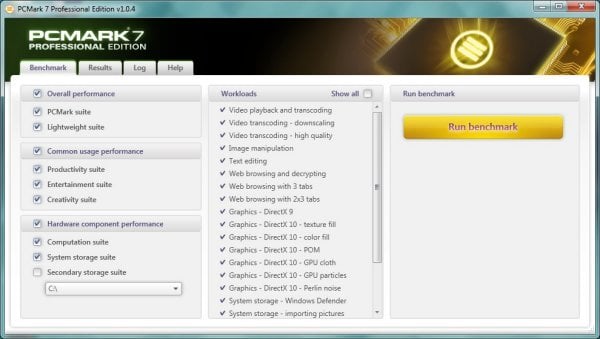 PCMark 7 is a great utility for testing a PC's all-around capabilities. It tests all aspects of the computer, from graphics performance to hard disk performance and attempts to put a score on it, which is not an easy task.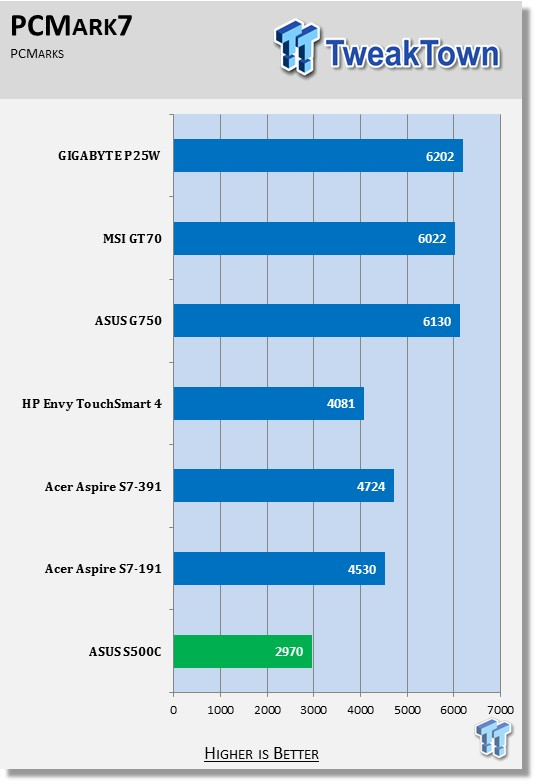 The GIGABYTE P25W managed to produce our highest ever PCMark 7 score with a score of 6202. This shows that the system is an all-around great performing machine, which is something I noticed during use.
CrystalDiskMark
Version and / or Patch Used: 3.0 Technical Preview
Developer Homepage: http://www.crystalmark.info
Product Homepage: http://crystalmark.info/software/CrystalDiskMark/index-e.html
Download here: http://crystaldew.info/category/software/crystaldiskmark
CrystalDiskMark is a disk benchmark software that allows us to benchmark 4K and 4K queue depths with accuracy.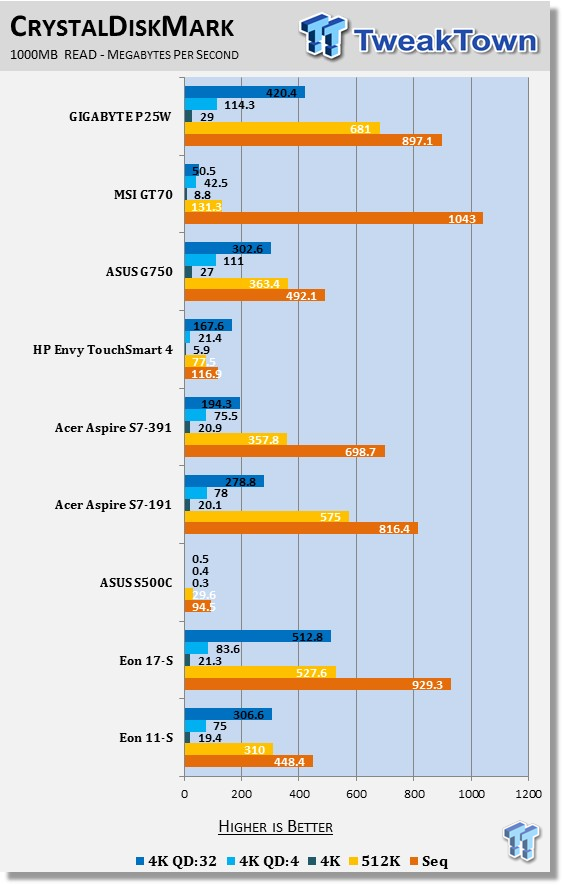 The P25W produces an incredible sequential read speed of 897.1 MB/s. This puts it in second place behind the GT70, which featured three drives in RAID 0.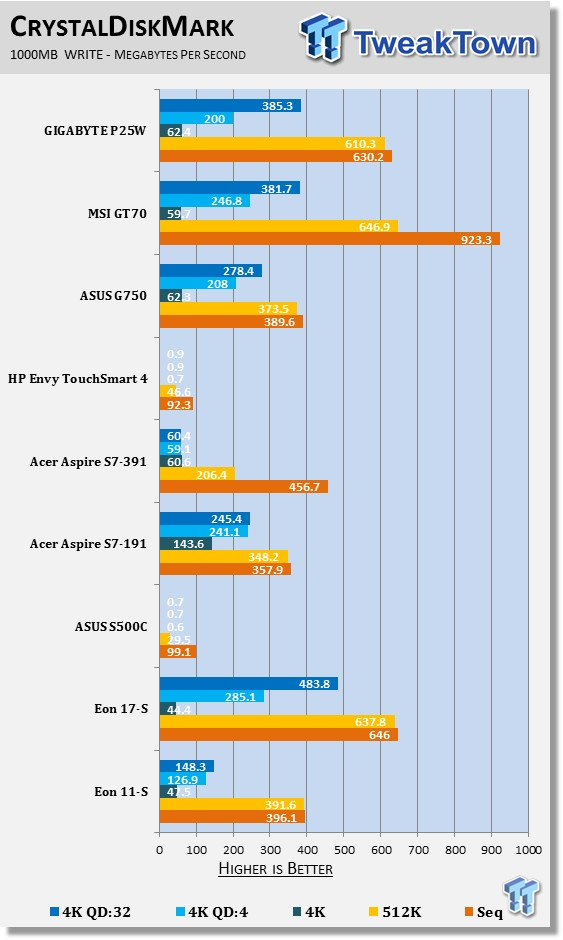 Write speeds were equally impressive. The P25W managed to produce sequential write speeds of 630.2 MB/s.
Battery Life Performance
PowerMark
Version and / or Patch Used: 1.1.1
Developer Homepage: http://www.futuremark.com
Product Homepage: http://www.futuremark.com/benchmarks/powermark/
Download here: http://www.futuremark.com/benchmarks/powermark/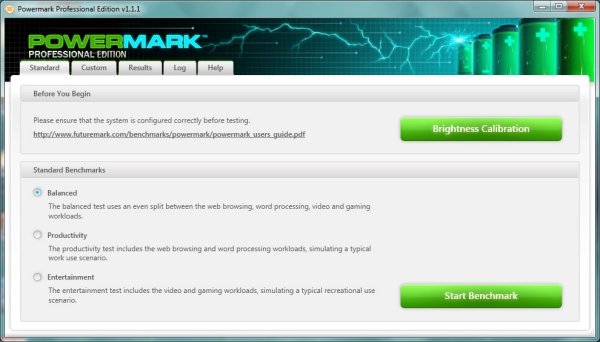 PowerMark is a benchmark produced by Futuremark that simulates different usage scenarios in order to determine battery life. It loops these different scenarios infinitely until the battery hits 15% and then gives us an estimated battery life time. For our testing, we use all four different scenarios. These are video playback, gaming, web browsing and word processing.
The test is ran once with the computer's Power Options set to Balanced. You'll notice our graph has been cleared. PowerMark was updated to the latest version for testing, so we removed the test results created with a past version.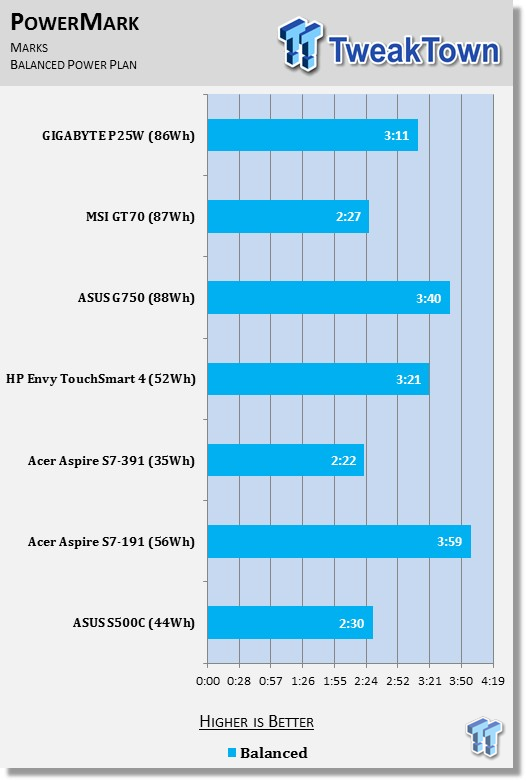 Haswell clearly helps this gaming machine last a long time on battery. It produced a runtime of 3 hours and 11 minutes in our PowerMark benchmark.
Only Ultrabooks and the G750 managed to produce longer runtimes.
Final Thoughts
We've gone over the hard numbers of the P25W and seen some interesting results. But as with everything, it's not all about the hard figures. Over the review, I've found that there's a lot to love about the P25W. But also, there's some stuff that's not so great.
Let's start with the good. The P25W performed great, especially considering its size. The design of the P25W is gorgeous and features a stunning yellow lid; this is the same lid that I found stunning on the P2542 we previously reviewed.
While the system is quite compact, it is quite heavy. I'm not going to equate weight to quality, but it does lend to the idea that the system makes use of quality components. However, this is a double-edged sword as a heavy system doesn't lend itself to being hauled around in a backpack. The system lasted for a generous amount of time on battery, which is a positive for portability.
One of the major downsides to the P25W is the heat. Due to the small chassis, heat is less able to be managed and builds up on the surface of the keyboard and the backside of the system. The keyboard won't be too comfortable when under full load and the system should be used on a table.
A notebook is always better than desktop for taking to LAN parties as they are infinitely more portable, but if you're looking for something to haul around daily, the weight of P25W might get on your nerves.
Putting Windows 8 onto a system without a touchscreen is also not the best idea and I would much prefer Windows 7 to be installed on the system. Either that, or GIGABYTE should equip the P25W with a touchscreen.
The GIGABYTE P25W is an excellent choice for a gaming machine, though it's a bit on the costly side. The system is available through Amazon for $1849 at the time of writing.