Introduction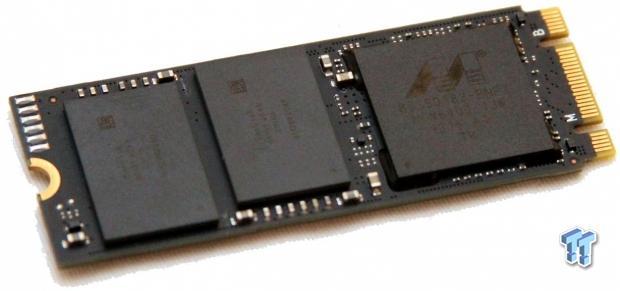 We've already published a preview of the new SanDisk A110 SSD in M.2 form factor. The performance data came from a system that we normally don't use for SSD reviews and on an operating system that we're still wrapping our head around. I'm now back in the lab with my own test tools, a slew of PCs validated for performance measurements and all of the software testing tools needed to produce an official review, so we are getting down to business. The only difficult part now is ending my use of NGFF or Next Generation Form Factor wording now that socket M.2 is the official standard for writing about the new form factor.
The SanDisk A110 PCIe SSD is an OEM specific product for mobile products like notebooks, ultrabooks and possibly tablets, should a manufacturer choose to adapt the M.2 2260 standard. The 2260 portion refers to the size - 22mm wide and 60mm long.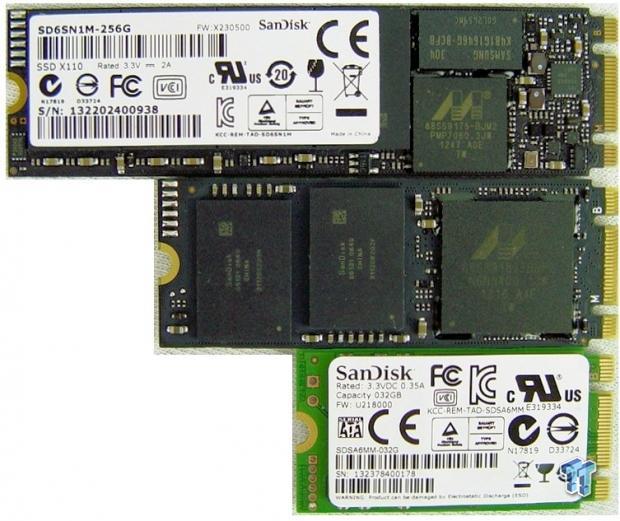 Socket M.2 started out with around 15 different sizes, but most manufacturers have chosen to implement just a few. Shown above, 2280, 2260, 2242 and 2230 are the sizes most of us will see in the consumer market. A few 100+ mm models may tip up in enterprise products where the additional surface area allows manufactures to fit more NAND packages. Unlike mSATA where one size ruled them all for the most part, socket M.2 sizes are actually important. The Lenovo ThinkPad S431 ships with a M.2 connector as long as you order the notebook with a cache drive from Lenovo directly. There isn't room for a 2280 and there may not be enough room for a 2260, even after you modify the standoff.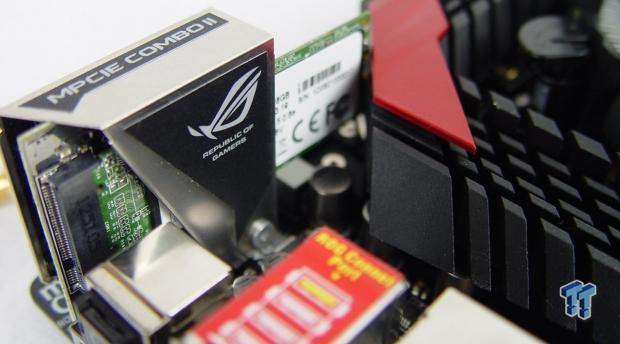 On the enthusiast side of the market, most will learn about M.2 from ASUS's new Z87 Republic of Gamers (ROG) product line. We tried to fit a M.2 2280 in a new Z87 Maximus VI Extreme, but the PWM heat sink got in the way. The only ASUS Maximus VI product that gives an unrestricted depth for the M.2 slot is the Maximus VI Impact, a Mini-ITX board. ASUS moved the Combo II daughterboard to the other side of the motherboard to make room for a full size power regulation standoff board.
The SanDisk A110 M.2 2260 fits in Maximus VI Extreme boards, but that doesn't mean everything plays nicely together. The A110 can use up to PCIe 2.0 x2 (lanes), but the ASUS Maximus VI boards only have one lane going to the M.2 socket. That means you're limited to around 500 MB/s with both SATA and PCIe based M.2 drives on Maximus VI motherboards.
As an enthusiast, I have to admit, I wouldn't let any of that stop my move to M.2 PCIe for my own personal desktop. While not available for purchase yet, adapter cards will start to tip up for test labs. We have several products for our lab from Bplus Technology, and I wouldn't be surprised to see a M.2 PCIe to PCIe 2.0 x2 lane adapter from them before too long.
The SanDisk A110 is a product for the OEM market and as such, we won't see them at Newegg and others. E-tailers that cater to the IT market may receive stock at some point. Let's take a look at the specifications and see what all of the buzz is about.
Specifications, Pricing and Availability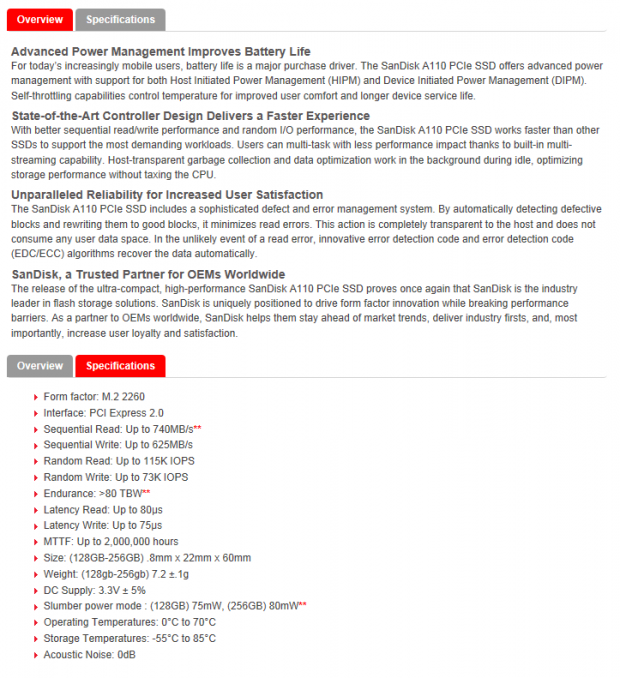 When we wrote the preview article two weeks ago, the A110 wasn't on SanDisk's website. We took the image above from the new web page and we now have all of the specifications. The A110 comes in two capacity sizes, 128GB and 256GB. Both are M.2 2260 form factor.
SanDisk claims up to 740 MB/s sequential read performance and 625 MB/s sequential write performance. The 4K read IOPS rating is 115K and 73K for 4K writes. Getting this level of performance doesn't come easy, though. The motherboard and Windows both have PCIe power savings features that you need to turn off to reach maximum performance. Even then, reaching maximum performance is difficult without additional tweaks. We ran the A110 on a few different boards and couldn't hit some of the specifications SanDisk claims. We learned quite a bit, and we'll go over a lot of details on the last page of this review.
At the time of writing, I wasn't able to find the A110 available anywhere. Haswell based ultrabooks and notebooks are rare right now. Later in the year we'll see a massive push in the ultrabook space with high resolution displays, amazing battery life and M.2 based SSDs.
The new M.2 based SSDs play a large role in the amazing battery life. SanDisk claims just 80mW in slumber mode (256GB model). Early next month we'll publish an article on new power states in Haswell based systems and talk about how SSDs like the A110 can operate on the same amount of power you generate just by walking across the floor.
SanDisk A110 256GB SSD

SanDisk chose the Marvell 88SS9183 controller for the A110. SanDisk writes their own firmware for Marvell controllers, which allows the company to keep control of firmware.
Physically the A110 has keys for both B and M sockets. The drive will fit in both Socket 2 and Socket 3, but in Socket 3 with PCIe x4 lanes, the drive will only use two lanes.

There are four NAND packages and a Hynix DRAM buffer.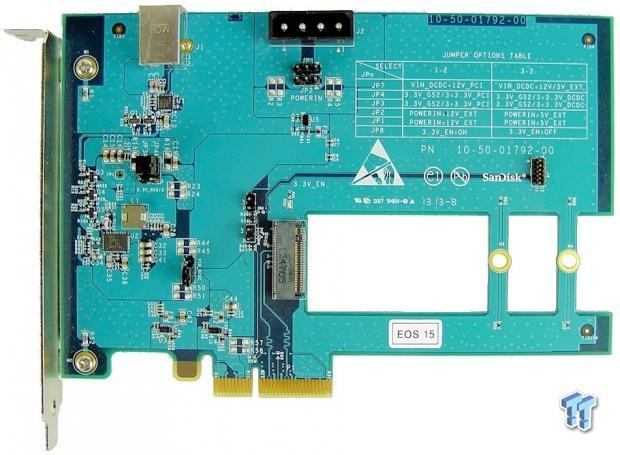 We used a special SanDisk adapter to test the A110 on a desktop motherboard.
Benchmarks - Test System Setup and ATTO Baseline Performance
Desktop Test System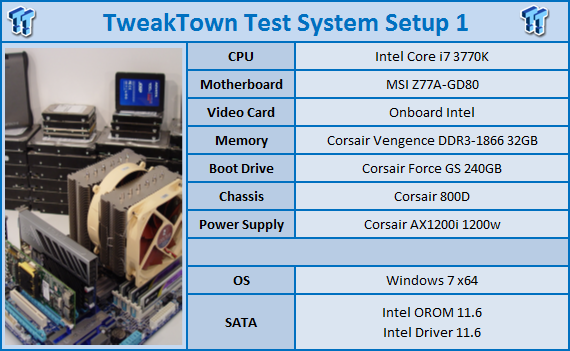 In the preview article, we used an ASUS Maximus VI Extreme with Windows 8. In this test, we used a MSI Z77A-GD80 and GIGABYTE Z77X-UD5H with Windows 7. In some instances, the Z77A-GD80 didn't want to complete tests properly. Both of these Z77 chipset based motherboards have a lot of features, but the Z77A-GD80 has several devices, like Thunderbolt, using the PCIe lanes.
When using more than the processor and chipsets PCIe lanes, motherboard manufacturers use PCIe switches. When testing video cards we don't notice the PCIe switches, but video cards have massive buffers and we are measuring well past the buffers when measuring in frames per second.
Lenovo W530 - Mobile Workstation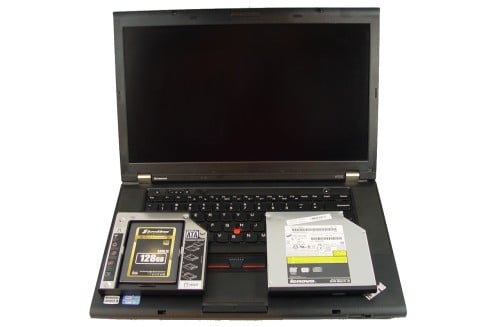 We use two systems for SSD testing. The desktop runs a majority of the tests and the Lenovo W530 runs the notebook power tests as well as the real-world file transfer benchmark.
ATTO Baseline Performance
Version and / or Patch Used: 2.34
ATTO is a timeless benchmark used to provide manufactures with data used market storage products.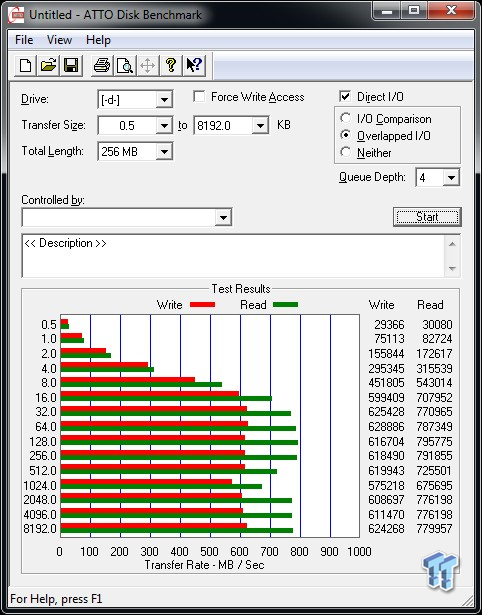 No matter what we fiddled with, we couldn't break 800 MB/s on the Z77 systems. 795 MB/s isn't bad though when reading data. Our maximum write was 628 MB/s.
It's difficult not to do back flips for a couple of reasons. The first is the fact that this is an OEM drive built for reliability and a low price point. The second is the configuration; there are only four NAND packages, half the number found on SATA III high performance SSDs today.
Benchmarks - Sequential Performance
HD Tune Pro
Version and / or Patch Used: 4.00
Developer Homepage: http://www.efdsoftware.com
Product Homepage: http://www.hdtune.com
HD Tune is a Hard Disk utility which has the following functions:
Benchmark: measures the performance
Info: shows detailed information
Health: checks the health status by using SMART
Error Scan: scans the surface for errors
Temperature display
HD Tune Pro gives us accurate read, write and access time results and for the last couple of years has gained popularity amongst reviewers. It is now considered a must have application for storage device testing.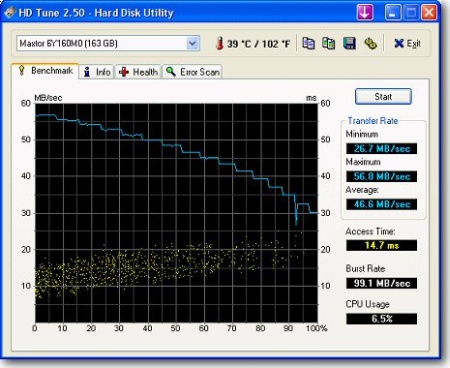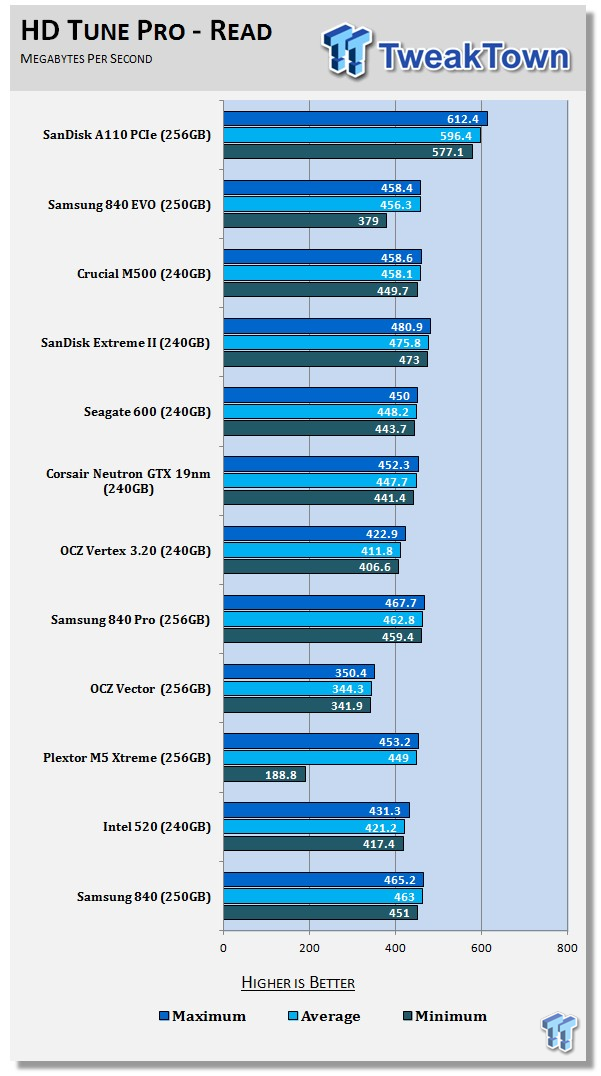 As of now, M.2 drives, both SATA and PCIe, use a driver provided by Microsoft built into Windows 7 and Windows 8. A110 supports ATA-8 / ACS-3 Standard register and command sets. At some point, we expect new drivers, either from manufacturers or from Microsoft, that are optimized for the faster interface. The performance we experienced was very good, but anyone who's compared the Microsoft AHCI driver to Intel's PCH SATA driver knows that performance gains are possible.
In HD Tune Pro's sequential read test the A110 256GB delivered more than 130 MB/s more performance than any other 256GB SSD we have in the charts today. The sequential read performance wasn't just a burst peak and then the drive slowed considerably. SanDisk designed the drive to deliver good sustained performance.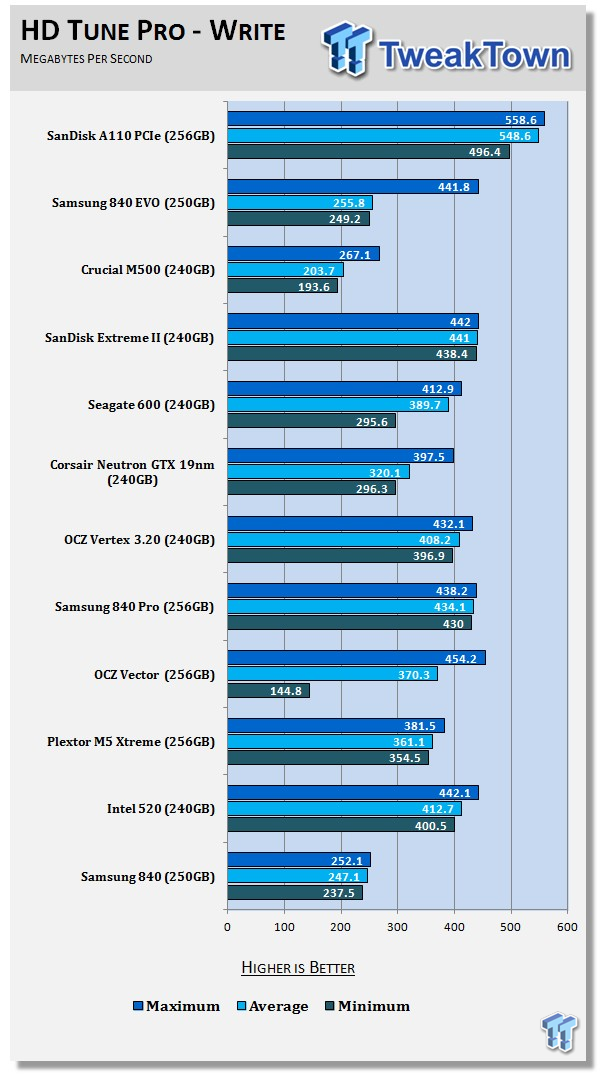 The minimum sequential write in HD Tune Pro was nearly 500 MB/s. The maximum and average were right around 550 MB/s. The performance average was over 100 MB/s over the SanDisk Extreme II, one of the fastest sequential writing drives on the market today.
HD Tach - Sequential Write Performance after Random Writes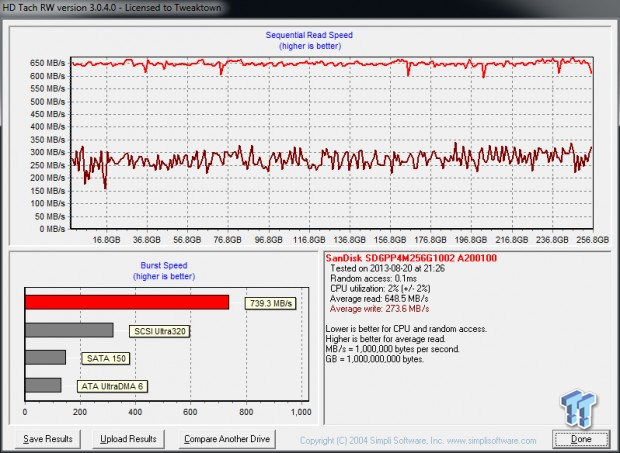 After a realistic number of random writes from the HD Tune Pro random tests, we measure sequential read and write performance with HD Tach, full drive span and 128KB blocks.
When reading data with the larger block size, the A110 took off to just under 650 MB/s. More importantly, the sequential writes didn't fall to the bottom of the chart like some of the newer controller / flash combinations do.
Benchmarks - AIDA64 Random Access Time
AIDA64 Random Access Time
Version and / or Patch Used: 1.60
Developer Homepage: http://www.aida64.com
Product Homepage: http://www.aida64.com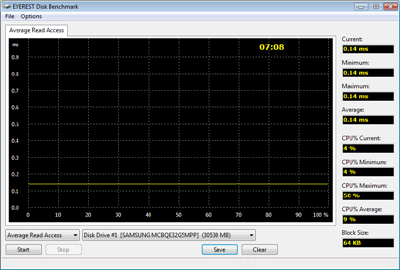 AIDA64 offers several different benchmarks for testing and optimizing your system or network. The Random Access test is one of very few if not only that will measure hard drives random access times in hundredths of milliseconds as oppose to tens of milliseconds.
Drives with only one or two tests displayed in the write test mean that they have failed the test and their Maximum and possibly their Average Scores were very high after the cache fills. This usually happens only with controllers manufactured by Jmicron.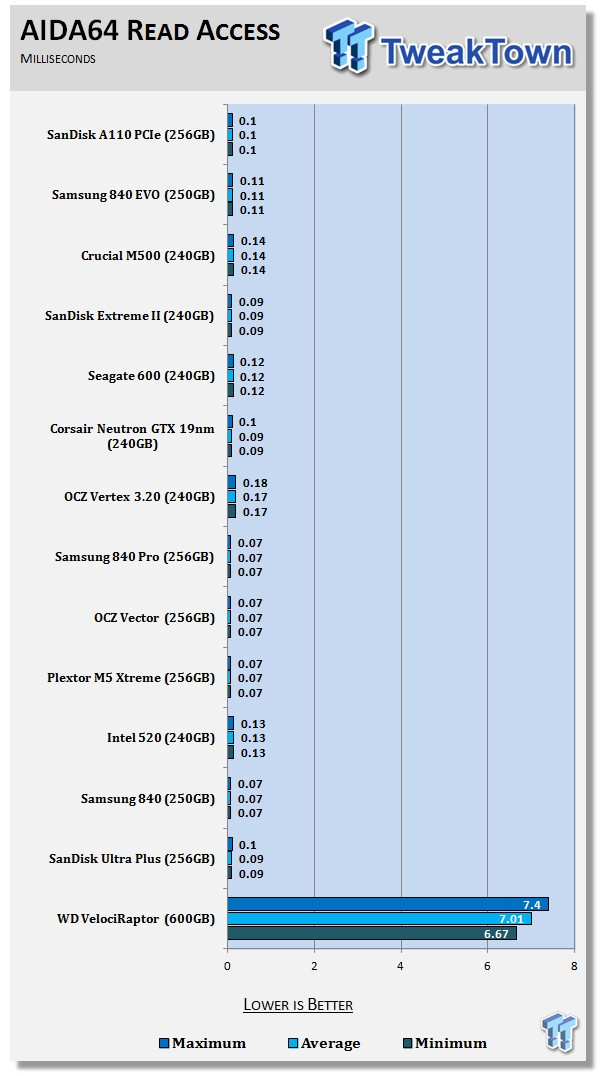 The one area I'm surprised about is the latency. PCIe is a direct shot to the CPU, so I expected to see a latency drop, but that didn't happen. I went back and tested the A110 on several motherboards going back to X58 and the latency was consistent, even with a PCIe switch in the path.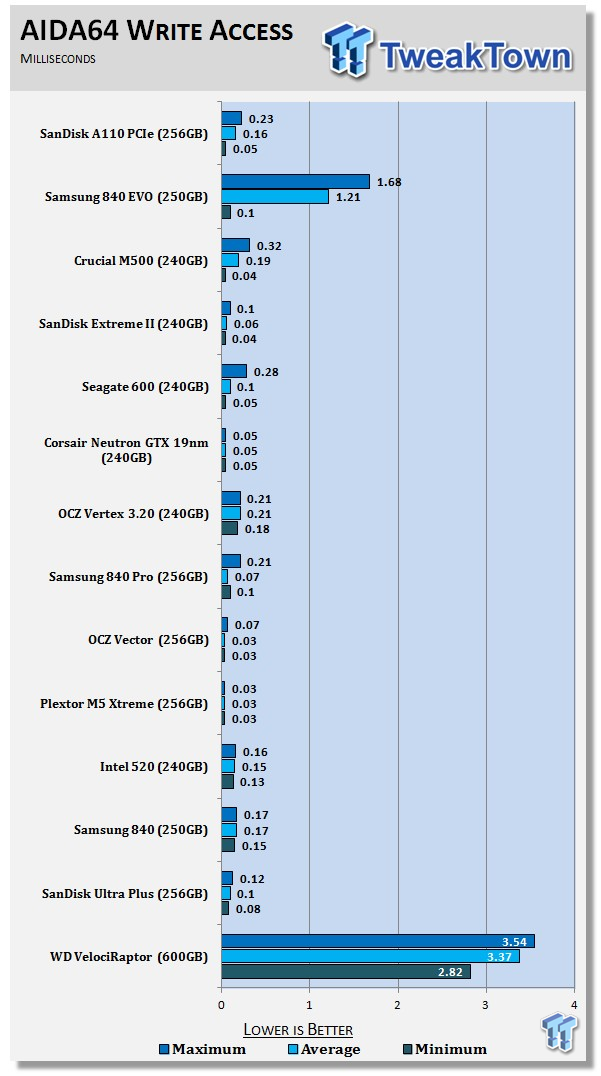 The write latency was a little higher than I expected. The other drives on the chart were tested with Intel's driver so we'll have to wait and see what comes up later with an optimized driver.
Benchmarks - Anvil Storage Utilities
Anvil Storage Utilities
Version and / or Patch Used: RC6
So what is Anvil Storage Utilities? First of all, it's a storage benchmark for SSDs and HDDs where you can check and monitor your performance. The Standard Storage Benchmark performs a series of tests, you can run a full test or just the read or the write test or you can run a single test, i.e. 4K DQ16.
Anvil Storage Utilities is not officially available yet but we've been playing with the beta for several months now. The author, Anvil on several international forums has been updating the software steadily and is adding new features every couple of months.
The software is used several different ways and to show different aspects for each drive. We've chosen to use this software to show the performance of a drive with two different data sets. The first is with compressible data and the second data set is incompressible data. Several users have requested this data in our SSD reviews.
0-Fill Compressible Data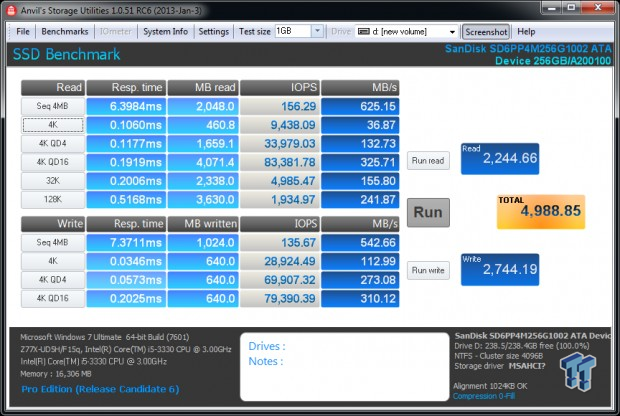 Incompressible Data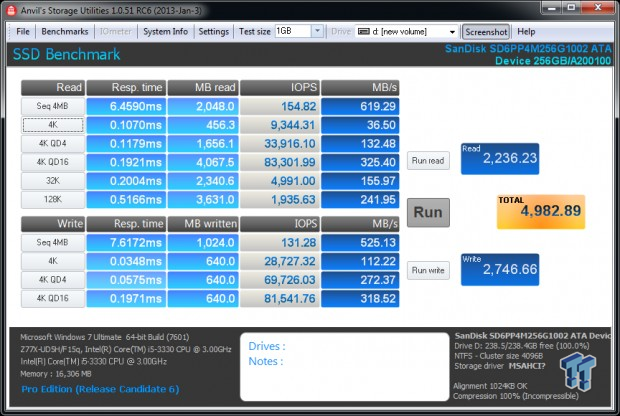 There isn't a lot of variation between compressible and incompressible data. We actually scored better results with Anvil's 46% mixed mode test, just over 5K total.
Read IOPS through Queue Depth Scale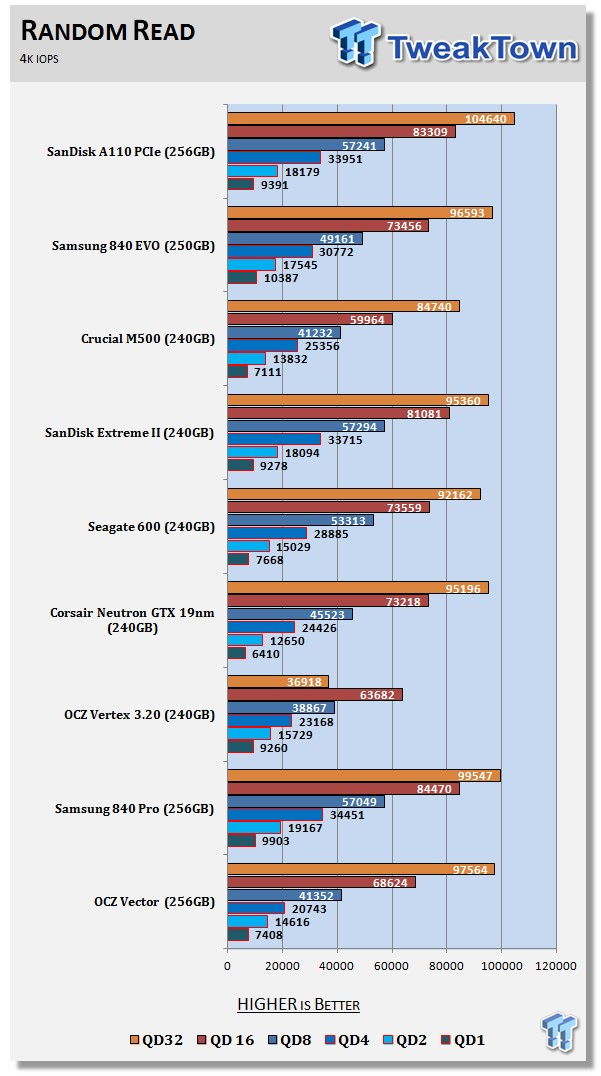 The low queue depth 4K IOPS performance is very good, but a little less than what Samsung manages to hit with 840 Pro and 840 EVO. At QD32, the A110 walks away from everything else, more than 104K in this test. SanDisk claims 115K IOPS in this test and we verified their claim with IOMeter when we took the image with the thermal imaging camera.
Scaling Write IOPS through Queue Scale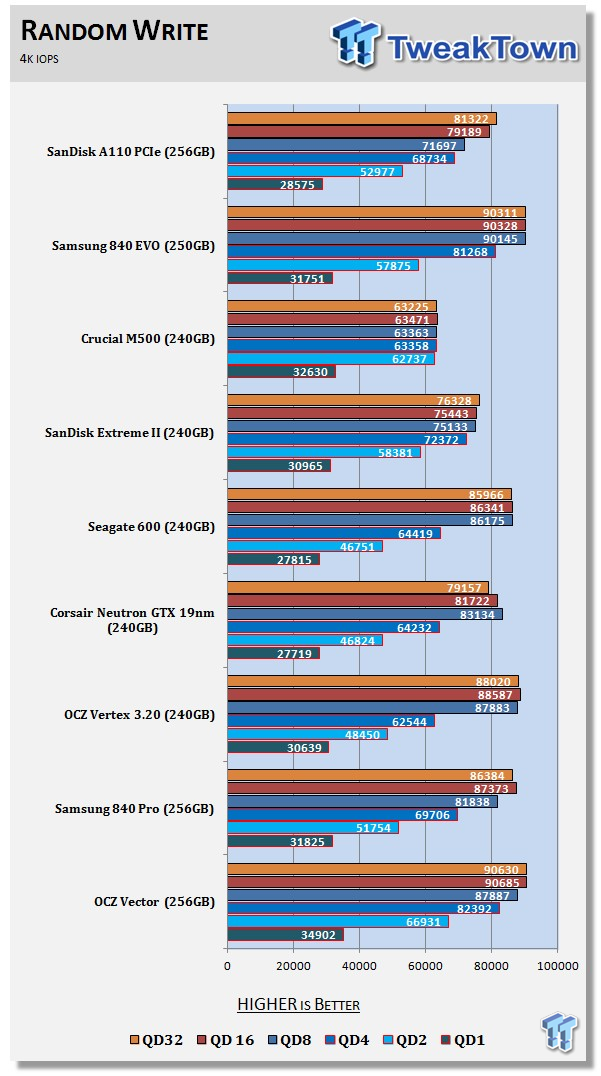 SanDisk claims 4K random writes at 73,000, but we managed to achieve 81,322 at QD32 - a nice increase over the spec sheet. The low QD 4K writes are in line with the fastest 2.5" SATA III drives.
Benchmarks - CrystalDiskMark
CrystalDiskMark
Version and / or Patch Used: 3.0 Technical Preview
Developer Homepage: http://crystalmark.info
Product Homepage: http://crystalmark.info/software/CrystalDiskMark/index-e.html
Download here: http://crystaldew.info/category/software/crystaldiskmark
CrystalDiskMark is a disk benchmark software that allows us to benchmark 4K and 4K queue depths with accuracy.
Key Features:-
* Sequential reads/writes
* Random 4KB/512KB reads/writes
* Text copy
* Change dialog design
* internationalization (i18n)
Note: Crystal Disk Mark 3.0 Technical Preview was used for these tests since it offers the ability to measure native command queuing at 4 and 32.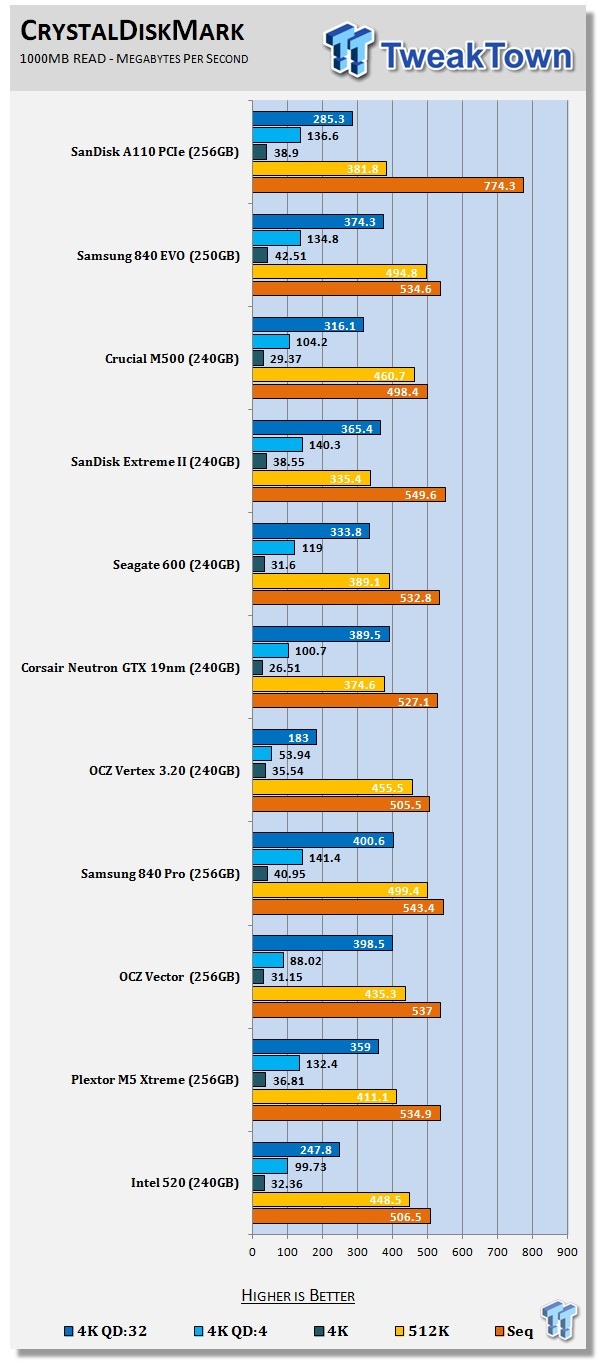 The SanDisk A110 nearly passes the 40 MB/s 4K QD1 read mark that we aim for. Here we also get to see the massive sequential reads compared to the rest of the drives. It's almost like having two 128GB drives in RAID 0, only smaller, less expensive and without the hassle.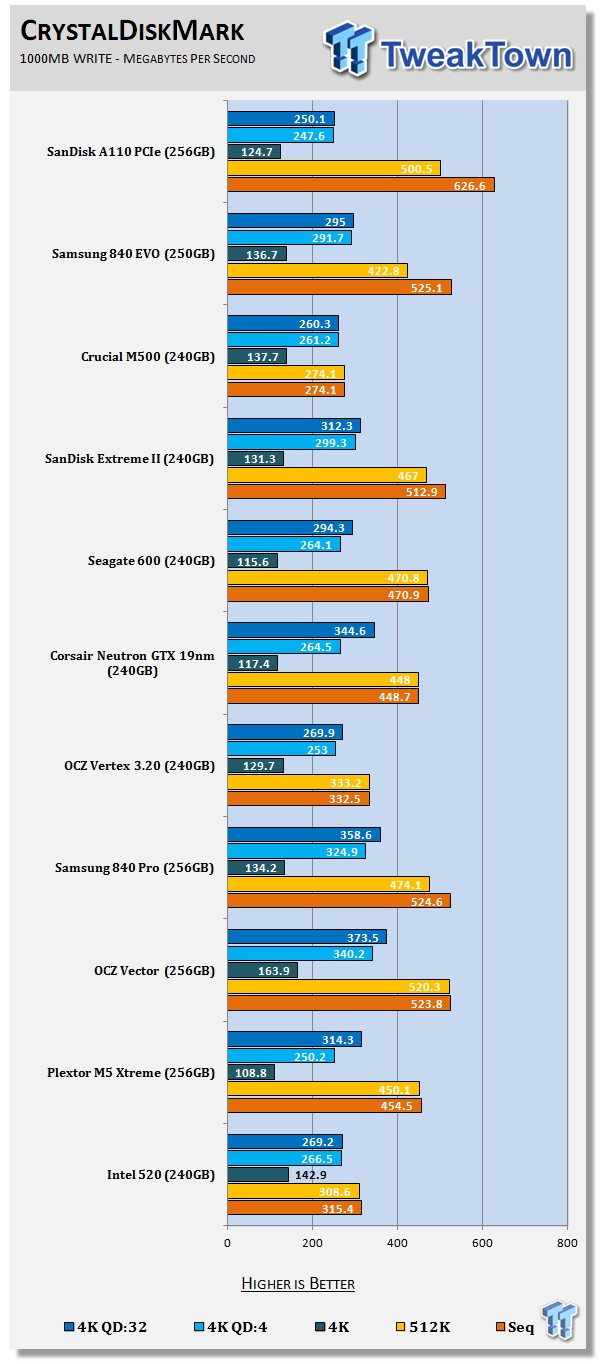 The 4K QD1 write test ended at nearly 125 MB/s. The A110 scaled well to QD4, but didn't do much more at QD32. The sequential writes with incompressible data were just over 100MB/s higher than OCZ's Vector 256GB and Samsung's 840 Pro 256GB.
Benchmarks - PCMark Vantage Hard Disk Tests
PCMark Vantage - Hard Disk Tests
Version and / or Patch Used: 1.0.0
Developer Homepage: http://www.futuremark.com
Product Homepage: http://www.futuremark.com/products/pcmarkvantage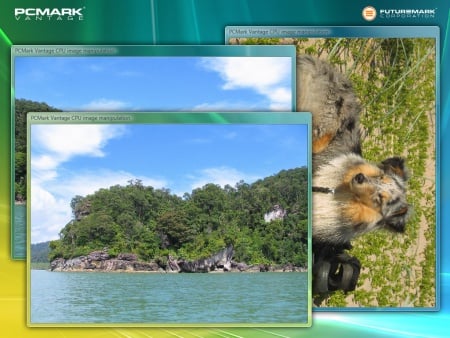 PCMark Vantage is the first objective hardware performance benchmark for PCs running 32 and 64 bit versions of Microsoft Windows Vista. PCMark Vantage is perfectly suited for benchmarking any type of Microsoft Windows Vista PC from multimedia home entertainment systems and laptops to dedicated workstations and high-end gaming rigs. Regardless of whether the benchmarker is an artist or an IT Professional, PCMark Vantage shows the user where their system soars or falls flat, and how to get the most performance possible out of their hardware. PCMark Vantage is easy enough for even the most casual enthusiast to use yet supports in-depth, professional industry grade testing.
FutureMark has developed a good set of hard disk tests for their PCMark Vantage Suite. Windows users can count on Vantage to show them how a drive will perform in normal day to day usage scenarios. For most users these are the tests that matter since many of the old hat ways to measure performance have become ineffective to measure true Windows performance.

HDD1 - Windows Defender
HDD2 - Gaming
HDD3 - Windows Photo Gallery
HDD4 - Vista Startup
HDD5 - Windows Movie Maker
HDD6 - Windows Media Center
HDD7 - Windows Media Player
HDD8 - Application Loading
All of the tests up to this point were designed to explain how the drive works, where it's strong and weak. In Vantage, we bring it all together and see real-world application performance.
Anytime the SanDisk A110 is able to read or write date sequentially, the drive outperforms every other consumer SSD on the market. Pure random read and write performance is good, but the Microsoft driver is holding some random data performance back, we think.
Benchmarks - PCMark Vantage - Drives with Data Testing
For a complete breakdown on the Drives with Data Testing please read this article. You will be able to perform this test at home with the files provided in the article - full instructions are included.
- Brief Methodology
SSDs perform differently when used for a period of time and when data is already present on the drive. The purpose of the Drives with Data testing is to show how a drive performs in these 'dirty' states. SSDs also need time to recover, either with TRIM or onboard garbage collection methods.
Drives with Data Testing - 25%, 50%, 75% Full States and Dirty / Empty Test
Files needed for 60 (64GB), 120 (128GB), 240 (256GB)
60GB Fill - 15GB, 30GB, 45GB
120GB Fill - 30GB, 60GB, 90GB
240GB Fill - 60GB, 120GB, 160GB
Empty but Dirty - a test run just after the fill tests and shows if a drive needs time to recover or if performance is instantly restored.

The A110 recovers well with TRIM after blocks of data are deleted and removed. With the drive half-full we still scored over 40K Marks.
This leads me back to the optimized driver issue. The Microsoft driver significantly affects performance on the 2.5" drives we normally test and the difference between the Microsoft driver and Intel driver is massive.
Final Thoughts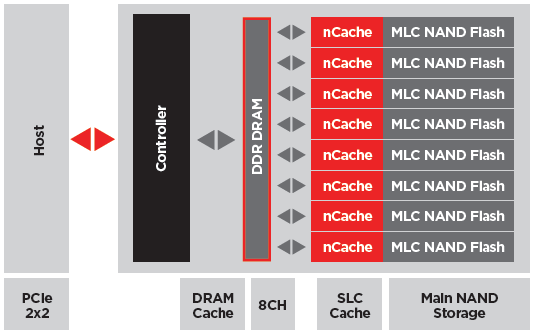 Looking at the architecture, the new A110 isn't all that different from SanDisk's Extreme II client SSD. The largest change is the host and it's that change that allows the A110 to move past the SATA III performance limits when reading and writing sequential data and working with random data at high queue depths.
In our tests today, we observed the performance that's possible today with technology that's right around the corner. I mentioned a couple of times about potential driver issues with the embedded Microsoft drivers. Drivers are a bit of a hot topic when it comes to next generation storage interfaces that use PCI Express. We still use Windows 7 for testing because we found several issues using Windows 8... and not just the lack of a Start Button. Over the last week, Christian Nay at Ocaholic found and resolved the issues we ran into. Windows 8 has a new AHCI driver so hopefully we'll see better performance. At Flash Memory Summit, we learned that Windows 8.1 will update the AHCI driver again and include at least some optimizations for PCIe based storage. It shouldn't come as a surprise to anyone that Windows 8.1 will hit right around the same time that new ultrabook products based on Intel's Haswell architecture arrive.
PCIe based M.2 drives don't support DEVSLP, but we now have the ability to test the feature on SATA based drives like the SanDisk X210, and LSI SandForce B02 based drives. Haswell's power savings technology with advances in SSD power states will take new ultrabooks to a new level of battery life. What's amazing is we'll get better battery life and higher performance.
On the desktop side, the next step is SATA Express. If you don't want to wait, converting M.2 products designed for notebooks is an option. M.2 products like the A110 will hit the market before SATA Express and the performance should be comparable. At the very least it's a stepping stone as long as you can find an A110.
I don't think that'll be a problem in a few months. SanDisk is currently taking orders for A110 from OEMs and it would be difficult for an OEM to hold out much longer. We don't have a final price, but looking at the drive, as long as the Marvell controller didn't increase significantly, the A110 should cost at or lower than the SanDisk Extreme II 2.5" SSD.
The SanDisk A110 is a winner no matter what angle you look at it from. We expect the price to be competitive and the performance is already great, and may become better with newer, optimized drivers. Since this is an OEM product, we have to wonder what the SSD aftermarket will look like a year from now.