Samsung 840 EVO 750GB SSD Review
Wrapping up our coverage of the Samsung 840 EVO today, Chris looks at the new 750GB capacity size. The new 750GB EVO is priced to compete with many other's 512GB class products, but delivers higher capacity and amazing performance.
Published Jul 25, 2013 11:15 AM CDT
|
Updated Tue, Nov 3 2020 7:00 PM CST
16 minute read time
Introduction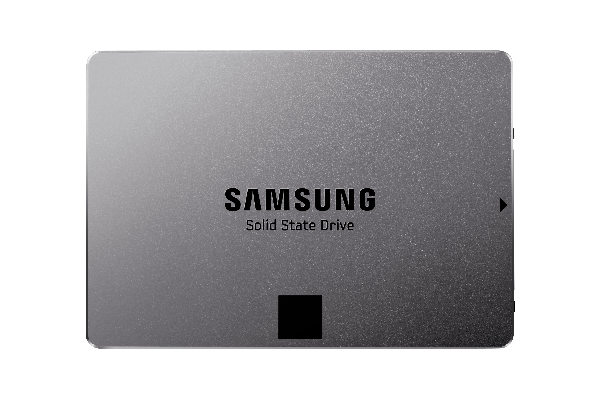 Our final launch day review from the new Samsung 840 EVO product family is of the 750GB capacity size. Priced at $529.99 and sold in a drive only kit, the 750GB costs a little more than some high-end 512GB drives from other manufactures, yet packs more storage capacity. Since the 500GB EVO costs just $369.99 and the leap to 1TB costs $649.99, the 750GB capacity size, and price, make for a nice stop gap between large and mega.
Performance wise, the 750GB size shares all of the specifications with the 1TB EVO. On paper at least, aside from the 250GB capacity reduction, the 1TB and 750GB models should perform the same. We tend to look at SSDs under a microscope, so we expect there to be some small differences, since each NAND package has an extra die inside. With EVO though, the NAND isn't really the driving force for most of the performance.
Don't get me wrong, 840 EVO is a helluva drive on its own, but the bundled RAPID Mode, part of Samsung's Magician suite, is the star of the show. Working in conjunction with the 840 EVO SSD is a software cache layer with up to 1GB of system DRAM sitting in front of the SSD. We're not going to dismiss the downside of a massive 1GB buffer without a battery backup, but we really like the performance. My mouth is Kool-Aid Orange right now.
If you missed our Samsung 840 EVO Overview article, now would be a good time to read it. We covered all of the new features of the 840 EVO, most of which we'll just lightly touch on in this review of the 750GB model. We've also published a review of the 250GB EVO this morning as well.
Specifications, Pricing and Availability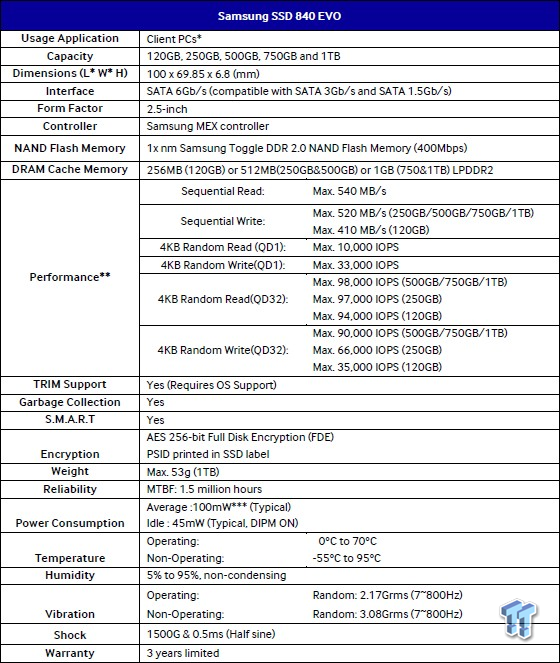 Samsung has five capacity sizes in the 840 EVO family - 120GB, 250GB, 500GB, 750GB and the flagship 1TB model. The 750GB sizes we're looking at in this article shares the same performance specifications with the flagship 1TB EVO.
Thanks to a new SLC-like layer built into each TLC NAND die, performance has increased since the 840, Samsung's first drive to use TLC NAND. Samsung calls this TurboWrite. The new MEX controller is also an upgrade over the 840, now with more optimizations and with a 100MHz clock speed increase. The NVELO acquisition is paying off for Samsung in the 840 EVO release as well. RAPID Mode uses your system's DRAM, up to 1GB, to cache I/O data to and from the SSD. You can find more about TurboWrite and RAPID Mode in our 840 EVO Overview article.

Samsung put together three different package kits for the 840 EVO, but the 750GB model is only available as a bare drive. Pricing comes out to $529.99 and even before the launch, some e-tailers prepared preorders. I suspect by the time you read this Tiger Direct and Newegg will have their order pages online.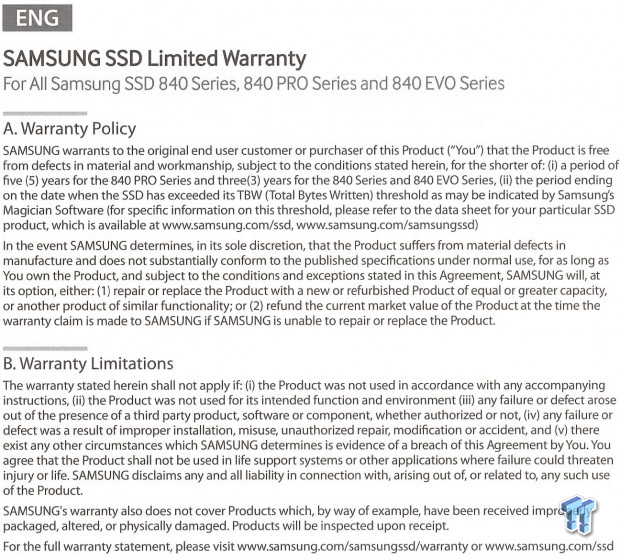 The Samsung 840 EVO ships with a three year limited warranty, but we're still not clear on all of the details. The warranty policy states a TBW (Total Bytes Written) limit and leads us to two URL addresses. Even with the 840 and 840 PRO, we never managed to nail down the Total Bytes Written limit to keep the drive under warranty. To be fair, we've yet to hear of Samsung denying a warranty claim, but this is an issue that should be addressed.
Samsung 840 EVO 750GB SSD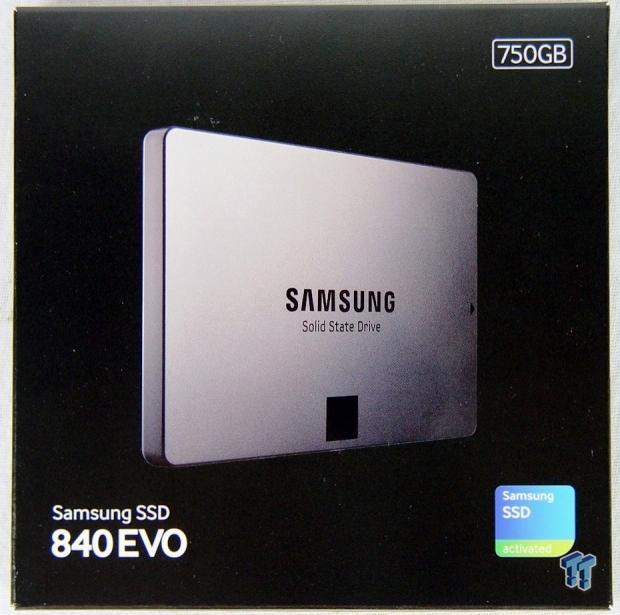 Samsung went with a new color palette for the EVO - the orange is gone, and matte gray and black are in.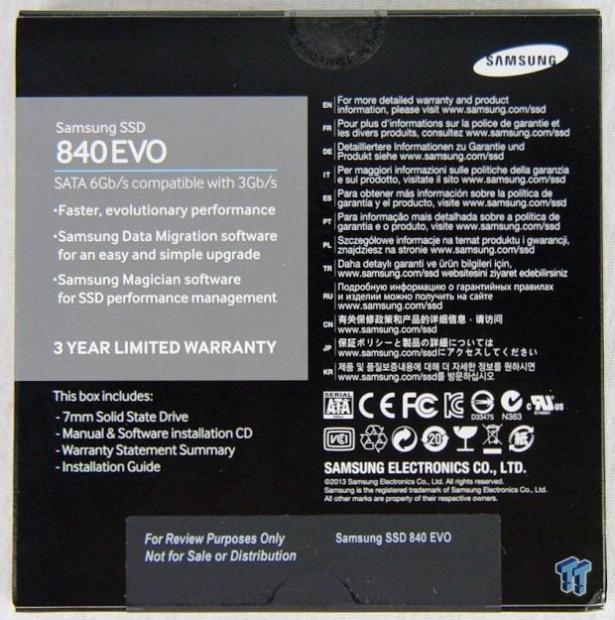 A few product details are on the back of the retail package. Our sample at the bottom shows that this is a review sample and not for sale or distribution. The full on retail drive may list something else on the bottom sticker.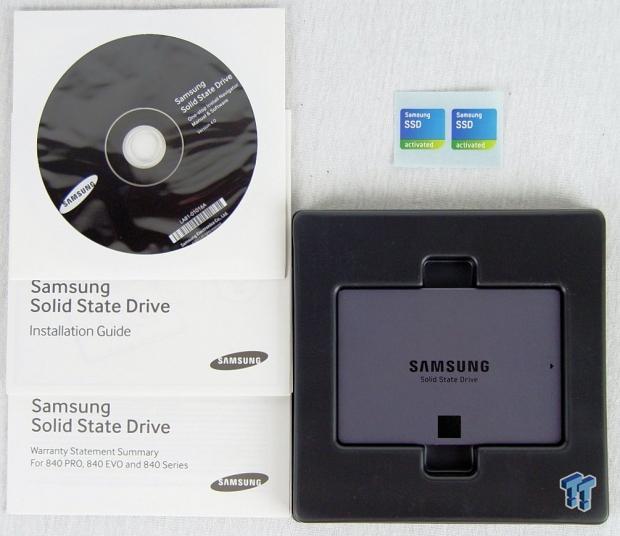 The bare drive version has a little more than just the bare drive. You receive two paper manuals, a software disk and two stickers.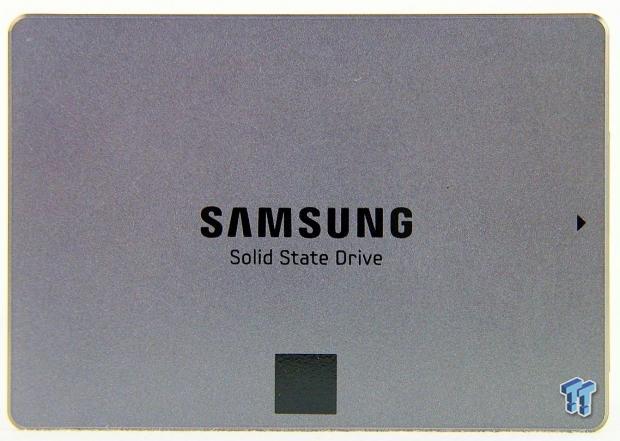 Here we get our first look at the Samsung 840 EVO. All five drives look the same on the front.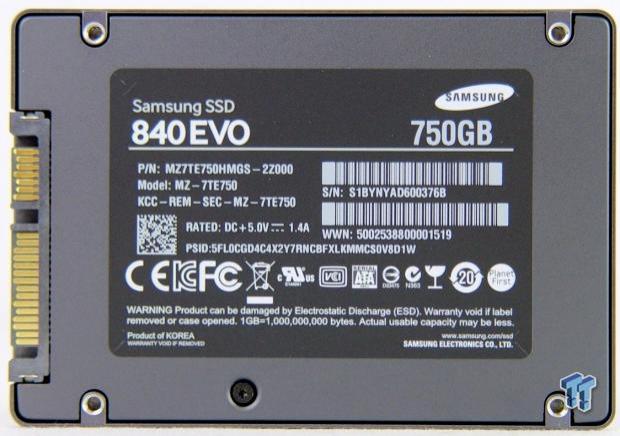 The label on the back shows the capacity as well as the model and serial numbers.

The 840 EVO, like the 840 and even 830 before it, is a 7mm Z-height drive, so it will fit in many existing and soon to market ultrabooks.

The SATA power and data connectors, as well as the mounting points, are the same with 7mm as any other 2.5" HDD or SSD.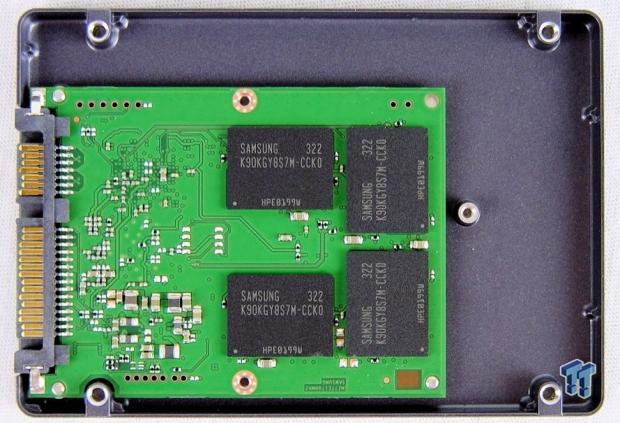 Our first peek inside the drive shows us that Samsung used a smaller than 2.5" PCB for the 840 EVO 750GB. The 250GB PCB was close to half this size.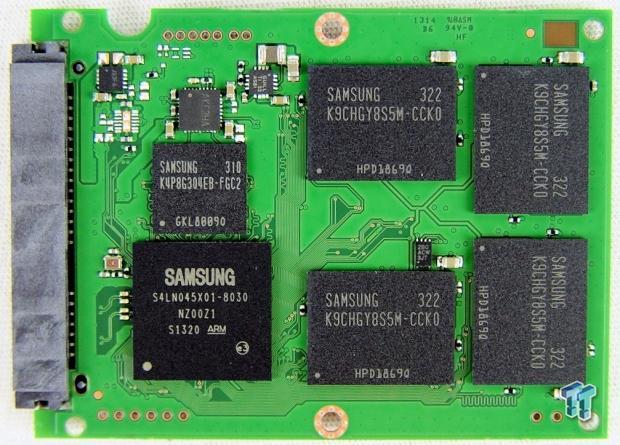 Samsung makes the MEX controller, low power DRAM and 19nm TLC Toggle flash chips.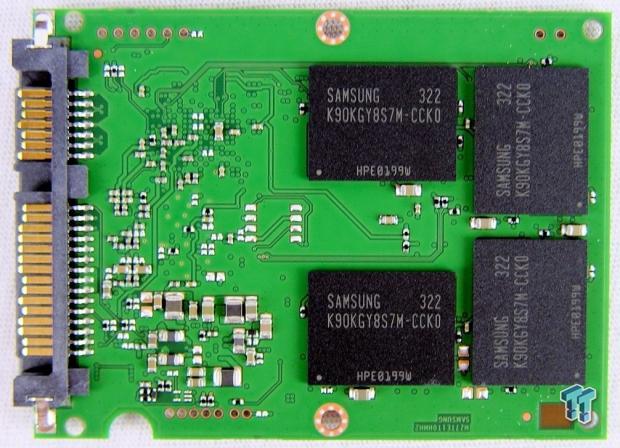 The 750GB capacity size uses eight flash packages in all, four on each side.
Benchmarks - Test System Setup and ATTO Baseline Performance
Desktop Test System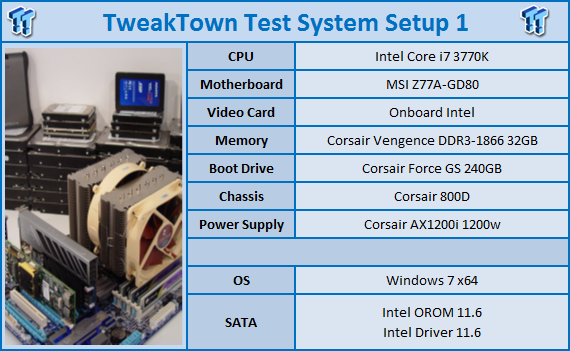 Lenovo W530 - Mobile Workstation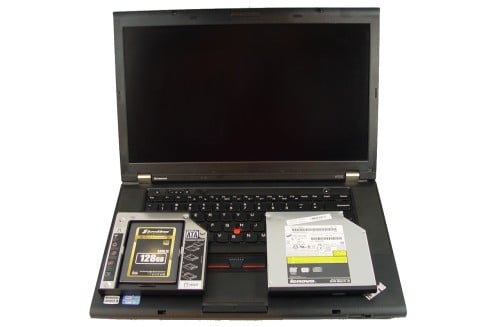 We use two systems for SSD testing. The desktop runs a majority of the tests and the Lenovo W530 runs the notebook power test as well as the real-world file transfer benchmark.
ATTO Baseline Performance
Version and / or Patch Used: 2.34
Many manufactures use ATTO to determine the read and write speeds that are used in marketing document and for comparison.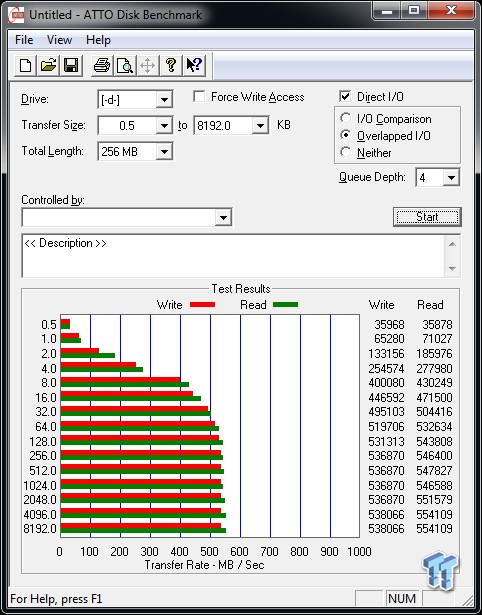 On its own, the 840 EVO 750GB delivers just under 555MB/s sequential read performance and just under 540MB/s sequential write performance.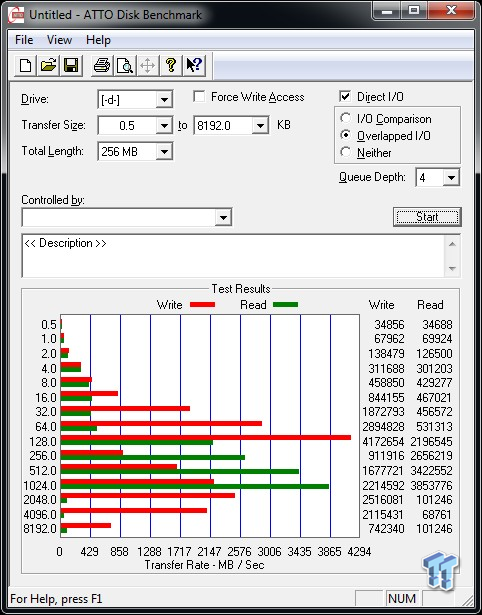 If you've already read our other review today, then you know we're already fans of NVELO's RAPID Mode software built into Samsung Magician. At first glance, you may think the ATTO run above is an awful showing of performance. At the bottom of the chart you'll notice that the scale changed, now up to 4294 MB/s.
ATTO is a very old (and very wise) program, but it was built long before SSDs or even PCI Express. Once a measurement has gone past 4294MB/s, the program wraps back around and starts at 0. The write performance first wraps around at transfer size 256KB and read performance first 'wraps ATTO' at transfer size 2048KB.
This is the first time we've wrapped ATTO with a single drive. To be fair, RAPID Mode doesn't exactly make it just a single drive, but your computer thinks it's just reading and writing to an SSD.
Benchmarks - Sequential Performance
HD Tune Pro
Version and / or Patch Used: 4.00
Developer Homepage: http://www.efdsoftware.com
Product Homepage: http://www.hdtune.com
HD Tune is a Hard Disk utility which has the following functions:
Benchmark: measures the performance
Info: shows detailed information
Health: checks the health status by using SMART
Error Scan: scans the surface for errors
Temperature display
HD Tune Pro gives us accurate read, write and access time results and for the last couple of years has gained popularity amongst reviewers. It is now considered a must have application for storage device testing.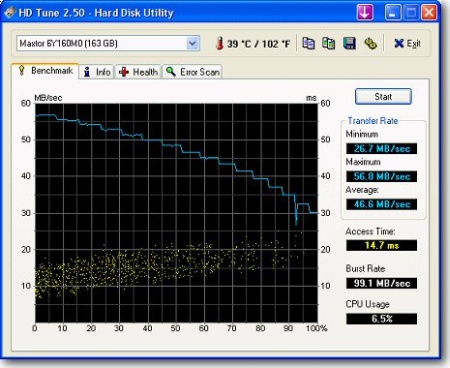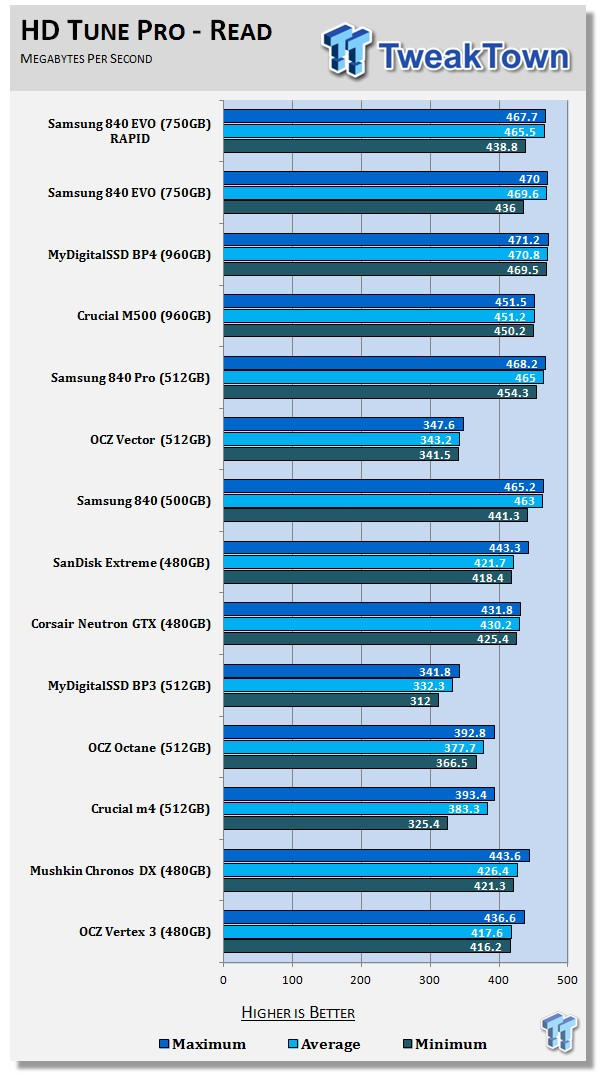 If you've read the other articles published today, then you already know a bit about RAPID Mode. We're including the RAPID Mode benchmarks in the charts, but some of the charts look a little off since RAPID uses system RAM as a 1GB cache for the SSD.
Reading sequential data from the drive at full span does use RAPID as you can see in this chart. The 840 EVO 750GB does a really good job though without the external cache.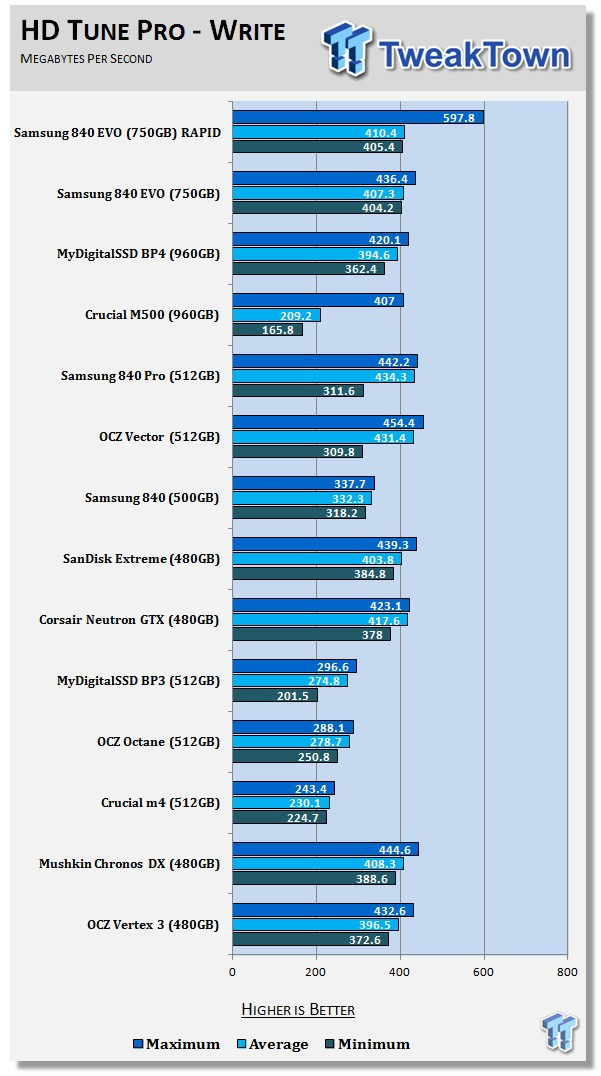 We see a small bump from RAPID for the first 750MB, but then the drive settles down to regular 840 EVO speeds. The EVO writes data quite a bit faster than the original 840. The 750GB model has a minimum sequential write speed of just over 405MB/s in this test.
HD Tach - Sequential Write Performance after Random Writes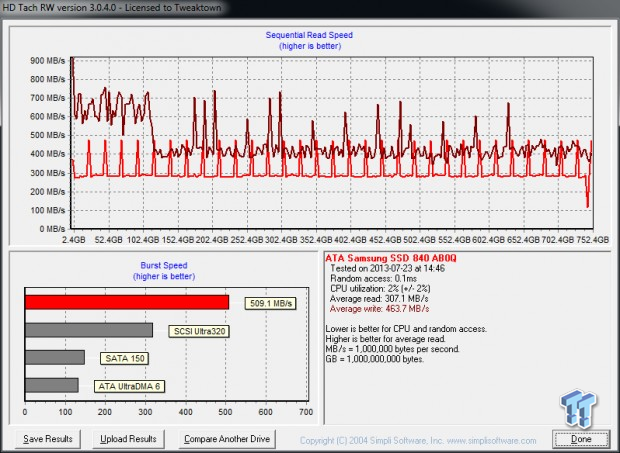 In this format we can actually see the cache layers and how long they last for while writing the span of the drive. On the far left we see RAPID for a short period of time, then TurboWrite and finally the TLC flash. The spikes should be from either RAPID or TurboWrite cache flushing and then capturing more data. The read performance varies between 290MB/s and just under 500MB/s. At the end of this test with 128KB data, the read performance drops to just over 100MB/s. Normally we look at write performance in this test and see the write dip that low.
Benchmarks - AIDA64 Random Access Time
AIDA64 Random Access Time
Version and / or Patch Used: 1.60
Developer Homepage: http://www.aida64.com
Product Homepage: http://www.aida64.com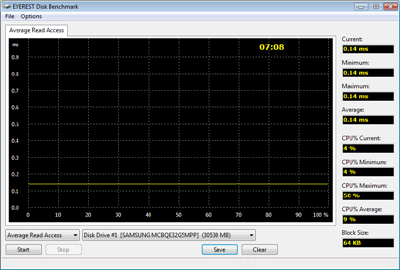 AIDA64 offers several different benchmarks for testing and optimizing your system or network. The Random Access test is one of very few if not only that will measure hard drives random access times in hundredths of milliseconds as oppose to tens of milliseconds.
Drives with only one or two tests displayed in the write test mean that they have failed the test and their Maximum and possibly their Average Scores were very high after the cache fills. This usually happens only with controllers manufactured by Jmicron.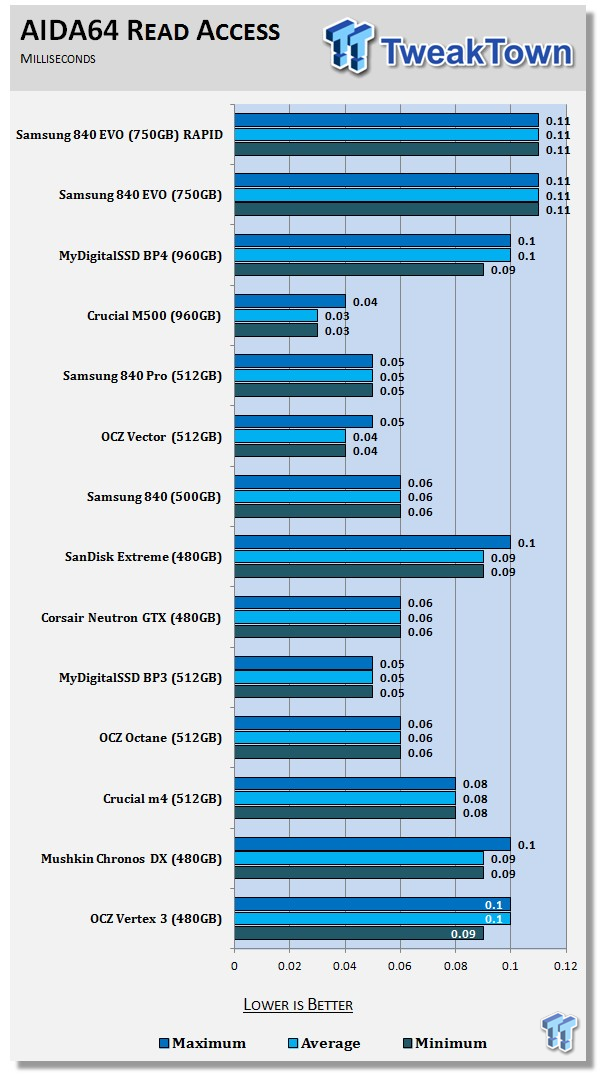 The Samsung 840 EVO 750GB and 250GB both share the same read data access times of .11 in this test.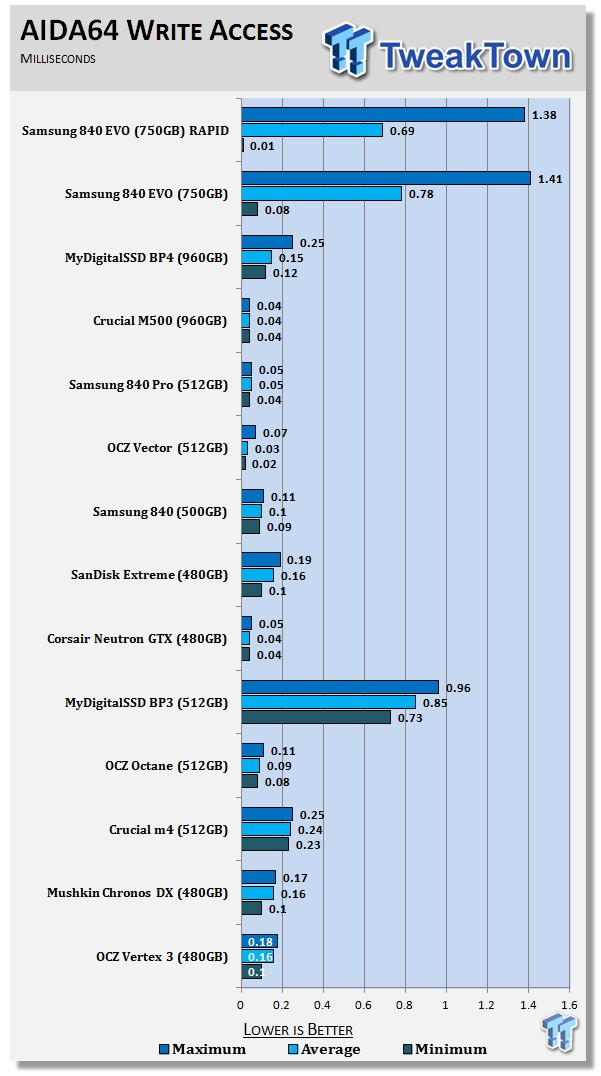 We think when Samsung moved to their new 19nm process for TLC, they also doubled the capacity of the die to 128Gbit. We're seeing an increase in write latency with the new EVO, just like we did with M500 when Micron moved to new 128Gbit dies.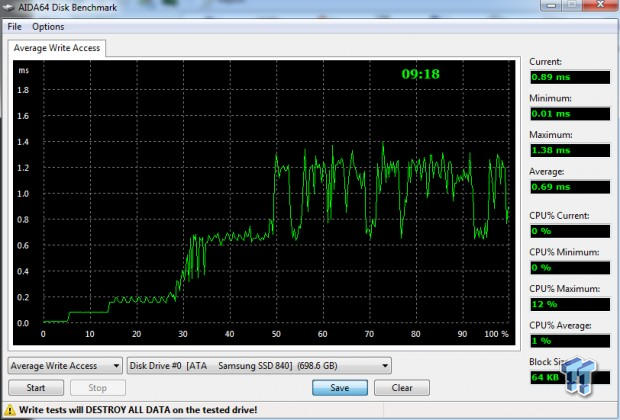 Here we see the test with RAPID enabled, so we can walk though some of this. The first thing to understand is that in a consumer / client environment, you will never write the entire capacity of the SSD all at one time. Several reviews will be published today using IOmeter where reviewers are looking for steady state performance either in MB/s or IOPS. Those tests have zero validity in consumer SSD testing simply because you will never write 500GB of data to a 250GB SSD as fast as you can with a client workload.
With that said, let's look at the graph. At the beginning you see RAPID, then the SLC layer and then TLC latency. After the third step up from the left, the drive starts garbage collection, and the latency increases. Further to the right, it appears that the 840 EVO starts a more aggressive GC scheme and that increases latency even further. By the time that happens, we've already wrote 325GB of data to the drive as fast as we could. I'm not going to say that's impossible, but in order to do it, you have to transfer six and a half Blu-ray ISOs to the drive back-to-back.
Benchmarks - Anvil Storage Utilities
Anvil Storage Utilities
Version and / or Patch Used: RC6
So what is Anvil Storage Utilities? First of all, it's a storage benchmark for SSDs and HDDs where you can check and monitor your performance. The Standard Storage Benchmark performs a series of tests, you can run a full test or just the read or the write test or you can run a single test, i.e. 4K DQ16.
Anvil Storage Utilities is not officially available yet but we've been playing with the beta for several months now. The author, Anvil on several international forums has been updating the software steadily and is adding new features every couple of months.
The software is used several different ways and to show different aspects for each drive. We've chosen to use this software to show the performance of a drive with two different data sets. The first is with compressible data and the second data set is incompressible data. Several users have requested this data in our SSD reviews.
0-Fill Compressible Data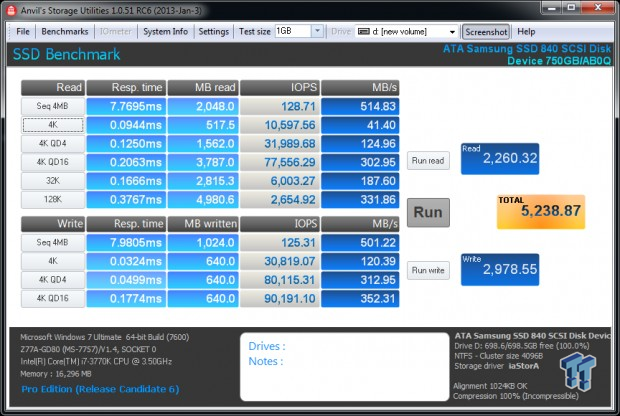 Incompressible Data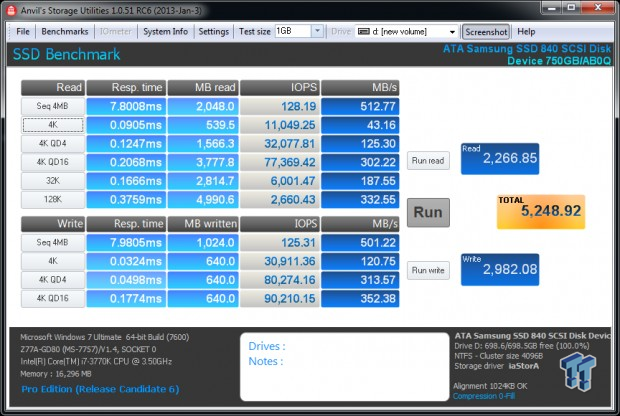 The Samsung 840 EVO does not slow when working with incompressible data like LSI SandForce or Phison controllers. The aggressive garbage collection though does mean write amplification exceeds 1.
Read IOPS through Queue Depth Scale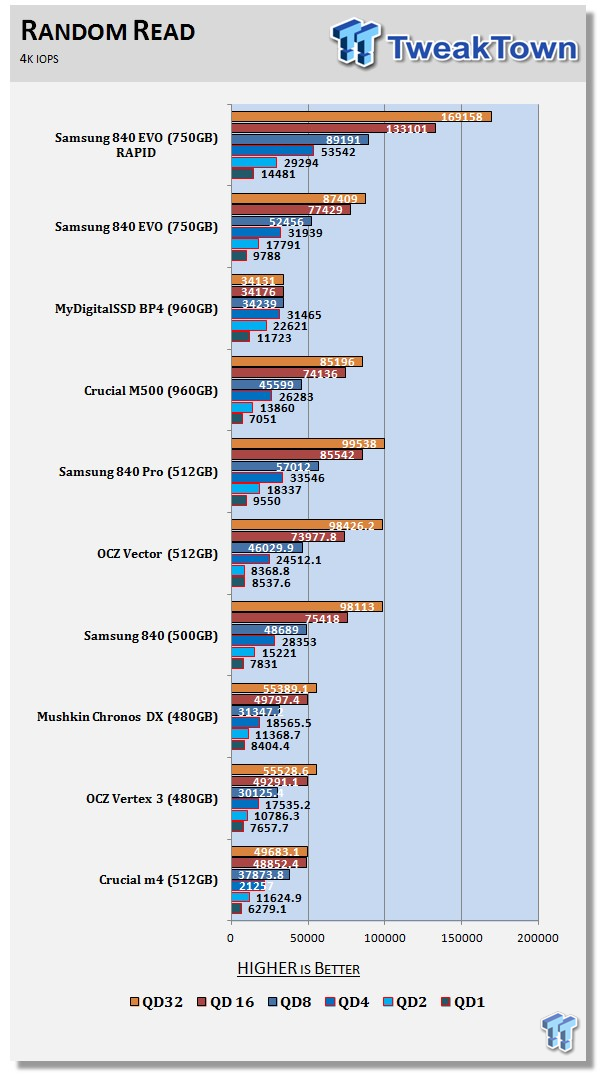 One of the key points at the 2013 Samsung Global SSD Summit was Samsung's new outlook on IOPS performance. For the last year TweakTown has stressed low queue depth performance and many manufacturers have stressed high queue depth IOPS performance.
Under normal client loads, you rarely see the depth increasing past 4. Samsung acknowledged that at the conference and now wants to focus on QD1 and QD2 IOPS. The 840 and 840 PRO do well at low QD, but the 840 EVO was optimized for low queue depth performance. With RAPID Mode enabled the low QD performance is simply amazing.
I'm using the 750GB drive in the notebook I'm typing on right now and the difference between this drive and the Intel DC S3700 800GB (that I took out last night) is pretty amazing. The S3700 isn't what I would expect to find in most notebooks, but sometimes you just have it like that.
Scaling Write IOPS through Queue Scale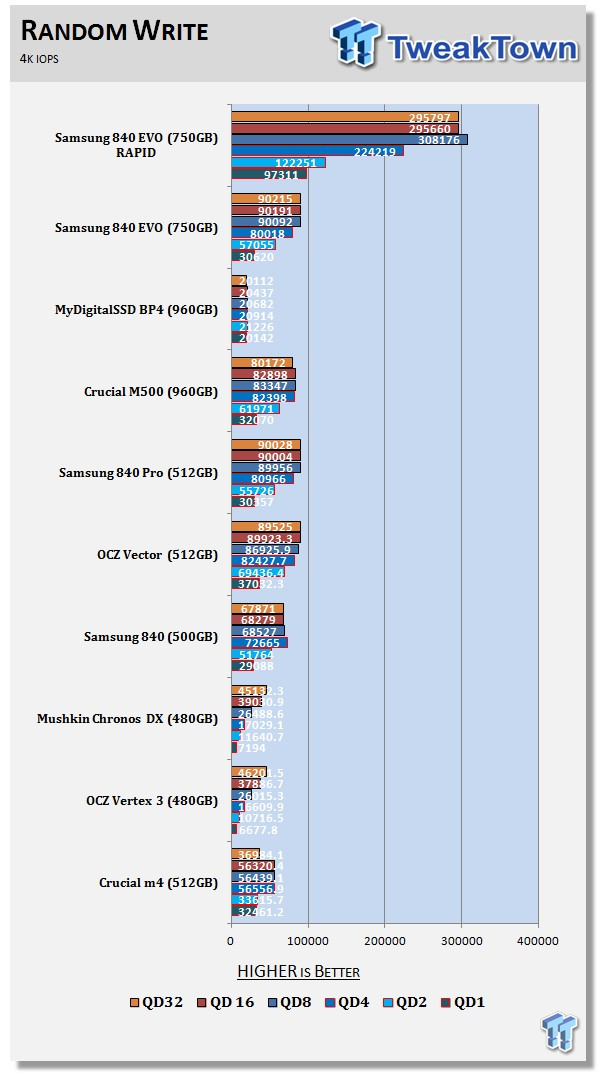 I had a good laugh when I saw the ridiculousness of this chart. RAPID Mode allows the 840 EVO to become a new category of SSD. I can already hear the calls by other manufacturers claiming Samsung is somehow cheating.
Samsung's RAPID Mode is as significant as the SSD was to the HDD. It's just another level of performance that we really didn't know existed, until it was handed to us.
Benchmarks - CrystalDiskMark
CrystalDiskMark
Version and / or Patch Used: 3.0 Technical Preview
Developer Homepage: http://crystalmark.info
Product Homepage: http://crystalmark.info/software/CrystalDiskMark/index-e.html
Download here: http://crystaldew.info/category/software/crystaldiskmark
CrystalDiskMark is a disk benchmark software that allows us to benchmark 4K and 4K queue depths with accuracy.
Key Features:-
* Sequential reads/writes
* Random 4KB/512KB reads/writes
* Text copy
* Change dialog design
* internationalization (i18n)
Note: Crystal Disk Mark 3.0 Technical Preview was used for these tests since it offers the ability to measure native command queuing at 4 and 32.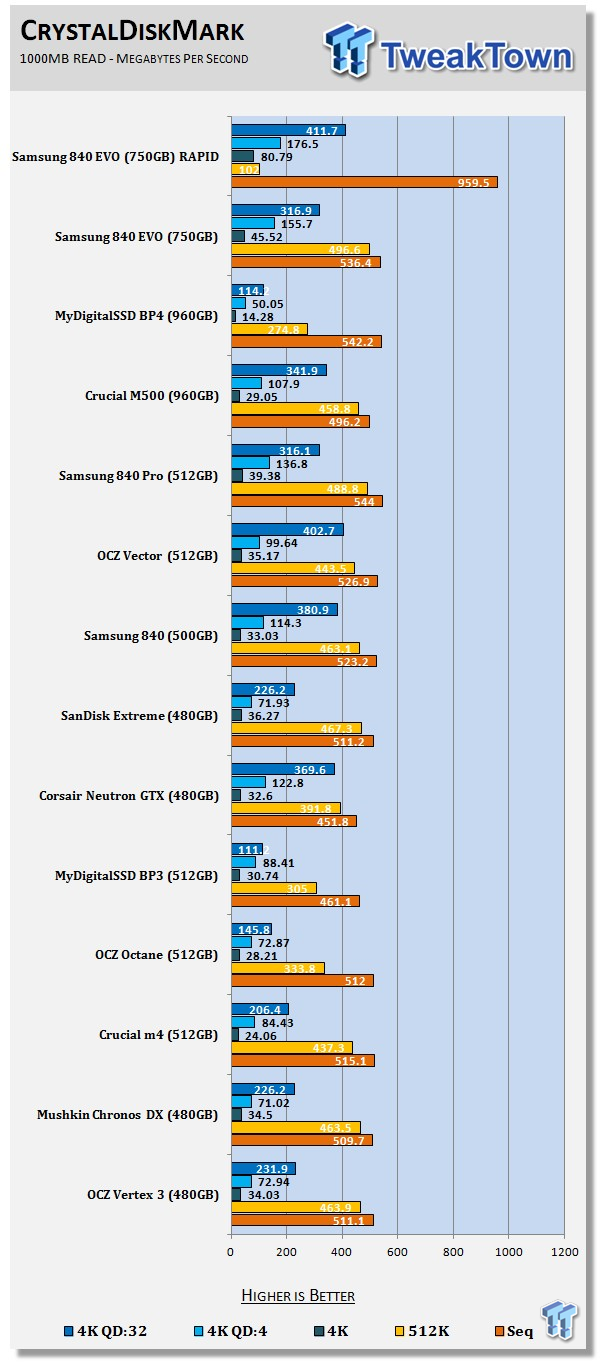 The Samsung 840 PRO 512GB nearly surpassed the 40MB/s mark in 4K QD1 reads, but the 840 EVO on its own tops 45MB/s. With RAPID Mode enabled, that number goes up to 80MB/s on the first run. When you run CDM again, the 4K QD1 result surpasses 100MB/s. We're actually not running any of the tests today with back-to-back runs, so the DRAM cache portion isn't pulling 100% hot data.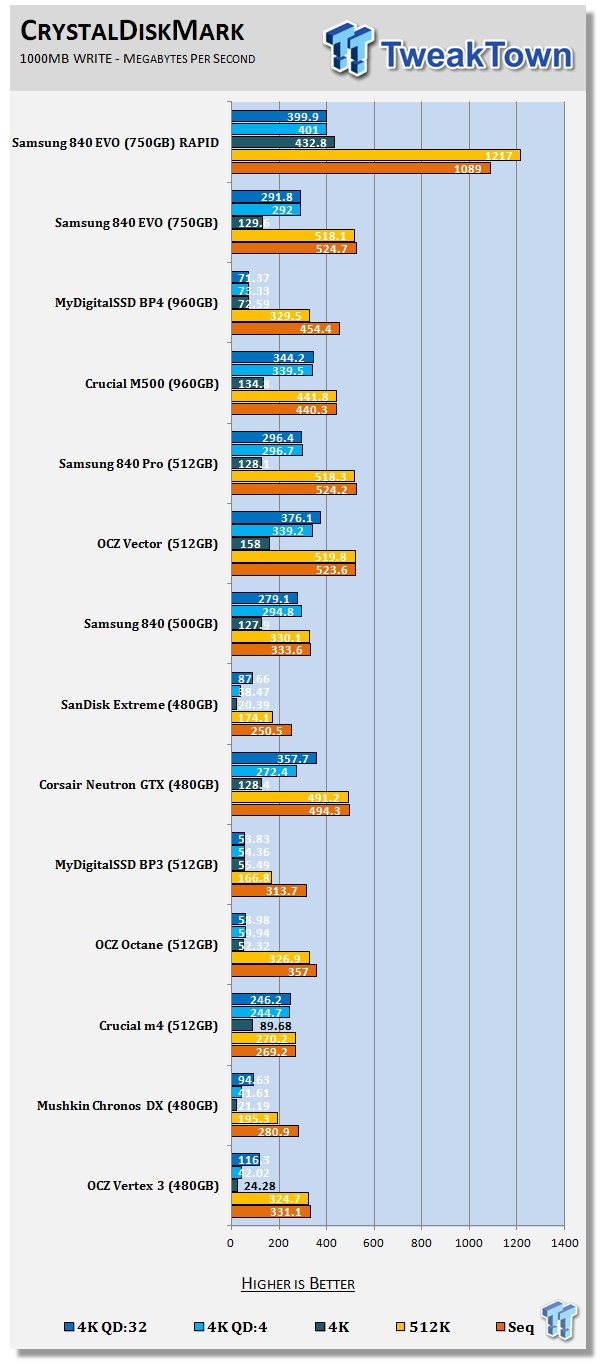 On its own the 840 EVO 750GB is like a larger 840 PRO. Once you turn on the tier 0 cache in Magician, it's kind of like jumping through time and bringing back an SSD from the future.
Benchmarks - PCMark Vantage Hard Disk Tests
PCMark Vantage - Hard Disk Tests
Version and / or Patch Used: 1.0.0
Developer Homepage: http://www.futuremark.com
Product Homepage: http://www.futuremark.com/products/pcmarkvantage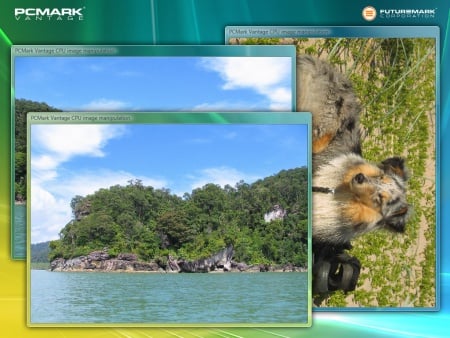 PCMark Vantage is the first objective hardware performance benchmark for PCs running 32 and 64 bit versions of Microsoft Windows Vista. PCMark Vantage is perfectly suited for benchmarking any type of Microsoft Windows Vista PC from multimedia home entertainment systems and laptops to dedicated workstations and high-end gaming rigs. Regardless of whether the benchmarker is an artist or an IT Professional, PCMark Vantage shows the user where their system soars or falls flat, and how to get the most performance possible out of their hardware. PCMark Vantage is easy enough for even the most casual enthusiast to use yet supports in-depth, professional industry grade testing.
FutureMark has developed a good set of hard disk tests for their PCMark Vantage Suite. Windows users can count on Vantage to show them how a drive will perform in normal day to day usage scenarios. For most users these are the tests that matter since many of the old hat ways to measure performance have become ineffective to measure true Windows performance.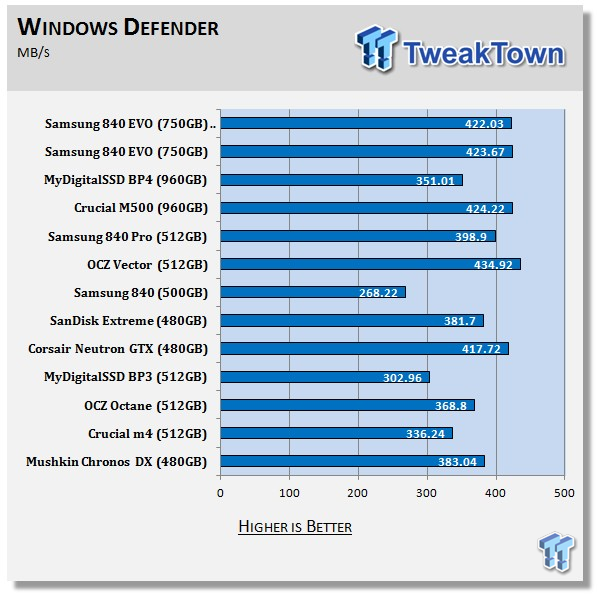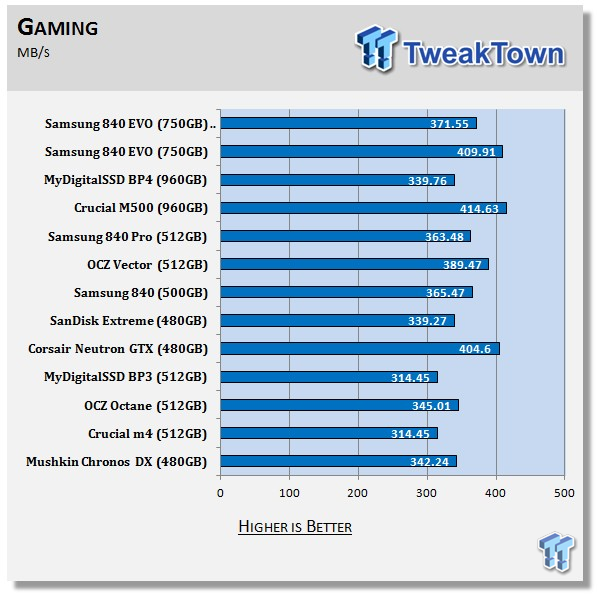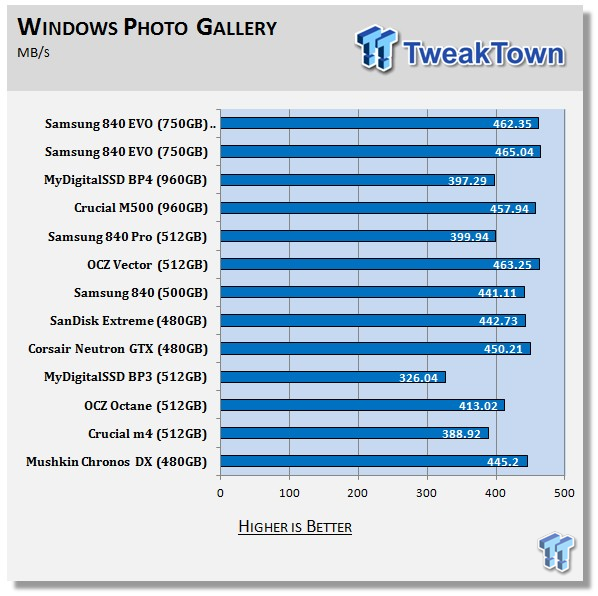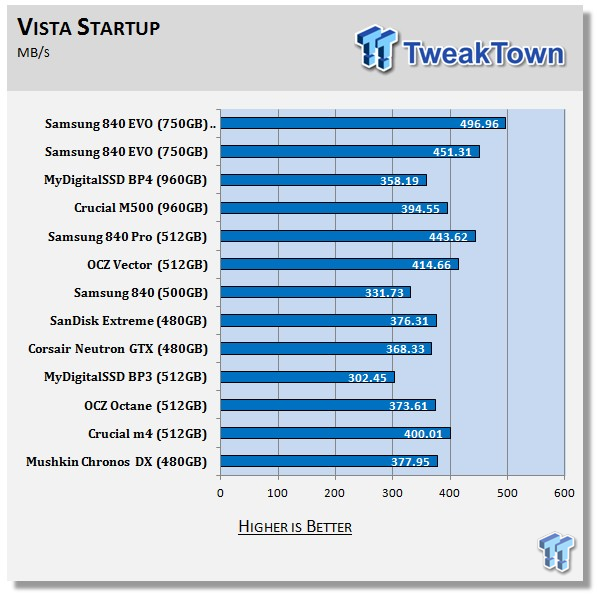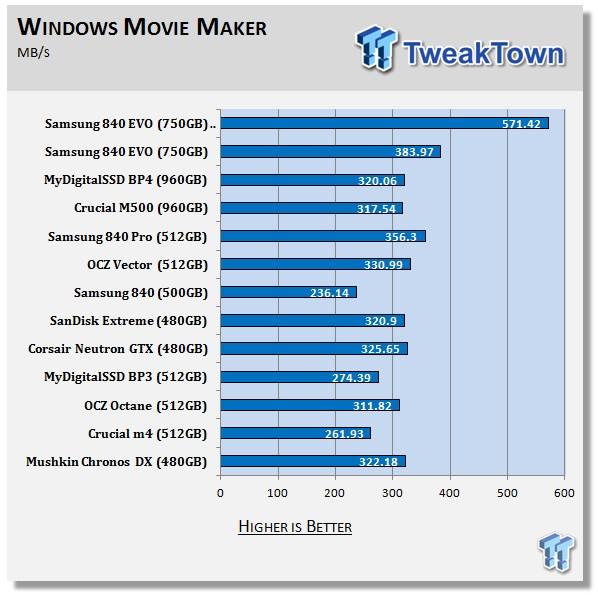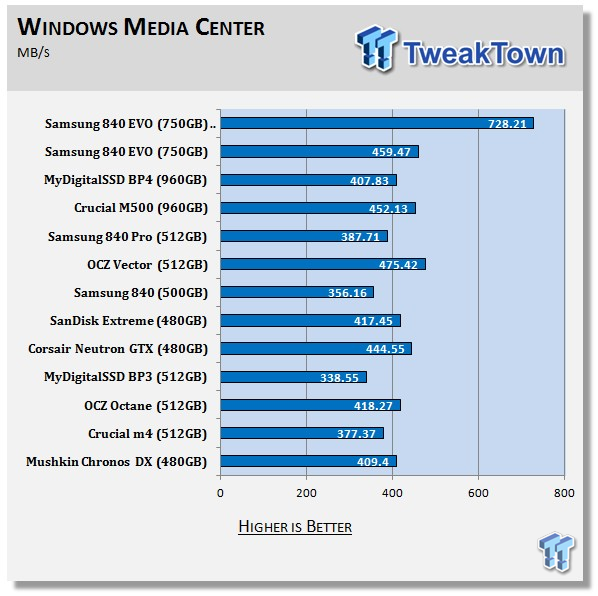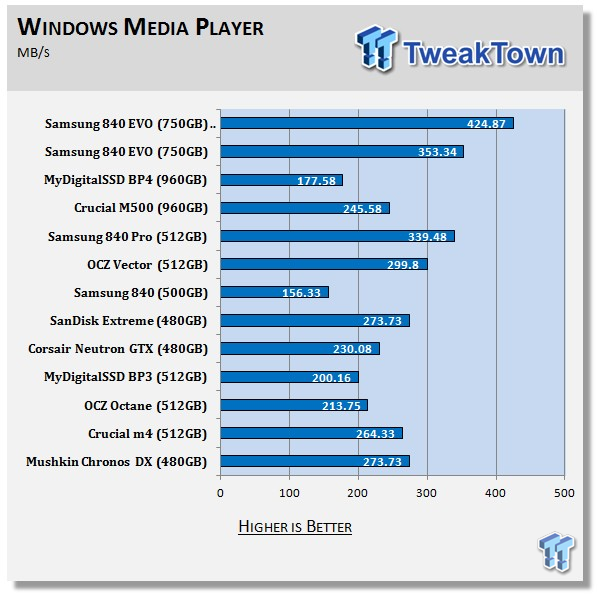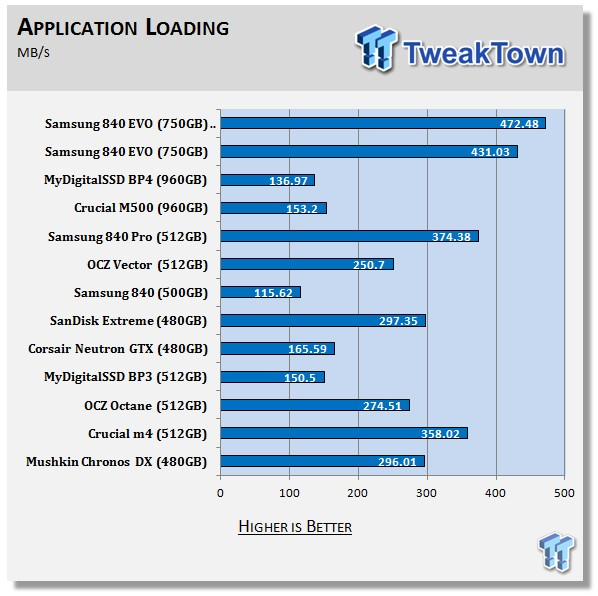 The nature of cache is that sometimes you get a performance increase and sometimes you don't. With the 840 EVO, you get some nice jumps, but cache misses don't seem to hurt performance.
Benchmarks - PCMark Vantage - Drives with Data Testing
PCMark Vantage - Drives with Data Testing
For a complete breakdown on the Drives with Data Testing please read this article. You will be able to perform this test at home with the files provided in the article - full instructions are included.
- Brief Methodology
SSDs perform differently when used for a period of time and when data is already present on the drive. The purpose of the Drives with Data testing is to show how a drive performs in these 'dirty' states. SSDs also need time to recover, either with TRIM or onboard garbage collection methods.
Drives with Data Testing - 25%, 50%, 75% Full States and Dirty / Empty Test
Files needed for 60 (64GB), 120 (128GB), 240 (256GB)
60GB Fill - 15GB, 30GB, 45GB
120GB Fill - 30GB, 60GB, 90GB
240GB Fill - 60GB, 120GB, 160GB
Empty but Dirty - a test run just after the fill tests and shows if a drive needs time to recover or if performance is instantly restored.

Another area we like to talk about is performance when data is on the drive. It may seem simple, but some benchmark tools will not allow the test to run with data on the drive. SSDs slow when you start adding data to them. Items like your operating system, Office and other programs are robbing you of performance. Without the data, what would you need an SSD for?
The 840 EVO actually outperforms the 840 PRO in this test at 50% of capacity filled with data. And the EVO 750GB actually does better than any other large capacity SSD we've tested. When you enable RAPID Mode, the 50% full performance increases slightly too.
Benchmarks - PCMark 8 Hard Disk Tests
Version and / or Patch Used: 1.0.0
Developer Homepage: http://www.futuremark.com
Product Homepage: http://www.futuremark.com/products/pcmark8
Note: PCMark 8 Storage benchmark is ideal for testing the performance of SSDs, HDDs and hybrid drives. Using traces recorded from Adobe Creative Suite, Microsoft Office and a selection of popular games, PCMark 8 Storage highlights real-world performance differences between storage devices.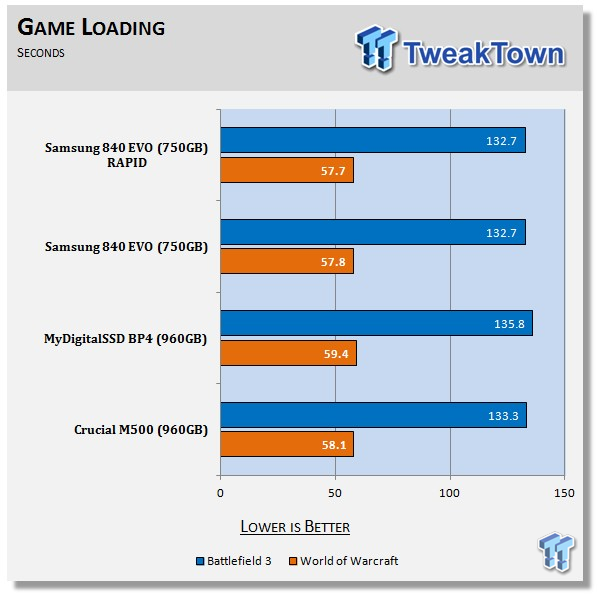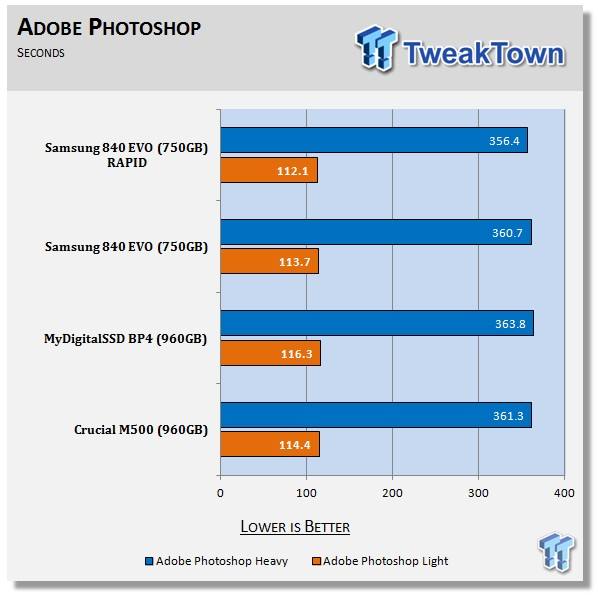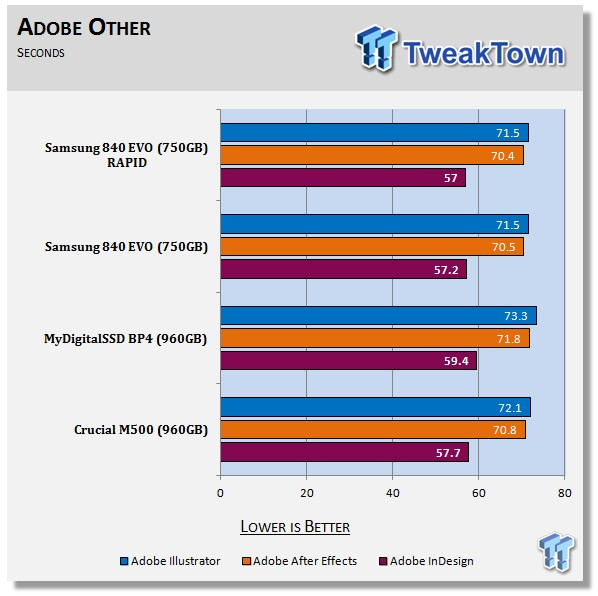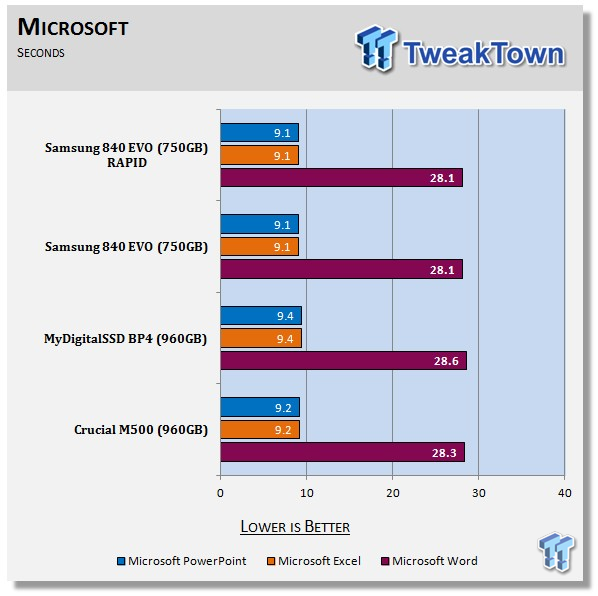 Assuming the EVO 750GB performs the same as the 1TB model, we've tested every tera-era class SATA III SSD to hit the market. Over time I'm sure we're get the flagship drive in for testing, but for now we have to use the 750GB model to compare to the MyDigitalSSD BP4 960GB and Crucial M500 960GB. In these application tests (measured in second, lower is better), all three drives perform about the same.
Benchmarks - DiskBench
DiskBench - Directory Copy
Version and / or Patch Used: 2.6.2.0
Developer Homepage: Nodesoft
Product Homepage: DiskBench
Download here: http://www.nodesoft.com/diskbench/download
Note: In this test we use the Lenovo W530 Mobile Workstation and a SuperSSpeed S301 SLC 128GB SSD to move a 15GB block of data to and from the target drive. This is part of our real-world test regiment. Roughly 45GB of data resides on the target drive before the '15GB Block' is transfer. The 15GB Block is the same data we built for the Data on Disk Testing and is a mix of compressible and incompressible data.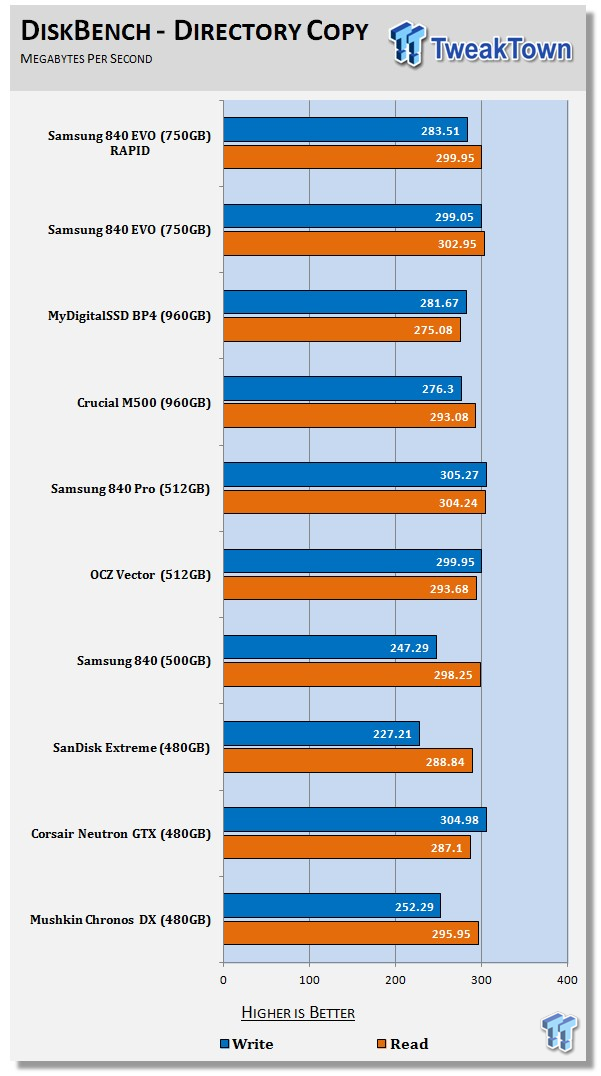 The larger the SSD, the more data you'll move to and from it. In the directory copy test we move 15.2GB of data to and from the target SSD from another SSD (Chris Ramseyer Signature Edition SLC). The 840 EVO does a bit better when writing data to the drive, when compared to the base model 840 drive.
Benchmarks - Power and Thermal Testing
Bapco MobileMark 2012 1.5
Version and / or Patch Used: 2012 1.5
Developer Homepage: http://www.bapco.com
Test Homepage: http://www.bapco.com
MobileMark 2012 1.5 is an application-based benchmark that reflects usage patterns of business users in the areas of office productivity, media creation and media consumption. Unlike benchmarks that only measure battery life, MobileMark 2012 measures battery life and performance simultaneously, showing how well a system design addresses the inherent tradeoffs between performance and power management.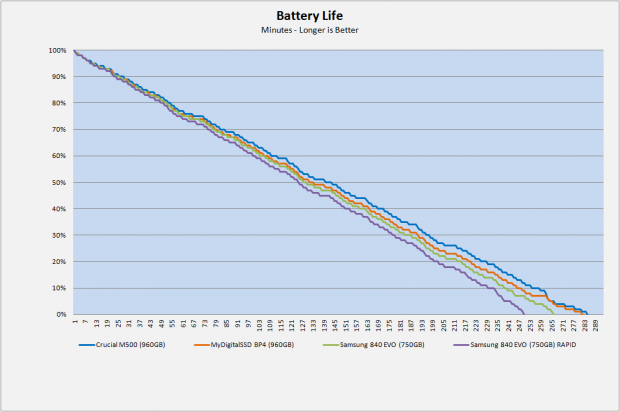 We want to run the notebook battery life test again next week when a new battery arrives. Normally we replace the batter the moment the battery health meter reaches 2% from full health. We always use a 100% or 99% health battery, but I let the battery drain while in Korea and that damaged the cells.
What we did find in this test though is the difference between 840 EVO without RAPID and with RAPID. In the 250GB review the battery times were nearly identical, but with this larger EVO drive, RAPID pulled more power in our test.
PCMark Vantage HDD Test - Power Draw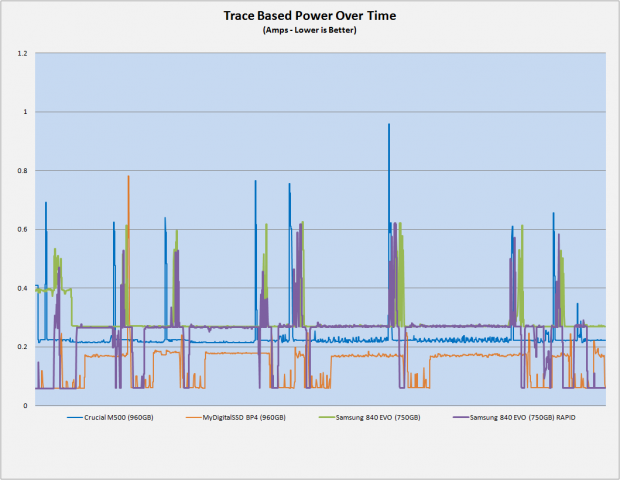 This is an interesting chart from our power data logger. On the far left side we see the 840 EVO in two different states. The 840 EVO test (in green) show a high power moment before the test actually starts. This is a garbage collection state where background activity is happening. The 840 EVO with RAPID enabled (purple) shows an idle state going into the test.
When we test the same amount of time passes between each test, its clockwork and if interrupted we have to secure erase the drive and start over. What the power trace tells us is that RAPID may absorb random data writes, but sends them to the SSD as sequential data. When sequential data is written to the SSD, the garbage collection doesn't need to work as hard and that lowers write amplification.
Thermal Test - BETA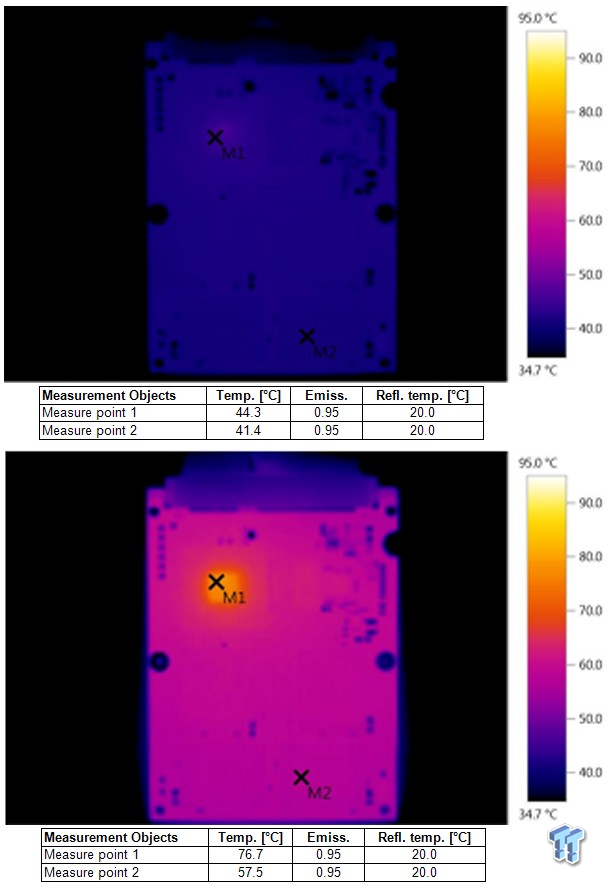 The 840 EVO 750GB uses a larger PCB than the 250GB model. We measured the controller at over 80C with the 250GB drive in our load test, but the larger capacity drive managed to keep the temperature under 80C. Copper is a good conductor of heat and PCBs are made of copper. The increased surface area means the heat can move away from the controller and has more area to dissipate.
Final Thoughts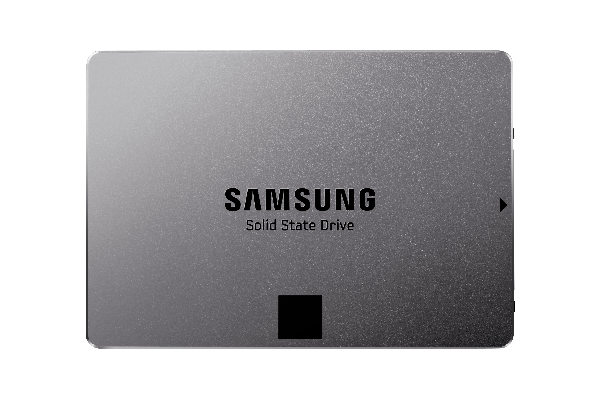 It's not the terabyte model, but the 750GB will be a popular choice for those looking to keep stay below the $600 price barrier. We're glad to see Samsung fill the gap between 500GB and 1TB. It would be nicer to see a $500 price, but in a few weeks the e-tailers will reel the prices down a bit. Even at $529.99, the EVO 750GB is a solid buy, and we can't complain beyond our normal pressure to drive SSD prices lower than they already are.
The 750GB EVO is also a very good performer. Even on its own without RAPID Mode enabled, the drive compares with the 840 PRO in many tests - in some tests it even outperforms the flagship 840 PRO. Samsung paid close attention to what really matters and optimized EVO to be the best client SSD we've seen yet.
Then you have magic, well Magician, as Samsung calls it. Until now, Magician was more like a wrench, but now it's a wand. You still have the typical SSD toolkit functions like OS Optimization, Secure Erase, Data Migration and all of the tools that were downplaying, but with one button, the RAPID Enable button, a new level of computing is possible. The difference is really like going from a HDD to a SSD for the first time. We really shouldn't downplay the other features. Very few SSD manufacturers have a SSD Toolbox, Tool Kit or Magician... whatever you want to label it. Samsung's is now better, period.
It's rare for me to give out an Editor's Choice award, but two in one day is unthinkable. I almost have to pull this one back on principal alone. The truth is though; I went into testing looking for high latency and with a dislike of triple-level cell NAND. By the time I finished testing, I had to see if the results from the benchmarks equated to real system level performance. I cloned by notebook drive with the USB 3.0 to SATA adapter that Samsung ships with the Notebook Kit, and I've smiled ever since.
I think what Samsung did with RAPID is going to change the SSD market. Samsung will take an even larger lead in the volume shipped, and every other company by Monday morning will have DRAM cache written on a whiteboard somewhere in the office.
There are a few other features we didn't touch on in this article like full drive encryption, so please be sure to read read our Samsung 840 EVO Overview to get all of the technology details.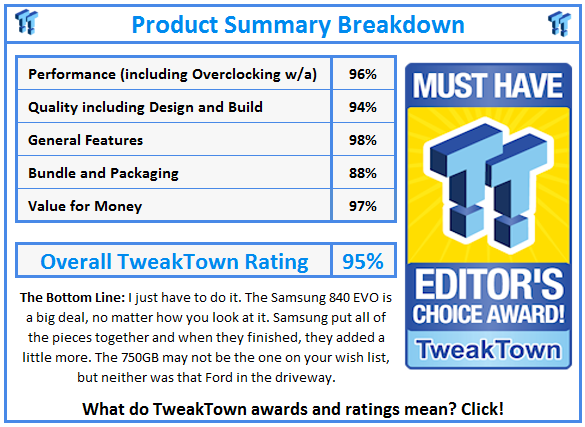 PRICING: You can find products similar to this one for sale below.

United States: Find other tech and computer products like this over at Amazon.com

United Kingdom: Find other tech and computer products like this over at Amazon.co.uk

Australia: Find other tech and computer products like this over at Amazon.com.au

Canada: Find other tech and computer products like this over at Amazon.ca

Deutschland: Finde andere Technik- und Computerprodukte wie dieses auf Amazon.de
We openly invite the companies who provide us with review samples / who are mentioned or discussed to express their opinion. If any company representative wishes to respond, we will publish the response here. Please contact us if you wish to respond.