Samsung 840 EVO 250GB SSD Review
Our three-part Samsung 840 EVO launch day coverage continues. In this article, Chris looks at the 250GB capacity size and runs the drive through several benchmarks to see how it compares to other 256GB class SSDs.
Published Jul 25, 2013 7:44 AM CDT
|
Updated Tue, Nov 3 2020 7:00 PM CST
16 minute read time
Introduction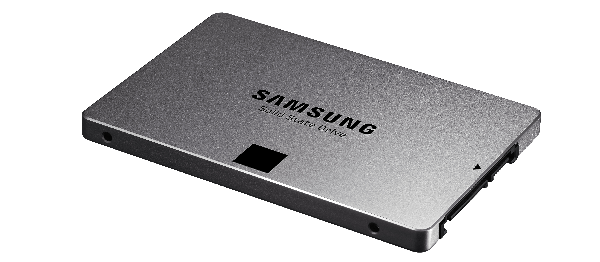 If you missed our opening article over the new Samsung 840 EVO product family, it's a good idea to go back and read through the pages. The Overview Editorial covers some of the fine details that we're only touching on in this review of the Samsung 840 EVO 250GB.
While not the most exciting product in the EVO family, an honor that goes to the 1TB model, Samsung must think the 250GB capacity size will attract the most buyers. The EVO 250GB is the only capacity size to ship in all three package configurations - Basic Drive, Notebook Kit and Desktop Kit. The 250GB EVO, priced well for 2013, competes with Crucial's M500, Seagate's 600 Series and various Team LSI SandForce players in the $175 to $200 price category.
In the overview article, I wrote about several different user groups who could look toward the 840 EVO as their next SSD. The 120GB and 240GB drives fit into the 'upgrade to OEM' market, notebook users and such. The larger drives overlap into that category, but are clearly more enthusiast / prosumer type products, due to the higher cost and capacity sizes.
With that in mind, let's take a look at the Samsung 840 EVO 250GB and see how it performs against other mainstream drives and how it compares against the best SSDs on the market regardless of price.
Specifications, Pricing and Availability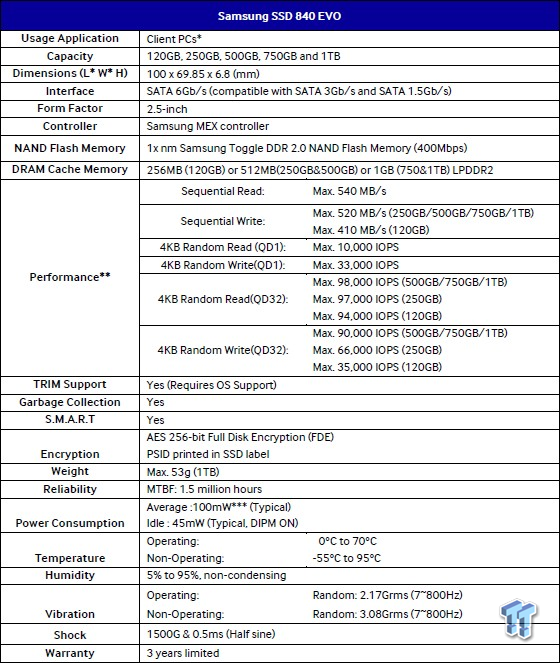 Samsung has five capacity sizes in the 840 EVO product family - 120GB, 250GB, 500GB, 750GB and the flagship 1TB model. The 250GB size we're looking at in this article shares the same sequential read and write performance with the larger capacity size EVO products, 540MB/s read and 520MB/s write. Samsung claims 4KB random performance at 97K read and 66K write.
The 840 EVO 250GB writes data at a higher rate over the baseline 840 thanks to a new SLC-like layer built into each TLC die. Samsung calls this TurboWrite and the TurboWrite performance is figured into the claimed performance specifications. What's not included on the specification sheet is RAPID Mode. Developed by recent acquisition NVELO, RAPID Mode uses your system's DRAM, up to 1GB, to cache I/O data to and from the SSD. You can find more about TurboWrite and RAPID Mode in our 840 EVO Overview Editorial article.

Samsung put together three different package kits, but the 250GB model is the only product to ship in all three. Pricing comes out to $189.99 for the bare drive, $199.99 for the Laptop Kit and $209.99 for the Desktop Kit. The bare drive SKU costs a bit more than the lowest priced LSI SandForce SF-2281 / sync MLC drives, but lower than the Micron M500 240GB, prices courtesy of Newegg.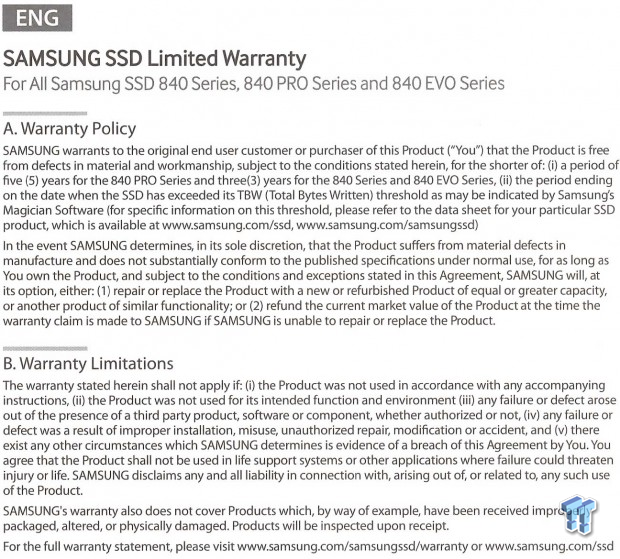 The Samsung 840 EVO ships with a three year limited warranty, but we're still not clear on all of the details. The warranty policy states a TBW (Total Bytes Written) limit and leads us to two URL addresses. Even with the 840 and 840 PRO, we never managed to nail down the Total Bytes Written limit to keep the drive under warranty. To be fair, we've yet to hear of Samsung denying a warranty claim, but this is an issue that should be addressed.
Samsung 840 EVO 250GB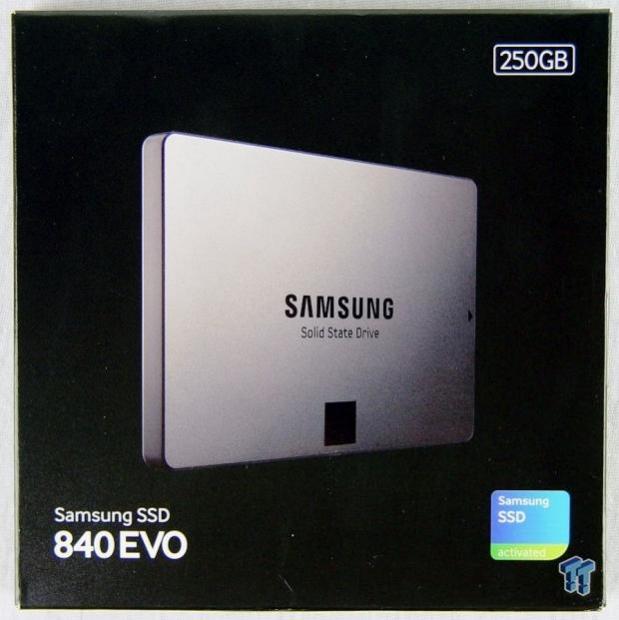 Our 840 EVO 250GB sample arrived in the Basic Kit (bare drive plus software disk). The box and color scheme remind me of another EVO product, the Ducati 848 EVO Superbike in matte black. Not a bad look and the reference is fitting. The 840 EVO plays the role of mid-level to the 1198 Superbike, like the EVO plays mid-level to 840 PRO. I'd say someone in Samsung's marketing department is a fellow Ducati rider.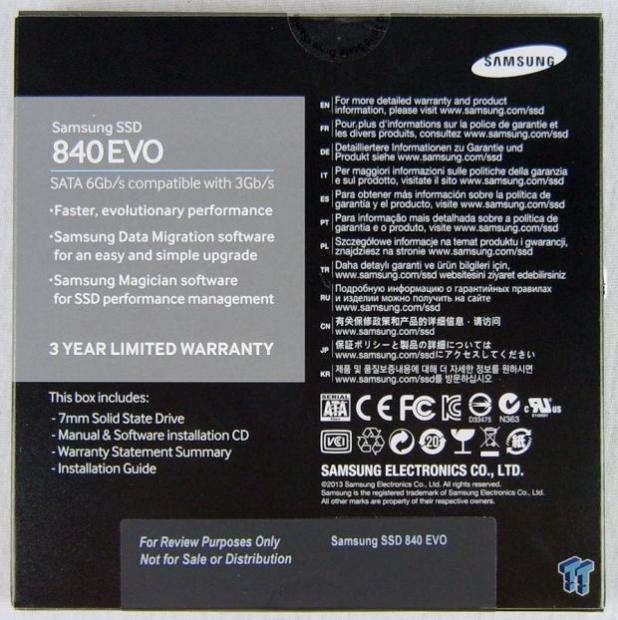 A few product details are located on the back of the package as well as the package contents.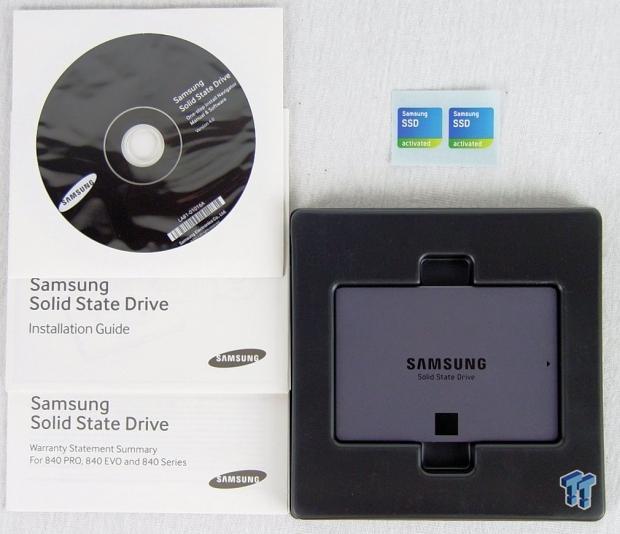 Inside the package we found the drive, two paper manuals, the software disk and two Samsung Activated stickers.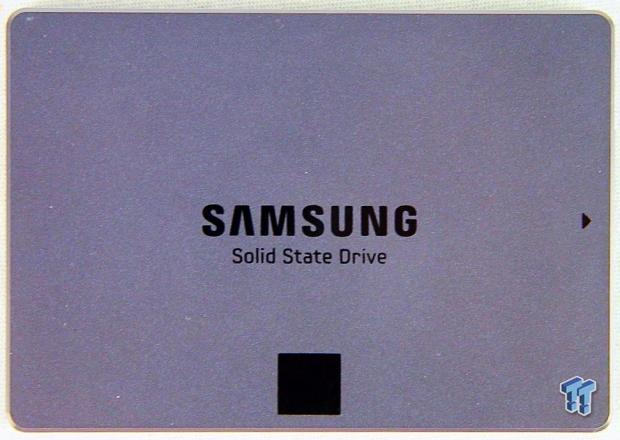 Here we get our first look at the new 840 EVO. Like Samsung's previous two consumer SSD generations, the EVO uses a 7mm z-height for increased compatibility with new ultrabooks, notebooks and desktops with an optional (Desktop Kit) adapter bracket.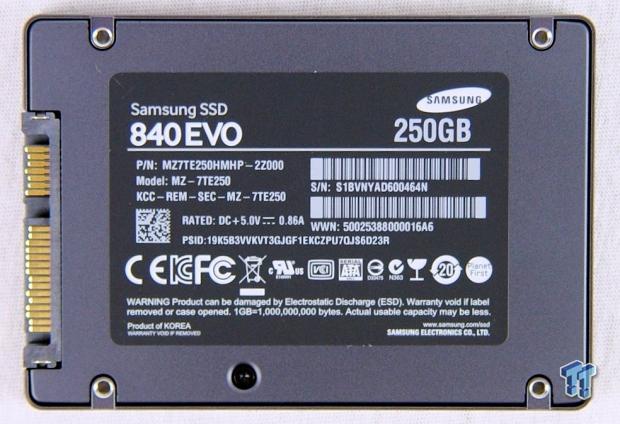 All of the drive information is on the back of the drive.

The 7mm z-height standard uses the same mounting points as 9.5 and 15mm drives.

SATA power and data connectors are also in the same location as well.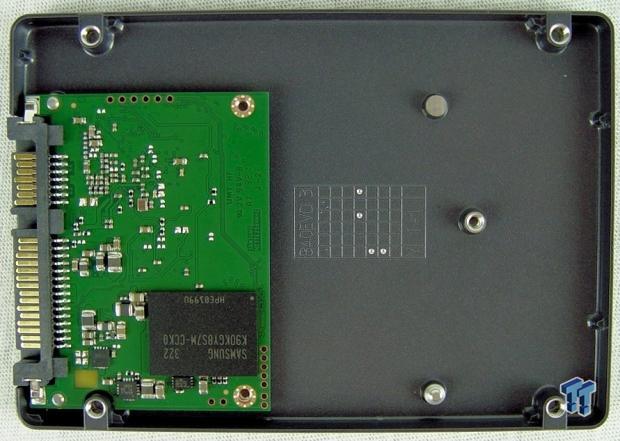 There will be a few surprises today and this is the first. The 250GB 840 EVO uses a very small PCB with a controller, a low power DRAM chip and only two NAND packages, one on each side of the PCB.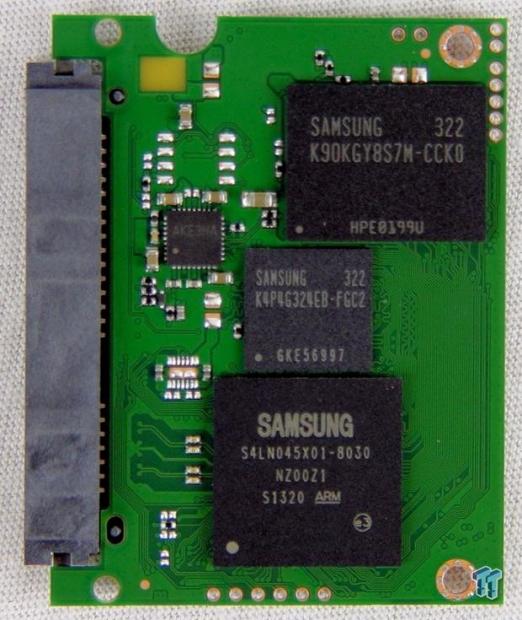 I have to admit I was surprised to see this configuration myself. Nearly every component on the PCB is marked Samsung.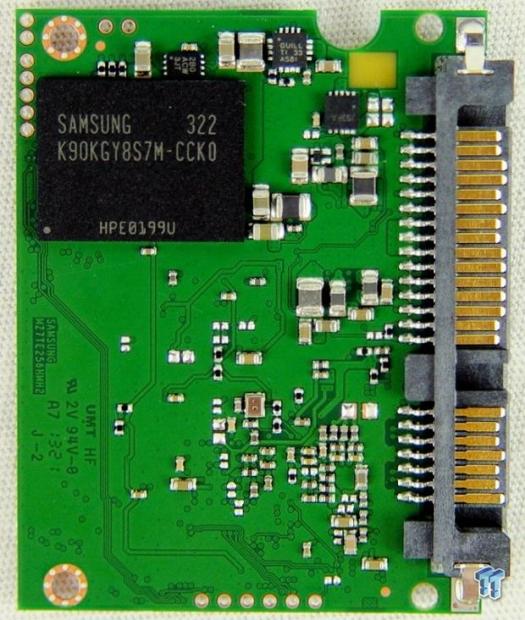 It's interesting the details we started noticing after purchasing a thermal imaging camera. The controller is the hottest component on the PCB and flash is sensitive to heat. It loses endurance as the temperature increases. Samsung placed the other NAND flash package on the opposite end of the controller.
Benchmarks - Test System Setup and ATTO Baseline Performance
Desktop Test System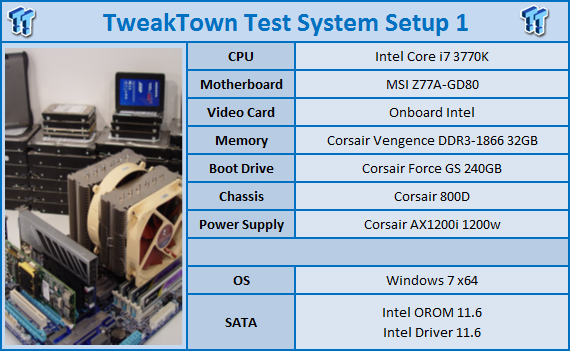 Lenovo W530 - Mobile Workstation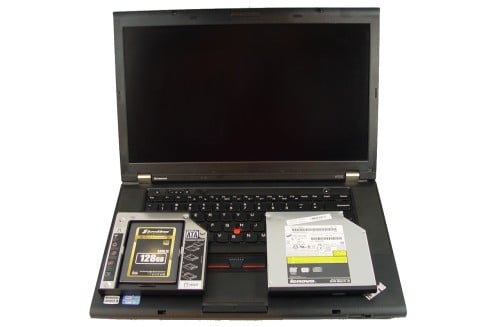 We use two systems for SSD testing. The desktop runs a majority of the tests and the Lenovo W530 runs the notebook power tests as well as the real-world file transfer benchmark.
ATTO Baseline Performance
Version and / or Patch Used: 2.34
ATTO is a timeless benchmark used to provide manufactures with data used market storage products.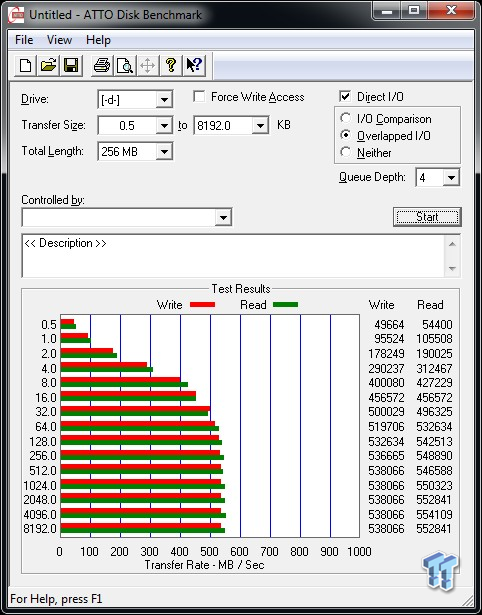 Meet the Samsung 840 EVO 250GB with measured sequential read performance of just over 550MB/s and sequential write performance of nearly 540MB/s.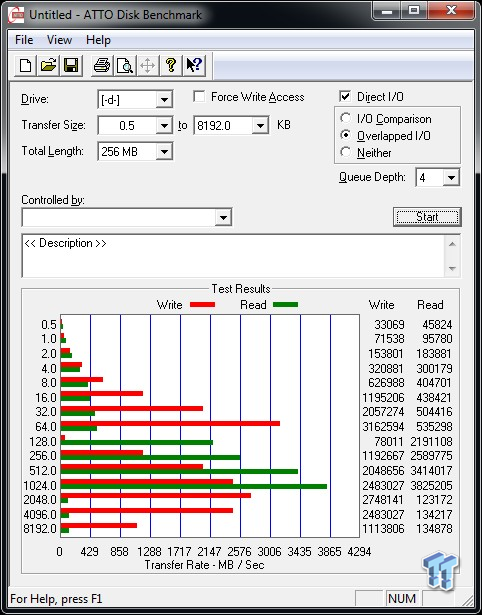 Now meet the Samsung 840 EVO 250GB with RAPID mode enabled. There are two things to know when looking at this image. The first is the scale at the bottom has changed, now to 4294MB/s. The second thing to know is that ATTO is an old school benchmark, developed well before 64-bit computing. ATTO uses 32-bit integers. Since ATTO uses bytes to display the performance on the right side, any number larger than the largest 32-bit number [em]wraps[/em] around and rests. The writes wrap around at the 128KB transfer size and the reads wrap at 2048KB.
This is the first time we've seen this occur on anything outside of my enterprise RAID storage arrays used to set world records in PCMark. EVO isn't just an SSD product though and without RAPID, this wouldn't happen. With RAPID you have up to 1GB of system RAM working in tandem with the SSD to cache data to and from the drive.
Things are about to get interesting.
Benchmarks - Sequential Performance
HD Tune Pro
Version and / or Patch Used: 4.00
Developer Homepage: http://www.efdsoftware.com
Product Homepage: http://www.hdtune.com
HD Tune is a Hard Disk utility which has the following functions:
Benchmark: measures the performance
Info: shows detailed information
Health: checks the health status by using SMART
Error Scan: scans the surface for errors
Temperature display
HD Tune Pro gives us accurate read, write and access time results and for the last couple of years has gained popularity amongst reviewers. It is now considered a must have application for storage device testing.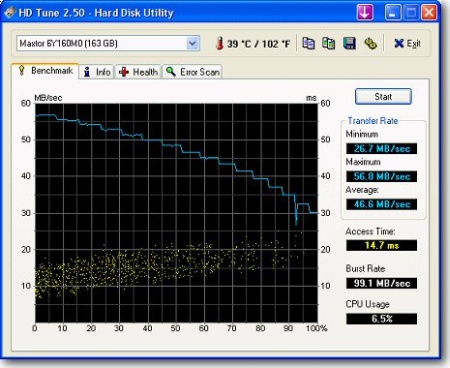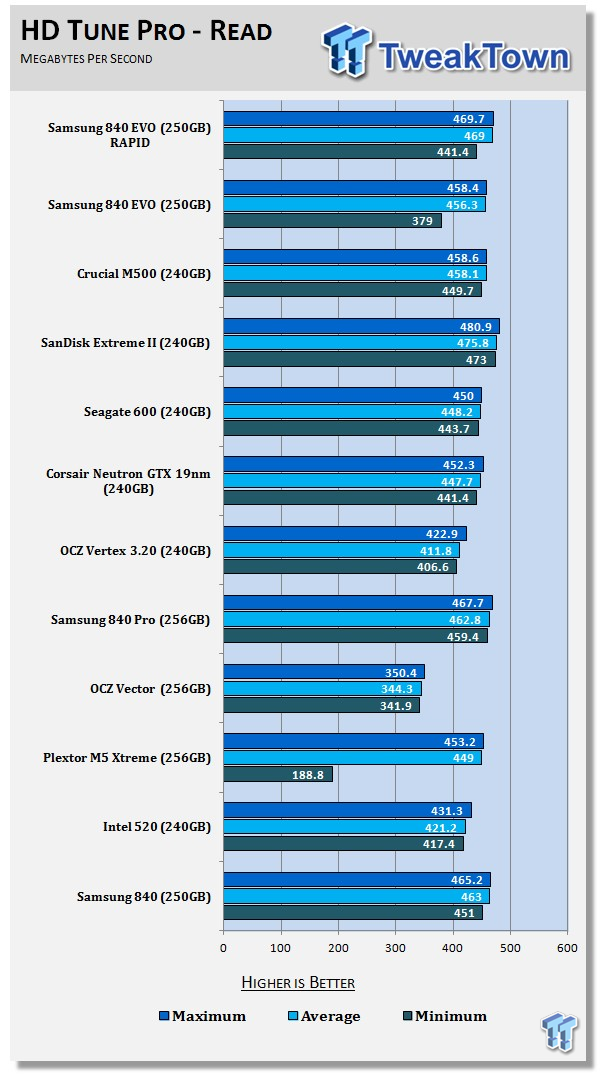 In the charts today, we'll have the 840 EVO with and without RAPID Mode. Some of the charts will be a little wonky since RAPID elevates the performance so much in some tests. Unlike other cache solution like NVELO's Dataplex or Intel's built-in chipset + SSD, we didn't need to run the tests twice to see a performance increase. The results shown are from our standard, every day, every product, performance test suite.
In the first test, reading sequential data across the span of the drive, the 840 EVO does well. RAPID increases the minimum transfer speed, but doesn't take the performance to the next level.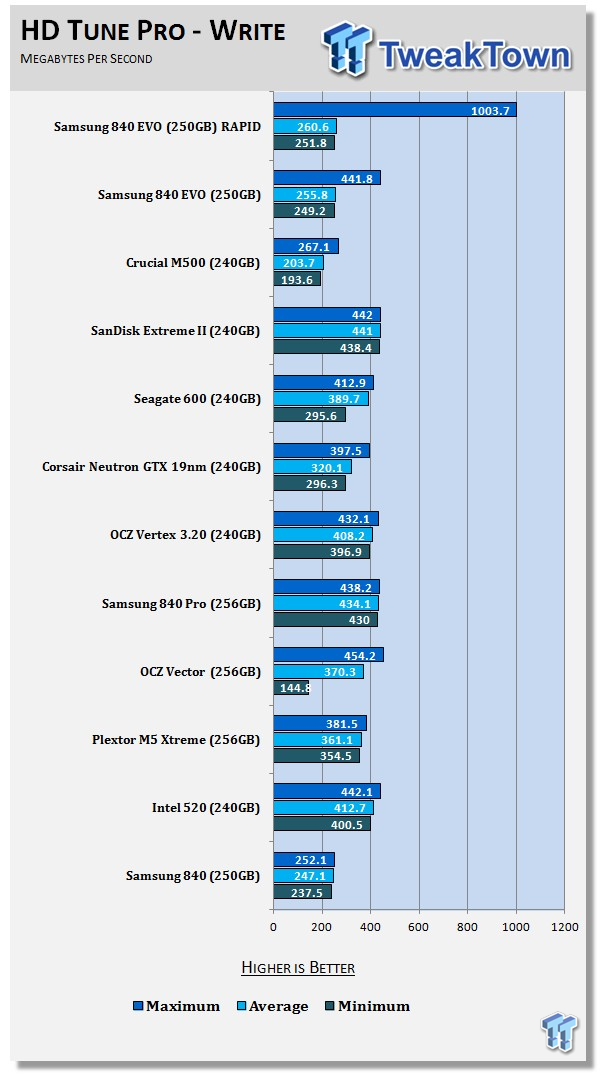 The 840 EVO has a couple of levels of cache and below we'll show them plotted on a chart. The TLC area of the drive actually only writes at around 250MB/s, but the SLC mode area writes at roughly 440MB/s. In this test, RAPID writes right around 1GB/s. This test uses 64KB blocks.
HD Tach - Sequential Write Performance after Random Writes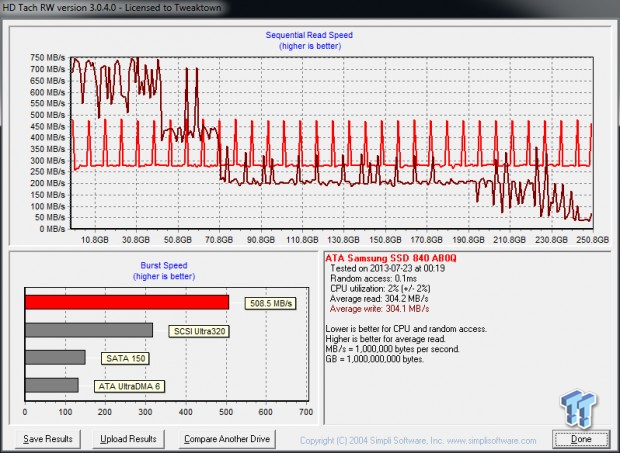 We're using RAPID in this plot and we can see the different stages of write performance. RAPID starts at the left and then trails off. It's important to note that the RAPID performance isn't just a one shot, 1GB of space and quit boost. This test uses 128KB blocks sequentially. After RAPID you can see the SLC tier and finally the TLC tier. At the end of the TLC tier you can see the drive freaking out. That's the latency involved with losing spare area mixed with aggressive garbage collection. It's like in Star Wars, in the garbage chute when the walls are closing in. That's the same level of panic the controller is going into.
It's important to understand that under regular use no one writes the full span of their SSD, at least not all at once and not in just a few minutes. The testing tools on this page came well before SSDs hit the market.
Benchmarks - AIDA64 Random Access Time
AIDA64 Random Access Time
Version and / or Patch Used: 1.60
Developer Homepage: http://www.aida64.com
Product Homepage: http://www.aida64.com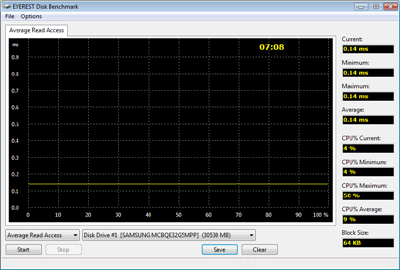 AIDA64 offers several different benchmarks for testing and optimizing your system or network. The Random Access test is one of very few if not only that will measure hard drives random access times in hundredths of milliseconds as oppose to tens of milliseconds.
Drives with only one or two tests displayed in the write test mean that they have failed the test and their Maximum and possibly their Average Scores were very high after the cache fills. This usually happens only with controllers manufactured by Jmicron.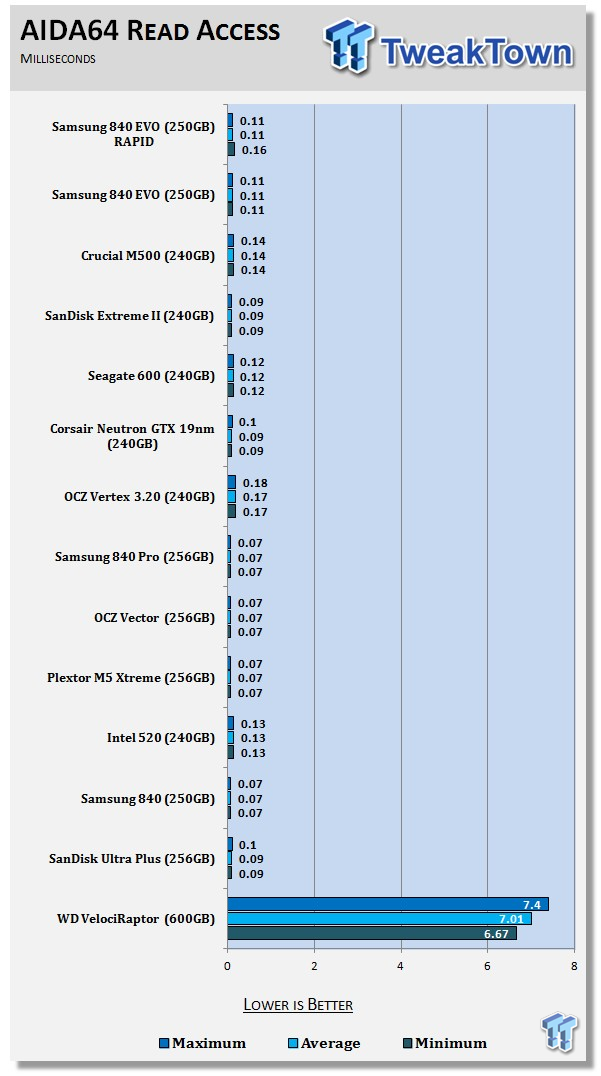 As we mentioned in the overview article, Samsung moved to 128Gb die, at least that's what we think since no one is confirming all of the details in the move to 19nm. The latency is higher on the EVO than it was on the 840. That's a good indication of 128Gb die and the same thing we're seeing on the IMFT 20nm flash.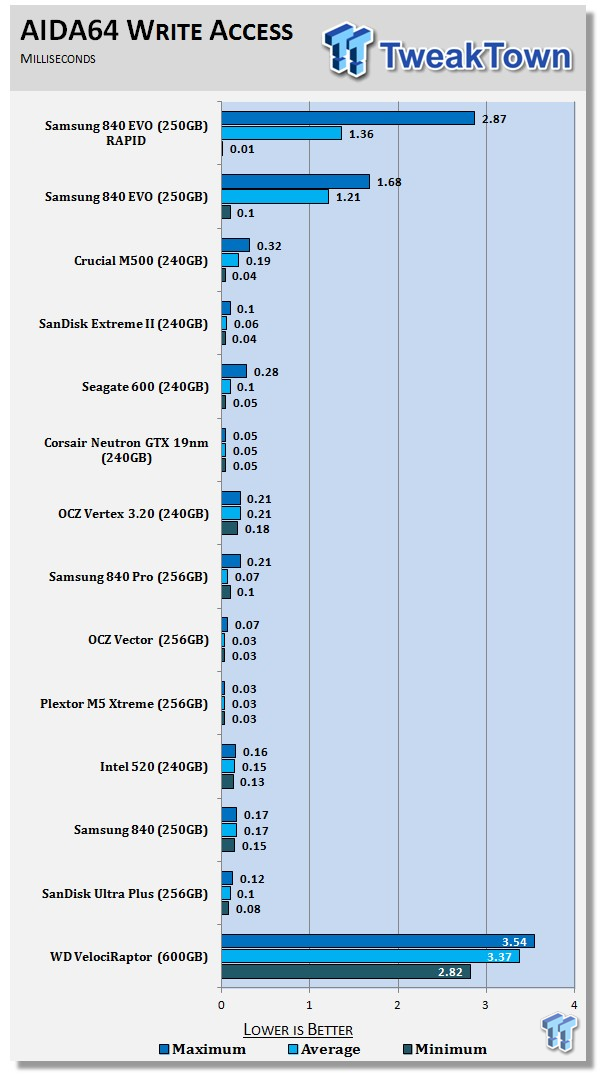 Samsung had a write latency issue on the 830 and other 840 products in the 128GB capacity sizes. The 840 EVO 250GB has just two packages and we believe each package has two die inside. The interleaving should be the same as the base 840 drive with 128GB of 2Xnm flash. We're seeing about the same write latency when writing across the span of the drive.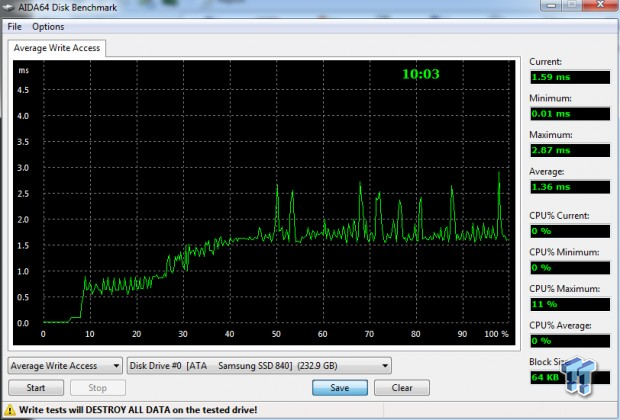 This is the plot with RAPID Mode. Again, you can see the different stages of caching. When we write to the entire span of the drive, the cache doesn't have a chance to flush the data to TLC, because there isn't an idle state between writes. If we were able to write for 30 seconds, then idle for 30 seconds and then continue on like a normal consumer application, the results would look different.
Samsung doubled the amount of low power DRAM in the 840 EVO over the 840. That DRAM caches the page table data. That's why the write latency is actually lower than the 840 at this stage of the test. The 840 write latency numbers published in the chart are from a special test that was performed after the drive sat idle for a period of time. When you let the 840 idle, it finished the garbage collection and the latency returns to what we would call a normal state.
Benchmarks - Anvil Storage Utilities
Anvil Storage Utilities
Version and / or Patch Used: RC6
So what is Anvil Storage Utilities? First of all, it's a storage benchmark for SSDs and HDDs where you can check and monitor your performance. The Standard Storage Benchmark performs a series of tests, you can run a full test or just the read or the write test or you can run a single test, i.e. 4K DQ16.
Anvil Storage Utilities is not officially available yet but we've been playing with the beta for several months now. The author, Anvil on several international forums has been updating the software steadily and is adding new features every couple of months.
The software is used several different ways and to show different aspects for each drive. We've chosen to use this software to show the performance of a drive with two different data sets. The first is with compressible data and the second data set is incompressible data. Several users have requested this data in our SSD reviews.
0-Fill Compressible Data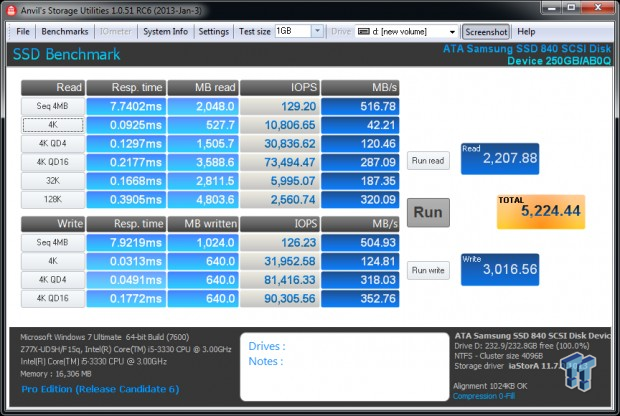 Incompressible Data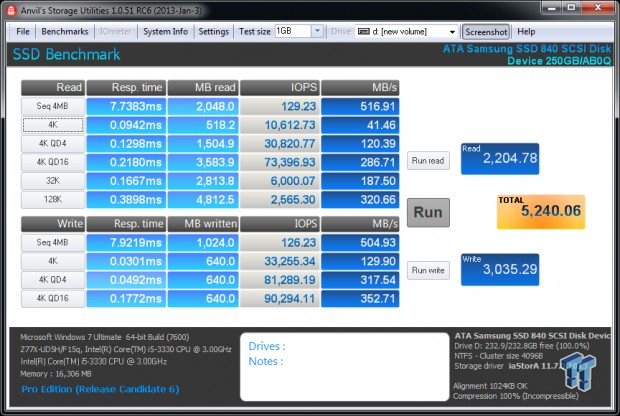 The two results above were without RAPID and we can see there is very little variation between compressible and incompressible data workload.
Read IOPS through Queue Depth Scale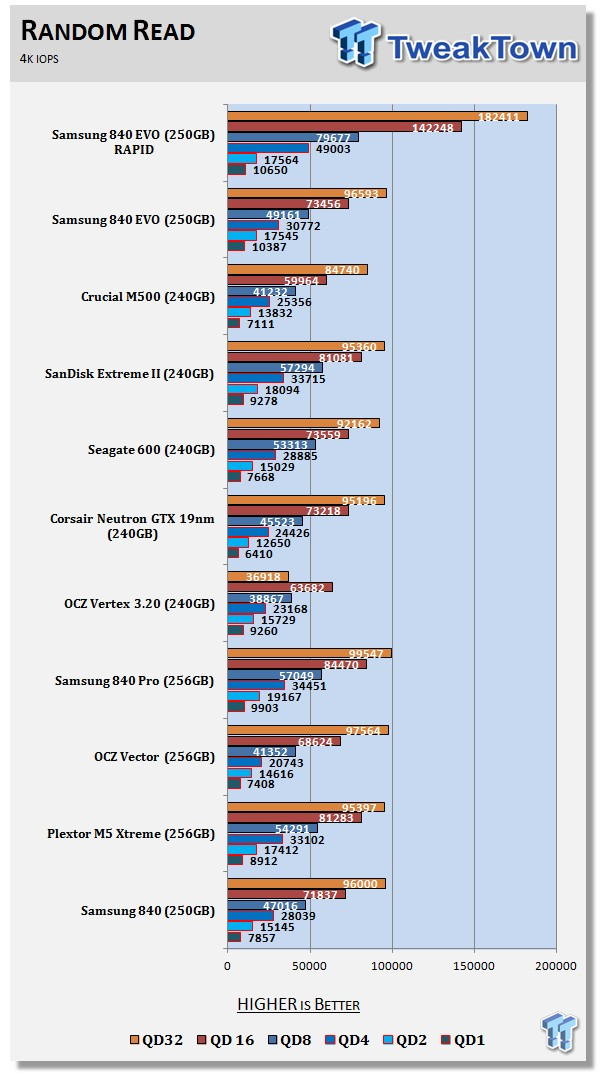 If you missed the 840 EVO Overview article then you should go back and read about the fine details of what Samsung is pushing with low queue depth IOPS performance. We stated publishing low queue depth IOPS performance because several manufacturers were emphasizing their high queue depth results.
In a consumer environment, you will rarely hit a queue depth higher than four. Achieving the famed 100K IOPS at QD32 is like finding a unicorn, it just isn't going to happen. We're glad to see Samsung shifting their focus to low QD IOPS performance.
On the read side, RAPID doesn't do much for low QD IOPS performance, unless the data is cached. Even without RAPID, the 840 EVO manages to outperform everything else on the chart at QD1, even the 840 PRO.
Scaling Write IOPS through Queue Scale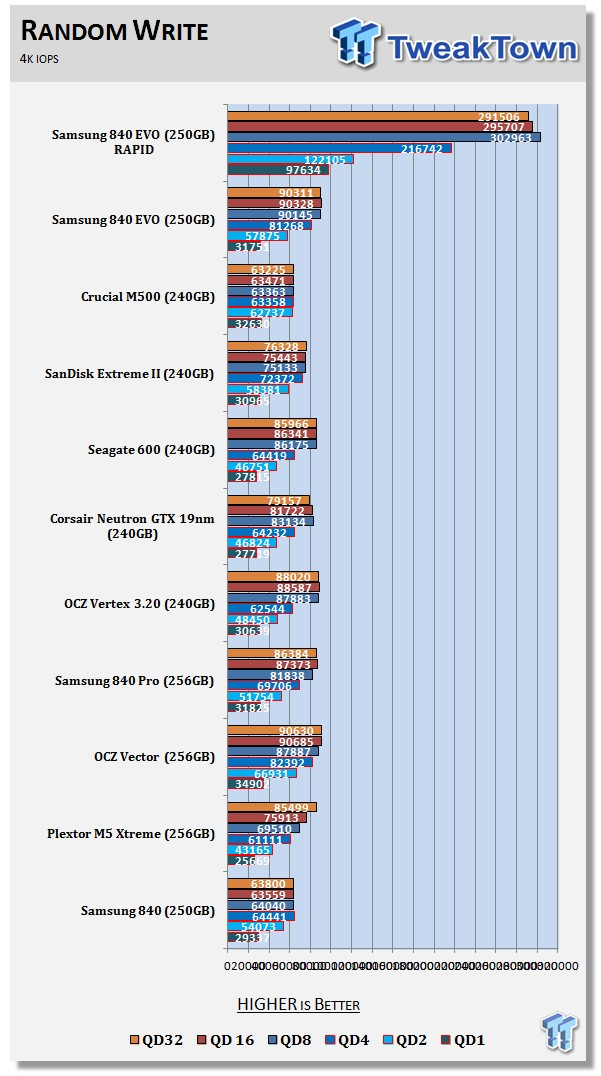 As stated earlier, some of the charts are going to get a bit wonky. Without RAPID, the 840 EVO does well with low queue depth IOPS. It's not the fastest on its own, but it's still in the top tier with the 840 PRO and Vector. With RAPID enabled, the 840 EVO is in a new class of SSDs. We've called 840 PRO and Vector the hyper class SSDs. At this point, I don't even have a way to define 840 EVO with RAPID mode enabled.
The above hyper class 840 EVO won't give you this level of write IOPS performance for the full span of the drive, but since we are talking about consumer use, it doesn't really matter. Perceived performance, also known as user experience, is more important than an artificial benchmark. Samsung has realized this and taken user experience to another level.
Benchmarks - CrystalDiskMark
CrystalDiskMark
Version and / or Patch Used: 3.0 Technical Preview
Developer Homepage: http://crystalmark.info
Product Homepage: http://crystalmark.info/software/CrystalDiskMark/index-e.html
Download here: http://crystaldew.info/category/software/crystaldiskmark
CrystalDiskMark is a disk benchmark software that allows us to benchmark 4K and 4K queue depths with accuracy.
Key Features:-
* Sequential reads/writes
* Random 4KB/512KB reads/writes
* Text copy
* Change dialog design
* internationalization (i18n)
Note: Crystal Disk Mark 3.0 Technical Preview was used for these tests since it offers the ability to measure native command queuing at 4 and 32.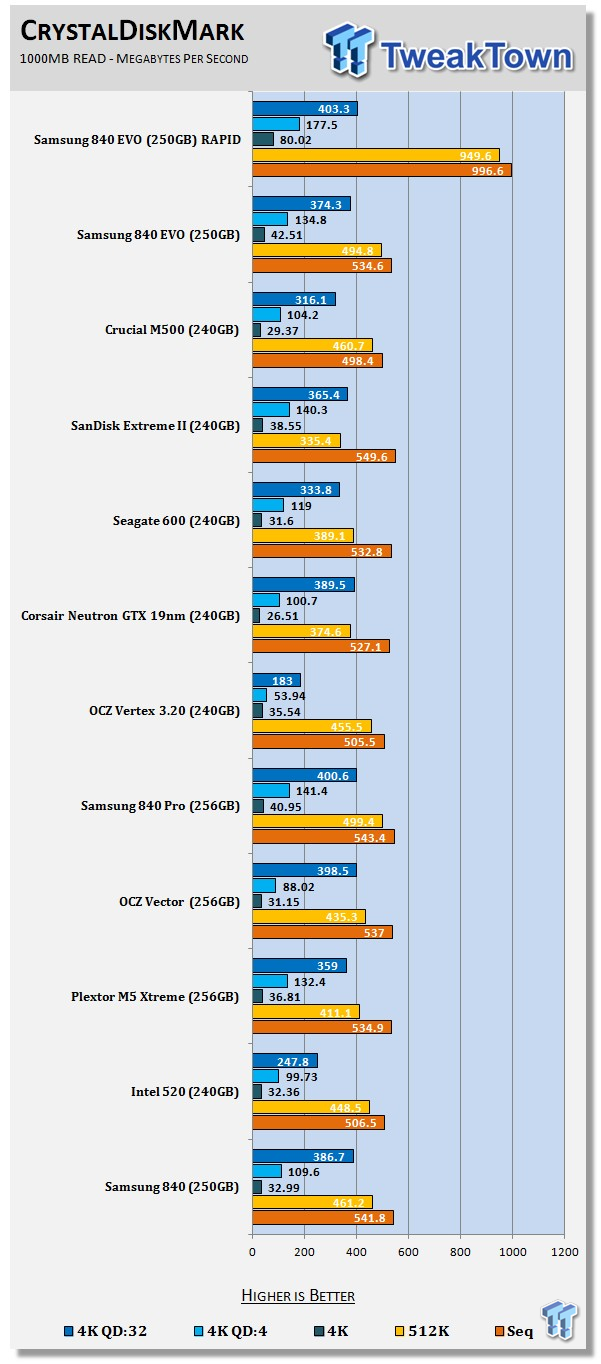 Here we see the 4K read IOPS at QD1 through a different lens, MB/s. On its own, without RAPID, the 840 EVO does really well - again outperforming the 840 PRO. When you enable RAPID, the QD1 performance doubles. In the video we published from the 2013 Samsung Global SSD Summit, Samsung displayed the 840 EVO achieving just over 100MB/s in this test. That was with a 1TB capacity size drive. We'll publish the 750GB model review later today, and you can see what the large drives can really do.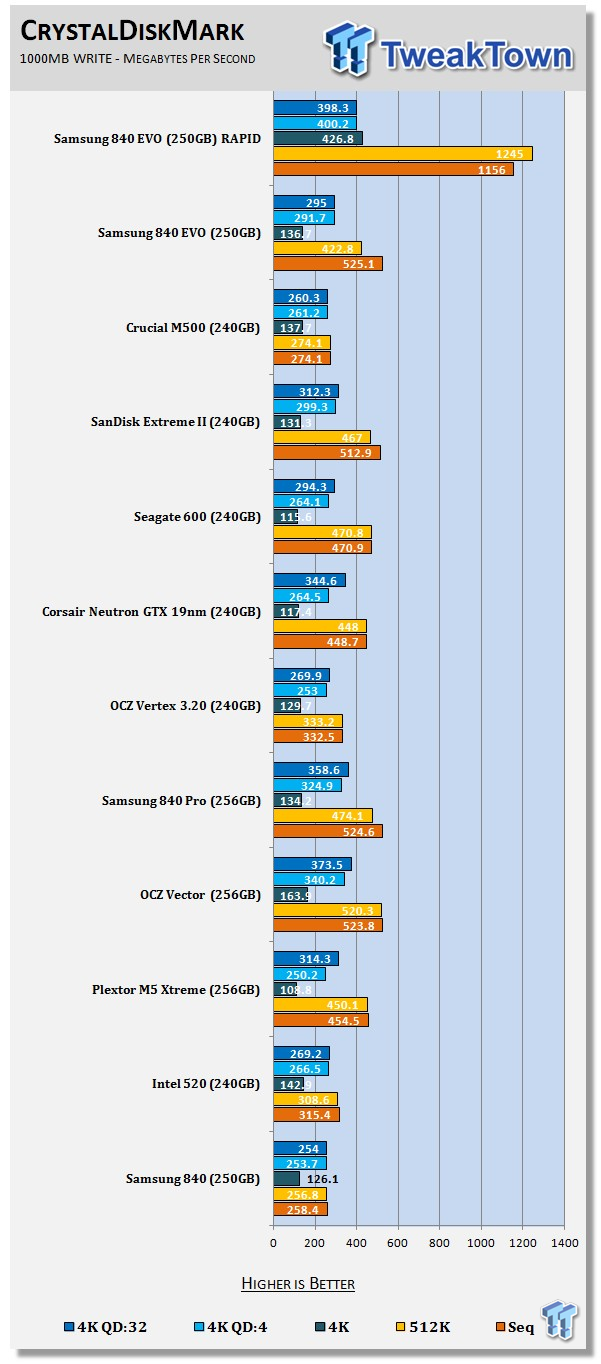 When we run CDM, we use the 1000 MB setting, the largest available. That means we're never getting past the DRAM and SLC layer cache. If we run the test again the performance only increases since the data is already cached.
Benchmarks - PCMark Vantage Hard Disk Tests
PCMark Vantage - Hard Disk Tests
Version and / or Patch Used: 1.0.0
Developer Homepage: http://www.futuremark.com
Product Homepage: http://www.futuremark.com/products/pcmarkvantage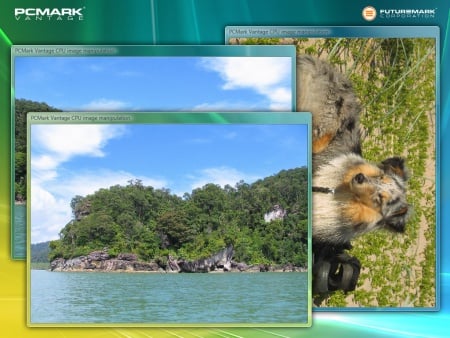 PCMark Vantage is the first objective hardware performance benchmark for PCs running 32 and 64 bit versions of Microsoft Windows Vista. PCMark Vantage is perfectly suited for benchmarking any type of Microsoft Windows Vista PC from multimedia home entertainment systems and laptops to dedicated workstations and high-end gaming rigs. Regardless of whether the benchmarker is an artist or an IT Professional, PCMark Vantage shows the user where their system soars or falls flat, and how to get the most performance possible out of their hardware. PCMark Vantage is easy enough for even the most casual enthusiast to use yet supports in-depth, professional industry grade testing.
FutureMark has developed a good set of hard disk tests for their PCMark Vantage Suite. Windows users can count on Vantage to show them how a drive will perform in normal day to day usage scenarios. For most users these are the tests that matter since many of the old hat ways to measure performance have become ineffective to measure true Windows performance.

HDD1 - Windows Defender
HDD2 - Gaming
HDD3 - Windows Photo Gallery
HDD4 - Vista Startup
HDD5 - Windows Movie Maker
HDD6 - Windows Media Center
HDD7 - Windows Media Player
HDD8 - Application Loading
In real-world applications the 840 EVO 250GB does really well on its own, one of the fastest drives to complete the test. With RAPID Mode enabled, the performance elevates in all but one test.
Benchmarks - PCMark Vantage - Drives with Data Testing
PCMark Vantage - Drives with Data Testing
For a complete breakdown on the Drives with Data Testing please read this article. You will be able to perform this test at home with the files provided in the article - full instructions are included.
- Brief Methodology
SSDs perform differently when used for a period of time and when data is already present on the drive. The purpose of the Drives with Data testing is to show how a drive performs in these 'dirty' states. SSDs also need time to recover, either with TRIM or onboard garbage collection methods.
Drives with Data Testing - 25%, 50%, 75% Full States and Dirty / Empty Test
Files needed for 60 (64GB), 120 (128GB), 240 (256GB)
60GB Fill - 15GB, 30GB, 45GB
120GB Fill - 30GB, 60GB, 90GB
240GB Fill - 60GB, 120GB, 160GB
Empty but Dirty - a test run just after the fill tests and shows if a drive needs time to recover or if performance is instantly restored.

I would love to see more manufacturers come out and talk about SSD performance when data is on the drive. Just like the low queue depth performance numbers, it would help to validate the importance of our Drives with Data testing.
The Samsung 840 EVO, even without RAPID, is our new 50% of flash used champion. With RAPID, we gained even more performance in what I would call the most real-world SSD test available.
Benchmarks - BootRacer
BootRacer - System Boot Time
Version and / or Patch Used: 4.0
Developer Homepage: Greatis
Product Homepage: BootRacer
Download here: http://www.greatis.com/bootracer/download.htm
Note: In this test we use the Lenovo W530 Mobile Workstation loaded with an operating system and several program files. The data on the drive at the time of the test is 45GB. The second test, 50GB Free, was ran with the drives filled with block data until only 50GB of free capacity remained.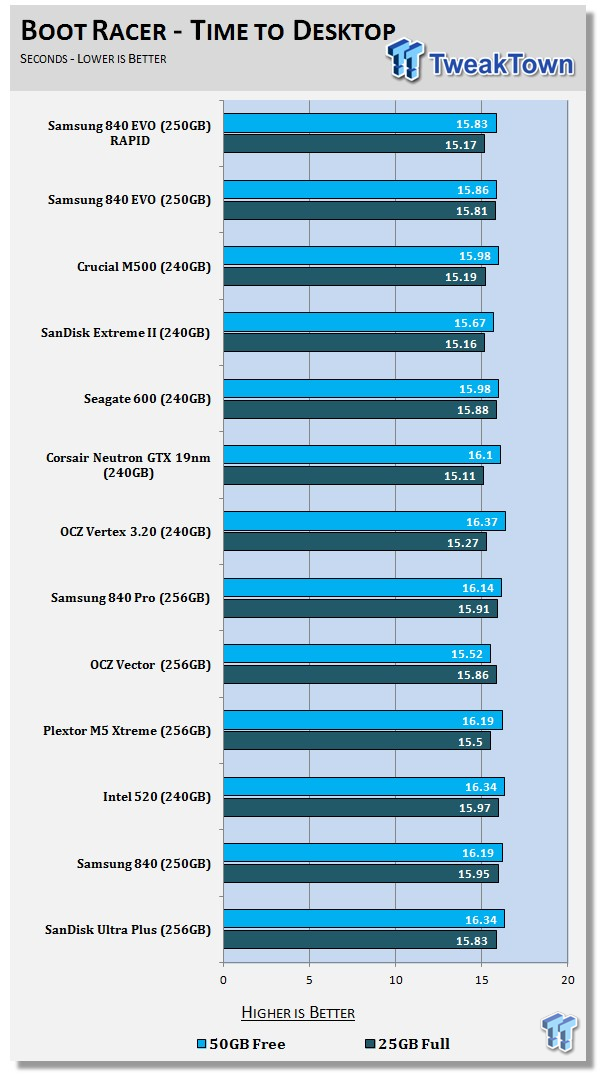 In our Lenovo W530, most of the SSDs reboot the system in roughly 15 to 16 seconds. RAPID Mode doesn't have a significant impact on the boot time.
Benchmarks - DiskBench
DiskBench - Directory Copy
Version and / or Patch Used: 2.6.2.0
Developer Homepage: Nodesoft
Product Homepage: DiskBench
Download here: http://www.nodesoft.com/diskbench/download
Note: In this test we use the Lenovo W530 Mobile Workstation and a SuperSSpeed S301 SLC 128GB SSD to move a 15GB block of data to and from the target drive. This is part of our real-world test regiment. Roughly 45GB of data resides on the target drive before the '15GB Block' is transfer. The 15GB Block is the same data we built for the Data on Disk Testing and is a mix of compressible and incompressible data.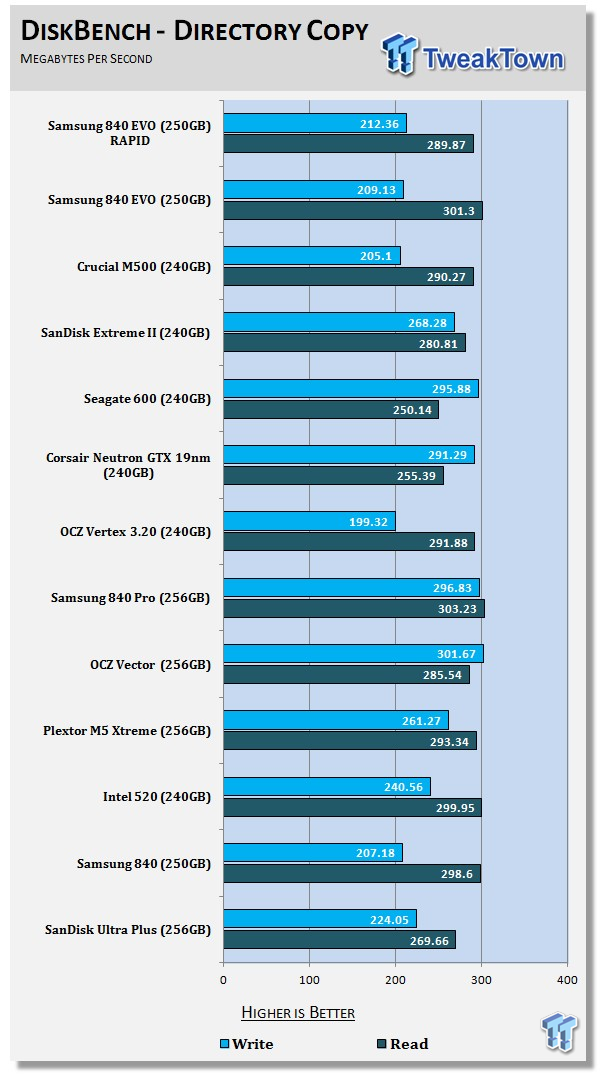 The folder full of data transfer from one SSD to another caught me off guard at first until I remembered the HD Tune Pro results. RAPID didn't have an impact in this test, but we did see an improvement to the data writing to the EVO over the 840.
Benchmarks - Power and Thermal Testing
Bapco MobileMark 2012 1.5
Version and / or Patch Used: 2012 1.5
Developer Homepage: http://www.bapco.com
Test Homepage: http://www.bapco.com
MobileMark 2012 1.5 is an application-based benchmark that reflects usage patterns of business users in the areas of office productivity, media creation and media consumption. Unlike benchmarks that only measure battery life, MobileMark 2012 measures battery life and performance simultaneously, showing how well a system design addresses the inherent tradeoffs between performance and power management.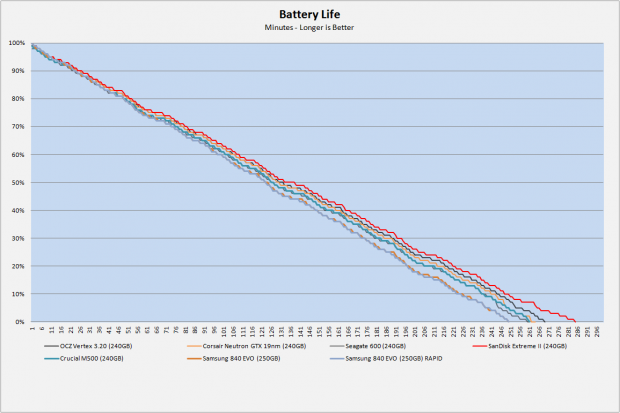 I almost took this test out for this article because we've surpassed the service life of the battery by 2%. When we designed the test, we stated that battery health couldn't drop below 99%. I left the W530 on when I left for South Korea while it was running another SSD through the test. The battery sat completely drained for five days. It was already time to replace the battery since it was at 99% health. The new battery arrives on Monday and we'll update this chart with an accurate report.
If we take into account for the 3% drop in battery health, the 840 EVO with and without RAPID is just an average battery life performer. The reason why I left this test in the review as is was to show that RAPID doesn't adversely affect notebook battery life.
PCMark Vantage HDD Test - Power Draw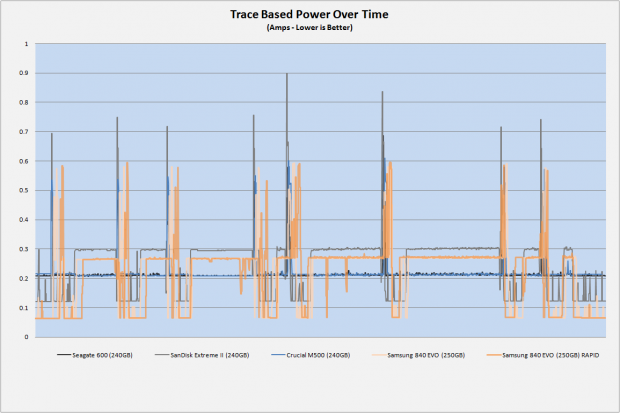 I want to note that Samsung quotes power consumption with DIPM enabled. We don't run with the setting enabled since we're testing throughput performance.
The 840 EVO has a very low idle power state, even with DIPM disabled. We expected overall system power consumption to increase with RAPID enabled and SSD power to decrease, but that wasn't the case. Both stayed about the same.
Thermal Test - BETA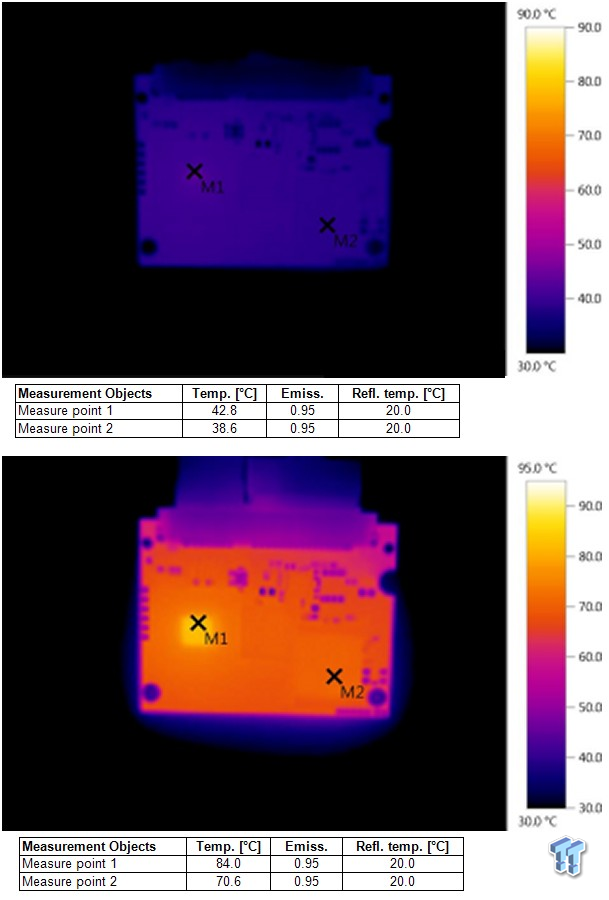 Surprisingly, the 840 EVO 250GB ran hotter than the 750GB model under load. The controller reached 84C 10 minutes into an IOmeter 4K aligned benchmark. The flash reached 70.6C in the same test.
At idle, the controller barely breaks 40C with an ambient temperature of 20C.
Final Thoughts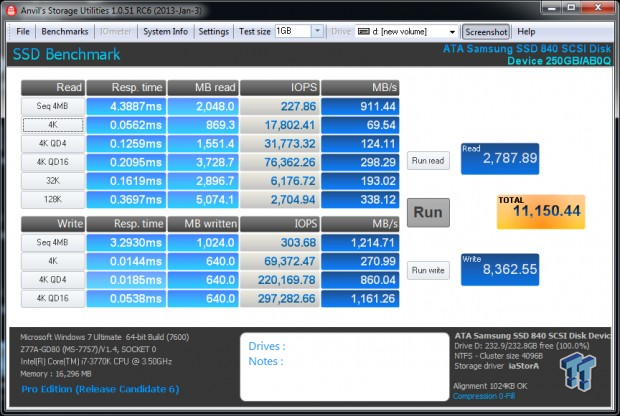 The Samsung 840 EVO is a game changer. The reason why is because Samsung let go of marketing and benchmark performance and shifted their focus to real-world user experience in a consumer environment. Even though the maximum performance in benchmark numbers increased, the minimum and average performance went up significantly in the daily use programs. When we write data to our SSDs, it's not in long sequential runs, except when transferring files. By caching everything going to the drive, the operation takes less time, and thus it feels like the drive is twice as fast as the previous generation.
I'm writing this review right now on a Lenovo T61p with an 840 EVO 750GB with RAPID Mode enabled. This notebook uses SATA 1.5 and it feels as fast as my Haswell system running 16 840 Pro 256GB drives on an Areca controller with a 4GB cache. That's the same system we just broke the PCMark World Record with a week ago. I've said it for several years now, perceived performance is more important than benchmark performance. Anyone that purchases the 840 EVO 250GB or larger capacity size will understand firsthand what that means.
That said, there are some drawbacks to running a system with 1GB of cache. If Samsung uses the cache for a 50 / 50 split, half for writing data to the SSD and half for replaying the data, then you can have up to 500MB of data sitting in the DRAM at any time that is not on the SSD. I suspect the cache is dynamic and if that's the case, then the data waiting to go to the SSD could be even higher. Paul, our enterprise SSD reviewer, would freak out and if a system is unstable, he would have cause for concern. If you are overclocking your system and running on the edge, RAPID Mode isn't for you at all.
The 840 EVO also brings with it a handful of hardware features that are new to the Samsung SSD brand. Full Disk Encryption has been a hot topic for 2013 with announcements from LSI SandForce, Micron / Crucial and now Samsung. TCG Opal and eDRIVE support with the 840 EVO is an important topic for our notebook readers.
In the 250GB capacity size, Samsung hit the market with the 840 EVO. Sitting between the 840 and the 840 PRO on paper, I think the 840 EVO is a superior product to both as long as the P/E cycles hold up. At the conference in Korea, Samsung stated they are achieving higher than 2,500 P/E cycles with this flash, but their testing is ongoing. I wouldn't download my Usenet content to the drive, but for an OS / programs drive, I wouldn't be worried too much.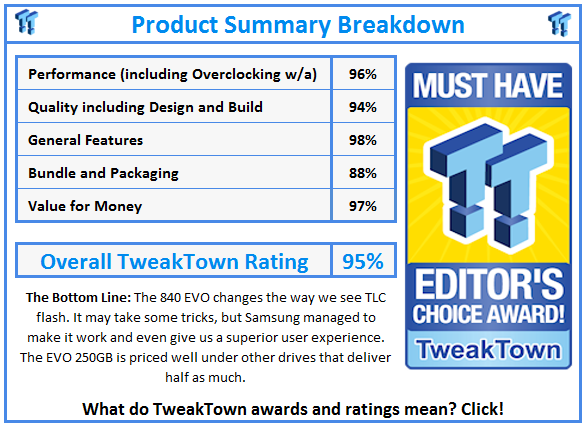 PRICING: You can find products similar to this one for sale below.

United States: Find other tech and computer products like this over at Amazon.com

United Kingdom: Find other tech and computer products like this over at Amazon.co.uk

Australia: Find other tech and computer products like this over at Amazon.com.au

Canada: Find other tech and computer products like this over at Amazon.ca

Deutschland: Finde andere Technik- und Computerprodukte wie dieses auf Amazon.de
We openly invite the companies who provide us with review samples / who are mentioned or discussed to express their opinion. If any company representative wishes to respond, we will publish the response here. Please contact us if you wish to respond.