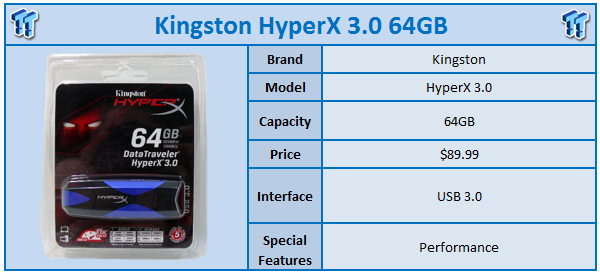 If you are in the market for a new flash drive, there are three metrics you tend to focus on. The first being performance, followed closely by capacity and of course warranty. For the longest time Kingston's HyperX brand has been the pinnacle of performance, and as their portfolio grows, the Fountain Valley based company does not just throw the HyperX brand on anything.
Today we have the unique opportunity to look over one of Kingston's top tier offerings in the USB flash drive market, the DataTraveler HyperX 3.0. If we go by marketing specs, we should expect the DT HyperX to top our charts, with performance in the 225MB/s read and 135MB/s write arena. Capacities for this product range from the 64GB model we have in house today to a larger 128GB and even a massive 256GB model. Warranty period for all DataTraveler products sits at five years.

The DT HyperX shares its design with the DT Workspace; we reviewed just a few months ago, of course, Kingston has added the symbolic blue and red of the HyperX line-up.
Although the DT HyperX does use a capped design, I personally do not foresee any issues with it as the cap does fit tight.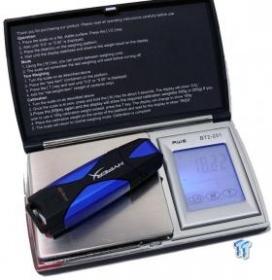 Tossing the HyperX up on our digital scale, the drive weighed in at 18 grams.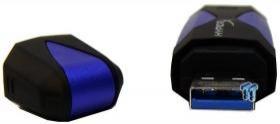 Being a USB 3.0 drive, we found the port colored appropriately in blue.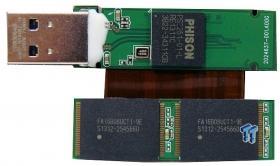 Internally, the Phison 2251 controller powers the HyperX. The NAND packages are laid out in a 16 x 4 configuration, all labelled FA16B08UCT1-9E. After a little research, I found them to be Toshiba MLC.
One of the lesser-known features of running Microsoft's new operating system Windows 8 is the native capability of USB Attached SCSI or UASP. In benchmarking flash drives, we utilize ATTO Disk Benchmark followed by DiskBench and our custom set of real-world data, and is by far the most important comparison when looking for a flash drive for everyday use.
Recently we added our very own Price vs. Performance charts for both read and write performance of each drive, for these charts we take the average sequential performance over five runs and divide it by the price per GB. All pricing information is updated before a new drive is added and is taken from certified channel retailers such as Newegg or Amazon.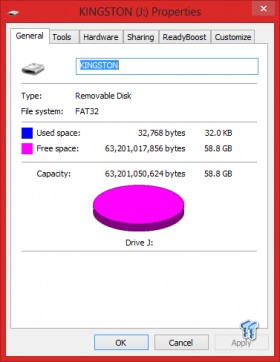 The Kingston DT HyperX is factory formatted with the FAT32 file system, insuring compatibility between Windows and Macintosh computers. The usable capacity after formatting is 58.8GB.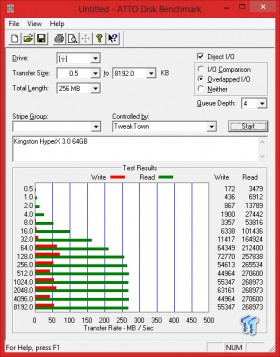 In ATTO, we were presented with confusing results, to say the least. Where marketing promised 225MB/s read and 135MB/s write, we were only able to touch 72MB/s write in our testing. On the other side, we found read speeds to much quicker than marketing coming in at 270MB/s.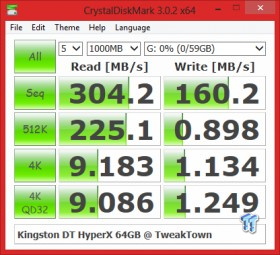 In CDM our results flipped and found the HyperX touching 304MB/s read and 160MB/s write. Random read was equally impressive at 225MB/s read, while random writes offered a measly 0.89MB/s.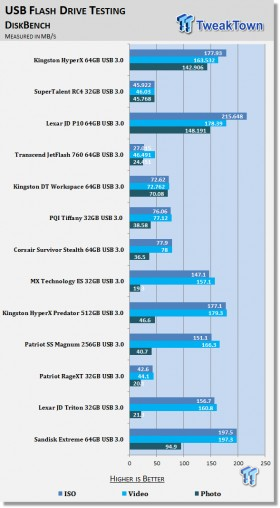 DiskBench testing took us on yet another twist. Here we found the HyperX near the top of our charts in every category.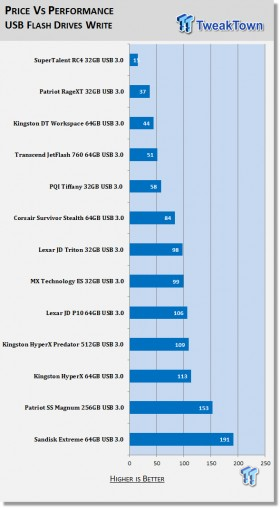 Above, we have our Price vs. Performance charts for write performance. As you can see, the Kingston HyperX does quite well in the area, taking third position, just behind the SanDisk Extreme and Patriot Magnum.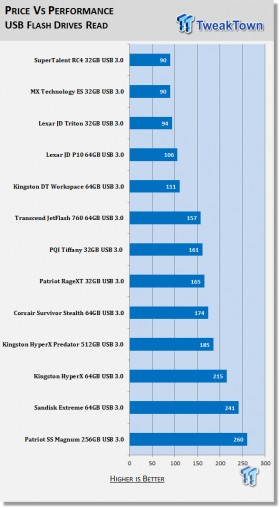 Read performance was enough to cement the HyperX 3.0 in third position on our Price vs. Performance charts for sequential read.
As I stated in the beginning of the review, Kingston does not slap their HyperX brand on any old drive and send it to the market - performance seen here today should be much more than enough to demonstrate it. In our CDM testing, we watched as the drive touched just over 300MB/s read, in an area where only a handful of drives ever touch 250MB/s.
In addition to the top-tier performance, the HyperX carries on the aesthetic pleasure of the brand, with its black rubber enclosure dawning sleek blue aluminium fairings. The capped design does often get associated with frustration, especially after the cap goes missing. To counter this Kingston designed the cap to fit the drive one-way, and very snug.
Pricing at this time for the 64GB capacity is set at $89.99, while the 128GB model is set at $159.99, and if you are hungry for top-notch capacity, you will even find the 256GB model for $389.99. Each of these drives carries a complete five year warranty from the factory.