Introduction, Specifications, Availability and Pricing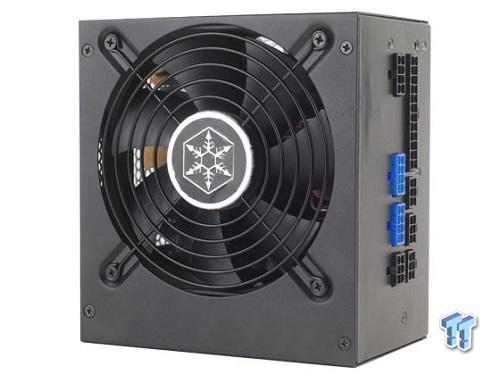 Up until today, we've focused on the high-end enthusiast offering from SilverStone. They make fantastic power supplies that hold up under torturous conditions with great performance and reliability. Today we are taking a look at something a little less high-end and more in line with what the "average gamer" or entry level enthusiast might purchase. The power supply in question is the SilverStone ST60F-PS 600W model.
The unit is designed to perform well for gamers yet keep the cost down, while not losing reliability. It forgoes some of the things we've come to expect such as top of the line efficiency, lots of accessories and large, silent fans, but still gives enough power for a single high-end video card. Sometimes modesty can be a good thing as you just want to get the job done and done well with breaking the bank. That's exactly what we expect the SilverStone ST60F-PS to do so let's dig into it and see what it has to offer.
Specifications, Availability and Pricing

Just as you'd hope from an entry level enthusiast style power supply, the majority of the power is supplied via a single 12V rail rate for 49A or 588W. Both the 3.3V and 5V rails are rated for 20A each with a combined maximum output of 130W. The 5VSB rail is rated for 3A or 15W. Maximum combined output is 600W. As we've said before, this should be more than enough to power a system with a single high-end GPU such as a Radeon 7970 or GTX 680.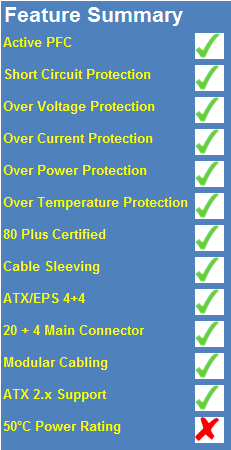 One of the things that is nice to see in an entry level power supply is that features aren't skimped on. Many will cut protections such as OTP out of the lineup in order to save on costs. SilverStone doesn't do that and the ST60F-PS has a full complement of protections. Something else that we don't normally see in a power supply like this is a full modular design. This gives you the option to utilize SilverStone's PP05 and PP06 cable kits to customize cables to your desire. The cables that come with the unit are fully sleeved. The ST60F-PS is rated for 80 PLUS Silver efficiency and although it isn't rated for 100% continuous output at 50C, the power supply is rated at a more modest 40C. This isn't because the power supply can't handle it, but SilverStone certifies all of their power supplies at 40C including their high wattage enthusiast power supplies.
SilverStone says the MSRP on the ST60F-PS is $107.99 in the US. Newegg has the unit for $101.98 after a $10 rebate and $5.99 shipping at the time of writing. This places it towards the cheaper end of the spectrum and just what we were hoping for out of this unit. Warranty for the ST60F-PS is three years. While not the best of warranties, it is somewhat the standard for entry level units.
Packaging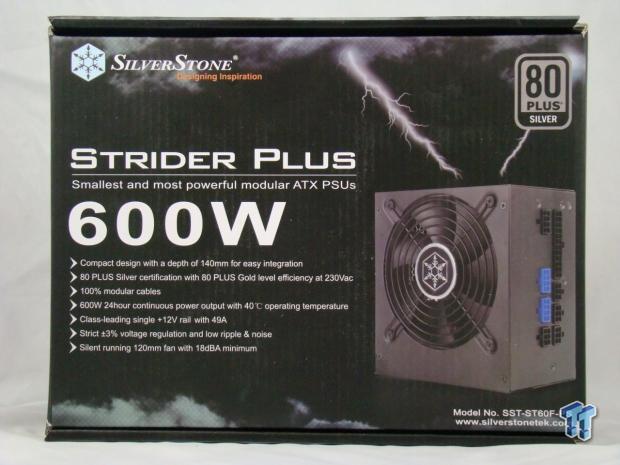 The front of the box gives us plenty of information to grab our interests. Knowing the unit has a 120mm fan with low noise is nice as they usually aren't that quiet. I suspect that being a lower wattage unit, it doesn't generate as much heat, and can survive just fine with the fan running at lower RPMs.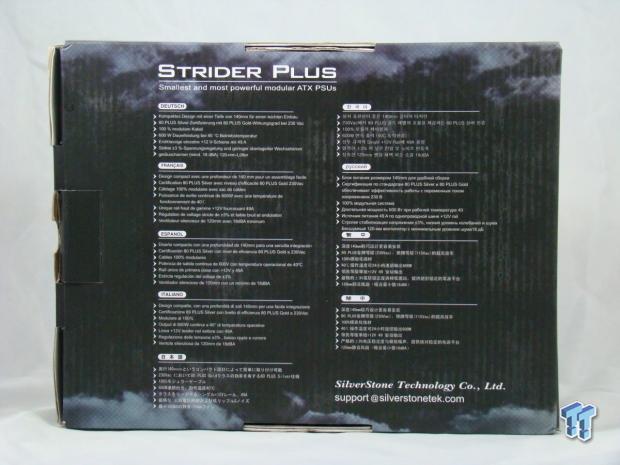 Moving to the back, we don't find any more information here than was on the front. In fact, it simply states the same thing in multiple languages.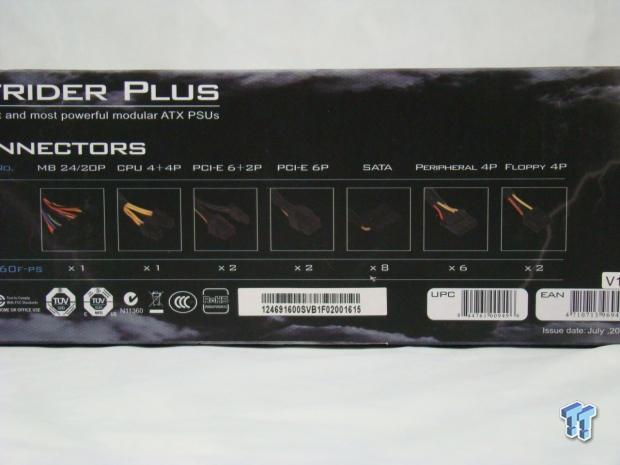 The top of the box presents us with a connector availability list for the power supply.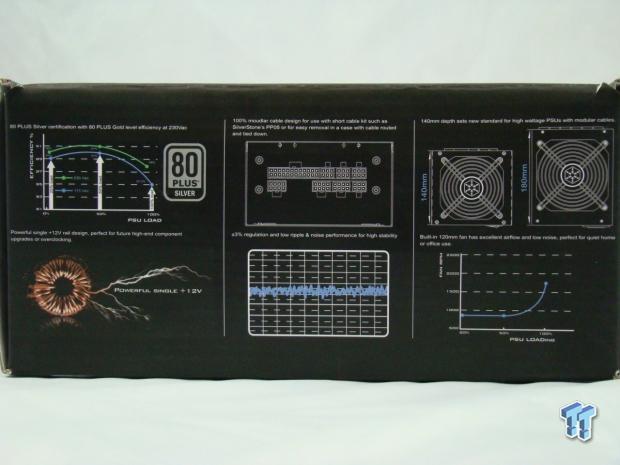 Flipping things over to the bottom, SilverStone gives us a little more such as efficiency, dimensions and mention of the single 12V rail.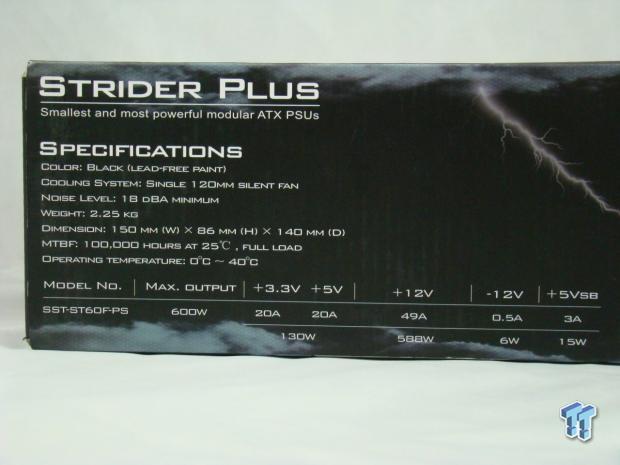 Turning to the sides, one of them is blank, but the other gives us the I/O specs and a little more.
Inside the Box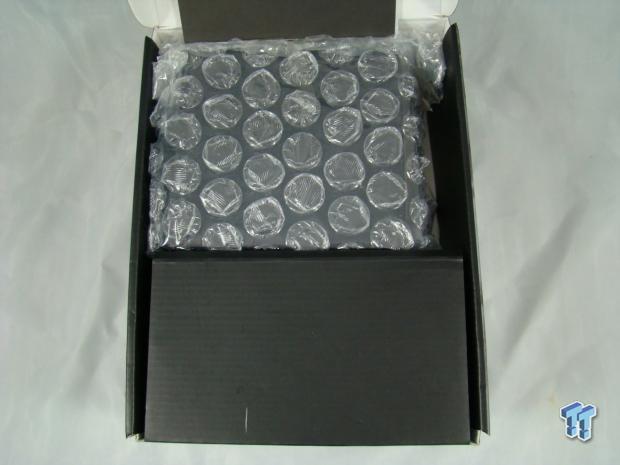 Opening the box we find a single layer of bubble wrap protecting the unit. It isn't as robust as what we are used to seeing from SilverStone, but packaging is often cut back on lower-end models.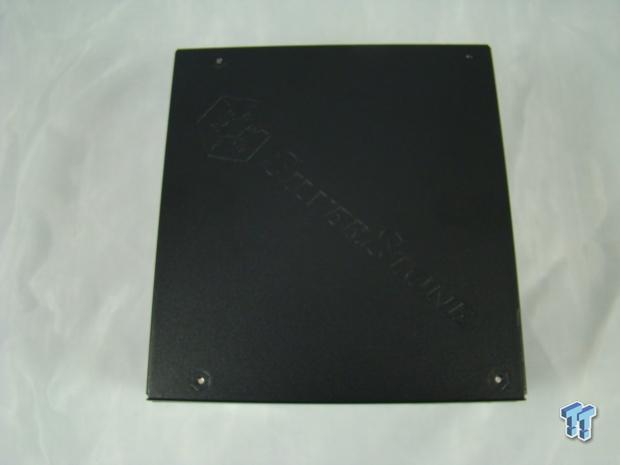 The ST60F-PS is finished in a semi-gloss back. On the tope we find nothing more than the SilverStone logo stamped in the top.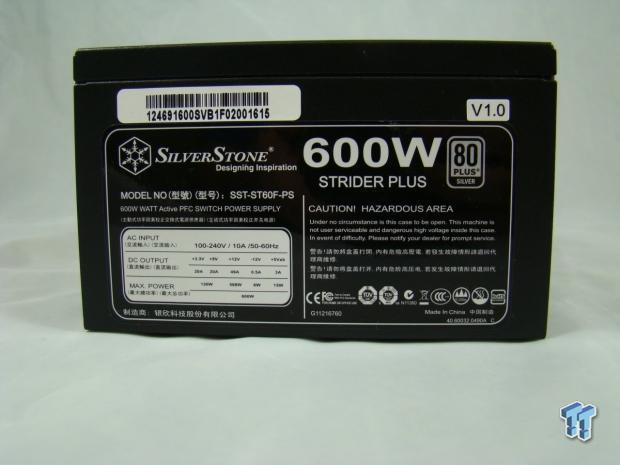 Since the top doesn't contain the I/O specification label, this side does. The other side is blank.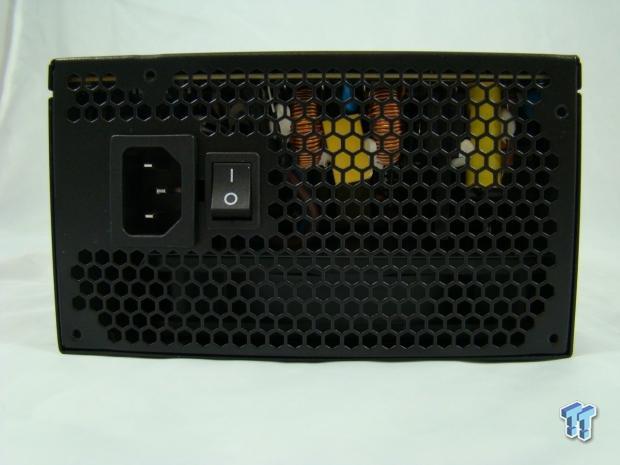 Moving to the back, we find the standard honeycomb mesh grill with AC input and on/off rocker switch.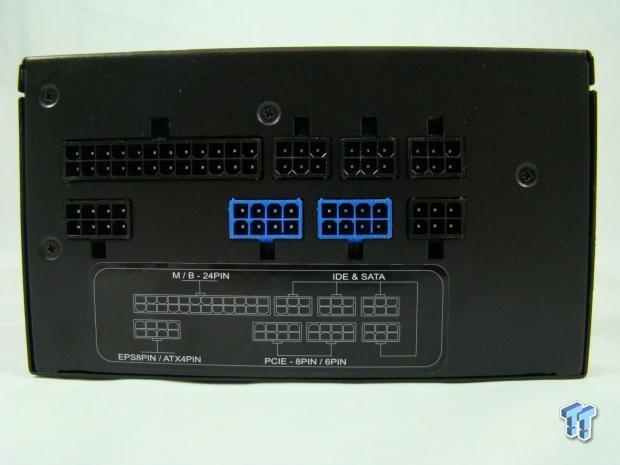 The reverse side contains all of the modular connectors. It doesn't seem like much, but is plenty for a 600W unit.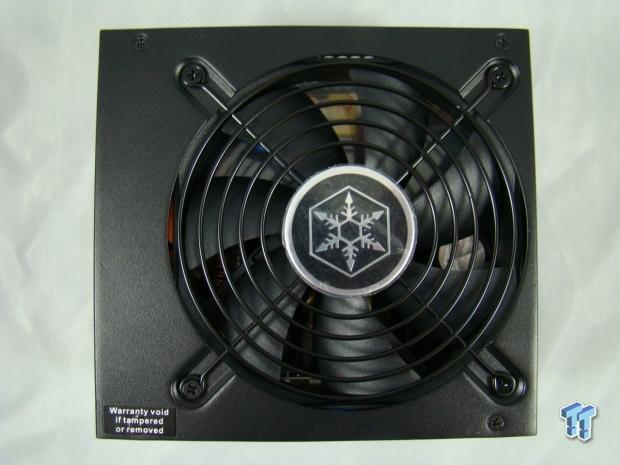 Turning things over reveals the 120mm fan that cools the power supply along with the black wire mesh grill that protects it.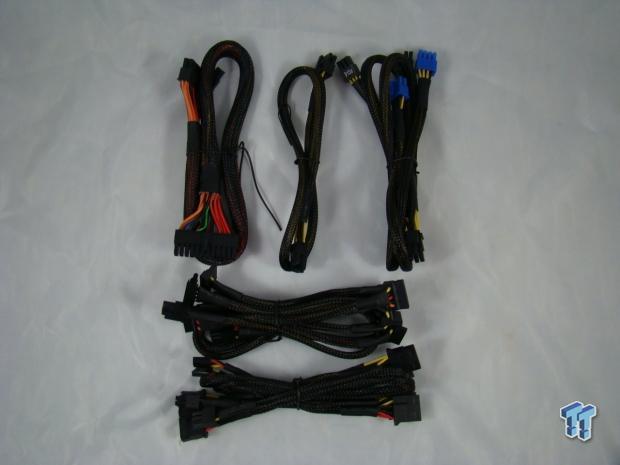 All of the modular cables are fully sleeved with nylon mesh.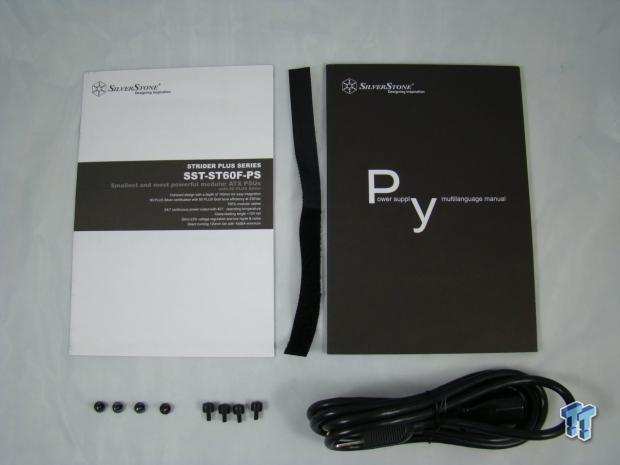 Also included with the unit are two manuals, a single Velcro strap, AC input for, mounting screws and thumb screws.
[img]18[/img]
Also included in the box are reusable Velcro cable ties, zip ties, the fan cables if you wish to power your fans directly off the PSU and two sets of mounting screws. Note that you will have to utilize the included screws due to the anti-vibration mounts on the back of the power supply. The included screws are longer to accommodate this.
Cabling Arrangement and A Look Inside
Cabling Arrangement

The list may be short and sweet, but that is exactly what you want out of a 600W power supply. There are more than enough cables and connectors to utilize the full 600W available, especially if you are running a pair of video cards.
As we said earlier, the power supply is fully compatible with the PP05, PP06 and PP07 cables. Should you want shorter cables, more cables, or just need to extend what you've got a bit, SilverStone has you covered. We're going to have a review of these coming up soon, so keep your eyes peeled.

Rail distribution is as simple as it gets with a single 12V rail. There is no need to worry about load balancing here.
A Look Inside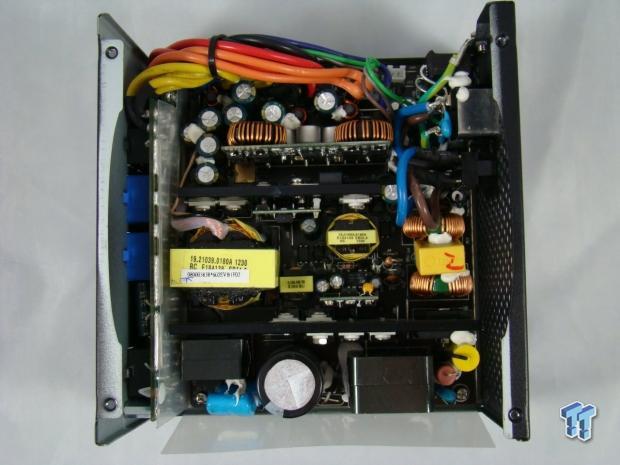 Just as you would expect from a lower wattage unit, things aren't too busy on the inside. Component count is kept down and heat sinks are minimal, as these units don't put off too much heat.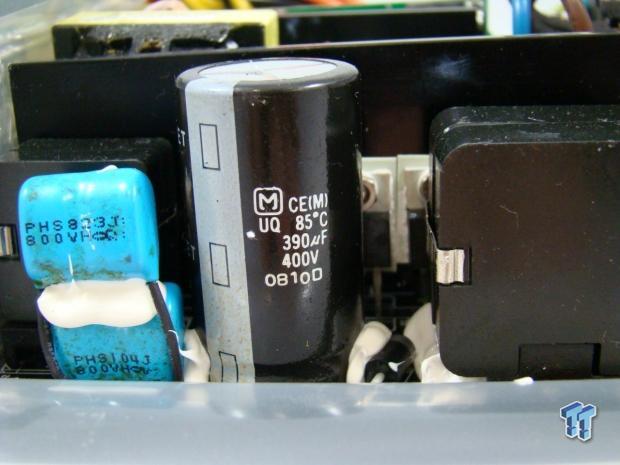 A single Panasonic capacitor sits on the primary side of the power supply.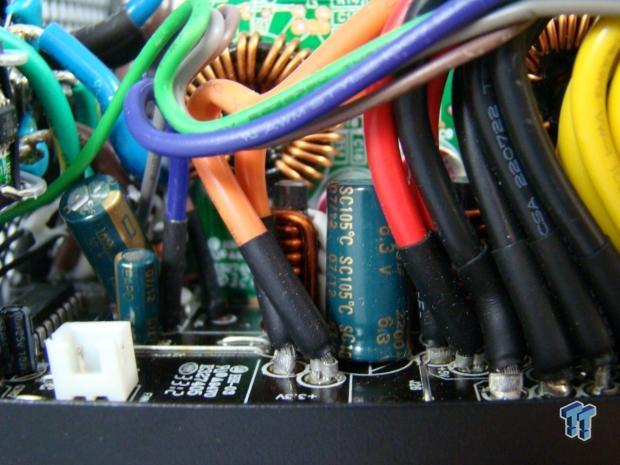 The secondary side is filled with Teapo capacitors, so I'm sure that we'll find the DC output quality a bit lower than we usually see from SilverStone.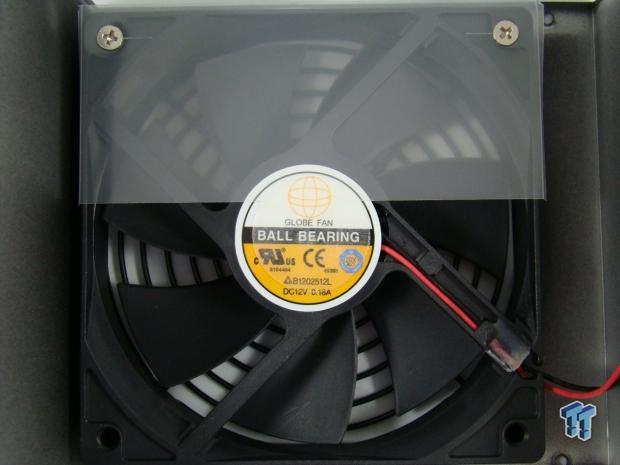 The 120mm Globe Fan model B1202512L provides the active cooling for the ST60F-PS.
Test Results and Final Thoughts
Test Results
Our load tests utilize a couple of FAST ATE active load testers and a variety of other equipment such as an oscilloscope, power conditioner, temperature probe and a power consumption meter. You can read more about our standard testing approach here.
The tests performed are based around six conceivable setups that are out there and progressively load down the PSU up to the power supply's limits or 1000W, whichever comes first. Since our test equipment's limits are higher than that of the SilverStone ST60F-PS 600W power supply, we can test it to the maximum.

The above tests represent typical loads that we have measured from various systems and are meant to give a rough idea of where your computer might fall in line with our tests. Please keep in mind that each system is different and actual loads can vary greatly even with similar hardware.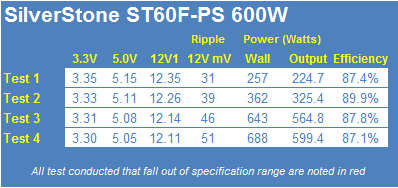 Let's start by taking a look at the voltages to see how well this unit did during testing. Starting with the 12V rail, we see 3% regulation from start to finish with a total drop of .24V. The 5V rail managed to stay within 3% of specification with a total drop of .10V from start to finish. Moving towards the 3.3V rail, we see that regulation was within 2% of specification with a total voltage drop of .05V.
DC Output quality for the SilverStone ST60F-PS 600W was decent and well within specifications. During Test 1, we saw 31mV of noise on our scope. When we increased the loads in Test 2, the ripple climbed to 39mV at around half load. During Test 3 under a load of 600W, the oscilloscope showed a maximum of 51mV on noise on the 12V rail.
The SilverStone ST60F-PS 600W is rated for 80 PLUS Silver efficiency. This means that the power supply must perform at 85%/88%/85% efficiency at 20%/50%/100% loads respectively. As you can see, the ST60F-PS 600W passed on our bench, and wasn't close to failing at any point. In fact, it was rather close to achieving Gold efficiency.
SilverStone also states that the ST60F-PS 600W is rated for Gold when used on a 230V grid instead of the 110V grid in the US. As the 230V grids always offer increased efficiency, I would expect this claim to hold quite true.
Final Thoughts
Judging by what we've seen here today, I think it is fair to say that the SilverStone ST60F-PS 600W is a great entry level power supply for those needing to power something more than an office machine with integrated graphics. It brings some features from the top end down to towards the bottom, but does it without jacking the cost too high. Add in the compatibility with SilverStone's lineup and cables and such for PSU's, and you've got a great base for you to start with that you can piece at as you go.
The performance is just what you'd expect, too. No, the voltage regulation isn't super tight, but it is well within the acceptable standards as set for by ATX12V v2.3. The SilverStone ST60F-PS 600W even did rather well in the DC output quality considering the Taiwanese capacitors used on the secondary side of the power supply.
No, the SilverStone ST60F-PS 600W doesn't represent the cheapest 600W unit on the market. It doesn't represent the most robust or best performing power supply with similar wattage either. What it does do is blend together the features of higher-end power supplies with the performance and output of lower-end power supplies at a price that sets it right in the middle.
This sweet spot combined with the features are what make the SilverStone ST60F-PS 600W an attractive buy and worth taking a look at if it fits your power requirements.