TweakTown's Rating: 93%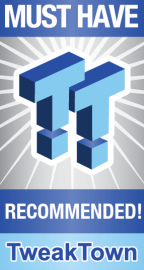 The Bottom Line
Enermax's Revolution D.F.X. 1050 ATX 3.0 PSU hits the sweet spot in both price and performance, then adds in a 10 year warranty for added value.
Pros
+

Nicely packaged and 10-year warranty

+

100% Japanese capacitors

+

Extra dual 8-pin PCIe to 12VHPWR cable

+

Uses own brand cooling fan

+

Includes PSU 24-pin jumper
Cons
-

RGB implementation is gimmicky
Should you buy it?
Avoid
Consider
Shortlist
Buy
Introduction, Specifications, and Pricing
Enermax recently contacted us about looking at their new PSU, the Revolution D.F.X 1050-watt ATX 3.0 PSU with RGB lighting, and we said yes. Enermax typically does well with PSUs, and I suspect this PSU will be no different. It has 100% Japanese capacitors rated up to 105C, an 80 Plus Gold efficiency rating, and a 10-year warranty.
Pricing puts the Revolution D.F.X 1050 at $169.99 MSRP, but is currently listed on Amazon for $149.99. For other models, the 850-watt model's MSRP is $$149.99, now $129.99, and the MSRP for the 1200-watt model is $169.99. Let's take a look at what Enermax has sent us.
Packaging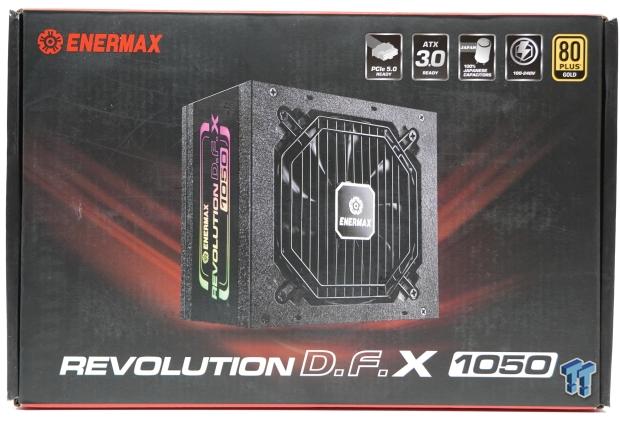 The packaging on the D.F.X 1050 is pretty colorful, with the PSU product image on the top of the box. In the top right corner are a few information tidbits: PCIe 5.0, a 12VHPWR cable, ATX 3.0 ready, 100% Japanese capacitors, 100-240V, and the 80 Plus Gold efficiency certification.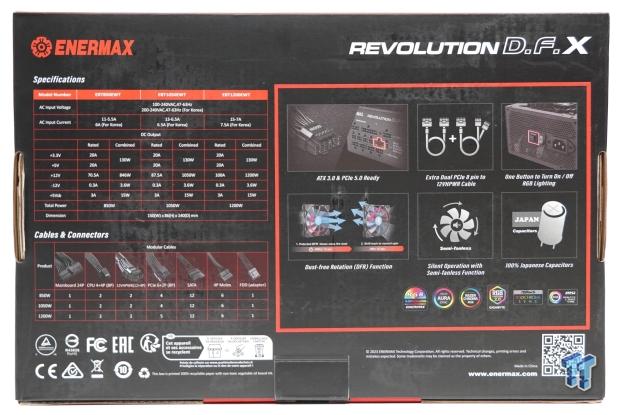 The backside of the packaging shows the D.F.X. 1050s specifications, along with cable and connector information. A few more features are illustrated, such as being ATX 3.0 and PCIe 5.0 ready, providing an extra dual PCIe 8-pin to 12VHPWR cable, one button to turn on/off RGB lighting, a dust-free rotation (DFR) function, silent operation with semi-fanless process, and again 100% Japanese capacitors. Also present is the motherboard support for RGB from various motherboard AIBs.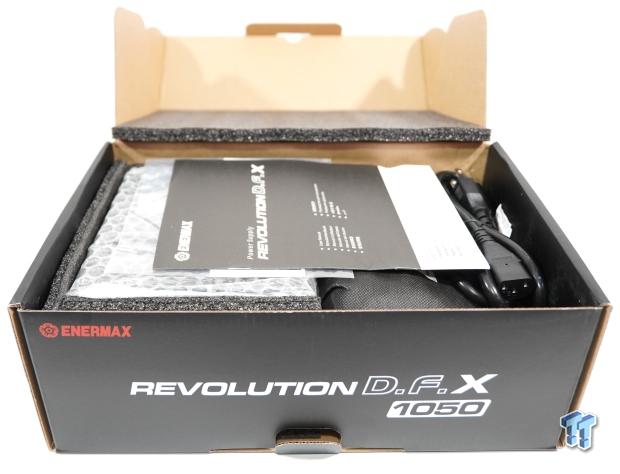 Opening up the D.F.X. 1050 shows fairly good packaging with the user manual on top.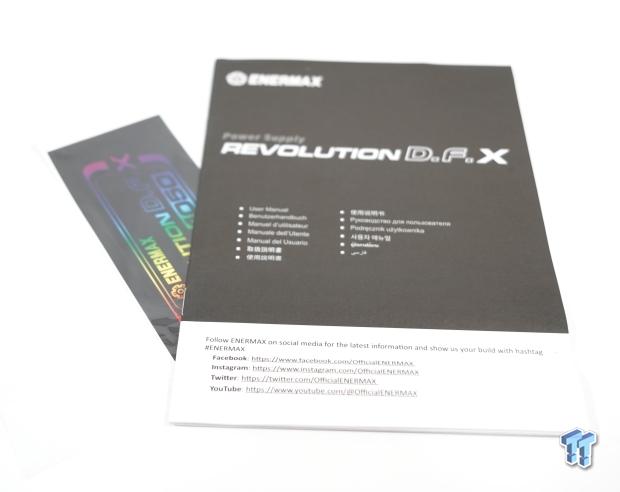 Removing the owner's manual and sticker is a nice extra, but where would you put the sticker?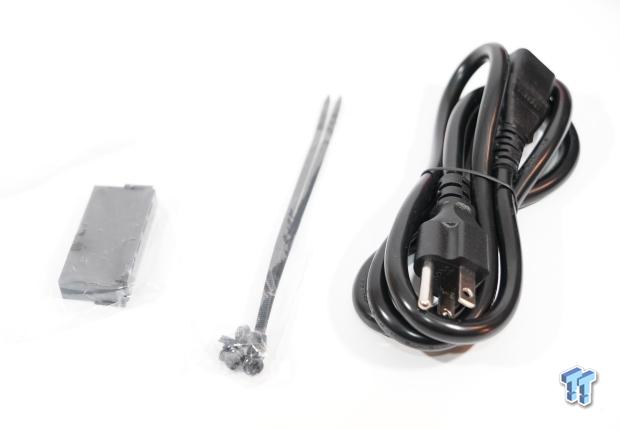 Enermax has included a PSU jumper tool, a few zip ties, and a power cable.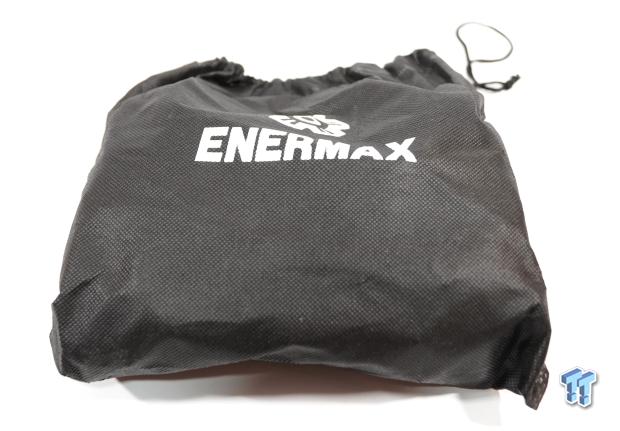 Enermax has shipped all the included cables in this branded black bag.

Cables included with the Revolution D.F.X 1050 is the 24-pin motherboard cable, a 600-watt 16-pin 12VHPWR cable, a dual 8-pin PCIe to 12VHPWR cable, two 8-pin EPS CPU cables, two cables with two 6+2-pin PCIe connectors each, six SATA connections, and lastly a floppy disc drive adapter.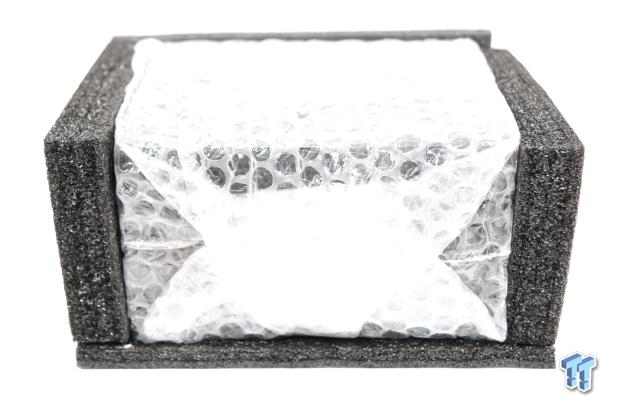 The Revolution D.F.X. 1050 is well packaged with black layered foam with bubble wrap around the entire PSU.
Outside the Enermax D.F.X. 1050w ATX 3.0 PSU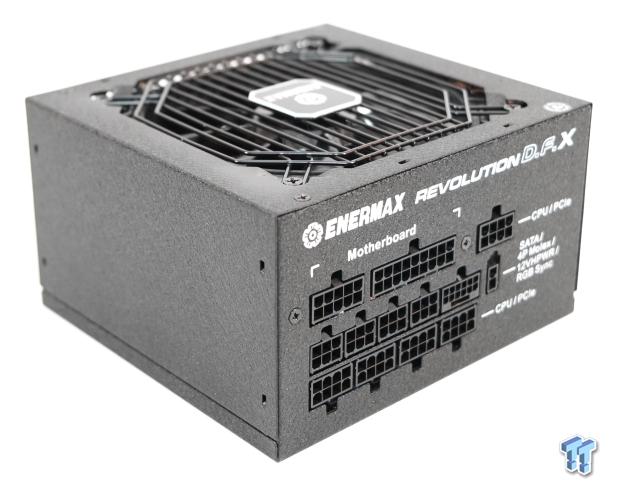 Once all the packaging is removed from the Revolution D.F.X. 1050, it shows the textured pattern paint all over the full surface. Input cable plugs here have a split 12+18-pin design for the 24-pin motherboard cable. Next, a single CPU/PCIe 8-pin cable input rounds out the top connections. The second row consists of four 6-pin SATA or MOLEX cable inputs, a full 600-watt 12VHPWR cable, and a 2-pin RGB sync cable. The last row has more combination CPU/PCIe 8-pin cable inputs, making for five.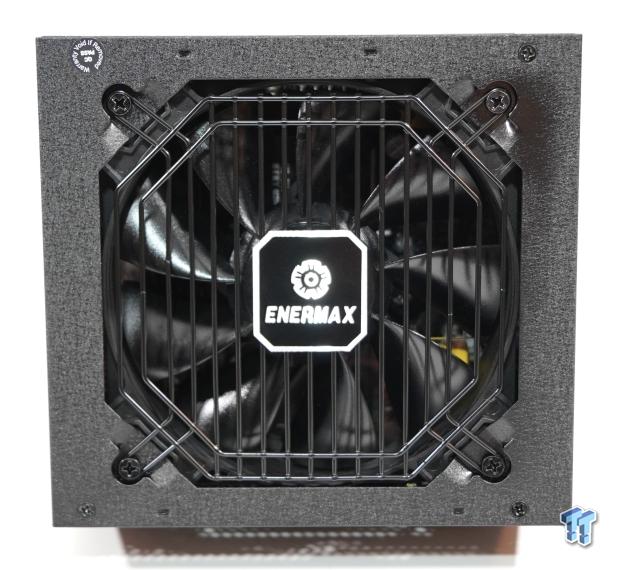 The top has an octagonal-shaped fan grille with the Enermax branding in the center. I love the swept blade pattern on the 120mm fan.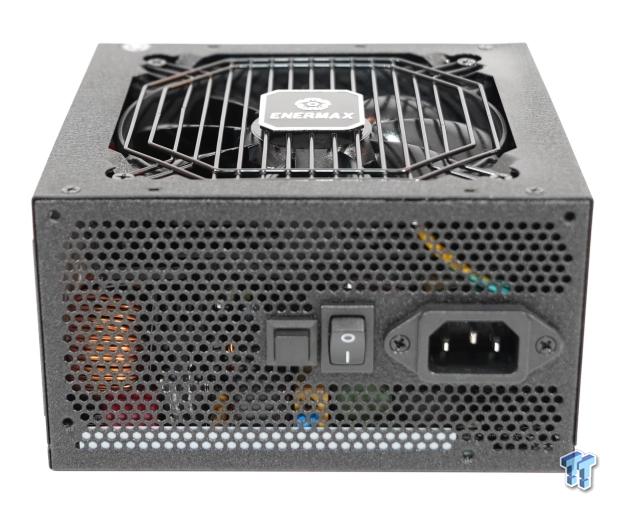 The rear side of the Revolution D.F.X. 1050 has a fairly common standard hexagonal ventilation pattern. The power rocker switch and an RGB button are also present to turn on or off the RGB lighting.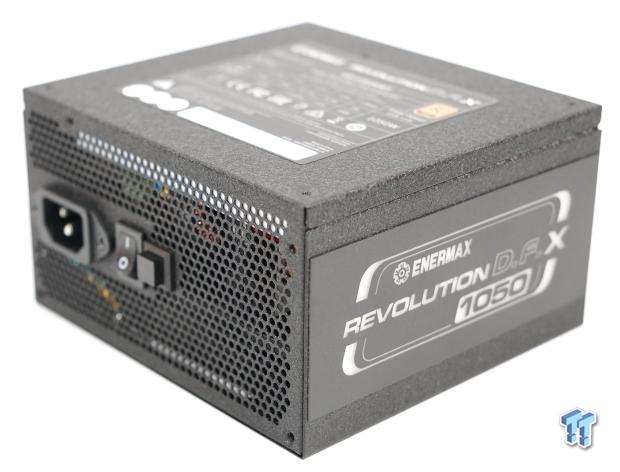 The right side of the Revolution D.F.X. 1050 shows the controllable RGB panel via the button on the back of the motherboard RGB header. The Revolution D.F.X. 1050 measures 140mm x 150mm x 86mm.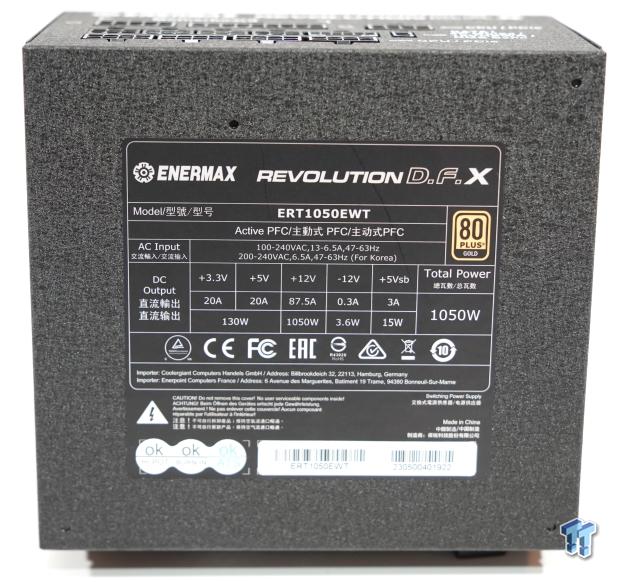 The sticker on the belly of the Revolution D.F.X. 1050, or model name ERT1050EWT, revealing 1050 watts, is available on the +12V rail with 87.5 amps.
Inside the Enermax D.F.X. 1050w ATX 3.0 PSU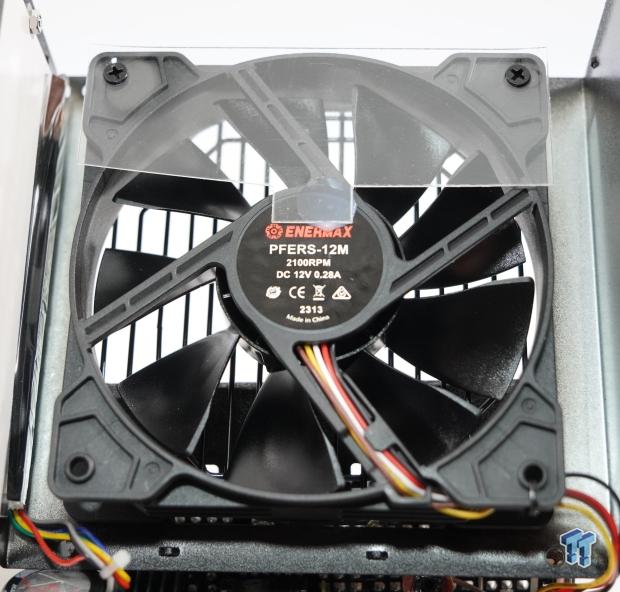 It's refreshing to see a manufacturer use their fans in their PSUs, and Enermax has been doing this for years. The PFERS-12M is a fluid dynamic bearing 120mm fan that runs at 2100 RPM on 12 volts with .28 amps. When started up, this fan uses a patented dust-free rotation function, which blows out the dust and then shifts back to normal fan spin.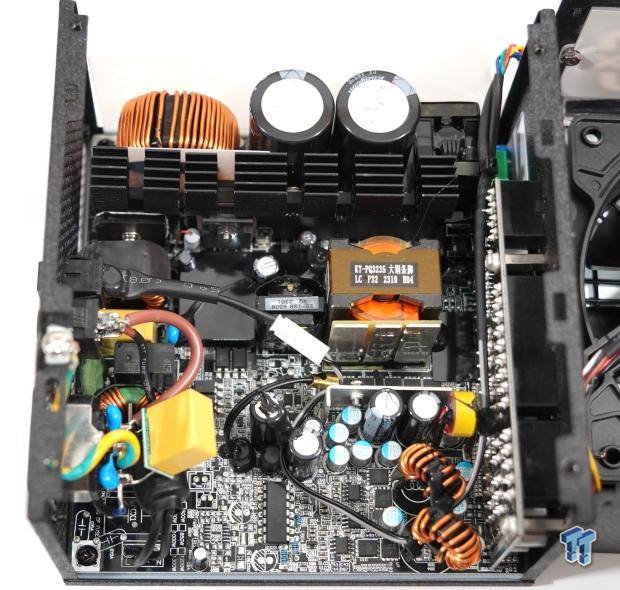 An overhead shot of the Revolution D.F.X. 1050 shows a fairly compact design. Two good-sized capacitors run along the top, the main transformer in the center, and two VRM sections in the lower right.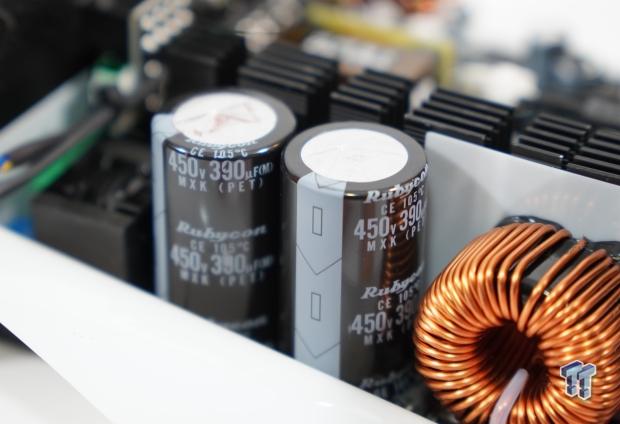 The above capacitors from Rubycon are rated 450v with 390µF each at 105C.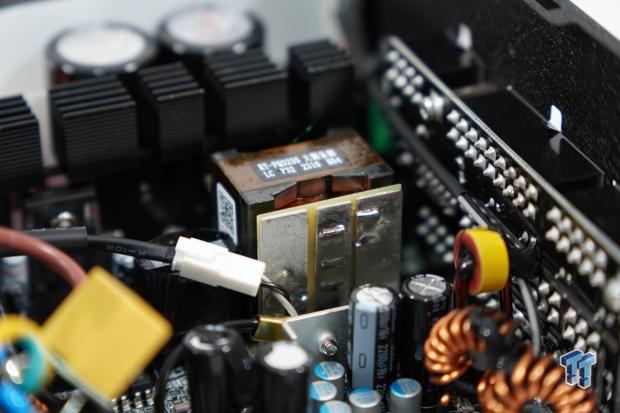 Another image of the main transformer.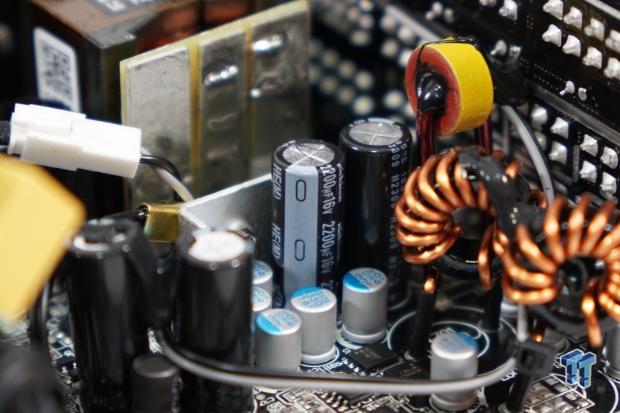 And lastly, there were two smaller, thinner capacitors rated at 2200µF at 16V each.
Test System
Final Thoughts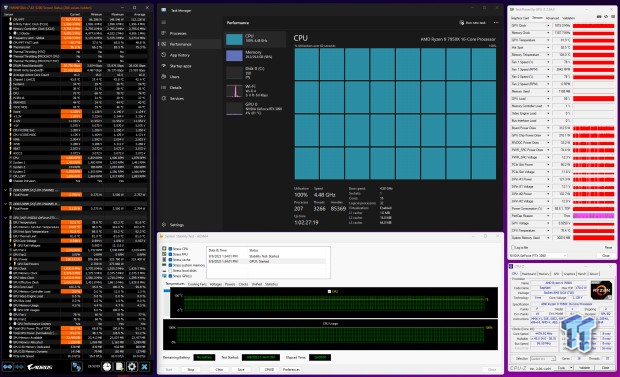 So running the testing hardware, with an AMD Ryzen 9 7950X in place for the CPU, vcore limited to 1.128v, as well as having the iGPU disabled, resulted in a 112-watt power draw under a full synthetic load via the Aida 64 Engineer System Stability Test. The test GPU, an NVIDIA RTX 3090 FE, is also voltage-limited to 90%, resulting in a 320-watt load. Adding the rest of the system, around 42 watts, creates a total wattage of 474 at full load. Measuring the Killawatt P3, approximately 524 watts were drawn from the wall. Simple math makes the Revolution D.F.X. 1050 90% efficient with a 50% PSU load, certifying the 80 Plus Gold rating.
All testing was completed using Aida64 Engineer's System Stability Test version 6.92.6600 for 26 hours. Other monitoring software used was HWiNFO64 v7.63-5205, TechPowerUp GPU-Z 2.55.0, and CPU-Z 2.07.0.x64.
In closing, is the Enermax Revolution D.F.X. 1050 the ATX 3.0 PSU you have been looking for? You certainly can't go wrong choosing it for your system, especially when that sweet spot for PSUs is around 1,000 watts. I would knock the Revolution D.F.X. 1050 for the RGB implementation, which seems a little gimmicky for a PSU. Enermax does state on the product webpage "Power Excursion," which is just a fancy way of saying power spike, but for the most part, it says up to 200% Power Excursion is possible for a power on time of 200ms.
For pricing, the Revolution D.F.X. 1050 is at $149.99 on Amazon, which is good, considering the other brands in this price bracket and having the included accessories like the PSU jumper, which again doesn't cost very much but is very much appreciated to be included anyway. In terms of warranty support, none of the other brands offer a 10-year warranty, but Enermax sure does, albeit you would never know it since the only place I could find it is on the support section of their website. The Enermax Revolution D.F.X. 1050 is a solid ATX 3.0 PSU that hits all the bases, especially if you are looking for a PSU with RGB.