TweakTown's Rating: 78%
The Bottom Line
MSI's MAG A850GL ATX 3.0 PSU offers good performance and stability, but uses lower quality parts for around the same cost as other comparable ATX 3.0 PSUs.
Pros
+

80 PLUS Gold certification

+

Yellow tipped 600w 12VHPWR connector

+

Packaged well
Cons
-

Misleading 'Power Excursion' marketing

-

CapXon capacitor is not high-quality
Should you buy it?
Avoid
Consider
Shortlist
Buy
Introduction, Specifications, and Pricing
MSI primarily has product lines in almost every part of the PC computing industry. Most computer gamers and enthusiasts have owned at least one MSI product. PSUs like the MAG A850GL ATX 3.0 PSU we have here for review today are some of the newer ventures that MSI has taken compared to those of more well-established PSU manufacturers. The MAG line of ATX 3.0 PSUs, which is MSI's entry PSU line, spans from 650 to 850 watts, with MSRP pricing starting at $99.99 and increasing in $10 increments for higher wattage models. So, let's get to it and see what the MAG A850GL ATX 3.0 PSU has up its sleeve.
Packaging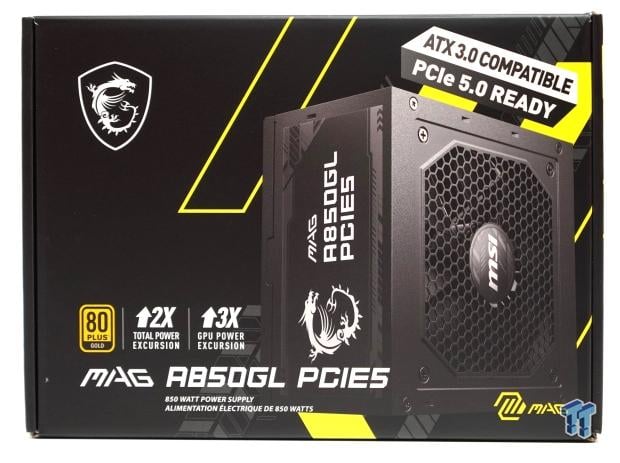 The package that the MSI MAG A850GL comes in reminds me of the old MSI MPower motherboards with all the yellow accents. It's funny how things come back around. The box also has all sorts of information: 80 Plus Gold certification, "2X Total Power Excursion," and "3X GPU Power Excursion," or, in layman's terms, a power spike. They are taking a 600-watt 12VHPWR connector and supplying a GPU with "3X GPU Power Excursion" with up to 1800 watts of power.
But what seems to be contradicting is the "2X Total Power Excursion" claim, when the "3X GPU Power Excursion" claim is also in play. Being an 850w PSU, that means up to 200% of the PSU rated power, means 1700 watts are available for "Total Power Excursion" for up to 100 microseconds; however, when the "3X GPU Power Excursion" claim is added in, the numbers don't add up.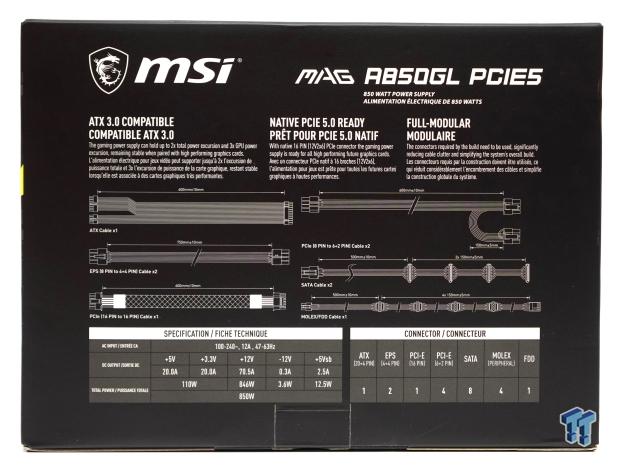 The backside of the packaging shows more information about the MAG A850GL ATX 3.0 PSU, namely the cabling, specifications, and its full modularity.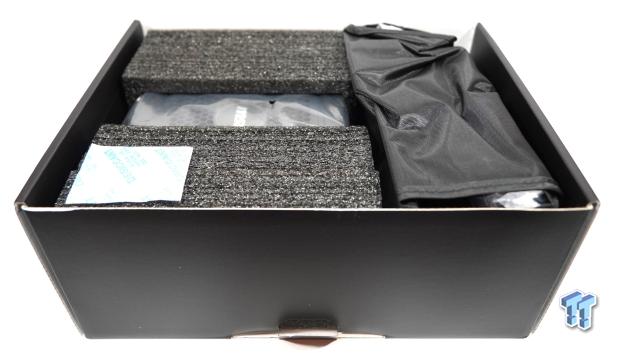 Opening up the box, we are greeted with a PSU that has been very well packaged.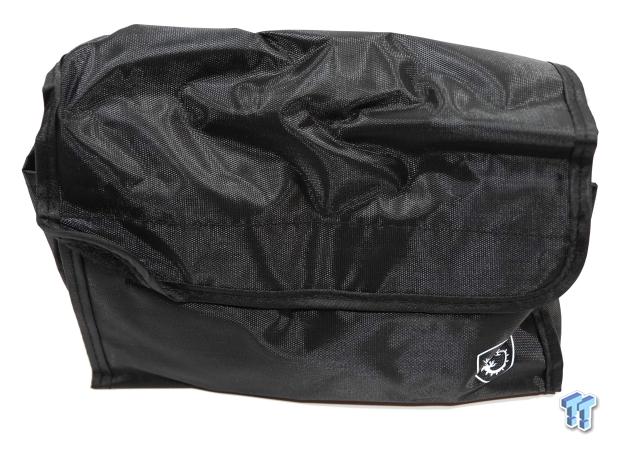 The black bag, with the MSI Dragon logo in the lower right corner, holds all the cables.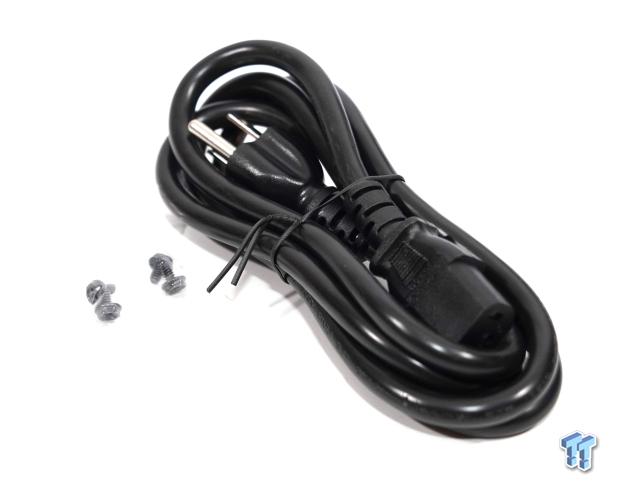 Starting with what is included is the power input cable and four included hex head screws.

The cabling is all laid out, flat black ribbon cable style, with no cable being individually sleeved. Starting with an ATX 20+4 pin cable, two EPS 4+4 cables, a single 12VHPWR PCIe 5.0 cable, two PCIe 6+2 pin cables, two SATA cables that support up to four devices each, a single MOLEX cable supporting up to four devices, and lastly a floppy disk drive cable adapter.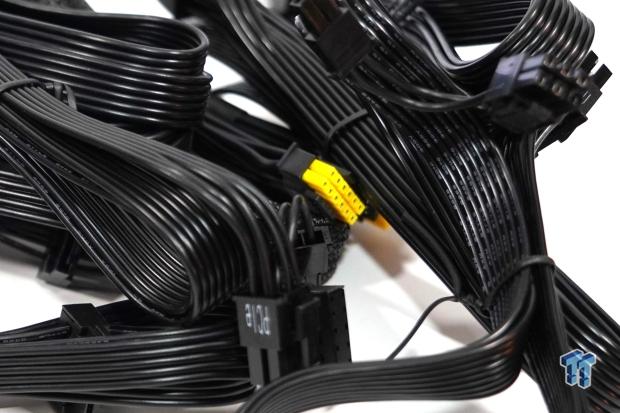 Here is the 12VHPWR cable, whose connectors are equipped with yellow tips on both sides. This design helps ensure that when this cable is used, the end-user can visually see if the connector is seated fully in both the GPU and the PSU. We don't want any GPUs to burn up, do we?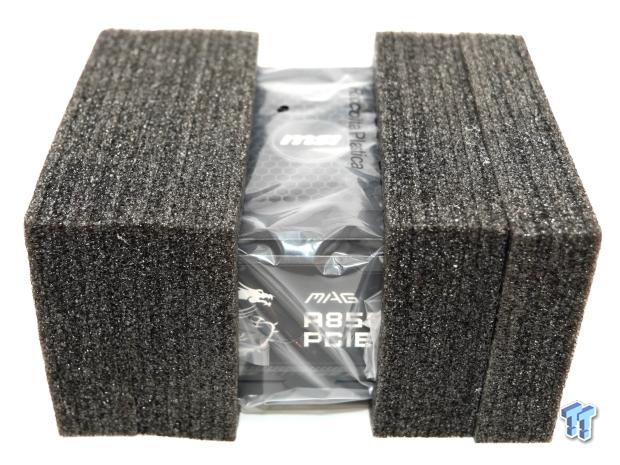 Finally, the MAG A850GL PSU packaging has a good amount of protection during transit with several layers of black foam, as well as being in a clear plastic bag for added security.
Outside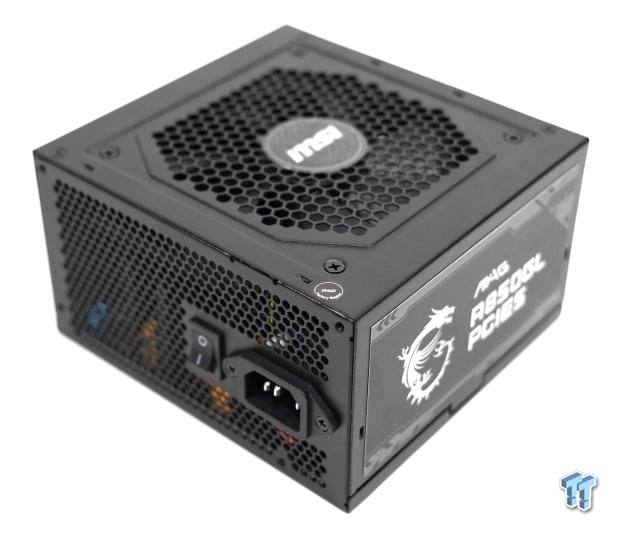 With all the packaging removed from the MAG A850GL ATX 3.0 PSU is the traditional black PSU box design.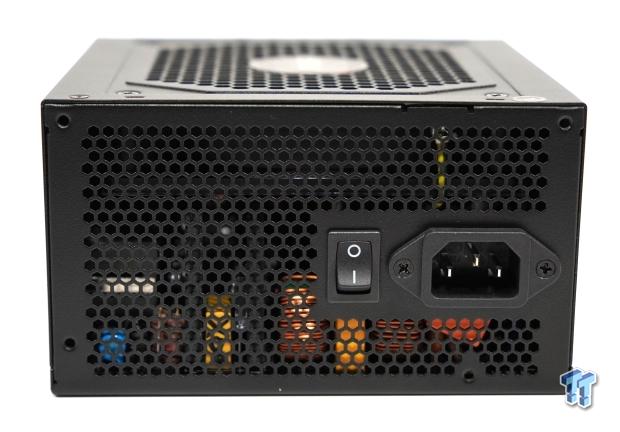 Here is the rear power input section of the MAG A850GL, complete with a power rocker switch and a hexagonal honeycomb ventilation design.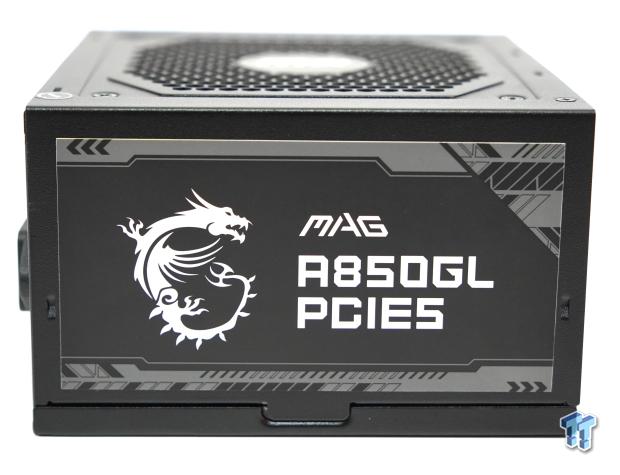 This side of the MAG A850GL has the sticker, the MSI's dragon logo, and the model name.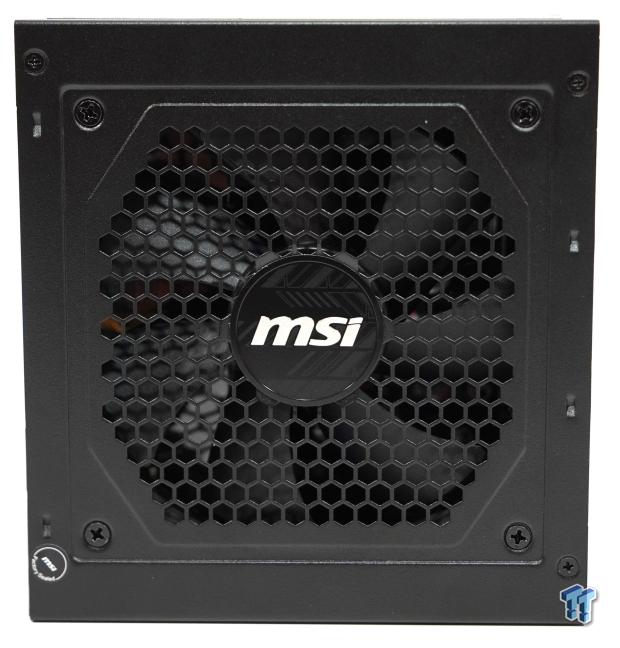 Here, we have more hexagonal honeycomb mesh ventilation for the fan intake. The MSI name logo is also in the center of the fan hub.
Inside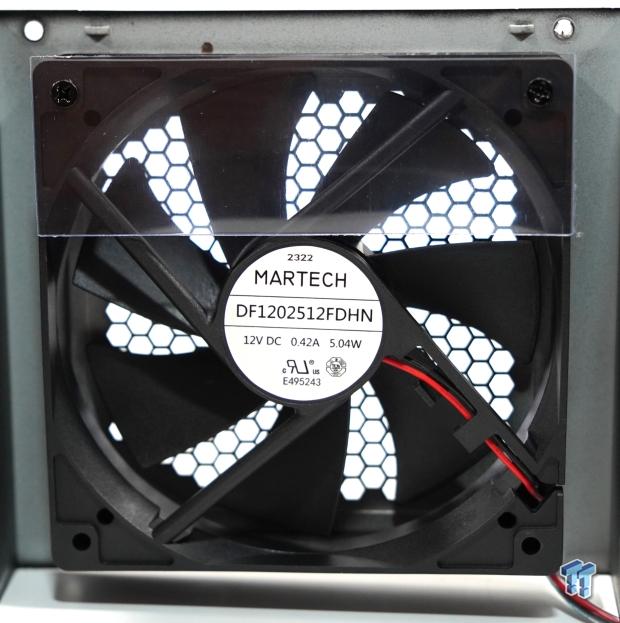 The included fan on the MAG A850GL ATX 3.0 PSU is a fluid dynamic bearing fan from Martech. It is rated for 12V running on .42A using 5.04 watts.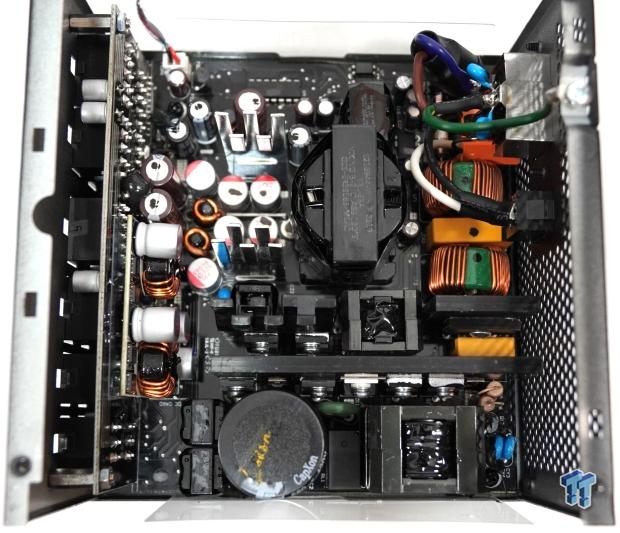 Here is an overhead shot of the MSI MAG A850GL. The main transformer, located in the center, seems fairly basic.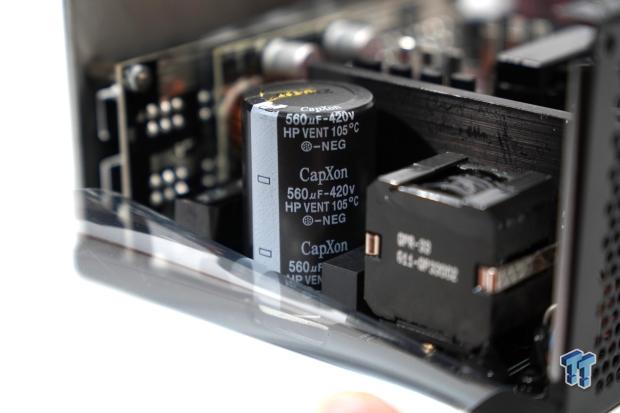 The single capacitor from CapXon, rated at 560µF at 420v, also for temperature being rated for up to 105C. CapXon does not have the best reputation regarding PSUs, so your mileage may vary.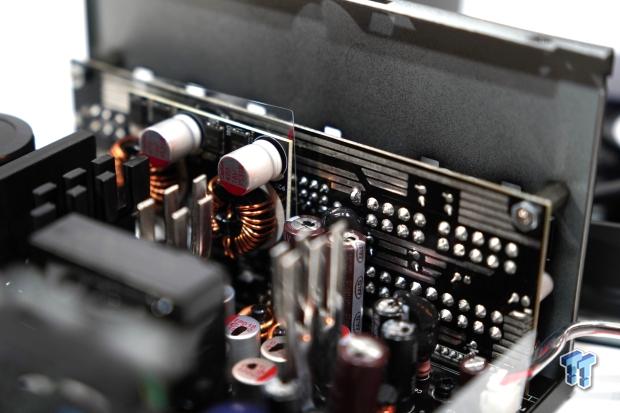 This image shows the VRM and power output sections.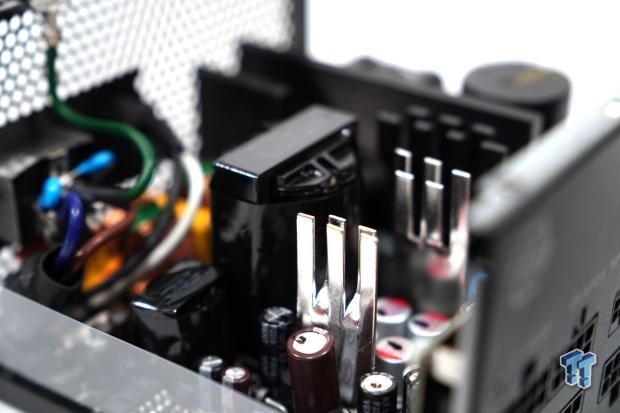 The MSI MAG A850GL has a few chromed heatsinks.
Test System
Final Thoughts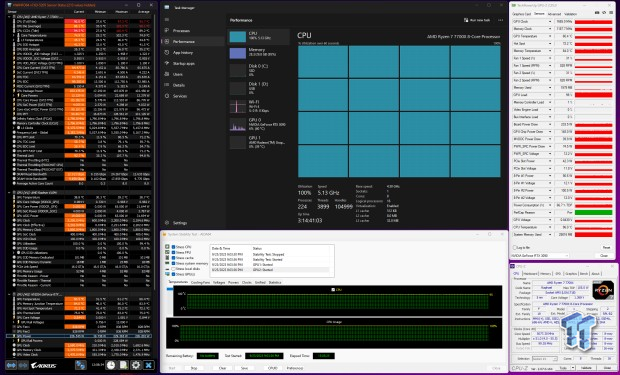 Loading up the test system, the MSI MAG A850GL can easily handle the test hardware. The AMD Ryzen 7 7700X is now the dedicated test CPU, an 8-core 16-threaded CPU with a TDP of 105 watts, which was run at 1.368vcore, which ran fully stable at its default clocks. Wattage for the Ryzen 7 7700X drawing an average of 103 watts. The Ryzen 7 7700X also has an onboard iGPU, the AMD Radeon 610M, fitted with 2 graphic cores that pulled an additional 58 watts. The dedicated GPU, the NVIDIA RTX 3090 FE, which was power limited to 65% at full load, drew on average 226 watts.
Wall wattage measurement was taken via a Killawatt P3, pulling a perfect 50% power draw of 425 watts from the wall. Adding up the Ryzen 7 7700X at 103 watts, the AMD Radeon 610M at 58 watts, and the NVIDIA RTX 3090 FE at 226 watts came to a total of 387 watts of the 425 watts that was drawn from the wall, makes the A850L 90% efficient, solidifying the 80 Plus Gold rating.
All testing was completed using Aida64 Engineer's System Stability Test version 6.92.6600 for over 13 hours. Other monitoring software used was HWiNFO64 v7.63-5205, TechPowerUp GPU-Z 2.55.0, and CPU-Z 2.07.0.x64.
So, in conclusion, the MSI MAG A850GL ATX 3.0 PSU has relatively good performance and stability. Still, I wouldn't recommend it over one with a higher-quality capacitor(s) from Nippon Chemi-Con or Rubycon. CapXon doesn't have the reputation to back up a high-end ATX 3.0 PSU on a high-end PC system. Another issue with the MAG lineup of ATX 3.0 PSUs is the confusion around the "3X Power Excursion" claim on the package. Much like car audio amplifiers, PSUs have some misleading marketing terms that consumers must watch out for. In car audio, it's "MAX Wattage" vs. "RMS wattage," meaning what the amplifier PEAKS at vs. what the amplifier is rated for. This marketing tactic is quite similar to PSUs in the PC component industry.
Lastly, what MSI did with the MAG A850GL and the other ATX 3.0 PSUs from the MAG lineup is implementing the yellow-tipped 12VHPWR connector; this helps ensure that the connection is pushed in. It is priced at $140 MSRP, which is very price competitive; however, the MAG A850GL can be had for under $110 after rebate in most instances.