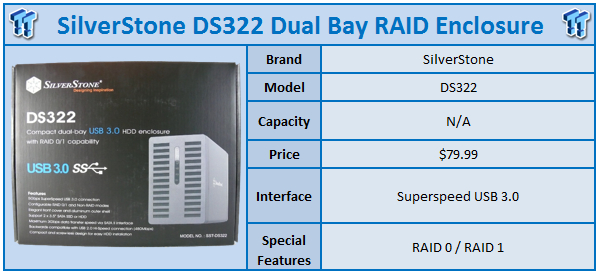 In my short time on this place we call Earth, I can't count the number of times I've told people to back up their data. Most recently, working on a family member's PC, I found myself trying to recover data from a spinner that was suffering from the dreadful "click of death" syndrome. After many trips back and forth from the freezer to my PC, I was able to recover the data, but none of this would have been necessary if they had taken the time to back up their important data. To combat the loss of data, the rather simple solution is to pick up an external storage solution such as a NAS or DAS. Most often these devices include RAID capabilities and can be found at reasonable prices, making these devices perfect for the typical user.
The DS322 is a user-friendly dual-bay RAID enclosure that can support RAID volumes in excess of 2.2TB. These RAID modes include 0, 1 and No-RAID. Being built primarily out of aluminium, the DS322 has been fitted with a 40mm cooling fan to exhaust excess heat during operation. Compatibility of the DS322 extends to Windows XP, Vista, 7, 8 and Mac OS X.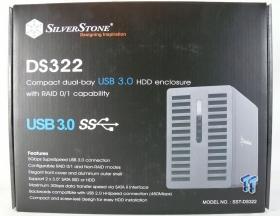 The DS322 arrived in a black box with an image of the enclosure to the right. The model number and USB compatibility are listed in bold font, while a list of features can be found along the bottom.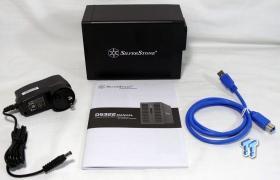 Removing everything from the box, we found SilverStone included a power adapter along with the USB 3.0 cable, user manual in several languages and of course the enclosure itself.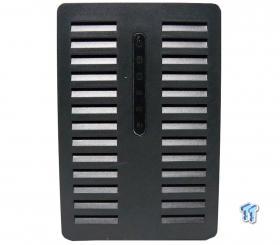 Looking at the front of the DS322, we find several LED indicators running down the center of the enclosure. These indicators include power, disk activity and RAID mode.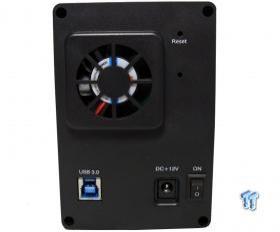 The back of the enclosure is rather simple. Up top we find the 40mm cooling fan and reset button. At the bottom we have the Superspeed USB 3.0 connection and power adapter and switch.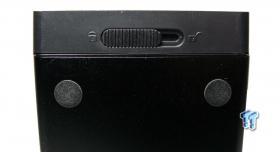 Under the front bezel there is a locking mechanism that secures the enclosure while in use.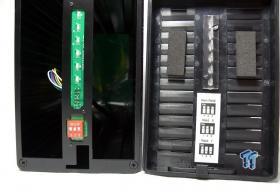 Unlocking the enclosure and removing the front panel we find a set of DIP switches that are used to configure RAID modes. You will find a sticker on the inside of the front panel that dictates switch positions for each RAID mode.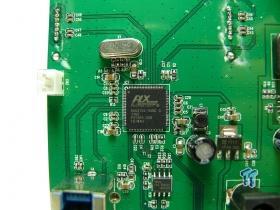 Pulling the enclosure apart we found the controller in use is the PLX OXU3102, a dual port SATA II to USB 3.0 Bridge. It is also worth noting that this controller supports 4K Advanced Format HDD's.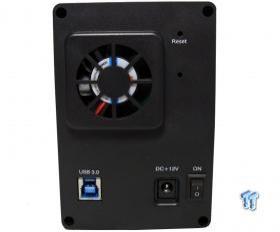 Benchmarking external enclosure consists of two pieces of software that you will find readily available on the internet. The first of which is ATTO Disk Benchmark, the industry standard when it comes to marketing performance.
The second is DiskBench, a real-world file benchmark that uses the drives file system to read and write data. In this test we copy a 10GB directory consisting of audio, video, documents and pictures to the enclosure. Each enclosure is connected via USB 3.0 to our native ports on the Z77 chipset. The drives used in testing are a pair of Western Digital Red 1TB hard drives, and for testing the enclosures maximum speed, a pair of Corsair Neutron 256GB SSD's.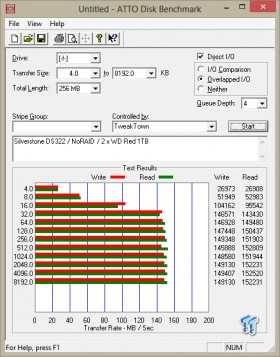 Employing a No-RAID setup, the SilverStone DS322 was able to maximize the performance of our Western Digital Red drives reaching 152MB/s read and 149MB/s write. As you will notice, our ATTO testing started at 4K thanks to the support from the enclosure of AF disk drives.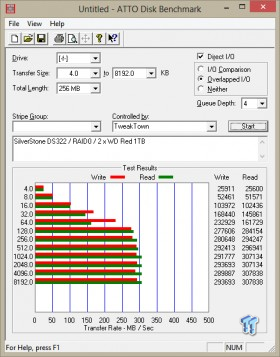 RAID 0 was ever more impressive with the DS322 pushing numbers out in excess of 300MB/s.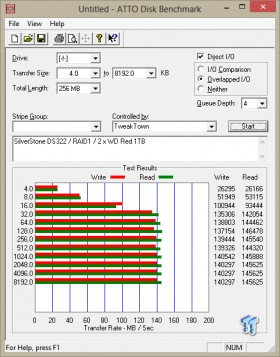 Setting up our drives in RAID 1, the results were within reach of the single drive results. The DS322 was able to throw out 145MB/s read and 140MB/s write.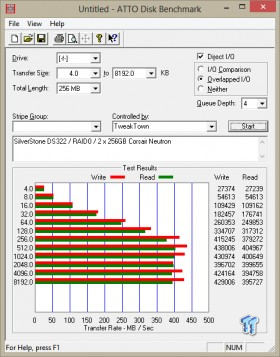 To see what this enclosure was truly capable of we tossed our Corsair Neutron SSD's in and had a go with RAID 0. Looking at our results you can why I'm simply amazed with the work SilverStone has put into this enclosure. We touched 404MB/s read and 438MB/s write!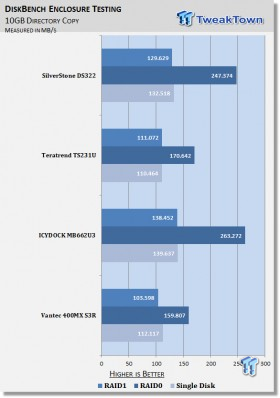 In our real-world testing we found the DS322 to be rather impressive. Transferring our 10GB directory we were able to reach speeds of 247MB/s in RAID 0, with RAID1 and No-RAID coming in around 130MB/s. This puts the DS322 at the top of our charts right next to the ICYRAID enclosure, which we recently reviewed.
SilverStone is one of those companies that we put on a pedestal, their products are always bathed in quality and the DS322 is no different. From the sleek black aluminium exterior, to the performance built inside, this unit represents everything that is the SilverStone touch. The front mounted LED indicators are a nice feature and even further, they aren't so bright to where they have that blinding effect. Swapping drives in and out of the enclosure is rather simple with the tool-less design, and with the DIP RAID selection switch mounted up front, you don't have to fiddle around getting behind the enclosure to switch RAID modes.
As I said previously, the DS322 is one of the highest performing enclosures I have seen, and as such, I have come away from this review quite impressed with what SilverStone has put together. In our testing we saw the DS322 reach speeds upwards of 450MB/s with our Neutron SSD's and even 300MB/s with our WD Red HDD's.
One thing that is definitely worth mentioning is upon receiving this unit I had a number of issues trying to get it to format drives through USB 3.0. After contacting SilverStone, they directed me promptly to a firmware update located on their product page. This firmware update was rather simple to run through with the included documentation and I had my enclosure up and running perfectly within minutes. So, if you find yourself in this predicament, update the firmware.
Pricing of the DS322 at the time of this writing is set at $79.99. This places the DS322 in perfect position against competitor's products that offer similar performance at a higher price. Simply put, if you're in the market for an external solution and want RAID capability, the DS322 is one to look at!