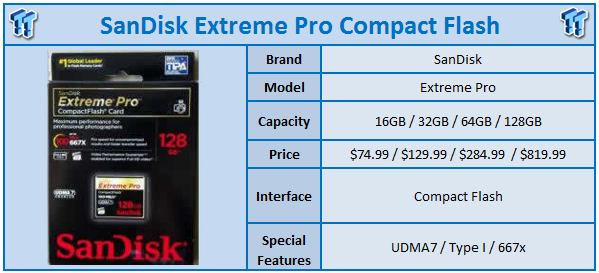 The 1990's were a time of innovation. CERN laid out the plans for the World Wide Web, Intel launched its Pentium processor, Digital SLR cameras made their first appearance and a company still in its infancy laid out the specifications for the Compact Flash memory card, a company we now know as SanDisk.
Compact Flash memory cards are categorized as Type I and Type II. Type I carries a 3.3mm thickness where Type II carries 5mm. The speed ratings for Compact Flash, usually seen as a "X" rating, utilize the same system used for CD-ROMs and indicates the maximum transfer rate in the form of a multiplier based on the original audio CD data transfer rate, which is 150KB/s.
The SanDisk Extreme Pro that we are looking at today carries a 667x speed rating with marketing specifications giving us 100MB/s read and write. The drive is also UDMA7 enabled and conforms to the CFA 6.0 specification, which enables TRIM and transfer speeds up to 167MB/s.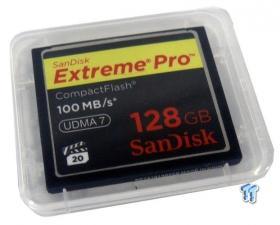 The Extreme Pro comes packaged in a plastic housing to protect the drive.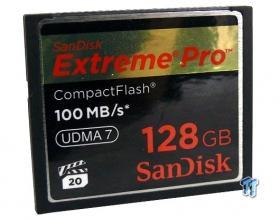 Looking over the memory card, SanDisk has pronounced the capacity proudly to the right where we see 128GB listed in large font. Identifying marks on the card show its UDMA7 capability and the cut scene logo implies the Extreme Pro is capable of 20MB/s sustained write.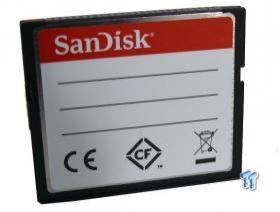 The back of the card carries a label so that you can keep track of what you have recorded on the card, for storage or safe keeping.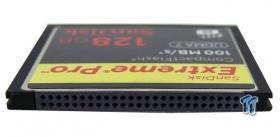 The interface used on the SanDisk Extreme Pro is a Compact Flash Type I 50 Pin.
Pulling the card apart we can see SanDisk chose a 32GB x 4 configuration. The controller used in this card is what SanDisk calls a "Power Core Controller".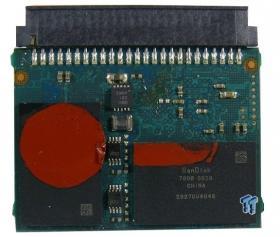 The back of the PCB houses two more NAND packages labelled 7008-032G all of which are manufactured in house. SanDisk has also placed RTV silicon on the NAND in an effort to seal the unit for added durability.
To test Compact Flash cards we utilize the same benchmarks we use for Flash Drives. These include CrystalDiskMark, ATTO and DiskBench. The card reader utilized in these test is the Vantec UGT-CR935.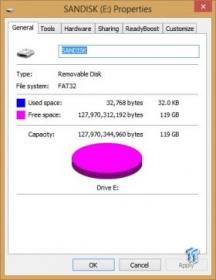 Our first look over the card shows its storage capacity of 199GB formatted in the FAT32 file system.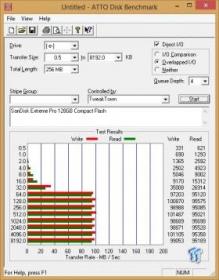 Running our Extreme Pro through ATTO we were able to achieve 95MB/s read and 101MB/s write.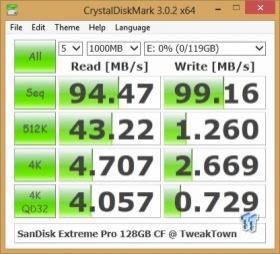 CDM showed similar results. We were able to achieve 94MB/s read and 99MB/s write.
The video used in this test was shot with a Panasonic x900 Camcorder at 1080p 60FPS. Transferring this video to our Extreme Pro card took 17 seconds at a rate of 81MB/s.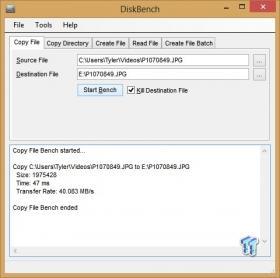 Transferring our JPG photo took all of 47ms at a rate of 40MB/s.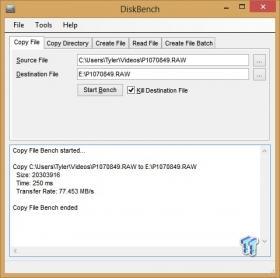 The last test, transferring our RAW image shot with our Panasonic Lumix, took just 250ms to transfer at a rate of 77MB/s.
The SanDisk Extreme Pro is aesthetically pleasing, with the black and red design SanDisk has used many times before in their SSD and SD card line-ups. This time though, with the card being an "Extreme Pro", they opted for a bit of gold colouring to catch your eye.
Performance was on par with marketing specifications and its speed rating of 667x. In both ATTO and CDM, we saw the card reach near 100MB/s in both read and write. Real world testing showed the card capable of 77MB/s transferring RAW image files and 81MB/s transferring full HD video. While this isn't the fastest Compact Flash card on the market, it does offer the promise of full HD video recording and is capable of extreme high speed shooting with your DSLR.
We were able to find this card at the time of writing for $819.99 at a few online stores, with others pricing it $1200 and above. This pricing appears to reflect the availability of the capacity as 64GB units sell for a much cheaper price of $284.99 with wide market presence. SanDisk backs this card with a top-tier lifetime warranty.