Rosewill Fortress 750-Watt 80 PLUS Platinum Power Supply Review
We take a look at another Rosewill unit and what we find might just tempt you to buy two or three.
Published Apr 18, 2013 1:59 AM CDT
|
Updated Tue, Nov 3 2020 7:00 PM CST
5 minute read time
Introduction, Specifications, Availability and Pricing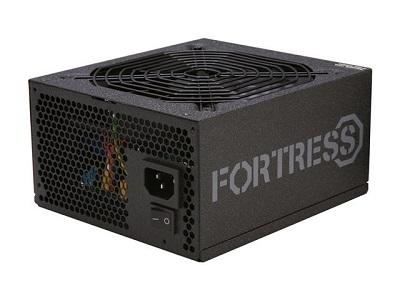 A few months ago we took a look at the Rosewill Tachyon 1000W power supply review. Many of our readers were shocked that a house brand power supply could perform so well. We have to admit that we were quite pleased with the results as well. House brands often come at a cheaper price than some of the name brands and if they offer the same features and performance as the name brands, there is no reason to spend the extra money.
Today we are taking a look at another power supply from Rosewill. This time around it is the Fortress 750W unit. It is the little brother to the Tachyon unit in that it while it doesn't feature modular cabling, it does provide up to 750W of 80 PLUS Platinum power. The Fortress doesn't come from the same OEM as the Tachyon and also features a longer warranty.
Let's dig into the unit and see if other options from Rosewill are just as good as we saw with the Tachyon.
Specifications, Availability and Pricing

The Rosewill Fortress has a single 12V rail rated for 62.5A which equates to 100% of the available output of the unit. Both the 3.3V and 5V rails are rated for 20A each with a combined maximum output of 100W. The 5VSB rail is rated for 2.5A or 12.5W. Maximum combined output for the power supply is 750W.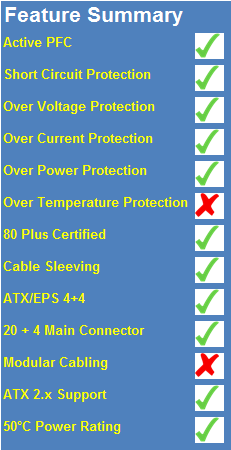 As you can see from the list above, there are a few things missing from the feature summary. The one that really sticks out is the lack of Over Temperature Protection. Aside from that, things look exactly like we would hope for in a natively wired power supply. All wires are fully sleeved. The unit is rated for 80 PLUS Platinum efficiency and 100% continuous output at 50C.
Rosewill has an MSRP of $179.99 on the Fortress 750W and that sounds quite a bit high for a 750W unit until you take into consideration that the power supply has a current price of $129.99. Even though Rosewill is the in-house name for Newegg, it would appear that they are starting to branch out beyond Newegg. We found the Fortress 750W for sale on Amazon for $109.99. At a price that low, you're talking about the possibility of some serious power at a very low price. Sweetening the deal even further is that the Fortress 750W power supply is backed by a seven year warranty.
Packaging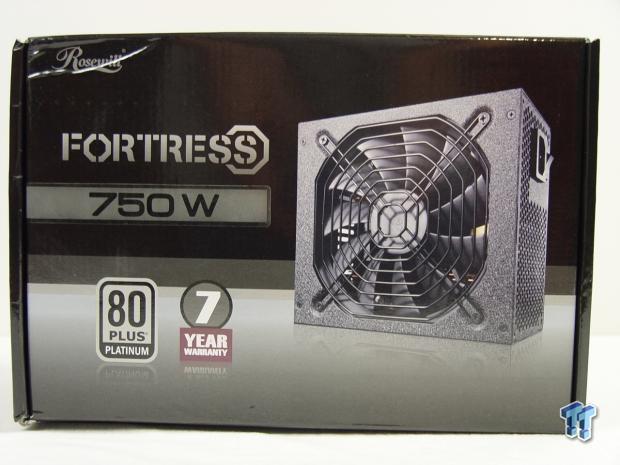 Rosewill's packaging has always been a bit bland as it's never been sold outside of Newegg. Now that it is changing that trend, the packaging is starting to show a bit more about the product though we could still use some more information on the front. Our box took a bit of a hit in shipping so it will be nice to see just how well this thing is packed on the inside.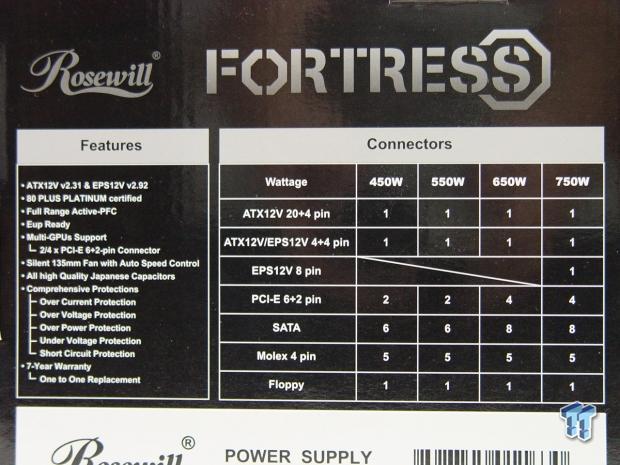 Moving to the back, we get a nice list of features and a connector availability chart.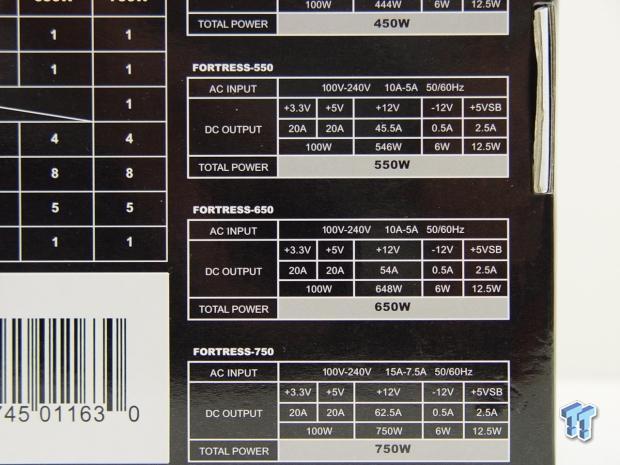 Also present on the back are I/O specifications for all four wattages of the Fortress PSU.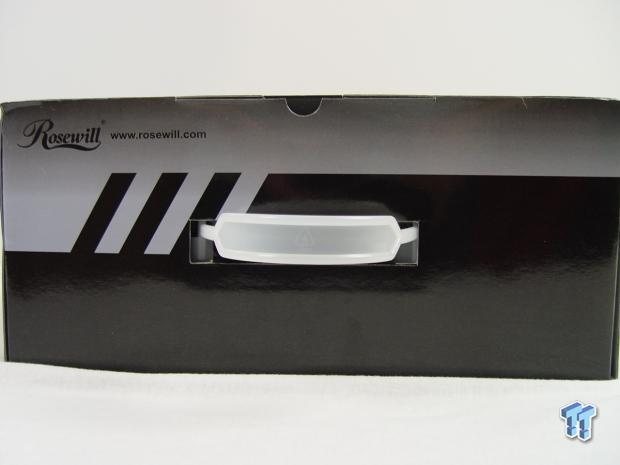 The top and bottom are blank with the exception of the carrying handle and Rosewill's URL.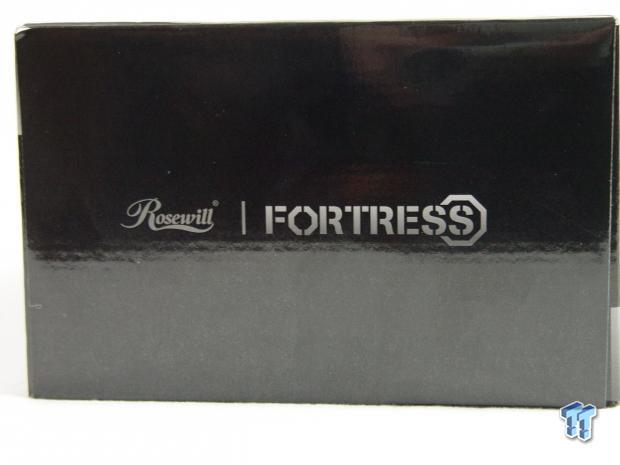 Both sides are blank as well aside from the Rosewill and Fortress logos.
Inside the Box
The Fortress 750W is packed well inside the box and surrounded by at least half an inch of foam on all sides.
The top houses the I/O specification label for the unit and we can see that Rosewill chose a matte black texture for the Fortress 750W.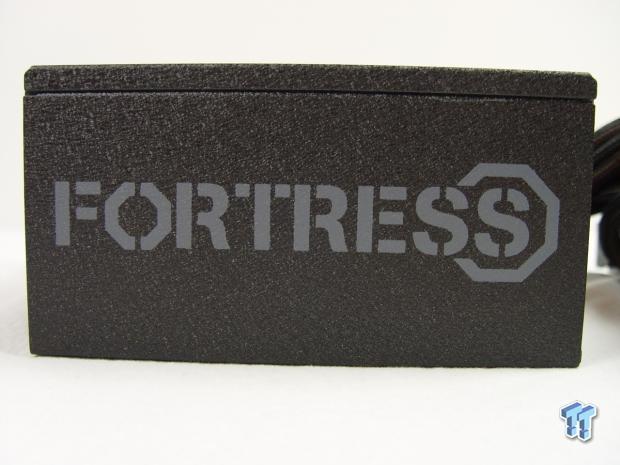 Both sides feature the Fortress logo with the other being inverted.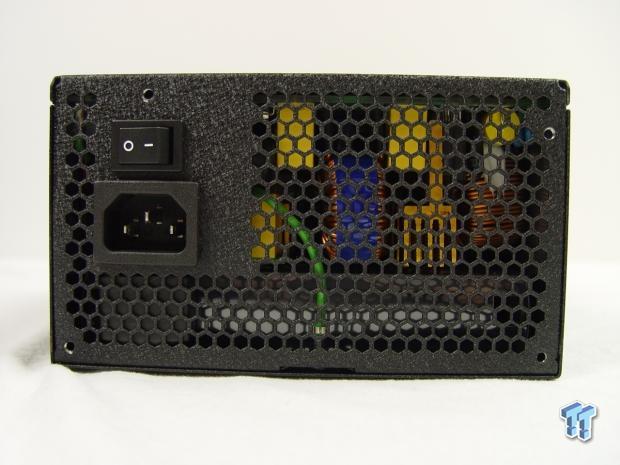 The back is covered with the typical honeycomb mesh grill with AC input and on/off rocker switch.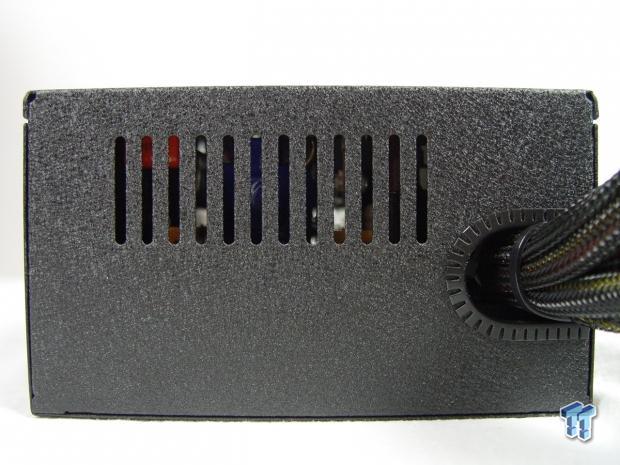 There is a bit of venting in the front of the unit too since there are no modular connectors.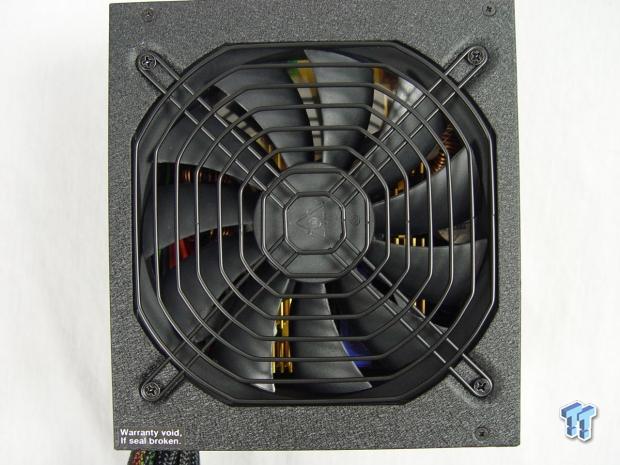 The 135mm fan with wire mesh grill provides active cooling for the Fortress 750W.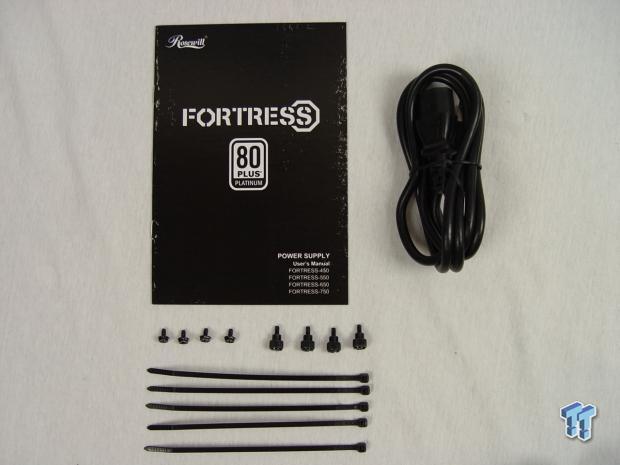 Included with the Fortress 750W is a user manual, AC input cord, mounting screws, thumb screws and a handful of zip ties.
Cabling Arrangement and A Look Inside
Cabling Arrangement

The connector availability and cable list should take care of all but a very few who are in need of a 750W power supply. Dual 8-pin CPU connectors are present for those who need it. Four PCI-E connectors make sure that you can power at least a pair of video cards and there are plenty of SATA and Molex connectors to make their way around the case. Rosewill even makes sure there is a single FDD connector though I wish they had done it through an adapter.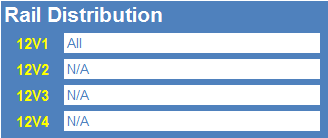 Rail distribution is as simple as it gets with a single 12V rail. There is no need to worry about load balancing here.
A Look Inside
At first glance, many might think that this unit is supplied by Super Flower, but it isn't. The OEM for this unit is supplied by ATNG.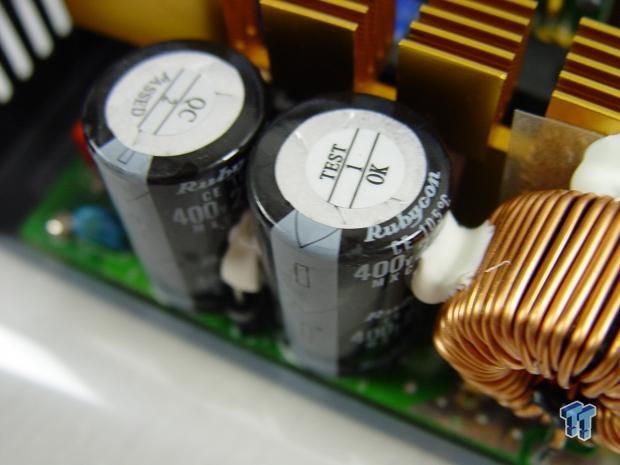 Two Rubycon capacitors sit on the primary side of the power supply.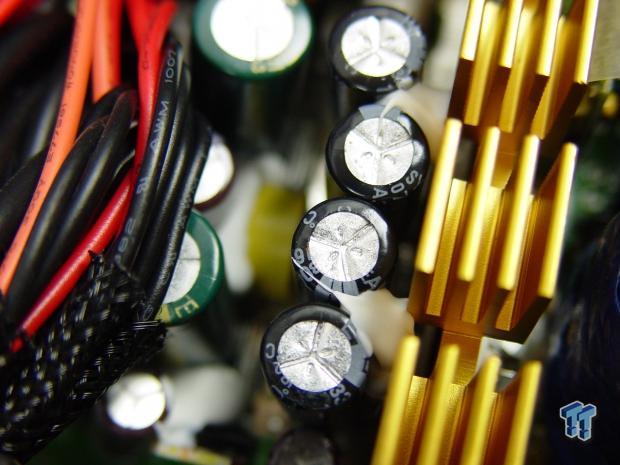 The secondary side of the power supply features many Teapo caps.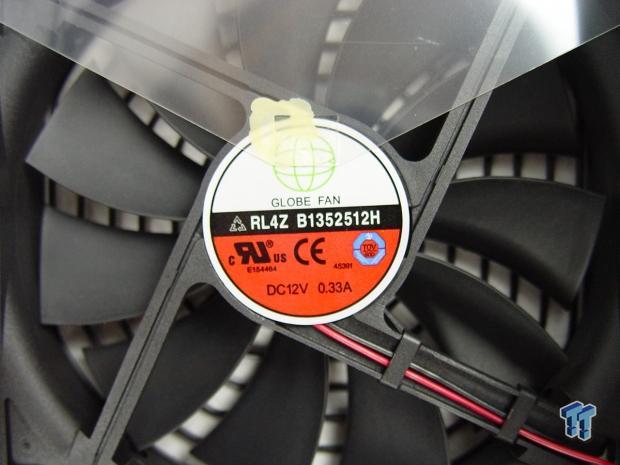 The Fortress 750W power supply uses the RL4Z B1352512H 135mm fan to keep everything nice and cool.
Test Results and Final Thoughts
Test Results
Our load tests utilize a couple of FAST ATE active load testers and a variety of other equipment such as an oscilloscope, power conditioner, temperature probe and a power consumption meter. You can read more about our standard testing approach here.
The tests performed are based around six conceivable setups that are out there and progressively load down the PSU up to the power supply's limits or 1000W, whichever comes first. Since our test equipment's limits are higher to that of the Rosewill Fortress 750W power supply, we can test it to the maximum.

The above tests represent typical loads that we have measured from various systems and are meant to give a rough idea of where your computer might fall in line with our tests. Please keep in mind that each system is different and actual loads can vary greatly even with similar hardware.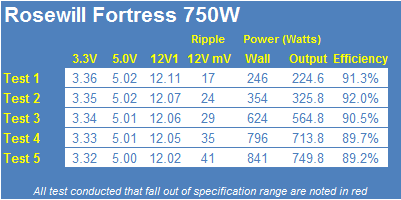 Let's start by taking a look at the voltages to see how well this unit did during testing. Starting with the 12V rail, we see 1% regulation from start to finish with a total drop of .09V. The 5V rail managed to stay within 1% of specification with a total drop of .02V from start to finish. Moving towards the 3.3V rail, we see that regulation was within 2% of specification with a total voltage drop of .04V.
DC Output quality for the Fortress 750W was good and well within specification. During Test 1, we saw 17mV of noise on our scope. When we increased the loads in Test 3, the ripple climbed to 29mV at a little over half load. During Test 5 under a load of 750W, the oscilloscope showed a maximum of 41mv on noise on the 12V rail.
The Rosewill Fortress 750W is rated for 80 PLUS Platinum efficiency. This means that the power supply must perform at 90%/92%/89% efficiency at 20%/50%/100% loads respectively. As you can see, the Fortress 750W passed on our bench, and wasn't close to failing at any point.
Final Thoughts
The Fortress 750W represents another win for Rosewill and once again proves that just because something comes from a house brand that it isn't necessarily a subpar unit. The test results that we have from our Fortress 750W unit are great. The voltage regulation is nothing short of spectacular when looking at the 5V and 12V rails. The DC output quality wasn't too bad either, but could have been a bit better.
It is a shame that Teapo capacitors were used on the secondary side of the Fortress 750W power supply. Every single power supply that we have seen use them has suffered in at least the DC output quality area and some of the voltage regulation area as well. I guarantee you that if Rosewill had requested for 100% Japanese capacitor construction in the Fortress 750W, we'd be staring at one of the best damn power supplies to ever grace our test equipment. Instead, we're left looking at a great unit that was so close to being that much more.
All isn't lost though. Aside from the excellent performance, the Rosewill Fortress 750W power supply represents one of the best values we've ever seen. If the price stays as low as $109.99, it's going to take the market by storm and a lot of manufacturers are going to be left scratching their heads as to why their units aren't selling. If my garage wasn't already overflowing with power supplies, I'd want to stock up on them at that price for future projects or to resell with a bit of a profit and still present them with a good deal.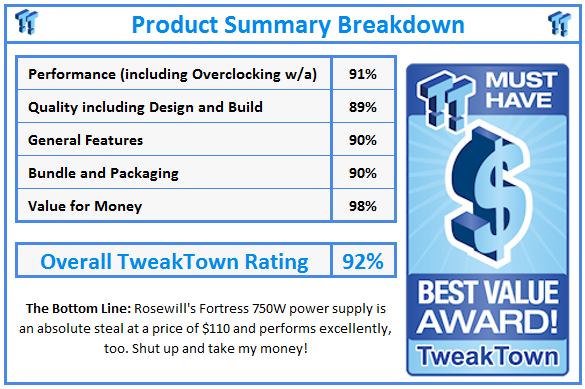 PRICING: You can find products similar to this one for sale below.

United States: Find other tech and computer products like this over at Amazon.com

United Kingdom: Find other tech and computer products like this over at Amazon.co.uk

Australia: Find other tech and computer products like this over at Amazon.com.au

Canada: Find other tech and computer products like this over at Amazon.ca

Deutschland: Finde andere Technik- und Computerprodukte wie dieses auf Amazon.de