Introduction, Specifications, Availability and Pricing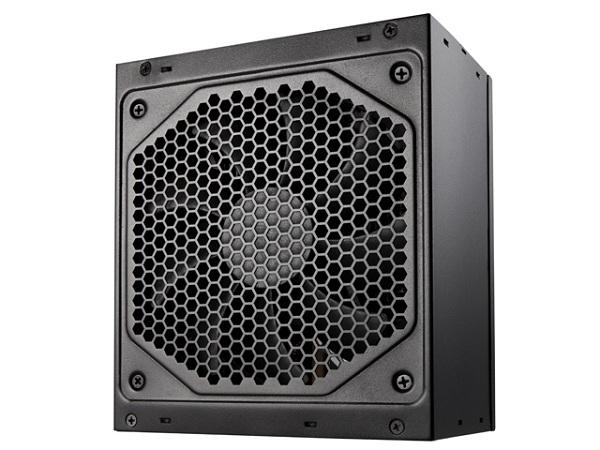 Rosewill is a name that many who frequent Newegg are familiar with. It is their in-house name just as Rocketfish is to Best Buy, without the insane price tag. They started out small with items such as media card readers, cables, fans, etc. and slowly increased their lineup to include a variety of items including server chassis and RAID subsystems. A few years back, we looked at one of their power supplies and were a little less than impressed.
Times have changed quite a bit and so has Rosewill. They have changed up the OEM they are working with for power supplies and the Tachyon unit we are looking at today is manufactured by Super Flower. One might say that it is simply a rebadged Golden King 1000W, but it does have a few differences in design. Hopefully the change proves to be beneficial for both Rosewill and our readers.
Specifications, Availability and Pricing

I/O specifications are identical to that of the reference Super Flower Golden King unit. The unit features a single 12V rail which delivers 996W of power. Both the 3.3V and 5V rails are rated for 20A each with a combined maximum output of 100W. It is a bit lower than we like to see, but always been sufficient in all our testing. The 5VSB rail is rated for 2.5A or 12.5W. Maximum combined output for the unit is 1000W.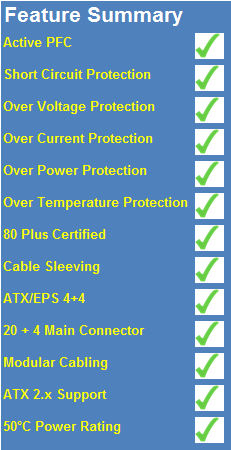 Something that you usually don't find in a house brand is a unit packed full of features. These are often cut here and there to save on cost. That isn't the case with the Tachyon 1000W power supply. The full suite of protections are present, including OTP. All cables are fully sleeve with black mesh, both native and modular. The Tachyon 1000W is rated for 80 PLUS Platinum efficiency and 100% continuous output at 50C.
Rosewill has an MSRP of $239.99 on the Tachyon 1000W power supply. It is currently on sale at Newegg for $219.99 with free shipping. This puts it competitively priced with both the Kingwin LZP-100 and Seasonic Platinum 1000W units. Rosewill backs the Tachyon 1000W power supply with a five year warranty.
Packaging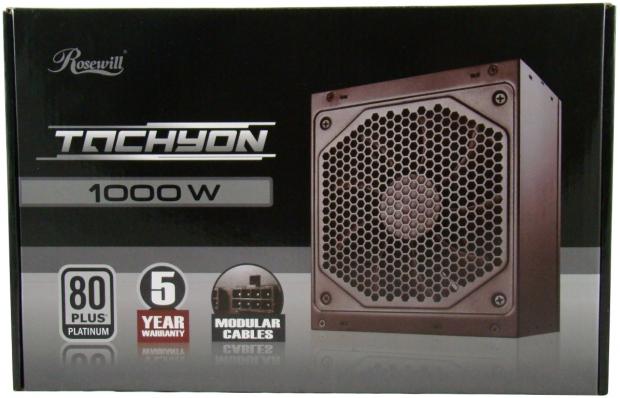 Rosewill keeps the packaging simplistic yet informative. On the front we get a very nice glimpse of the unit as well as some information about efficiency, warranty, and cables.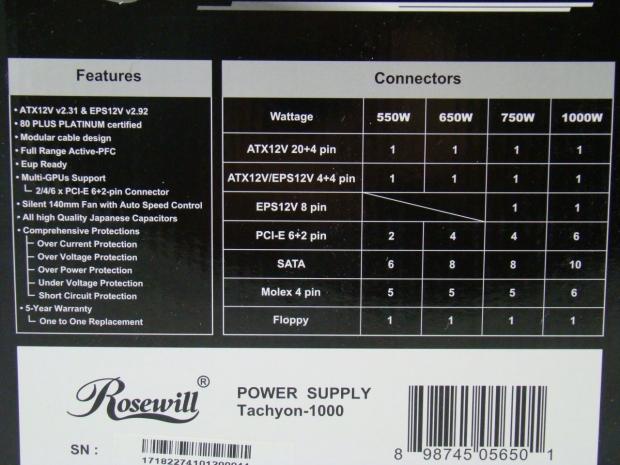 Part of the back gives us a list of features and connectors. While it doesn't list cable length or quantity, it is much better than nothing.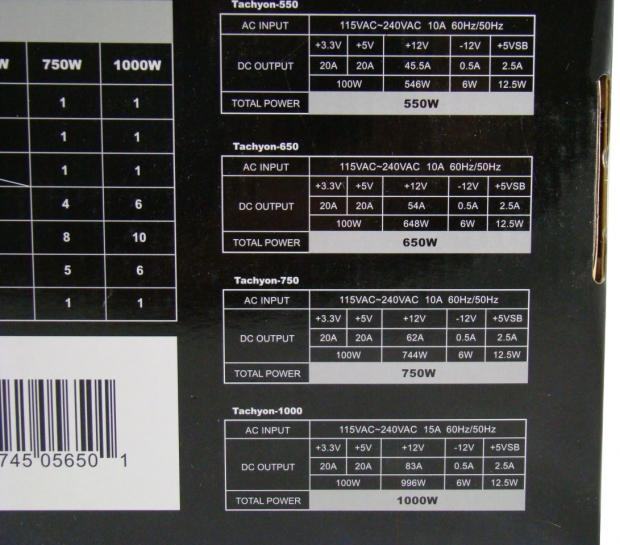 The packaging is meant for the entire Tachyon lineup and features I/O specifications for all four units.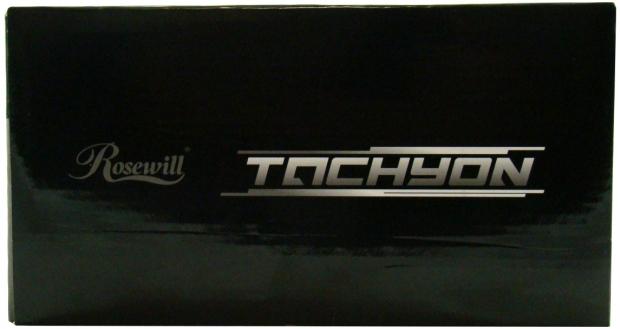 Both sides are identical and have no information on them.

The bottoms are almost as blank as the sides but do give the Rosewill URL.
Inside the Box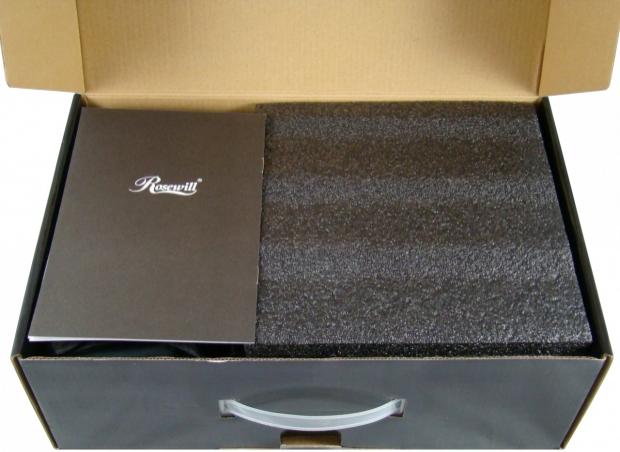 Rosewill does a great job protecting the Tachyon power supply. This is often another area that we see skimped on when making a unit under a house brand.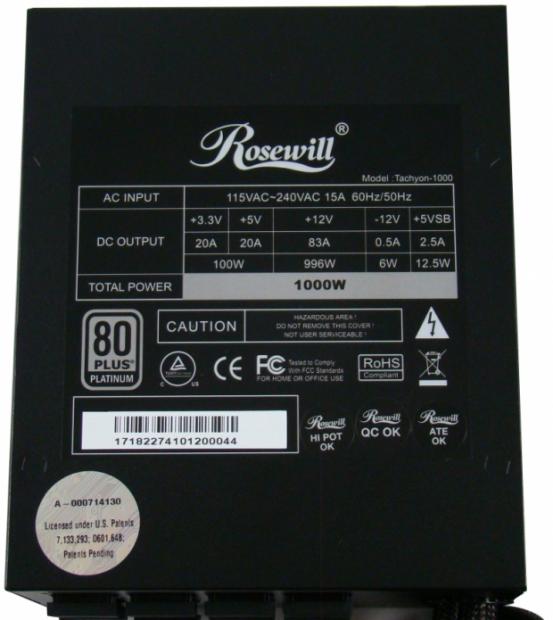 The top features the I/O specification label and serial number of the unit.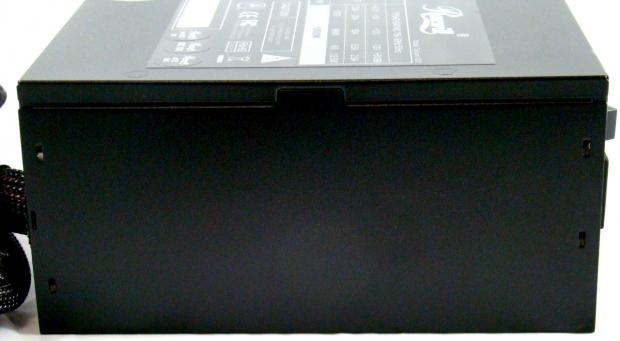 Both sides of the Tachyon 1000W are blank slates.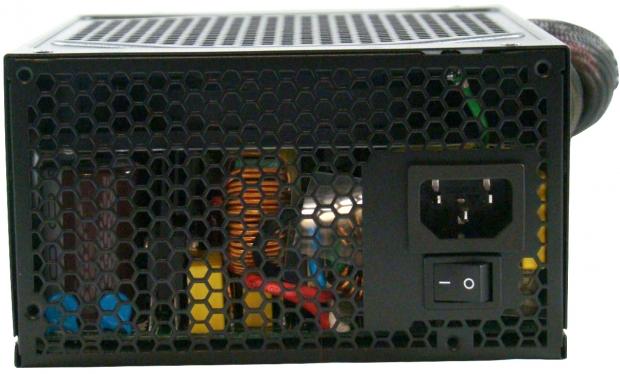 Moving to the back, we find the standard honeycomb mesh grill with on/off rocker switch and AC input.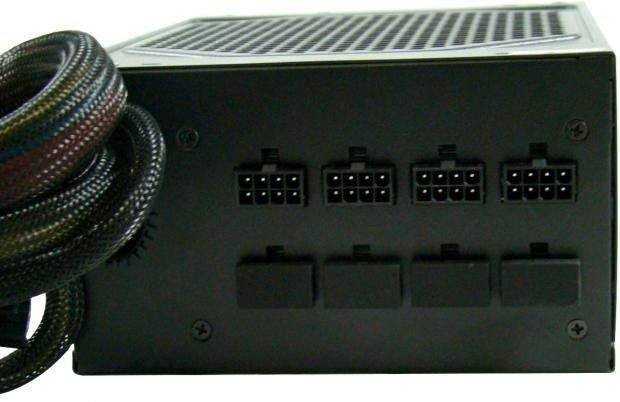 The modular connections are on the front and all are identical. The unit ships with rubber boots covering all eight connectors but four are removed for the picture.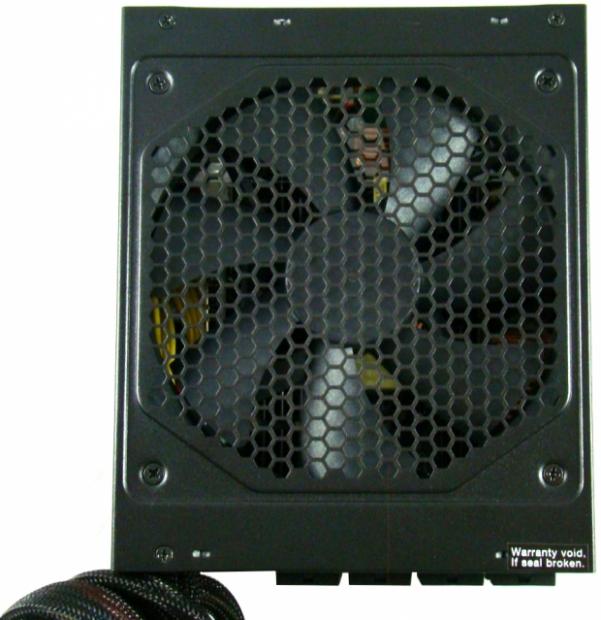 The bottom of the unit houses the 140mm fan that provides the active cooling for the Tachyon 1000W.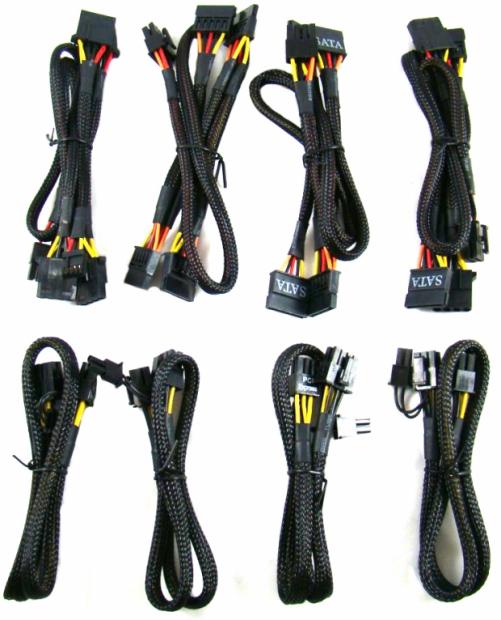 All cables are fully sleeved with nylon mesh.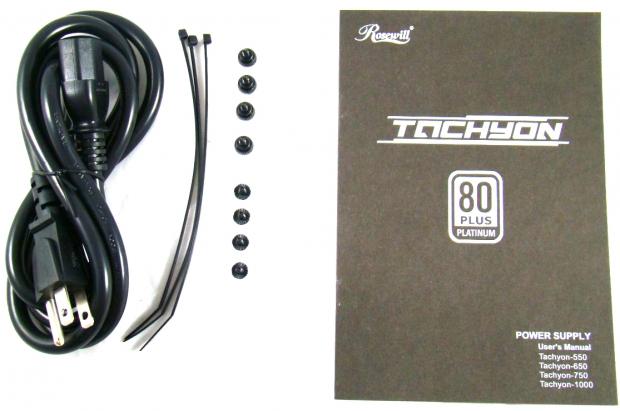 Also included is the user manual, AC input cord, five cable ties, regular mounting screws, and thumb screws if you'd rather use them.
Cabling Arrangement and A Look Inside
Cabling Arrangement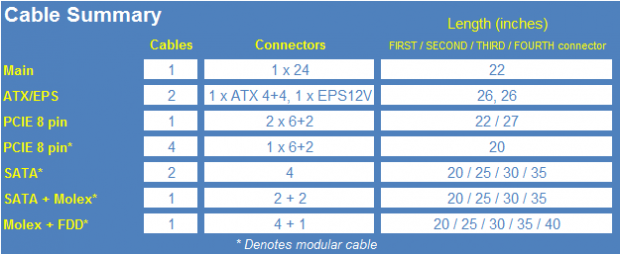 The cable selection is quite nice for a 1000W unit. Unfortunately, the ATX 4+4 and EPS12V connectors are native to the Tachyon. Rosewill gives us six PCI-E connectors over five cables. Peripherals are powered by the ten SATA, six Molex, and one FDD connectors spread over four cables. All the cables are of ample length, but some might find the PCI-E cables shorter than they would like.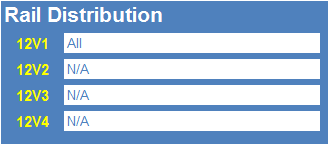 All the 12V power from the Tachyon 1000W power supply is provided via a single 12V rail so there isn't much to talk about here.
A Look Inside
Taking the unit apart, we find the classic Super Flower cooling solution. A pair of heat sinks run the length of the unit providing extra heat dissipation where required while still allowing fresh air to penetrate down to the PCB.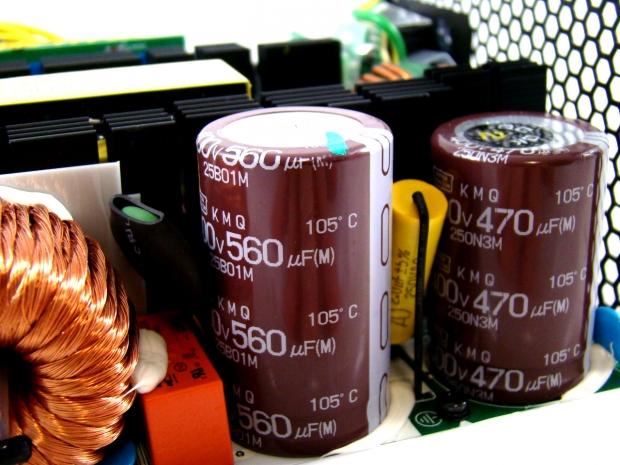 A pair of Nippon Chemi-Con capacitors reside on the primary side of the Rosewill Tachyon 1000W power supply.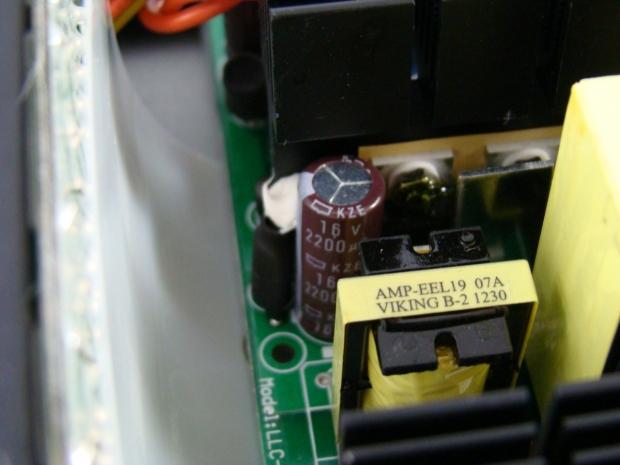 More Nippon Chemi-Con capacitors are found on the secondary side as well.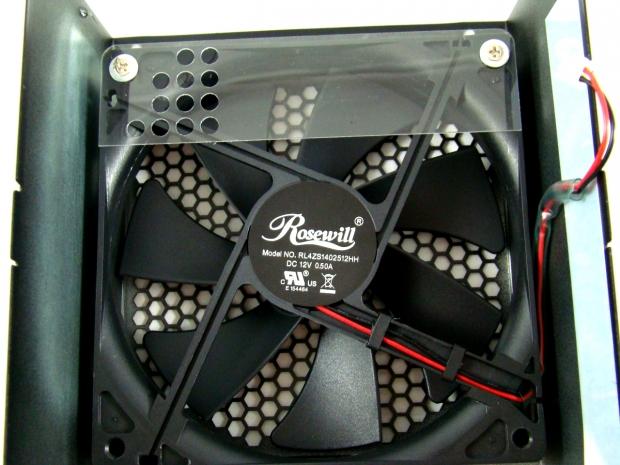 Rosewill uses its own 140mm fan to provide the active cooling for the unit. A quick search of the model number will yield that it is manufactured by Globe Fan. What many will find interesting about this particular fan is that it utilizes a sleeve bearing instead of the typical ball bearing that most fans utilize. This will provide slightly quieter operation, but at the cost of longevity.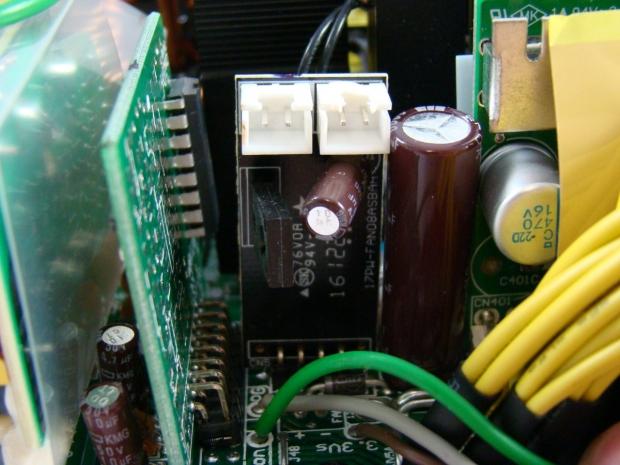 Something you don't normally find inside the power supply is a spot for an extra fan. Many modders will enjoy this I'm sure.
Test Results and Final Thoughts
Test Results
Our load tests utilize a couple of FAST ATE active load testers and a variety of other equipment such as an oscilloscope, power conditioner, temperature probe and a power consumption meter. You can read more about our standard testing approach here.
The tests performed are based around six conceivable setups that are out there and progressively load down the PSU up to the power supply's limits or 1000W, whichever comes first. Since our test equipment's limits are equal to that of the Rosewill Tachyon 1000W power supply, we can test it to the maximum.

The above tests represent typical loads that we have measured from various systems and are meant to give a rough idea of where your computer might fall in line with our tests. Please keep in mind that each system is different and actual loads can vary greatly even with similar hardware.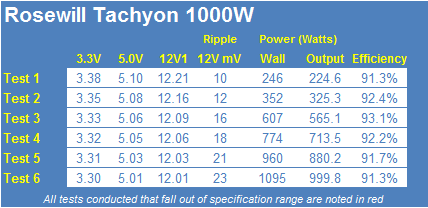 Let's start by taking a look at the voltages to see how well this unit did during testing. Starting with the 12V1 rail, we see 2% regulation from start to finish with a total drop of .20V. The 5V rail managed to stay within 2% of specification as well with a total drop of .09V from start to finish. Moving towards the 3.3V rail, we see that regulation was within 3% of specification with a total voltage drop of .08V.
DC Output quality for the Tachyon 1000W was amazing and well within specification. During Test 1, we saw 10mV of noise on our scope. When we increased the loads in Test 3, the ripple climbed to 16mV at a little under half load. During Test 6 under a load of 1000W, the oscilloscope showed a maximum of 23mv on noise on the 12Vrail.
The Rosewill Tachyon 1000W is rated for 80 PLUS Platinum efficiency. This means that the power supply must perform at 90%/92%/89% efficiency at 20%/50%/100% loads respectively. As you can see, the Tachyon 1000W passed on our bench, and wasn't close to failing at any point.
Final Thoughts
The Tachyon 1000W power supply represents a huge step up in quality and performance for Rosewill and is great to see. The power supply's build quality is fantastic inside and out, and it should be considering that Super Flower manufacturers the unit. The unit may lack a few of the flashy offerings such as labels on the side or in the center of the fan, but this is one of the areas costs are often shaved to make a unit viable for a house brand.
It is perhaps the test results that surprised us the most with the Tachyon. While the voltage regulation could be a little bit better on the 3.3V rail, all results are still very good. It is the DC Output quality that is most amazing. Most units barely manage to start out where the Tachyon leaves off at under full load. One can't really argue about the efficiency either as it is well beyond specification.
It is hard to fault the Tachyon for much at all, but I do have some concerns about the included modular PCI-E cables and their length. They should be of ample length for direct runs from the PSU to the video card, but perhaps not so much when trying to hide cables in the case.
The choice of a sleeve bearing fan over a ball bearing fan is often a questionable one, but those who enjoy silence will prefer it especially when looking at the five year warranty and low price for a 1000W Platinum rated power supply.