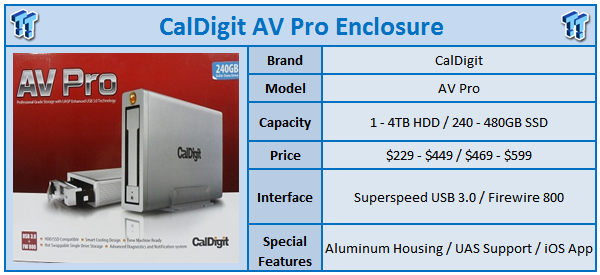 Those of you that work in the intense field of audio and video editing should recognize the brand behind our review today. CalDigit has been marketing their products towards hard-core AV enthusiast for years. Now they have single bay units that support 4TB of storage with the USB 3.0, Firewire 800 or upcoming T1 and T2 with Thunderbolt support. At the high-end CalDigit has the massive HDPro-24 supporting 72TB of storage with an external PCIe interface.
Today, though, we will be looking at a single bay enclosure dubbed the "AV Pro". The AV Pro supports both 3.5" and 2.5" drives with a max capacity of 4TB while using a standard hard drive or 480GB while using faster solid state storage. Connection options include dual Firewire 800 ports or a single USB 3.0 connection made accessible at the back of the unit. The all-aluminium design of the chassis enables heat to be dissipated quickly, while the Kensington lock keeps your drive secured to your workspace.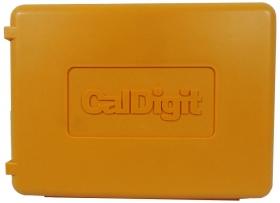 CalDigit enclosures are rather unique in that each of their drive "modules" comes in an archiving case to protect the drive from a myriad of disasters.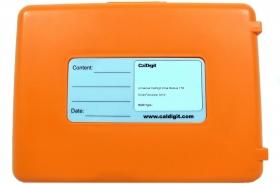 On the back of the archiving case there is room for you to write down the drives contents and date before putting in on the shelf.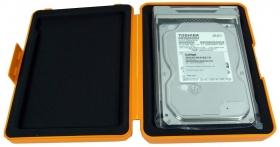 The drive that CalDigit graciously sent along with our enclosure is the Toshiba DT01ACA100. As you can see the inside of the case has a high density foam liner to insure your drive stays protected.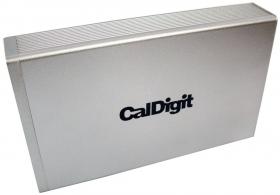 Moving on to the enclosure the first thing we noticed was its size. At 240 x 145mm, this isn't your run of the mill enclosure. Furthering this point, the AV Pro is a solid aluminium enclosure, so you do get the benefit of the chassis aiding the cooling of your hard drives along with structural integrity.

At the front of the enclosure there is an orange LED that sits off to the left and functions as both a power and activity indicator. Following this to the right you will find the drive bay which has the ability to be locked by using the included key system.

You will find the business end of things located on the back of the enclosure where we have dual Firewire 800 ports sitting next to the USB 3.0 port. CalDigit has also fitted this model with a cooling fan that has a smart feature where it can sense what drive is installed and adjust its speed accordingly.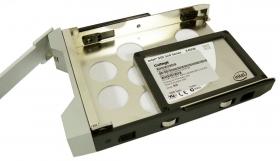 Included in our AV Pro was the 240GB SSD module, with our review sample having the Intel 520 SSD. For more information on the Intel 520 Series SSD check out our resident storage editor, Chris Ramseyer' review.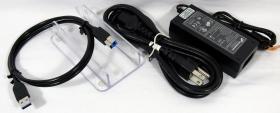 Scope of delivery for the AV Pro includes a USB 3.0 cable, power adapter and clear plastic stand.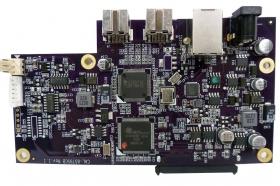 Taking a look at the internals and what really drives the AV Pro we find three main controllers. The first being the Oxford 943SE, a Firewire 800 to SATA storage controller, followed up by the Texas Instruments TSB81BA3D 1394b PLC. The last and probably most important controller is the ASMedia ASM1053, one of the very few to support UASP.
After getting your drive set-up one of the first things we need to do is run through the included software to prepare it for use. CalDigit has included software they call Drive Assistant that makes this task simple and hassle free.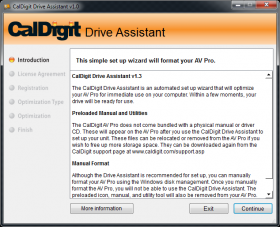 There is one of two ways to prepare the drive with the first being the automated setup, recommended by CalDigit, or the option of manual setup, through the Windows disk manager.
Choosing the proper benchmarks to be used in a review can be, at times, a hassle. While I would love to please all of you and run every possible benchmark on these enclosures, it would be at the very least time consuming. With that said I have chosen some of the more popular and widely available benchmarks. All testing is run in the same order on every enclosure and that is the order you see it here in this review.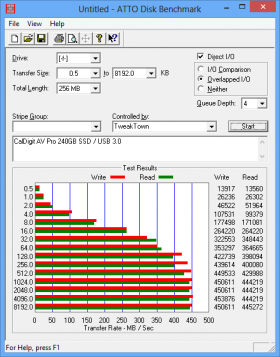 Our first benchmark is ATTO, a widely accepted benchmark commonly used for marketing performance. I must admit after running this first benchmark I was stunned at the performance. In fact, I ran it several times more to double and triple check the numbers. Numbers like these are not normally seen with enclosures, but with the right combination it is possible. Thanks to CalDigit' excellent choice of USB 3.0 controller, the AV Pro includes UAS support.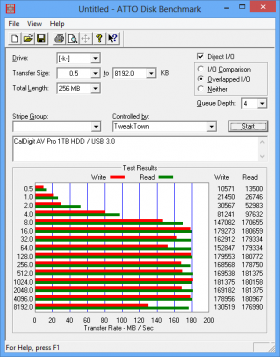 Utilizing the 1TB drive that was sent along with our review sample you can see we managed to hit an impressive 181MB/s write and 181MB/s read - on a spinner!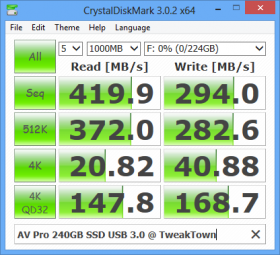 Crystal Disk Mark is our second benchmark and for all intents and purposes is used to test NCQ (Native Command Queuing) at QD32. It should be noted that the USB 3.0 controller must support UAS for NCQ to work.
Looking over our results from CDM we find the 240GB SSD used in this portion of testing did benefit from NCQ. We see 147MB/s read and 168MB/s write or 37K read IOPS and 43K write IOPS at QD32.
Moving over to the 1TB HDD CalDigit supplied with our sample we see sequential read and writes were comparable to our ATTO numbers.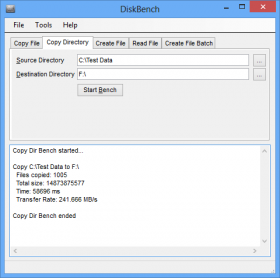 Our last benchmark used in testing is DiskBench. It is used to get a real world feel of how data would move to the enclosure in a workspace environment. For this test we used a 15GB block of data from our Fill Testing data set. The first part of our testing utilized the 240GB SSD. As you can see it was capable of 241MB/s while moving our data, taking just 58 seconds to move 15GB.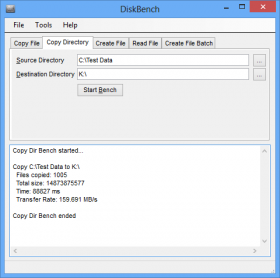 Swapping drives over to the 1TB Toshiba the enclosure did not slow down too much in real world testing. Above you can see it was capable of 159MB/s, moving our 15GB in 88 seconds.
At first glance the AV Pro from CalDigit is elegant. In fact, as soon as I pulled the enclosure out of the box, it put a smile on my face. Something about holding a heavy, well-built enclosure just does that. I am sure most of you, in the past or even now, have used cheaply built enclosures made out of plastic, maybe that enclosure fell off your desk and shattered and now you're in the market for something with a bit more class. CalDigit claims with the AV Pro that no expense has been spared with the components used in making this unit, even adding a unique temperature control system that runs in passive mode if it detects an SSD, spooling over to active mode when a HDD module is inserted. Another unique feature that I really thought was welcomed was the use of the concealed key system to unlock the drive from the dock, taking away the bulky lock mechanism that is more suited for a toolbox rather than an enclosure.
Performance of this enclosure was exceptional with both the SSD and HDD. While the SSD was able to hit blazing speeds of 450MB/s read and 444MB/s write in our ATTO bench test, the hard drive module was equally impressive with its 180MB/s read and write.
Pricing of the CalDigit in the configuration seen here today will run you around $229.99 for the 1TB HDD setup. To get yourself into the 240GB SSD model you're looking at $469.99. Now this may seem a bit on the pricey side and I would agree to that, but you are getting a very well built enclosure full of software to get you up and running, not to mention the raw speed you saw here in this review today, with an overall great quality unit.