Introduction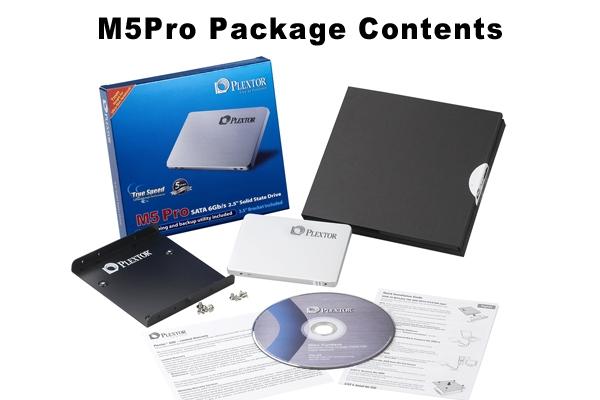 Unlike the Plextor M5S we reviewed just a few weeks ago, the Plextor M5 Pro is an entirely new SSD with zero ties to previously released products.
To start things out the M5 Pro is the first SSD we've seen with a Marvell 88SS9187-BLD2, at least with a Marvell label on it anyway. This third generation Marvell NAND flash controller uses a dual-core design and is capable of handling 200MB/s flash across eight channels. Another first for the Plextor M5 Pro is 19nm Toshiba Toggle Mode flash.
Till this morning we'd only seen Toshy 19 on engineering samples that only tip up from darkened labs for large events. Both of these new technologies pieced together means this is the first truly new, next-generation SSD we've seen since the OCZ Vertex 4.
As with all new technology, we need time to unravel all of the ins and outs, but we are not going to have time to do that today. Our sample arrived less than 24 hours before this article went live, which is not an idea situation for a brand new controller paired with brand new flash. We're going to push through the lack of test time and bring you everything we have so far.
Let's take a look at the specs and move on from there.
Specifications, Pricing and Availability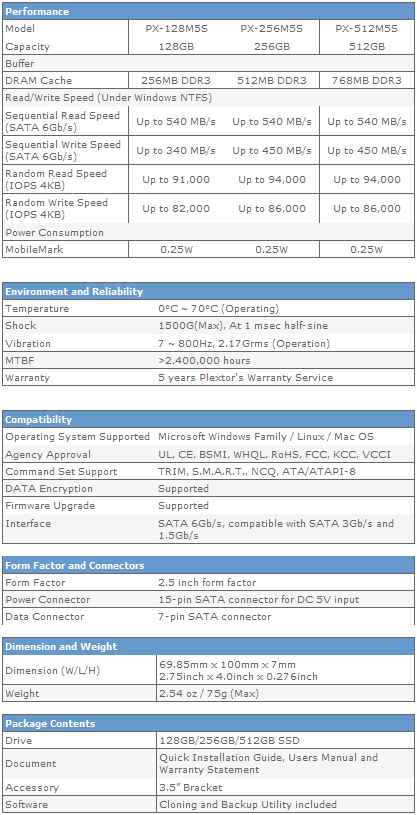 Plextor has three capacity sizes planned for the M5 Pro - 128GB, 256GB and a large 512GB. As with previous generations of the M Series, each capacity size has an increasing scale of DRAM capacity that is used as a buffer. The 256GB model we're looking at today uses a 512MB buffer and that is increased to 768MB on the 512GB model. The 128GB M5 Pro trails the pack with just 256MB.
The sequential write performance doesn't increase as the capacity ramps up beyond the 256GB capacity size. The 128GB M5 Pro is rated at 340MB/s sequential write, but the two larger drives are rated at 450MB/s. Unlike SSDs based on SandForce technology, the Plextor M5 Pro does not drop performance when working with incompressible data, so 450 is 450 regardless of data type.
Plextor seems to be starting a tradition. The M5 Pro, like the M3 Pro uses a 7mm z-height case, a features omitted on the baseline M5 and M3 products. After the M3 Pro we just sort of figured that Plextor would evolve all of their forthcoming SSDs to the new ultrabook 7mm standard, but that wasn't the case.
At the time of writing we were not able to find the Plextor M5 Pro for sale in the US since it is so new. Last week drives started to appear on shelves of retail stores in Japan and Taiwan. From what we've observed the M5 Pro will take the place of the M3 Pro and the price will be roughly what the M3 Pro was at launch. It's unclear if Plextor will continue to offer the M3 or M3 Pro once the current inventory sells out.
With the M5 Pro, Plextor has brought back their full retail package that includes a desktop adapter bracket, screws for attaching your drive in a desktop PC, cloning and backup software utility and a couple of nice manuals. The M5S that we reviewed last month didn't ship with any of those accessories. The M5 Pro also brings back the Plextor five year warranty, the M5S dropped down to just three years.
Packaging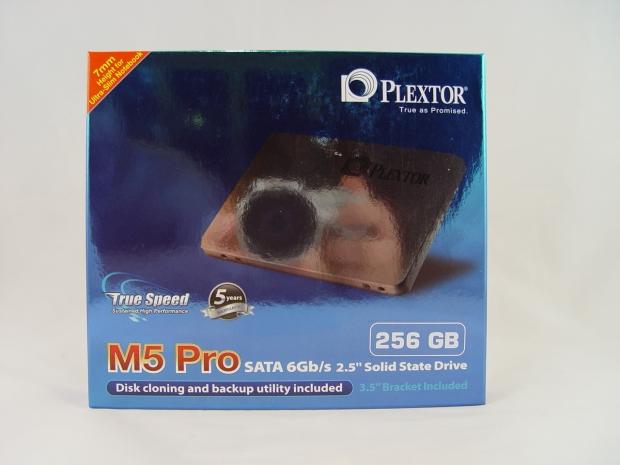 The Plextor M5 Pro package has a reflective, chrome like finish that makes getting a good image nearly impossible. Yep, that's me taking the picture.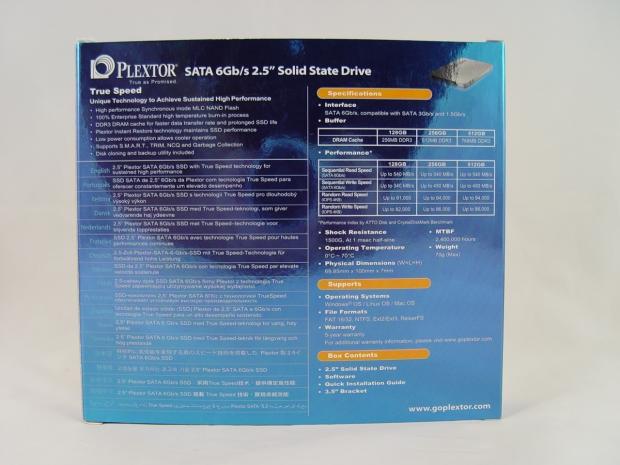 Plextor gives us nearly all of the specifications on the back of the package, which is always nice, especially if you're shopping at a retail store like Fry's Electronics.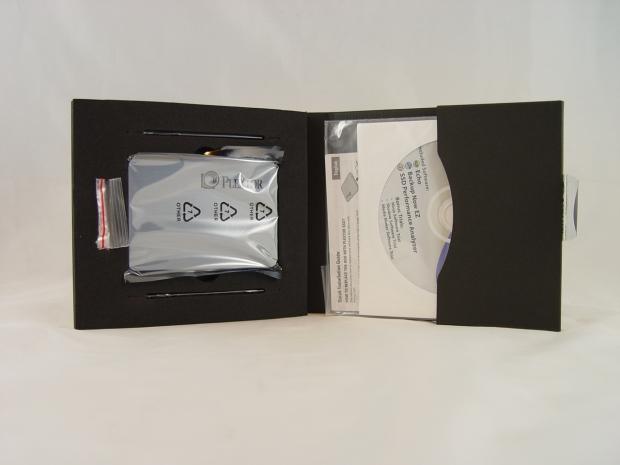 As we mentioned on the specifications page, Plextor has returned the full retail kit to us on the M5 Pro.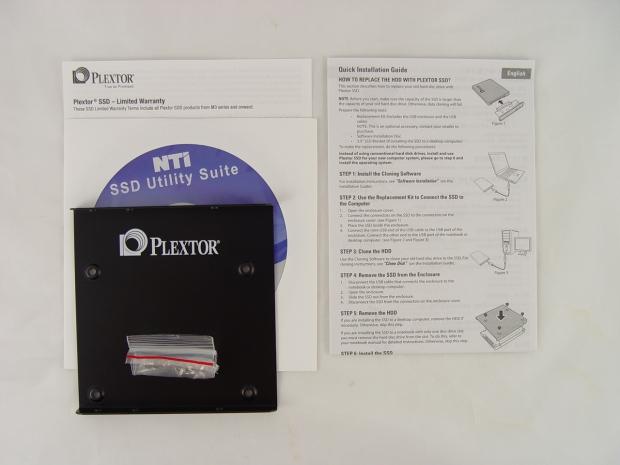 Two paper manuals, the software disk and a desktop bracket are accompanied by the screws for installing your M5 Pro in your desktop.
Plextor PX-256M5P 256GB SSD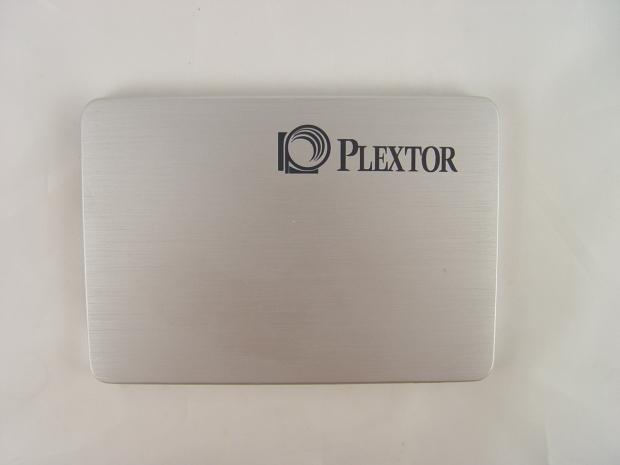 The M5 Pro is nearly identical to the M3 Pro on the outside. Both drives use the new 7mm z-height form factor so they are designed for ultrabooks, but will work just fine in your regular notebook or desktop as well.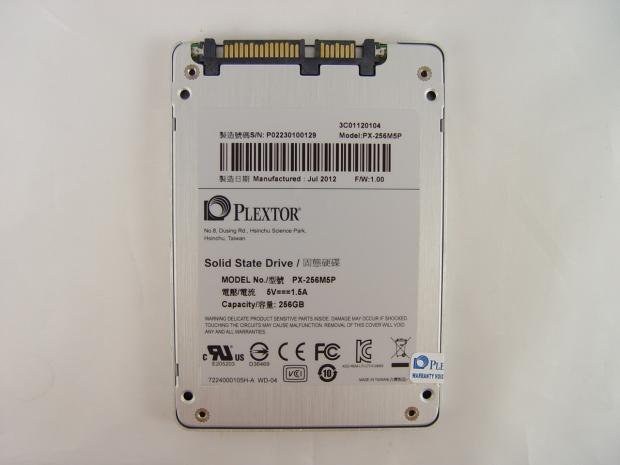 The drive is very light with its aluminum frame. All of the ID information for your drive is found on the back sticker.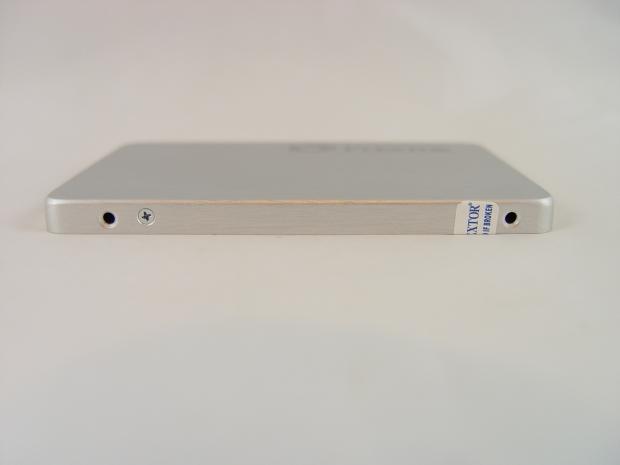 The 7mm standard keeps the mounting points on the bottom and side of the drive in the same place as standard 9.5mm and even 15mm 2.5" form factor drives.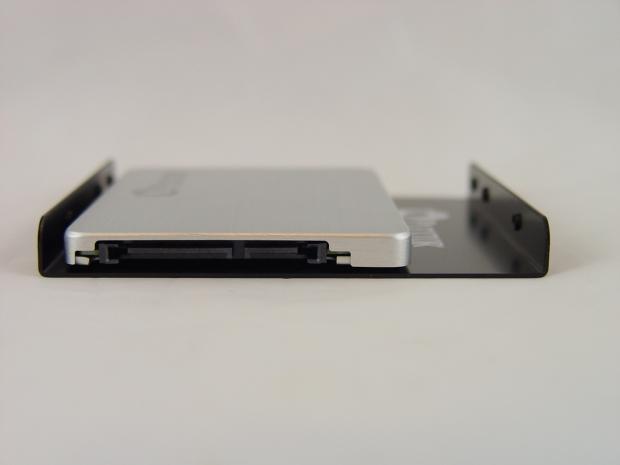 The SATA power and data connectors are also located in the standard 2.5" form factor locations. The included desktop adapter bracket offsets the drive to the side so these plug in points are in line with 3.5" form factor drives.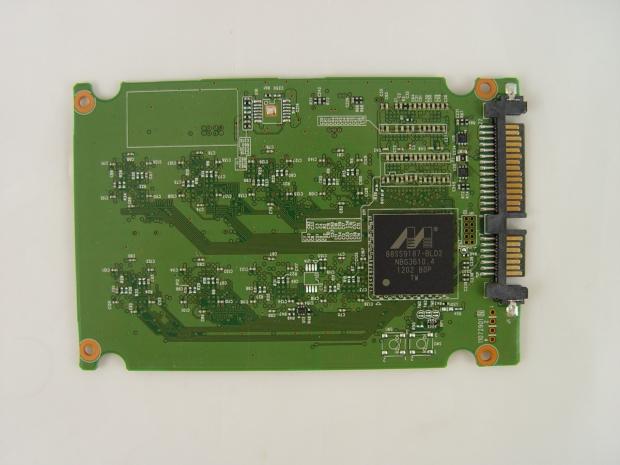 Getting down to business, the Marvell 88SS9187 controller is Marvell's latest offering and is the replacement for the aging 88SS9174 that Plextor used in the M2, M3 and M5S products.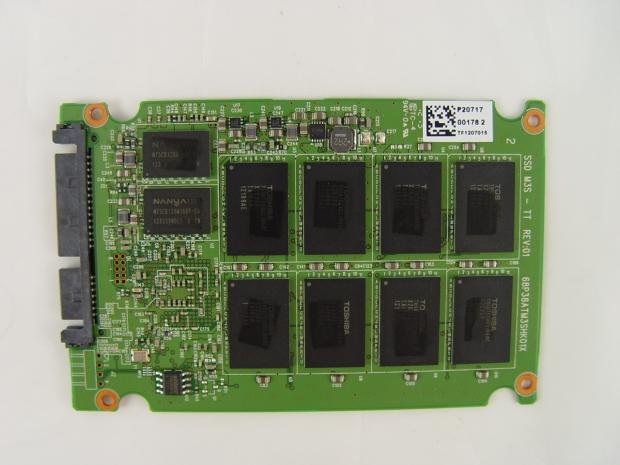 The 9187 is an eight channel controller and Plextor used eight 19nm Toggle Mode NAND flash chips on the 256GB M5 Pro. On this side of the PCB we also see the dual Nanya DRAM chips that are 256MB each.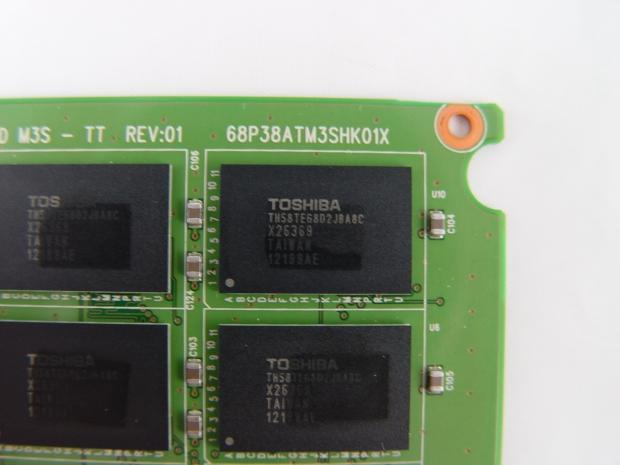 We couldn't let the Toshy 19nm pass through without a close up. We plan on abusing this flash over the next couple of days. We've yet to get official word from Toshiba on the endurance of this flash, but our unconfirmed report says Toshiba is specing 19nm out at 3000 P/E cycles.
Benchmarks - Test System Setup and ATTO Baseline Performance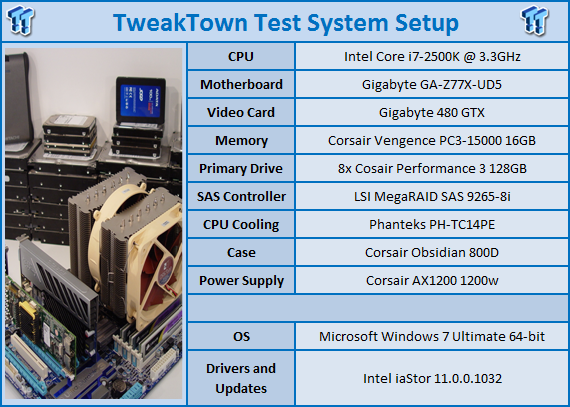 We would like to thank the following companies for supplying and supporting us with our test system hardware and equipment: AVADirect, GIGABYTE, LSI, Corsair and Noctua.
You can read more about TweakTown's Storage Product Testing Workstation and the procedures followed to test products in this article.
In order to fully utilize SATA III you need a system with native SATA III support. P67, Z68, Z77 and X79 systems are preferred, but AMD has made advances in their newer SATA III systems as well. Older X58 systems with Marvell based SATA III ports do not deliver the same high levels of performance, so we recommend newer systems when available.
ATTO Baseline Performance
Version and / or Patch Used: 2.34
ATTO is used by many disk manufacturers to determine the read and write speeds that will be presented to customers.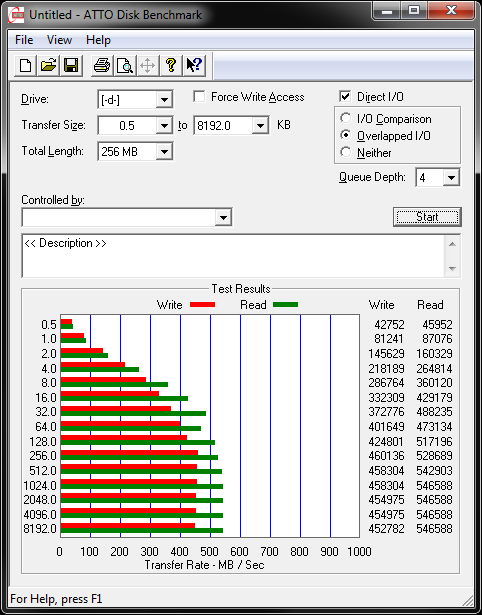 If you just skipped over the first four pages to get right to the benchmarks then welcome to the Plextor M5 Pro review!
546MB/s read speed and 458MB/s write speed are the two maximum's achieved in ATTO. This is a little faster than what Plextor claimed on the specification sheet. These numbers are taking aim at the OCZ Vertex 4 and various Team LSI SandForce products.
Let's bring some of those into the mix and see how the SSDs compare side by side.
Benchmarks - HD Tune Pro
HD Tune Pro
Version and / or Patch Used: 4.00
Developer Homepage: http://www.efdsoftware.com
Product Homepage: http://www.hdtune.com
HD Tune is a Hard Disk utility which has the following functions:
Benchmark: measures the performance
Info: shows detailed information
Health: checks the health status by using SMART
Error Scan: scans the surface for errors
Temperature display
HD Tune Pro gives us accurate read, write and access time results and for the last couple of years has been gaining popularity amongst reviewers. It is now considered a must have application for storage device testing.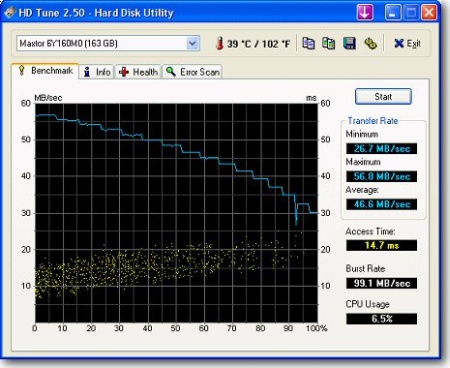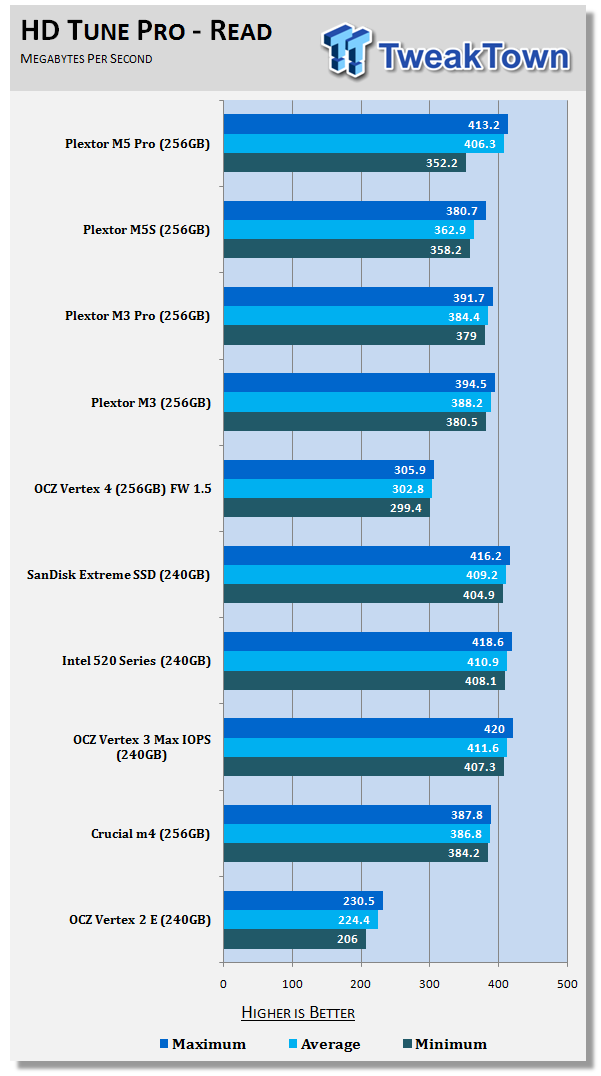 In the charts today we included all four of the latest Plextor drives since the M3 and M3 Pro are still considered newer products that haven't even been on the market for a full six months. In the QD1 sequential read across the drive we finally see Plextor taking aim at the SandForce drives, it's so close.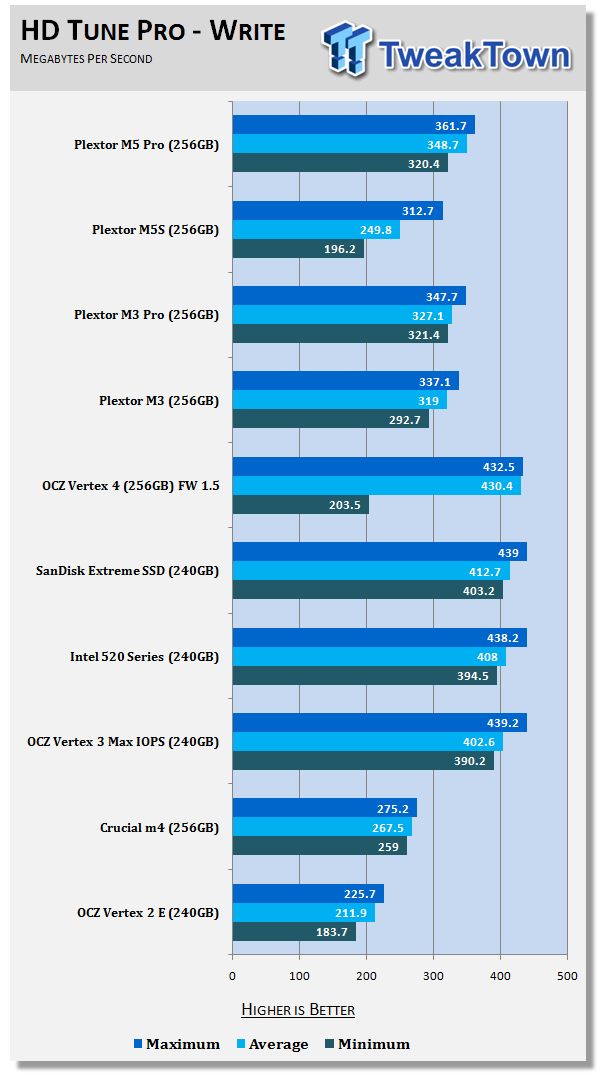 When writing data the new M5 Pro beats out the other 2012 Plextor products, but is a little slower than Team SandForce and nearly 80MB/s slower on average than the Vertex 4.
Benchmarks - AIDA64 Random Access Time
AIDA64 Random Access Time
Version and / or Patch Used: 1.60
Developer Homepage: http://www.aida64.com
Product Homepage: http://www.aida64.com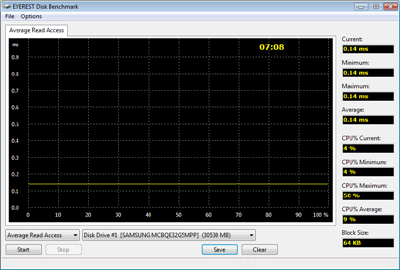 AIDA64 offers several different benchmarks for testing and optimizing your system or network. The Random Access test is one of very few if not only that will measure hard drives random access times in hundredths of milliseconds as oppose to tens of milliseconds.
Drives with only one or two tests displayed in the write test mean that they have failed the test and their Maximum and possibly their Average Scores were very high after the cache fills. This usually happens only with controllers manufactured by JMicron and Toshiba.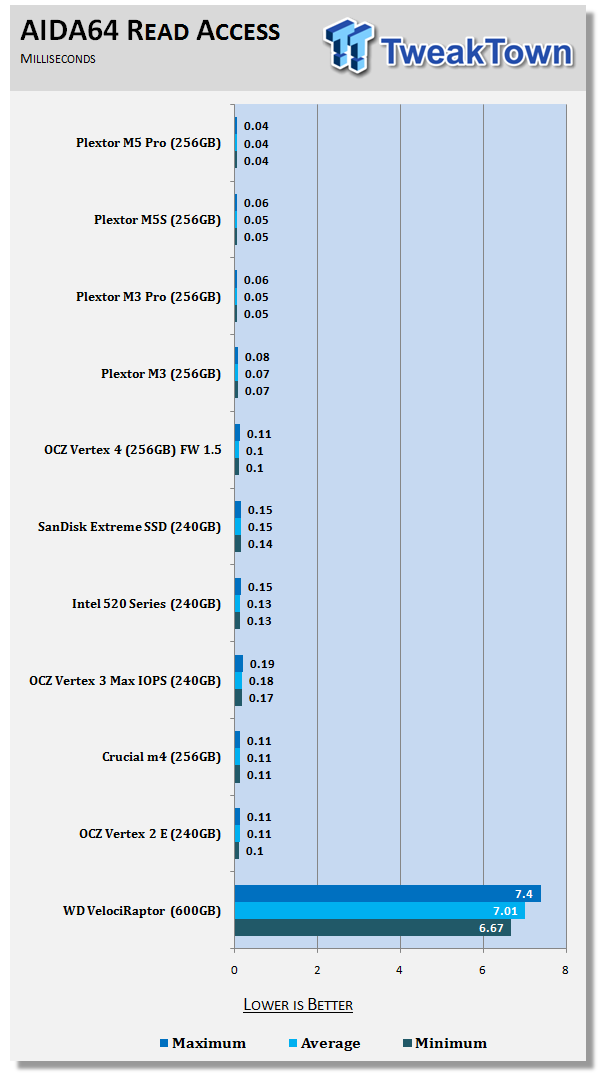 The M5 Pro 256GB has the lowest read access time we've tested to date. The OCZ Vertex 4 matched the M5 Pro until OCZ started tweaking the firmware.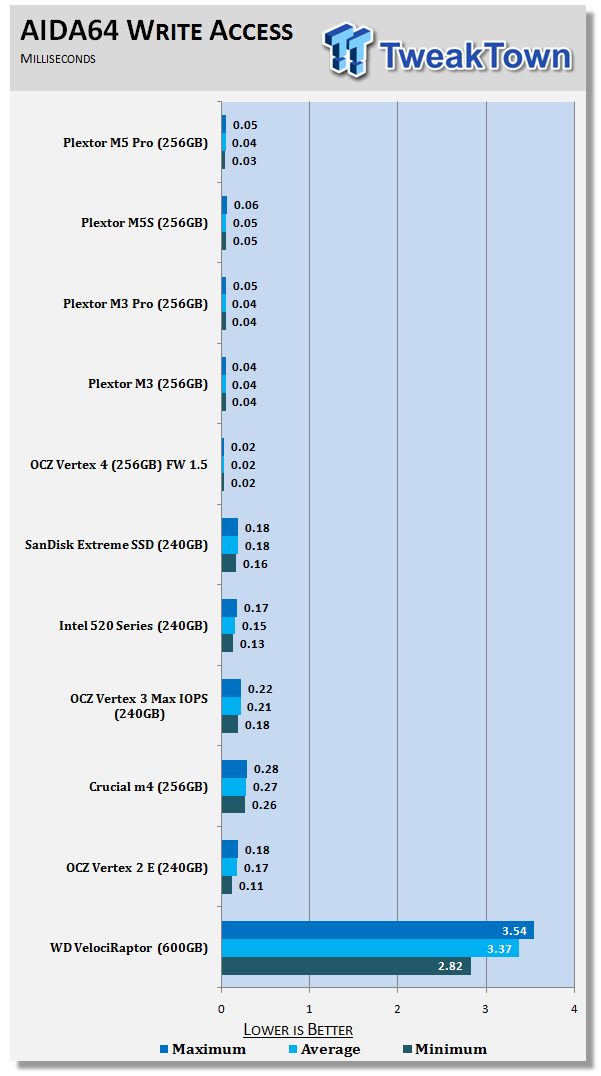 The same .04 average access time applies to the write latency too which matches several of Plextor's other Toshiba Toggle Mode flash equipped drives.
Benchmarks - CrystalDiskMark
CrystalDiskMark
Version and / or Patch Used: 3.0 Technical Preview
Developer Homepage: http://crystalmark.info
Product Homepage: http://crystalmark.info/software/CrystalDiskMark/index-e.html
Download here: http://crystaldew.info/category/software/crystaldiskmark
CrystalDiskMark is a disk benchmark software that allows us to benchmark 4K and 4K queue depths with accuracy.
Key Features:-
* Sequential reads/writes
* Random 4KB/512KB reads/writes
* Text copy
* Change dialog design
* internationalization (i18n)
Note: Crystal Disk Mark 3.0 Technical Preview was used for these tests since it offers the ability to measure native command queuing at 4 and 32.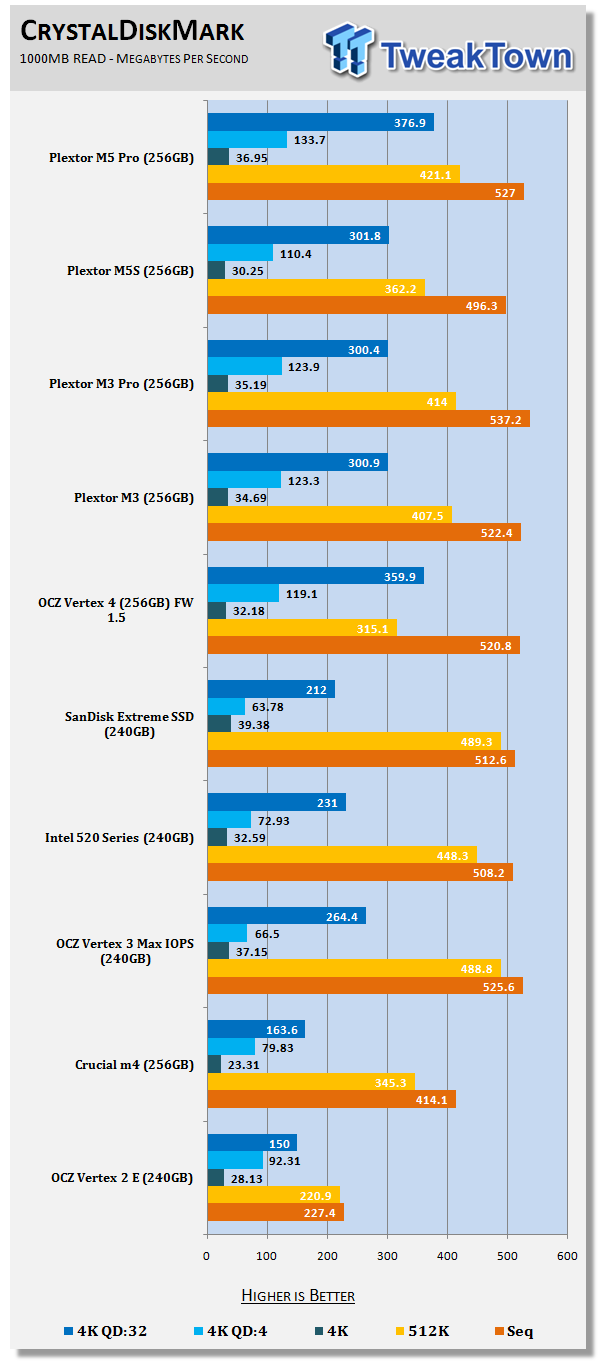 In CDM we're looking at 4K and native command queuing performance. The QD1 4K read speed of nearly 37MB/s is the fastest out of the Plextor group of drives. When scaling up to QD4, the M5 Pro leaps ahead by 10MB/s over the second fastest Plextor in the same test. When we ramp up to QD32 the M5 Pro walks away from every other SSD in our chart.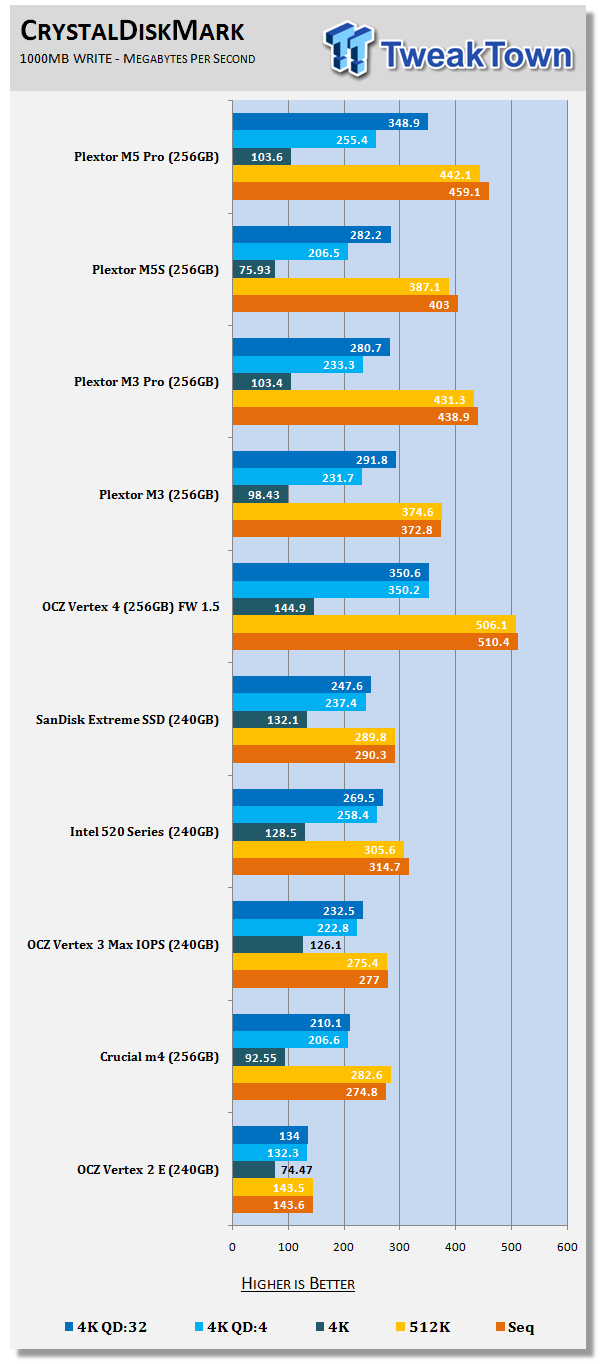 This isn't the first time Plextor has broken the QD1 100MB/s mark, the M3 Pro managed to do that as well. These days, 100MB/s in 4K writes is just a starting point, but it is still very impressive. In the QD4 test the M5 Pro separates itself from the four month old M3 Pro and it stays ahead in the QD32 test as well.
CDM uses incompressible data to deliver performance data and in this test we also get to see sequential write speed compared to drives based on SandForce controllers. When writing sequential incompressible data the Plextor M5 Pro is a rocket, but the Vertex 4 still retains its lead.
Benchmarks - PCMark Vantage Hard Disk Tests
PCMark Vantage - Hard Disk Tests
Version and / or Patch Used: 1.0.0
Developer Homepage: http://www.futuremark.com
Product Homepage: http://www.futuremark.com/benchmarks/pcmark-vantage/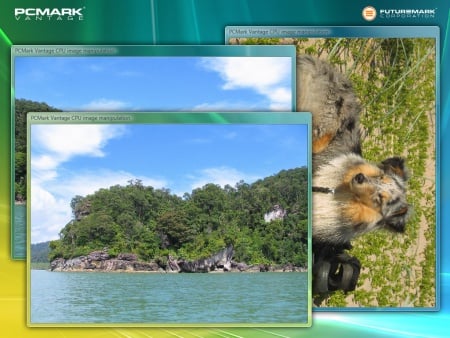 PCMark Vantage is the first objective hardware performance benchmark for PCs running 32 and 64 bit versions of Microsoft Windows Vista. PCMark Vantage is perfectly suited for benchmarking any type of Microsoft Windows Vista PC from multimedia home entertainment systems and laptops to dedicated workstations and high-end gaming rigs. Regardless of whether the benchmarker is an artist or an IT Professional, PCMark Vantage shows the user where their system soars or falls flat, and how to get the most performance possible out of their hardware. PCMark Vantage is easy enough for even the most casual enthusiast to use yet supports in-depth, professional industry grade testing.
FutureMark developed a good set of hard disk tests for their PCMark Vantage Suite. Windows users can count on Vantage to show them how a drive will perform in normal day to day usage scenarios. For most users these are the tests that matter since many of the old hat ways to measure performance have become ineffective to measure true Windows performance.

HDD1 - Windows Defender
HDD2 - Gaming
HDD3 - Windows Photo Gallery
HDD4 - Vista Startup
HDD5 - Windows Movie Maker
HDD6 - Windows Media Center
HDD7 - Windows Media Player
HDD8 - Application Loading
PCMark Vantage is a good way to determine performance at real-world and daily use tasks, but the benchmark is typically run when the drives are empty. In an empty state the Plextor M5 Pro delivers solid performance that is near the top in almost every category.
Benchmarks - PCMark Vantage - Drives with Data Testing
For a complete breakdown on the Drives with Data Testing please read this article. You will be able to perform this test at home with the files provided in the article - full instructions are included.
- Brief Methodology
SSDs perform differently when used for a period of time and when data is already present on the drive. The purpose of the Drives with Data testing is to show how a drive performs in these 'dirty' states. SSDs also need time to recover, either with TRIM or onboard garbage collection methods.
Drives with Data Testing - 25%, 50%, 75% Full States and Dirty / Empty Test
Files needed for 60 (64GB), 120 (128GB), 240 (256GB)
60GB Fill - 15GB, 30GB, 45GB
120GB Fill - 30GB, 60GB, 90GB
240GB Fill - 60GB, 120GB, 160GB
Empty but Dirty - a test run just after the fill tests and shows if a drive needs time to recover or if performance is instantly restored.

Well this is quite stunning. The Plextor M5 Pro is actually slower after light use than the M3 Pro. I say this with sarcasm because yet again we found another SSD that isn't running TRIM efficiently. If you look at the TRIM run on the M5 Pro you see that the drive lost another 5K Marks between the light use run and the 75% of capacity data purge.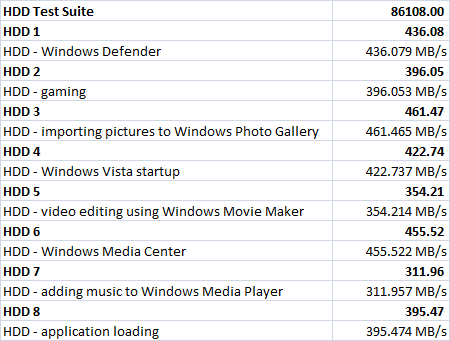 After all of the tests were completed I secure erased the drive to see what was going on. I headed right back to PCMark Vantage and ran the test on clean flash. Straight away we surpassed the M3 and M3 Pro's numbers and reached the highest score in Vantage yet.
It appears the Plextor M5 Pro has a big of an issue with TRIM because the drive isn't recovering as quickly as it should which is as fast as we delete data. Unlike LSI SandForce drives, the M5 Pro has background garbage collection so when your system is idle the drive cleans itself up.
Benchmarks - AS SSD
AS SSD Benchmark
Version and / or Patch Used: 1.2.3577.40358
Developer Homepage: Alex Intelligent Software
Product Homepage: Alex Intelligent Software
Download here: http://www.alex-is.de/PHP/fusion/downloads.php?cat_id=4&download_id=9
AS determines the performance of Solid State Drives (SSD). The tool contains four synthetic as well as three practice tests. The synthetic tests are to determine the sequential and random read and write performance of the SSD. These tests are carried out without the use of the operating system caches.
In all synthetic tests the test file size is 1GB. AS can also determine the access time of the SSD, the access of which the drive is determined to read through the entire capacity of the SSD (Full Stroke). The write access test is only to be met with a 1 GB big test file. At the end of the tests three values for the read and write as well as the overall performance will be issued. In addition to the calculated values which are shown in MB/s, they are also represented in IO per seconds (IOPS).
Note: AS SSD is a great benchmark for many tests, but since Crystal Disk Mark covers a broader range of 4K tests and HD Tune Pro covering sequential speeds, we will only use the Copy Benchmark from AS SSD.
- Copy Benchmark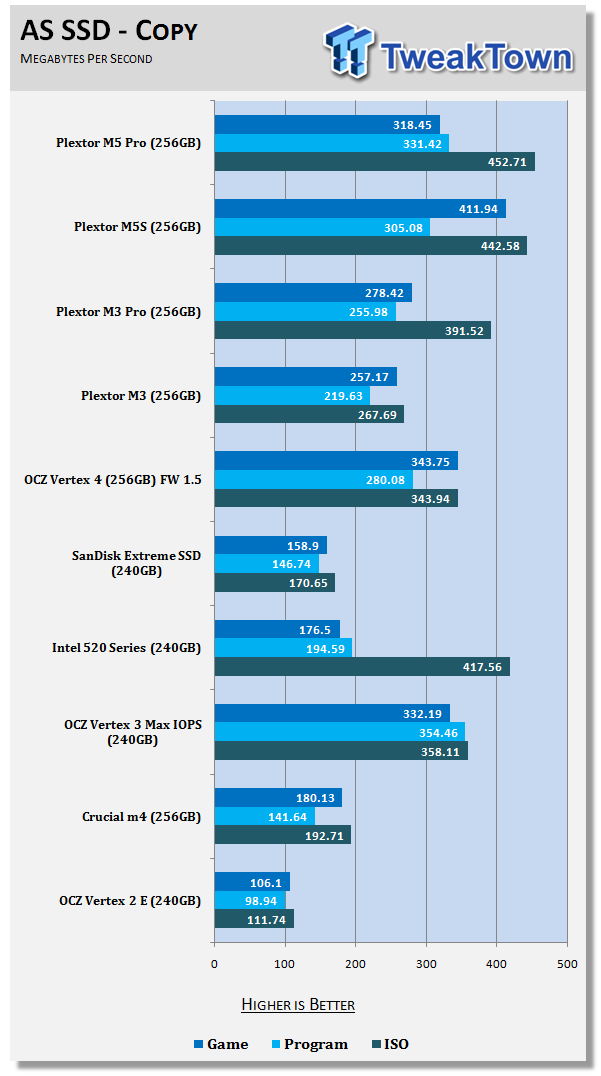 In the copy test the M5 Pro fairs well, but we think the small TRIM issue might have held the M5 Pro back since this test is run towards the end of the testing cycle.
Benchmarks - Anvil Storage Utilities
Anvil Storage Utilities
Version and / or Patch Used: BETA 11
So what is Anvil Storage Utilities? First of all, it's a storage benchmark for SSDs and HDDs where you can check and monitor your performance. The Standard Storage Benchmark performs a series of tests, you can run a full test or just the read or the write test or you can run a single test, i.e. 4K DQ16.
Anvil Storage Utilities is not officially available yet but we've been playing with the beta for several months now. The author, Anvil on several international forums has been updating the software steadily and is adding new features every couple of months.
The software can be used several different ways and to show different aspects for each drive. We've chosen to use this software to show the performance of a drive with two different data sets. The first is with compressible data and the second data set is incompressible data. Several users have requested this data in our SSD reviews.
Compressible Data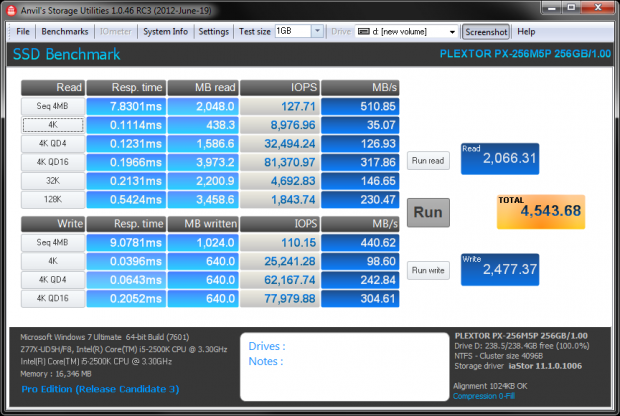 Incompressible Data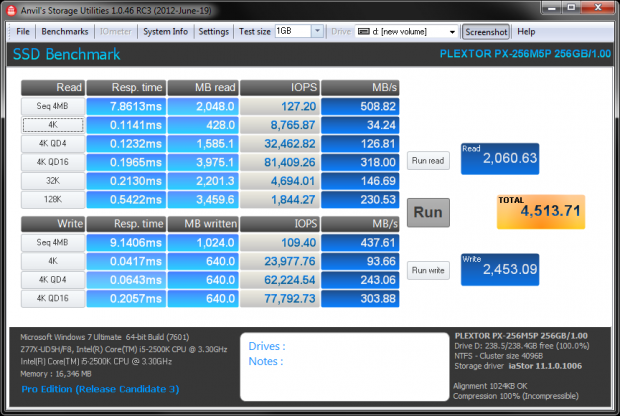 As you can see with the two images taken from Anvil, the Plextor M5 Pro does not mind incompressible data. Both tests are very close to each other.
Random Read IOPS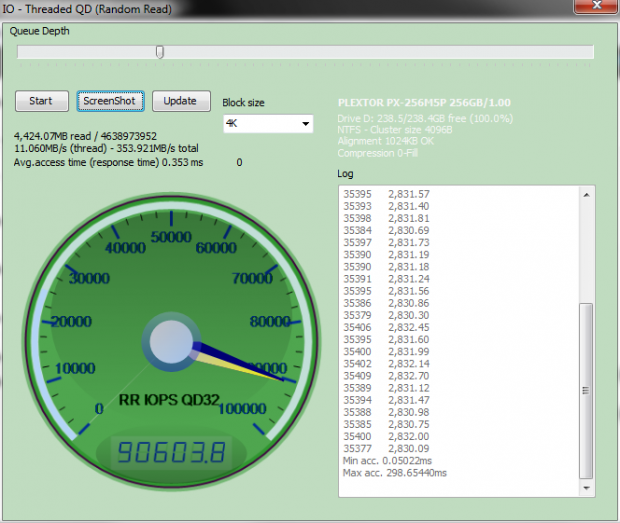 The Random Read test at QD32 shows the M5 Pro delivering just north of 90K IOPS.
Random Write IOPS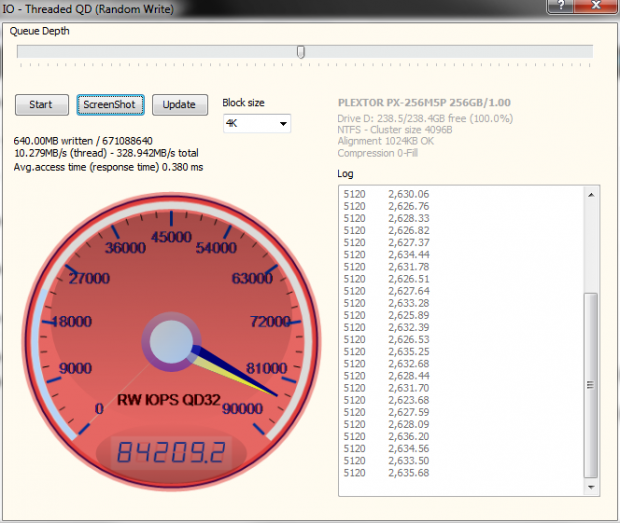 Random writes when tested at the end of our cycle shows 84K IOPS at QD32.
Benchmarks - Passmark
Passmark Advanced Multi-User Tests
Version and / or Patch Used: 6.1
Developer Homepage: http://www.passmark.com
Test Homepage: http://www.passmark.com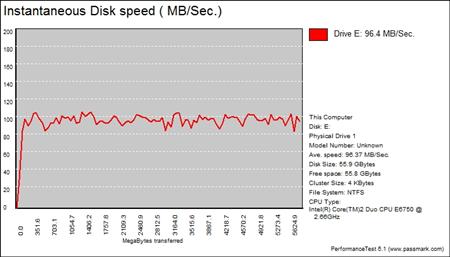 Many users complain that I/O Meter is too complicated of a benchmark to replicate results so my quest to find an alternative was started. Passmark has added several multi-user tests that measure a hard drives ability to operate in a multi-user environment.

The tests use different settings to mimic basic multi-user operations as they would play out on your server. Variances is read / write percentage as well as random / sequential reads are common in certain applications, Web Servers read nearly 100% of the time while Database Servers write a small amount of data.
The Workstation test is the only single user environment and will be similar to how you use your system at home.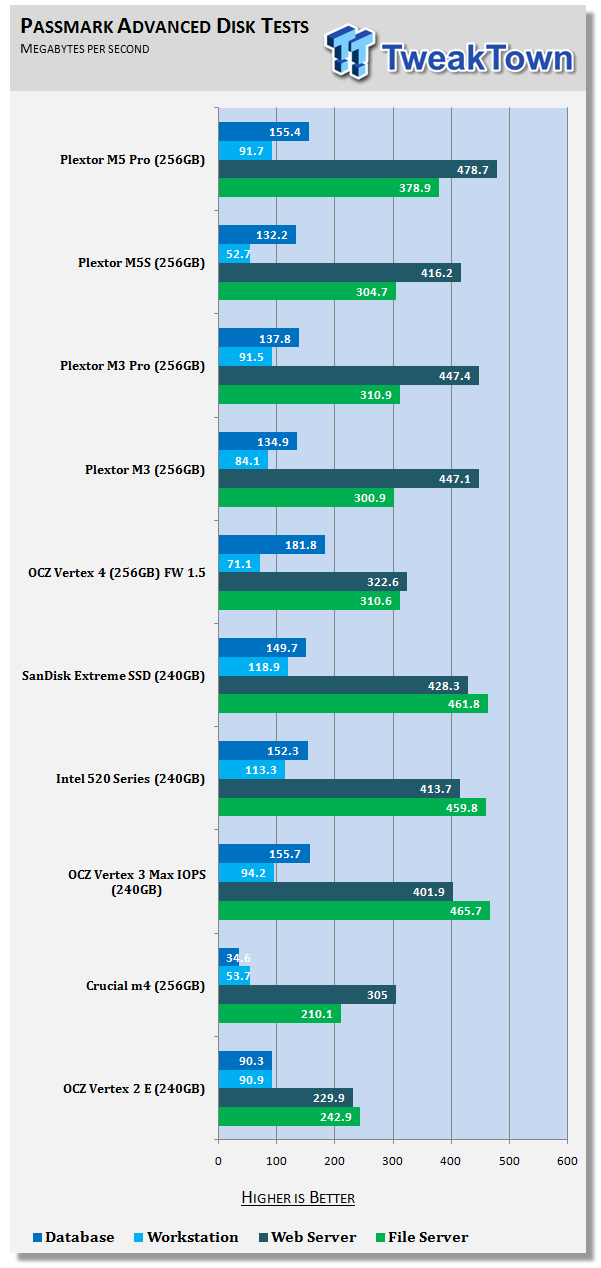 I think we're going to send one of these over to Paul for an enterprise run and see what he comes up with. The Plextor M5 Pro delivers a lot of performance in the database test and is very reliable. We'll cover reliability on the next page.
Final Thoughts

When Plextor launched the M3 and M3 Pro they were very excited about their reliability data. Now some of that data is coming out, but this time with the M5 Pro. Plextor claims they took 400 M5 Pro SSDs and stressed the drives for 500 hours. According to Plextor they not only completed the test without a failure, they didn't even have an error. With test sessions like that it's no wonder Plextor has retained the five year warranty on their flagship product.
The new Plextor M5 Pro is packed with new technology and we were pleasantly surprised in the performance offered. After testing 19nm at Computex 2012 we really didn't know what to expect with the final product builds. Also, after testing the OCZ Vertex 4 and dealing with its low QD1 sequential read speed, we didn't think the new Marvell 88SS9287 was going to be a winner in the enthusiast market. In our testing we can say that Plextor was able to push past those issues, but the new architecture has a few surprises ahead too. As I write this the M5 Pro has been in my possession for around 12 hours and I feel there are still secrets to unravel. Over the next couple of days we'll dig a bit deeper into what might be a TRIM issue. We'll also explore how aggressive Plextor went with the background garbage collection.
One area that we didn't touch on today is possibly one of the Plextor M5 Pro's greatest attributes. Plextor is touting the M5 Pro's very low power consumption, but at the time of this article, we simply were not ready to start publishing power data from our own test methodology. In the next 30 days we'll have a full report with the power draw from a high number of industry leading SSDs. With the M5 Pro's 19nm Toggle Flash, we feel this might be a real contender for the least power consuming crown.
At this time we feel the Plextor M5 Pro is a very capable SSD and given Plextor's claim of untouchable reliability, there isn't anything that says you shouldn't buy this drive. That said, there are also a few variables that we can't fill in right now and those blanks can be the difference between recommending the drive and telling you to wait for a firmware update. The first missing link is the TRIM issue we think we found. With background garbage collection, missing TRIM is not as big of a deal as it is with a drive without background GC. The drive will clean itself on its own over time when the system is idle. Since we haven't had the time to test idle time GC we can't way how well it's working right now.
Then there is the price. At Computex we were told that the M5 would take the price of the M3 and the M5 Pro would take the price of the M3 Pro. This morning I found the M3 Pro 256GB for right around $260. That's just over $1 per GB which is fine, but there are several really good SSDs on the market for less than $1 per GB. The difference between those and the M5 Pro is 19nm Toshiba Toggle Mode flash. At 19nm, Toshiba can fit more chips per wafer so the potential is there for the M5 Pro to come in at an even lower price than the M3 Pro. Then again, Toshiba just announced they were reducing flash output by 30%, so that might not be the case this time.
Let's re-visit the Plextor M5 Pro when we choose the best SSD for your notebook/ultrabook in a couple of weeks. There are just too many unanswered questions we have to influence your decision one way or the other at this time. We'll keep you posted as best as possible.