Logitech have being making some of the nicest gear for PC users out there for some time now with an absolutely huge range of products to suit just about any user out there today.
With the huge influx of portable devices out there right now and nearly everyone owning one of them, it would seem logical (pun intended) that Logitech have moved to cover an up and coming market share, that being portable wireless 'boom box' like systems that are small, sound great and don't take up much space.
In a market flooded by docks of every shape, colour and style imaginable, it's quite refreshing to see a new and updated version of such a thing come along onto the market. And today we have just that product. The Logitech Mini Boombox squeezes two small speakers inside a very compact enclosure. Combined with added Bluetooth support and what we have is a very cool looking and handy portable audio device.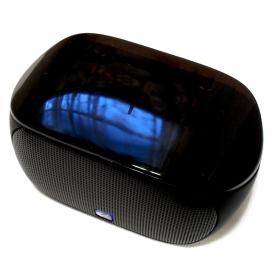 The Logitech Mini Boombox can be paired with tablets, laptops, smartphones and just about any other device that can support Bluetooth connectivity, making this is a very versatile little speaker. And that's not all because the built in battery can give up to ten hours of use from a single charge. Also included is a built in speakerphone for making and taking calls wherever you are at the time, which is indeed a nice addition.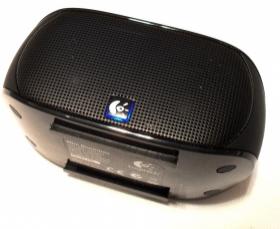 So, this looks like a feature laden and exiting little speaker with plenty to offer in terms of features and performance. So let's take a look and see how it performs, but first a quick look at some specs.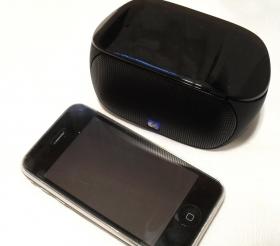 From a technical perspective there really is not much to add here, as no system specs are given. It would appear as though Logitech have marketed this system just to serve a function more so than something of great technical prowess.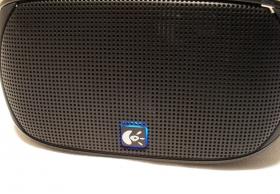 We feel this is a good thing because specs are becoming really meaningless of late and have basically become part of the box artist's repertoire for coloring things up when needed, if you catch our drift. In fact, this trend has gotten so bad of late that we would not even bother looking at most specs given on lower end products. This is because you can almost be certain they are completely meaningless in real-world terms. And also because so many 'individual' products are actually the same product built in the same factory and just finished with a different shape and / or colour box and adorned with some silly name that's meant to fool us. So by now we should have covered enough of where we usually talk about specs in order to safely move onto performance for the Logitech Mini Boombox.
The Logitech Mini Boombox is a well-designed and smart looking little speaker system that packs in new technology and great performance for the price and footprint used. In terms of pairing the speaker with the iPhone used for testing, everything went smoothly the first time with no hassles whatsoever. And this is the first area we must commend Logitech in a big way because we cannot begin to describe the time and effort wasted over the years trying to connect devices using Bluetooth. Folks, you hear what I'm saying, right?
In fact, the Mini Boombox was so good at pairing using Bluetooth that after the first time (being paired), all that's required is that the speaker to be switched on and the rest automatically calibrates itself. So, after the first paring, all that's need on successive pairings is to switch the Mini Boombox on again and you are good to go, err...listen. Hands down this is the easiest Bluetooth device to use that I have ever tested - awesome, in a word.
Once paired up with a device the Boombox is ready to go and should be singing within a couple of minutes. Control for the system volume and various other options is done via the device rather than the speaker. Although, there are touch controls on top of the speaker itself as well.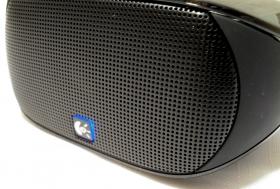 Testing with the Logitech Mini Boombox was conducted using a third generation iPhone which played some music and podcasts in order to evaluate the ability for the Mini Boombox to playback run of the mill type audio that most people will have stored away somewhere on their mobile device.
Audio quality during testing here was really impressive considering the tiny size of the unit. Listening to radio interviews via the Podcast app sounded rich, clear and very audible with these small speakers throwing out very respectable sound that could be heard by a small gathering of people.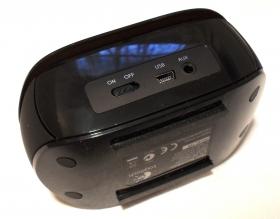 When listening to music through the Mini Boombox the audio quality was also of a very high standard. With just enough in the way of power and tonality to provide an experience for users on the go and without using desktop space or luggage space if traveling with the speaker, we are onto a winner.
The best thing about the Logitech Mini Boombox is the same quality that makes every Logitech product we have ever used equally good. And it's a simple thing - every product does exactly what it says is going to do with little disappointment. There is nothing mind blowing about the Mini Boombox, but what makes it another great product is that it is exactly what it's advertised as. And the other part of it is you can rest assured that when taken out of the box this system will be up and running in a few minutes. This is worth the price of admission, if you ask me.
The Logitech Mini Boombox is a really cool little portable speaker with wireless support that does not disappoint like so many out there right now. And that's really the big selling point for us; it will not disappoint and that means a lot. In a world that seemingly revels in ever increasing doses of disappointment for the same entry price.
The wireless function works really well and makes all those who have ever struggled with Bluetooth (100% of people) feel almost silly for ever having worried about something that Logitech have clearly understood from day dot. Think instant pairing without needing pins to poke in holes or blood blisters from holding the 'pairing' button for days (*shiver*). If you want some really nice rich portable sound for you and a friend or two when traveling or whatever, then this little Boombox absolutely rocks the house (figuratively speaking of course) and will not let you down. If only everything in life was this easy and hassle free.