Sapphire Radeon HD 7870 2GB Flex Edition Video Card Review
Having just looked at the HD 7950 Flex Edition recently, we look at the cheaper HD 7870 version today and see if it's worth considering.
Published Jul 11, 2012 9:18 AM CDT
|
Updated Tue, Nov 3 2020 7:01 PM CST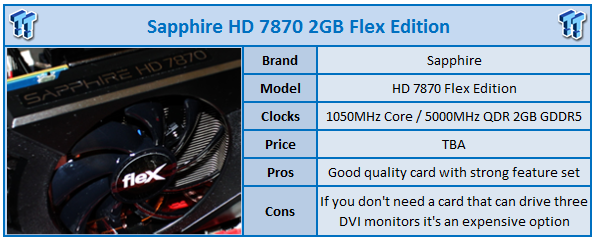 Recently we had a chance to look at the Sapphire HD 7950 Flex. With its $399.99 price tag though, it might not be the best option for everyone. Moving back in price a little the HD 7870 Flex Edition video card might be what you're looking for if you're after the Flex features specifically at a cheaper price point.
If you haven't looked at a Flex review before and don't know what it's all about then let us give you a slight run down. One of the big advantages Eyefinity brought to the table was that you had the ability to run three monitors off a single video card. But the biggest disadvantage was that one of those monitors had to be DisplayPort supported.
This is where Sapphire stepped in with the new Flex series which allows the ability to run three DVI monitors off a single video card in Eyefinity mode. Since the introduction of the Flex series we've seen more and more powerful models make use of this technology. The good thing is that models like the HD 7950 can drive three monitors under a number of games with no issues, if you don't need that much power or don't have as much money spare to spend, then this could be a better option.
So with that said let's take a closer look and starting with the box which as you can see below highlights the Flex Edition factor and gives us a bit of a run down on what exactly it does. Also being a HD 7870 means it is part of the GHz Edition series.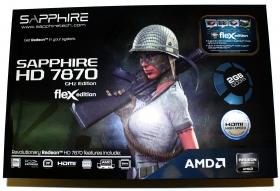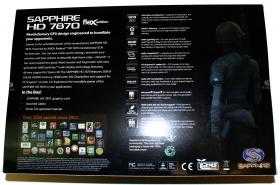 Turning the box over we can see that Sapphire expand on some of the more AMD specific features like the 28nm core technology, GDDR5, Eyefinity and CrossFireX to name just some of the features.
Moving inside the box the package is near identical to the bigger HD 7950 Flex Edition we looked at. The only difference is we're lacking a MiniDP to DisplayPort connector in this bundle. That means we have the normal line up of paperwork alongside the typical driver CD.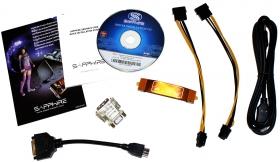 In the cable department we've got a full length HDMI cable, two Molex to 6-pin PCIe power connectors, CrossFire bridge, DVI to VGA connector and a HDMI to DVI connector to round out the connector side of things. The inclusion of the HDMI to DVI connector is what makes it possible for us to run three monitors via DVI in conjunction with the other connectors available on the video card itself.
The actual card itself uses a pretty good looking cooler, but unlike the HD 7950, this one doesn't have a specific name like the Dual-X we saw on that model. Saying that you can clearly see we've got a two fan setup here.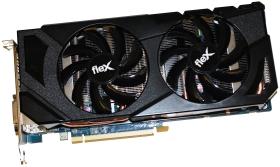 Behind the fans we can see the massive heatsink that takes up majority of the PCB and if you look at the bottom you can see a number of copper heatpipes present that help push the heat away from the core. The rest of the card is taken up by the shroud and there's not a whole lot more that can be seen.


Taking our normal spin around the card you can see at the back of the card we've got two 6-pin PCIe power connectors, while closer to the front we've got the typical CrossFire connector alongside a switch that lets us swap between the two BIOSs that are installed. In this case the switch actually does something, but we'll look at that more in a moment when we cover the specification side of things.

Finally we finish up with the connection side of thing which sees two DVI connectors alongside a HDMI port and a full size DisplayPort connector which is the reason we don't have a MiniDP to DisplayPort connector in the bundle.
If you pull the HD 7870 Flex Edition out of the box and install it into your system you're going to find yourself with a 1000MHz core clock and the 2GB of GDDR5 will come in at 4800MHz QDR. This is the default specifications of a HD 7870 GHz Edition.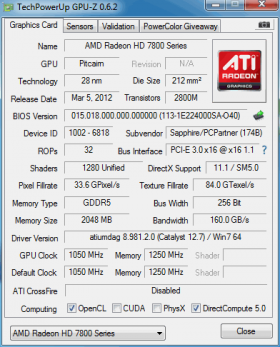 As we mentioned, though, there is a switch near the CrossFire connector and it actually comes in handy for us here today. If we turn our PC off and switch over to the other BIOS, we end up with this video card running at 1050MHz on the core while the 2GB of GDDR5 is pushed up to an even 5000MHz QDR.
To be honest I'm not a huge fan of this method and this isn't the first time that Sapphire has used it. Sure, it's nice that the BIOS switch actually feels like it has a bit of use, but I would've preferred to have seen Sapphire just give the video card the 1050 / 5000MHz QDR setup straight out of the box.
Firing up 3DMark 11 we can get an idea what is going on with performance. Under the Performance pre-set we get a score of P6870 while the more intensive Xtreme one gives us a score of X2122. This compares to the HD 7950 Flex which gave us P7665 and X2521 respectively.
The temperature side of things sees the HD 7870 Flex come in lower compared to the HD 7950 Flex with an idle temperature of 28c and load temperature of 54c. This compares to 37c and 59c respectively. Noise levels on the other hand are quite similar with idle sitting at 62.1 dB vs. 61.8 dB and our load number coming in at 63.7 dB vs. 62.9 dB which is found on the HD 7950 Flex Edition. Finally we finish with power numbers which see this video card come in at 198 watts at idle and 367 watts during load.
Performance between the HD 7950 Flex and HD 7870 Flex isn't too bad, one of the largest differences comes in the overclocking ability, though. We know from experience that the HD 7950 is a strong overclocker and performance can become extremely strong. If you're really looking at gaming with three monitors off the single card, this is probably something that is going to be important to you.
At the moment we don't know the price of the HD 7870 2GB Flex, but based on what the HD 7970 3GB Flex comes in at and the price of other Sapphire HD 7870s we should see it come in around the $349.99 mark.
With still some very strong performance out of the HD 7870 GHz Edition combined with a cheaper price tag, this is a good option for people who are interested in multi-screen gaming on the cheap. We have to be honest with ourselves, though, and realize that you're not going to play Lost Planet 2 across three screens.
This video card would suit someone who was interested in playing Source based games likes Counter Strike Source or Left 4 Dead 2. You'd even get away with something like Diablo 3 thanks to the low intensity levels of that engine. You're not going to be playing games that use a more taxing engine, though.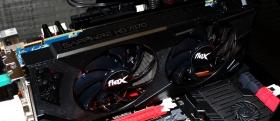 Like the HD 7950 Flex review, though, unless you want the Flex ability from this card, you're better off saving some money and going down the path off a standard HD 7870 or spending slightly more for a standard HD 7950. On the other hand if you do want the Flex capabilities, but don't want to spend HD 7950 level kind of money or simply don't need that much power, then this is a fantastic option to consider.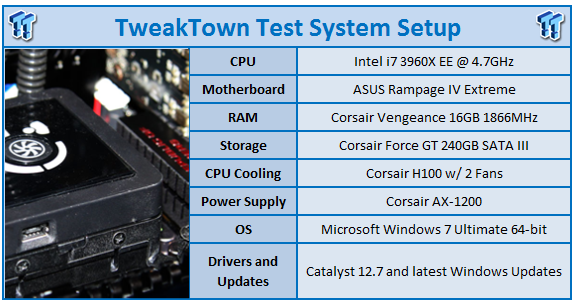 PRICING: You can find products similar to this one for sale below.

United States: Find other tech and computer products like this over at Amazon.com

United Kingdom: Find other tech and computer products like this over at Amazon.co.uk

Australia: Find other tech and computer products like this over at Amazon.com.au

Canada: Find other tech and computer products like this over at Amazon.ca

Deutschland: Finde andere Technik- und Computerprodukte wie dieses auf Amazon.de