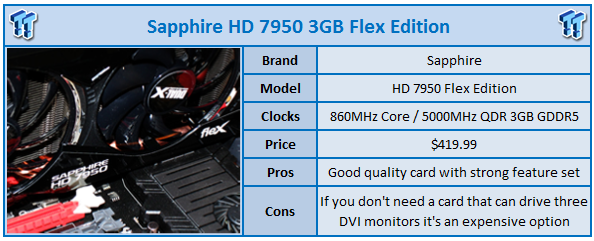 The Flex Edition series from Sapphire has been around for a while now and we've seen a few models for fall under the series. The big feature that the Flex Edition video cards bring is the ability to have three DVI monitors running in Eyefinity mode. Normally you're restricted to two at most with the third being a DisplayPort based display.
Because we've already looked at the HD 7950 a number of times we will be looking at the Flex Edition card in our other review style which lets us focus on the card. We'll be of course also running a couple of benchmarks and focus on the cooler to see how that performs before we finally wrap everything up.
Along with this HD 7950 being a Flex Edition card it also carries the Dual-X cooler on it which is again something we've seen before on other Sapphire models. If that wasn't enough looking below at the box you can see the model is also an OC Edition, which means it comes overclocked out of the box.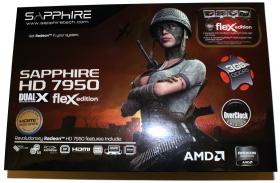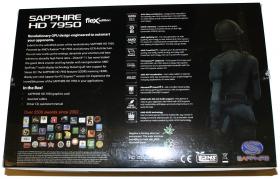 Turning the box over we get a bit of a description on the card along with a run down on some of the main features that are on offer along with a brief description explaining what exactly they do for you. Along with that you can see that Sapphire has managed to achieve a huge number of awards over the last few years.
Being a Flex model the bundle inside is pretty strong. Outside of the normal paperwork and driver CD, you can see we've got a bunch of cables and connectors included in the box. Starting on the right hand side you can see we've got a full length HDMI cable along with two Molex to 6-pin PCIe power connectors.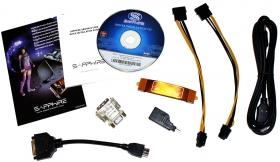 We've also got a CrossFire Bridge, DVI to VGA connector, mini DisplayPort to DisplayPort connector and a HDMI to DVI connector included in the bundle. To get Eyefinity via three DVI ports you will need to use the included HDMI to DVI adapter which supports monitors up to 1920 x 1200.
Moving onto the card itself you can see there's no real big surprise present due to the simple fact we've seen the Dual-X cooler before. You can see we've got a big dual fan setup and behind them we've got a massive heatsink that just above covers the card completely from top to bottom.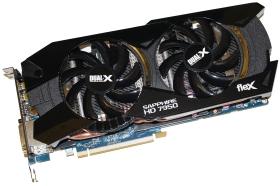 Looking across the bottom you can see the heatpipes coming out the bottom while the rest is really covered by the shroud which has the Flex, Dual-X and Sapphire HD 7950 labelling on it.


Taking a quick spin around you can see towards the back we've got two 6-pin PCIe power connectors while closer to the front you can see two CrossFire connectors along with a switch that lets us choose between one of two BIOSs installed.
When it comes to the I/O side of things you can see we've got two DVI connectors in the form of Dual-Link DVI which will support 120Hz monitors and resolutions up to 2560 x 1600 along with a Single-Link DVI-D which will support monitors up to 1920 x 1200 at 60Hz.

Along with those two connectors we've also got a HDMI port which in conjunction with the HDMI to DVI adapter can support a 1920 x 1200 monitor at 60Hz while two Mini DisplayPort connectors round off the connectivity side of things. With these two connectors, you could run up to five monitors.
As we mentioned earlier the Flex Edition card from Sapphire is also overclocked out of the box. Looking below we can see the specifications and you can see the core has been bumped up to 860MHz which is a 60MHz bump over the stock 800MHz clock seen on reference cards.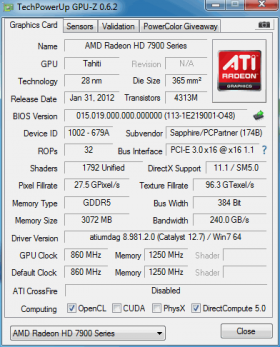 As for the 3GB of GDDR5, Sapphire has chosen to leave that alone with that coming in at 1250MHz or 5000MHz QDR. Our testing has always shown that the best gains are seen from a core bump, so if Sapphire was going to concentrate on anything, we are glad it was that area.
Firing up 3DMark 11 to look at the performance we found ourselves scoring P7665 at the Performance pre-set and X2521 in the Xtreme pre-set. This compares to a reference clock HD 7950 which pulls in a score of P7008 and X2296 respectively. You can see that the core bump does a good job of pushing performance up.
As for the cooler the numbers looked strong, at idle we saw the Dual-X cooler offer us 37c while at load we got a respectable 59c while noise levels was good at 61.8dB for idle and 62.9dB when it came to load. The Dual-X fan has impressed us before and on the Flex version of the HD 7950 here we see it again do a very good job.
The last numbers we need to look at come in the form of power and at idle we see the card draw 200 watts while load sees just over 400 with a final number of 407 watts. These numbers aren't much of a surprise and they're what we would expect out of a HD 7950.
Expanding on the performance side of things we actually got the chance at Computex to take a look at the HD 7950 3G Flex in action via a five screen monitor setup running Dirt 3. If you have a look at the video of the single card setup running five screens you'll see that the performance was indeed very impressive.
At $419.99 the Sapphire HD 7950 Flex Edition is the most expensive Sapphire HD 7950 over at Newegg at the moment. If you're after a video card that is capable of driving three DVI monitors, this is a really good buy. On the other hand if you're after a HD 7950 with the same cooler, but don't need a card that can drive three DVI monitors in Eyefinity, the 950MHz clocked OC version that comes in at $389.99 after rebate is going to be the better option.