Genius is not a company we have dealt with before in terms of audio products. And that is because they do not have a massive fan base or a reputation for building great audio products - they have been making products for a very long time, though. But all that can change today with the Genius SP-i250G which is a stereo portable and USB powered speaker system.
In our experience with portable speakers, especially the cheaper ones, are not especially great things to behold and is much like putting a house on wheels. Which is all well and good, but there are several important reasons a house and a set of speakers are usually stationary items - that's because they need to be powered (properly) in order to work well.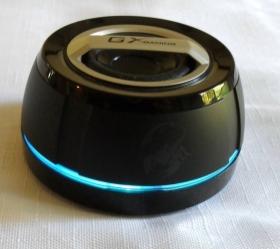 Inside of each speaker is a single 40mm omni-directional driver which is tasked with producing the entire audible spectrum of sound. Twisting each speaker enables the unit to be turned off or made louder and as an added feature, each speaker lights up with a colored LED. Also provided are two small carry cases to make things even easier when transporting the speakers. When left alone the speakers charge themselves up and are ready to go the next time they are needed.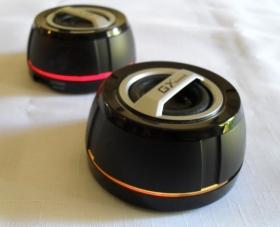 So for such a small package it seems like Genius have squeezed in a number of features and other little extras. But really the main appeal of a system like this is going to be its portability and flexibility of environments in which it can be used.
Overall the specs for the system seem fairly modest; of note firstly is the use of a metal driver which is 40mm in size. This small driver is of decent quality, but ultimately it is going to be too small to really handle a wide spectrum of frequencies.
Speaking of which, the frequency response is 250hz-20Khz which sounds fine on paper, but in reality there is a lot of information below 250hz that is not being conveyed here.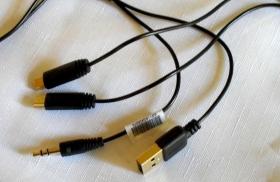 Each speaker also features a built in battery which charges through the USB connection whenever the computer is turned on. We felt this was a really nice touch that adds to the portability of the system.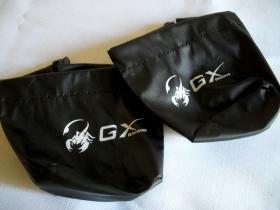 Also included are two small carry cases for the speakers which are a nice touch we feel and should keep things safe. Also of interest here are the LED lights built into each speaker. These lights cycle through a myriad of different colors and probably made the strongest impression on us of any part of this system.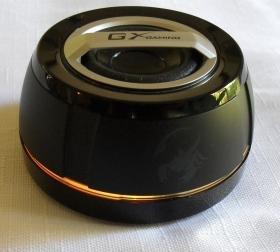 General Thoughts
During testing we quite enjoyed several aspects of the sound quality provided by the small Genius SP-i250G speakers. Audio quality was crisp and clear during dialogue sections of test material and the overall audibility was quite good.
Various types of music and various types of ears are going to each receive their own inherent ups and down with this system. Some music is going to be quite enjoyable due to what is decent sound quality, however as soon as any low of mid bass comes in, the whole show goes off air.
This really is not any fault of the little speakers themselves, which on their own really sound up to the task. It's just that without the driver in place to produce bass frequencies, things can only ever be so good.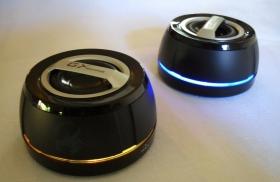 Music and Movies
Listening to some light orchestral stuff will sound pretty good as will some simple music with only one or two instruments - this system is definitely not great for intense metal music or bass heavy dance music.
In terms of watching movies we were not really happy with these speakers because too much of the information is being left out of the mix due to size limitations within the design. They are just simply not able to convey adequate emotion to do movies any justice.
Games
We know serious gamers will not be able to settle for anything this small, but for others, perhaps we might have something worth talking about here? Afraid not though, because games these days just have too much going on to get away with so little. It's really a similar case here as with movies. This is so because both games and movies in many instances try to emulate the real-world and low frequency sound is produced constantly in everyday life.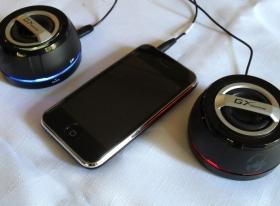 The SP-i250G started out very well with a decent build quality on offer along with an attractive design and some lovely LED lights built in also. Testing was slightly mixed though with some good aspects to the performance and some bad. Well that's the wrong word really though... nothing is "bad" about this system, it just lacks the capability to reproduce low end information, but that's a big deal. But other than that there is enjoyment to be had listening to some types of music and certainly dialogue driven material.
Overall though, if you are getting a little tired with headphones and would like an equally portable and decent sounding speaker system, then take a look here. And enjoy the light show, plus for the low asking price, you can't go too wrong. There are much better audio solutions out there, but for this price and the portable nature of this product, some could consider it.