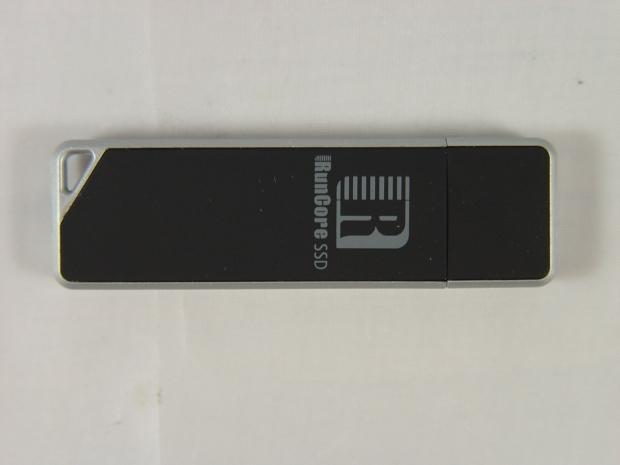 The USB 3.0 thumb drive market has been heating up for some time. When GIGABYTE and ASUS first launched their USB 3.0 equipped products more than two years ago, they pushed for storage product manufactures to quickly adapt the standard. Since then we've seen USB 3.0 flash drives come in all shapes and sizes.
The whole shapes and sizes thing, while it might not seem like an issue, it is actually a big problem when you try to use them. Patriot was one of the biggest offenders, their Magnum products managed to achieve up to 128GB of capacity which sounds great, but you can't plug them into an Xbox 360 or many other products that limit the width around the connector. Patriot isn't the only offender, around half of the USB 3.0 drives we've tested are oversized and either blocks other USB ports or just can't fit into some of the devices we want to plug into.
RunCore saw this as a problem too so when they set out to design their Pro IV MoonDrive they wanted to keep things simple and streamlined. The Pro IV MoonDrive's profile isn't that much different than the low cost flash drives you see at the grocery store hanging on a rack next to the batteries for children's toys. The build quality though is much more advanced, both inside and out.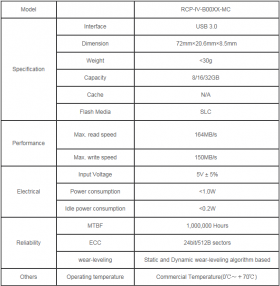 On the outside two toned hard plastic reduces the weight and keeps the internals secure. On the inside though you get SLC flash, the good stuff that is fast all of the time and it intends to stay that way. SLC flash doesn't have to erase before it writes, well not like MLC flash that slows when it needs to cleanse itself. It is important to remember that just like NCQ, TRIM doesn't work over USB 3.0 either. So any scrubbing of the flash with an MLC USB drive happens while you are trying to write data to it, which is going to slow the MLC drive down, but not so with SLC.
RunCore is making three capacity sizes, 8GB, 16GB and 32GB. I wasn't able to find any of these drives for sale just yet, but they are coming soon. RunCore claims the SLC flash is capable of delivering up to 164MB/s when reading back from the drive and musters 150MB/s while writing to the drive.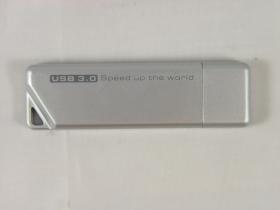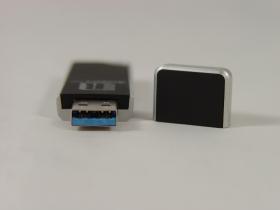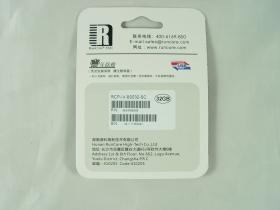 Since we don't have the final e-tail price of the RunCore Pro IV MoonDrive we have to base our buying decision based on performance...and that's just fine with us.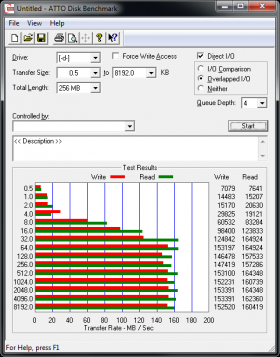 RunCore's numbers were spot on, but just saying 164MB/s read really doesn't do it justice. The drive does really well at lower block sizes, reading around 20MB/s at 4K and 83MB/s at 8K.
The write speed isn't too shabby either! The 4K write is almost 30MB/s and 8K manages around 60MB/s.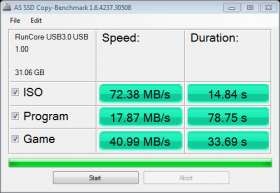 The RunCore Pro IV MoonDrive is able to transfer data quite quickly as well. The large single file ISO test completed in just under 15 seconds at 72MB/s. The two mixed file tests, Program and Game were slower, but still produced acceptable transfer performance.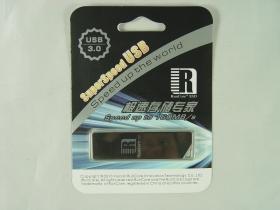 Without pricing details we can't really say where the RunCore Pro IV MoonDrive comes in when compared to the other USB 3.0 flash drives we've tested. To date we've only seen a small number of SLC thumb drives, there just haven't been too many built.
We've tested drives that were faster, but their MLC flash doesn't offer the consistent speeds of the SLC Pro IV. The best thing though is this drive can be plugged into any USB port and actually fit without blocking another port.