Introduction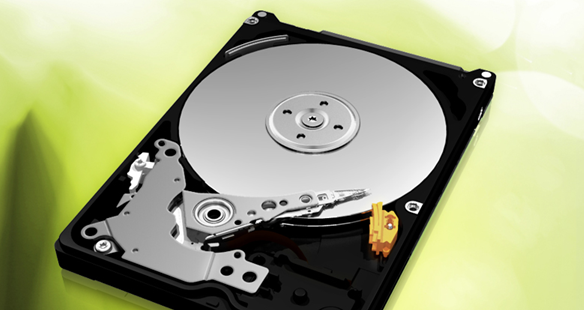 With the SSD season slowing down, we finally get to break free and spend some time on other storage technology. The mechanical hard drive world has made some advances in recent months. Some of the biggest news has come from companies like Western Digital increasing the platter density on their disks. The 1TB mark for the 2.5" form factor was hit over a year ago, but all of the early drives used 15mm drive heights with three spinning platters. Western Digital was the first with a 1TB 15mm drive and they are also one of the first with a standard notebook size 1TB drive as well.
Since the dawn of mobile computing, notebook users have taken it on the chin when it comes to capacity. The same is true today with desktop users having access to 3TB drives, but the gap is slowly shrinking. The new Western Digital Scorpio Blue now goes up to 1TB, either with a 5,200 (WD10TPV) or 5,400 (WD10JPVT) RPM drive. Today we are looking at the faster of the two, a 5,400 RPM 1TB model that brings with it low power consumption, 8MB of cache, a notebook friendly 2.5" form factor and of course a massive 1TB capacity size that is sure to make your mobile computing experience more convenient.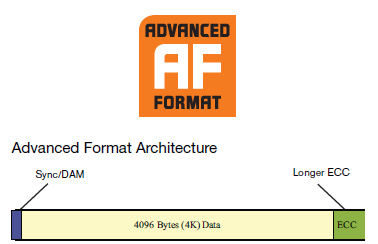 The new Western Digital Scorpio Blue uses the new Advanced Format that increases format efficiency and is optimized for the latest operating systems like Windows Vista, 7 and Mac.
Specifications, Pricing and Availability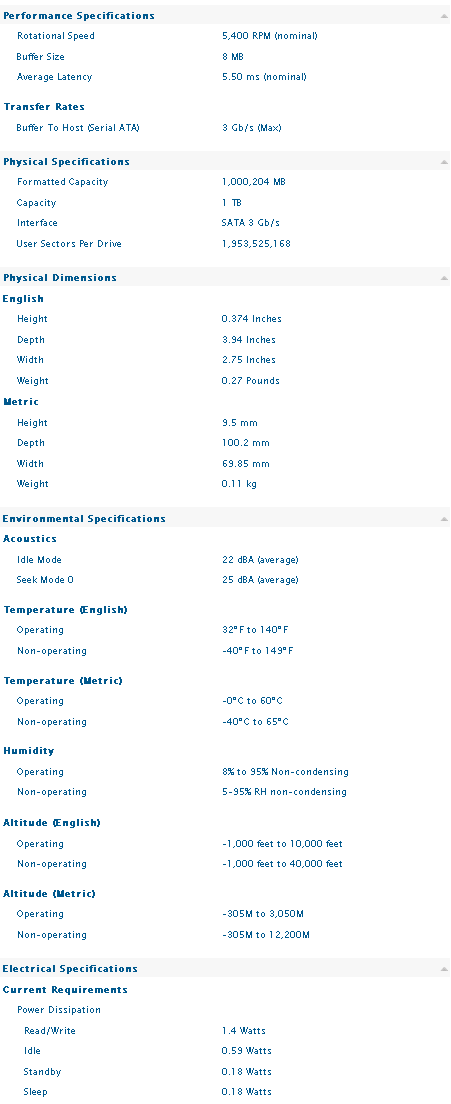 Western Digital has always been very good about publishing a lot of technical information about their drives. Let's tackle the obvious first. The new WD10JPVT has a massive 1TB capacity which is the biggest selling point. It uses a 2.5", 9.5mm form factor so it fits nicely into just about every notebook on the planet with a SATA interface.
There are two versions of the Scorpio Blue with a 1TB capacity size. Both use the same 8MB cache, but one spins the platters at 5,200 RPMs and the model we are looking at today spins at 5,400 RPMs. I'm not too sure why WD released two models so close together, but they did. The 5,200 RPM model uses less power, but the 5,400 RPM model does a really good job handling power also. Our sample is rated at 22dBA (average) so it's better than whisper quiet; we never head the drive once, not even when sitting two feet away.
If you missed our article close to a month ago about the flood in Thailand wreaking havoc on HDD prices, you should have a look. At the time of writing we found the 1TB Scorpio Blue with Google listed at 88 Dollars. By the time you read this that price could easily be three times that amount. Newegg has already lifted their prices and shows the drive at just over 200 Dollars. I'm going to use my natural disaster clause and not focus so much on the current pricing.
The Western Digital Scorpio Blue 1TB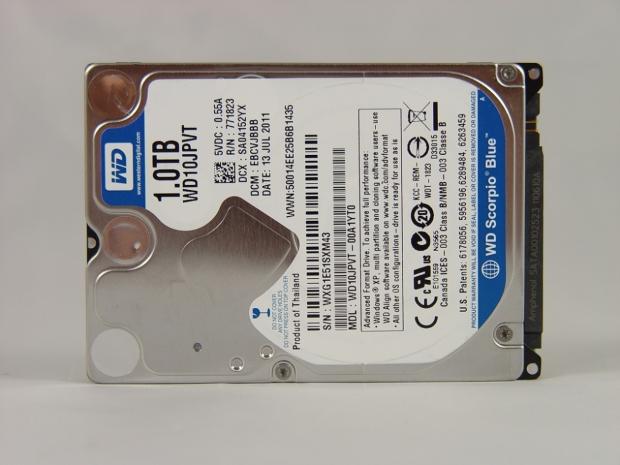 Our sample drive arrived in OEM fashion, so we don't have the WD retail package to show you today. I think most people have seen the retail packages before at stores like Best Buy and Fry's.
Western Digital fits quite a bit of information on the drive's label. Here we see the capacity size, model and serial number, build date and some numbers that we don't recognize.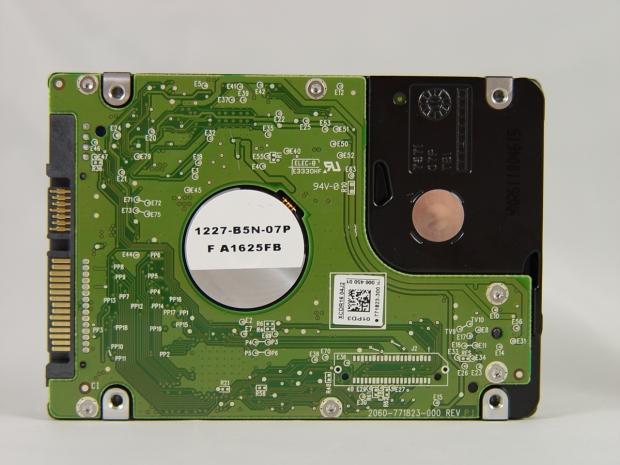 All of the components are mounted on the other side of the PCB, so there really isn't much to look at here.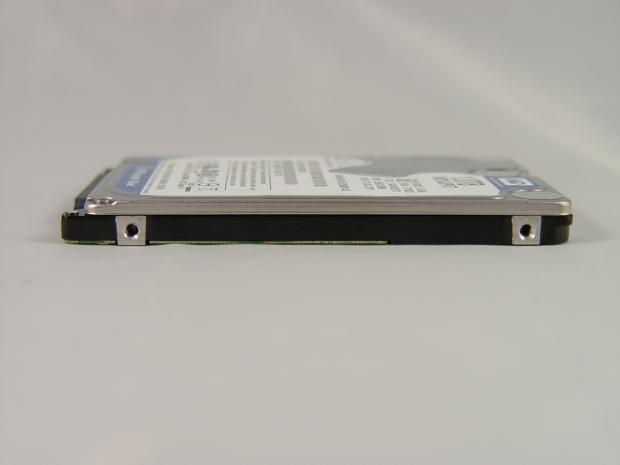 The view from the side shows us that the side screw positions are where they should be.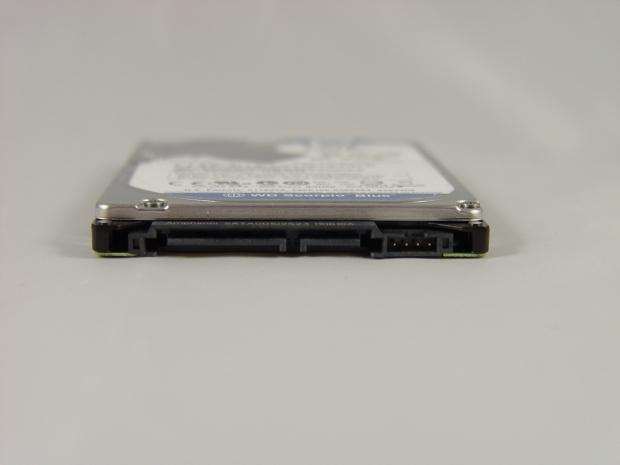 The SATA power and data connectors are also where they should be. With all of the hardware positioned as it should, you won't have any problems installing the Scorpio Blue in your notebook or drive sled.
Test System Setup and ATTO Baseline Performance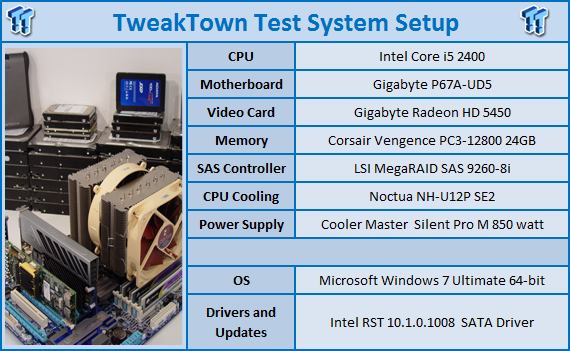 We would like to thank the following companies for supplying and supporting us with our test system hardware and equipment: AVADirect, GIGABYTE, Cooler Master, LSI, Corsair and Noctua.
You can read more about TweakTown's Storage Product Testing Workstation and the procedures followed to test products in this article.
For the most part the Scorpio Blue Series products are for notebook installations, but from time to time they do make it to desktops. We're going to test the Scorpio Blue 1TB 5,400 RPM drive in one of our big bad desktop systems.
ATTO Baseline Performance
Version and / or Patch Used: 2.34
ATTO is used by many disk manufacturers to determine the read and write speeds that will be presented to customers.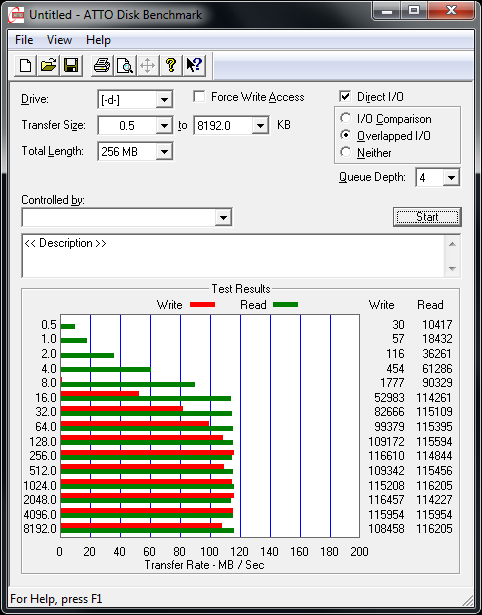 The Scorpio Blue line isn't Western Digital's fastest drive series - that designation goes to the Black Series. The Blue Series does offer a very good value, power consumption rate and the highest capacities. In ATTO we found our 1TB sample consistently delivering nearly 120MB/s read speed and almost 110MB/s write speed.
Benchmarks - HD Tune Pro
HD Tune Pro
Version and / or Patch Used: 4.00
Developer Homepage: http://www.efdsoftware.com
Product Homepage: http://www.hdtune.com
HD Tune is a Hard Disk utility which has the following functions:
Benchmark: measures the performance
Info: shows detailed information
Health: checks the health status by using SMART
Error Scan: scans the surface for errors
Temperature display
HD Tune Pro gives us accurate read, write and access time results and for the last couple of years has been gaining popularity amongst reviewers. It is now considered a must have application for storage device testing.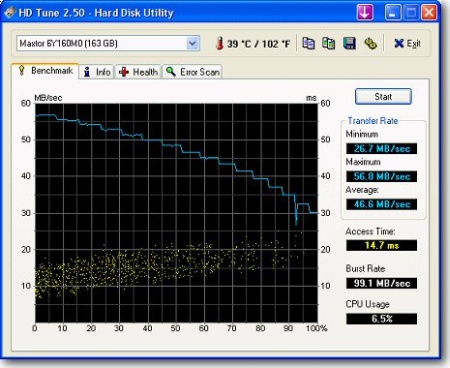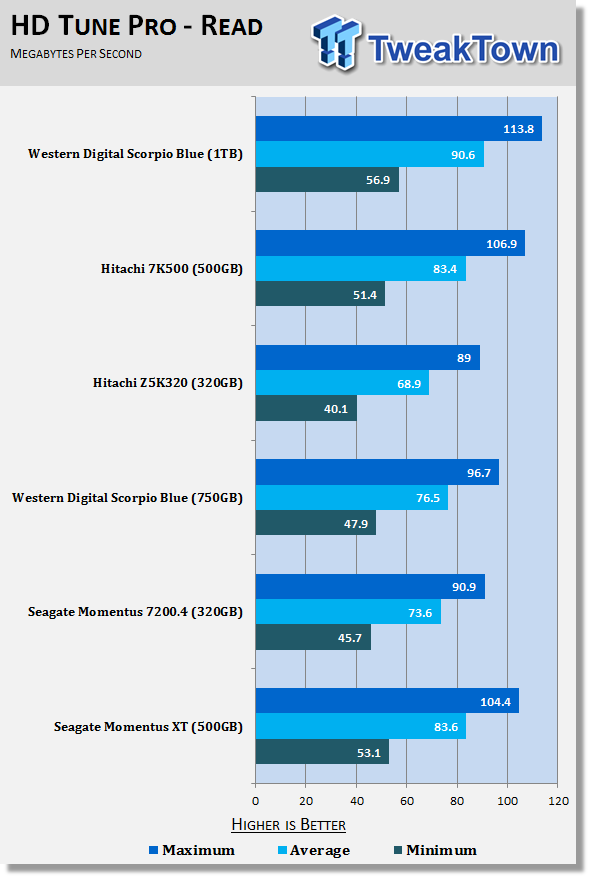 I was surprised to learn that I needed to go all the way back to this time last year to find another 2.5" mechanical drive I checked out. While reading across the drive, we see the new 1TB Scorpio Blue is significantly faster than the 750GB model.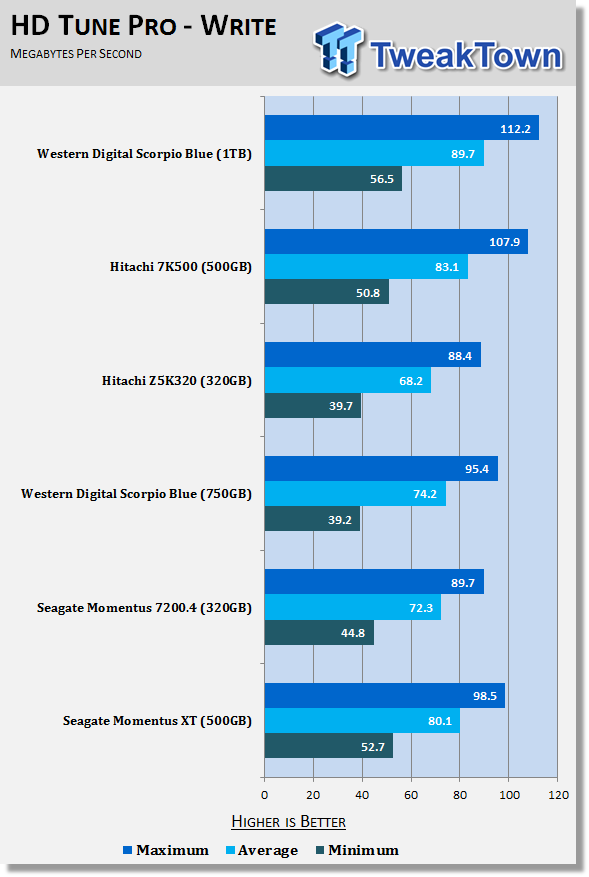 With around the same lead, the new 1TB Scorpio Blue writes data faster as well.
Benchmarks - AIDA64 Random Access Time
AIDA64 Random Access Time
Version and / or Patch Used: 1.60
Developer Homepage: http://www.aida64.com
Product Homepage: http://www.aida64.com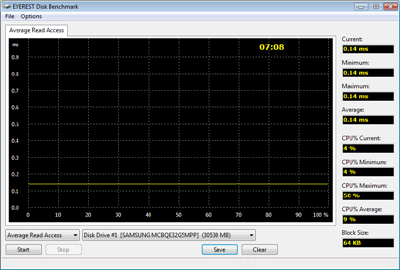 AIDA64 offers several different benchmarks for testing and optimizing your system or network. The Random Access test is one of very few if not only that will measure hard drives random access times in hundredths of milliseconds as oppose to tens of milliseconds.
Drives with only one or two tests displayed in the write test mean that they have failed the test and their Maximum and possibly their Average Scores were very high after the cached fills. This usually happens only with controllers manufactured by JMicron and Toshiba.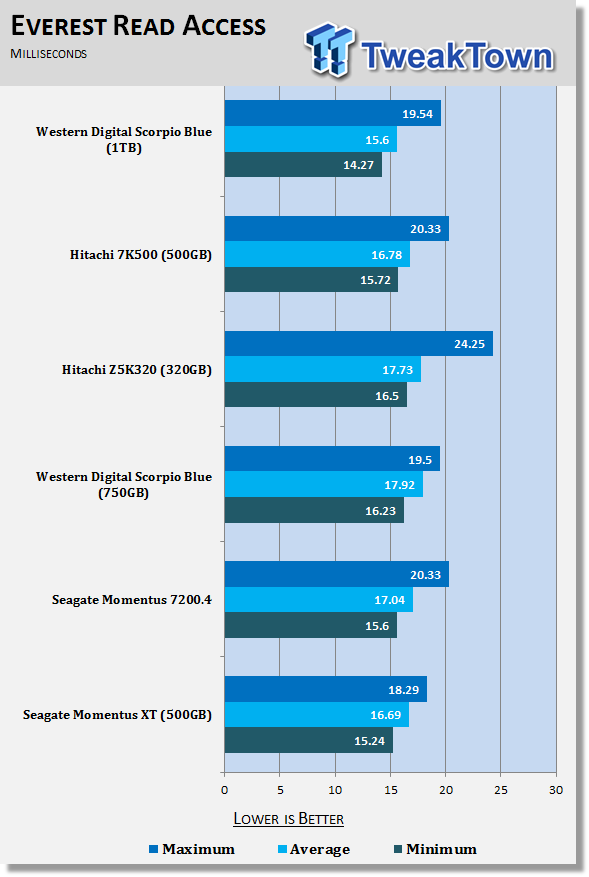 Access time used to be as simple as looking at a drive's rotational speed, but manufacturers have been able to improve the time it takes for data to be ready back through intelligent cache algorithms. Increases in platter density have also helped lower access times. It might not seem like a 2ms improvement is a big deal, but the decrease in time needed to read each block is pretty large.
In our tests we observed the 1TB Scorpio Blue deliver a 15.6ms average access time and the 750GB model reading at 17.92.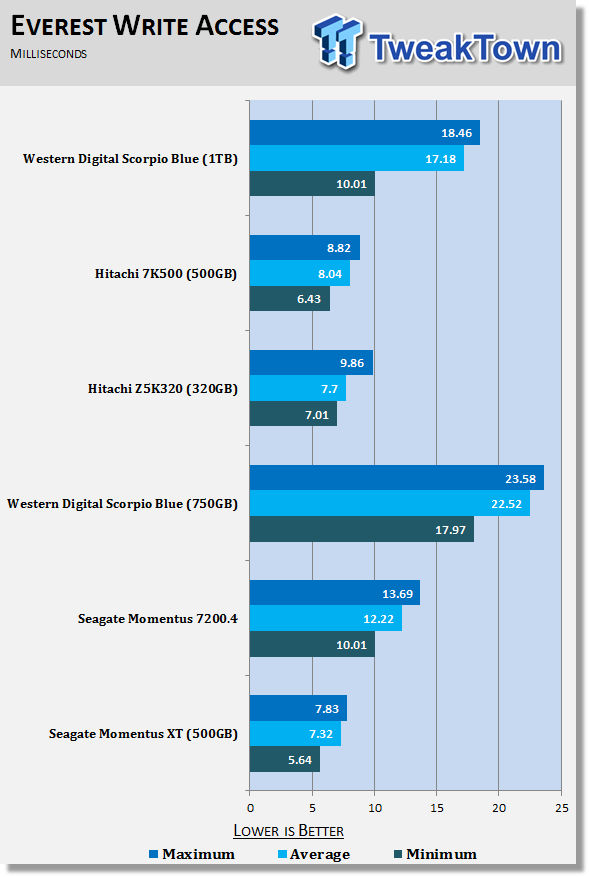 The intelligent cache system really shows on the write tests. The new 1TB model performed quite a bit better than the older 750GB model.
Benchmarks - PCMark Vantage Hard Disk Tests
PCMark Vantage - Hard Disk Tests
Version and / or Patch Used: 1.0.0
Developer Homepage: http://www.futuremark.com
Product Homepage: http://www.futuremark.com/benchmarks/pcmark-vantage/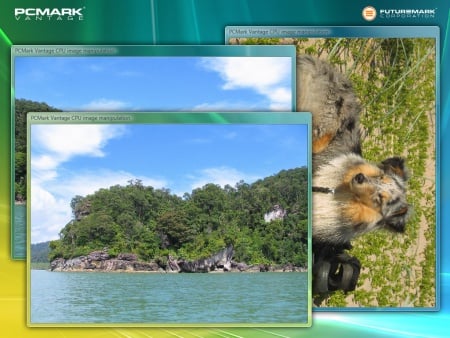 PCMark Vantage is the first objective hardware performance benchmark for PCs running 32 and 64 bit versions of Microsoft Windows Vista. PCMark Vantage is perfectly suited for benchmarking any type of Microsoft Windows Vista PC from multimedia home entertainment systems and laptops to dedicated workstations and high-end gaming rigs. Regardless of whether the benchmarker is an artist or an IT Professional, PCMark Vantage shows the user where their system soars or falls flat, and how to get the most performance possible out of their hardware. PCMark Vantage is easy enough for even the most casual enthusiast to use yet supports in-depth, professional industry grade testing.
FutureMark has developed a good set of hard disk tests for their PCMark Vantage Suite. Windows users can count on Vantage to show them how a drive will perform in normal day to day usage scenarios. For most users these are the tests that matter since many of the old hat ways to measure performance have become ineffective to measure true Windows performance.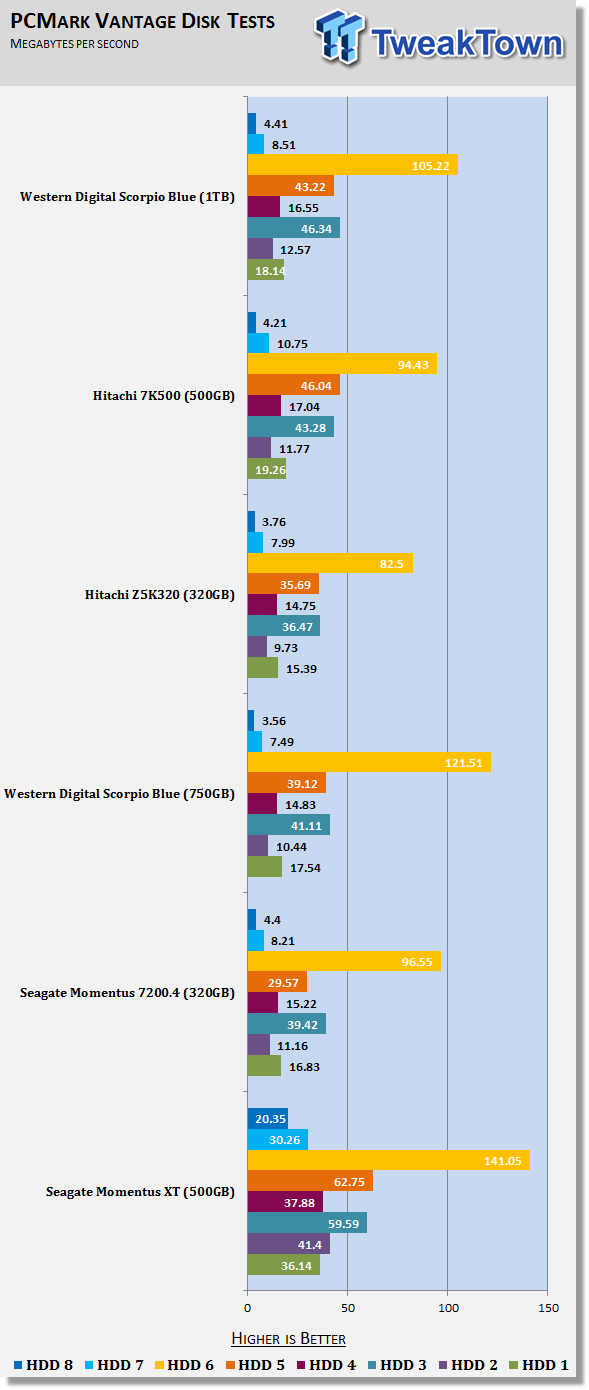 HDD1 - Windows Defender
HDD2 - Gaming
HDD3 - Windows Photo Gallery
HDD4 - Vista Startup
HDD5 - Windows Movie Maker
HDD6 - Windows Media Center
HDD7 - Windows Media Player
HDD8 - Application Loading
When looking at the real world performance between the older 750GB drive and the new 1TB Blue version, we see the new drive making steady gains in all but one category. The only drive in our chart that really stands out is the Seagate Momentus XT, but it uses a SSD caching system so it isn't really a fair comparison. The XT is also only half the size of the 1TB Scorpio Blue.
Benchmarks - AS SSD
AS SSD Benchmark
Version and / or Patch Used: 1.2.3577.40358
Developer Homepage: Alex Intelligent Software
Product Homepage: Alex Intelligent Software
Download here: http://www.alex-is.de/PHP/fusion/downloads.php?cat_id=4&download_id=9
AS determines the performance of Solid State Drives (SSD). The tool contains four synthetic as well as three practice tests. The synthetic tests are to determine the sequential and random read and write performance of the SSD. These tests are carried out without the use of the operating system caches.
In all synthetic tests the test file size is 1GB. AS can also determine the access time of the SSD, the access of which the drive is determined to read through the entire capacity of the SSD (Full Stroke). The write access test is only to be met with a 1 GB big test file. At the end of the tests three values for the read and write as well as the overall performance will be issued. In addition to the calculated values which are shown in MB/s, they are also represented in IO per seconds (IOPS).
Note: AS SSD is a great benchmark for many tests, but since Crystal Disk Mark covers a broader range of 4K tests and HD Tune Pro covering sequential speeds, we will only use the Copy Benchmark from AS SSD.
- Copy Benchmark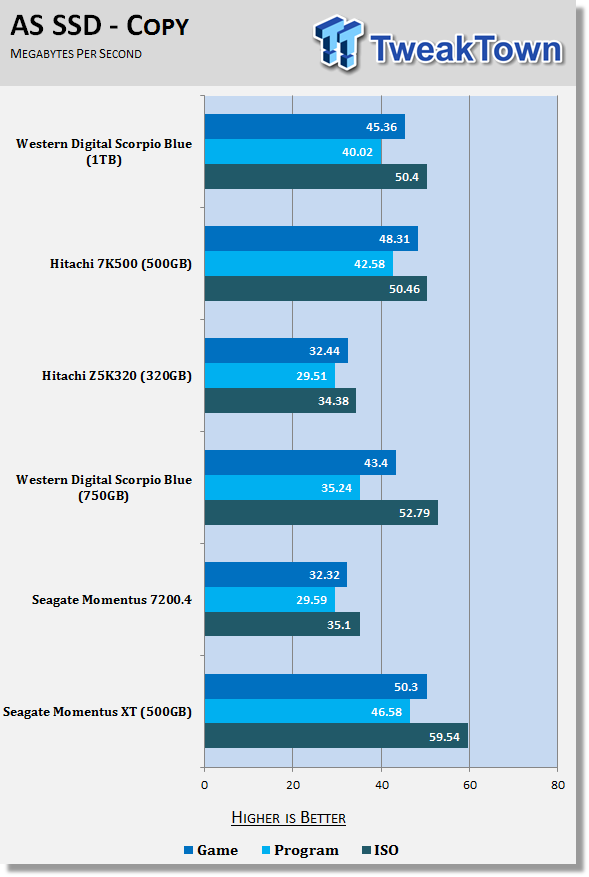 With a class leading storage capacity for a notebook, you are going to want to be able to transfer files and programs quickly. The Scorpio Blue is able to move most file types between 40 and 50MB/s which is pretty good for a 5,400 RPM drive.
Benchmarks - Passmark
Passmark Advanced Multi-User Tests
Version and / or Patch Used: 6.1
Developer Homepage: http://www.passmark.com
Test Homepage: http://www.passmark.com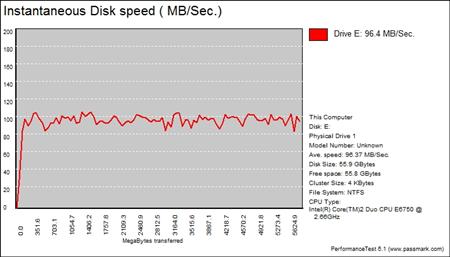 Many users complain that I/O Meter is too complicated of a benchmark to replicate results so my quest to find an alternative was started. Passmark has added several multi-user tests that measure a hard drives ability to operate in a multi-user environment.

The tests use different settings to mimic basic multi-user operations as they would play out on your server. Variances is read / write percentage as well as random / sequential reads are common in certain applications, Web Servers read nearly 100% of the time while Database Servers write a small amount of data.
The Workstation test is the only single user environment and will be similar to how you use your system at home.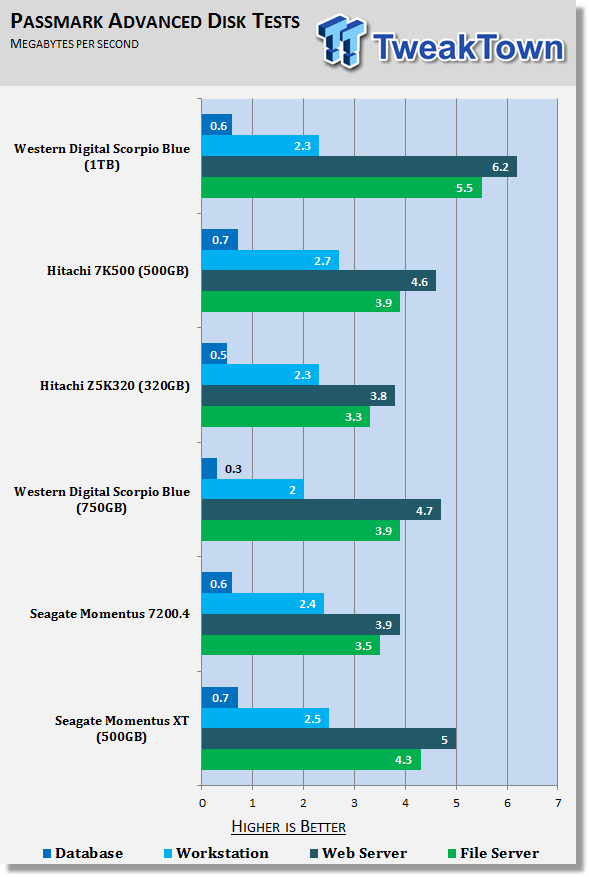 The Scorpio Blue 1TB isn't an enterprise drive, but it's still fun to run these tests and keep them on record for future use.
Final Thoughts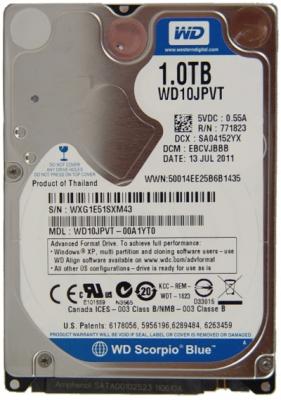 The Western Digital Scorpio Blue 1TB (WD10JPVT) is the faster of the two new 1TB 2.5" form factor drives from WD, but it still isn't going to win any performance awards. When compared to older Scorpio Blue drives, the 1TB model is faster than previous models and comparable to other 5,400 drives on the market, but the strong point is clearing its large capacity size.
I can think of a few scenarios where users would be ecstatic to use this drive in their notebook. Many new notebooks are including mSATA slots for small solid state drives and a full size 2.5", 9.5mm slot for much larger data storage drives like the Scorpio Blue. Since many of these mSATA SSDs only go to 128GB of capacity, the natural thing to do is double down on the storage drive. The Western Digital Scorpio Blue 1TB is the perfect drive to handle this role.
Users looking for a massive amount of capacity and are able to overlook the higher access times and slower speed (compared to 7,200 RPM or SSDs) will find a good product in the Scorpio Blue. There are very few 1TB drives on the market in this form factor; more are planned, but many of those plans are on hold at this time.
If you're looking for a Scorpio Blue 1TB, the time to act is now. With extensive flooding in Thailand where many HDDs and their components are manufactured, this has turned the market upside down. Because of this we aren't going to spend a lot of time talking about pricing, because by the time you read this, just a few days after it's been written the prices will have changed.
At the time of writing we were able to find the WD10JPVT for around 88 Dollars, but the Newegg price was already over 200. As you can see from the large image above, this drive says "Product of Thailand" right on the label. Good luck finding one in the near future.