Thailand Flood Leads to HDD Drought
Prices have already tripled in some cases and we expect them to triple again.
Published Fri, Oct 28 2011 10:42 AM CDT
|
Updated Tue, Nov 3 2020 7:01 PM CST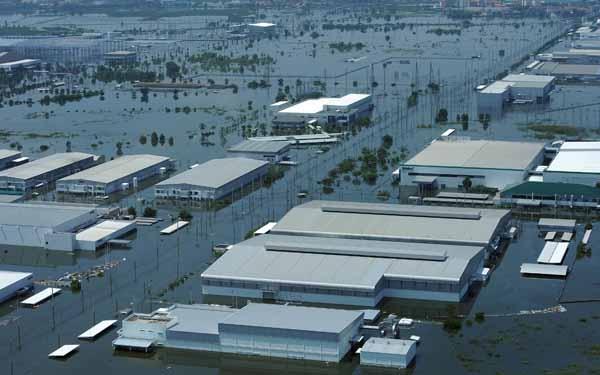 Thailand is in the middle of the worst flood to hit the country in fifty years. At the time of writing, reports coming from the country warn of water levels still rising. Two thirds of the country is flooded and 900,000 families and businesses have been impacted. Hundreds if not thousands of lives have already been lost.
In the wake of such a tragedy I feel a bit ashamed to even be writing such an article, as our focus should be on the lives and well-being of those going through such a disaster. I'm a technology journalist, though, so I'll just stick to what I'm (hopefully) good at.
Thailand is one of the world's leading manufacturing countries and many products and components of products are built there. The main product that we are going to talk about today is hard drives and hard drive components. Nearly all of the major HDD manufacturers have manufacturing factories in Thailand and all of these factories are either directly or indirectly seeing shutdowns due to the flood or shutdowns due to component shortage.
Nidec, the company responsible for making up to 80% of the motors found in traditional hard drives has already limited production and a full shutdown could bring the industry to a standstill. Even if Nidec was to escape the inevitable, other critical components manufactured in Thailand are affected.
All of these critical component shortages will lead to the largest HDD drought the industry has seen and at a time when supply lines are typically tested, going into the holiday season.
Only Going to Get Worse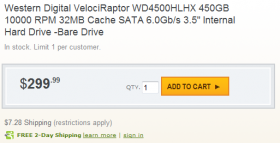 Today we spoke off the record with several key industry insiders and what we learned is shocking, but predictable. Major e-tails have already taken steps to limit sales of hard drives. On Newegg today we found that every HDD product listed has a one per customer limit.
A call placed to our local Fry's retail store was answered with the same one drive per customer response even though we know our local store has several drives on hand (we were there three days ago).
Our inside sources and system integrators are painting an even darker picture. We spoke with two sources that are currently scrambling to stock up before the supply line dries up and were told that distributers with stock on hand are holding onto the products. Simply put, system integrators who normally purchase a couple hundred or more drives at a time are unable to place an order. One source was told that if they place an order, it would be canceled. Clearly the distributers are going to take full advantage of the situation and hold products until the channel is prepared to pay double or triple yesterday's price for the product.
Going directly to manufacturers like Western Digital, Seagate, Hitachi and Samsung has brought no relief to the system integrators either. One company who is responsible for producing 50 million products per quarter is expecting to have less than half of that available in Q4. We have little doubt that other manufacturers are expecting the same, if not worse numbers.

Final Thoughts
If you are reading this and plan on building a system or performing an upgrade anytime soon, I would suggest purchasing your HDDs and SSDs today. Over the last 24 hours we've seen prices going up every few hours and this is just the start of what is to come. HDD prices are going to skyrocket and this will eventually lead to higher demand for SSDs as well.
The SSD market is very volatile, but this is the time of year when we see prices bottom out before increasing slightly for the holidays. With the HDD cost per capacity advantage in decline, many will find the leap to solid state technology more appealing. When that happens prices could reach Q2 levels or higher and the SSD that now costs just under 200 USD could quickly reach 350 USD again. Once you factor in holiday demand, the cost of an SSD could reach even higher. It's going to be a green Christmas for some, but not consumer shopping for a good deal on storage products.
It isn't clear what other products could be affected, but we suspect DVD and Blu-ray players will also suffer. At this point you can let your imagination run wild, because if it says Made in Thailand on the tag, it will cost more tomorrow than it does today and next week isn't going to be any better. This is a tragedy no doubt and we can't even begin to comprehend just how bad it's going to be other than looking at where we already are.
A good example is the current state of 1TB 7,200 RPM drives that just a month ago could be purchased for 50 Dollars or less. Those same drives today are already selling for up to 150 Dollars and we expect that price to double or triple in the coming months. This is my fair warning.
PRICING: You can find products similar to this one for sale below.

United States: Find other tech and computer products like this over at Amazon.com

United Kingdom: Find other tech and computer products like this over at Amazon.co.uk

Australia: Find other tech and computer products like this over at Amazon.com.au

Canada: Find other tech and computer products like this over at Amazon.ca

Deutschland: Finde andere Technik- und Computerprodukte wie dieses auf Amazon.de
We openly invite the companies who provide us with review samples / who are mentioned or discussed to express their opinion. If any company representative wishes to respond, we will publish the response here. Please contact us if you wish to respond.