Microsoft Touch Mouse Review
Can Microsoft enter the playing field that Apple has been dominating?

Published Wed, Nov 2 2011 12:16 AM CDT
|
Updated Tue, Nov 3 2020 7:01 PM CST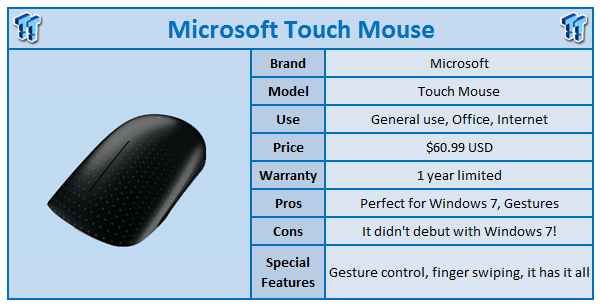 As an everyday user of Apple's Magic Mouse, it has become the heart and soul of my everyday computing. Touch gestures have made it into nearly everyone's lives and a mouse with touch gesture use is just, well, Magic.
Microsoft has finally got competition for Apple's Magic Mouse in the form of the Microsoft Touch Mouse for Windows 7. The top of it is a capacitive, multitouch sensor. It is hands-down the best touch experience on Windows yet. This is mainly thanks to Microsoft as they designed the Touch Mouse's drivers and software.
[img]3[/img]
The box it comes in is very cool also, featuring a magnetic-locking flap that opens up to reveal the Touch Mouse inside, almost like a tease before you use it. "Here I am, now come and touch me" *insert softly spoken sexy talk*. The mouse itself just looks good; you look at it and think "I want this on my desk - I want to know how it works".
It intrigues you.
The Touch Mouse includes in the box, the mouse itself (duh), the USB receiver, batteries and also a USB extension cord. The extension cord is just in case you're rocking a laptop with other USB accessories that might get in the way, or want some extra distance with the mouse (for example: HTPCs).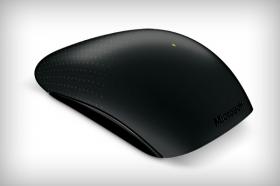 The Touch Mouse has little hatches dotted all across the mouse, which at first I thought looked like some designer handbag or purse brand, but it actually marks the touch areas of the mouse - nice work, Microsoft.
How does it feel? Much better than the Magic Mouse, that's for sure. Ergonomics on the Touch Mouse are nearly perfect. It has a much fatter back so the palm of your hand really sits comfortably on it, without feeling like you're hand is either too high, or too low.
Gesture wise, it works just like the Apple Magic Mouse, having multiple touch-based and finger-based gestures such as one finger scrolling - I found this to be quite amazing. I'm used to it on my Mac and having it on my Windows PC allowed me to sit back and swipe through news, RSS feeds or websites/forums like a boss. It was just bliss.
Two fingers to the left or right activates "Aero Snap", which pins the selected window to the side, two fingers up or down minimizes or opens up minimized windows. Swiping your thumb up and down acts like the back and forward buttons as found on most mice; something that took a little getting used to, I might add. Three fingers then activated a Max OS X Expose-esque view, showing all of your windows in a cool looking grid.
[img]2[/img]
I found most of the gestures worked without a problem, but I did experience some issues with two finger swipes left and right and Aero Snap not working. I put this down to not enough pressure as I tried it further and it seemed to be ok from there on in.
Now onto what I would say is the best part about the Microsoft Touch Mouse. Ease. Four letters, e, a, s, e. Microsoft have made the Touch Mouse *the* easiest IT product to install that I have ever experienced. Hands down, it was just simple.
What do I mean? How could it be this simple? Microsoft? Really, does Anthony refer to a Microsoft product as being the simplest product he's ever used? Yes, yes he does. After taking the Touch Mouse out of its slick looking box, you plug in the batteries and the USB receiver.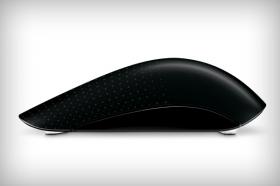 Once the USB receiver is in, your PC does its thing and auto-detects the mouse. But, it goes a bit further than that. It detects the mouse and prompts to download the additional software online. Once this is done, it walks you through a "how-to" with the Touch Mouse. It gives you a step-by-step introduction to the Touch Mouse and its touch/finger-gestures, and teaches you how to use the mouse.
Why can't all products do this? Plug in a USB receiver, it detects, prompts to install the software from the Internet, does so, then walks you through how to use it. This may be TweakTown, not StockTown, but there are plenty of home users who just want ease of use and don't want to visit websites to download drivers, software or firmware, when it should be an out-of-the-box-and-work experience.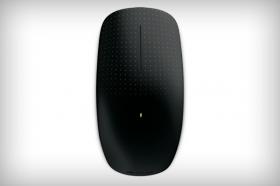 What I would suggest to anyone using this who is not familiar with touch-based products (tablets, smartphones, etc) is to go through the tutorial just a few times. Not once, but actually go through each step multiple times. The tutorial is great and really sets you up on the Touch Mouse like a set of training wheels. You may not think you require training wheels, but unless you were born with the knowledge of the Touch Mouse, it doesn't hurt.
I think it's great that Microsoft have put a lot of effort into the tutorial; most people who would be buying this device would be the normal end user, who probably has heard about, seen, or used the Apple Magic Mouse and wants to replicate the same experience on their Windows-based machine. Alternatively, they may have never seen a gesture-based mouse before and the sales person could show them the demo and tutorial to show them just how easy it is to use.
I would love to see a gesture controlled keyboard or touch pad from Microsoft next, something I hope to see with Windows 8. Newegg sells the Touch Mouse for $60.99 and that is not bad at all, considering the Magic Mouse is around the same price. Microsoft has also done well pricing wise, so kudos to MS!
Microsoft has done their best work here, in my opinion. Yes, it's only a mouse, but I'm not reviewing Microsoft's entire back catalogue of hardware or software here. The Touch Mouse is a great product that just, works. That's what we need in 2011, no firmware, software or updates required. Plug it in, detect, gets the software for you, installs it and off you go. No CD's, no manual downloads, just ease.
I really hope this is the direction Microsoft have for Windows 8, as it's a very rosy road ahead indeed.
Note: the touch gestures only work on Windows 7. The mouse itself will work on Windows XP/Vista and even Mac OS X, but the touch gestures will not.

PRICING: You can find products similar to this one for sale below.

United States: Find other tech and computer products like this over at Amazon.com

United Kingdom: Find other tech and computer products like this over at Amazon.co.uk

Australia: Find other tech and computer products like this over at Amazon.com.au

Canada: Find other tech and computer products like this over at Amazon.ca

Deutschland: Finde andere Technik- und Computerprodukte wie dieses auf Amazon.de
We openly invite the companies who provide us with review samples / who are mentioned or discussed to express their opinion. If any company representative wishes to respond, we will publish the response here. Please contact us if you wish to respond.