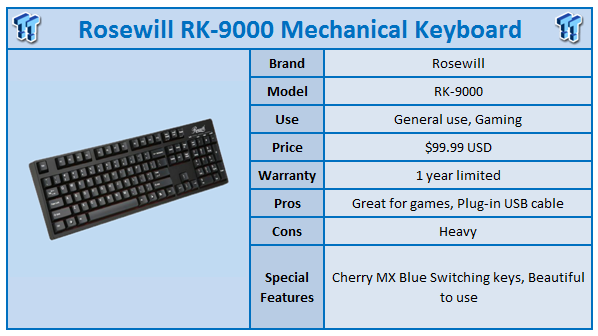 Before receiving the Rosewill RK-9000 Mechanical Keyboard, I had never personally heard of Rosewill. This of course is not a bad thing, as the market is flooded with companies tripping over each other pushing their latest and greatest peripherals. Rosewill sent me the RK-9000 Series Cherry MX Blue Switch Mechanical Keyboard and I soon got to work.
The first thing you notice is the lack of a well-made, good-looking box. But, some people don't care about that; they just want to get down to the nitty-gritty of the mechanical keyboard itself. Me, I want to be wined and dined in boxes, great imagery and initially impressed. I kiss on a first date and I want products to kiss me back, too.
The RK-9000 doesn't stand out - you would walk past it in the store and I find this is the first issue. It can be a great performer, but face it - we live in an aesthetic world. Even if the keyboard is plain looking, Rosewill should really put it in a flashy looking package like Razer or Logitech do.
The keyboard itself (without thinking about style) looks nice. Underneath the black keys is a sexy red, which I wish was somehow backlit. The RK-9000 is like a woman that looks good without makeup. Undeniable beauty, simplicity, but it's only when compared to others that it comes out second best.
The contents of the RK-9000 are light and quick; nothing much is included outside of the keyboard itself (I wouldn't count a User Manual as something worth noting). The keyboard does however feature a removable USB cord. This is something that I loved from the previous Tt eSPORTS MEKA G Unit keyboard I reviewed - it was a feature that I thoroughly loved.
The cable in question is a high-quality braided cable which definitely does not feel cheap - a good sign. Spec wise, the RK-9000 sports extremely responsive keys due to the Cherry MX Blue Switching, gaming-grade lifetime at 50 million clicks and a durable red metal inner chassis.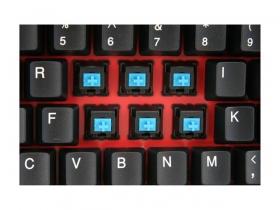 The keys feel better than some of the lesser quality mechanical keyboards I've used, but I'm still not impressed enough with them at this stage to recommend them for long-term typing. I type quite a bit for TweakTown and I just cannot recommend this keyboard for typing, at all.
How did it fare in gaming? Well, definitely a big improvement. The RK-9000 is great for gaming. It has fast, responsive keys that you feel that "click" with, but don't feel like they require the force of the Hulk to press down. The keys are spaced out enough that they don't make your hands feel cramped after a few hours of gaming.
I put the RK-9000 through some games, playing my usual test games like Team Fortress 2 and Deus Ex: Human Revolution, but I also waited a week and tested the Battlefield 3 beta on it. All three games played really well on it; super-responsive and quick-action on the keys make you feel as though you've got the slight upper-edge on your opponent.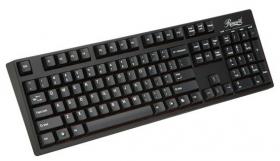 It's not a completely noticable edge, but any advantage against your opponent can be the difference between winning and losing. The RK-9000 impressed me enough for a relatively cheap keyboard. Newegg have the RK-9000 for $99.99, which is not bad considering there are more expensive keyboards out there. But, considering that this isn't Razer, Logitech or Tt eSPORTS, I think it's a bit rich. Maybe a $69 to $79.99 pricing would match this keyboard better.
There was no software included with the box, so no re-mapping of the keys could be done. Even on Rosewill's website, all that can be downloaded for the RK-9000 is the User Manual. To me, a gaming keyboard should come with some form of software - especially if they're going to go to the trouble of making a mechanical keyboard mostly aimed at the gaming market.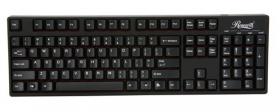 I don't really know what Rosewill were trying to achieve here; a simple cash-in on the current spike in mechanical-based gaming keyboards, or a long venture into the gaming peripherals market? If it's the latter, it was definitely a rocky first step.
Rosewill have a good product, don't get me wrong - but it's just in a market where there are better products, so it's hard to recommend this. If you were in a situation where you wanted a plain-looking, but well-performing mechanical keyboard, then yes, the Rosewill RK-9000 is great. But, if you want a gaming keyboard that looks great on your desk (and let's face it, who doesn't?) then this is not the one for you.
Rosewill miss the target on this keyboard, but the question is now, can they collect themselves and learn from their mistakes?