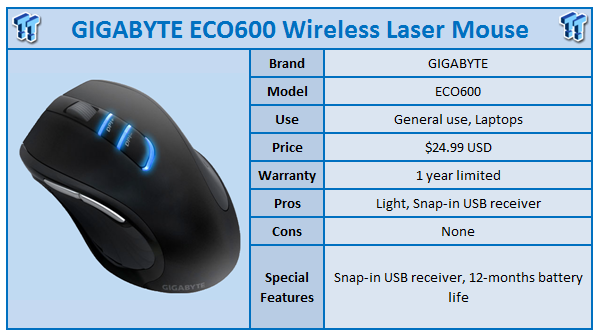 GIGABYTE, a company known predominantly for their motherboards have really branched out lately into different areas of the market including Notebooks, Slates, Mobile Phones and even Peripherals for PCs. I've previously reviewed their gaming mouse, the Aivia M8600, which was a great mouse. Today we're looking at the more mainstream, ECO600 Long-Life Wireless Laser Mouse.
Enter the GIGABYTE ECO600 Long-Life Wireless Laser Mouse, after it having quite possibly the longest name ever and reminding me of long-life milk or orange juice for some reason. Let's get down to business. I opened the ECO600 packaging to find a strange looking, yet appealing mouse. The packaging was quite contained and included was the mouse itself, 2 x AAA batteries required for the mouse and the snap-in receiver.
The mouse itself looks quite nice; it will appeal to some and not to others, though. It features a curved design with a very comfortable rubber grip. The feel of the mouse is great; even after 2-3 hours of solid use your hand doesn't feel like it's been holding a mouse for that entire time. So props to whoever designed the shape of the ECO600 mouse.
Performance wise, I loved it. It felt very smooth across my mouse mat; in gaming and casual use I found no issues with it. Yes, it doesn't perform as well as the super-responsive, 100-button, high-end gaming mice I've reviewed. But, it's also not targeted toward those users.
[img]3[/img]
Why did it not feel great in games? It was just not as responsive. I felt as though I was 'restricted' when moving it. Maybe this was the stumpy size of the mouse, maybe it was because I'm comparing it to the crème-of-the-crop gaming mice. I think for casual gaming, it would be absolutely fine. Facebook games or even an hour or so of Deus Ex, I had no issues. Long-term sessions of games (over an hour), became a bit more of a problem. My hand would cramp up and it would become uncomfortable.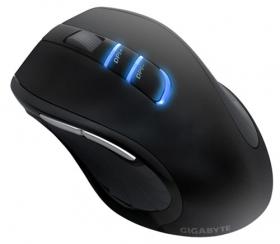 Twitch-based games like CounterStrike: Source, a big no-no. But, GIGABYTE aren't claiming those areas or aiming towards those users, so I can't put the mouse in a negative light because of that. But, the comments I've made are here to help you decide between this and another similar-specced or priced mouse.
The ECO600 is quite small - measuring in at 124.5mm long, it is on the small side. But for a portable mouse, this size is just right. Other dimensions include 77.6mm wide and 41.8mm high.
GIGABYTE claim that the ECO600 has a battery life of up to 12-months, and I'm sure you'll understand that I can't guarantee that claim in this review. 11 months from now, maybe. The improvement in wireless mice technology has grown quite considerably, so I have no problems believing their 12-month claim.
The ECO600 also sports DPI switching buttons just behind the scroll wheel and five customized buttons which allow them to be assigned through GIGABYTE's Sim software. Three stages of blue LED indicators show which DPI setting the mouse is currently at: 800/1200/1600 DPI.
[img]2[/img]
The blue LEDs on top of the mouse also give it a special look. It's not the best looking mouse on the market, but the blue LEDs definitely give it the chance to look special. The LEDs glow differently depending on the DPI setting the mouse is on at the time. When the power is low, all three LEDs will blink to let you know the batteries are low and need replacing.
One of the features I loved was the snap-in Nano receiver. I actually went away for the weekend when I reviewed this mouse and I took along my MacBook Pro and thought I'd take a few wireless mice for review. It was such a joy to snap-in the receiver and put it in my bag and just, go. No dangling cords, no losing the USB receiver.
It sounds simple, but it's these simple things that put products that notch up over another product. The snap-in feel is great, whereas with other mice, you require fingernails to get it out - and as a nail-biter, this hurts my feelings, so the snap-in receiver gets kudos.
The mouse also doesn't weigh much, coming in at 106g (excluding batteries). This is great for the portability factor. On top of the portability factor, we have pricing. Newegg sells the ECO600 for just $24.99, which makes it quite the bargain.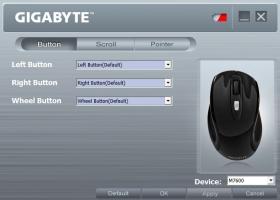 GIGABYTE also have their "Sim" software available on their website. After a quick and painless installation you're greeted with a basic looking UI which can change various options on the mouse. First up, we have the obvious changes such as left, right and wheel buttons - changing their various use from their defaults. And on the more advanced side, we have scroll wheel adjustment (size and speed), as well as pointer adjustment (speed, snap to default button and trails). The pointer section also lists the current DPI the mouse is on.
A handy feature the Sim software includes is in the top right hand corner; a battery meter. These little things really help the end-user if they didn't use another application or widget to monitor their battery levels.
After two to three weeks of use, I came to really love the mouse. After porting it around to different places, the snap-in receiver becomes something you can't live without. The rubber grip also stops the slip-and-sliding you get after your hands start to sweat after hours of rigorous use.
For those who want a portable, great-to-hold mouse, with DPI adjustment and that magic snap-in receiver, definitely take a look at the GIGABYTE ECO600 mouse.