First impressions last. That's the first thing you'll think of when looking at the GIGABYTE Aivia M8600 Wireless Macro Gaming Mouse. It's quite striking to look at; to hold on the other hand is a different argument. I use as my everyday mouse a Razer Mamba and it's quite curved; the GIGABYTE Aivia M8600 mouse has a high ridge where your palm rests which can be annoying - you may ask why I'm starting off with a negative?
Because that's about the only thing I didn't like with the mouse. GIGABYTE has done quite a good job on the Aivia M8600. The box packaging is very, very unique with a cylinder tube that comes apart in 3 pieces - the mouse in its own section, with a bag of goodies (charger, batteries, etc) in another section.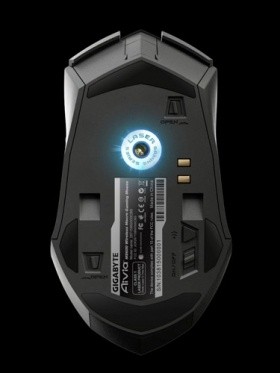 In the package you receive the mouse, two batteries (finally!), driver disc, two charging cables (which I thought was a great idea), the charging dock and some stickers. The mouse itself as I said in my intro feels quite different - again, as I explain to anyone using a mouse or keyboard, it's a very personal thing.
Every hand is different. Some are small, some are big, some people have large fingers, some have small. I have medium sized hands and my palm kind of double thinks as I lay it on the mouse itself. Kind of like "what the hell is this edged bump?" - but you get used to it.
The button clicks I love, they are very "clicky" which is great instead of a little whimper some mice have. Next we have the scroll wheel; this thing is great! I'm quite picky with my scroll wheel and it's one thing on the Mamba I didn't like. It gets quite squeaky, too. The GIGABYTE Aivia M8600 is great; it's both smooth, but feels like there's a defining 'click' between each scroll.
[img]2[/img]
The DPI sensitivity buttons are also easy to press, just behind the scroll wheel and between the left and right buttons of the mouse. They can't be accidentally pressed, but allow for DPI speed changes for different tasks.
I didn't even need to install the GIGABYTE drivers to change these speeds, which is another tick in the ever-growing 'great' box. The thumb rest is a different texture than the top of the mouse - this would be for gripping, instead of sliding around after some heavy gaming use.
The actual use of the mouse feels natural; it glides very smoothly across any surface. I tried my Razer Vespula mousemat, my wooden table, my hand... all surfaces were picked up and felt smooth. Of course, the mouse mat was the best, but that's to be expected. It feels more natural than most mice I've tried - this is thanks to GIGABYTE's twin-eye gaming-grade laser engine. This engine is based on advanced laser technology.
[img]3[/img]
That is one of the most surprising things about it, it doesn't look like it would be smooth to move because of its sharp edges, but don't be fooled - it's smooth.
The GIGABYTE Aivia M8600 has two removable, rechargeable batteries that are slotted into the bottom of the mouse below where your palm would sit. It's quite easy to pull them out (by pressing the open button on the bottom of the mouse) and then replace it with the battery that is docked in the charger. This would mean you're never going to not have the mouse in wired mode (which it's also capable of).
The M8600 is also able to be docked to charge, with a spare battery in-case of the above-mentioned long gaming sessions.
Dual batteries are a great idea for those frantic gaming moments when you're in the middle of an intense battle and go "oh crap, I need to plug in my charger into the front of my mouse so I can continue gaming". It takes less than 15 seconds to remove the battery, install the new one, put the dead one on charge and continue your slaughter of enemies.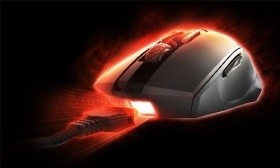 I used the GIGABYTE M8600 gaming mouse in Crysis 2 for this review - I had a bunch of time to use it in both single and multiplayer games. One word; SMOOTH. It's smooth, almost uncannily smooth. This is the biggest plus for me. I enjoy my mice like I enjoy my scotch. Smooth.
Quick snaps up, down, left, right - the GIGABYTE Aivia M8600 just doesn't stop.
The only other gripe I have with the mouse is the LED's on top of the mouse - they look very cheap. I'd say 30-percent of the brightness of what they should be. It makes the mouse feel cheaper because of these dull red and green LEDs that try to shine, but fail. This is something that can of course be overlooked, as your hand is on top of the LEDs when in use. It's just a vanity issue and I'm probably nit-picking now.
After a week with the mouse being used as my everyday mouse the physical design and bump at the top that I originally complained about was actually comfortable. It was just something to get used to when compared to other curvy mice.