Captain America - The First Avenger Cinema Review
"Why someone weak? Because a weak man knows the value of strength, the value of power."

Published Sat, Aug 6 2011 7:16 AM CDT
|
Updated Tue, Nov 3 2020 7:01 PM CST

Captain America is the kind of film my Grandfather would love. The setting is a romanticised 1940s United States; all desaturated colour and soft focus. It's the quintessential 'look' of a time that didn't really look that way and moreover, didn't really exist. Men were GI's and the girls were cute admin assistants (albeit some can rise to higher ranks without drawing too much attention). The Nazis were pure evil and things blowed up real good.
It's been a while since we've had a slightly less serious, but altogether jingoistic World War II film - arguably the last was Pearl Harbor. But other than the over the top explosions, that's where the similarities end. After all, unlike that film, Captain America is seriously fun.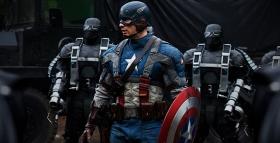 Steve Rogers (Chris Evans) is a frail young man who wants desperately to join the war efforts, but is repeatedly turned down because of his diminutive size. Refusing to take no for an answer, Dr. Abraham Erskine (Stanley Tucci) extends him an opportunity to serve his country by way of an experimental procedure which if successful, will turn him into a super soldier - the U.S. secret weapon to fight Johann Schmidt (Hugo Weaving) and the might of the Nazis. He can now run faster, jump higher and longer than any normal human, but moreover he can become a symbol for liberty and justice - a rallying call for the allied cause.
Being rather unfamiliar with the Captain America property, it was with some trepidation that I entered the cinema, but I ended up having more fun at this outing than the latest Transformers and Harry Potter films put together. It's not high art, but I'll be damned if Captain America isn't an entertaining ride.
There's a lot to like in Captain America and I think the key to its success is that it doesn't take itself too seriously. Unlike Batman and to an extent Superman, Captain America is in many respects heavily grounded in a time since past and I think that if it was played too straight, it would not only fail to be as entertaining, but would die a certain death in many overseas markets, especially at a time when the notion of overt Americanism is seen to be on the nose.
[img]2[/img]
Director Joe Johnston is no newbie to action heroes. He learnt his craft under George Lucas' Industrial Light and Magic special effects unit, cutting his teeth on the classic Star Wars Trilogy and then went on to direct 1991's The Rocketeer. Its financial failure was more of a reflection that the movie going public wasn't quite ready for the story, rather than any quality control issues. The Rocketeer more than his later films Jurassic Park III or The Wolfman is what landed Johnston directing duties here, and he handles it with care and intelligence.
Obviously for a super hero film, it's all about action and special effects, which are of course impressive (and also have a unique visual quality), but it's the subtle charm of Chris Evans that really appeals and injects the proceedings with a bit of heart and the underlying moral of guts and determination is one that will resonate with emaciated comic book nerds the world over.
I enjoy the fact that with each passing film from a Marvel comics property, it's even more tightly wound together in the same universe, which will culminate in next year's The Avengers which will bring together the properties The Hulk, Iron Man, Thor and Captain America, and I'm certainly intrigued how these four properties will interact. As always, don't forget to wait until the credit roll finishes for a brief glimpse.
[img]3[/img]
Despite some initial missteps, Marvel continues to go from strength to strength with their newly founded movie studio. They've immersed themselves with quality writers and directors that 'get' their properties, but more importantly they 'get' their fans. Freed from studio interference, like the poor handling of Fantastic Four by Twentieth Century Fox and Taxi Director Tim Story, Marvel understand what makes their properties great, and what their readers (and viewers) want to see, whilst staying true to the underlying characters. The care is evident on the screen and not lost on the audience.
Despite this, it would only take one critical misstep for the grand plan to start collapsing in on itself, so rather than get cocky with the splashes of cash, they need to keep grounded. But with The Avengers under the tutelage of Joss Whedon, I think they are somewhat safe for now.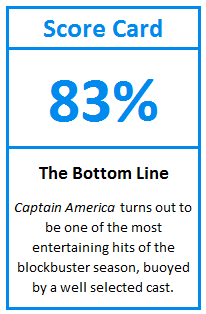 PRICING: You can find products similar to this one for sale below.

United States: Find other tech and computer products like this over at Amazon.com

United Kingdom: Find other tech and computer products like this over at Amazon.co.uk

Australia: Find other tech and computer products like this over at Amazon.com.au

Canada: Find other tech and computer products like this over at Amazon.ca

Deutschland: Finde andere Technik- und Computerprodukte wie dieses auf Amazon.de
We openly invite the companies who provide us with review samples / who are mentioned or discussed to express their opinion. If any company representative wishes to respond, we will publish the response here. Please contact us if you wish to respond.