Mionix NAOS 5000 Gaming Mouse & Propus 380 Mouse Mat Review
Mionix throw the NAOS 5000 gaming mouse onto the market and we pair it up with the Mionix Propus 380 Mouse Mat. Can it compete with the likes of Razer and Logitech?

Published Jul 21, 2011 8:48 AM CDT
|
Updated Tue, Nov 3 2020 7:01 PM CST
4 minute read time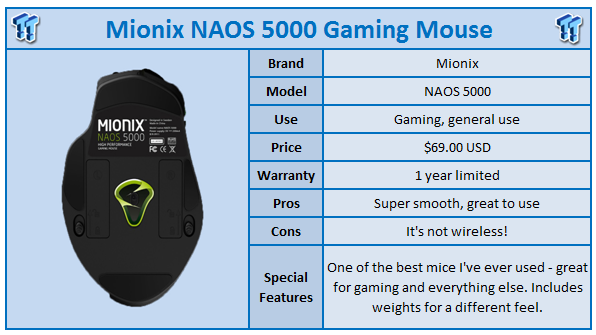 Let's start off with me admitting that before I had started this review, I had never heard of Mionix. As I was offered the mouse for review, I did my usual bit and started checking out their products, website and various other user reviews and thoughts.
I looked at their website for the NAOS 5000 and thought it looked plain and wrote it off as a mouse that would be mediocre at best. Oh, how wrong I was.
The NAOS 5000 arrived at my house and I put it aside for a day or two until I had a few good hours to sit down and really thrash it playing games. I opened it out of the box and was met with impressions of the mouse and included kit. It comes with a cool metallic casing that the mouse weights fit into, which was surprising and also the usual booklet and of course, the NAOS 5000 itself.
[img]2[/img]
The NAOS 5000 upon first hands-to-mouse action is lackluster. I think this is because your hand builds a bond to whatever mouse you use. Think about it, you might use your mouse 20 - 30 hours per week; it kinda molds to your hand and becomes one with you. Changing this is like buying a new pair of shoes. Sure, they feel great, but it feels like you're cheating on your old pair.
Once I had the mouse set up, I installed the associated software and began my testing. I used Team Fortress 2 for testing and played with it a few hours at a time, over a two week period. In the first 10 minutes, I couldn't get used to it. I had to push through with persistence; the only thing holding me back was the shape.
After 15 - 20 minutes, my love began to grow exponentially. I went from 'meh' to 'omfg' - it was a massive transformation of feelings. The NAOS 5000 became an amazing piece of kit to use. I play on a 120Hz triple-screen setup, so smoothness is something important to me. Even dipping to 80fps becomes "egh", and a mouse that can't keep up or feels 'laggy' really annoys me.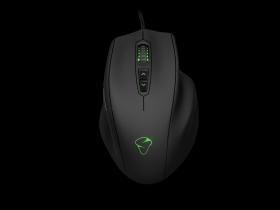 The Mionix NAOS 5000 was epic. It felt smooth, the shape I become accustomed to and after an hour or so with the mouse (and at the top of the TF2 game leader board), I told the NAOS 5000 that it would be my wife - it would be mine forever.
I used the NAOS 5000 in various different ways and found TF2 some of the best ways of testing it. Going from the quick Pyro action to slower-moving Sniper, to the even slower-moving Heavy, the NAOS 5000 performed admirably. It felt like your secret weapon, sidekick, Robin, or even an extension of yourself.
The scroll wheel is a pleasure to operate; it doesn't feel too light on the scrolling so you scroll through 1022 weapons in 3 seconds, and it doesn't feel heavy enough that Superman has to be invited over to turn the mouse wheel once.
The buttons themselves are very click-friendly (of course) and by this I mean that they are a joy to press. Again, like the wheel, they don't feel too soft to press nor do they feel too hard either. It's a magical balance of perfection.
Mouse movement is also glorious - it's ever so smooth to move across the mouse pad and even being a wired mouse, I didn't feel restricted versus my wireless Mamba. If I had to match the NAOS 5000 with any other mouse as for how it feels to hold, it would be close to the Logitech G9 or G9X, so if you like the size of that, you'll be in love with the Mionix NAOS 5000.
I will note I used the Mionix Propus 380 gaming mouse mat and it was an absolute pleasure to use along side the NAOS 5000 gaming mouse. They are absolutely magical together. I was hands-down impressed with how well they worked together.
The Mionix software has a cool trick up its sleeve - along with the usual sensitivity and DPI adjustment, there's a LED adjuster too. I changed my LED to blue so I felt like I was using a TweakTown colored mouse. Oh yeah, I live life ON THE EDGE!
The included weights are a user-to-user choice; I felt the mouse was too light for my liking and installed all of the weights to give it some weight in my hand. Once I had them installed, it felt better (for me) to move around on my mouse pad and for the slower moving tasks (such as Windows), it was much easier to use.
One of the best things about it? Newegg only list it at $69.99 USD! Damn, such good value for money Mionix, stop tempting everyone!
A little sprinkle of Mionix seasoning here; I also tested their Propus 380 mouse pad and I must say, it compliments the NAOS 5000 like Coke does to Scotch. It is one of the smoothest, yet most precise mouse mats I've had the pleasure of using (and I've had probably 10+ gaming mouse pads in my time).
It feels as though it was literally created to be with the NAOS 5000, so I suggest if you take a look at the Mionix NAOS 5000, please do take a serious look (and if you can, play test) of the Propus 380 mouse mat.
I tested the mouse mat on various other mice, my Razer Mamba and Logitech MX500 - it was ultra-smooth and has again become my everyday mouse pad and replaced my Razer Vespula. The Propus 380 is quite large, but not too big to be on your desk. I had it laying vertically as I do with any mouse mat I own and it was still wide enough for the "oh my god, there's a spy behind me, quick, quick turn around and kill him" movements.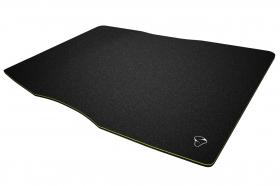 I've seen other reviews tear it down because it's too wide...I never use a large mouse mat in a wide sitting; always portrait. As for "gritty" texture, I find it very smooth.
It also has a...sparkle? Yeah, a sparkle to it. The same kind of effect snow has in the sunlight; it glistens. It just adds to the awesomeness that is the Mionix NAOS 5000 and Propus 380 combo. It's a one-two punch that has really bowled me over.
Color me impressed, Mionix.
[img]3[/img]
I think the only negative things about the NAOS 5000 are two things. One, it's a wired mouse. If it were a wireless mouse (ala the Mamba) it would be in my opinion the perfect gaming mouse. Secondly, the covers to install the weights on the mouse are pretty crap. I tried for two or three minutes before I got the "ohhh, it goes THAT way" and got them installed.
Mionix have a definite winner in my eyes and anyone in the market for a gaming mouse should definitely stop and smell the roses with the NAOS 5000. Looks can be deceiving.
PRICING: You can find products similar to this one for sale below.

United States: Find other tech and computer products like this over at Amazon.com

United Kingdom: Find other tech and computer products like this over at Amazon.co.uk

Australia: Find other tech and computer products like this over at Amazon.com.au

Canada: Find other tech and computer products like this over at Amazon.ca

Deutschland: Finde andere Technik- und Computerprodukte wie dieses auf Amazon.de
We openly invite the companies who provide us with review samples / who are mentioned or discussed to express their opinion. If any company representative wishes to respond, we will publish the response here. Please contact us if you wish to respond.