OCZ Technology Vertex 3 240GB Retail Solid State Drive Review
Our first 240GB Vertex 3 in-house was a pre-production unit with early firmware that left it slower than the 120 model we looked at later. We now have the retail 240 in and are even more impressed.
Published
16 minute read time
Introduction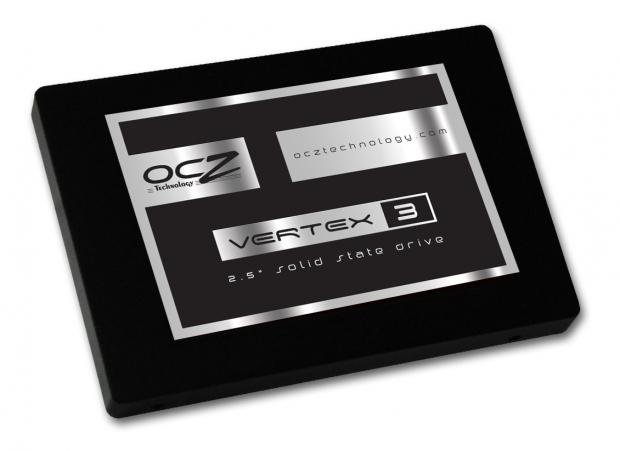 When OCZ started their marketing campaign for the Vertex 3, they sent media websites pre-production units with firmware that was stable, but not as fast as the final shipping version. Since we produce articles that directly compare one product to another, we needed to get a retail 240GB Vertex 3 in for testing and use the data to compare the product to other products in the SSD category.
As it stands right now, the OCZ Vertex 3 240GB is one of the fastest and most sought out SSDs on the market. We've seen the OWC Mercury Extreme Pro 6G 240GB drive and found its real world performance to be comparable, but the OWC SF-2281 controlled SSD doesn't match the Vertex 3's price or accessory package. OCZ recently launched the new Vertex 3 Max IOPS models (a full review is just days away) with a higher maximum IOPS burst, but that may actually give the 'plain' Vertex 3 a better price point.
Let's take another look at the specifications and dig right into the retail package and performance of the Vertex 3 240GB SSD.
Specifications, Pricing and Availability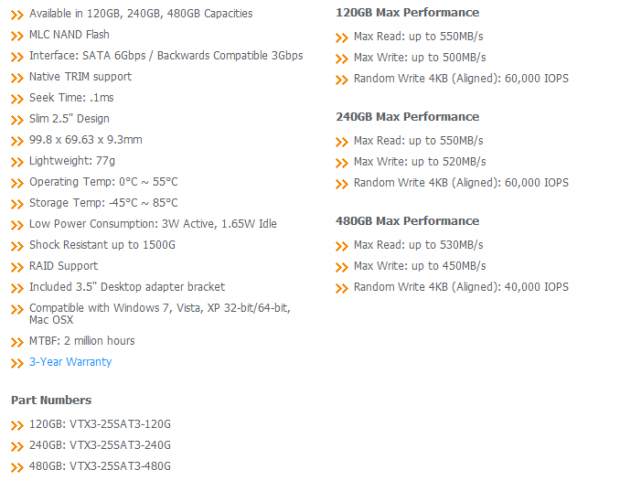 I'm not going to hammer you too hard today on specifications and technical achievements, since this is a refresher course. The Vertex 3 uses the SandForce SF-2281 controller, the consumer version of the SF-2500 enterprise controller. To date, there have been challenges from Marvell in the form of the Intel 510 Series, Crucial m4 and Corsair Performance 3, but none of those products are even in the running this year for the high performance title. To put it simply, SandForce has zero competition at the high end and that means the only alternative to the Vertex 3 will be other OCZ products with the controller and 'Team SandForce' products from other manufacturers.
The Vertex 3 is already on retail and e-tail shelves sporting capacities of 120GB, 240GB and a massive 480GB drive. The MSRP of the 240GB model is 499.99, but the best we could find online is at our good friends at Newegg -
$529.99
. At one point we couldn't find a 240GB Vertex 3 240GB for less than 575 USD, so the e-tailers are starting to get their act together, but at this time they are still charging a premium for drives with the fastest SSD controller we've ever seen.
Speaking of speed, the 240GB model is the fastest of the original Vertex 3 drives with a 520MB/s write speed. The 120GB model is 'only' 500MB/s write speed and the 480GB drive can write at 430MB/s. The read speed of the 240GB matches the 120GB with 550MB/s, an insane read speed that nearly doubles last year's award winning Vertex 2.
Several companies are going to offer SF-2281 controlled products and a few will end up with better price points when they finally get to market. OCZ is going to be very active with pricing to combat competing products, but before others can even get a chance to get on the field, OCZ is swinging for the fences with their accessory package. The Vertex 3 ships with a standard 3 year warranty, so you have some long term guarantees from the company, but desktop users will find the included desktop adapter bracket useful from the start. OCZ also includes mounting screws so you don't have to dig through your desk to get up and running. The only competing SF-2000 Series consumer drive comes from OWC and it doesn't include the adapter bracket; the accessory that I think all SSDs should ship with standard.
The Packaging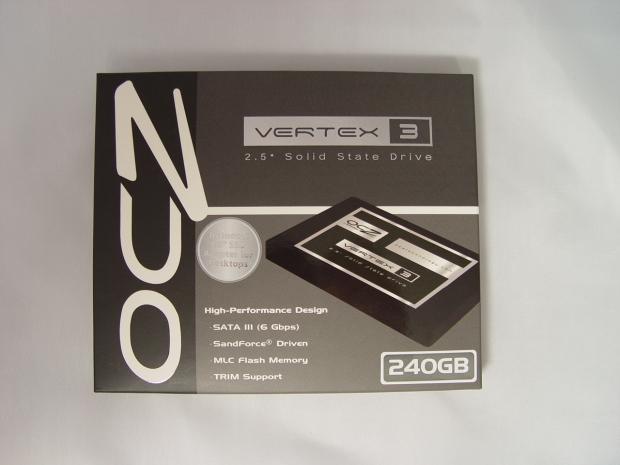 On the front of the package OCZ clearly displays the SATA III (6G) information as well as some other bits of information. More importantly, they show the capacity of the drive in a large font on the lower right corner.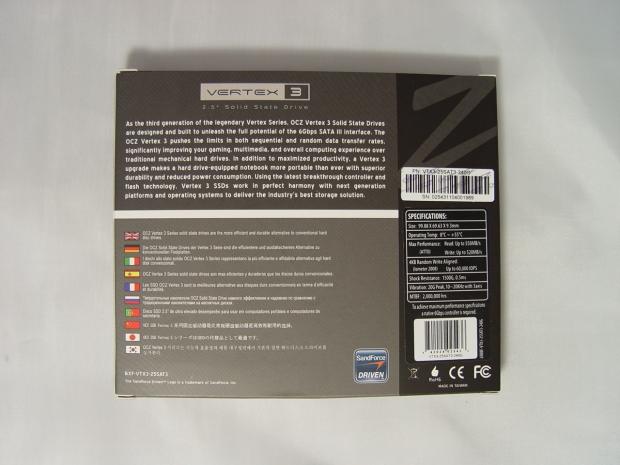 On the back we found some general information about the Vertex 3 Series. A full specification rundown was also included, something we really like seeing on retail products since this will help retail shoppers figure out which product fits their needs better.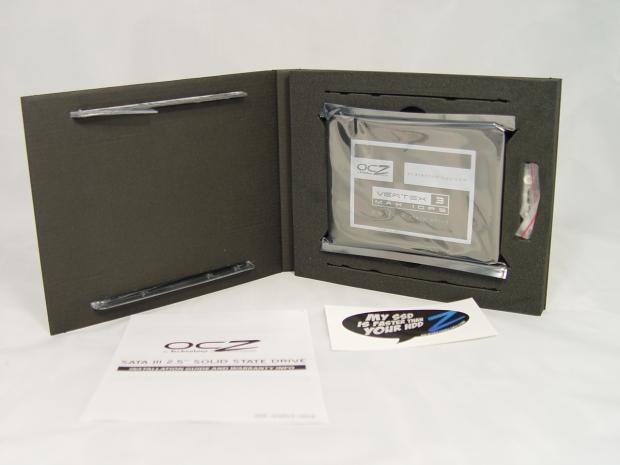 Inside the box we found everything nice and tidy. The desktop adapter bracket is kept separate from the drive so you don't have to worry about one scratching the other. OCZ also includes a paper manual to get things up and running, a sticker that shows your SSD is bad ass and a package of screws that fit the drive and adapter bracket.
The OCZ Vertex 3 240GB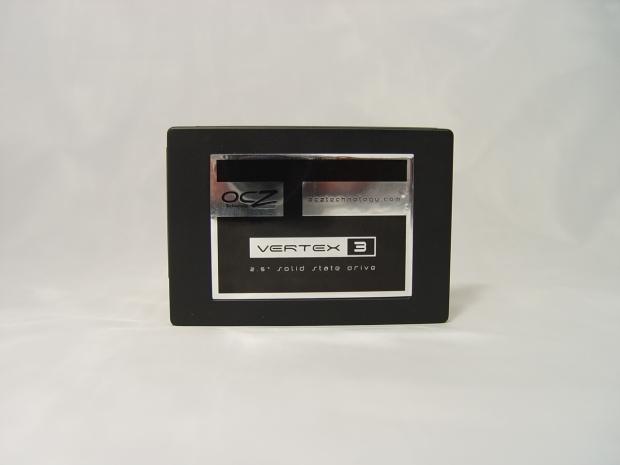 On the surface everything seems perfectly normal with the retail Vertex 3 240GB, but we found the size of the drive to be out of spec. OCZ has been notified of the problem and is quickly working on a sensible way to remedy the issue. If you would like to learn more about the Vertex 3 form factor issue,
visit this article
where you will also find updates as they come in.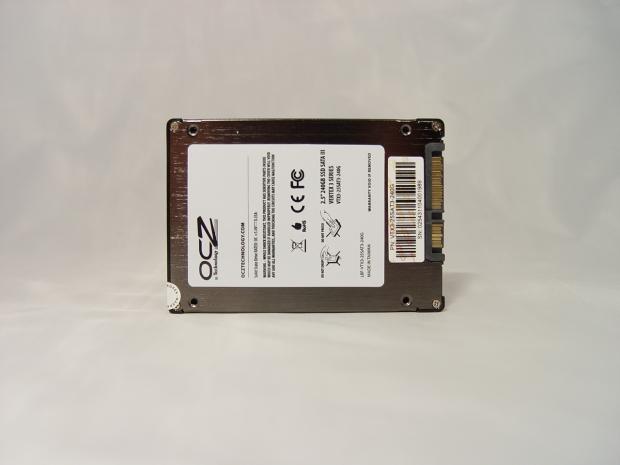 Aside from the issue that will affect a few notebooks, the retail Vertex 3 we received will work fine in desktops with the adapter bracket. Here we see the retail drive has all of the mounting points on the bottom for installing the drive in the desktop adapter bracket.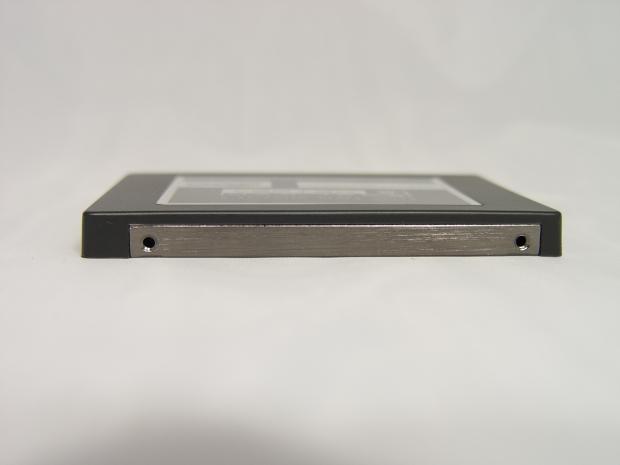 The mounting points are also located where they should be on the side of the Vertex 3.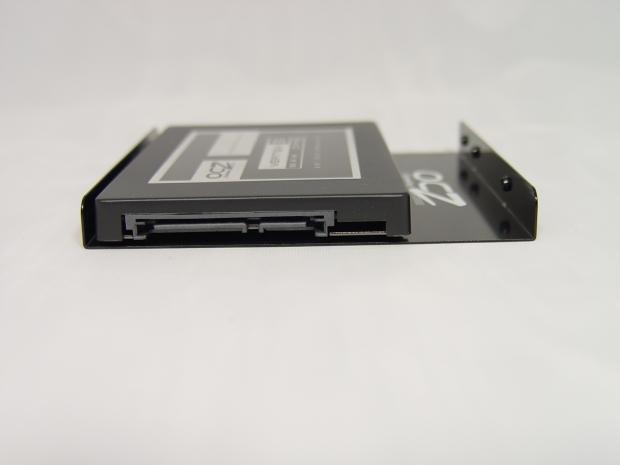 The SATA power and data connections are where they should be and the included desktop adapter bracket offsets the drive so these connections match the location of standard 3.5" form factor drives.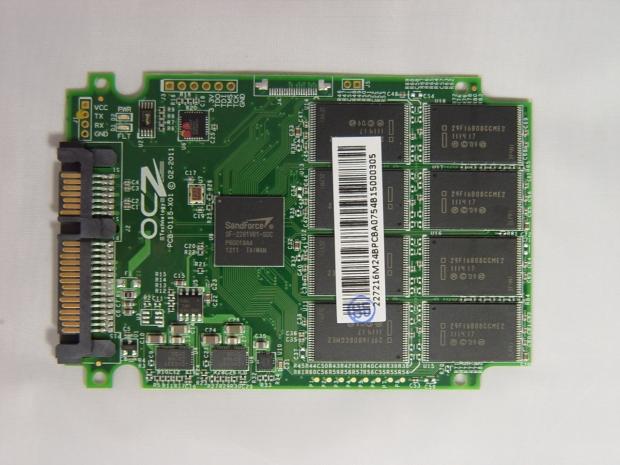 Inside we quickly found the SandForce SF-2281 controller and on one side of the PCB, eight Intel 25nm flash chips.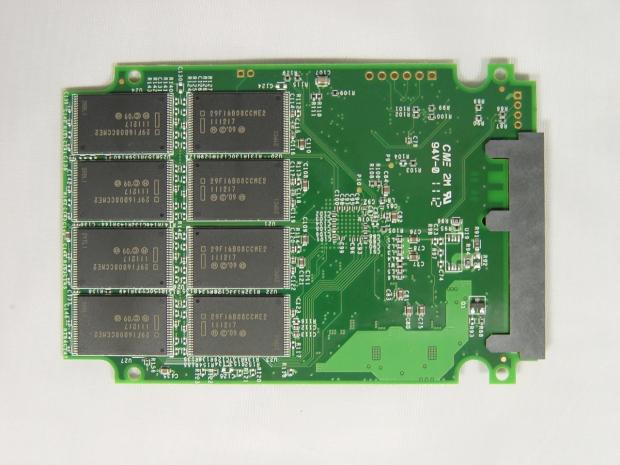 An additional eight 25nm flash chips were on the other side. For the most part there isn't really anything interesting inside the Vertex 3, so you really have no reason to void your warranty by taking yours apart.
Test System Setup and ATTO Baseline Performance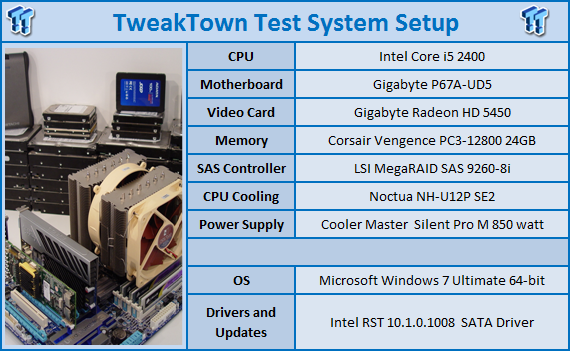 We would like to thank the following companies for supplying and supporting us with our test system hardware and equipment:
AVADirect
,
GIGABYTE
,
Cooler Master
,
LSI
,
Corsair
and
Noctua
.
You can read more about TweakTown's Storage Product Testing Workstation and the procedures followed to test products
in this article
.
There seems to be quite a bit of confusion in forums about SATA 6G. This stems from early X58 motherboards that shipped with Marvell controllers that are garbage compared to what Intel has released. The Intel native SATA 6G implementation is the best way to get the most out of your new Vertex 3 or for that matter, any other SATA 6G SSD. The Marvell controllers had their time and place, but it was a place holder and that time has passed.
Today we'll be filling out our SSD benchmark chart with the Vertex 3 240GB retail drive. As we mentioned in the introduction, previous reviews and comparisons were based on the pre-production 240GB Vertex 3.
We like to keep our review products on an even playing field and the first 240GB didn't allow that to happen. The good news is the retail model, the one you can buy, is actually faster than what OCZ sent around to the press to look at two months ago. The Vertex 3 already dominated our benchmark charts, but now it does so just a little bit more.
ATTO Baseline PerformanceVersion and / or Patch Used:
2.34
ATTO is used by many disk manufacturers to determine the read and write speeds that will be presented to customers.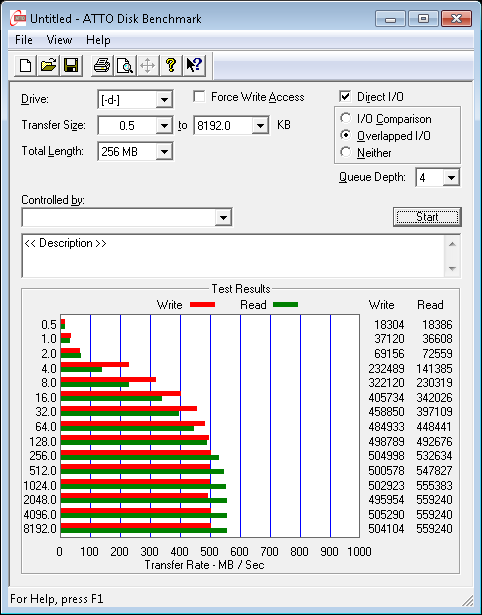 OCZ's quoted read speed of 550MB/s was spot on and that is exactly what we observed in our ATTO run. The write speed on our sample drive topped out at 505MB/s, just a little shy of the claimed 520MB/s, but you may have better luck on another motherboard. Our testing was conducted on a GIGABYTE P67A-UD5 B3.
Benchmarks - HD Tune Pro
HD Tune ProVersion and / or Patch Used:
4.00
Developer Homepage:
http://www.efdsoftware.com
Product Homepage:
http://www.hdtune.com
HD Tune is a Hard Disk utility which has the following functions:
Benchmark: measures the performance
Info: shows detailed information
Health: checks the health status by using SMART
Error Scan: scans the surface for errors
Temperature display
HD Tune Pro gives us accurate read, write and access time results and for the last couple of years has been gaining popularity amongst reviewers. It is now considered a must have application for storage device testing.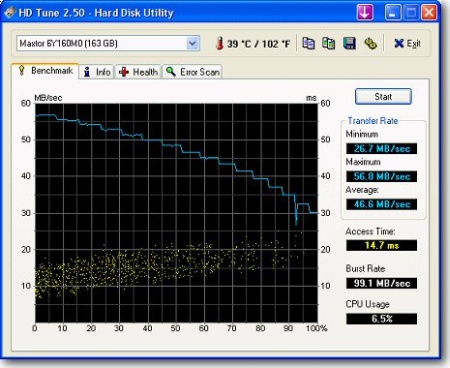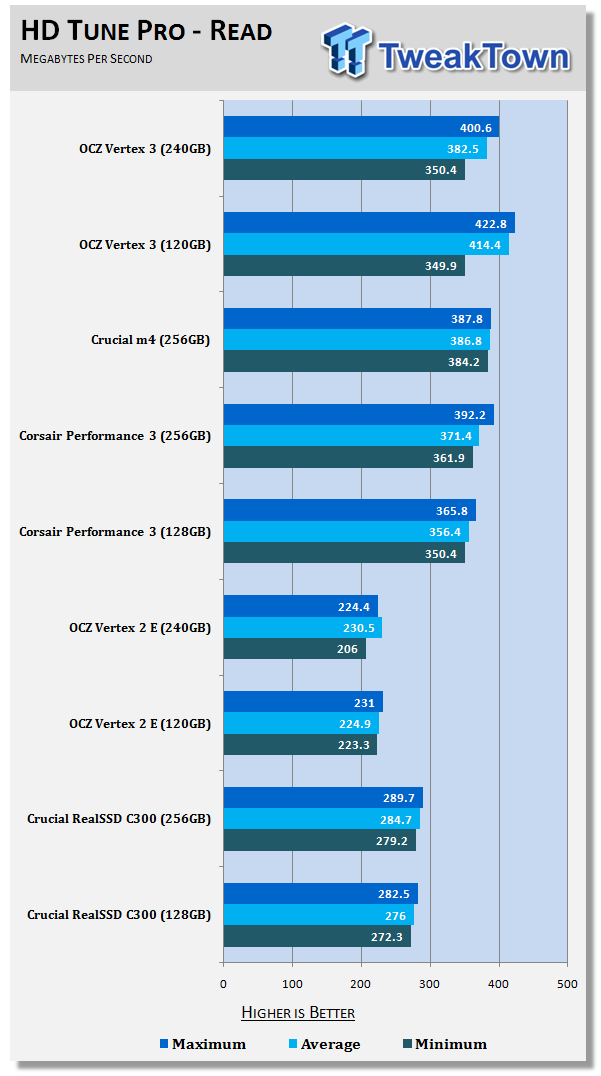 Since we reviewed the OCZ Vertex 3 120GB retail drive, a firmware update was released. The V3 120GB was running an older firmware than the 240GB we are testing today.
In HD Tune Pro we see the Vertex 3 240GB delivering an average read speed across the drive of 382MB/s. HD Tune is a synthetic product that we use to start putting the puzzle together, but it seems like the new firmware is a little slower in some of the synthetic tests.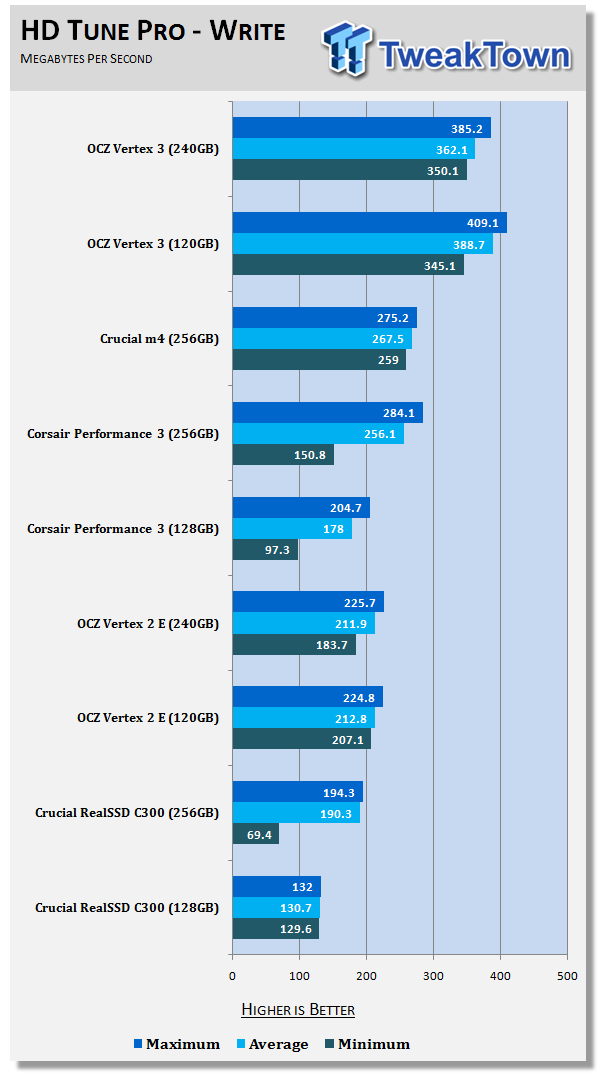 One thing that leads us to believe the newer firmware is a little slower in the synthetic tests is this test. Here we see the 120GB Vertex 3 writing slower than the 120GB drive. The 240GB drive should be faster here, but it isn't. Things change, though, when we get to real world workloads.
Benchmarks - AIDA64 Random Access Time
AIDA64 Random Access TimeVersion and / or Patch Used:
1.60
Developer Homepage:
http://www.aida64.com
Product Homepage:
http://www.aida64.com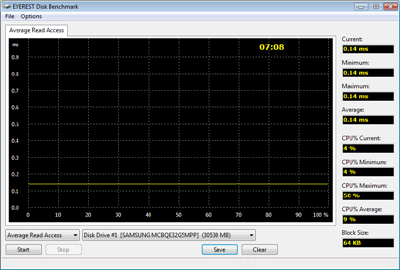 AIDA64 offers several different benchmarks for testing and optimizing your system or network. The Random Access test is one of very few if not only that will measure hard drives random access times in hundredths of milliseconds as oppose to tens of milliseconds.
Drives with only one or two tests displayed in the write test mean that they have failed the test and their Maximum and possibly their Average Scores were very high after the cached fills. This usually happens only with controllers manufactured by JMicron and Toshiba.
Marketing folks like to talk about big flashy numbers, so we hear quite a bit about ATTO performance and transfer rates, but SSD's real standout feature is access times. Access times are measured in milliseconds and the lower the access time, the better the user experience is.
The Vertex 3 240GB has a read access time of .15ms on average. It doesn't sound as cool as 550MB/s, but .15 will make your programs open faster than you can even take your finger off of the mouse.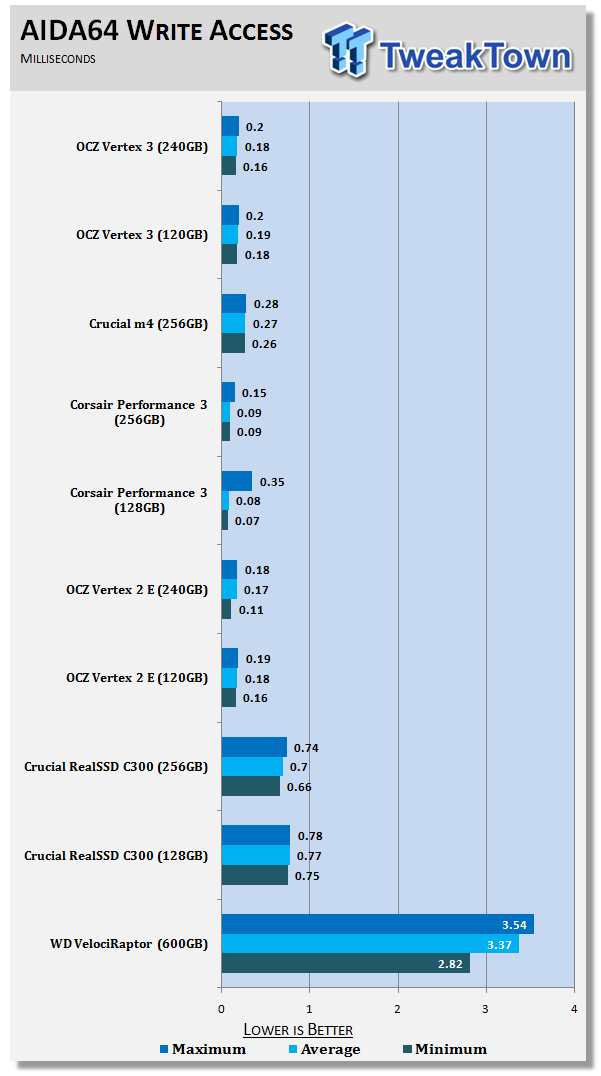 The Vertex 3's write access time is very fast as well. We managed to write data with an average speed of .18ms.
Benchmarks - CrystalDiskMark
CrystalDiskMarkVersion and / or Patch Used:
3.0 Technical Preview
Developer Homepage:
http://crystalmark.info
Product Homepage:
http://crystalmark.info/software/CrystalDiskMark/index-e.html
Download here:
http://crystaldew.info/category/software/crystaldiskmark
CrystalDiskMark is a disk benchmark software that allows us to benchmark 4K and 4K queue depths with accuracy.
Key Features:-
* Sequential reads/writes
* Random 4KB/512KB reads/writes
* Text copy
* Change dialog design
* internationalization (i18n)
Note:
Crystal Disk Mark 3.0 Technical Preview was used for these tests since it offers the ability to measure native command queuing at 4 and 32.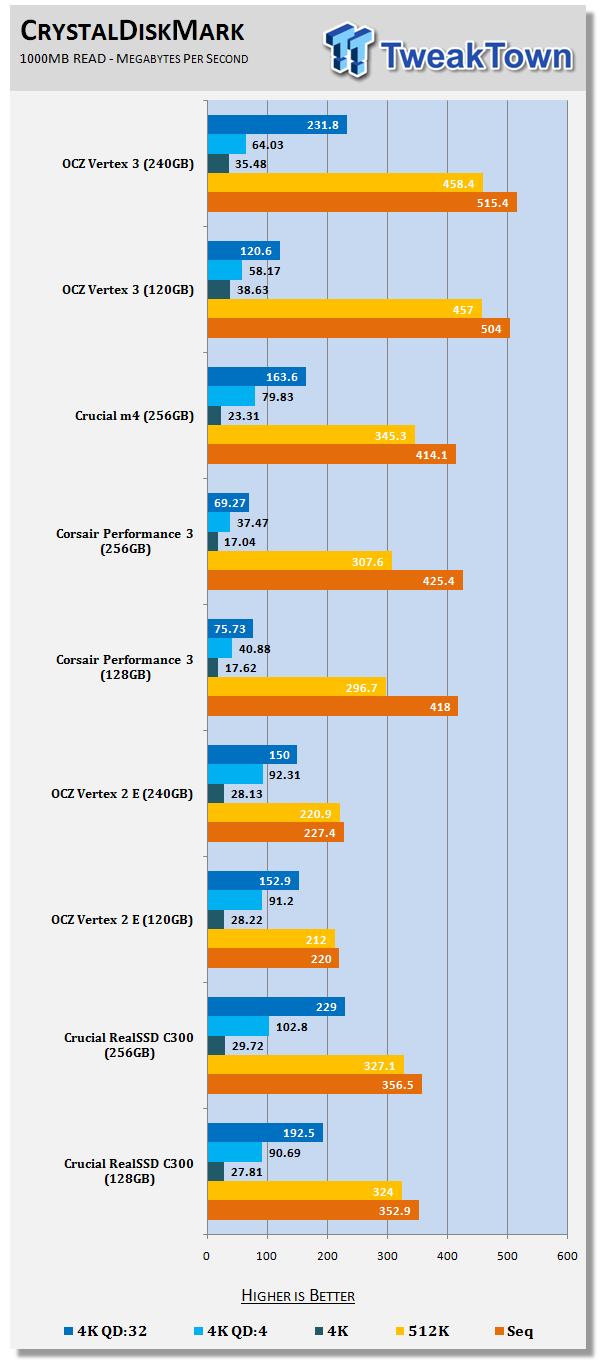 In this test we're looking at 4K reads and how the drive scales when commands are stacked up with Native Command Queuing. The 240GB Vertex 3 shows a massive improvement over the 120GB model when commands are stacked 32 high. Both Vertex 3 drives perform about the same with a single 4K write and when you look deeper into the chart you can see that the Vertex 3 is faster at this task than any other SATA 6G drive on the market.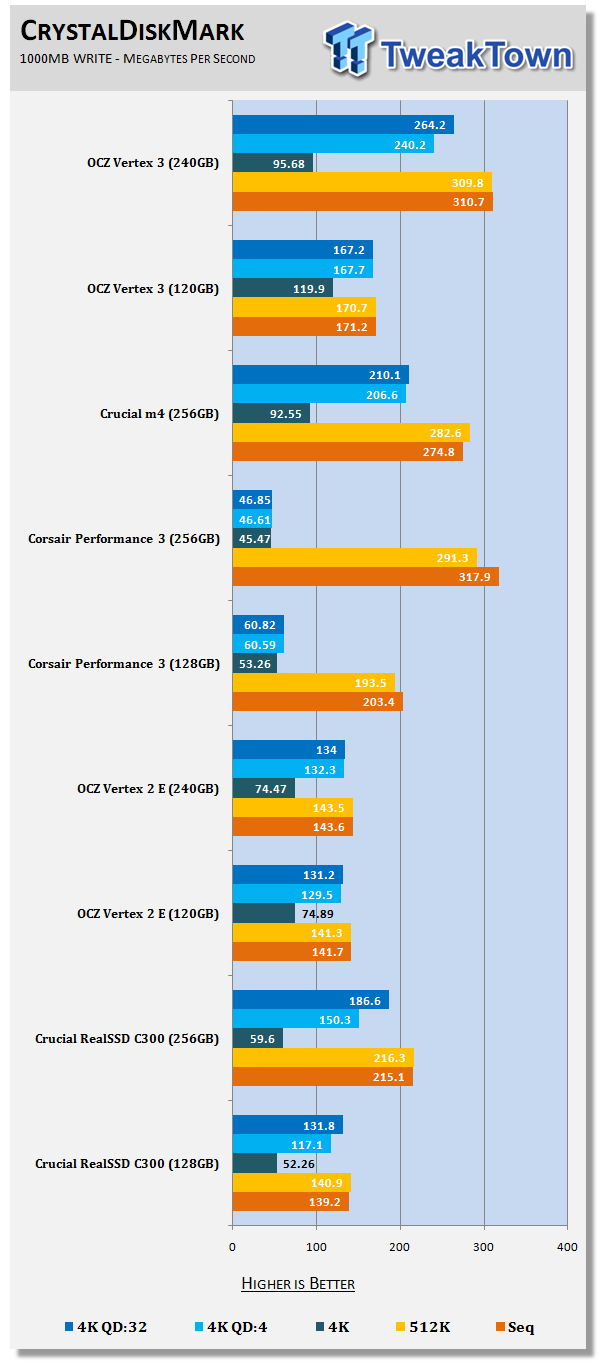 The 240GB Vertex 3 is able to scale much better when write commands are stacked. Here we see that with 32 commands the larger drive is able to write at nearly 100MB/s faster. At first we didn't believe what we saw and went back to retest the 120GB Vertex 3, but the results were the same. The 240GB drive is quite a bit faster at this task.
Benchmarks - PCMark Vantage Hard Disk Tests
PCMark Vantage - Hard Disk TestsVersion and / or Patch Used:
1.0.0
Developer Homepage:
http://www.futuremark.com
Product Homepage:
http://www.futuremark.com/benchmarks/pcmark-vantage/
Buy It Here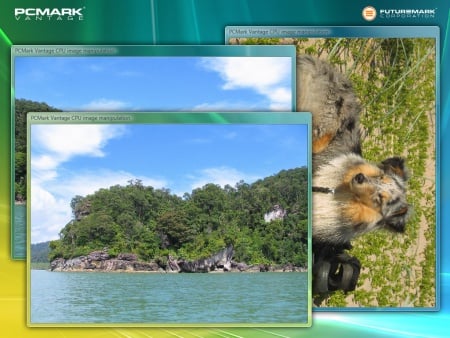 PCMark Vantage is the first objective hardware performance benchmark for PCs running 32 and 64 bit versions of Microsoft Windows Vista. PCMark Vantage is perfectly suited for benchmarking any type of Microsoft Windows Vista PC from multimedia home entertainment systems and laptops to dedicated workstations and high-end gaming rigs. Regardless of whether the benchmarker is an artist or an IT Professional, PCMark Vantage shows the user where their system soars or falls flat, and how to get the most performance possible out of their hardware. PCMark Vantage is easy enough for even the most casual enthusiast to use yet supports in-depth, professional industry grade testing.
FutureMark has developed a good set of hard disk tests for their PCMark Vantage Suite. Windows users can count on Vantage to show them how a drive will perform in normal day to day usage scenarios. For most users these are the tests that matter since many of the old hat ways to measure performance have become ineffective to measure true Windows performance.

HDD1 - Windows Defender
HDD2 - Gaming
HDD3 - Windows Photo Gallery
HDD4 - Vista Startup
HDD5 - Windows Movie Maker
HDD6 - Windows Media Center
HDD7 - Windows Media Player
HDD8 - Application Loading
Synthetic tests are only the precursor to determining how a SSD performs; PCMark's Vantage software allows us to see exactly how a drive reacts in the real world. For the most part, the 120GB and 240GB Vertex 3s are fairly equal when running day to day tasks that don't stress the drive. These are the most common of tasks, but as you can see the Vertex 3 is able to outperform everything on the market in a majority of the tests. The Crucial m4 does take a couple of tests, but things change when we start putting data on the drives like you would have in your system.
PCMark Vantage - Drives with Data Testing
For a complete breakdown on the Drives with Data Testing please
read this article
. You will be able to perform this test at home with the files provided in the article - full instructions are included.
Brief Methodology
SSDs perform differently when used for a period of time and when data is already present on the drive. The purpose of the Drives with Data testing is to show how a drive performs in these 'dirty' states. SSDs also need time to recover, either with TRIM or onboard garbage collection methods.
Drives with Data Testing - 25%, 50%, 75% Full States and Dirty / Empty Test
Files needed for 60 (64GB), 120 (128GB), 240 (256GB)
60GB Fill - 15GB, 30GB, 45GB
120GB Fill - 30GB, 60GB, 90GB
240GB Fill - 60GB, 120GB, 160GB
Empty but Dirty - a test run just after the fill tests and shows if a drive needs time to recover or if performance is instantly restored.

HDD1 - Windows Defender
HDD2 - Gaming
HDD3 - Windows Photo Gallery
HDD4 - Vista Startup
HDD5 - Windows Movie Maker
HDD6 - Windows Media Center
HDD7 - Windows Media Player
HDD8 - Application Loading
Benchmarks are great, but often times developers overlook logic and embrace results that are outside the realm of reality. On the previous page we saw the performance of the drives without data present, but on this page we see what happens when the drives are populated like they would be in your system.
In this test we see that the Corsair Performance 3 is the only SATA 6 SSD on the market to run at a static speed no matter how much data is present on the drive. This test was actually designed to show how the Performance 3 was able to achieve a static speed.
Looking into 2012, I feel this is an area where SSD controller designers like SandForce should focus their attention. We already have peak speeds of 550MB/s, now we need static speed of 550MB/s before moving on.
On the previous page we saw the Crucial m4 outperforming the Vertex 3 drives in some of the tests. Normally I would make a bit of a big deal about that, but then I saw the light. The Vertex 3 loses performance as data is added to the drive, but not at the same rate as the Crucial m4.
Benchmarks - AS SSD
AS SSD BenchmarkVersion and / or Patch Used:
1.2.3577.40358
Developer Homepage:
Alex Intelligent Software
Product Homepage:
Alex Intelligent Software
Download here:
http://www.alex-is.de/PHP/fusion/downloads.php?cat_id=4&download_id=9
AS determines the performance of Solid State Drives (SSD). The tool contains four synthetic as well as three practice tests. The synthetic tests are to determine the sequential and random read and write performance of the SSD. These tests are carried out without the use of the operating system caches.
In all synthetic tests the test file size is 1GB. AS can also determine the access time of the SSD, the access of which the drive is determined to read through the entire capacity of the SSD (Full Stroke). The write access test is only to be met with a 1 GB big test file. At the end of the tests three values for the read and write as well as the overall performance will be issued. In addition to the calculated values which are shown in MB/s, they are also represented in IO per seconds (IOPS).
Note:
AS SSD is a great benchmark for many tests, but since Crystal Disk Mark covers a broader range of 4K tests and HD Tune Pro covering sequential speeds, we will only use the Copy Benchmark from AS SSD.
- Copy Benchmark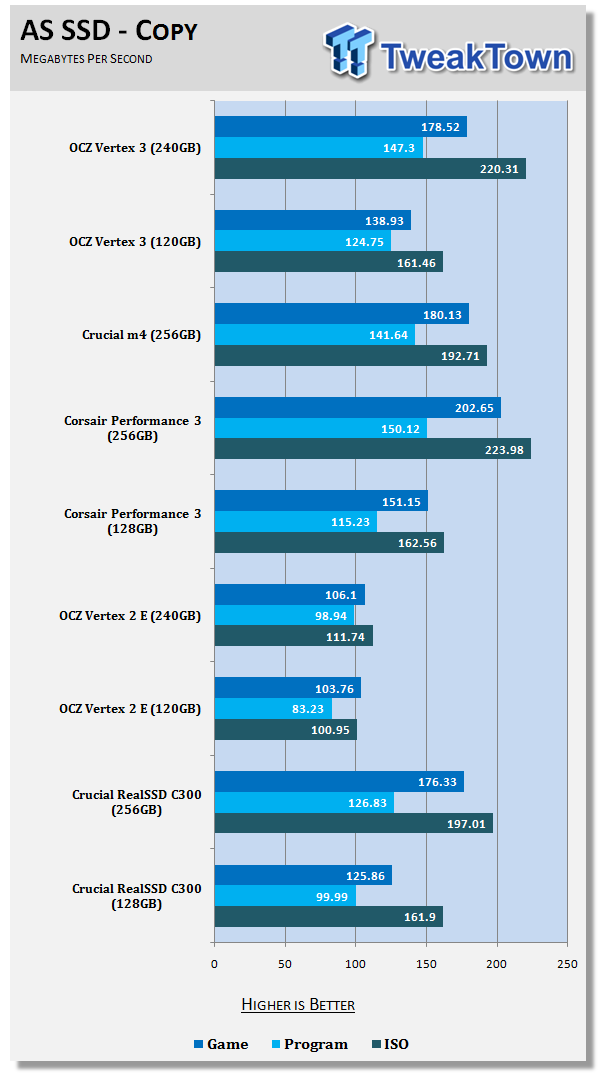 The 240GB Vertex 3 really kicks it up a notch here. The 240GB model should be faster when writing the data to the drive since it is rated faster than the 120GB drive. This is also an area where SandForce has spent quite a bit of engineering time on the SF-1200 and it looks like the new firmware on the Vertex 3 improves compressed write performance quite a bit more than the 20MB/s that offset the 120GB model to the 240GB mode.
Benchmarks - Passmark
Passmark Advanced Multi-User TestsVersion and / or Patch Used:
6.1
Developer Homepage:
http://www.passmark.com
Test Homepage:
http://www.passmark.com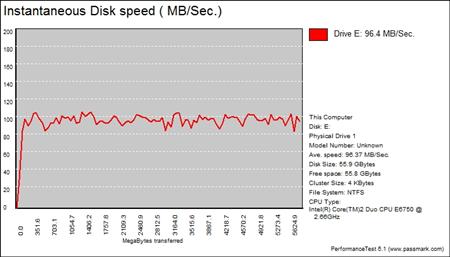 Many users complain that I/O Meter is too complicated of a benchmark to replicate results so my quest to find an alternative was started. Passmark has added several multi-user tests that measure a hard drives ability to operate in a multi-user environment.

The tests use different settings to mimic basic multi-user operations as they would play out on your server. Variances is read / write percentage as well as random / sequential reads are common in certain applications, Web Servers read nearly 100% of the time while Database Servers write a small amount of data.
The Workstation test is the only single user environment and will be similar to how you use your system at home.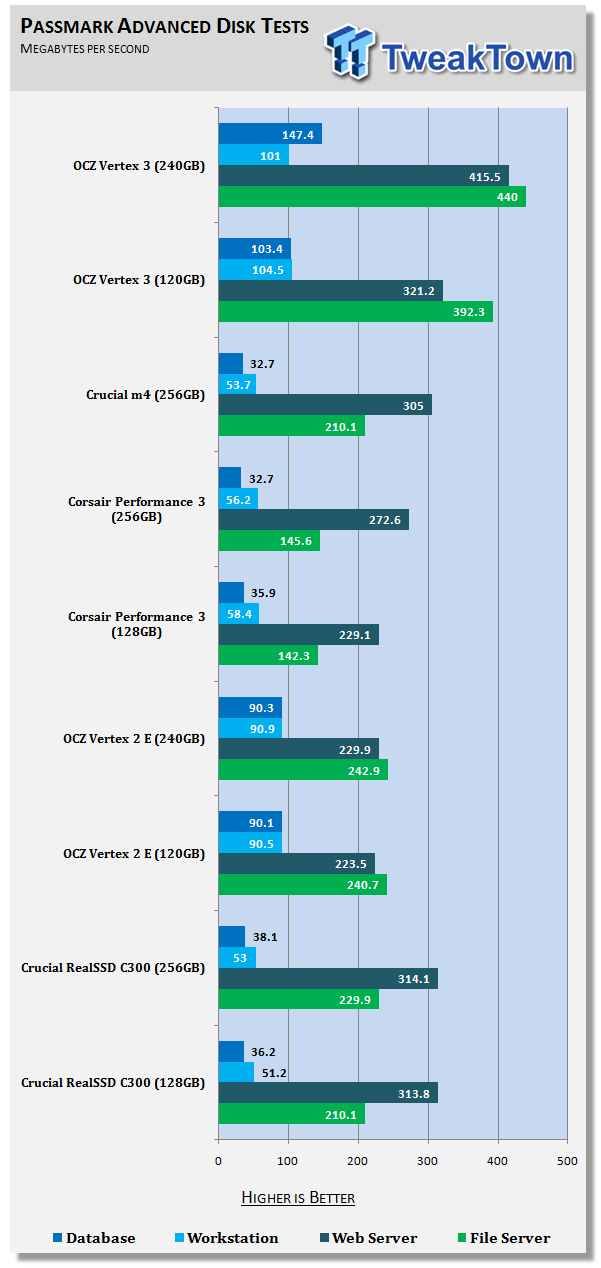 Generally when we see an improvement in the Copy Benchmark on the previous page, we see an improvement in the server tests as well. Our loved SandForce consumer drives are not that much different than the enterprise drives that cost hundreds of Dollars more.
Here we see the Vertex 3 with a SandForce SF-2281 controller dominating the server tests in all categories. The Vertex 3 is a consumer product, so we won't spend too much time here, but if you are looking for a full on enterprise drive, OCZ makes the Vertex 3 Pro with a SandForce SF-2500 controller and SuperCap for uninterrupted data flow.
Final Thoughts
We sort of breezed through this article today. I'm confident that most reading this are already familiar with the new SandForce SF-2200 controller. If you have no idea what I'm talking about, then you can read
our introduction to the technology
. The mumbo jumbo tech stuff doesn't really matter this year, though. The SF-2281 controller is the best of 2011 and that's really all you need to know. The other 2011 controllers have some nice features, good speeds and at some point may have an attractive price, but this year Team SandForce is going undefeated across the board. The only thing left to decide then is who will get the MVP.
Right out of the gate OCZ Technology has set the bar very high with the Vertex 3. The V3 ships with a three year warranty, desktop adapter bracket and a support forum that is the best in the biz. We don't really see it yet, but in 2011 OCZ says they are going to be very aggressive with pricing, too. All of this leads to a total package, but the plan has to be executed flawlessly or the competition will look to take over the pitches mound.
That leads us to where we don't like to go. First and foremost is
the form factor issue
. What the hell was going on here? - OCZ is an SSD company, I doubt they have a plastic mold machine and are churning out the new cases. I do see why OCZ would abandon the old all-aluminum cases; have you seen the price of aluminum these days? You would be running too if you needed to make hundreds of thousands of parts in aluminum. Usually when an outside firm is brought in to make a component, a sample is sent for verification. Either someone didn't notice that the new plastic case wasn't the right size and approved the design, or some of the molds were producing larger than spec parts.
The people I work with at OCZ are not the same who buy individual components, so I'm not even going to bother them by asking where the case hit the fan. What we do know is that it's wrong now,
BUT
, we also know it won't be wrong for very long. OCZ knows about the issue and I'm sure it will never be overlooked again. Those with Lenovo notebooks will be able to trade their drive in for a proper spec 2.5" form factor drive.
The next issue is the price. Before we dive too deep into the current price, let's first get some perspective into how spoiled we actually are. In 2010 the Vertex 2 120GB debuted at over 400 USD. In 2010 competition was quite a bit closer and the 256GB capacity king was the Crucial C300. In 2011 the SF-2281 clearly outperforms everything else on the market, so I'd really expect to pay around 400 USD for a 120GB Vertex 3. That said, OCZ wants you to buy an SSD and not look at them with dreamy eyes. The MSRP for the Vertex 3 120GB was set at 249.99 and the 240GB was set at 499.99. If I was the product manager, I'd say 400 / 750 and start shopping for exotic supercars. I'm not the PM, but someone is shopping for supercars and it's the e-tailers.
With supply low, the big e-tails are selling Vertex 3s at a premium. With recent announcements by Corsair, ADATA and a few others, we will see prices start to drop in the coming days as supply builds. Right now the 240GB can be purchased with just a 30 Dollar premium over the MSRP, but 30 Dollars is still 30 Dollars. I'll leave that choice up to you.
As it is right now, the OCZ Technology Vertex 3 is the only ultra high performance SSD in town. Sure, there are a few fast Porsche's around, but these are still using a base design built ages ago, like the 911. The SF-2200 is a cacheless design that uses controller speed and not a cache buffer to supplement a lower performing engine. If you are looking for the ultimate user experience (like handling in your car) and the highest transfer speeds (think drag racing), then you want a SSD with a SandForce SF-2200 controller. At this time the best all around package with a SF-2200 is the Vertex 3.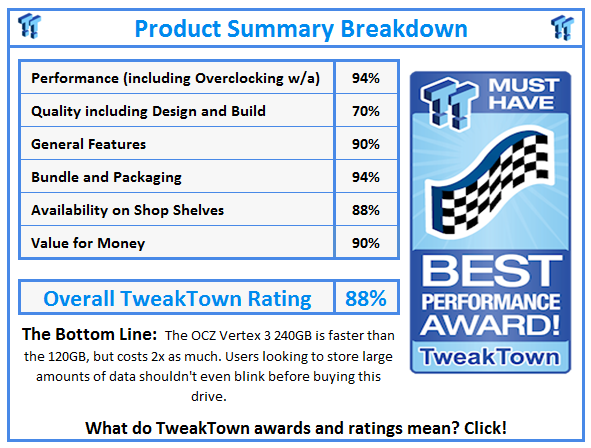 A Note From the Author
The OCZ Technology Vertex 3 240GB has received a Performance Award, but it isn't without a stipulation. The Lenovo Notebook Issue was stumbled upon when I tried to install the Vertex 3 240GB in my personal notebook. If I'd have spent 530 USD on this drive, then waited 5 days for it to arrive only to find out that it didn't fit, I'd be pretty ticked off. HDDs and SSDs have a standard set for a few reasons; not ticking people off is only one of them. OCZ is not the first company to have an issue with form factor sizes or specifications and they will not be the last.
The only reason why I would even consider an award at all after a form factor issue comes down to support. OCZ Technology has an amazing support staff that actively contributes to the performance computing community and quickly responds to any issues that come along. Everything starts at that level. Once elevated OCZ has a track record of remedying issues quickly and in ways designed to ease consumer frustration. Not every company operates in this manner, not every SSD manufacturer operates in this manner. In a twisted way to think about it, if I were to have an issue with an SSD, I'd rather it be with an OCZ SSD than anyone else, because I know OCZ will handle the issue in a quick and consumer conscious way.
PRICING: You can find products similar to this one for sale below.

United States: Find other tech and computer products like this over at Amazon.com

United Kingdom: Find other tech and computer products like this over at Amazon.co.uk

Australia: Find other tech and computer products like this over at Amazon.com.au

Canada: Find other tech and computer products like this over at Amazon.ca

Deutschland: Finde andere Technik- und Computerprodukte wie dieses auf Amazon.de
We openly invite the companies who provide us with review samples / who are mentioned or discussed to express their opinion. If any company representative wishes to respond, we will publish the response here. Please contact us if you wish to respond.