SandForce SF-2000 Series Client Launch
SandForce has just released details of their two new consumer controllers - the SF-2100 and SF-2200. Chris shares these details with us in perspective.
Published Fri, Feb 25 2011 8:15 AM CST
|
Updated Tue, Nov 3 2020 7:02 PM CST
Introduction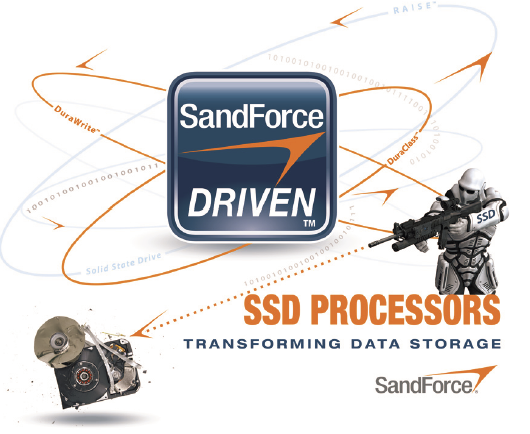 There no doubt that the most exciting news we learned about at CES 2011 came from SandForce. As it sits now the slowest part of your PC is the storage system. Any leaps of performance in this area have large effects on the surrounding components. When you have a faster storage system you gain additional production and a better user experience since wait time is decreased.
Today's current crop of SSDs already allow for faster operating system boot times and near instant application load times. On a standard platter drive loading a large program like Photoshop can take 10 seconds or more, but with a newer SSD Photoshop loads before your finger is taken off the left click button. With load times that fast application developers can insert more features into their software, making the application more powerful.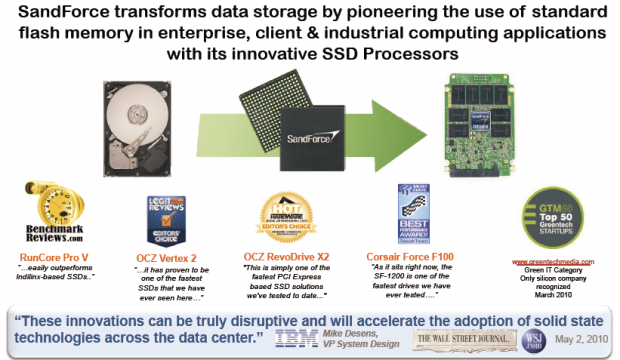 SandForce's first run in the SSD controller market was the SF-1000 Series that consisted of the SF-1200 consumer controller and the SF-1500 enterprise controller. The two controllers were the same hardware, but differed by the options enabled in the internal programming. The consumer SF-1200 quickly gained market acceptance with several SSD manufacturers choosing to develop products based on the consumer design.
2010 was not only SandForce's break out year, but the year in which SandForce became an industry leader. In order to do that, SandForce needed to engineer a product that was innovative and offer a significant increase in performance to the competitions products, while doing so at a lower cost. That is exactly what SandForce managed to do.
Today SandForce is launching two new consumer products designed to build upon the success of the SF-1200. The SF-2200 will be the successor for the high end enthusiast market, and the new SF-2100 will occupy the quickly emerging mainstream SSD market.
We have a lot of information to share with you today, so let's get started.
The SandForce SF-2200 and SF-2100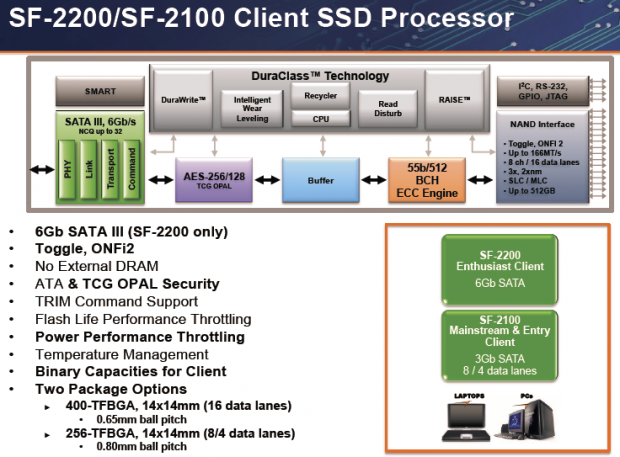 We've known about the SF-2200 for several months now, but the SF-2100 caught us by surprise. Unfortunately SandForce didn't include very much performance information on the new mainstream 2100, but from what we've pieced together the 2100 might end up being a massive seller for the mighty mainstream market, an area in which SSDs have yet to gain acceptance due to cost.
Yesterday we previewed the first SF-2200 SSD, the
OCZ Technology Vertex 3
, and found its performance to be breathtaking. Just as remarkable was the quoted MSRP (cost). OCZ is stating that the Vertex 3 in 120GB will cost right around 250 USD and the 240GB model will sell for around 500 USD. These prices are much lower than what the previous generation products cost at their launch.
Looking at the information above, we know that the SF-2200 is a SATA 6Gb controller for enthusiasts and the mainstream SF-2100 still uses a SATA 3Gb connection. The two controllers differ in the available data lanes and have a different packaging. Both controllers can be paired with ONFi2, Toggle, 3Xnm, 25nm, SLC and MLC flash. This much diversity will make things interesting for manufacturers that can look for the perfect balance between cost and performance.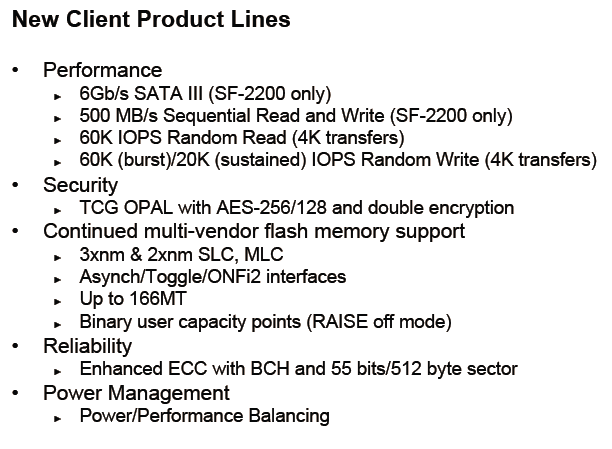 SandForce is very proud about the performance of their new SF-2200, as they should be, but in this slide we found more surprises.
The first was the ability to turn RAISE off. Those familiar with SandForce products know that their 120GB drive actually has 128GB of flash on the drive and the remaining 8GB is used internally for various tasks like reliability, internal garbage collection and to increase performance. The new SF-2000 controller can be configured without RAISE and some manufacturers might use this feature to give users the full 128 or 256GB of capacity. We will have to keep an eye on this when drives start shipping in April.
The next area to catch our attention is the new Power Management features. These can be used to manufacture notebook or netbook specific SSDs where a user may want to sacrifice some performance for longer battery life. We questioned SandForce in a meeting about giving end users control of Power Management, but at this time the feature is not adjustable outside of the manufacturing factory; i.e. you won't get a Power Management tool. Even though users will not be able to tune the power performance ratio, manufacturers can make specific models designed for notebook use and we can see many large OEMs developing products for this exact application.
SandForce SF-2000 Series Breakdown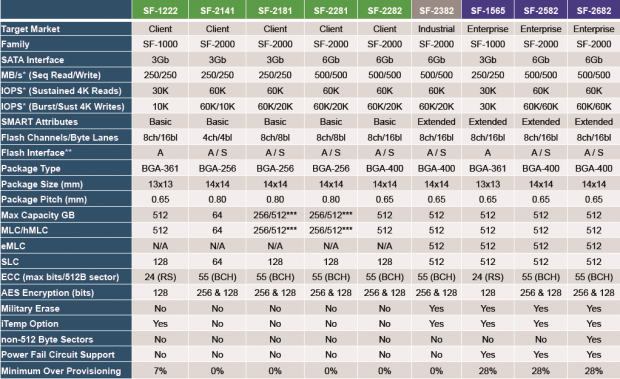 SandForce's family is growing and under the SF-2000 umbrella are no less than seven new controllers. There is quite a bit of information here, but we will try to cover it all.
First up is the SF-2100 that consists of two part numbers; SF-2141 and SF-2181. The 2141 is a 4 channel controller (half that of the current SF-1200). This is a perfect part to use the new 25nm flash, but the controller appears to be limited to just 64GB of capacity. The SF-2181 uses an 8 channel controller like the SF-1200 and looks to be a direct replacement to the previous generation consumer drive, while at the same time increasing IOPS performance.
The enthusiast class SF-2200 also comes in two configurations. The first is the SF-2281 with 8 channels and 8 byte lanes that can scale up to 512GB capacity, but only when 8GB flash is used. The 2281 also retains the 256 ball grid array package which is cheaper to build PCBs for when compared to the 400 BGA package found on the SF-2282. The SF-2281 will have a much higher adaption than the 2282 due to manufacturing costs.
The SF-2282 will mainly be used on those massive 512GB (480GB) capacity drives. SandForce kept the 8 channels on the 2282, but changed the byte lanes to 16.
When it comes to IOPS performance, the new SF-2200 class doubles the previous SF-1200 SSD in both reads and writes. The SF-2100 doubles the previous generations read IOPS performance, but matches the 1200 after the initial burst speed.
Increased Security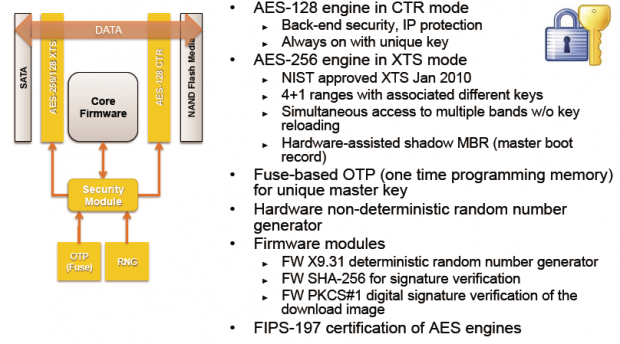 Most enthusiasts and mainstream users don't even password their systems, but our business readers will like to know about the new AES-256 security measures that have been added to the SF-2000 Series controllers. The SF-1200 had 128-bit security built in on the back end, but the new series puts AES-256 bit at the front just after the data gets to the drive.
SandForce was able to implement the new security measures without disrupting data flow. We tested the Vertex 3 and Vertex 2 looking at read and write access time and both drives produced identical numbers. Instead of removing the 128-bit that was perfected in the SF-1000, SandForce adapted a dual encryption with both 256 + 128.
The Players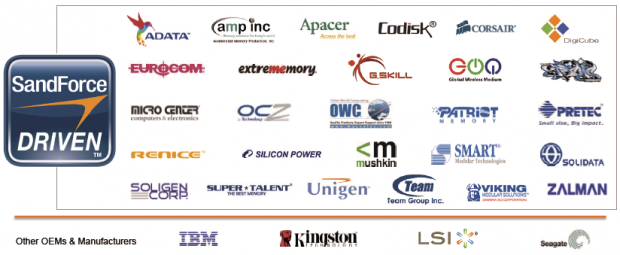 Most of the information that we are telling you about today could have been included in the OCZ Vertex 3 Preview, but we decided to separate the two articles mainly because of this section.
SandForce has many partners who manufacture products based on their controllers. I can only assume that OCZ Technology sold more SandForce based SSDs. I've come to this conclusion based on reading your forum signatures, there is a lot more chatter about OCZ Vertex 2 drives than any other, and if you combine all of the other manufacturers it still comes out to around 2 to 1 in favor of OCZ.
Of the thirty-four companies signed up for the SandForce Driven Program, we review products from twenty-one of them. It looks like I need to step it up.
Looking back at 2010, SandForce worked with many, many more SSD manufacturers than any other controller company. This worked out very well for SandForce since not only did SandForce have their own engineering team working on products, but engineers from all of their partners as well. Intel worked with a handful of companies; Kingston, Buffalo and a couple of smaller manufacturers. Marvell mainly paired with Crucial and half way through the year we learned about the LiteON and ADATA connection, but that development went into products that are just now coming to market.
The biggest news about this slide is the inclusion of Kingston and Seagate. There are rumors of Seagate investing in SandForce and that has floated around for some time now. We
SHOULD
see a Seagate SSD this year. The Pulsar was available to OEMs in 2010, but in very limited numbers, and we were never able to actually see one in the lab or in the wild.
Kingston joining Team SandForce is massive; maybe even bigger than the news of Seagate. Kingston has successfully launched products based on many SSD controllers and strives for high volume, low cost sales with most of their products. Even the high end Kingston HyperX memory line competes at mainstream memory prices. We'll have to wait and see what Kingston brings to the team and how much they will affect SSD pricing in 2011.
SF-2200 Benchmarks
Yesterday
we ran the OCZ Vertex 3 through our standard set of benchmarks
and I chose a few to showcase today in the introduction to the SF-2000 client controller. These tests should be prefaced with a little information about the tests. To get the most out of your SF-2200 SSD you will need to pair it with either a Sandy Bridge motherboard or a high performance RAID controller like the LSI 9260-8i or Areca 1880 Series. The X58/Marvell combination motherboard will get you close to peak performance, but close doesn't mean 500MB/s read and write speed.
ATTO Baseline PerformanceVersion and / or Patch Used:
2.34
ATTO is used by many disk manufacturers to determine the read and write speeds that will be presented to customers.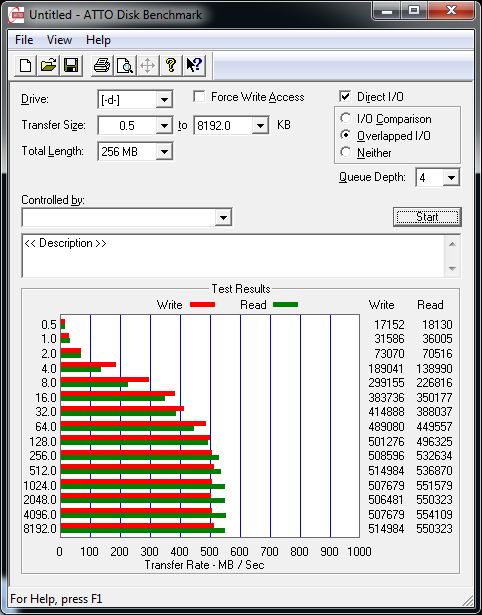 The OCZ Vertex 3 surpassed our expectation and delivered exceptional read speeds of over 550MB/s and write speeds of around 515MB/s. These are remarkable numbers in this test and close to twice as fast as the previous generation Vertex 2 that uses the SandForce SF-1200.
PCMark Vantage - Hard Disk Tests

The real world testing in a clean state was just as impressive. Here we see the Vertex 3 taking off like a rocket and showing why many reviewers are calling the Vertex 3 the fastest SSD ever made. The Vertex 3 as tested managed to outperform all other drives across the board.
Final Thoughts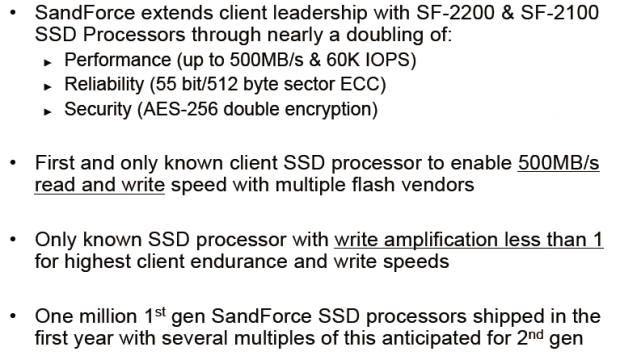 SandForce has already proven they are a leader in the SSD market with their successful SF-1000 products introduced in 2010, but the company isn't stopping with just 1 Million controllers shipped. In 2011 the company is expecting to triple their volume. Even before the first retail product ships with the new SF-2000 controller, we can see this being an obtainable goal. The new series is already being talked about (even though the launch was yesterday), and many enthusiasts are eagerly waiting for products.
Retail availability should be late March or early April (you can quit emailing that question to me...you know who you are). With so many options and configurations possible combined with so many partners, there should be several exciting Team SandForce products hitting the market. The competition will also keep the cost of owning a new SandForce SF-2200 low. We already know the Vertex 3 has an MSRP of just 249.99 for the 120GB model and 499.99 for the 240GB model. The SF-1200 debuted at over 400 USD when launched in January 2010 and is now selling for around 200 USD.
Stay tuned for more SSD coverage from TweakTown in 2011. We just built a new Sandy Bridge test system and look forward to helping you find the perfect SSD for your needs.
PRICING: You can find products similar to this one for sale below.

United States: Find other tech and computer products like this over at Amazon.com

United Kingdom: Find other tech and computer products like this over at Amazon.co.uk

Australia: Find other tech and computer products like this over at Amazon.com.au

Canada: Find other tech and computer products like this over at Amazon.ca

Deutschland: Finde andere Technik- und Computerprodukte wie dieses auf Amazon.de
We openly invite the companies who provide us with review samples / who are mentioned or discussed to express their opinion. If any company representative wishes to respond, we will publish the response here. Please contact us if you wish to respond.