Creative Labs Sound Blaster Tactic 3D Sigma Headset Review
Although we have tested several outstanding audio products from Creative Labs in the past, this is the first Gaming Headset we have seen from the company; part of a new line dubbed 'Tactic 3D'.
Published Tue, Apr 26 2011 3:26 AM CDT
|
Updated Tue, Nov 3 2020 7:02 PM CST
It seems that producing an algorithm based surround headset is becoming quite a trend of late with several already having made their way to us for testing over the last few months.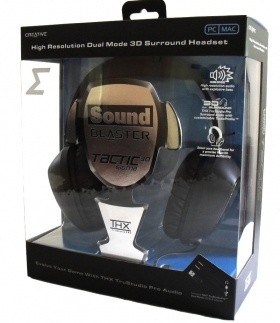 Obviously producing a simple stereo headset with software driven surround sound capability is going to be a cheaper and probably more viable option for most large companies, as opposed to more complex designs. And this is possibly why we are seeing such a swing in this direction of late.
Today we are looking at the Sound Blaster Tactic 3D Sigma, which most notably uses the company's famous Sound Blaster name in order to swing attention away from competition and towards this product.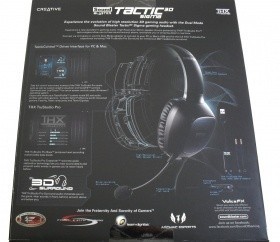 - The System SpecificationsHeadphones:
Driver Units: 50mm Neodymium magnet
Frequency Response: 20Hz ~ 20kHz
Impedance: 32ohms
Sensitivity: 102dB/mW
Microphone:
Microphone Type: Noise Canceling Condenser
Frequency Response: 80Hz ~ 14kHz
Impedance: 2.2kohms
Sensitivity: -41dBV/Pa
Nothing really exiting here except that Creative has chosen to use a large 50mm driver like much of the competition. This large driver allows for greater mid range extension and clarity while providing an overall bigger sound from the headset.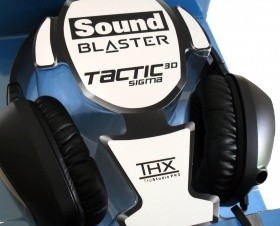 Worth a mention, though, is the THX TruStudio software that is implemented along with the system. We think it's a great idea overall and allows this headset to be used by a huge spectrum of the buying public. Because of the duel connection modes offered, the system can be run in USB or analog stereo mini, and supports both Windows and Mac.
Here is what Creative has to say about this technology :-
Customizable TacticControl driver interface optimized with Live!Touch for touchscreen controls under Windows 7 operating system gives you full control over every nuance of the THX TruStudio Pro audio suite as well as custom graphic equalizer and VoiceFX controls.

Customize your own TacticProfile EQ and audio profiles, and then export and share them with other gamers. You can also use pre-configured audio settings from world-renowned gamers such as Fatal1ty, compLexity and Team Dignitas.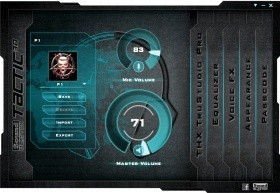 To control the volume of the headset, a small in-line volume control is included which features a small dial along with a button which is used to turn the Mic on and off.
The plastic used for this control is also of a very high quality we thought. This is also the point where the user decides if they want analog or digital for the connection mode.

The headset also features a steel core inside of the band to allow for maximum durability over the span of its life. We thought it was about as comfortable as most others tested recently. However, the overall quality of the plastic used and the way the headset feels to hold is well below average for this price point. The plastic feels very thin and cheap, as do the ear pads used. The headset has very little weight which is a good thing for the most part, but also means that the magnets on the drivers used inside are very small and probably not great.
There are several things we like about this headset already. Going into testing, let's make that clear. It's just that the actual feeling of holding it and wearing it on your head is monumentally underwhelming considering they want $150 AUD of your hard fought clams to take one home.
- High End
Fairly well balanced overall, without really pushing the upper limits too much. The large 50mm driver is not ideal for ultra high end reproduction, but it was certainly able to cope with the high end tones we were throwing down. We did notice a slightly recessed character to the high end as well. And what we mean there is that higher frequencies felt slightly removed from the mix, almost a little distant up against everything else. We know that this is caused by the larger 50mm driver, but we would not advise against its use in this case.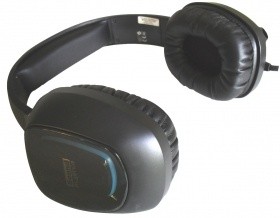 - Mid Range
Really quite unrestricted and open with a very relaxed and non urgent sound being conveyed through to our ears. Depending on the type of audio being used, this style of mid range will suit some more than others. Just do not expect some of the ear bleeding clarity seen by other Creative Labs products; especially those with 'Zii-sound' on the front.
- Low End
About on par with most other headsets out there for this price. The low end is tuned to sound very impressive within a certain range of operation and it achieves this well. No doubt the tuning has been skewed towards gaming use, but overall bass is deep and quite controlled.
THX TruStudio
This is really the big selling point for this headset and the thing that is going to get it noticed amongst all of the others currently circulating. By offering a simple and concise set of controls, the user can alter some of the important characteristics of what's being played back.
Without getting into things too heavily here, the surround function can be used to up mix stereo audio into basic surround sound, while the Crystallizer can rejuvenate tired and compressed audio files by re-sampling in real time and adding back transient details lost during compression.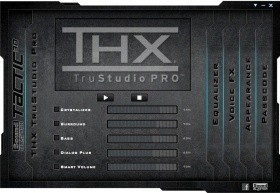 Lots more can be found inside of the control centre, but we will leave that as a surprise for the users who end up buying this headset.
Overall, though, we found the Sound Blaster Sigma 3D to be a respectable product for many reasons. We like the dual mode connection offered as much as we like the THX TruStudio inclusion which sets this headset apart from the very busy field of competition in which it lies.
But the main question is; why buy the Sigma 3D over some of the cheaper and better made competition, like the HS1 from Corsair? - And the answer is simple really; because Creative Labs are the most experienced in knowing how to make audio products that gamers want to use. So, that means that all gamers should use this headset, right?
Well, no in fact, and we appreciate the confusion here. But it's for another simple reason that we cannot recommend the Sigma 3D in entirety. And that reason is the price - we feel that for $150 there is zero value on offer, relatively speaking. Just take for example, Corsair, who undercut their products routinely knowing that their name is still growing in the community. But alternately, Creative Labs take a different approach; make a product that's worth $90 and charge $150 for the pedigree behind it all.
But at the end of the day, it's up to you, the reader, to decide what is most important in terms of what you come to know as value for money.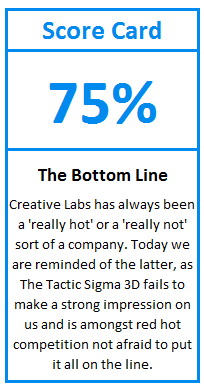 PRICING: You can find products similar to this one for sale below.

United States: Find other tech and computer products like this over at Amazon.com

United Kingdom: Find other tech and computer products like this over at Amazon.co.uk

Australia: Find other tech and computer products like this over at Amazon.com.au

Canada: Find other tech and computer products like this over at Amazon.ca

Deutschland: Finde andere Technik- und Computerprodukte wie dieses auf Amazon.de