Our
first introduction to the HS1 Headset
from Corsair was quite a pleasant one. We found it to be a sturdy, well built headset that offered great audio performance for what was a decent pricing point. However, Corsair has sensed the yearning for a non-USB version of the successful headset and has thus come out with a new one. Well, sort of...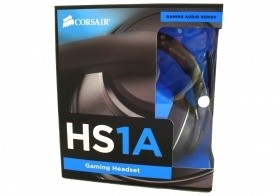 You see, while the paint has indeed changed and the USB connection is now gone, below the surface this is in fact nearly the same product as the original HS1. And we do not have an issue with that, simply because as we have stated above, it was already a great sounding set of headphones.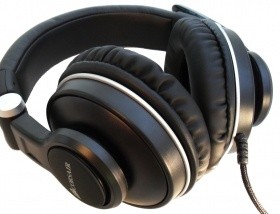 So in affect, what we have here is a slimmed down 'light weight' version of the original HS1 - Minus all the fancy software working in the background, which we must add worked extremely well on the original when we tested it. Instead, this time around processing is going to be left solely in the hands of whatever sound card (device) happens to be in the users system.
- The System SpecificationsHeadphones:
- 20Hz to 20kHz frequency response
- 32 Ohms impedance at 1kHz
- Custom-engineered 50 mm drivers with 24 mm copper-wound voice coils
- Extra-large cicumaural ear cups with a closed-back, noise-isolating design
- Two sets of replaceable memory foam ear pads: one covered in micro fiber, one in synthetic leather
- Attached 3 meter cable with inline volume/microphone controller and dual 3.5 mm (1/8") connectors
Microphone:
- Unidirectional, noise-canceling condenser with adjustable, rotating boom
- 2.2k Ohms impedance
- 200Hz to 10kHz (+/- 3dB) frequency response
- -45dB (+4/-2dB) sensitivity
Package Contents:
- HS1A gaming headset with inline volume controller/microphone mute
- Quick Start Guide
Most notable amongst the technical specs is really the choice made by Corsair to stick with the large 50mm driver; as was the case with the previous HS1 which allowed for greater more open mid-range performance than smaller, more compact drivers used throughout by many competing products.
The memory foam is back again with the HS1A, which is a nice touch and provides for one of the most comfortable fits of any headset we have used. In fact, the only feeling that a headset is even being worm after several hours is at the very top of the headband, which could use a little more padding.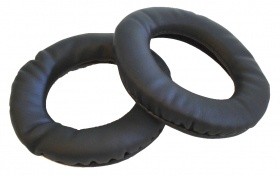 To control the volume of the headset, a small in-line volume control is included which features a small dial along with a button used to turn the Mic on and off. The plastic used for this control is also of a very high quality and is nice to hold. A spare set of ear pads is also included in the package which is a nice touch.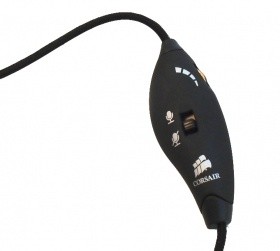 Unfortunately, our only real quibble about the design of this headset is the choice to use the smaller 1/8th connectors rather than the larger ¼" jack. Basically, it's clear Corsair has tried to make life simple when hooking this one up by using the most widely accepted method of connection. But put simply, we do not like connecting headphones using a stereo mini jack, period. Save those things for iPod users and the feeble in general. Not audio enthusiasts...we think.
- High End
Fairly well balanced overall without really pushing the upper limits too much. The large 50mm driver is not ideal for ultra high end reproduction, but it was certainly able to cope with the high end tones we were throwing down.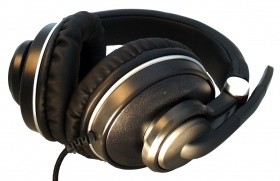 - Mid Range
An area of strength for the large driver; mid range frequencies sounded quite open and unrestricted at times, but also quite thin at other times, lacking decent depth and space with a tendency to waft over complex mid range sequences. This would often provide a 'highlights reel' rather than the nuanced mid range we would prefer.
- Low End
Fairly tight and controlled overall, although lacking some of the deep bass that we would like to hear, especially in a headset that is going to be used by gamers. We spent some time playing with different ear pads and tuning settings, but could not get the HS1A's to produce any truly deep bass.
Having said that, though, for everyday use around the home the low end found within the HS1A is going to do your ears a favor over the long term, largely because the user fatigue is at such a low level.
Interestingly enough, and to our own surprise, we feel that the first HS1 headset we looked at (the USB version) is a better product that provides more impressive overall sound quality and arguably better functionality due to the software package.
However, as a standalone product the HS1A sounds really good in its own right and is the sort of headset you could use every day without an issue, in comfort, with very low fatigue even at full volume. Build quality is always great with Corsair and we would think that this headset would last for many moons being taken around from place to place.
Finally,
coming in at $89.99 USD
, the HS1A is good value again from Corsair and is in its own right another nicely implemented headset.