Introduction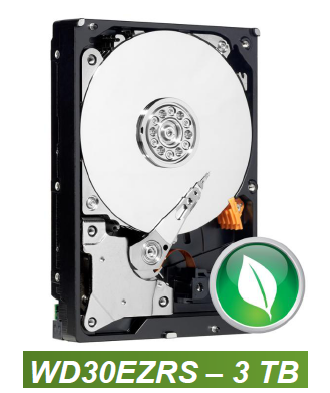 Rules were made to be broken; that whole 55 MPH thing happens to be my favorite. Western Digital had larger aspirations; the kinds that considered milestones. Reaching the 750GB per platter mark is definitely in the milestone category and that is what Western Digital is releasing today.
On the surface 750GB per platter doesn't really sound all that impressive unless you are really into the whole storage technology scene. Those on the outside will be more excited to hear about the milestone this way; 3TB hard drives that upon launch cost just a little over 200 USD. Do I have your attention now?
Western Digital today is releasing two new products; 2.5 and 3TB. The 3TB drive is what we will mainly focus on and it is quite impressive. Recently news spread about Seagate launching a 3TB HDD, but that uses five platters, whereas Western Digital was able to do it with just four. There are several benefits to a four platter design; cost, heat output, energy consumption and the list can go on and on with the final stopping point, reliability.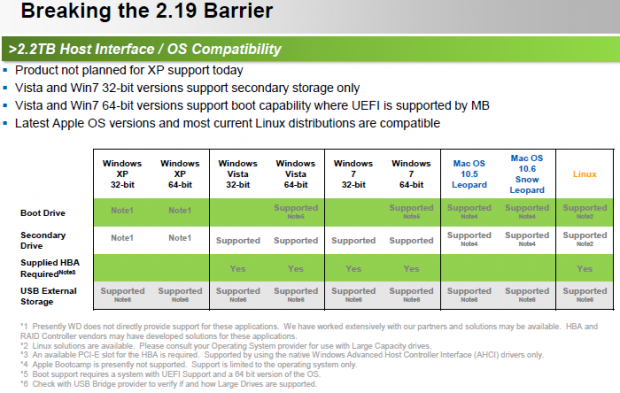 Having 3TB in a 3.5" form factor and being able to use it is another issue all together. Windows XP users are out of luck at this time; the architecture just isn't going to support anything over 2.19TB, at least for now. 32-bit users of Windows Vista and Windows 7 will only be able to utilize anything over 2.19TB as a secondary drive (i.e. not be able to boot an OS).
That leaves 64-bit users in the best position to fully utilize a larger than 2.19TB HDD, but even then you need a UEFI supported motherboard. Personally I believe this isn't a big deal since most will want to boot to a VelociRaptor or SSD and use the 3TB drive for storage purposes anyhow.
Let's take a look at the full specifications and then get into some more detail about how to get the most out of your new Western Digital Caviar Green 3TB hard drive.
Specifications, Pricing and Availability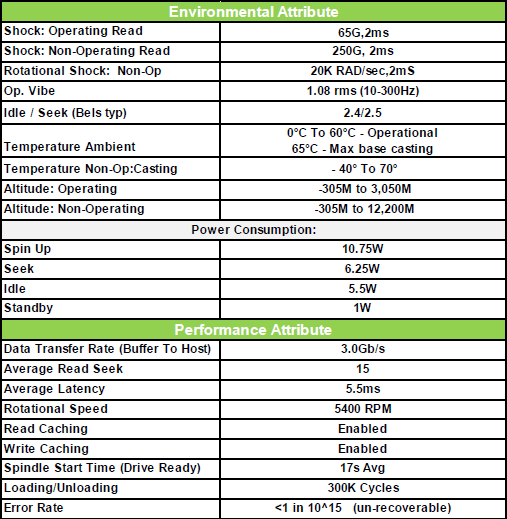 Per the norm for the Green Series the Western Digital WD30EARS 3TB hard drive uses 5,400 RPM rotating platters. The Caviar Green Series is best known for low power consumption and the new 2.5 and 3TB drives follow the same formula with a spin up of just 10.75, a draw that is close to others seek power consumption. Seek power is just 6.25 and idle goes down to 5.5 watts.
Not shown on the specs, but definitely worth noting is the massive 64MB buffer that gives the 5,400 RPM drive the ability to perform more like a 7,200 RPM unit. This is Western Digital's fifth generation Caviar Green and all of the bells and whistles have been applied making this one of the most advanced platter based drives to hit the market.
New for most users will be the Advanced Format 4kb arrangement. Eventually all new drives will use Advanced Format over the old 512b system that has been the standard for many years now. The new 2.5 and 3TB drives handle sectors internally with a 4kb block size; this makes for more efficient ECC handling and also allows us to get over the greater than 2.19TB limit.
Western Digital has a large retail and e-tail network, so finding their products is as simple as driving to the store or hitting your favorite e-tailer URL. The MSRP of the Caviar Green 3TB unit is 239 USD and the 2.5TB unit is 189 USD. These price points are quite a bit lower than what I expected to find since Western Digital has a track record of launching 300+ Dollar MSRP units and letting e-tailers drop the price rapidly. With 2TB units being offered at just over 100 USD, you will find yourself paying a premium, but if history tells us anything then we should see 3TB drives being sold for less than 200 USD before Christmas.
Western Digital's new Green Series includes a three year warranty and a Highpoint HBA that will allow for easy integration in your current system.
Most users will quickly learn that drivers for the 4k format are not available at this time for most chipsets, mainly Intel and NVIDIA. This is a tune we've sang before with SATA 6Gbps and in both occasions Marvell has been there to supply new hymns to keep the technology party going. Highpoint provided Western Digital with the HBA needed to get the party started with their Rocket 620 product that uses a Marvell HBA to address the Advanced Format structure.
A large number of enthusiast motherboards have already shipped with Marvell controllers, but most are enthusiast class systems. My GIGABYTE X58A-UD7 didn't have any issue picking up the Western Digital Caviar Green 3TB with the motherboards onboard Marvell HBA.
The Western Digital Caviar Green 3TB HDD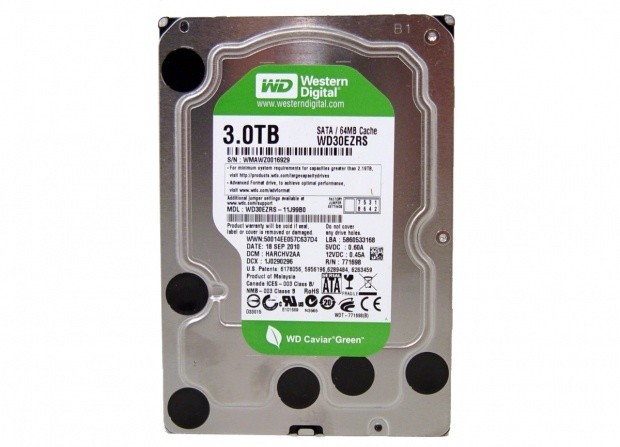 Here we get our first look at the Western Digital Caviar Green 3TB HDD. As far as hard drives go the layout is a traditional 3.5" form factor. Western Digital includes a bit of information on the drive's label like capacity size and even the amount of cache.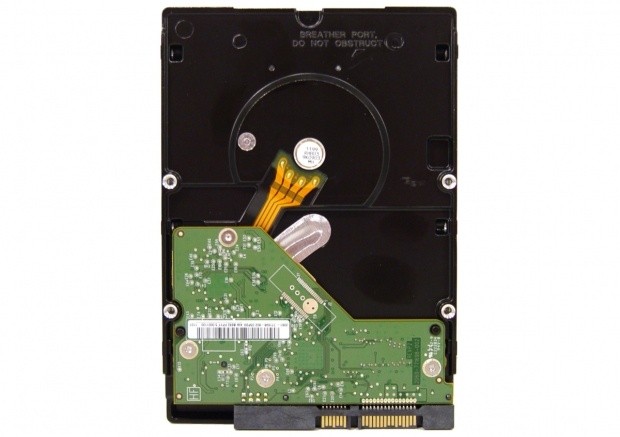 The 3TB Caviar Green uses a small PCB that has the components mounted so they face the drive. This keeps all of those little surface mount components secure and safe from harm when relocating the drive from one system to another.

On the connection side of the drive we found standard SATA power and data ports.

Western Digital also used the standard mounting configuration for a 3.5" form factor drive.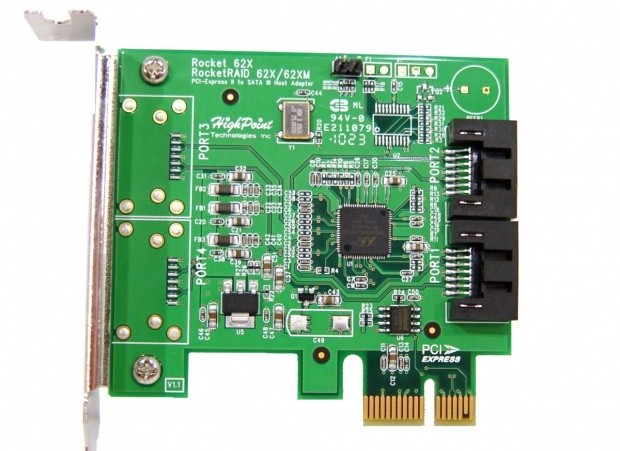 Western Digital is shipping a Highpoint Rocket 620 with each 2.5 and 3TB Caviar Green at launch. At a later date consumers will be able to find these drives without the included Highpoint HBA, but prices should be about the same.
The Highpoint Rocket 620 HBA uses a Marvell chip and has two SATA ports. The card interfaces with your system through a PCIe 1x slot; most users have a few of these available already, but if you don't have a 1x specific slot open you can use any PCIe connector that is free in your system.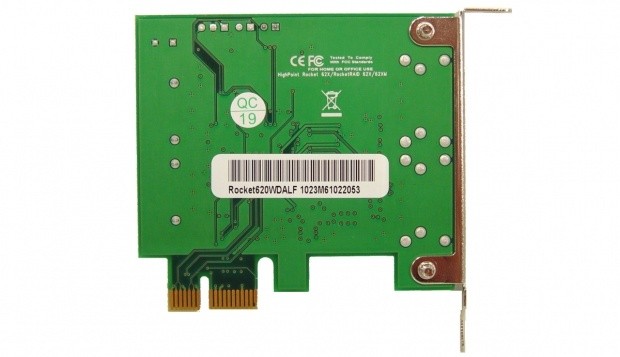 The back of the Rocket is pretty straight forward. It should be noted that this is the Rocket model and not the RocketRAID version that allows for RAID configurations.
Test System Setup and ATTO Baseline Performance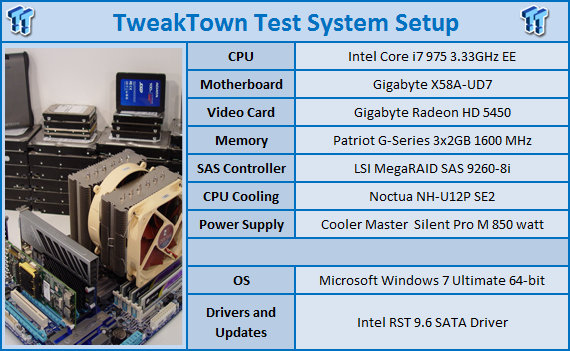 We would like to thank the following companies for supplying and supporting us with our test system hardware and equipment:
AVADirect
,
GIGABYTE
,
Cooler Master
,
LSI
and
Noctua
.
You can read more about TweakTown's Storage Product Testing Workstation and the procedures followed to test products
in this article
.
Since most users will use the Western Digital Caviar Green 2.5 and 3TB drives with the included Highpoint HBA, we used that for our testing instead of our on board or aftermarket controllers. With a new controller also come new variables, the things I don't like adding to my reviews since it removes the equal playing field I strive for. The two comparison drives being shown in the review were tested on the GIGABYTE on board Marvell controller. They are also SATA 6Gbps drives, so this is their native partner.
ATTO Baseline Performance
Version and / or Patch Used:
2.34
ATTO is used by many disk manufacturers to determine the read and write speeds that will be presented to customers.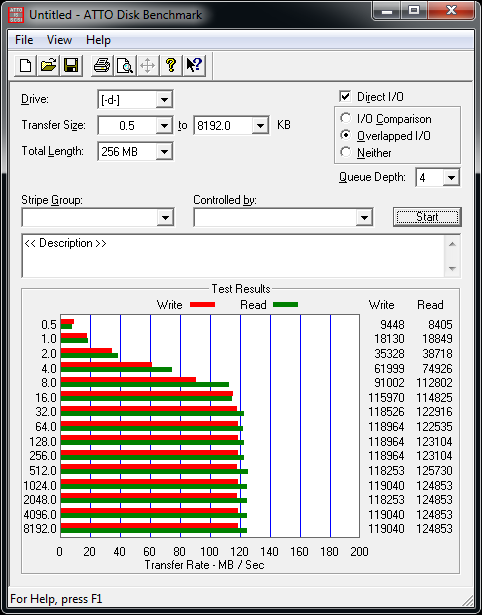 In ATTO we see the Western Digital Caviar Green ramping up speeds quickly. The 4k test shows impressive write speeds of just over 60MB/s and read speeds close to 75MB/s. Western Digital didn't claim any data transfer performance numbers in their marketing material, but it looks like those would be 125MB/s read and 120MB/s write.
Benchmarks - HD Tune Pro
HD Tune ProVersion and / or Patch Used:
4.00
Developer Homepage:
http://www.efdsoftware.com
Product Homepage:
http://www.hdtune.com
HD Tune is a Hard Disk utility which has the following functions:
- Benchmark: measures the performance
- Info: shows detailed information
- Health: checks the health status by using SMART
- Error Scan: scans the surface for errors
- Temperature display
HD Tune Pro gives us accurate read, write and access time results and for the last couple of years has been gaining popularity amongst reviewers. It is now considered a must have application for storage device testing.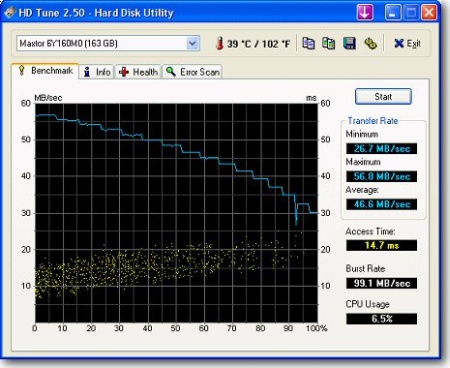 A fair fight; well, not exactly. For comparisons we chose Western Digital and Seagate's 7,200 RPM 2TB drives thinking the high density of the Caviar Green would be able to cut deep into their performance. In the read tests across the drive we found that the Caviar Green 3TB came very close to the performance of the higher rated drives, but wasn't able to outperform these highly rated drives.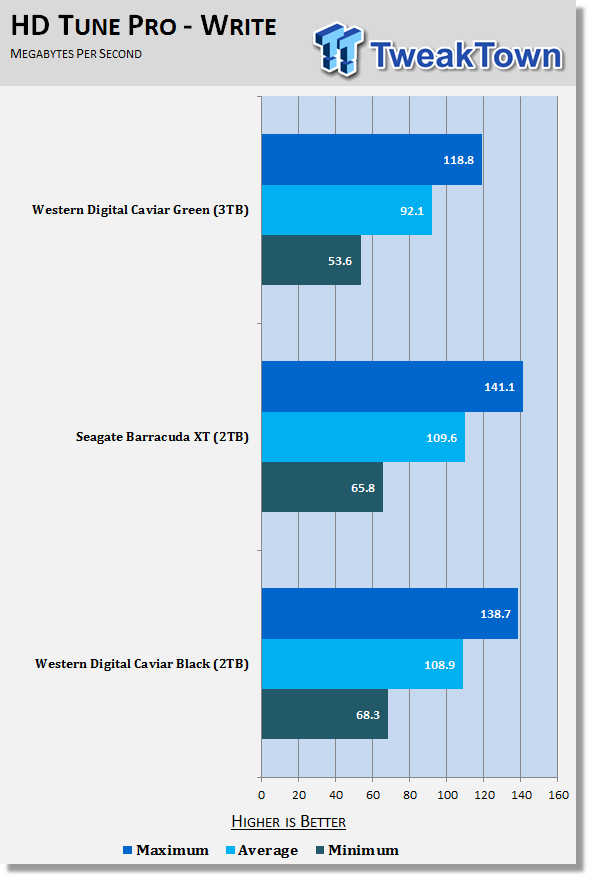 The same held true for the write speeds. Here we found the Caviar Green performing very close to the 7,200 RPM drives, but the density wasn't enough to put it over the top.
Even though the Western Digital Caviar Green 3TB wasn't outperforming the two 7,200 RPM drives, it was running right up there with them in this synthetic test.
Benchmarks - Everest Random Access Time
Everest Random Access TimeVersion and / or Patch Used:
4.60
Developer Homepage:
http://www.lavalys.com
Product Homepage:
http://www.lavalys.com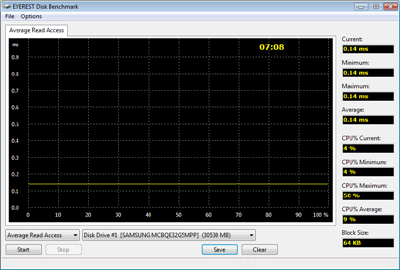 Everest Ultimate and Corporate Edition offer several different benchmarks for testing and optimizing your system or network. The Random Access test is one of very few if not only that will measure hard drives random access times in hundredths of milliseconds as oppose to tens of milliseconds.
Drives with only one or two tests displayed in write the write test mean that they have failed the test and their Maximum and possibly their Average Scores were very high after the cached fills. This usually happens only with controllers manufactured by JMicron.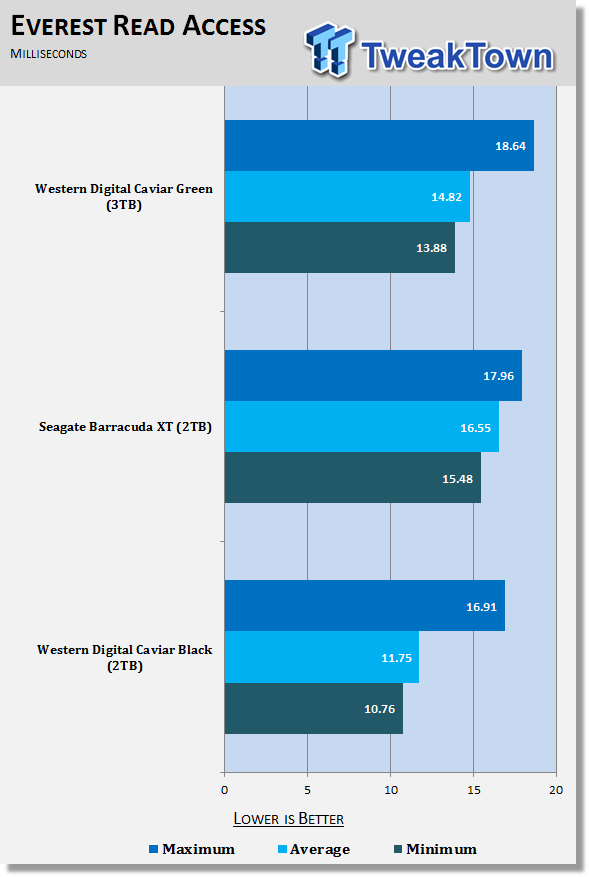 Obviously the access times are going to be slower on the 5,400 RPM Caviar Green; that is one of the biggest benefits of raising the platter speed. Platter speeds are one thing, but electronics are another. Even though the Caviar Green is at a platter speed disadvantage, its electronics are able to make up for it. Looking at the average in the test, we see that the Caviar Green accesses data faster than the Barracuda XT.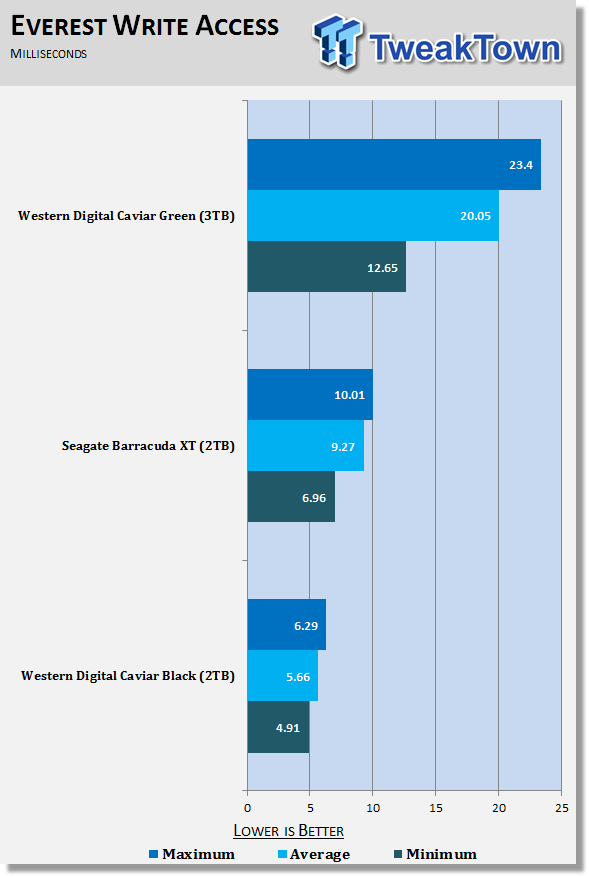 Write access times these days are all about electronics; the cache is king and even though the Caviar Green has a massive 64MB buffer, the latency from the Highpoint HBA is not allowing the drive to score as well as it could under ideal conditions.
Benchmarks - PCMark Vantage Hard Disk Tests
PCMark Vantage - Hard Disk TestsVersion and / or Patch Used:
1.0.0
Developer Homepage:
http://www.futuremark.com
Product Homepage:
http://www.futuremark.com/benchmarks/pcmark-vantage/
Buy It Here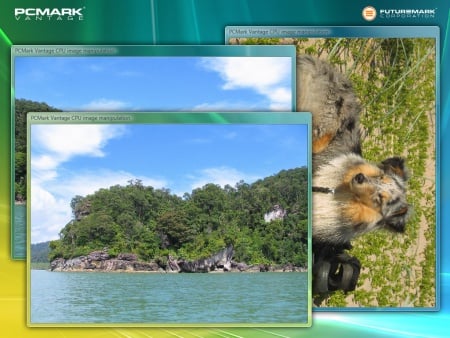 PCMark Vantage is the first objective hardware performance benchmark for PCs running 32 and 64 bit versions of Microsoft Windows Vista. PCMark Vantage is perfectly suited for benchmarking any type of Microsoft Windows Vista PC from multimedia home entertainment systems and laptops to dedicated workstations and high-end gaming rigs. Regardless of whether the benchmarker is an artist or an IT Professional, PCMark Vantage shows the user where their system soars or falls flat, and how to get the most performance possible out of their hardware. PCMark Vantage is easy enough for even the most casual enthusiast to use yet supports in-depth, professional industry grade testing.
FutureMark has developed a good set of hard disk tests for their PCMark Vantage Suite. Windows users can count on Vantage to show them how a drive will perform in normal day to day usage scenarios. For most users these are the tests that matter since many of the old hat ways to measure performance have become ineffective to measure true Windows performance.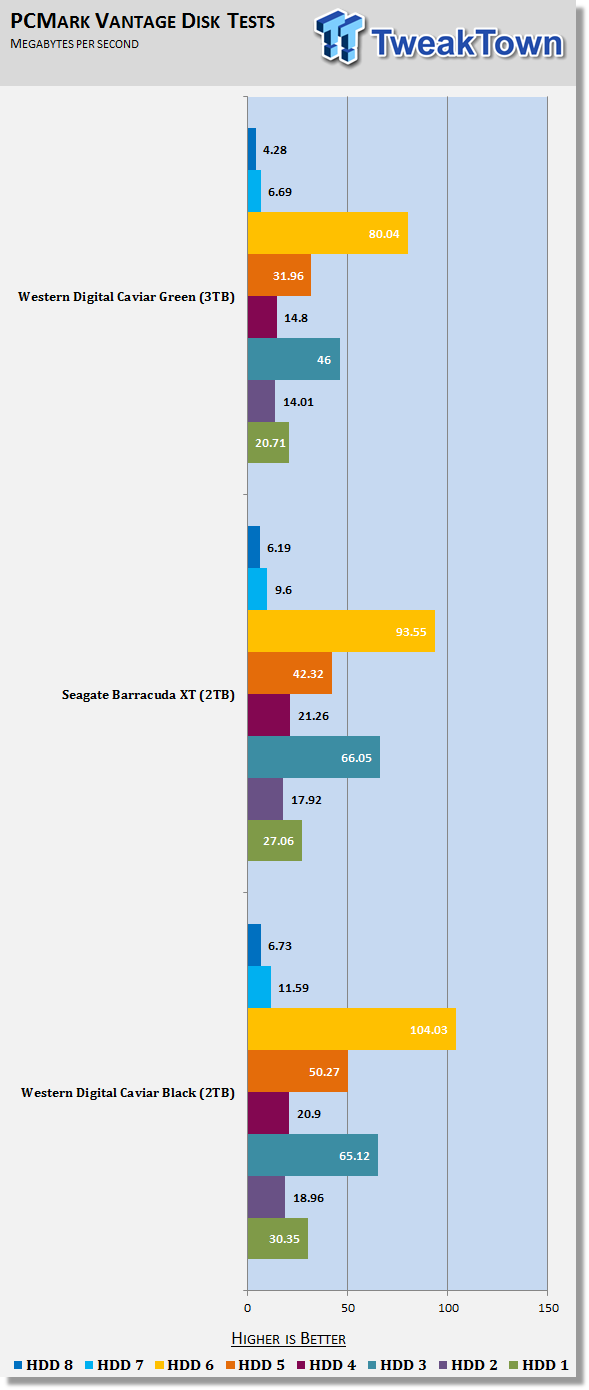 HDD1 - Windows Defender
HDD2 - Gaming
HDD3 - Windows Photo Gallery
HDD4 - Vista Startup
HDD5 - Windows Movie Maker
HDD6 - Windows Media Center
HDD7 - Windows Media Player
HDD8 - Application Loading
There are two typical uses for drives; boot drives and storage drives. These tests simulate boot drive performance in several daily use scenarios. The Caviar Green 3TB performs very well, but doesn't outperform the 7,200 RPM drives.
Benchmarks - AS SSD
AS SSD BenchmarkVersion and / or Patch Used:
1.2.3577.40358
Developer Homepage:
Alex Intelligent Software
Product Homepage:
Alex Intelligent Software
Download here:
http://www.alex-is.de/PHP/fusion/downloads.php?cat_id=4&download_id=9
AS SSD determines the performance of Solid State Drives (SSD). The tool contains four synthetic as well as three practice tests. The synthetic tests are to determine the sequential and random read and write performance of the SSD. These tests are carried out without the use of the operating system caches.
In all synthetic tests the test file size is 1GB. AS can also determine the access time of the SSD, the access of which the drive is determined to read through the entire capacity of the SSD (Full Stroke). The write access test is only to be met with a 1 GB big test file. At the end of the tests three values for the read and write as well as the overall performance will be issued. In addition to the calculated values which are shown in MB/s, they are also represented in IO per seconds (IOPS).
Note:
AS SSD is a great benchmark for many tests, but since Crystal Disk Mark covers a broader range of 4K tests and HD Tune Pro covering sequential speeds, we will only use the Copy Benchmark from AS SSD.
- Copy Benchmark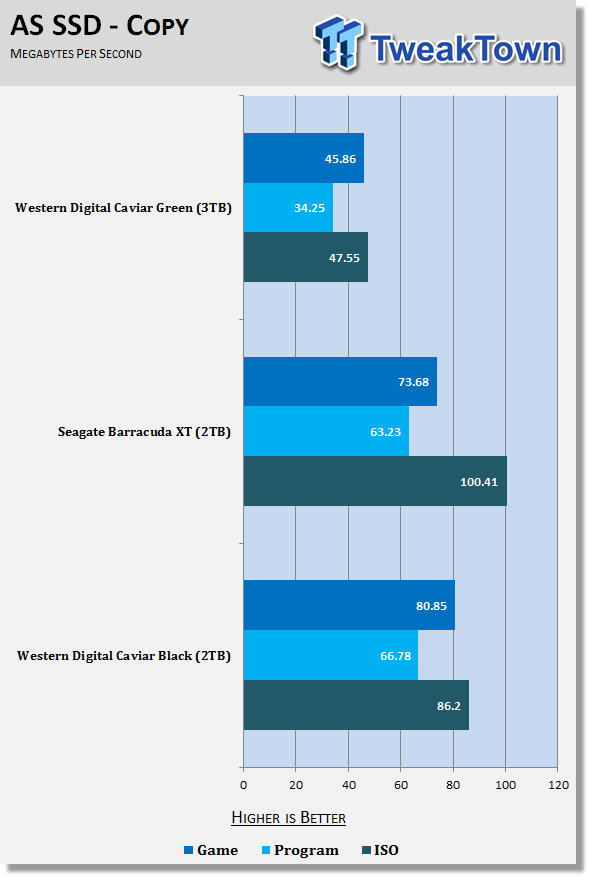 To be honest this test really threw me for a loop. The Caviar Green didn't perform nearly as well as I expected it would. Most people aren't ever going to use the Caviar Green as a boot drive. Let's just cut the marketing stuff and get down to it; most 2 and 3TB drives will be used to store data for the time being. That makes this test very important. With that in mind, we really have to wonder what the heck is going on with this drive.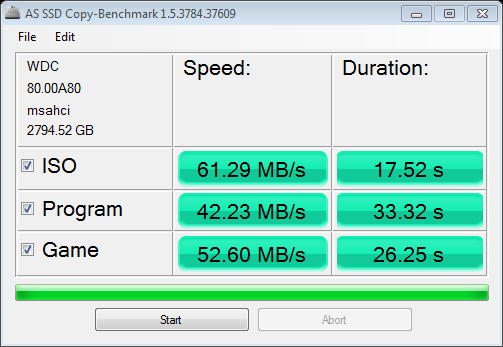 The above retest was performed using the GIGABYTE X58A-UD7's on board Marvell controller. As you can see, the Western Digital Caviar Green 3TB received a significant boost in performance even though the Marvell controller was also running the operating system drive.
Even with the faster configuration, the Caviar Green 3TB was slower than the other two drives, but the gap was reduced.
Benchmarks - Passmark
Passmark Advanced Multi-User TestsVersion and / or Patch Used:
6.1
Developer Homepage:
http://www.passmark.com
Test Homepage:
http://www.passmark.com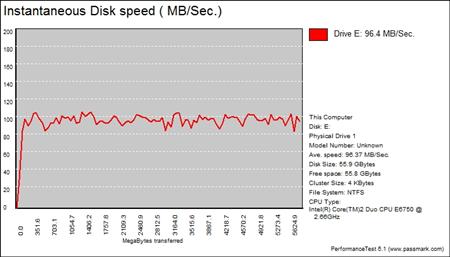 Many users complain that I/O Meter is too complicated of a benchmark to replicate results so my quest to find an alternative was started. Passmark has added several multi-user tests that measure a hard drives ability to operate in a multi-user environment.

The tests use different settings to mimic basic multi-user operations as they would play out on your server. Variances is read / write percentage as well as random / sequential reads are common in certain applications, Web Servers read nearly 100% of the time while Database Servers write a small amount of data.
The Workstation test is the only single user environment and will be similar to how you use your system at home.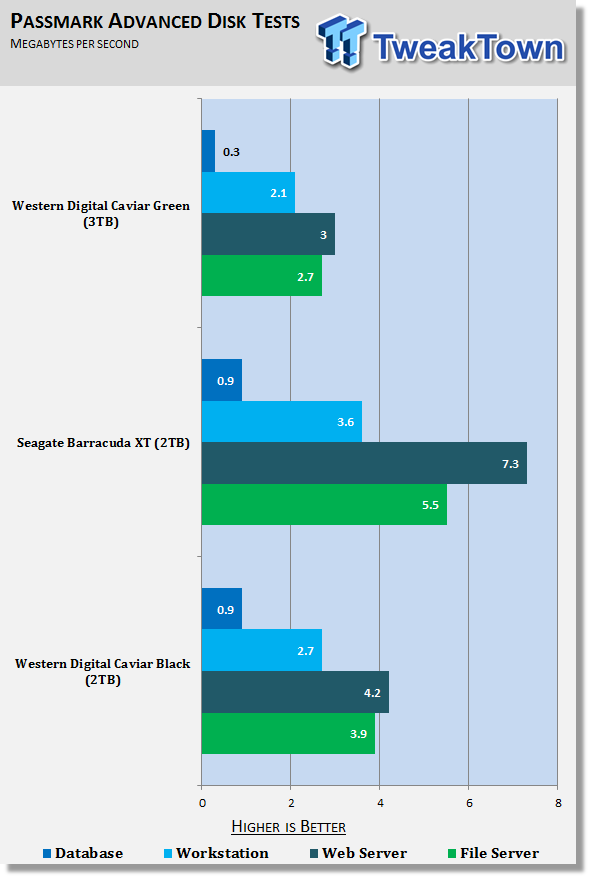 The Western Digital Caviar Green isn't a server drive, but I would sure like to see what eight of them can do in a NAS server. Here we see four very intense tests that conclude our standard benchmark suite. Across the board the Caviar Green 3TB used with the Highpoint Rocket 620 trails the 7,200 RPM test drives.
Final Thoughts
Western Digital has never advertised their Caviar Green product line for high performance. The Caviar Black fills that space. Looking back, I really should have chosen a different set of drives to compare the Caviar Green to, but I really expected the Green 3TB to perform better. The reality is that the Caviar Green would have performed better if paired with a different HBA. This leads us to why we need to introduce a HBA in the first place. The answer to that is the same as why we use them for SATA 6G drives; Intel has dragged their feet on supporting new storage technology. The slowest subsystem in your computer is the data storage system and any gains made in this area affect everything else. Until Intel gets it together we will need to supplement their shortcomings with products that in many cases hurt performance and add complexity to what should be as easy as installing a hard drive...well, two years ago.
The Western Digital Caviar Green is a fairly fast drive when compared to many of the hard drives shipping from systems sold at Best Buy or big box builder. I really wouldn't recommend the Caviar Green as a boot drive, though. To be honest, the complexity involved at this time is a lot higher than what most Joe Sixpack consumers are ready to tackle. Advanced Format, special BIOS support (that many do not have) and the 5,400 RPM platter speeds make the drive unsuitable for just about everyone as a boot drive. Many users already know about the Western Digital VelociRaptor and SSDs; if you want to speed up your computer overall and raise the user experience, then these are the way to go.
The storage drive category is where the Caviar Green really shines. The obvious area is the capacity. Wow, that is a lot of capacity! Do you realize how many 8GB DVDs fit into 3TB? Try roughly 375, but who really rips everything from DVDs? Most are cut down to just 4GB, so double that number to around 750. That is like every good movie that has been made, or quite possibly every movie I have ever seen!
The good thing about media is the rate at which it plays. You really don't care if a drive can play a movie at 22x speed; you are watching it at 1x no matter what. The Western Digital Caviar Green can easily play multiple movies at the same time, so even if someone is watching a movie from the same drive over the network, you can watch a movie stutter free. Getting movies, music or other digital data to and from the drive at record speeds isn't going to happen. Our transfer tests showed 40 to 60MB/s dependent on the type of files. This is acceptable, but far slower than many of the drives currently on the shelves now.
Speaking of the shelves, Western Digital's 3TB Caviar Green will hit them at 239.00 USD. The price is quite reasonable for a launch product that packs so many new tech features. With 2TB drives all the way
down to 109.99
, some users may opt for two 2TB drives and pocket the 20 Dollars left over. Once we see the price drop below the MSRP things will look a lot better for the 3TB Caviar Green, but twice the price without twice the capacity is difficult to recommend unless you need a single, very large drive.