ASUS Xonar DG PCI Sound Card
With 177 different awards to date for the Xonar line-up, it's time to find out if that figure is going any higher today as we welcome the Xonar DG into our war room.
Published Sun, Oct 10 2010 9:14 PM CDT
|
Updated Tue, Nov 3 2020 7:02 PM CST
Rating:

91%
Manufacturer: ASUS
introduction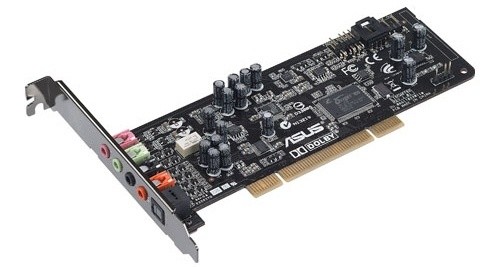 Introduction
Since the very first of the Xonar boards from ASUS, we have been impressed with not only the choice of components used, but also with the overall design of all of the various iterations. This not so elegantly leads us into the very latest of these, known only as the 'DG' which is arguably the tamest Xonar to date.
Rather than being an out-and-out brute of a thing like many others in the Xonar lineage, the DG goes for a far more stealthy approach to handling things. Using the older PCI port rather than one of the newer options is one of the first things that caught our eye; another is the built in headphone amp which complements the support for surround sound in either analog or digital, as well as comprehensive front panel access via an internal link to the supplied bracket.
So, it seems we have another feature laden Xonar on our hands. The question now is; can it live up to the very high standards that the brand has forged, as well as the high expectations that we have forged testing them out? Let's find out.
Package and Contents
- 1x Xonar DG soundcard
- 1x Additional low profile bracket
- 1x Driver/user manual CD
- 1x Quick start guide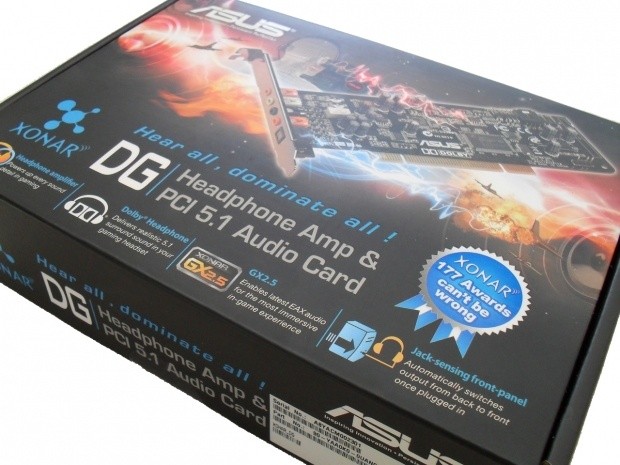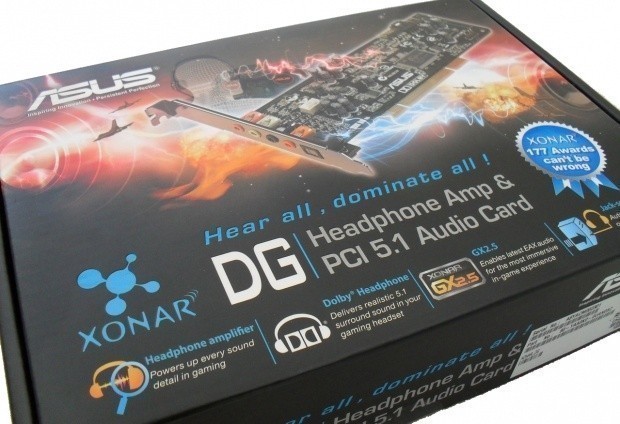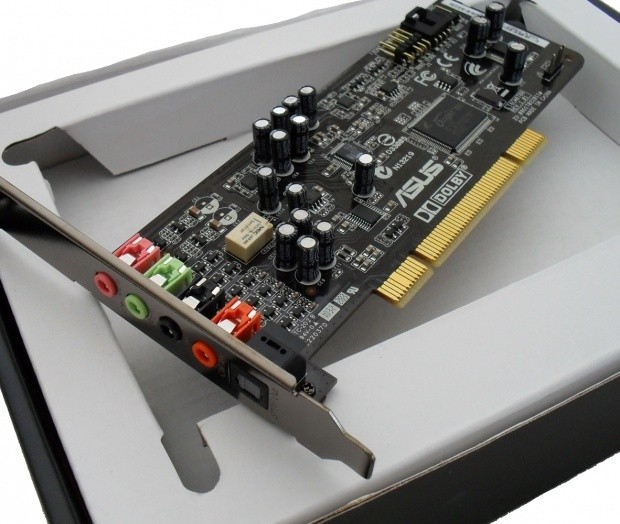 The package that the DG comes in is quite an attractive one that manages to present the card in a good light. The box is quite small and of a darker colour scheme. If examined closely, the CineVibe headphones we looked at recently can be seen in the background atop a rather pale and expressionless individual.
Inside things are quite simple with the card sitting on the top of everything in a separate tray. Below can be found an opening with everything else included in the package. Things are pretty sparse really, but to be honest, we think the no bloatware move is always welcomed, as is the exclusion of 'bonus' software which will mean a cheaper product for you, the buyer.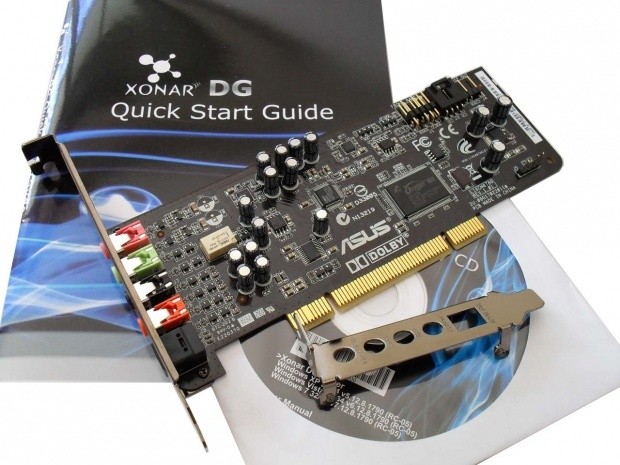 Overall, there is only one noticeable omission which is the analog cable that is meant to run between the ROM drive and the sound card. I've no idea why they did not include it; maybe we need to get with the times.
Technical Overview
Speaking technically, let's start by looking at some specifications.
- Output Signal-to-Noise Ratio (A-Weighted): 105 dB

- Input Signal-to-Noise Ratio (A-Weighted): 103 dB

- Output THD+N at 1kHz: 0.0025% (-92dB)

- Input THD+N at 1kHz: 0.0022% (-93dB)

- Frequency Response (-3dB, 24-bit/96kHz input): -10Hz to 48kHz

- Output/Input Full-Scale Voltage: 1Vrms (3Vp-p)
Audio Processor
:
- C-Media CMI8786 High-Definition Sound Processor (Max.96KHz/24bit)

- 24-bit D-A Converter of Digital Sources: Cirrus Logic CS4245*1 (104dB DNR, Max. 192KHz/24bit) /

- Cirrus Logic CS4361*1 (103dB DNR, Max. 192KHz/24bit)

- 24-bit A-D Converter for Analog Inputs: Cirrus Logic CS4245*1 (104dB DNR, Max. 192KHz/24bit)

- High Fidelity Headphone Amplifier: Optimized for 32~150O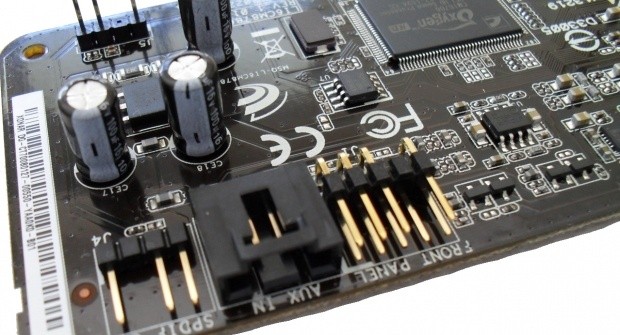 The DG when compared against other members of the Xonar family on paper comes out a little bit worse for ware. However, this is partly due to the incredibly respectable figures of some of the others and also because this is meant to be a Xonar that won't bust the bank.
One of the more interesting aspects of the spec list comes in the way of processor choice, which is that of a C-Media CMI8786 rather that an in house AV100 or AV66 which many of the other Xonars use. This particular chip can sample up to 96KHz with 24-bits of depth, which is really quite enough for what this board sets out to achieve.
THD or harmonic distortion levels are pretty good overall, as are most of the other particulars on the spec sheet. There has also been the choice made to use Cirrus Logic DAC's (signal converters) for the DG (pictured below) which have been a popular choice with many sound cards we have seen.
Lastly, of immediate interest is the headphone amp which can support headsets ranging all the way up to 150ohms.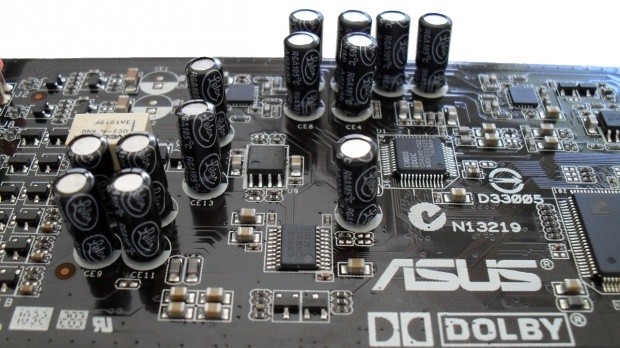 Overall, that's the meat of it. As you can grasp by now, this Xonar has a pretty basic set of targets it wants to meet when it comes to gaming and support for a set of headphones. Outside of that, we do not see any 'Fine Gold' resistors of specialist audio components on this board.
Interesting on a quick last point here; unlike previous Xonars with headphone amp support, this one does not require a four pin power supply in order to boot up.
Installation
Turning to the installation process now and the first thing to consider is which version of Windows your system is running. Support is listed for most recent iterations according to the brief. The card will need one PCI 2.0 or higher slot as well as about 60MB of HDD space.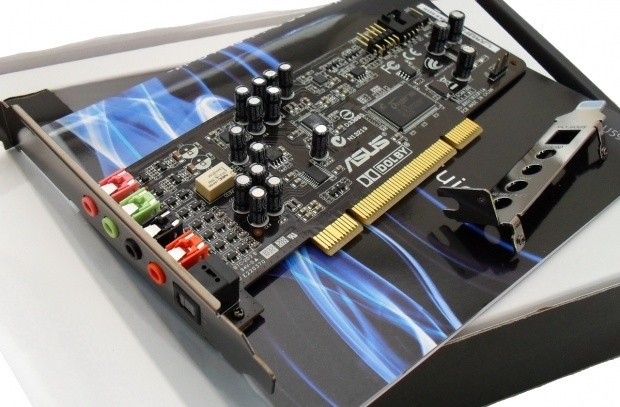 There is an option for internal connection of an analog cable from the ROM drive to the sound card. However, this cable must be supplied by the user as ASUS doesn't include it with the card.
Once everything is booted up, running the small driver file is a breeze. Following a final reboot will be the appearance of the Xonar audio deck.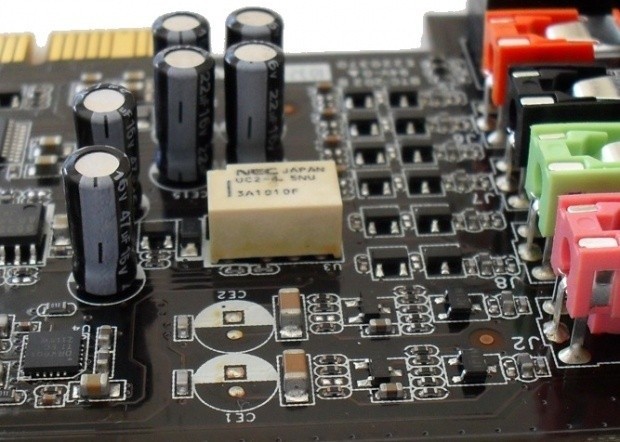 The Xonar deck included with the DG is much the same as it's always been as far as we can tell, except for the mandatory name change of the home screen.
As with every Xonar we have tested, this one was technically flawless with no noticeable/tangible abnormal functioning by either the card itself, or by the driver software.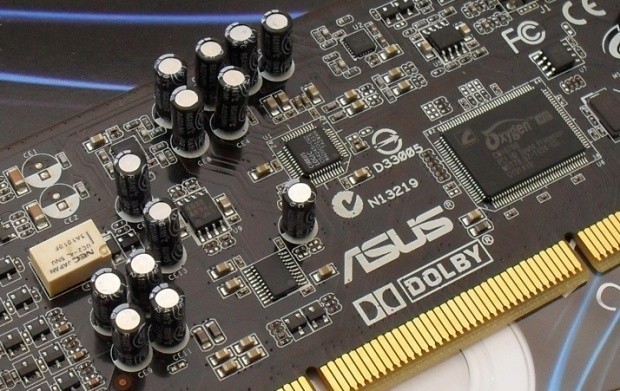 We would imagine everything to be up and running within a few minutes. One last thing, though, which is to fill those colorful jacks on the front with some audio equipment.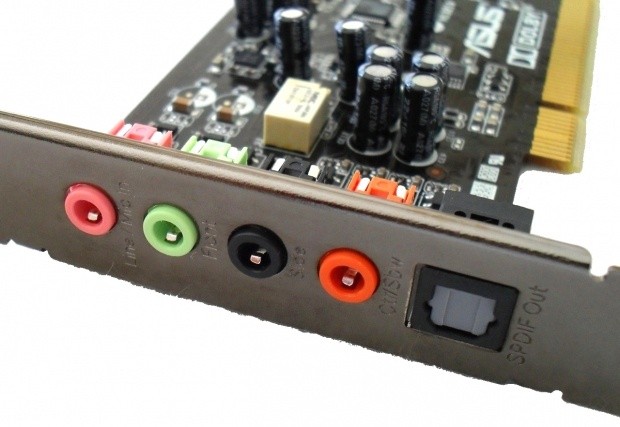 Testing
Testing was conducted using ASUS' Xonar DG audio hardware @ 48KHz Max with 24-bit resolution. The card was installed in an AMD/ASRock Phenom dual core platform @ 3.00GHz (with 2GB DDR3-1333 running XP SP3).
The audio drivers are what we are supplied with at the time of testing. These may or may not be the latest, subject to manufacturer updates.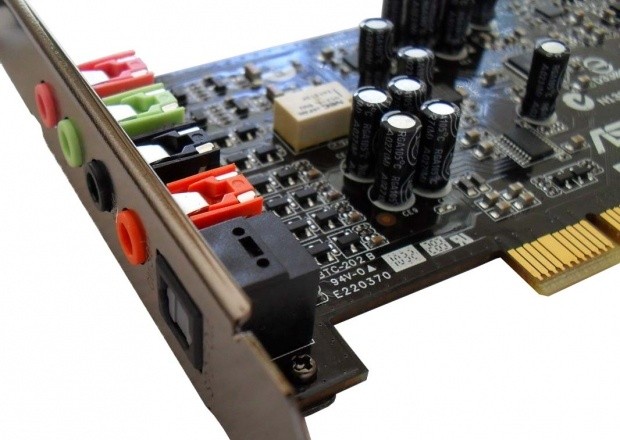 We found during testing that the Xonar DG is certainly a result of the same breeding that's been responsible for the great boards that preceded it. Overall, sound quality for movies and games was of a high standard. Music listening suffered a small amount from the hit in dynamics that the DG took over other Xonars. However, performance was still very good.
High-end
:
During testing we found the high-end to be really quite impressive from the DG; boasting a detailed and open feel to the high-end that conveyed a very enveloping energy when watching an action movie, or anything featuring a wide detailed panorama of FX and music together.
We do not usually mention testing material specifics, but Mark Walberg's 'Shooter' sounded amazing with this card. It's easy to hear how the board has been tuned precisely for this type of material. Overall, a very well tuned and detailed high-end that is just perfect for FX.
Pictured below; is it this specific choice of components that aid towards helping with the tuning we speak of? - Quite possibly.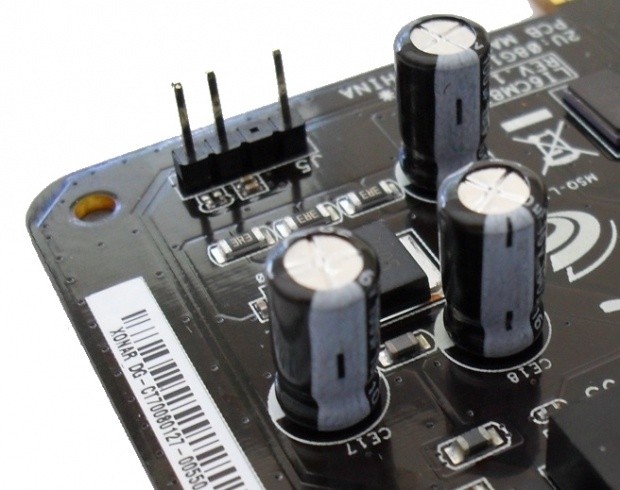 Mid Frequencies
:
Probably the weaker of the areas in performance, mid range was a little bit stifled at times and seemed happy to sit back while the high-end and low-end did their jobs. Not that there really is any issue with the mid range; it's more so just a tuning foible which allows more of the low and high-end detail to be apparent.
This is also an area where the slightly diluted dynamics of the DG over other Xonars is noticeable. By this we mean that the cards ability to sharply contrast frequencies from different areas of the sound spectrum is in question.
Low-end
:
Arguably the strongest aspect to the Xonar DG, we found that during our testing the low-end was exactly where it needed to be. Again, some clear tuning has been done to this board to allow for a 'primo' low-end when dealing with complex action scenes featuring a lot of gunfire and explosions. The firearm FX in Shooter was compelling, with deep powerful bass being sent to our sub and no interference with the left and right channels whatsoever.
Games/Movies
:
It's clear that ASUS has done some fine in-house tuning to allow the DG to take flight when a complex FX scene is played back through a decent system. If this board is just to be used for games and movies, it comes very highly recommended.
So, how's the move away from an in-house chipset gone?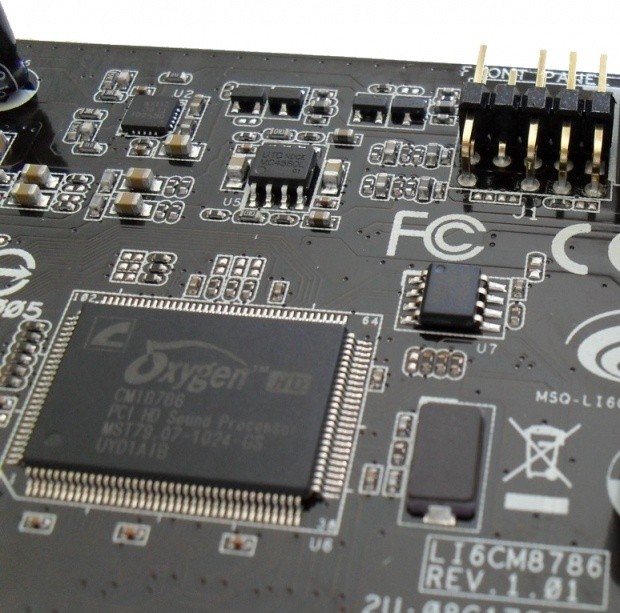 Quite well we think! - According to our testing, the little C-Media HD Oxygen chip has done a great job. It does have a different acoustic signature to the ASUS in-house AV100, but only in a positive way we feel. The difference can be heard as soon as the first sound is played back, but we think ASUS chose wisely with this chip.
We also felt that at certain times the overall coherency of the signal being played back was actually better than the AV100, which is interesting. Now, this may in fact be a peculiarity of the hit in dynamics actually drawing everything together for some test media, while being noticeably down in other media. But one thing we know for sure is that psycho-acoustics play a large role in interpreting audio, which must be remembered at all times.
Final Thoughts
Over the last couple of years we have seen ASUS take an innocent sound card market and tear the rule books to shreds. They've left competition with their collective heads spinning atop shoulders, not knowing what to do next, and we only see this continuing into the future as ASUS assure that the Xonar is the only choice for serious enthusiasts, whether as a gamer, movie lover or music listener. Why look further than a Xonar?
The DG is a well built and easy to install and setup card that should be up and running in moments. Software support is typical Xonar, which is similar across the range of cards, but not updated quite as often as perhaps some users might enjoy. Clearly, though, software has always been an accompaniment to what the hardware itself can do, which is exactly as it should be, we feel.
Testing with games and movies sounded great with plenty of detail and clarity when the effects took over. Some special tuning has been done to make this board a real winner for lovers of action and it's here that we found it to be the most at home. In fact, we think this board should be called the 'Xonar FX'; a sound card for lovers of action!
PRICING: You can find products similar to this one for sale below.

United States: Find other tech and computer products like this over at Amazon.com

United Kingdom: Find other tech and computer products like this over at Amazon.co.uk

Australia: Find other tech and computer products like this over at Amazon.com.au

Canada: Find other tech and computer products like this over at Amazon.ca

Deutschland: Finde andere Technik- und Computerprodukte wie dieses auf Amazon.de