A-DATA Nobility N005 64GB USB 3.0 Flash Drive
USB 3.0 brings external storage in line with the speeds of internal storage. Can the A-DATA N005 make your life better, or just cause you heart ache?
Published Thu, Sep 23 2010 9:54 PM CDT
|
Updated Tue, Nov 3 2020 7:02 PM CST
Rating:

85%
Manufacturer: A-DATA
Introduction, Specifications, Pricing and Availability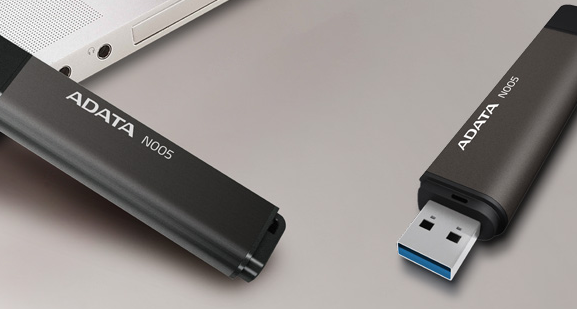 Introduction
USB 3.0 will be one of the fastest adapted new technologies of 2010. At this time it appears that everyone is on board, even though Intel is struggling to get their butt in gear. Intel aside, USB 3.0 is all over the place and thanks to NEC, even Intel motherboards come standard now with the latest spec, truly universal standard. With the first half of the catch 22 in place, we can now start to focus on USB 3.0 devices to take advantage of the new USB 3.0 spec.
USB 3.0 will have many uses, but the earliest device to take advantage of the additional bandwidth over its predecessor is storage devices. USB 2.0 had a maximum transfer rate of between 30 to 35MB/s; that is the same speed of hard drives released over ten years ago, back when a big drive was 20GB. It was clearly time for an update and now that it is here it is time for you to get onboard as well and help everyone migrate over to the new standard.
A-DATA is already onboard with USB 3.0 and is offering several new products that take advantage of the available bandwidth. One of A-DATA's largest markets is portable thumb drives, so it was only natural for A-DATA to take a leadership role in rolling out USB 3.0 thumb drives and get them out at a reasonable price.
Today we are looking at A-DATA's latest product in the Nobility product line, the N005. Let's take a look at the specs and see what the A-DATA Nobility N005 has to offer.
Specifications, Pricing and Availability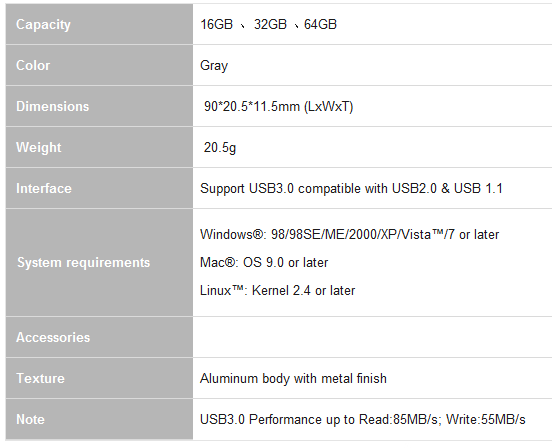 We have taken a look at a few portable USB 3.0 devices now, but the A-DATA Nobility 005 is the first that looks like a 'standard' thumb drive. The N005 is a little longer than most of the USB 3.0 thumb drives, but it also packs quite a bit more storage than most USB 2.0 drives as well. The N005 is currently available in 16, 32 and 64GB and works with all forms of USB including the latest SuperSpeed 3.0 spec.
Newegg currently lists all three versions of the Nobility N005 in stock and available. The 64GB model that we are reviewing today is
listed at 134.99
, the 32GB for 79.99 and the 16GB for a very reasonable 44.99 USD. These prices are some of the best we have seen for a USB 3.0 thumb drive, but then again, most of the units we have looked at were based on high end solid state designs.
Let's take a look at the actual drive.
The Packaging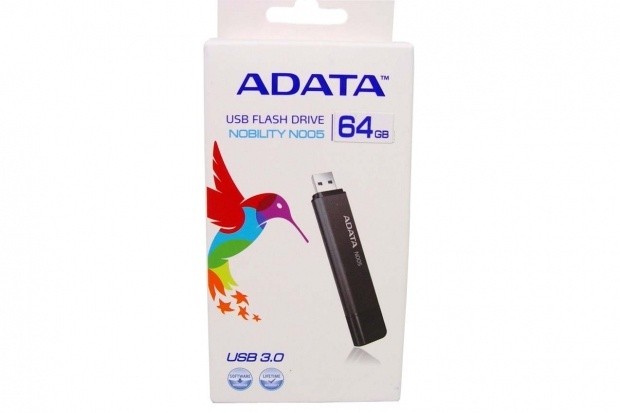 The package is typical 2010 A-DATA with the multi-colored humming bird on the front and a product image next to a small feature list.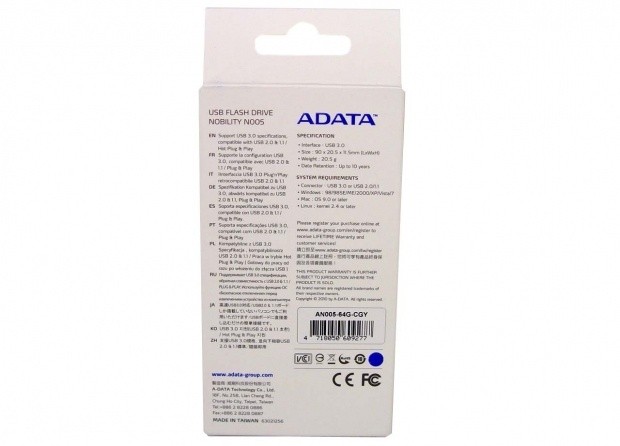 On the back we found both specifications and features as well as some general information about the Nobility N005.

On the side A-DATA shows an accurate sized image of the N005 which is very nice since the drive is a little longer than most.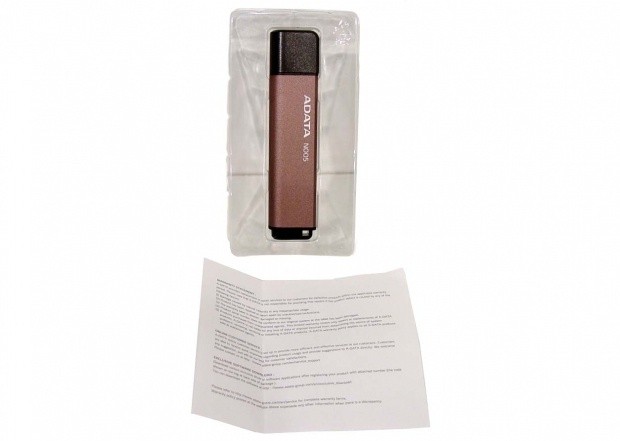 The internal packaging is simple, yet effective at keeping the drive secure during shipping.
The A-DATA Nobility N005 64GB USB 3.0

The A-DATA Nobility N005 looks like a typical thumb drive other than the length.

The cap is quickly removed and can be placed at the other end of the drive for safe keeping. There isn't a lot of grip area for the cap and we found it coming off while being transported in a backpack on a couple of occasions.

The back of the drive is identical to the other side other than the omission of the A-DATA logo.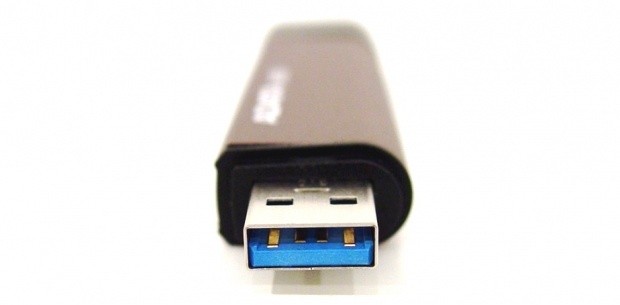 The blue tip reminds us that this is a USB 3.0 drive, but you can use the N005 in all USB ports.
Test System Setup and ATTO Baseline Performance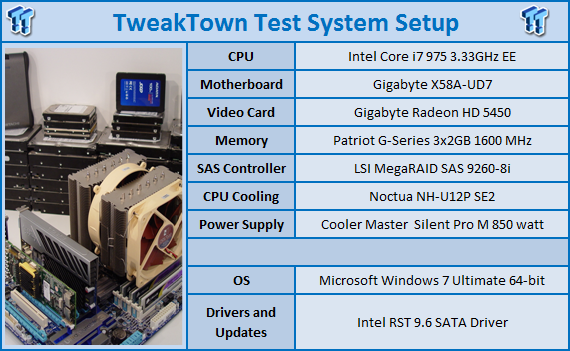 We would like to thank the following companies for supplying and supporting us with our test system hardware and equipment:
AVADirect
,
GIGABYTE
,
Cooler Master
,
LSI
and
Noctua
.
You can read more about TweakTown's Storage Product Testing Workstation and the procedures followed to test products
in this article
.
For the most part USB 3.0 will read and write data just as fast as SATA II. There is one feature that USB 3.0 lacks and that is Native Command Queuing. When reading or writing large files you will not notice the missing feature, but when dealing with several smaller files NCQ would be a welcome feature.
The next thing to keep in mind while we are testing is the way USB 3.0 is currently implemented in many of the motherboards on the market. The marketing claims of 480MB/s isn't the reality at this time, but next year we should see motherboards that can meet these claims.
ATTO Baseline Performance
Version and / or Patch Used:
2.34
ATTO is used by many disk manufacturers to determine the read and write speeds that will be presented to customers.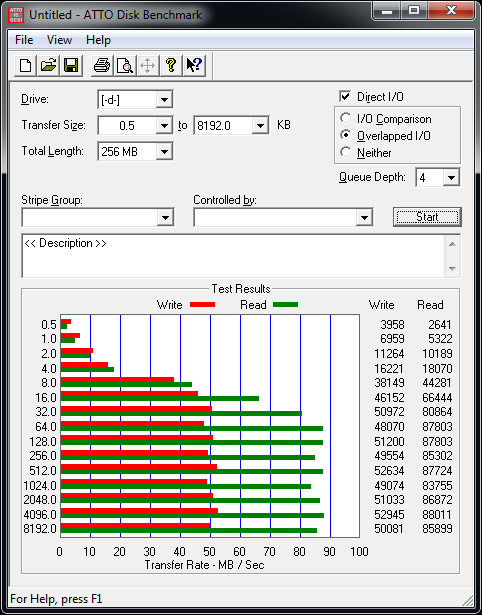 In ATTO we see the performance across several different file sizes. The N005 is able to achieve a maximum read speed of 85MB/s and a maximum write speed of 50MB/s.
Benchmarks - HD Tach
HD Tach USB 2.0 and 3.0 ComparisonVersion and / or Patch Used:
3.0
Developer Homepage:
http://www.simplisoftware.com
Product Homepage:
http://www.simplisoftware.com/Public/index.php?request=HdTach
Buy It Here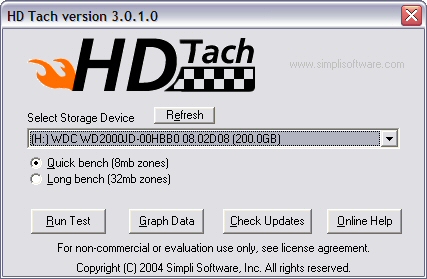 HD Tach has been around for a long time and is excellent when it comes to testing hard drive performance. It is also a very handy program when it comes to testing the controller used on particular motherboards. Tests such as Read, CPU Utilization and Burst are available at a click of the button and give you a good idea of how the hard drive can perform from system to system.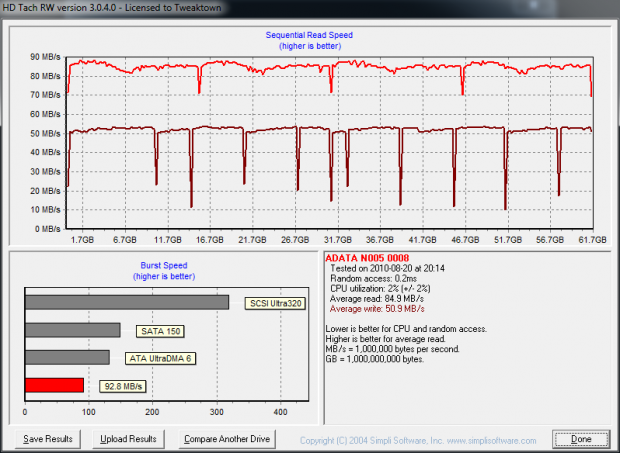 Here we see the performance across the drive. For the most part the data flow is linear across the drive, but there are some dips in performance; the most noticeable is with the write speeds where performance drops as low as 12MB/s.
Benchmarks - Crystal Disk Mark
CrystalDiskMarkVersion and / or Patch Used:
3.0 Technical Preview
Developer Homepage:
http://crystalmark.info
Product Homepage:
http://crystalmark.info/software/CrystalDiskMark/index-e.html
Download here:
http://crystaldew.info/category/software/crystaldiskmark
CrystalDiskMark is a disk benchmark software.
Key Features:-
* Sequential reads/writes
* Random 4KB/512KB reads/writes
* Text copy
* Change dialog design
* internationalization (i18n)
Note:
Crystal Disk Mark 3.0 is not available to the public yet, but the Technical Preview does allow us to test 4K performance at queue depths of 4 and 32 in addition to 1. The current release Crystal Disk Mark only shows us QD 1.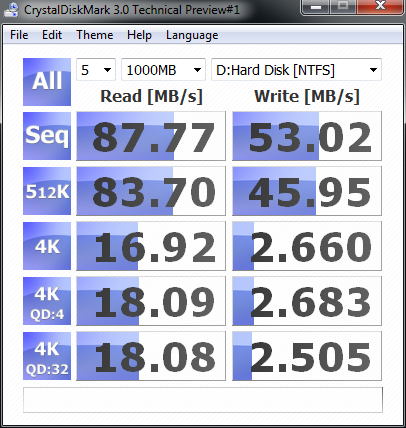 In a recent announcement the makers of CDM stated that they were making the 1000MB test the default benchmark so we have changed over from the 100MB test and started using the 1000MB test in our reviews.
In CDM we focus on the 4K performance and here we see solid 16MB/s read speeds, but the write speeds are right around 2.5MB/s. The write speeds are faster than those of traditional platter drives, but nothing like the speeds we are seeing on the USB 3.0 SSDs. Then again, the N005 doesn't have the very high cost associated with USB 3.0 SSDs either.
Benchmarks - AS SSD
AS SSD BenchmarkVersion and / or Patch Used:
1.2.3577.40358
Developer Homepage:
Alex Intelligent Software
Product Homepage:
Alex Intelligent Software
Download here:
http://www.alex-is.de/PHP/fusion/downloads.php?cat_id=4&download_id=9
AS determines the performance of Solid State Drives (SSD). The tool contains four synthetic as well as three practice tests. The synthetic tests are to determine the sequential and random read and write performance of the SSD. These tests are carried out without the use of the operating system caches.
In all synthetic tests the test file size is 1GB. AS can also determine the access time of the SSD, the access of which the drive is determined to read through the entire capacity of the SSD (Full Stroke). The write access test is only to be met with a 1 GB big test file. At the end of the tests three values for the read and write as well as the overall performance will be issued. In addition to the calculated values which are shown in MB/s, they are also represented in IO per seconds (IOPS).
Note:
AS SSD is a great benchmark for many tests, but since Crystal Disk Mark covers a broader range of 4K tests and HD Tune Pro covering sequential speeds, we will only use the Copy Benchmark from AS SSD.
- Copy Benchmark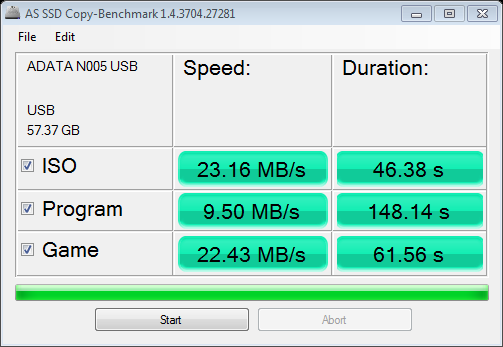 This is the set of tests that most users need to pay close attention to, since transferring data is the primary function of portable drives. Here we see the A-DATA N005 doing a decent job with the ISO and Game tests, but the Program test where many small and large files are transferred appeared to really slow the drive considerably. For a comparison
we can look at the Hitachi SIMPLEtough
, a USB 2.0 HDD device that was able to perform the Program test at 13.94MB/s; more than 4MB/s faster.
Final Thoughts
There are three measurements that are used to gauge a product like the N005. The first is capacity; how large of a drive do you need? - The second is performance; does the product perform fast enough to satisfy your application? - Finally, the third is the price; at what cost are you willing to spend to achieve the goals of the first two categories?
The A-DATA Nobility N005 certainly has the capacity for nearly all uses. With 16, 32 and 64GB models available, A-DATA has covered a wide range so users can choose the size needed. With prices ranging from 45 to 140 USD, the N005 is substantially cheaper than most of the other USB 3.0 portable drives we have tested, so everything is good there, too.
The one area that we see potential users having an issue with is the performance. The A-DATA Nobility N005 should have been able to run circles around the Hitachi SIMPLEtough, a simple USB 2.0 platter drive, but the controller in the N005 just wasn't up to the task. It is the performance aspect that leaves us unsatisfied with the A-DATA Nobility N005, although it is in line with the price.
PRICING: You can find products similar to this one for sale below.

United States: Find other tech and computer products like this over at Amazon.com

United Kingdom: Find other tech and computer products like this over at Amazon.co.uk

Australia: Find other tech and computer products like this over at Amazon.com.au

Canada: Find other tech and computer products like this over at Amazon.ca

Deutschland: Finde andere Technik- und Computerprodukte wie dieses auf Amazon.de
We openly invite the companies who provide us with review samples / who are mentioned or discussed to express their opinion. If any company representative wishes to respond, we will publish the response here. Please contact us if you wish to respond.