Simpletech by Hitachi SimpleTOUGH 500GB USB 2.0 External Enclosure
Rough and tough portable storage for those adventurous enough to live like there is no tomorrow.
Published Tue, Dec 1 2009 11:18 PM CST
|
Updated Tue, Nov 3 2020 7:03 PM CST
Introduction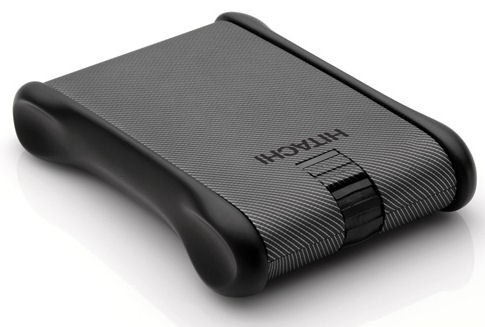 Robust storage is starting to become a hot item. Just recently Cameron
tested the A-DATA SH93
, a water and shock proof external USB drive. Many years ago I was the first to test Corsair's Flash Voyager and while testing I boiled the drive in water on my stove and then froze the USB thumb drive in the freezer. I can't claim that I have ever ran into a situation where I found myself in below freezing temperatures for an extended period of time, or in a hot tub with my portable storage, but at least I am prepared for when the time comes.
The most abuse most portable storage devices run into has to do with gravity. I can't count the number of drives that have fallen off of a shelf. In one day a friend of mine was over at the house and tipped over a desk with his chair, sending three Western Digital Raptors from an 8 drive RAID array to the floor while they were still spinning; it was a total loss. Portable storage has to take abuses like this every day, be it falling off of a desk or getting kicked around in a backpack or purse.
Today we are taking a look at the SimpleTOUGH from Hitachi, an external USB drive enclosure that is made to handle the abuse power users, rock climbers and friends over to play some Modern Warfare.
Specifications, Availability and Pricing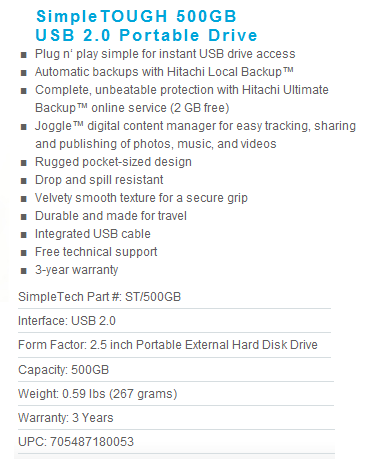 Our test sample came from Hitachi with a 500GB drive installed, but they also offer 320 and 250GB versions as well. All three models connect to your PC or MAC via USB 2.0 and on the exterior look the same. The SimpleTOUGH uses a 2.5 inch drive and with the case it is a little smaller than a standard 3.5 inch form factor drive. The drive weighs just a hair over a half pound, so it is fairly light; much lighter than the 3.5 inch form factor external drives.
Since the USB cable is attached to the drive, you will not have to worry about keeping track of a USB cable and since the drive only uses USB's 5 volt line, you will not need an external power source. These are both really nice features and set the bar very high for competing products.
After searching Google I was able to find our 500GB sample available for 121.00 USD, a fair price for such a large capacity drive with rugged features. The 250GB model was available for less than 100 USD and I even found one e-tailer offering a 640GB model that Simpletech didn't even have listed on their website for 149 USD.
The Packaging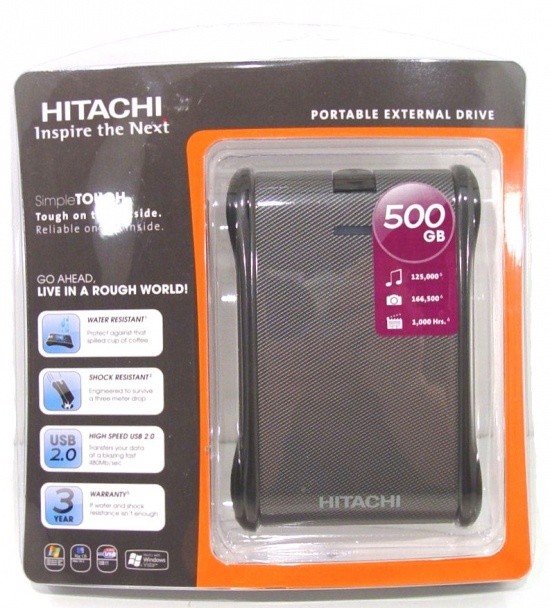 The packaging for the SimpleTOUGH is pretty straight forward. Hitachi lists the capacity on the front in big letters and also shows how many songs, pictures and such the drive could hold.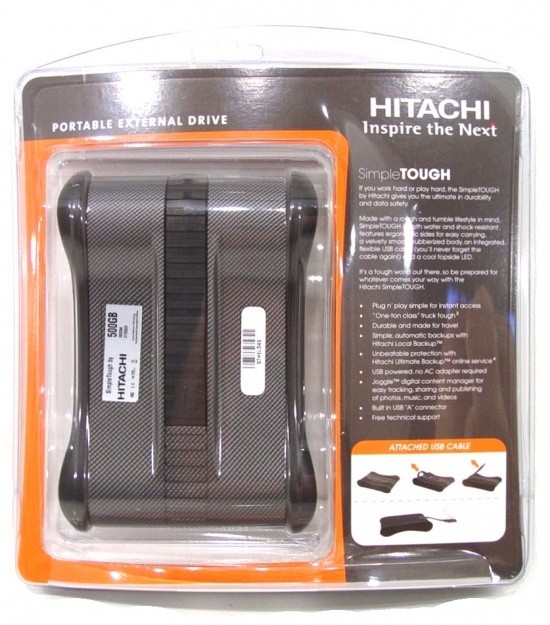 The back shows how the cable system operates, but I don't think many people will need to check out the instructions to operate the unit.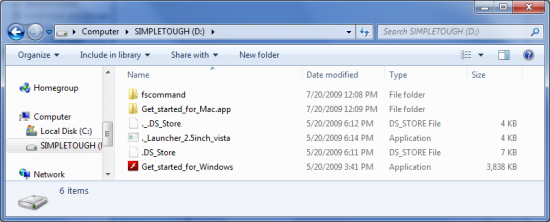 Hitachi includes a software backup utility as well as some publishing software with each SimpleTOUGH. The software is located on the drive itself.
The Simpletech by Hitachi SimpleTOUGH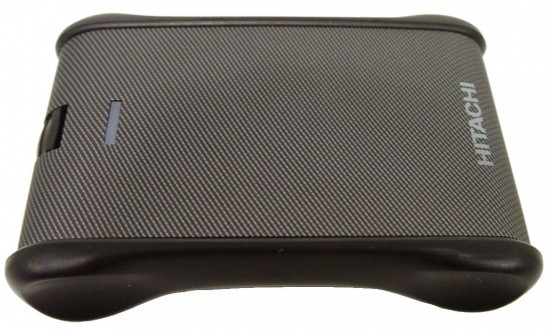 Although it looks like the middle is textured, it is smooth. On the sides the heavy duty rubber that protects the sides offer good grip while carrying the SimpleTOUGH. A white LED light glows when the unit is powered.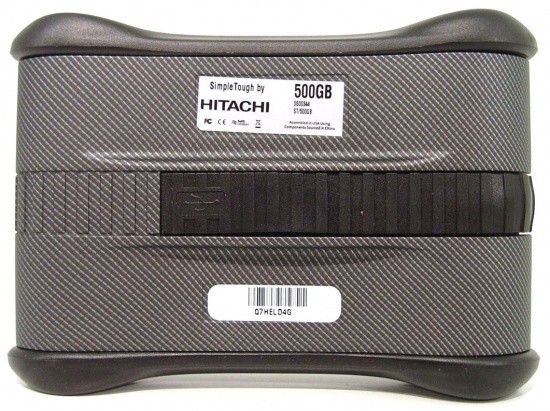 The back of the casing has the model and serial number as well as the capacity. Down the middle we see the attached USB 2.0 cable and how it tucks in the drive nicely when not in use.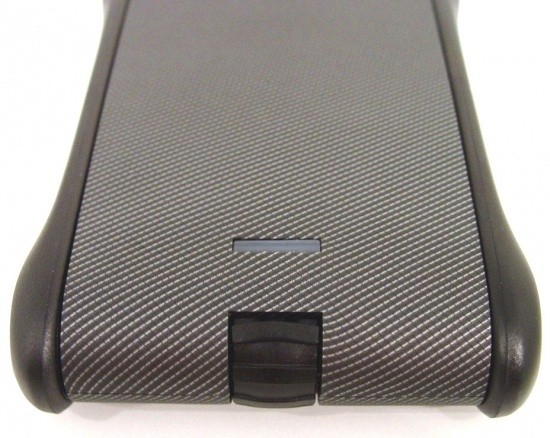 The rubber edges of the enclosure stick out further than the middle drive portion. The USB cable rests flat inside of a cut-out in the carrier.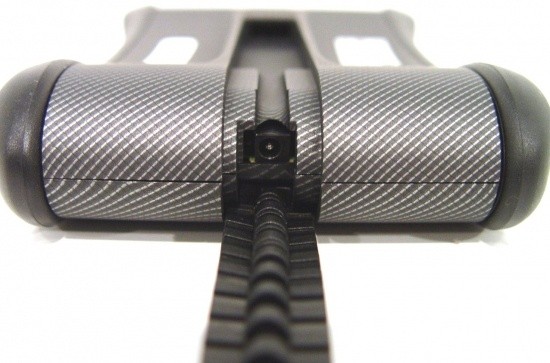 With the cable extended we found a spot to use external power, but are not sure why it is included since the drive is powered completely by USB.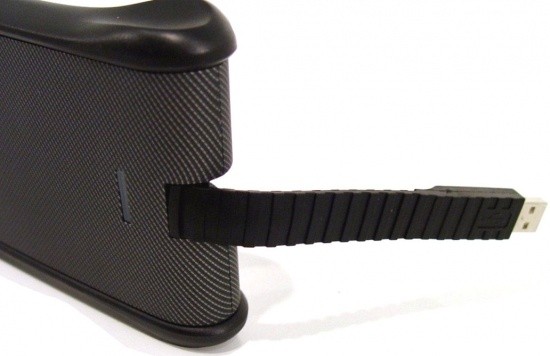 The attached cable is right around 6-7 inches long, so it can be a little challenging if being used with a notebook on your lap. Still, I would rather have a short attached cable than a long cable that I needed to find every time I wanted to use the drive.

Here we see the overall look of the SimpleTOUGH with the USB cable extended.
Test System Setup
Test System
Motherboard
: ASUS P6T7 WS SuperComputer (Supplied by
ASUS
)
Processors
: Intel 975 EE (Supplied by
AVADirect
)
Memory
: Corsair Dominator 1600 MHz Triple Channel Kit
Graphics Card
: Leadtek Quadro FX1700 (Supplied by
Leadtek
)
Enclosure
: Lian Li V2000
Cooling
: Noctua NH-U12P SE2 (Supplied by
Noctua
)
SAS Controller
: LSI MegaRAID SAS 9260-8i (Supplied by
LSI
)
Operating System
: Microsoft Windows 7 Ultimate X64
You can read more about TweakTown's Storage Product Testing Workstation and the procedures followed to test products
in this article
.
For this test we are going to use our standard workstation to test the Simpletech by Hitachi SimpleTOUGH 500GB external hard drive.
Benchmarks - HD Tune Pro
HD Tune ProVersion and / or Patch Used:
3.00
Developer Homepage:
http://www.efdsoftware.com
Product Homepage:
http://www.hdtune.com
HD Tune is a Hard Disk utility which has the following functions:
- Benchmark: measures the performance
- Info: shows detailed information
- Health: checks the health status by using SMART
- Error Scan: scans the surface for errors
- Temperature display
HD Tune Pro gives us accurate read, write and access time results and for the last couple of years has been gaining popularity amongst reviewers. It is now considered a must have application for storage device testing.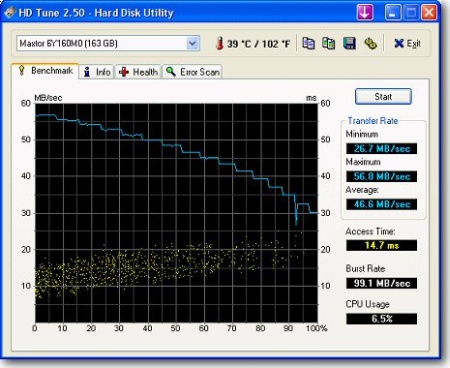 Read Tests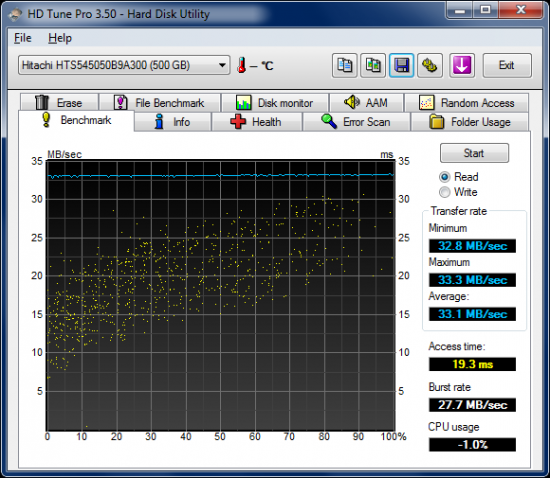 When it comes to using a USB 2.0 external enclosure, we are capped at read speeds of right around 35MB/s and the SimpleTOUGH is no exception. Here we see the drive performing as well as possible under USB 2.0.
Write Tests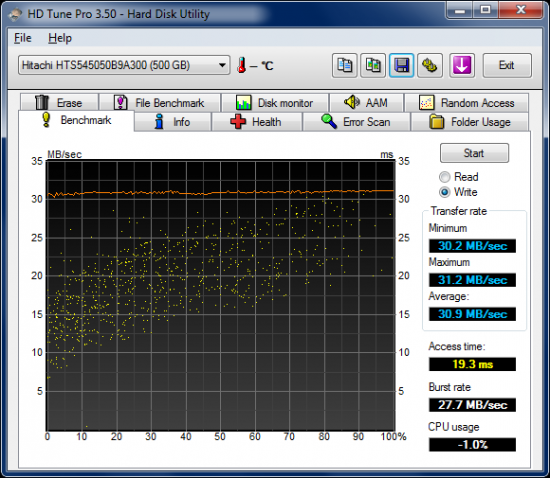 Write speeds under USB 2.0 are limited to around 32MB/s and here we see the SimpleTOUGH doing a very good job of maximizing the bus.
Benchmarks - AS SSD Copy-Benchmark
AS SSD Copy-BenchmarkVersion and / or Patch Used:
1.2.3556.18595
Developer Homepage:
Alex Intelligent Software
Product Homepage:
Alex Intelligent Software
Download here:
http://www.alex-is.de/PHP/fusion/downloads.php?cat_id=4&download_id=9
This benchmark has really grown on me over the last few weeks and not just for its ability to test solid state drives. While AS SSD might have been designed for SSDs, it has proved itself capable of being used to test many other products such as NAS, DAS and external drives as well.
AS SSD has two tests, the standard SSD test and the Copy Benchmark which we are using to test with today that tests how fast a drive can copy a set file, allowing us to replicate the results.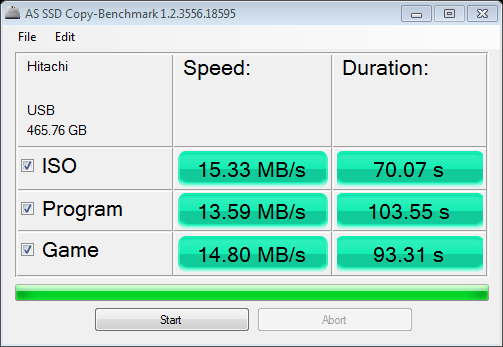 Here we see that the SimpleTOUGH is able to copy files right around 15MB/s under real world conditions.
Final Thoughts
The name for Hitachi's rugged line of portable storage is very fitting. Hitachi isn't advertising their SimpleTOUGH products as being able to survive a burning building or go through the English Channel; it is just simply tough. You can get away with kicking it, leaving it outside or what most of us will do, accidently drop it from time to time.
Our 500GB SimpleTOUGH sample costs right around 120.00 USD which is a bargain considering that you will spend 100 Dollars on a 500GB 2.5 inch form factor drive by itself. Good luck finding an external carrier that is made as well as the SimpleTOUGH for only 20 Dollars. With that in mind, I think Hitachi has done a great job putting together a great product at a great price. With the holidays coming up everyone is looking for great value and this would be perfect for the tech person in your life or that hard to buy for college student.
The only thing I would have liked to have seen Hitachi do with the SimpleTOUGH is include USB 3.0 with the unit, but since the technology is so new there really isn't a USB 3.0 enclosure on the market just yet. We are hearing that the shortage in chipsets is making things difficult for manufacturers to ramp up production.
PRICING: You can find products similar to this one for sale below.

United States: Find other tech and computer products like this over at Amazon.com

United Kingdom: Find other tech and computer products like this over at Amazon.co.uk

Australia: Find other tech and computer products like this over at Amazon.com.au

Canada: Find other tech and computer products like this over at Amazon.ca

Deutschland: Finde andere Technik- und Computerprodukte wie dieses auf Amazon.de
We openly invite the companies who provide us with review samples / who are mentioned or discussed to express their opinion. If any company representative wishes to respond, we will publish the response here. Please contact us if you wish to respond.