Vantec NexStar CB-SATAU3 SATA to USB 3.0 Adapter
Sometimes you just need a shortcut to make life easier. Vantec is the shortcut maker and this time they have a USB 3.0 to SATA II product that makes temporary jobs fly by.
Published Fri, Aug 20 2010 4:42 AM CDT
|
Updated Tue, Nov 3 2020 7:02 PM CST
Rating:

90%
Manufacturer: Vantec
Introduction, Specifications, Pricing and Availability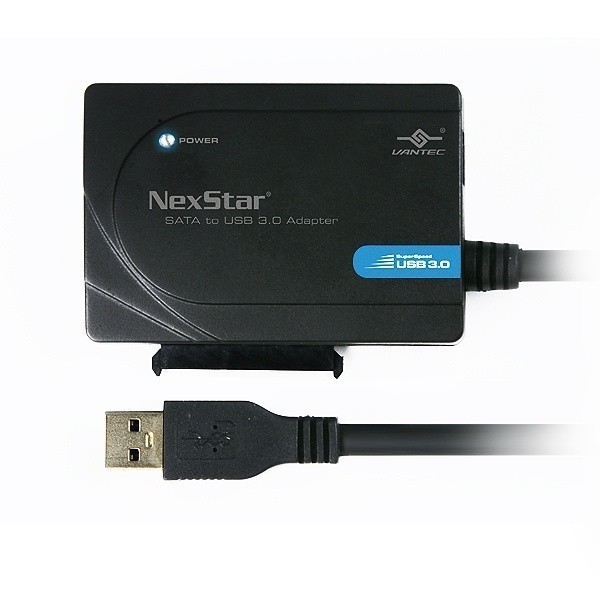 Introduction
How many times have you needed to plug in a drive for just a few minutes or your buddy drops by with that bomb track you have to hear and he brings it on a plain hard drive? The number of times a day when I have to plug a drive in is almost immeasurable. Even with several NAS servers, external enclosures and every other type of storage technology, there is always that one file that is on a drive and I need it right away.
Today we are looking at the Vantac NexStar CB-SATAU3 adapter that allows you it plug in a 2.5 or 3.5" SATA hard drive into a USB 2.0, or more importantly, USB 3.0 port. USB 3.0 offers blazing fast performance and in all but the most extreme cases can run your hard drive at native speeds.
Let's take a look at the specifications and see what the Vantec NexStar CB-SATAU3 has to offer.
Specifications, Pricing and Availability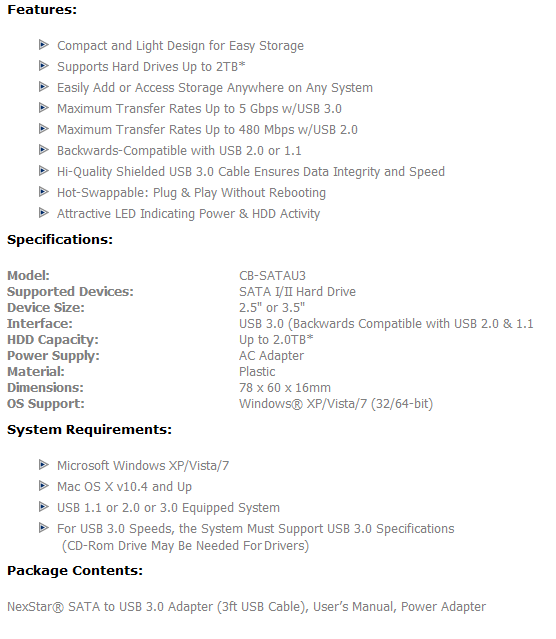 The Vantec NexStar CB-SATAU3 is about as simple as it gets on the surface. You plug in your SATA hard drive and on the other end you plug the NexStar into your USB 2.0 or 3.0 port. Notice that I did leave a way out with having said 'on the surface'.
Our biggest complaint in the setup process is that the NexStar CB-SATAU3 also requires you to plug in a 12 volt wall wart that supplies power to both the drive and the adapter. Since most 2.5" consumer drives only use 5V power and USB 3.0 offers quite a bit of 5V power, you would think that Vantec would have powered the adapter off of 5 volts and there have been enough juice left over to power a typical 2.5" drive. That was not the case. The adapter itself requires additional power, so setup is not as cut and dry as we would like to have seen.
After looking around the web I was able to find the Vantec NexStar CB-SATAU3
for 27.99 USD at long established e-tailer Directron
. At first the price seems pretty good, but once you start to factor in current prices of USB 3.0 portable enclosures selling at Newegg for just a little over 20 Dollars, some of which do not require additional power for native 5V drives, you have to start questioning if you want a dedicated short term USB 3.0 shortcut device or is a real portable USB 3.0 enclosure that can be quickly disassembled a better option.
Let's take a look at the Vantec NexStar CB-SATAU3 and see what we can come up with and try to answer that question.
The Packaging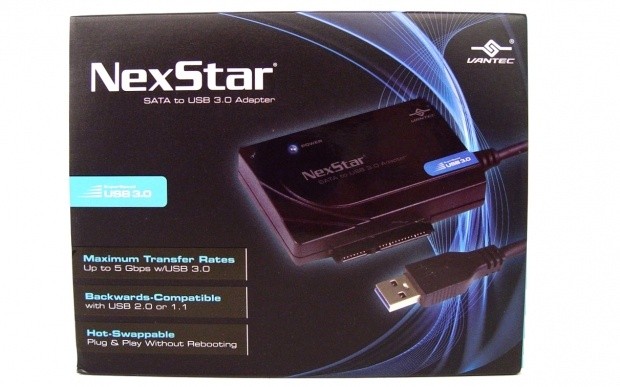 As always, Vantec put together a nice attractive package for the NexStar CB-SATAU3. On the front several details were given that will allow consumers to see exactly what the adapter is for.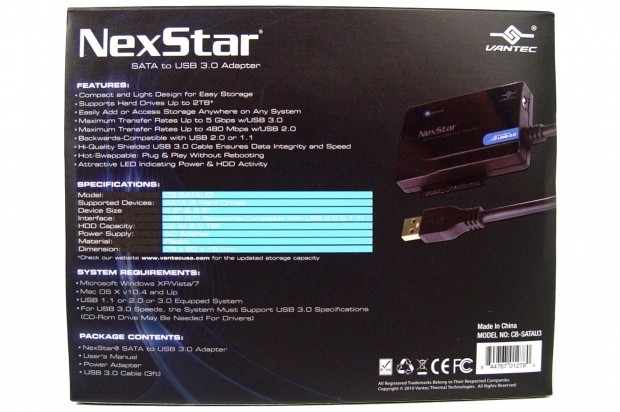 A full list of specifications and features are shown on the back of the package as well as a detailed description of the adapter.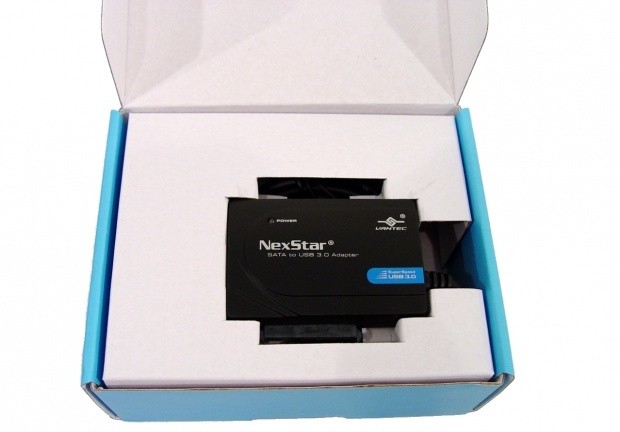 The inner packaging was put together well with all of the parts separated so nothing gets banged up during shipping.
The Vantec NexStar SATA to USB 3.0 Adapter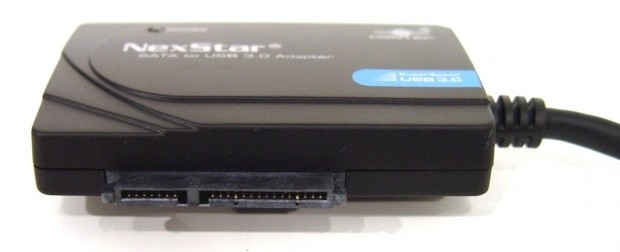 There is really not much to the adapter. On one end you have the SATA interface that we see here. On the other end a three foot cable has a USB 3.0 Type A plug and you put this in your motherboards USB 2.0 or 3.0 port.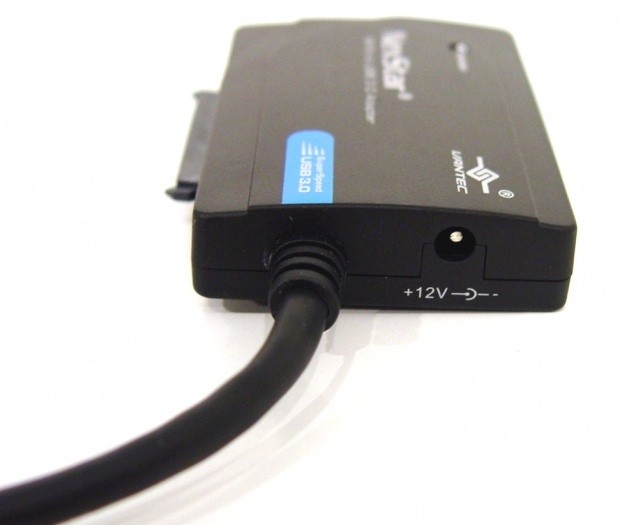 As we mentioned earlier, there is a power requirement needed just to get the adapter operational. At least the plug for the additional power is on the same side as the USB cable.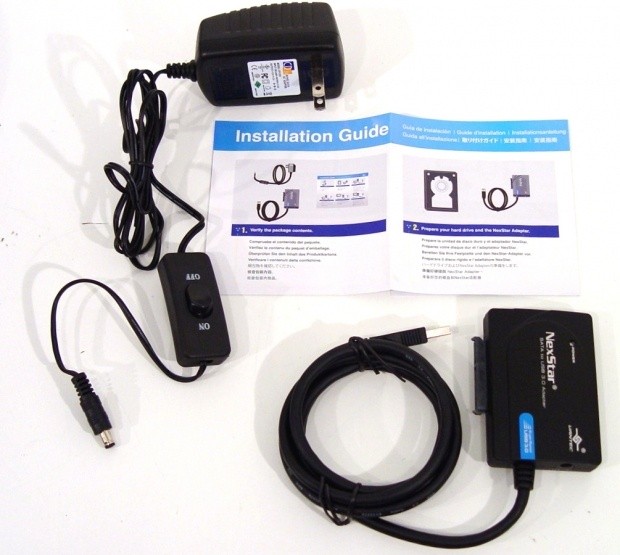 The entire package is quite small and even somewhat portable. Vantec has included an installation manual and here you get a look at the wall wart that is needed to provide power to the entire setup.
Test System Setup and ATTO Baseline Performance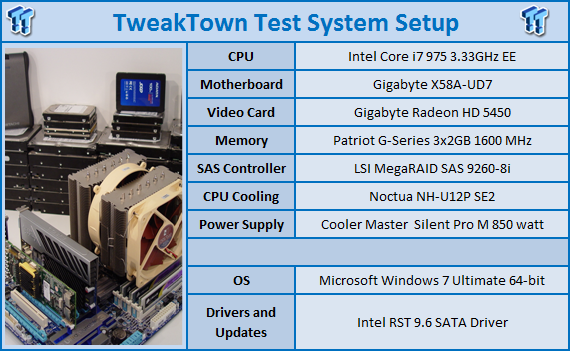 We would like to thank the following companies for supplying and supporting us with our test system hardware and equipment:
AVADirect
,
GIGABYTE
,
Cooler Master
,
LSI
,
Noctua
and
Crucial
.
You can read more about TweakTown's Storage Product Testing Workstation and the procedures followed to test products
in this article
.
Today is a special day! This is the first article to be published where we used one of our new Crucial RealSSD C300 drives that Crucial provided for all of our NAS, RAID controller and any other storage product that requires drives to test. The Crucial RealSDD C300 is now the default drive in our lab for testing storage products. A big thank you goes out to Crucial for allowing us the opportunity to be able to test storage products with the fastest SSD on the market, the RealSSD C300 256GB.
Today we will be testing the Vantec NexStar SATA to USB 3.0 adapter with the Crucial RealSSD C300 256GB SSD and our trusty GIGABYTE X58A-UD7.
ATTO Baseline Performance
Version and / or Patch Used:
2.34
ATTO is used by many disk manufacturers to determine the read and write speeds that will be presented to customers.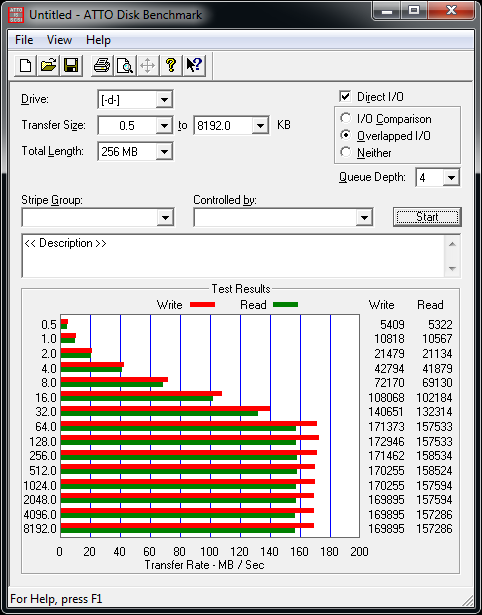 The highest speed we have been able to achieve from our GIGABYTE X58A-UD7's onboard NEC USB 3.0 chip has been just over 200MB/s. This was with a USB 3.0 SSD based on the Indilinx Barefoot SSD controller.
In ATTO we were able to achieve 170MB/s read with the Vantec adapter and just under 160MB/s write speed. This is just shy of the dedicated USB 3.0 SSD speeds that we achieved with the ADATA Nobility.
Benchmarks - HD Tach
HD Tach USB 2.0 and 3.0 ComparisonVersion and / or Patch Used:
3.0
Developer Homepage:
http://www.simplisoftware.com
Product Homepage:
http://www.simplisoftware.com/Public/index.php?request=HdTach
Buy It Here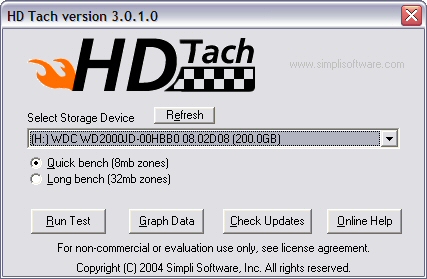 HD Tach has been around for a long time and is excellent when it comes to testing hard drive performance. It is also a very handy program when it comes to testing the controller used on particular motherboards. Tests such as Read, CPU Utilization and Burst are available at a click of the button and give you a good idea of how the hard drive can perform from system to system.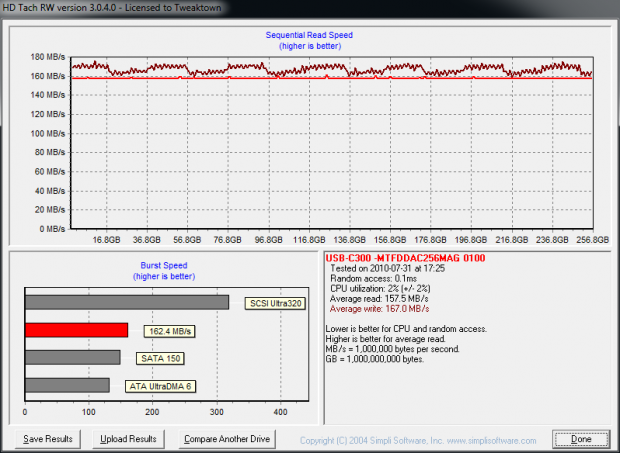 When it comes reading and writing across the drive, the Vantec adapter allows the drive to keep a steady pace from start to finish.
Benchmarks - Crystal Disk Mark
CrystalDiskMarkVersion and / or Patch Used:
3.0 Technical Preview
Developer Homepage:
http://crystalmark.info
Product Homepage:
http://crystalmark.info/software/CrystalDiskMark/index-e.html
Download here:
http://crystaldew.info/category/software/crystaldiskmark
CrystalDiskMark is a disk benchmark software.
Key Features:-
* Sequential reads/writes
* Random 4KB/512KB reads/writes
* Text copy
* Change dialog design
* internationalization (i18n)
Note:
Crystal Disk Mark 3.0 is not available to the public yet, but the Technical Preview does allow us to test 4K performance at queue depths of 4 and 32 in addition to 1. The current release Crystal Disk Mark only shows us QD 1.
Crystal Disk Mark Tests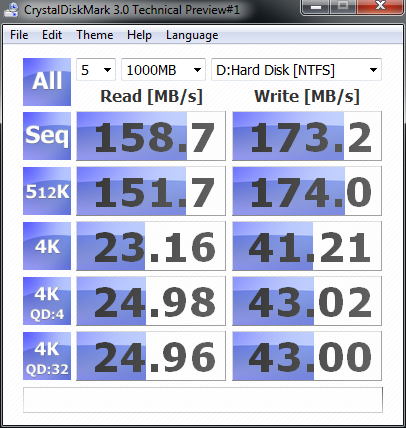 In a recent announcement the makers of CDM stated that they were making the 1000MB test the default benchmark so we have changed over from the 100MB test and started using the 1000MB test in our reviews.
USB does not take advantage of NCQ so queue depths do nothing for USB 2.0 or 3.0 performances. Here we do get a chance to observe the 4K numbers. Just like in the STR testing we see that the adapter allows our drive to keep a steady pace, but USB 3.0 is still not able to let the fastest SSD in the world run at native speeds.
Current NEC USB 3.0 controllers are not able to run at the full 5 Gbps speed that USB 3.0 is spec'ed at. We will need to wait for Intel to launch their USB 3.0 South Bridge for that to come about.
Benchmarks - AS SSD and Final Thoughts
AS SSD BenchmarkVersion and / or Patch Used:
1.2.3577.40358
Developer Homepage:
Alex Intelligent Software
Product Homepage:
Alex Intelligent Software
Download here:
http://www.alex-is.de/PHP/fusion/downloads.php?cat_id=4&download_id=9
AS determines the performance of Solid State Drives (SSD). The tool contains four synthetic as well as three practice tests. The synthetic tests are to determine the sequential and random read and write performance of the SSD. These tests are carried out without the use of the operating system caches.
In all synthetic tests the test file size is 1GB. AS can also determine the access time of the SSD, the access of which the drive is determined to read through the entire capacity of the SSD (Full Stroke). The write access test is only to be met with a 1 GB big test file. At the end of the tests three values for the read and write as well as the overall performance will be issued. In addition to the calculated values which are shown in MB/s, they are also represented in IO per seconds (IOPS).
Note:
AS SSD is a great benchmark for many tests, but since Crystal Disk Mark covers a broader range of 4K tests and HD Tune Pro covering sequential speeds, we will only use the Copy Benchmark from AS SSD.
- Copy Benchmark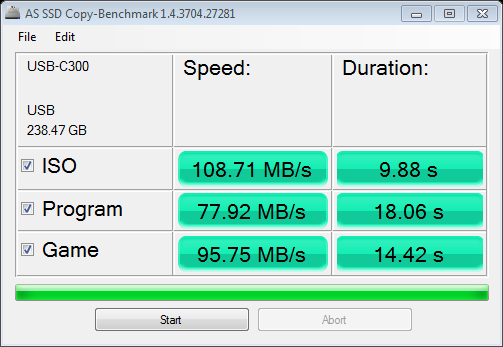 The most commonly used task for external storage products is transferring data to and from the drive. In AS SSD we are able to simulate a controlled transfer of three common file formats. The adapter allows our RealSSD C300 256GB drive to transfer ISO data at 108 MB/s, Program Files at 78MB/s and Game Files at a massive 95MB/s. These are the fastest USB 3.0 numbers we have seen to date, but that is what happens when you use the fastest SSD on the market to test with.
Final Thoughts
The idea of building a SATA to USB adapter is not new; Vantec has been building these for a few years now. The progression to USB 3.0 was logical and it was only just a matter of time for this product to hit our test bench.
As with all products, there are tradeoffs; some things we like and some that we don't. If you are someone with several hard drives sitting around that hold data or you repair computers often, then you will find the Vantec NexStar SATA to USB 3.0 adapter as useful as a bench tool. On the other hand, if you are looking for a dedicated solution for a single drive or rarely swap drives for storage purposes, then a true dedicated USB 3.0 enclosure may be a better solution since the prices are now comparable between an enclosure and the SATA to USB 3.0 adapter.
At 27 USD the Vantec NexStar CB-SATAU3 would have been considered a bargain just two weeks ago, but with the introduction of low cost USB 3.0 enclosures that just hit Newegg this last week the price seems just average now. Still, if you find yourself in a position to use the adapter often enough, price is irrelevant since this is the right tool for its specific job. In some cases it is like trying to use a drill as a hammer. You can smack a single nail in place with the butt of a drill from time to time, but when you need to drive several nails nothing really takes the place of a hammer.
PRICING: You can find products similar to this one for sale below.

United States: Find other tech and computer products like this over at Amazon.com

United Kingdom: Find other tech and computer products like this over at Amazon.co.uk

Australia: Find other tech and computer products like this over at Amazon.com.au

Canada: Find other tech and computer products like this over at Amazon.ca

Deutschland: Finde andere Technik- und Computerprodukte wie dieses auf Amazon.de
We openly invite the companies who provide us with review samples / who are mentioned or discussed to express their opinion. If any company representative wishes to respond, we will publish the response here. Please contact us if you wish to respond.
Related Tags