Introduction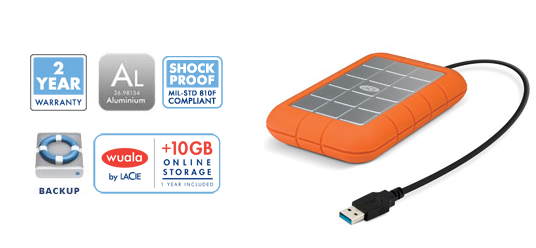 So far most of the USB 3.0 products we've looked at have been designed for inside the home. Their plastic piano black cases, bulky power supplies and odd shapes have made them virtually useless for users on the move looking for real portable solutions. It is a bit surprising that most of these products that have mainly been little more than proof of concept enclosures have cost so much more than their USB 2.0 parts that they are replacing.
LaCie is out to change that and has released a new USB 3.0 enclosure that ditches the fancy plastic and bulky power supply and replaces it with aluminum and cushioning rubber. The LaCie Rugged is the first real USB 3.0 external HDD we have tested and would even consider portable in the true sense of the word.
USB 3.0 has been synonymous with high cost till now, too, something that we didn't like when reviewing the Buffalo DriveStation HD-HXU3. GIGABYTE has done everything they can to insure that USB 3.0 is available on every desktop motherboard, from the low cost commodity boards used to build office machines to the latest super board, the X58A-UD9. These products placed a lot of USB 3.0 ports in the market, the first step in a total USB 3.0 take over.
Now that USB 3.0 ports are out there in the wild, the accompanying products can follow and start to gain some market share as well. Keeping the price reasonable is a key to how fast USB 3.0 will grow. The LaCie Rugged has that part covered, we were able to find the 500GB version for less than 150 USD.
Let's take a look at what the LaCie Rugged USB 3.0 500GB HDD has to offer.
Specifications, Pricing and Availability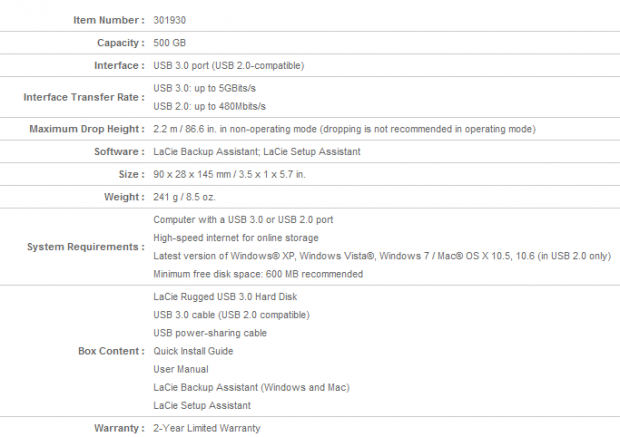 Obviously the big technical news with the LaCie Rugged is that it uses USB 3.0. This connectivity comes by way of a miniUSB 3.0 port on the enclosure. USB 3.0 is backwards compatible with USB 2.0. In some instances you will need to attach a second cable to provide additional power to the 2.5" HDD. This additional cable will be needed when plugging into a USB 2.0 port and possibly when using a USB 3.0 port that does not provide sufficient power. It has been well documented that GIGABYTE has increased their available power to USB devices, so in our testing we never needed the additional cable.
Our sample LaCie Rugged was fitted with a 500GB Hitachi Travelstar 2.5" HDD model number 7K500. These are 7,200 RPM drives that are very popular with notebook OEMs. The drive by itself retails for around 80 USD at Newegg and is considered quite speedy for its class. The Travelstar 500GB uses 16MB of cache, has a 7,200 RPM platter speed and has an average seek time of 12ms.
Newegg also carries the LaCie Rugged USB 3.0 500GB External HDD that we are testing today. The drive is
available as tested for 144.00 USD
and comes with free shipping. LaCie has other products under the Rugged product name; some of these are USB 2.0, others are eSATA or FireWire. Most of these are available in different capacities, but the Rugged USB 3.0 is only available at this time in 500GB.
To add additional value to the LaCie Rugged, the company has included a free one year subscription to a Wuala online backup that will give you up to 10GB of online storage.
Let's take a look at the package and then I will show you the LaCie Rugged USB 3.0 up close.
The Packaging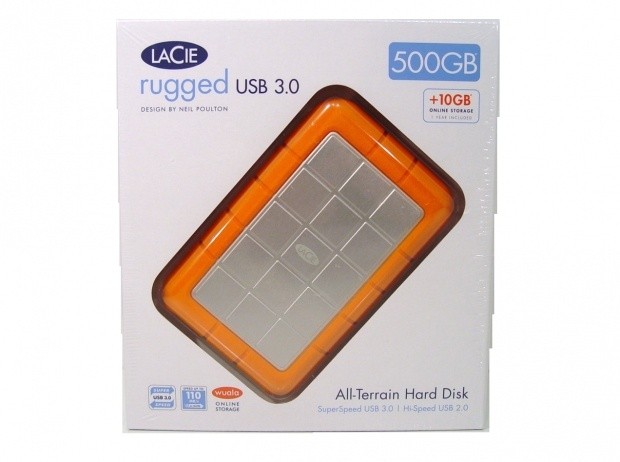 LaCie has done a good job of getting quite a bit of information on the front of the package. At the bottom left we can see the SuperSpeed USB logo and next to us a logo showing up to 110MB/s transfer rates. Next to that we see the Wuala logo for the online storage. Being able to see the drive is a big plus and LaCie puts it right out there.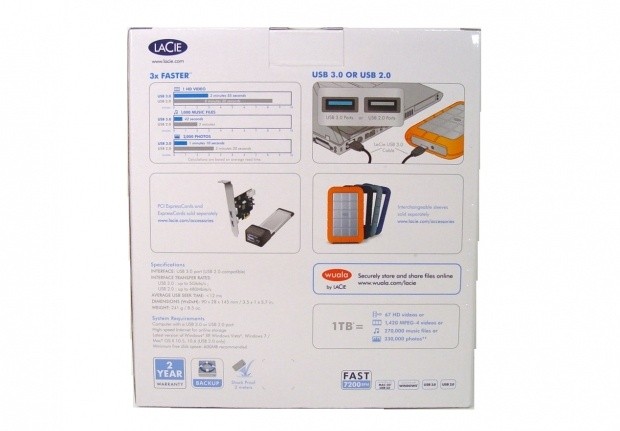 The back of the package explains in detail USB 3.0 and give some examples about the file transfer speeds while comparing the same transfers to USB 2.0. If orange is not your color of choice then you can also purchase different rubber surrounds for your Rugged; those details are listed on the back as well.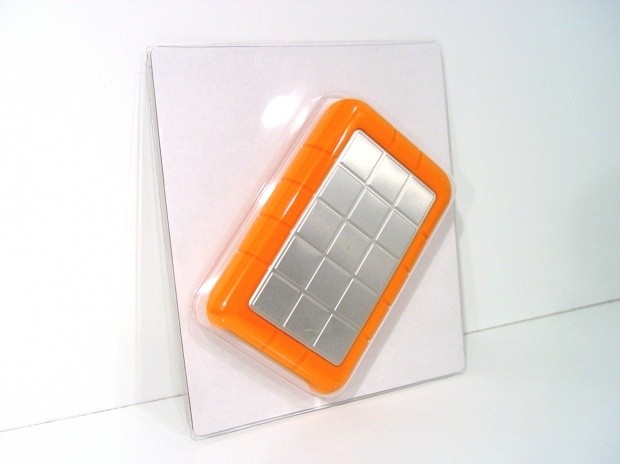 The inner packaging is setup so the actual drive enclosure is separate from the accessory package.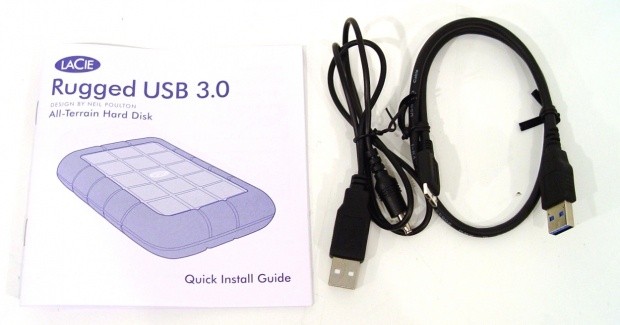 The LaCie Rugged USB 3.0 comes with a quick install guide that is printed and two cables. The first cable is a USB 3.0 to USB mini 3.0 and the second has a USB connector (2.0 or 3.0) that goes to a barrel plug. The second cable is used to provide additional power to the enclosure when attaching it to a USB 2.0 port.
The LaCie Rugged USB 3.0 500GB External HDD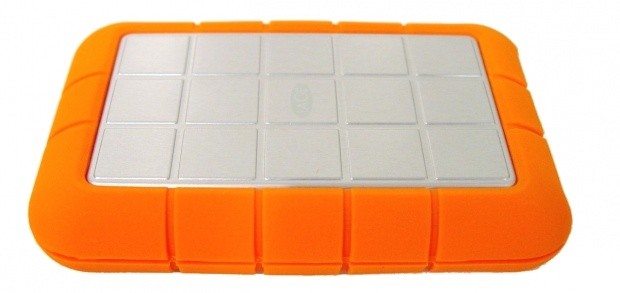 Here we get our first look at the LaCie Rugged enclosure. The Rugged is made up of three external pieces. The first two are the clamshell aluminum structure and then a thick rubber goes around the aluminum to help protect the drive in case of an accidental drop. The rubber also keeps the Rugged from sliding when placed on a smooth surface.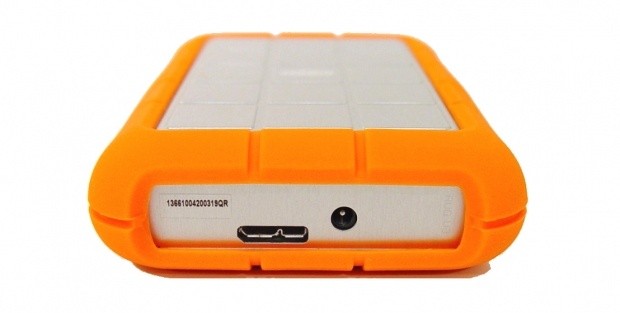 The USB 3.0 mini cable and supplemental power cable plug into the same side of the Rugged.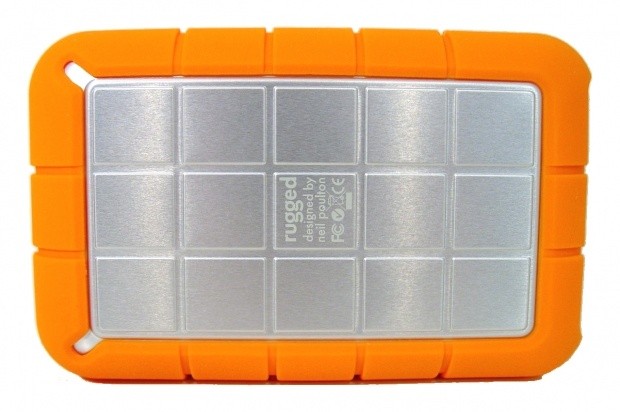 The bottom of the enclosure is nearly identical to the top. Here we can see the rubber that keeps the drive from sliding around and brushed aluminum texture of the drive.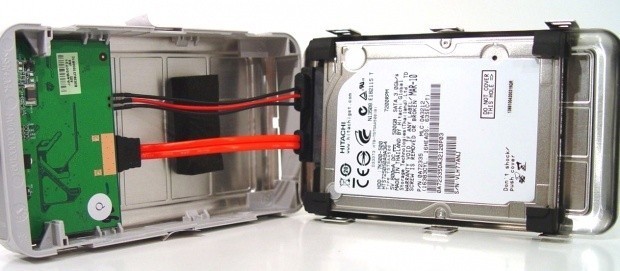 With a little patience you can take the enclosure apart and change the drive. Some power users who have SSDs sitting around might find this useful and replace the 500GB Hitachi drive with a previous generation SSD.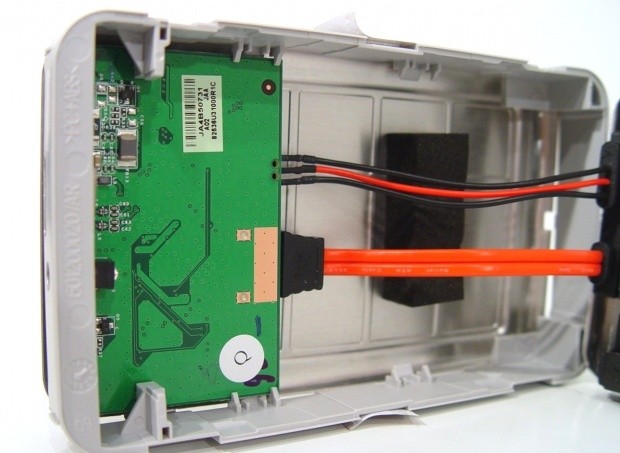 USB 3.0's electronics are not all that complicated and fit on a small PCB just like USB 2.0 enclosures.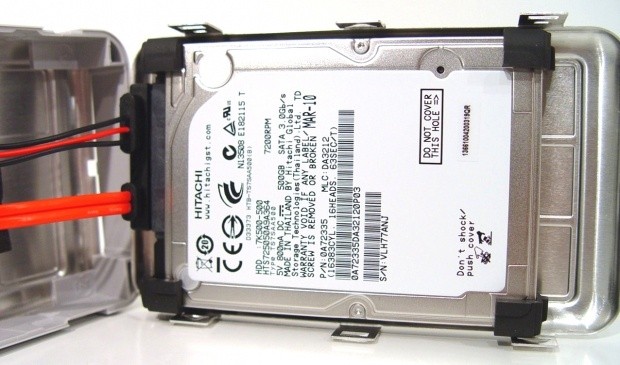 The actual HDD is kept in place with four rubber buffers that protect the drive from shock damage.
Test System Setup and ATTO Baseline Performance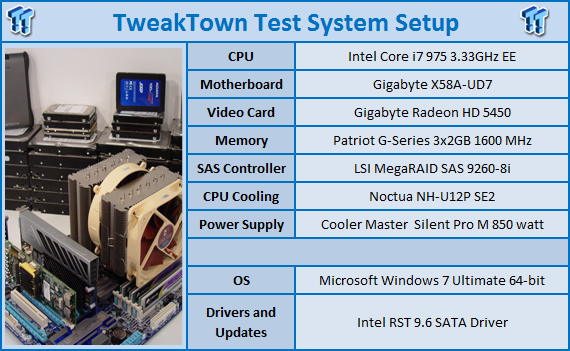 We would like to thank the following companies for supplying and supporting us with our test system hardware and equipment:
AVADirect
,
GIGABYTE
,
Cooler Master
,
LSI
and
Noctua
.
You can read more about TweakTown's Storage Product Testing Workstation and the procedures followed to test products
in this article
.
Today we are going to test the LaCie Rugged USB 3.0 500GB external HDD in both USB 3.0 and USB 2.0 modes on our GIGABYTE X58A-UD7 motherboard. USB 3.0 will have a solid advantage and at SATA II speeds with the Hitachi 7K500 7,200 RPM drive included with the system. The only real difference that we will notice is that USB 3.0 does not pass along NCQ information, something that is a real benefit to SATA and eSATA.
ATTO Baseline Performance
Version and / or Patch Used:
2.34
ATTO is used by many disk manufacturers to determine the read and write speeds that will be presented to customers.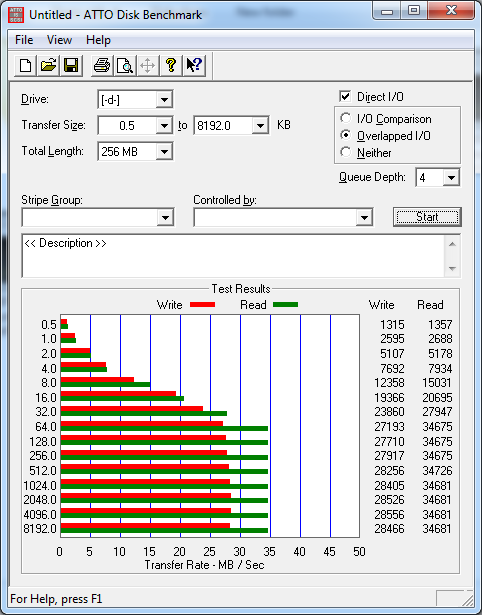 USB 2.0 ATTO Performance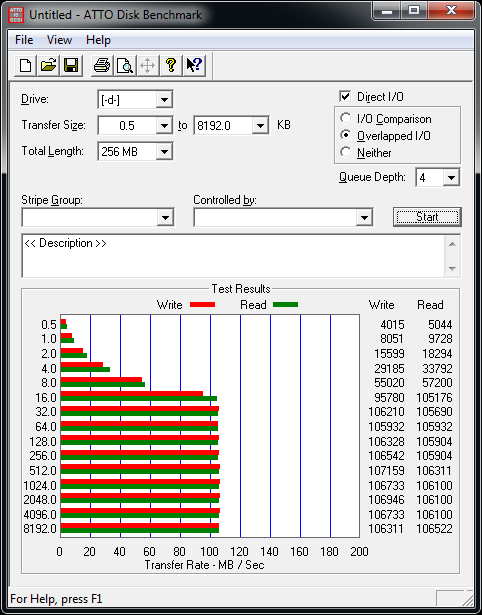 USB 3.0 ATTO performance
ATTO shows us that the LaCie Rugged USB 3.0 500GB HDD is able to achieve just over 106MB/s in reads and writes while using native USB 3.0.
USB 2.0 is limited to between 25 and 35MB/s with the LaCie Rugged. This is the upper limit of the standard so the drive is able to perform very well in USB 2.0 as well.
Benchmarks - HD Tach
HD TachVersion and / or Patch Used:
3.0
Developer Homepage:
http://www.simplisoftware.com
Product Homepage:
http://www.simplisoftware.com/Public/index.php?request=HdTach
Buy It Here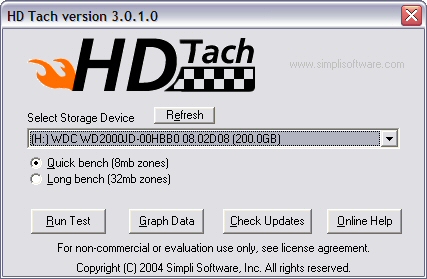 HD Tach has been around for a long time and is excellent when it comes to testing hard drive performance. It is also a very handy program when it comes to testing the controller used on particular motherboards. Tests such as Read, CPU Utilization and Burst are available at a click of the button and give you a good idea of how the hard drive can perform from system to system.
HD Tach USB 2.0 and 3.0 Comparison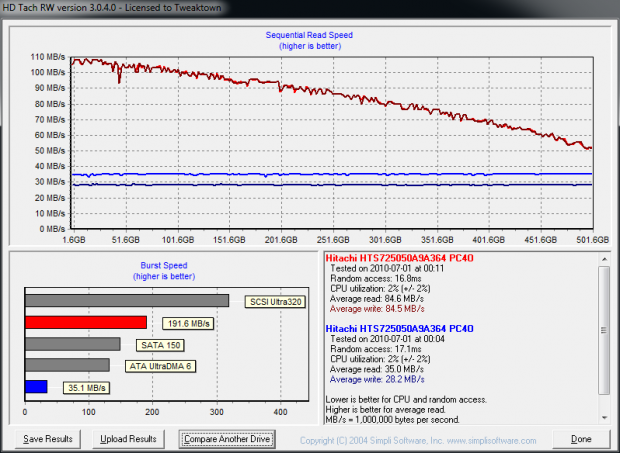 In HD Tach we are able to see both the USB 2.0 and USB 3.0 numbers in the same graph. Here we see just how much of an advantage USB 3.0 has over the aging 2.0 standard.
Benchmarks - Crystal Disk Mark
CrystalDiskMarkVersion and / or Patch Used:
3.0 Technical Preview
Developer Homepage:
http://crystalmark.info
Product Homepage:
http://crystalmark.info/software/CrystalDiskMark/index-e.html
Download here:
http://crystaldew.info/category/software/crystaldiskmark
CrystalDiskMark is a disk benchmark software.
Key Features:-
* Sequential reads/writes
* Random 4KB/512KB reads/writes
* Text copy
* Change dialog design
* internationalization (i18n)
Note:
Crystal Disk Mark 3.0 is not available to the public yet, but the Technical Preview does allow us to test 4K performance at queue depths of 4 and 32 in addition to 1. The current release Crystal Disk Mark only shows us QD 1.
Crystal Disk Mark Tests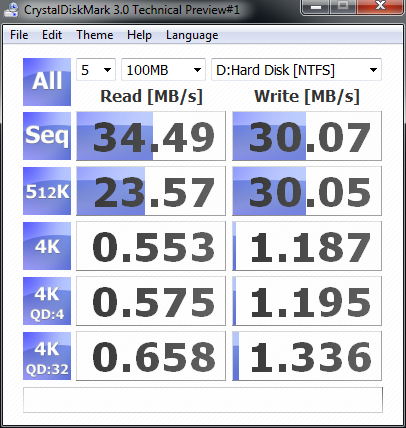 USB 2.0 Test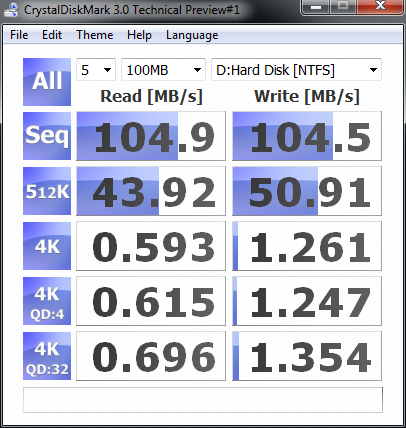 USB 3.0 Test
In CDM we like to look at 4K performance and 4K NCQ performance. Here we see that USB 3.0 does not help the 4K performance by a large margin, but this is mainly due to the type of drive used in the LaCie Rugged.
Benchmarks - AS SSD
AS SSD BenchmarkVersion and / or Patch Used:
1.2.3577.40358
Developer Homepage:
Alex Intelligent Software
Product Homepage:
Alex Intelligent Software
Download here:
http://www.alex-is.de/PHP/fusion/downloads.php?cat_id=4&download_id=9
AS determines the performance of Solid State Drives (SSD). The tool contains four synthetic as well as three practice tests. The synthetic tests are to determine the sequential and random read and write performance of the SSD. These tests are carried out without the use of the operating system caches.
In all synthetic tests the test file size is 1GB. AS can also determine the access time of the SSD, the access of which the drive is determined to read through the entire capacity of the SSD (Full Stroke). The write access test is only to be met with a 1 GB big test file. At the end of the tests three values for the read and write as well as the overall performance will be issued. In addition to the calculated values which are shown in MB/s, they are also represented in IO per seconds (IOPS).
Note:
AS SSD is a great benchmark for many tests, but since Crystal Disk Mark covers a broader range of 4K tests and HD Tune Pro covering sequential speeds, we will only use the Copy Benchmark from AS SSD.
- Copy Benchmark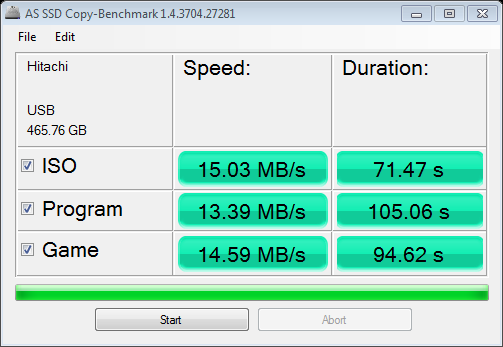 USB 2.0 Copy Test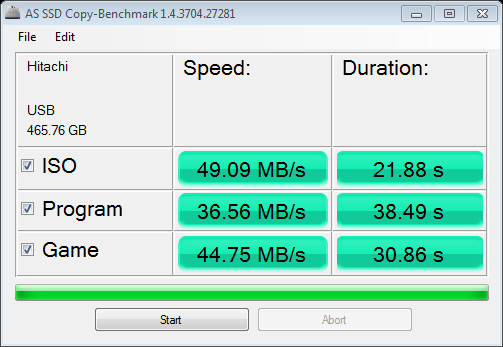 USB 3.0 Copy Test
In the File Copy Tests we were able to observe transfer rates more than doubling those of USB 2.0 when 3.0 was used. The amount of time needed to transfer the same files was significantly reduced with the new USB 3.0 standard.
Final Thoughts
We are very excited to see USB 3.0 finally hitting price points that are acceptable, but would really like to see them fall just a little more. It will take another three to six months to get to a point when USB 3.0 enclosures dominate the market and at that time it will be difficult to find a USB 2.0 enclosure. USB, like its name says it is a true universal protocol and it has been used in everything from cameras to professional racing data systems.
When you see an Indy Car come into the pits and someone attaches a thick wire to the car for a few second, that is a modified USB interface that quickly transfers data files back to the servers that then analyze the data. Many TVs, DVRs and other consumer electronic devices use the standard as well, but so far USB 2.0 still is found in those devices. It is going to take a real push by the industry to move past the old way of doing things, but with a little time we will see that happen. Getting the costs down plays a big role in that progression.
One company that is really pushing for the new standard to take hold is GIGABYTE. At Computex we saw their top to bottom strategy first hand and were very impressed with the way they have been able to add USB 3.0 into every product they sell that can take advantage of it. GIGABYTE has shipped more USB 3.0 enabled motherboards than all other motherboard manufacturers combined, something that is just not possible with just enthusiast class products. GIGABYTE is really committed to seeing a fast adoption rate for USB 3.0.
The LaCie Rugged USB 3.0 500GB External HDD costs about the same as its USB 2.0 and eSATA versions, so I think LaCie has done their part to help speed along the change as well. Currently you are able to find the LaCie Rugged USB 3.0 500GB HDD
at Newegg for 144.00 USD
and that includes free shipping. The same unit that uses USB 2.0 and eSATA actually costs more at Newegg, around 149.00 with free shipping as well. With USB 3.0 being the new standard and offering higher bandwidth than eSATA, it would be wise to purchase the less expensive USB 3.0 model even if you have to also purchase a low cost PCIe adapter at the same time. Your next motherboard purchase will include USB 3.0.
When it comes to performance we tend to get a little jaded by all of the SSDs that are tested in the labs these days. The LaCie Rugged comes with a high speed notebook drive that offers better than 100MB/s read and write speeds and will be a huge improvement over just about everything else offered on the market in its price range. I would love to see LaCie come out with a Rugged that features a SandForce SSD, then again, knowing what something like that would cost, I think I will just stick with the unit I have for now and wait for SSD prices to fall a little more.