Quick Review: NAVIGON 1400 GPS
We check out a budget GPS from NAVIGON. Does budget mean rubbish, though? Let's find out.
Published Mon, Jul 12 2010 11:59 AM CDT
|
Updated Tue, Nov 3 2020 7:02 PM CST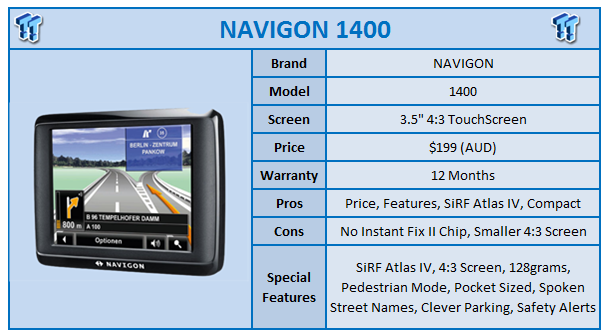 Recently we had a look at the NAVIGON 6300 GPS unit with its 4.3" screen. Today we'll be looking at another unit from NAVIGON, but this one sits a little further down the ladder and while that means the price is cheaper, it also means it's not packing quite the same punch as the 6300.
The question is, what are we really missing when it comes to money saved?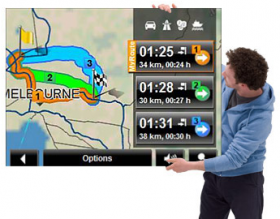 The package is very similar to the 6300 we looked at with a picture of the unit on the front along with the main features being explained. In this case one of the main features that is being pushed on the unit is NAVIGON MyRoutes which is designed to give you a few options to your location.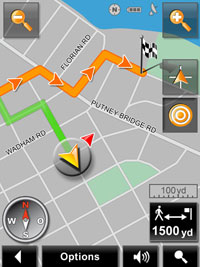 We've also got Reality View which gives you major road details like sign postings. Also included is Spoken Street Names and Safety Alerts which is quite self explanatory and finally we've got Pedestrian Mode. The idea behind pedestrian mode is that you use it while you're walking; it just helps get from the parking spot to the location you're at or even if you're just wandering around, you can find local places.
Inside the package there's not a whole lot going on. Outside the unit itself we've got a stand to mount to your windscreen, 12-volt cable to power the unit and a USB cable that can help the device communicate with your PC.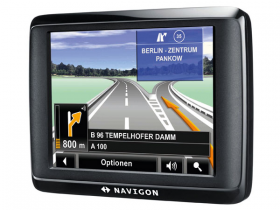 Sporting only a 4:3 3.5" touch screen verses the 4.3" 16:9 seen on the 6300, I became instantly worried that the screen was just going to be too small; not so much from a visual side of things and finding where to go, but more so in the ability to easily type in your locations and just use the screen itself.
To be honest, though, with the device on I didn't have any problems setting up the locations I wanted to go to which was a nice surprise. I think when you consider the keyboard size on the iPhone, typing on the 1400 is quite easy, because while the screen might be smaller, the keyboard takes up more space, making the individual letters bigger.
The SiRF Atlas IV chip is used for connection to satellites, but Instant Fix II which is in the 6300 isn't present. What this means is that connecting to satellites isn't quite as quick when you first turn the device on. Unlike the 6300 I found myself setting up my destination and then starting in the direction I knew I needed to head; the 1400 then connected a few moments later and I then followed it. The good news is that if you do miss a turn off, recalculation is still very fast; you're able to get back on the right path quickly.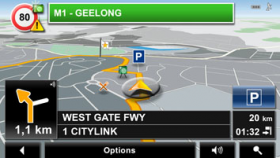 When you're nearing your destination, the spoken street names come in handy. While it might seem a bit annoying sometimes with the names sounding wrong, you have a fair idea of what it means. Making sure you go down the right street is easy as it tells you to turn into X street and while having a rough idea where it is, if many streets are close together you can just keep an eye out for X street name.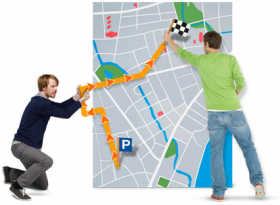 I had to do a run into the city and the ability to hit the parking button at any time is also handy. What this does is let you know where the closest parking to your destination is. If it's not quite as close as you hoped, you can park the car, jump out and go into Pedestrian mode. This just helps you get from the car park which might be around the corner from your destination to the place you want to be.
At the end of a few days of using the NAVIGON 1400 GPS I have to say I was pleasantly surprised. Once I knew the price tag I was a bit taken back by the unit as I felt the budget price was going to make for a budget experience and while the shrunken 4:3 screen is clearly noticeable, it's easy to use and the fact that it's smaller means it's not so intrusive on your windscreen.
While the unit might lack some of the more advanced features seen on the 6300, some of them really won't be missed, especially if you've got no interest in ones like Voice Command. The lack of the SiRF Instant Fix II chip means that initial connection is a little slow, but once up and running you wouldn't even realize you don't have it.
What you ultimately end up with is a GPS that's not going to break the bank, not going to take up a large amount of real estate on your windscreen and something that's going to be easy to store due to its smaller size. While the saying "You get what you pay for" holds a lot of truth, if anything, you feel that you're almost getting a bit more than you paid for. Just because the screen doesn't carry the same large format of more expensive units, don't think it's any less useful.
PRICING: You can find products similar to this one for sale below.

United States: Find other tech and computer products like this over at Amazon.com

United Kingdom: Find other tech and computer products like this over at Amazon.co.uk

Australia: Find other tech and computer products like this over at Amazon.com.au

Canada: Find other tech and computer products like this over at Amazon.ca

Deutschland: Finde andere Technik- und Computerprodukte wie dieses auf Amazon.de