Quick Review: NAVIGON 6300 GPS
Expanding our quick reviews even further, we check out a full featured GPS from NAVIGON. Let's see how we went.
Published Tue, Jun 22 2010 10:00 AM CDT
|
Updated Tue, Nov 3 2020 7:02 PM CST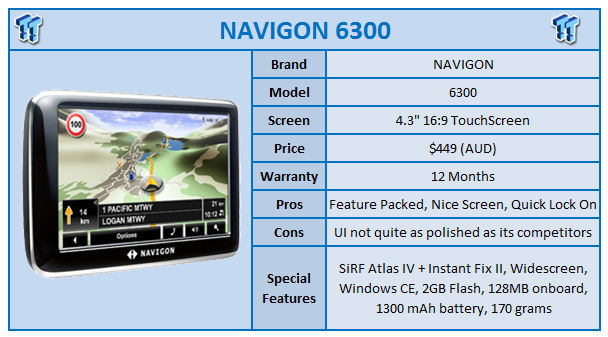 With the launch of our recent Quick Review layout it's really opened up the doors for us to have a look at a large range of products; so when someone asks if I want to have a look at some new GPS units, instead of saying 'why?', I can now say 'why not?'.
I'm going to be honest, though, I'm a TomTom man through and through and it wasn't going to be easy for another GPS brand to come in and impress me. The question we're asking is; has NAVIGON done it with the 6300?
Looking at the package, there's nothing you won't have seen before in the sense that we've got a picture of the unit and some of the main features. The five main features being pushed include Panorama View 3D which helps give you better perspective of the terrain you're driving on.
We've also got Reality View Pro & Lane Assistant Pro which tells us about important road markings and which lane you need to be in when it comes to taking an exit. There is also TMC-Traffic Information which is designed to give you up to date warnings on interruptions.
Also included is NAVIGON MyRoutes which gives you an idea of multiple paths to select locations. Depending on the time of day, traffic conditions etc. one way while longer, could well be better. We've also got Professional Voice Command which is designed to eliminate the need to type everything.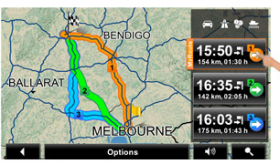 Inside the package we've got the unit itself along with a USB cable, In Car Cable with power provided by your 12-volt lighter plug and a little bit of information on FreshMaps plus a discount which helps keep the unit up to date with the latest changes to the roads around you. There's also a suction mount so the device can be attached to your windscreen.
With a 4.3" screen the device isn't too big, but big enough that we can easily navigate through the menus. Choosing a destination is easy and you can select in which way you want to set it up; Street > Number > City or City > Street > Number.
Voice recognition is present and while it works, if you can quickly type in the main details you're better off. The 6300 can easily be taken on and off the mount which means you can quickly bring it with you somewhere, throw in the details and attach it back.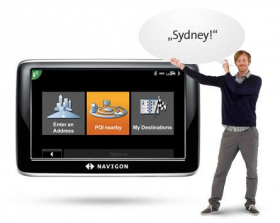 Thanks to the SiRF Atlas IV chip, connecting to satellites is quick, meaning once you turn on the device it can be used quickly. Navigation is good and street names are clear when being directed around. The paths suggested were the paths that I would take, which is pleasant and if you pass or miss a turn-off, your route is adjusted quickly.
Information shown includes the speed limit of the zone you're in, street you're on, you're turning into, distance on the current road, distance to destination and an estimated time of arrival. Other smaller pieces of information include access to your phone via the Bluetooth compatibility, volume adjustment, zoom functions and audio levels.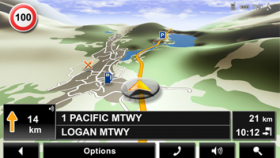 If that's not enough, other features included are Clever Parking which finds possible parking spots, POI-Click making it quick and easy to find points of interest that are nearby, camera alerts, coordinate entry, favourite locations, automatic day and night mode, PIN protection, NAVIGON Sync and Last Mile which is a really cool feature that is designed to get you from your car to the front door, because we all know that you can't always get in front of the place you want.
At $449 the NAVIGON 6300 isn't the cheapest unit available. Fortunately the price seems well justified thanks to quick GPS lock on and a massive feature set which clearly shows us why the unit sits at the top of the NAVIGON tree.
I'll admit I was a little sceptical about using a device outside of my TomTom, but I can honestly say I would easily recommend this unit to anyone who is looking for a fully featured GPS unit and while there's a few niggling issues with the layout not being as polished as it could be, it's easy to use and packs enough cool features that it's easy to ignore a few minor quirks.
PRICING: You can find products similar to this one for sale below.

United States: Find other tech and computer products like this over at Amazon.com

United Kingdom: Find other tech and computer products like this over at Amazon.co.uk

Australia: Find other tech and computer products like this over at Amazon.com.au

Canada: Find other tech and computer products like this over at Amazon.ca

Deutschland: Finde andere Technik- und Computerprodukte wie dieses auf Amazon.de