Proware EPICa Series EN-T800 SAS NAS
Proware brings an industrial feel to the NAS market, but can this product that is built like a tank keep up with the big boys in data transfer rates?
Published Tue, May 18 2010 8:25 AM CDT
|
Updated Tue, Nov 3 2020 7:02 PM CST
Introduction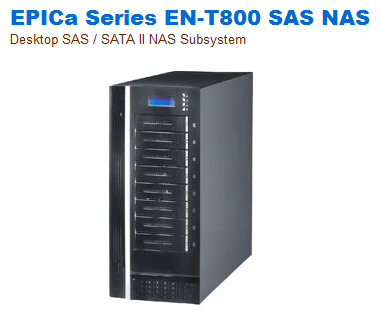 Chances are you are not familiar with Proware Technology and to be honest we really didn't know them either, at least until a couple of months ago when they asked us to have a
look at their MiniEPICa Series EP-m501-AA DAS enclosure
. Getting to know Proware after that review was quite easy; the MiniEPICa really rocked our world by accepting a wide range of 2.5 inch drives including SSDs and connecting to a system via eSATA. The box was so small that I couldn't keep it on the floor by my desktop without kicking it half way across the room every time, forgetting it was there.
If the MiniEPICa was small, then the EPICa EN-T800 SATA / SAS NAS is the polar opposite. The EN-T800 is a massive 8-drive NAS server that is much taller, much heavier and much beefier than any NAS server we have ever tested. To say the NAS is built like a tank is an understatement, this is a missile bunker. Don't let the industrial look fool you, the EN-T800 has many of the features we are seeing from industry leaders Thecus and QNAP, like a front illuminated setup display.
The Proware EN-T800 uses a Linux operating system just like many of the other high end NAS servers we have tested and offers all of the RAID options that you would expect from a flagship class product.
Today we will be testing the Proware EPICa Series EN-T800 with our industry standard NASPT software and put the new NAS up against
Thecus' N7700 Pro that we reviewed last month
. Can Proware's latest offering compete with one of the industry's best NAS servers? Let's find out.
Specifications, Availability and Pricing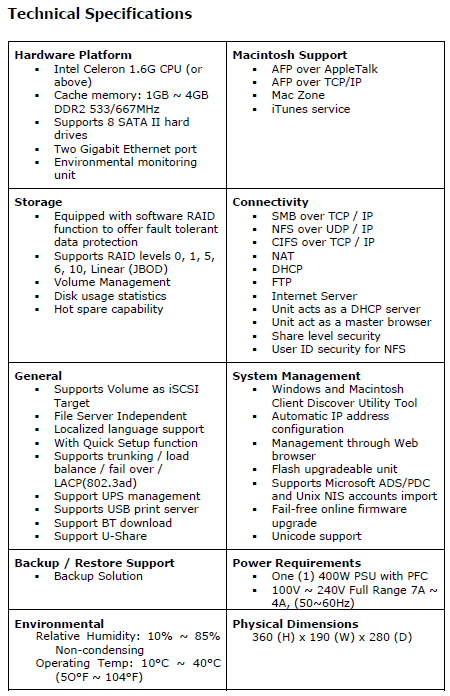 Right off the bat we can start to see some faults with the EN-T800. The first has to do with the processor, an Intel Celeron at 1.6 GHz. Most of the NAS servers we have tested in the past year with a drive capacity of seven or eight have all used Core 2 Duo processors at or around 2.4GHz.
The EN-T800 does come with up to 4GB of RAM in the system that is used for caching data coming and going. Up to eight HDDs are supported to store up to 16TB of data with eight 2TB drives and dual gigabit Ethernet will get that data back to your computer quickly. We will be testing just how quickly later in this article.
When it comes to availability and price, we were left scratching our heads. From time to time I see Proware products listed on EBay, but have yet to find their products listed at Newegg or other mainstream e-tail outfits. Their contact page only opens email windows for sales, support and warehouse and no phone number or address is given.
The warehouse option does turn on a beacon on a map in California. A quick search on Google shows that there are several online sources to purchase the EN-T800 in Asia, but nothing stands out in Europe or the US. Because of this we are not sure on the price and when asked, Proware deflected the question.
Software Features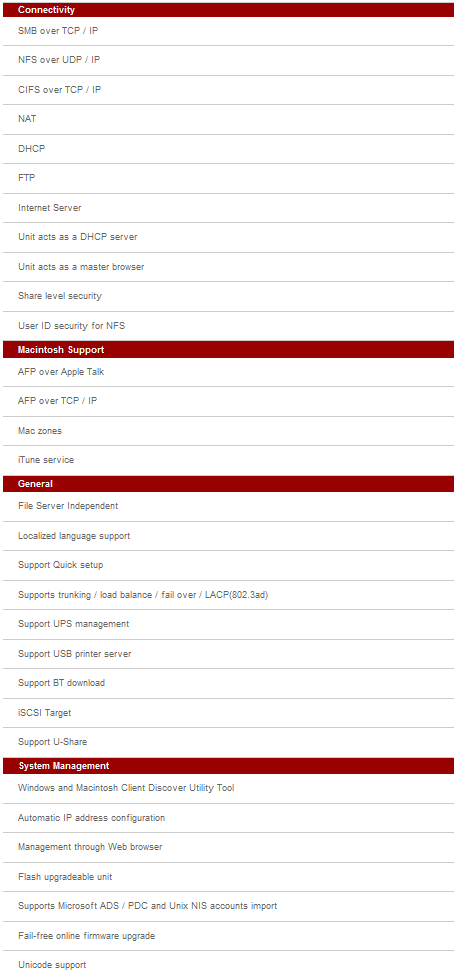 When it comes to the capabilities of the Proware EN-T800, we see several of the popular options are included like Bit Torrent downloading; something that I am still not sure why shows up on the machines designed for office use, but it is there.
iSCSI Target has been a big hit with businesses and allows you to map dedicated area from the arrays to different computers, just as if that computer had a spare hard drive in the system. Over all there is a good mix of features that will be useful in small, medium and large offices and that robust mix will allow most of these user groups quite happy.
System administrators looking for a no frills setup experience will like the EN-T800. There isn't a big happy flash page that pops up every time you get into the server to change a setting or add a user. Everything follows the industrial feel, clearly labeled and right to the point.
The Packaging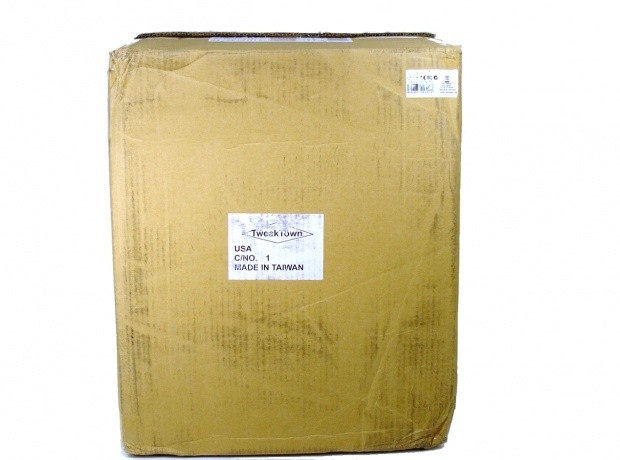 Our system arrived in a brown box without a retail package and looking back it was of little surprise since the EN-T800 has that industrial grit feeling about it.
As you can see, the package took a heck of a beating on its way over the sea.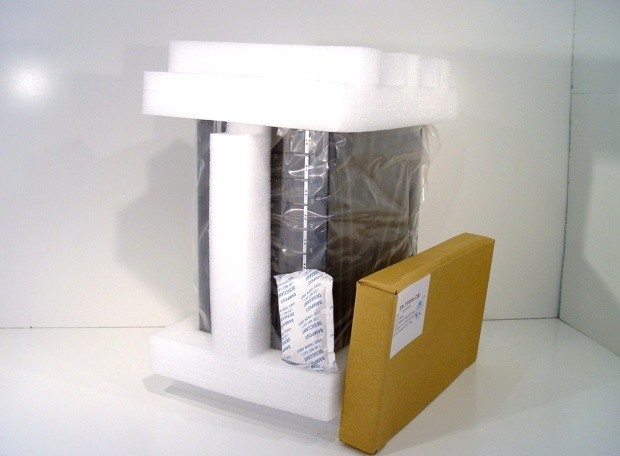 The inner packaging has done what it was supposed to do and the package contents survived very well; not a mark on the NAS and all of the accessories were in perfect shape.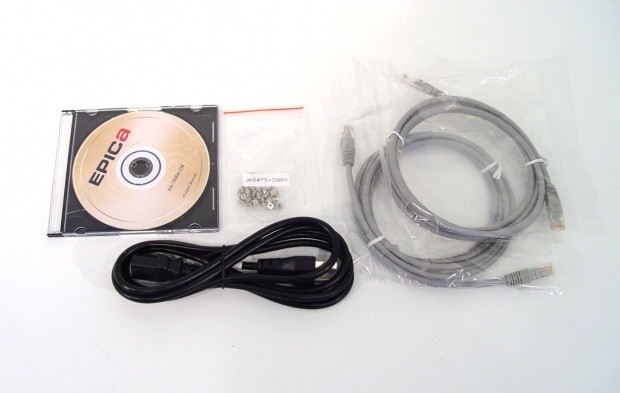 The accessories package was quite light, but as you can see here, the basics were all covered. The disc includes all of the necessary manuals and software. A pair of Ethernet cables were included as well as a power cord and screws to attach the drives to the system.
The Proware EN-T800A-CM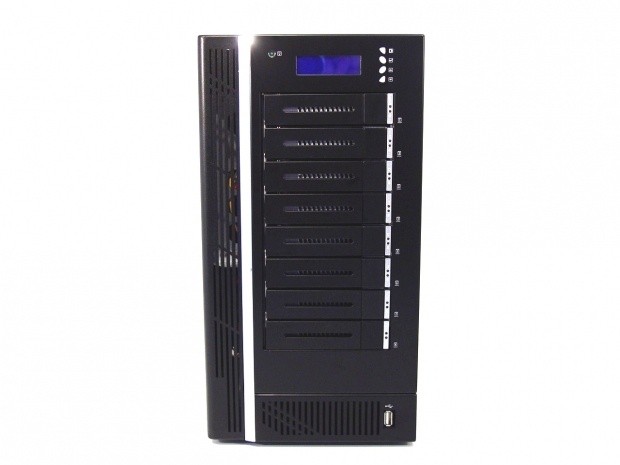 I am glad I built such a largo photo booth, because this wouldn't have fit in my last one. Most of the added height comes from the additional area at the bottom designed to allow additional air to pass to the power supply. At the top we see the display unit that comes standard and built into the EN-T800.
Eight drive bays take up a majority of the front and each bay has a set of LEDs to show the status of the drive inside. One thing to make a note of with the drive bays, there is no locking mechanism found on the bays and this may pose as a problem for some businesses.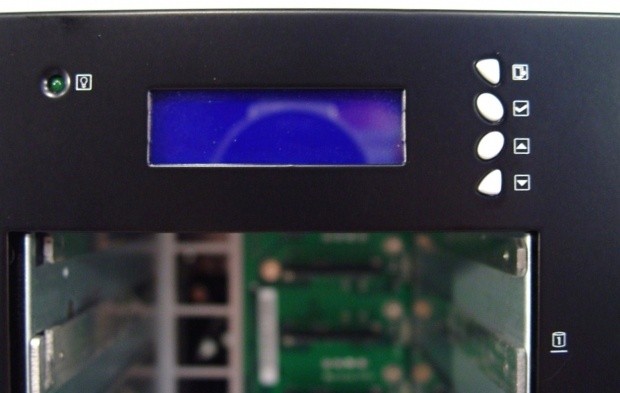 The front display can be used to setup the system or make changes to the configuration.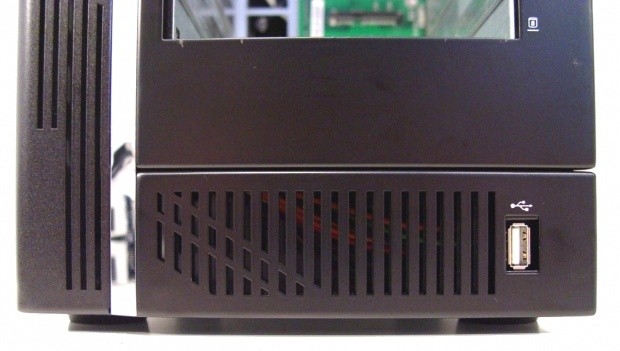 At the bottom there is a front USB port so you will be able to quickly back up your thumb drive or external hard drive to the NAS. There isn't a quick touch button on the NAS, a feature we have seen so often that we started to consider standard.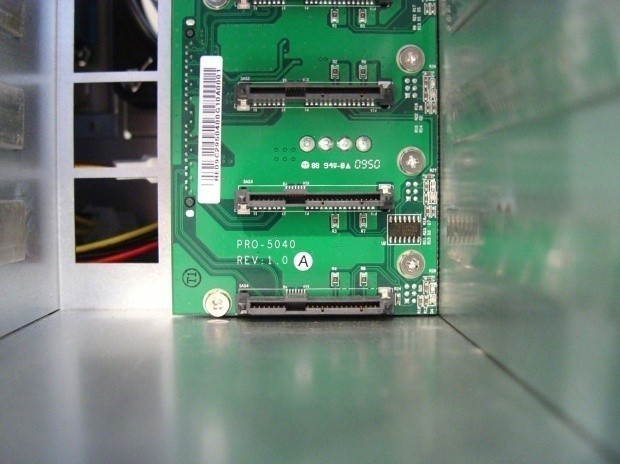 The backplane for the HDDs appeared to be well made and here you can clearly see that the system will accept SAS drives.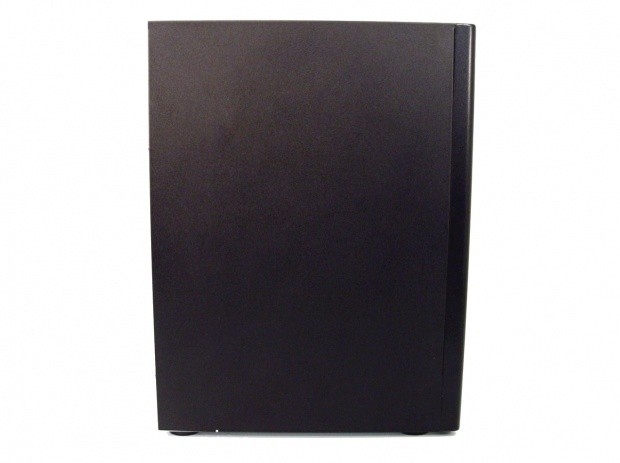 The side of the EN-T800 shows more of an industrial appearance; no brushed aluminum here, this NAS is all business.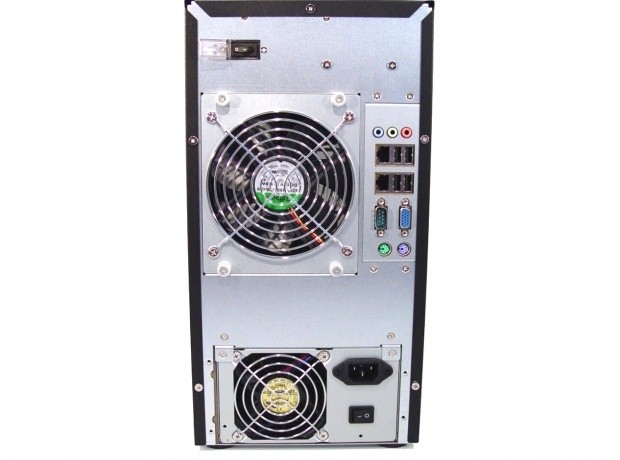 If you only saw the server from the back you might first think it was a desktop computer.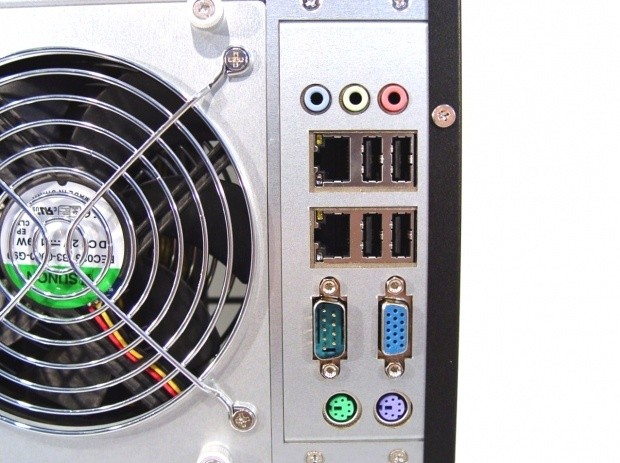 Here we see the dual gigabit Ethernet ports as well as USB and a COM port for easy battery backup installation.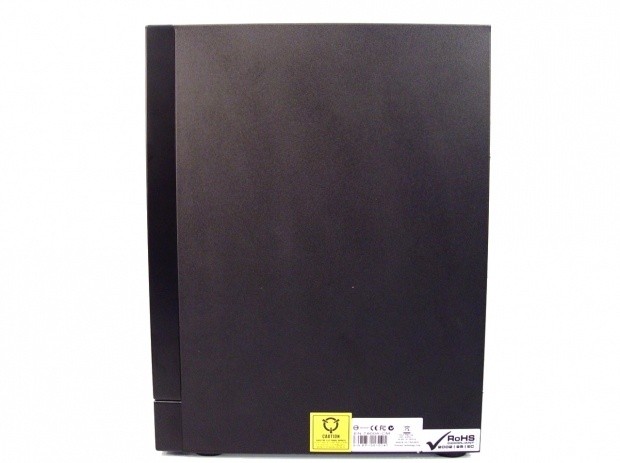 The other side of the NAS nearly mirrors the first, except this time we found stickers for model and serial number information.
Test System Setup and Comments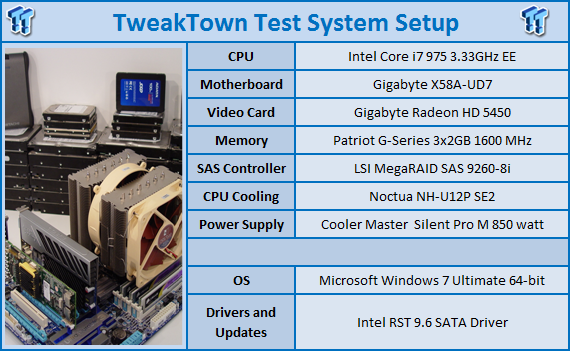 We would like to thank the following companies for supplying and supporting us with our test system hardware and equipment:
AVADirect
,
GIGABYTE
,
Patriot
,
Cooler Master
,
LSI
,
Noctua
and
Seagate
.
Intel NASPT
The Intel NAS Performance Toolkit (NASPT) is a file system exerciser and analysis tool designed to enable direct measurement of home network attached storage (NAS) performance. Designed to emulate the behavior of an actual application, NASPT uses a set of real world workload traces gathered from typical digital home applications. Traces of high definition video playback and recording, office productivity applications, video rendering/content creation and more provide a broad range of different application behaviors.
With version 1.71 we are able to test with Windows 7 64-bit, but to keep the results accurate you must limit your system RAM to 2GB or less. With only a single 2GB stick of memory installed you can test with Windows 7 64-bit. Also, a new test was added, Office Productivity, but several tests were removed by default like 3 Source HD Video Playback and Backup / Restore.
Today we will be testing the Proware EN-T800A-CM in Intel's NASPT and running it against Thecus' latest large capacity N7700 Pro that we reviewed a couple months ago. Both NAS servers were tested with Seagate 7200.11 1TB drives, our standard drives for all NAS testing. The EN-T800 uses eight drives while the N7700 Pro only uses seven.
Benchmarks - HD Playback
HD Video Play - 720p HD stream from Windows Media Player* 256kB reads
2HD Video Play - 2x playback
4HD Video Play - 4x playback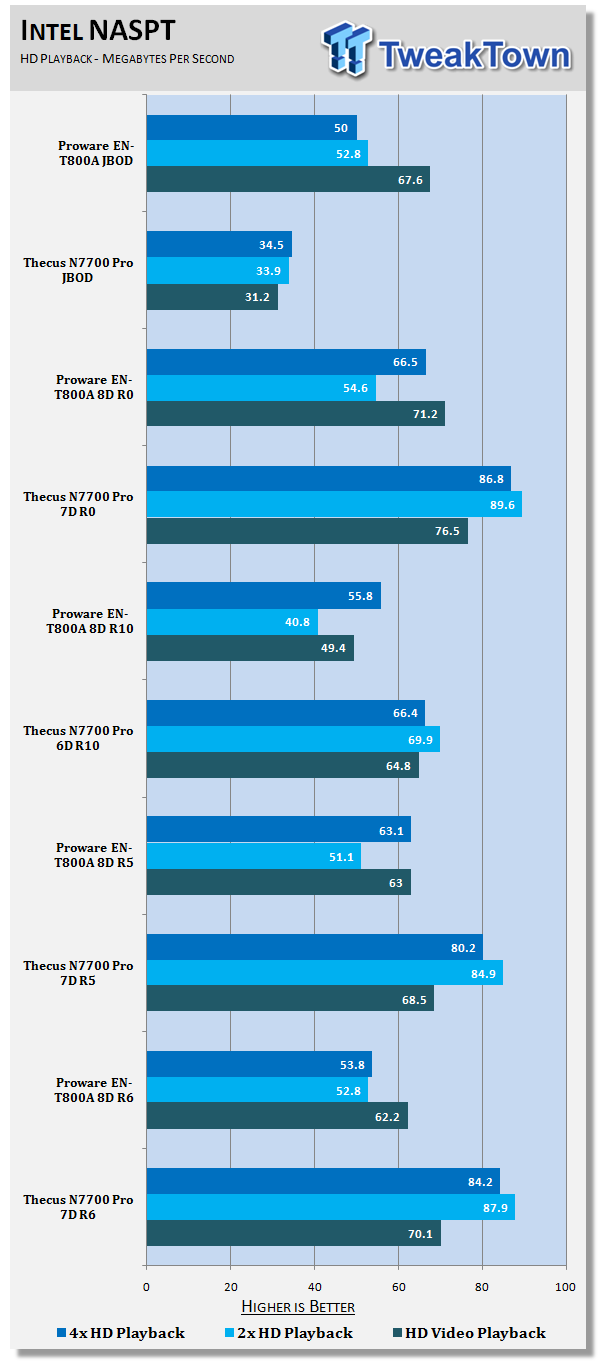 The Proware EN-T800 started out very strong in the single drive test and completely obliterated the data transfer of the Thecus N7700 Pro. I can't think of any users that are only going to use one drive in such a massive NAS like this and once we started adding drives and using different array types, things got interesting.
At full capacity in RAID 0 the Proware unit put up a great fight, but was slower than Thecus' flagship model. This was the theme in the HD Playback tests all the way down to full capacity RAID 6. The 1.6GHz Celeron processor just didn't have the muscle to keep up with the other NAS and in some cases was outperformed by over 25MB/s.
Still, at these speeds it would be possible to watch four HD video streams coming from the Proware EN-T800.
Benchmarks - HD Record
HD Video Record - 720p HD stream, 256kB writes
HD Video Play & Record - 1 playback, 1 record simultaneously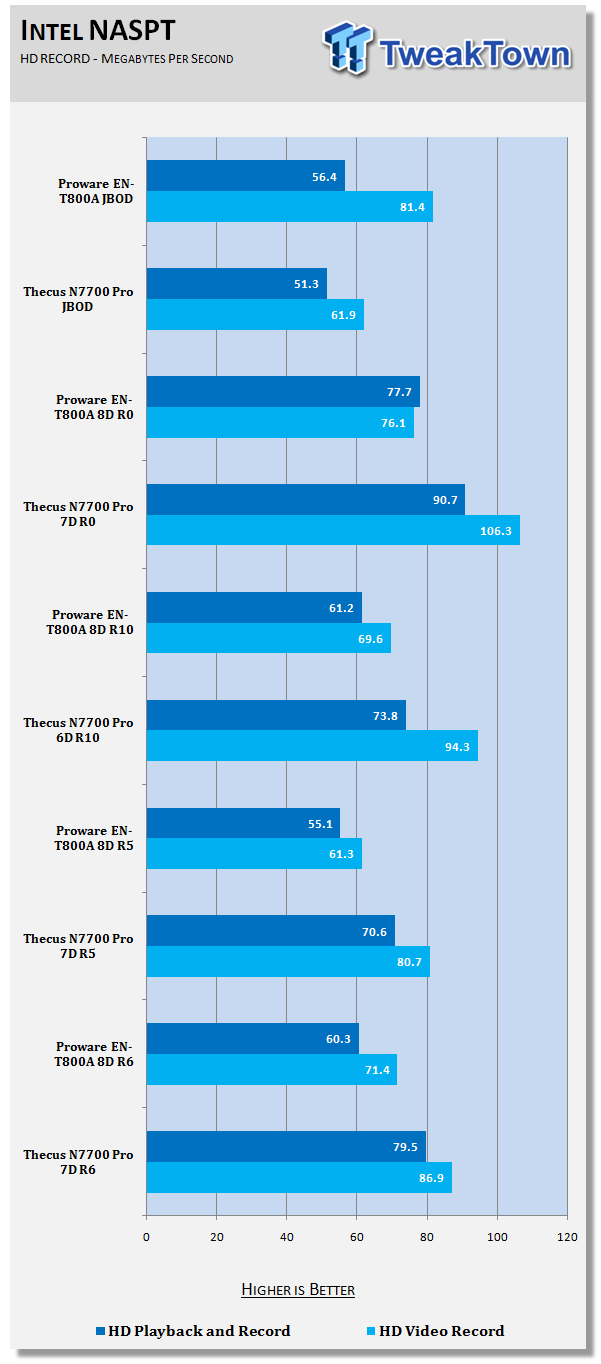 The single drive performance was once again spectacular with the EN-T800, but once again we observed up to a 30MB/s difference between the transfer rates of the two NAS servers.
The playback and record tests are the easiest. Now let's take a look at the hard stuff.
Benchmarks - Content
Photo Album - All reads - wide distribution of sizes
Office Productivity -
Content Creation - 95% writes; 1k, 4k & little reads; Writes up to 64kB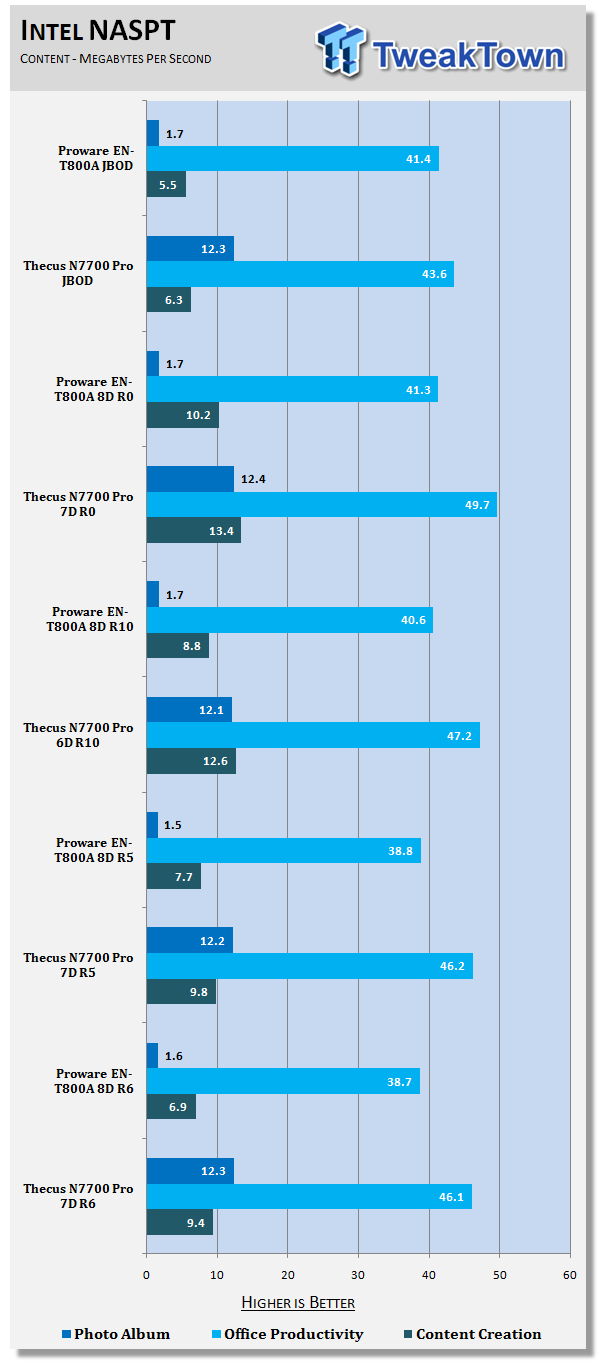 The Photo Album and Content Creation tests are very difficult for NAS servers since they involve many small files. If you have ever wondered why we pay so much attention to the 4K write speeds in our HDD tests, the creation of content like image files use many of these small writes.
Here we see that the Photo Album Test really has done a number on the Proware EN-T800. It is safe to say that the processor had quite a bit to do with the slow reading and writing of the data, but caching algorithms also play a large role.
The Office Productivity and Content Creation tests were another story. In those tests we see the EN-T800 doing very well, but not as well as the Thecus.
Benchmarks - Copy
Directory Copy From NAS - 64kB reads
Directory Copy To NAS - Predominantly 64kB writes, wide scattering under 16kB
File Copy From NAS - 4GB file copy, 64kB reads
File Copy To NAS - 64kB writes

When it comes to copying files, here we see the faster processor and large amount of memory just overpowering the Proware when comparing equal RAID setups. The Proware unit has an extra drive, but the N7700 Pro has a very fast Core 2 Duo processor that really allowed the Thecus to reach very good speeds in RAID 5 and RAID 6.
In RAID 5, one of the most used modes in use today, the Proware EN-T800 was able to perform better than the Thecus unit in File Copy from NAS.
Final Thoughts
Proware launched their IPO in 2006, but the company started R&D for their products back in 1996. The company might be a little late to the global stage, but they are working very hard to put on a good show. For the most part, smaller consumer and mid tier NAS products like the MiniEPICa and EN-T800 that we looked at today are more of an offshoot rather than their core business. Once you
take a look at their website
it becomes clear that Proware has much deeper ties to real enterprise storage products where bells and whistles mean the ability to hold several hundreds, if not thousands of TB of data attached to fiber channel arrays. Products like the EP-4423J that occupies only 4U, yet holds a massive 42 drives with 2200 watts of power via dual redundant power supplies make up the bulk of Proware's business. Given the fact that a company making such hardware is even considering entering the consumer and small / home office market is quite exciting and without a doubt I think we will soon see Proware delivering products that are secular.
The problem is that we are looking at a product the company has delivered now and what type of market they are positioning the EN-T800 in today. When I used the term
Industrial Grit
earlier, I meant it to be a very accurate description. Thecus and QNAP produce Lian Li type NAS products for the most part; they are flashy, do more than they need to and perform very well, yet retail a bit of elegance. The Proware EN-T800 is heavy duty; a product that can survive a factory environment. Put the EN-T800 next to a large sand blasting cabinet and it will survive years without a scratch and even if it did get a little banged up, it wouldn't matter because it would just add to the character of the NAS. I have never really seen a product like it in the consumer side of the market. Not all of Proware's products are like this; the MiniEPICa
that we reviewed
actually excelled in the elegance factor, almost like it was a totally different Proware all together. There is nothing wrong with either of these approaches, but they should be detailed when discussing them.
When it comes to data transfer rates, the Proware EN-T800 performed quite well in nearly all of the tests. Since the unit isn't designed to sit in grandma's computer room collecting scans of old pictures, we aren't going to beat it up for very slow Photo Album performance. The EN-T800 does perform best as a file server getting dumped on with very large files. RAID 5 performances was generally much better than RAID 6, but this is the case with nearly all NAS servers.
PRICING: You can find products similar to this one for sale below.

United States: Find other tech and computer products like this over at Amazon.com

United Kingdom: Find other tech and computer products like this over at Amazon.co.uk

Australia: Find other tech and computer products like this over at Amazon.com.au

Canada: Find other tech and computer products like this over at Amazon.ca

Deutschland: Finde andere Technik- und Computerprodukte wie dieses auf Amazon.de
We openly invite the companies who provide us with review samples / who are mentioned or discussed to express their opinion. If any company representative wishes to respond, we will publish the response here. Please contact us if you wish to respond.