Proware Technology MiniEPICa Series EP-m501-AA DAS Enclosure
An ultra small 5-drive storage solution for everything; the miniEPICa is really cool. Come check it out.
Published Wed, Jan 13 2010 12:12 AM CST
|
Updated Tue, Nov 3 2020 7:02 PM CST
Introduction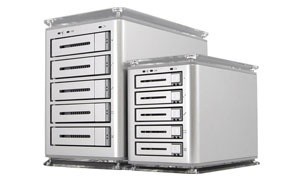 2009 was a big success for storage products. We saw solid state drives grow in capacity while dropping in price and NAS servers were abundant in quantity and features. One of the highlights towards the end of the year was a new category of products for TweakTown to cover, Direct Attached Storage enclosures. So far we have been very excited about DAS enclosures. They offer great speed with their eSATA ports and high usability since many also include at least one USB port. When it comes to cost, DAS enclosures offer great value since they cost nearly half that of NAS servers. In a single user environment DAS enclosures offer the best bang for the buck, hands down.
Proware Technology started R&D back in 1986 and has been involved in the storage product scene ever since. The company has earned several design wins that were turned into products sold under other household recognized labels. In 2006 Proware went public and launched their EPICa series of products. Since then the company has manufactured everything from small network devices to massive 42-bay rack mount drive solutions. Recently Proware Technology shifted their attention to 2.5 inch form factor solutions and has shown great innovation as a leader in this emerging field.
Today we are looking at the Proware Technology miniEPICa Series EP-m501-AA, a small DAS enclosure that uses up to five 2.5 inch drives. Proware, Seagate and other storage industry leaders have been pushing for products that use 2.5 inch drives since early 2006 and the technology has now trickled down to the consumer level. Smaller drives mean an enclosure can be made smaller and cheaper or for the enterprise market you can add more hard drives in the same amount of space.
For many, the 2.5 inch form factor means notebook, but that is no longer the case. Up to this point typical SATA notebook drives were 9mm tall. Once the industry caught on to the benefits of 2.5 inch drives, enterprise drives grew to 12.5mm tall, but this last year we started to see and hear about new ultra thin 7mm drives. The Intel X25-M without its space adapter is 7mm tall and Seagate has already announced several products that will be coming in 7mm like the enterprise Pulsar and the new consumer single platter 7mm netbook drives.
The 2.5 inch revolution is upon us. Let's take a look at the new Proware MiniEPICa Series EP-m501-AA and see what it has to offer for early adapters.
Specifications, Availability and Pricing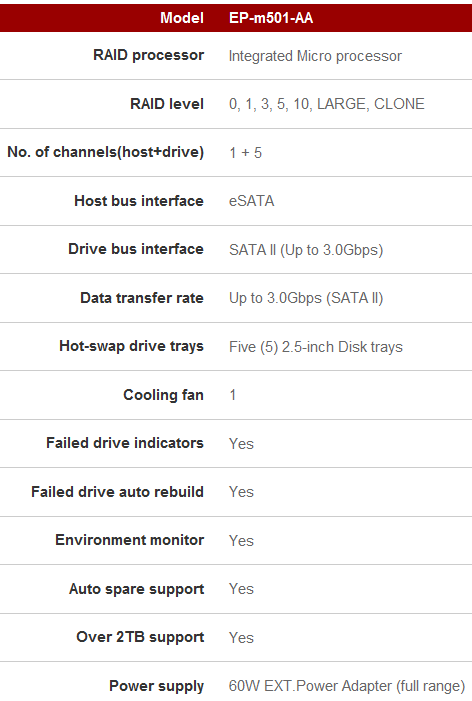 The Proware Technology EP-m501-AA is a 5-bay direct access storage solution that connects to your PC via eSATA. The unit has an integrated RAID controller that is able to run the system in RAID 0, 1, 3, 5, 10, LARGE or CLONE. I think most users looking to use the system for storage will want to run the system in RAID 5 since it offers data redundancy and still provides a large amount of usable space for your data.
As mentioned previously, the miniEPICa Series EP-m501-AA uses 2.5 inch form factor hard drives. You are able to use the largest, 12.5mm drives with the system as long as they are SATA or SATA II. Many enthusiasts area already familiar with this size of drive since the Western Digital VelociRaptor is only available in the 12.5mm height. Seagate makes a handful of 12.5mm drives and the latest Constellation Series is one of the newest that is available with a SATA II interface.
The most efficient way of adding a miniEPICa Series EP-m501-AA to your personal computer is with an eSATA bracket and cable. The bracket attaches to an available SATA port in your PC and puts an external eSATA port on the back of your system. The enclosure then connects to your system cable and has its own independent power source.
When it comes to power, the system only uses a maximum of 60 watts. One of the biggest benefits to 2.5 inch drives is their ultra low power consumption and it shows in the miniEPICa systems.
When it comes to price, the miniEPICa Series EP-m501-AA is still new and difficult to find. Proware Technology has several products in Europe and the APAC region so it is reasonable for us to believe it will show up there first. Proware does have a new warehouse in California, so in the near future we should start to see their products carried by more U.S. e-tailers.
The Packaging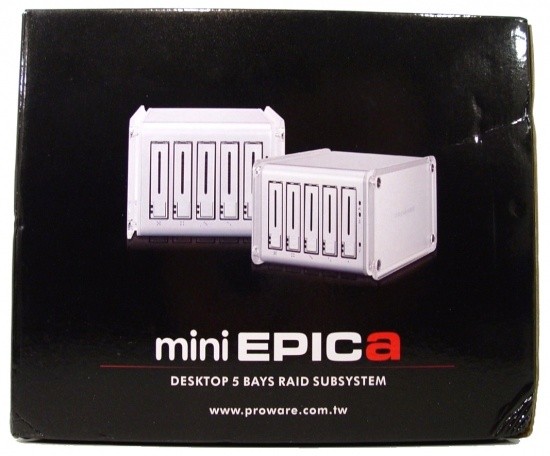 The Proware miniEPICa comes in a full retail package. As you can see, not a lot of information is given on the front of the package, but there is a nice image of the enclosure.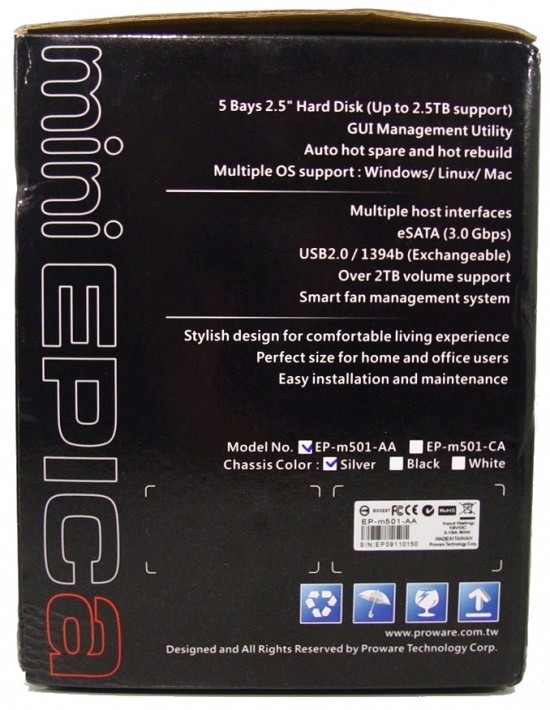 The side of the package shows several of the product features. This side also shows what color unit is in the box as well as the specific model number.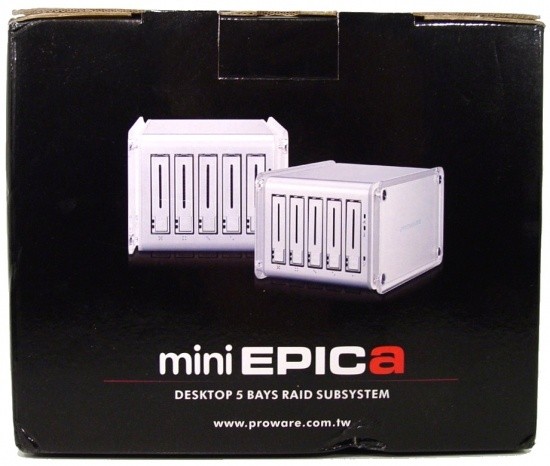 The back of the package is the same as the front with the same full color image.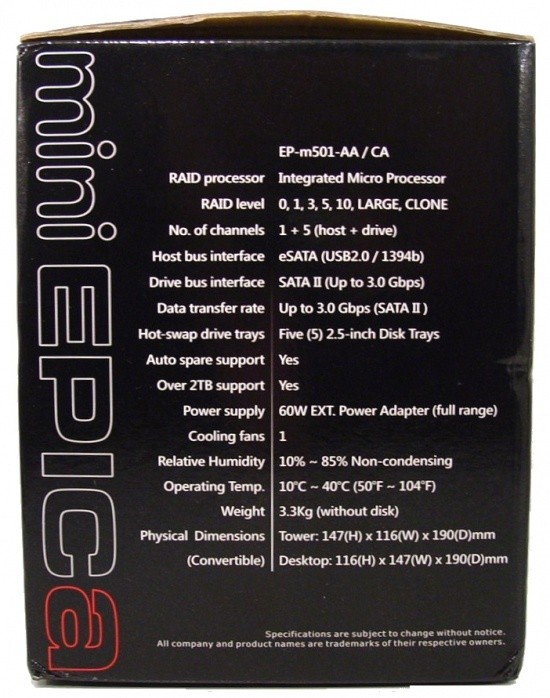 The full technical specifications are listed on the other side of the package.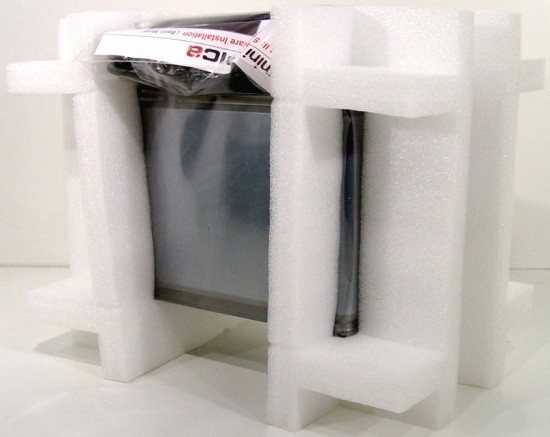 The inner packaging was done very well. Here you can see that the enclosure is surrounded on all sides with high density open cell foam that will keep the enclosure from being damaged in shipping.
The Proware miniEPICa Series EP-m501-AA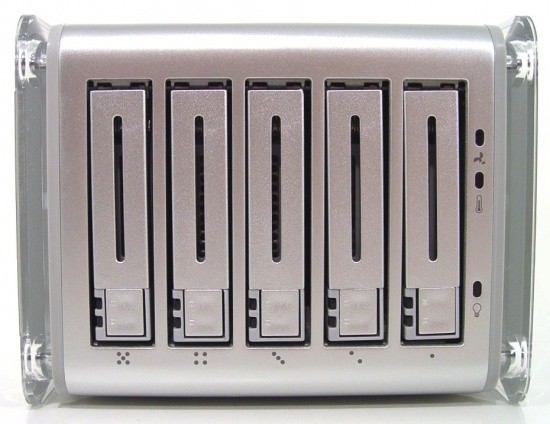 The enclosure is able to be used on its side as shown here, or upright. There are three status LEDs on the outside of the case and each drive carrier also has a pair of status lights. The only thing lacking on the front of the unit is a power button; you will have to reach around to the back of the enclosure to turn the system on and off.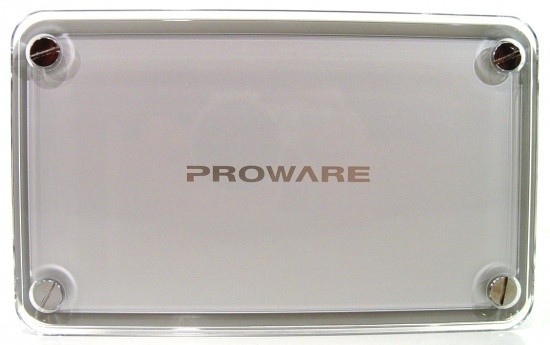 The sides, or in some cases, the top of the unit is quite attractive. You will feel comfortable with the EP-m501-AA sitting on your desk or under it.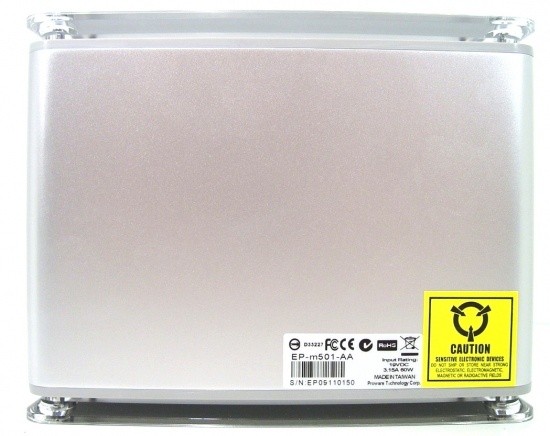 Our test sample arrived in Silver and the paint appears to be nice. This area is also where you will find the model and serial number information.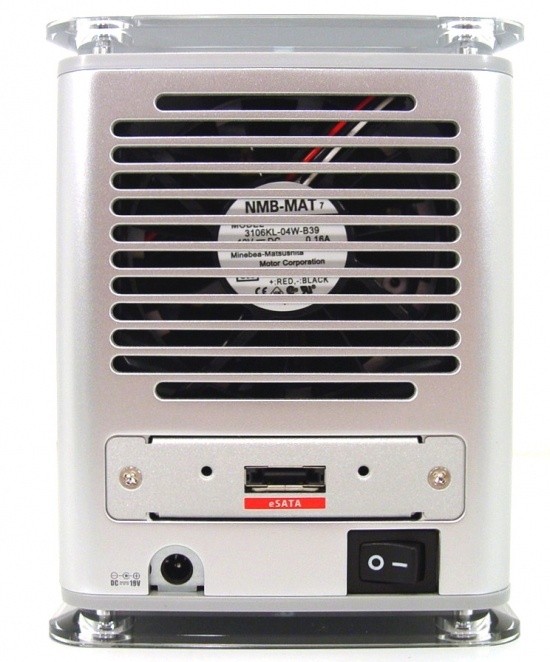 The enclosure has a quiet fan that keeps the drives cool. Also on the back you will find the power switch, eSATA port and a plug-in for the external power brick. By moving the power outside of the box, Proware was able to reduce heat output keeping the system cooler and also reducing the overall size.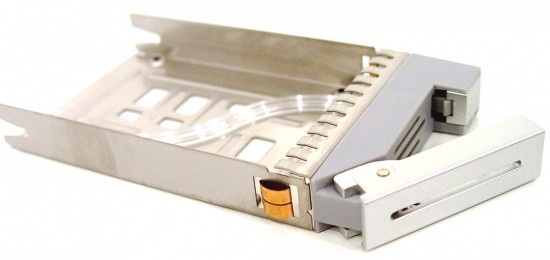 The drive sleds are made out of aluminum and are quite nice. The copper inserts on each side keep vibration from the drives to a minimum, further reducing the acoustic profile of the system.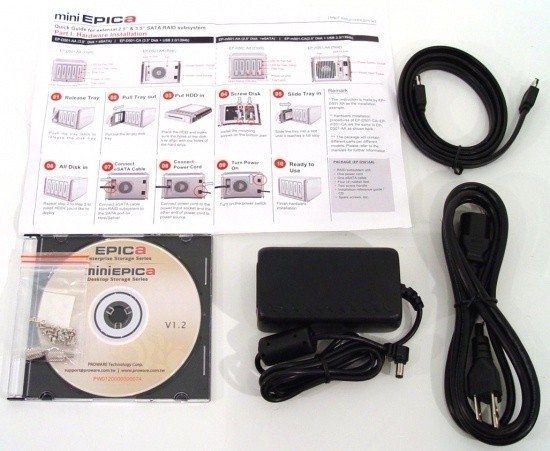 Proware includes a manual, power brick, eSATA cable, software disk and enough screws to fill the system. I found the manual to be well written and easy to follow.
Test System Setup
Test System
Motherboard
: ASUS P6T7 WS SuperCoputer (Supplied by
ASUS
)
Processors
: Intel 975 EE (Supplied by
AVADirect
)
Memory
: Corsair Dominator 1600 MHz Triple Channel Kit
Graphics Card
: Leadtek Quadro FX1700 (Supplied by
Leadtek
)
Enclosure
: Lian Li V2000
Cooling
: Noctua NH-U12P SE2 (Supplied by
Noctua
)
SAS Controller
: LSI MegaRAID SAS 9280-8E (Supplied by
LSI
)
SAS Controller
: Areca ARC-1680X (Supplied by
Areca Technology
)
Operating System
: Microsoft Windows 7 Ultimate X64
You can read more about TweakTown's Storage Product Testing Workstation and the procedures followed to test products
in this article
.
For testing we chose to run the Proware miniEPICa Series EP-m501-AA in RAID 0 and 5 with four Seagate Constellation 500GB SATA II drives.
The Constellation Series is available in both SAS and SATA II and for this evaluation we needed the SATA II version and the drives were graciously provided to us by Seagate.
We have found that the eSATA port on the ASUS P6T7 WS SuperComputer runs slower than the standard SATA II ports, so we used a bracket for testing the enclosure with the Intel Southbridge ports.
For the sake of comparison, we are putting the Proware EP-m501-AA up against a few of the other DAS enclosures that we tested late in the year. The Axus FiT Series and the Promise DS4600 were tested previously here at TweakTown with Seagate 7200.11 1TB drives, so the numbers are not 100% apples to apples, but it will be possible to obtain a good understanding of how the unit performs against other DAS products on the market.
Benchmarks - HD Tune Pro
HD Tune ProVersion and / or Patch Used:
3.00
Developer Homepage:
http://www.efdsoftware.com
Product Homepage:
http://www.hdtune.com
HD Tune is a Hard Disk utility which has the following functions:
- Benchmark: measures the performance
- Info: shows detailed information
- Health: checks the health status by using SMART
- Error Scan: scans the surface for errors
- Temperature display
HD Tune Pro gives us accurate read, write and access time results and for the last couple of years has been gaining popularity amongst reviewers. It is now considered a must have application for storage device testing.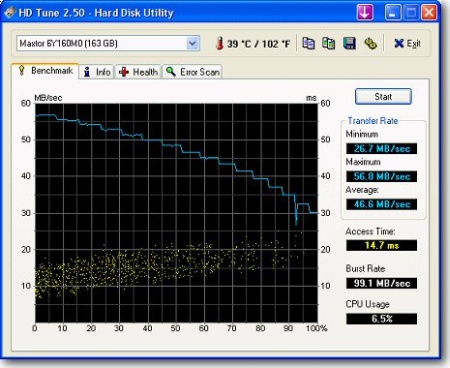 Read Tests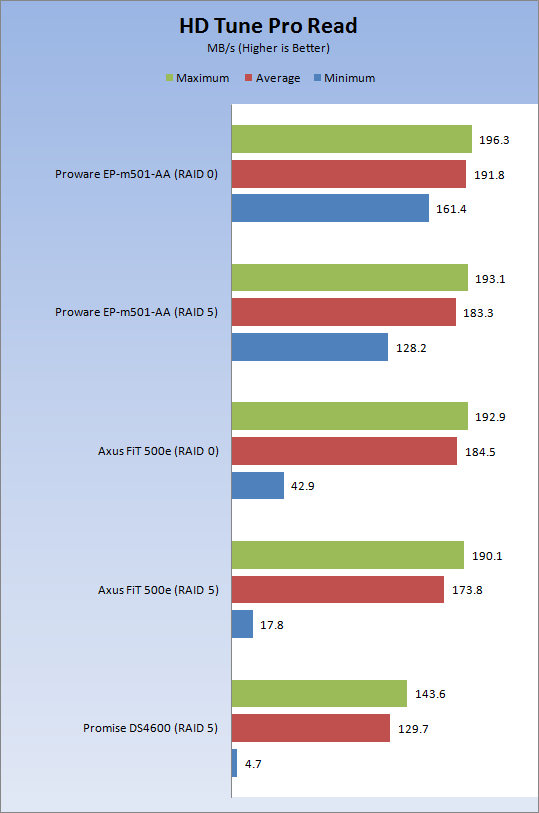 I would have liked to have tested the EP-m501-AA with five drives, but it was not possible. I think with a fifth drive the system would not of had a performance drop at the end of the benchmark. Even with four drives the EP-m501-AA performed very well and was able to sustain nearly 200 MB/s in both RAID 0 and RAID 5.
Write Tests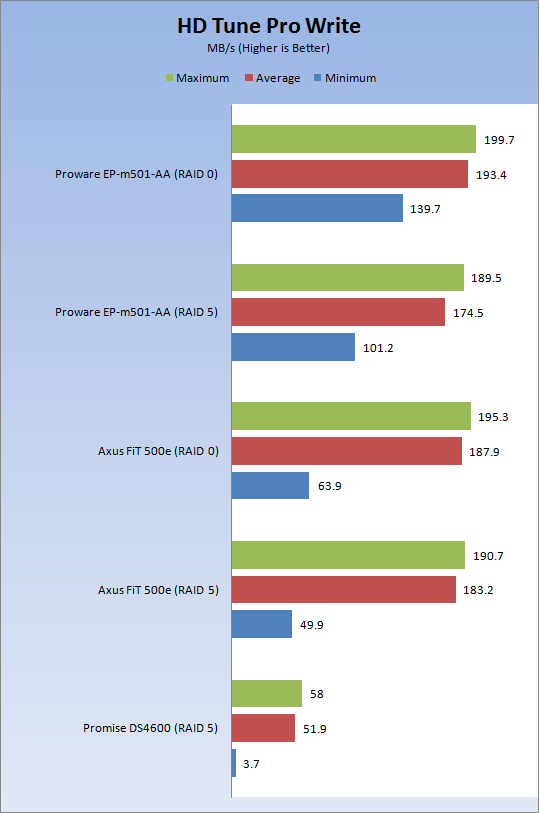 The write performance across the array was very good as well. Here we see that under RAID 0 the Proware unit is faster than the previously tested DAS enclosures. Under RAID 5 the Axus FiT is slightly faster.
Benchmarks - Everest Random Access Time
Everest Random Access TimeVersion and / or Patch Used:
4.60
Developer Homepage:
http://www.lavalys.com
Product Homepage:
http://www.lavalys.com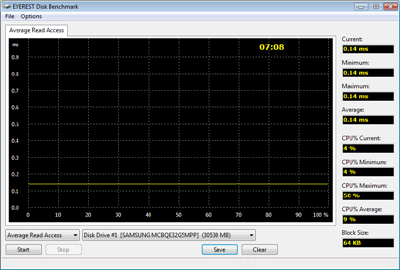 Everest Ultimate and Corporate Edition offer several different benchmarks for testing and optimizing your system or network. The Random Access test is one of very few if not only that will measure hard drives random access times in hundredths of millisECOnds as oppose to tens of millisECOnds.
Read Tests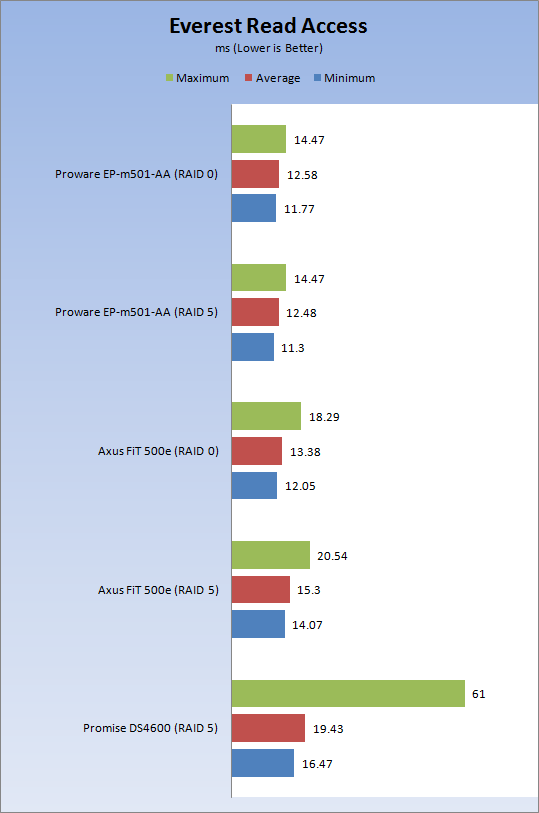 The read access times for the Proware EP-m501-AA were on par with the Axus FiT and much lower than the Promise DS4600.
Benchmarks - PCMark Vantage Hard Disk Tests
PCMark Vantage - Hard Disk TestsVersion and / or Patch Used:
1.0.0
Developer Homepage:
http://www.futuremark.com
Product Homepage:
http://www.futuremark.com/benchmarks/pcmark-vantage/
Buy It Here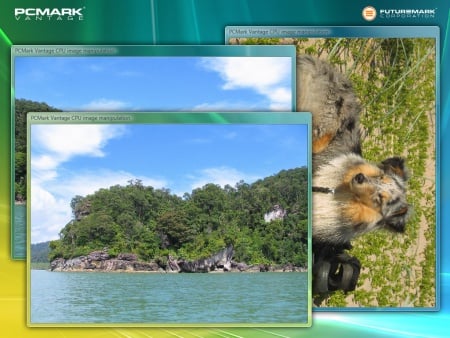 PCMark Vantage is the first objective hardware performance benchmark for PCs running 32 and 64 bit versions of Microsoft Windows Vista. PCMark Vantage is perfectly suited for benchmarking any type of Microsoft Windows Vista PC from multimedia home entertainment systems and laptops to dedicated workstations and high-end gaming rigs. Regardless of whether the benchmarker is an artist or an IT Professional, PCMark Vantage shows the user where their system soars or falls flat, and how to get the most performance possible out of their hardware. PCMark Vantage is easy enough for even the most casual enthusiast to use yet supports in-depth, professional industry grade testing.
FutureMark has developed a good set of hard disk tests for their PCMark Vantage Suite. These tests are based on real world applications that many of us use daily.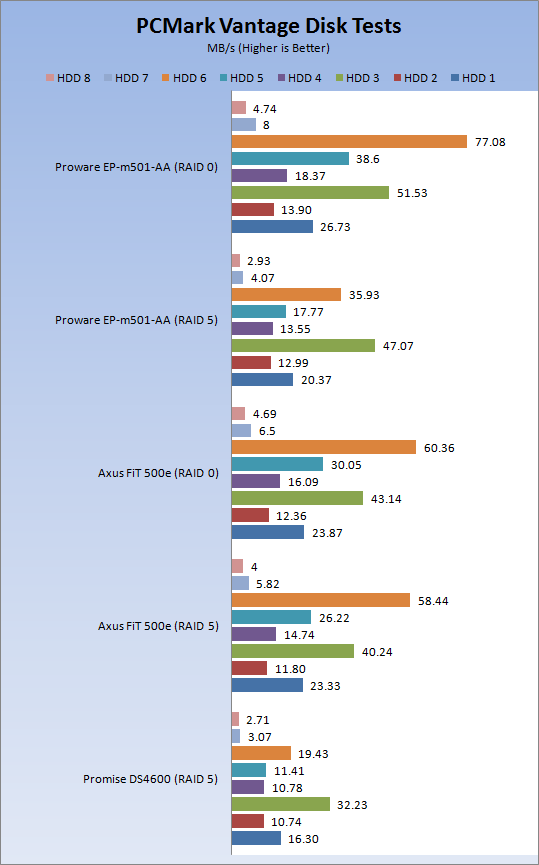 HDD1 - Windows Defender
HDD2 - Gaming
HDD3 - Windows Photo Gallery
HDD4 - Vista Startup
HDD5 - Windows Movie Maker
HDD6 - Windows Media Center
HDD7 - Windows Media Player
HDD8 - Application Loading
In the real world Windows tests we see that the Proware EP-m501-AA is faster than the Axus FiT in RAID 0, but when it came to RAID 5 the FiT 500e was able to win in all but two tests.
Benchmarks - Passmark
Passmark Advanced Multi-User TestsVersion and / or Patch Used:
6.1
Developer Homepage:
http://www.passmark.com
Test Homepage:
http://www.passmark.com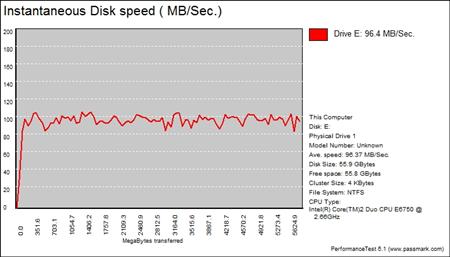 Many users complain that I/O Meter is too complicated of a benchmark to replicate results so my quest to find an alternative was started. Passmark has added several multi-user tests that measure a hard drives ability to operate in a multi-user environment.

The tests use different settings to mimic basic multi-user operations as they would play out on your server. Variances is read / write percentage as well as random / sequential reads are common in certain applications, Web Servers read nearly 100% of the time while Database Servers write a small amount of data.
The Workstation test is the only single user environment and will be similar to how you use your system at home.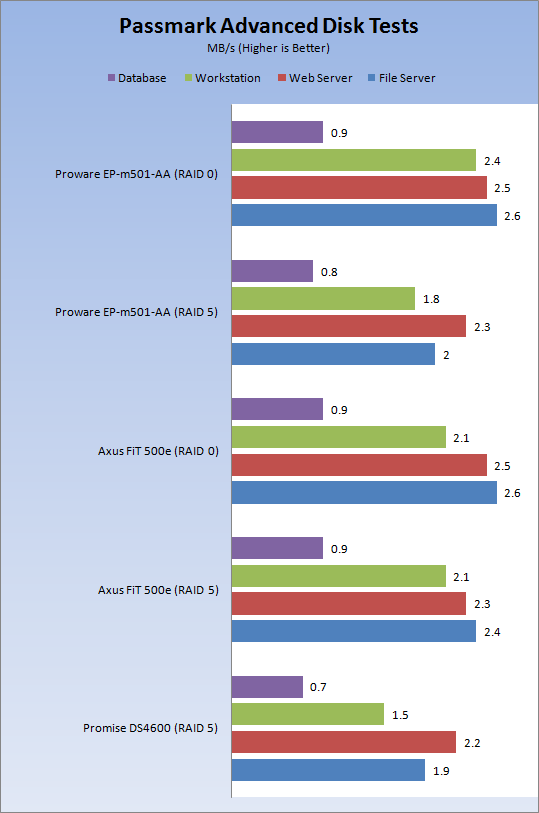 The workstation and server tests gave us similar results. The Proware model is faster in RAID 0, but RAID 5 tests show that the EP-m501-AA was a little slower.
Final Thoughts
Proware Technology has a unique product in the miniEPICa Series EP-m501-AA. The 2.5 inch form factor drives really makes the product stand out from the crowd. The external power supply is also a nice touch since it further reduces the overall size of the enclosure. It would have been nice if the EP-m501-AA also included a USB port for fast access on other computers when needed to pull a file or two, but you can't have it all.
The performance of the miniEPICa Series EP-m501-AA is quite good in RAID 0 and RAID 5. A lot of times we see severe penalties when running RAID 5 and the EP-m501-AA only had a slight performance drop. In most cases the small hit would not be noticeable, but the confidence you will have in knowing that your data is secure with redundancy will more than make up the difference.
DAS enclosures are gaining popularity across many user groups. Many prosumers who use Photoshop or Audio / Video editing have already been using DAS enclosures for their easy setup and high speed mass storage. The technology is really trickling down to the consumer market quickly and there are a lot of users that don't need their mass storage to be connected to a network. DAS offers the same redundant data safety features at half the price of NAS servers.
I held onto this review for a few extra weeks hoping to see the Proware Technology miniEPICa Series EP-m501-AA for sale here in the US, but I have yet to see it listed anywhere. The unit is available in Europe, Asia and Australia already. With Proware's new warehouse in California it won't be long before the US market gets Proware products as well.
PRICING: You can find products similar to this one for sale below.

United States: Find other tech and computer products like this over at Amazon.com

United Kingdom: Find other tech and computer products like this over at Amazon.co.uk

Australia: Find other tech and computer products like this over at Amazon.com.au

Canada: Find other tech and computer products like this over at Amazon.ca

Deutschland: Finde andere Technik- und Computerprodukte wie dieses auf Amazon.de
We openly invite the companies who provide us with review samples / who are mentioned or discussed to express their opinion. If any company representative wishes to respond, we will publish the response here. Please contact us if you wish to respond.