Sapphire Radeon HD 5770 Vapor-X 1GB Video Card
Having looked at two Vapor-X models from Sapphire already, we check out the latest one from the factory which is based on the HD 5770.
Published Sun, Dec 20 2009 11:20 PM CST
|
Updated Tue, Nov 3 2020 7:02 PM CST
Introduction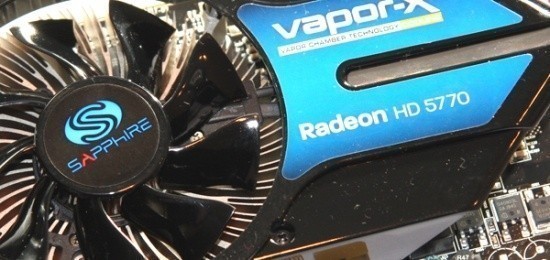 The Vapor-X series is one of Sapphire's main lines when it comes to offering performance graphics cards. With the main focus being on cooling thanks to a completely new cooler, when compared to the stock one we've seen the series perform well, not only recently but ever since its introduction.
Recently we had a chance to look at the HD 5750 and HD 5870 Vapor-X models. After looking at both of them there was a clear hole in the middle with the much loved HD 5770 and HD 5850 not being part of the lineup.
The good news is that the HD 5770 has now joined the Vapor-X series and if the whispers we're hearing are anything to go by, the HD 5850 shouldn't be all that far away either.
So let's take a look at the package of the HD 5770 Vapor-X before having a closer look at the card and the cooler it carries. Then we'll have a look at the specifications and get stuck into the benchmarks to see just how the model performs.
The Package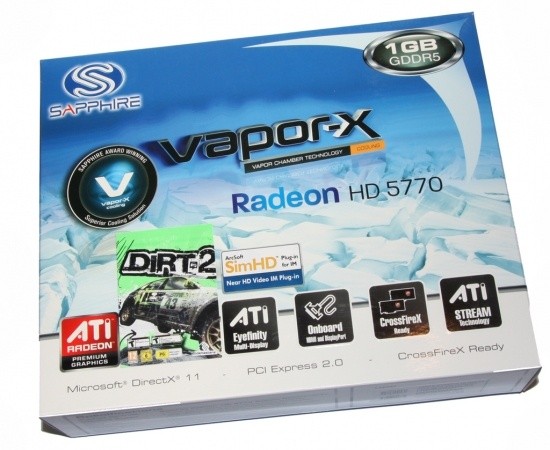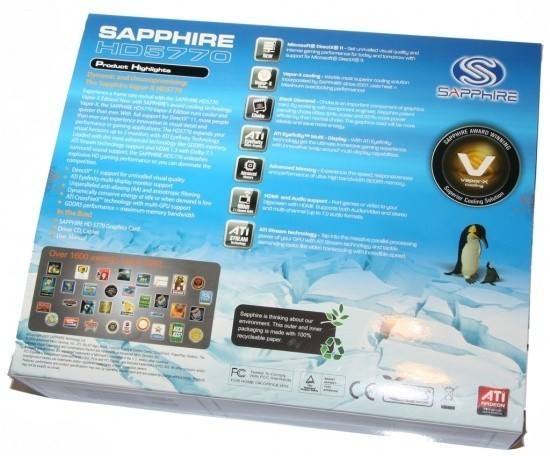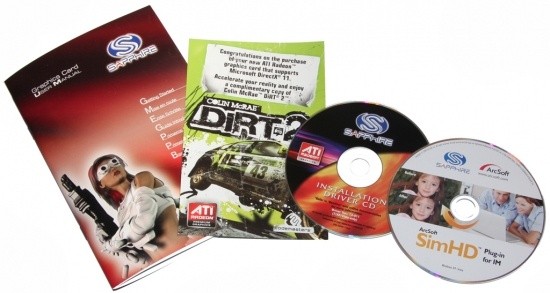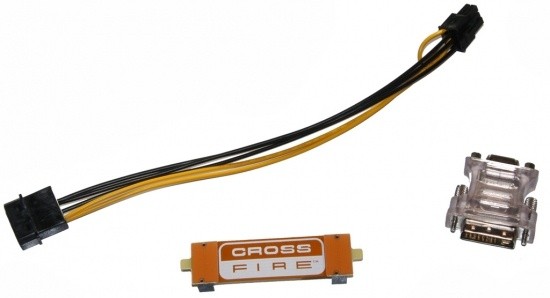 Having a look at the package, there aren't any surprises. We see the same high quality bundle as we've seen from Sapphire for a while now with the main bonus being the Dirt 2 voucher being included in the bundle.
Video Card
Looking at the card, you can see the cooler is exactly the same as the HD 5750 Vapor-X model which we looked at recently and it managed to do a good job of keeping the card nice and cool. We can see that Sapphire opt for quite a large fan here which is one of the biggest reasons we saw the cooler perform so well.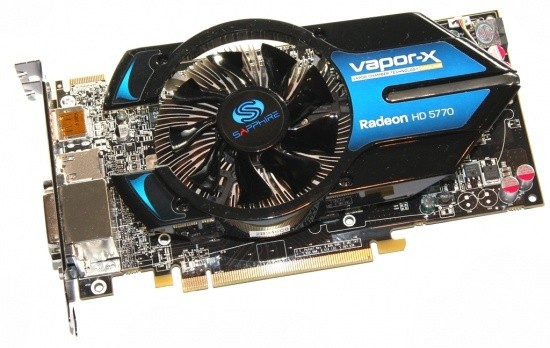 Sitting on top of the fan, we have a Sapphire sticker and to the right on the shroud covering the fan and heatsink we have another sticker that gives us the model and also makes note that the card is part of the Vapor-X series.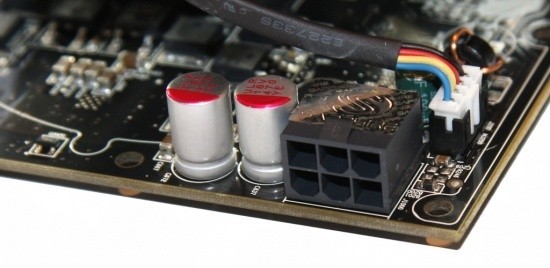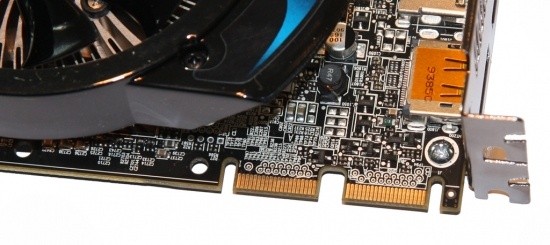 Going for a quick look around the card, we have a single 6-Pin PCI-E power connector at the back of the card while closer to the front we have two CrossFire connectors if you want to run a few of these cards together.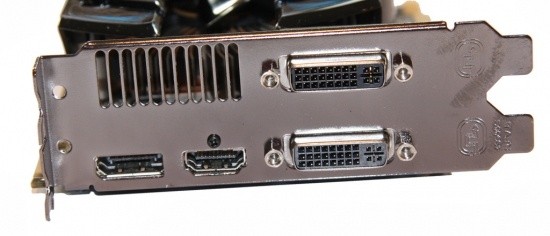 Looking at the connectivity, we see that typical HD 5000 series setup which gives us two Dual-Link DVI connectors along with a single HDMI and DisplayPort connector. This layout of course gives us the ability to run up to three monitors using the DisplayPort and two other connectors.
Specifications
As usual, Sapphire has given us a small bump which is something we see quite often with the Vapor-X series. Looking below, we can see that the core has been bumped ever so slightly to 860MHz from the standard 850MHz.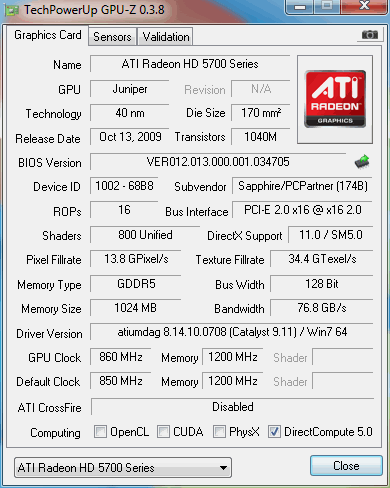 As for the 1GB of GDDR5, that hasn't been touched with the model carrying with it the same 4800MHz QDR clock.
Test System Setup and 3DMark Vantage
Test System SetupProcessor(s):
Intel Core i7 920 @ 3.8GHz (190MHz x 20)
Cooling:
Noctua NH-U12P (Supplied by
Noctua
)
Motherboard(s):
GIGABYTE EX58-UD5 (Supplied by
GIGABYTE
)
Memory:
3 X 2GB Kingston Hyper X PC3-16000 2000MHz DDR CL9 (Supplied by
Kingston
)
Hard Disk(s):
Western Digital 640GB SATA 2.0 HDD (Supplied by
Western Digital
)
Operating System:
Windows 7
Drivers:
Catalyst 9.11
Today we'll have a look at how the Sapphire HD 5770 Vapor-X performs against its little brother, the HD 5750 Vapor X.
Let's get started!
3DMark VantageVersion and / or Patch Used:
1.0.1
Developer Homepage:
http://www.futuremark.com
Product Homepage:
http://www.futuremark.com/products/3dmarkvantage/
Buy It Here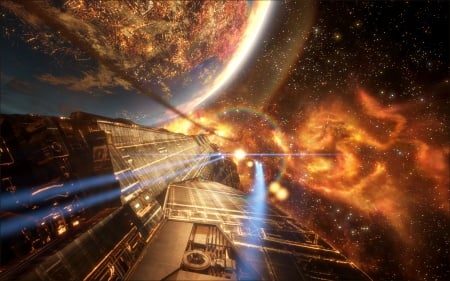 3DMark Vantage is the new industry standard PC gaming performance benchmark from Futuremark, newly designed for Windows Vista and DirectX10. It includes two new graphics tests, two new CPU tests, several new feature tests, and support for the latest hardware.
3DMark Vantage is based on a completely new rendering engine, developed specifically to take full advantage of DirectX10, the new graphics API from Microsoft.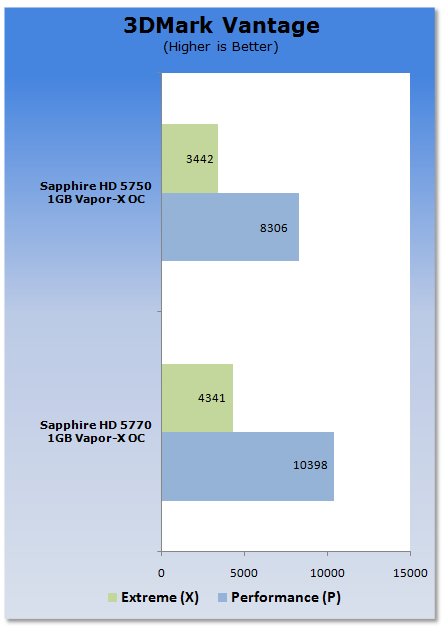 Straight out of the gate we can see a good performance jump for the HD 5770 over the HD 5750.
Unigine Heaven Benchmark (DX10 & DX11)
Unigine Heaven BenchmarkVersion and / or Patch Used:
1
Developer Homepage:
http://www.unigine.com
Product Homepage:
http://unigine.com/products/unigine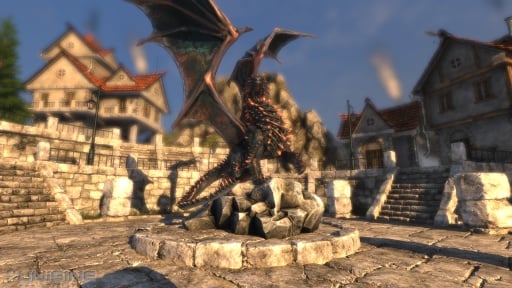 New benchmark grants the power to unleash the DirectX 11 potential in the gift wrapping of impressively towering graphics capabilities. It reveals the enchanting magic of floating islands with a tiny village hidden in the cloudy skies. With the interactive mode emerging experience of exploring the intricate world is ensured within reach. Through its advanced renderer, Unigine is one of the first to set precedence in showcasing the art assets with tessellation, bringing compelling visual finesse, utilizing the technology to the full extend and exhibiting the possibilities of enriching 3D gaming.
Note:
If a card doesn't support DirectX 11 the benchmark will be left out. If it does it will be included along with the DirectX 10 results.
Direct X 10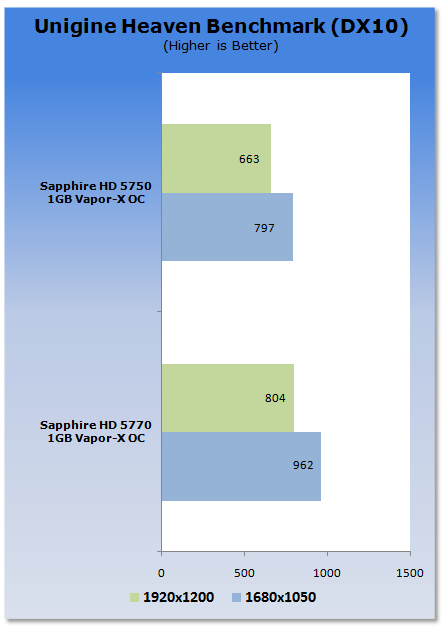 Direct X 11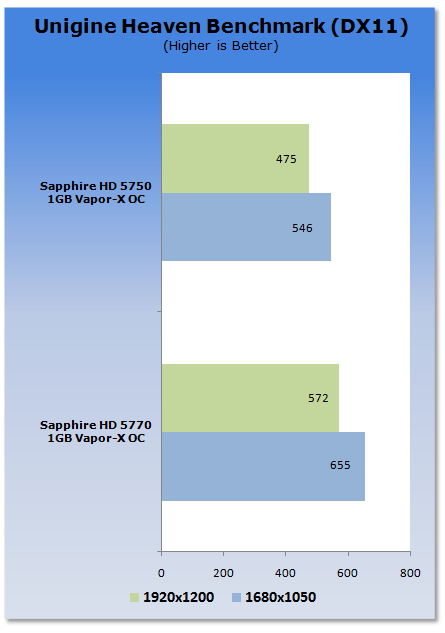 Firing up Unigine, we again see a nice boost under both the DX10 and DX11 tests.
Benchmarks - CINEBENCH R10
CINEBENCH R10Version and / or Patch Used:
Release 10
Developer Homepage:
http://www.maxon.net/
Product Homepage:
http://www.maxon.net

CINEBENCH is a real-world test suite that assesses your computer's performace capabilities. MAXON CINEBENCH is based on MAXON's award-winning animation software, CINEMA 4D, which is used extensively by studios and production houses worldwide for 3D content creation. MAXON software has been used in blockbuster movies such as Spider-Man, Star Wars, The Chronicles of Narnia and many more.
MAXON CINEBENCH runs several tests on your computer to measure the performance of the main processor and the graphics card under real world circumstances. The benchmark application makes use of up to 16 CPUs or CPU cores and is available for Windows (32-bit and 64-Bit) and Macintosh (PPC and Intel-based).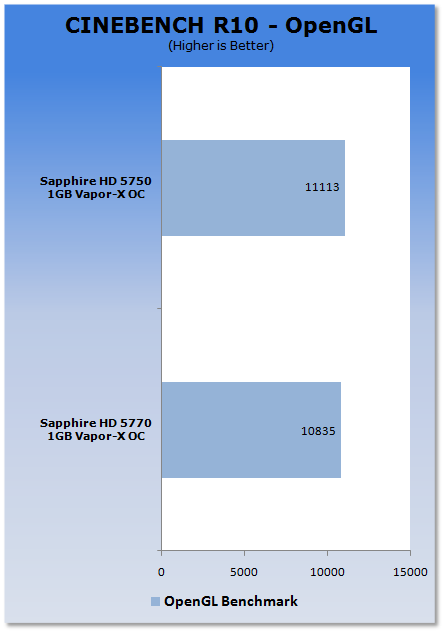 Under CINEBENCH we can see that both models perform very similar to each other. The HD 5750 Vapor-X shows it coming slightly ahead, but with these huge numbers a couple of hundred points is nothing but a bit of fluctuation.
Benchmarks - Resident Evil 5
Resident Evil 5Version and / or Patch Used:
Demo Benchmark
Developer Homepage:
http://www.capcom.com
Product Homepage:
http://www.residentevil.com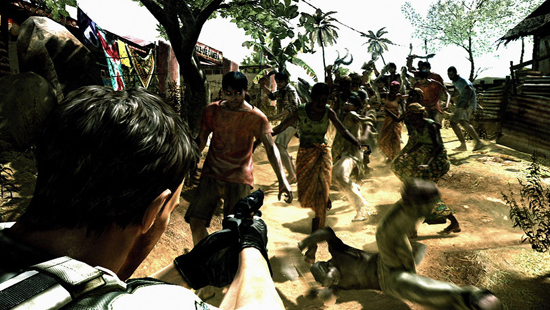 Resident Evil 5 is a survival horror video game developed and published by Capcom. The game is the seventh installment in the Resident Evil survival horror series, and was released on September 18. Resident Evil 5 revolves around Chris Redfield and Sheva Alomar as they investigate a terrorist threat in Kijuju, a fictional town in Africa.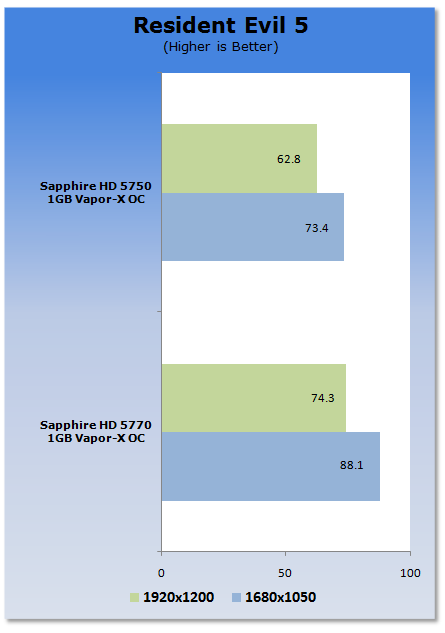 Without a minimum we want to see an average of around 60 FPS. While the HD 5750 manages to do that at both resolutions, we can see we've got a bit more breathing room with the HD 5770 which is exactly what you want.
Benchmarks - Far Cry 2
Far Cry 2Version and / or Patch Used:
1.03
Timedemo or Level Used:
Ranch Long
Developer Homepage:
http://www.ubi.com
Product Homepage:
http://www.farcry2.com
Buy It Here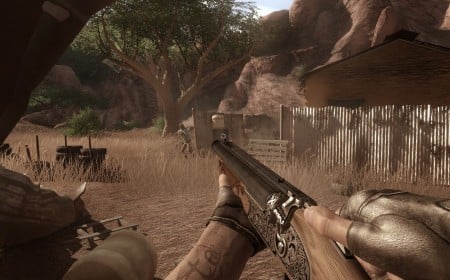 The Dunia Engine was built specifically for Far Cry 2 by the award-winning Ubisoft Montreal development team. It delivers the most realistic destructible environments, amazing special effects such as dynamic fire propagation and storm effects, real-time night-and-day cycle, dynamic music system, non-scripted enemy A.I. and so much more.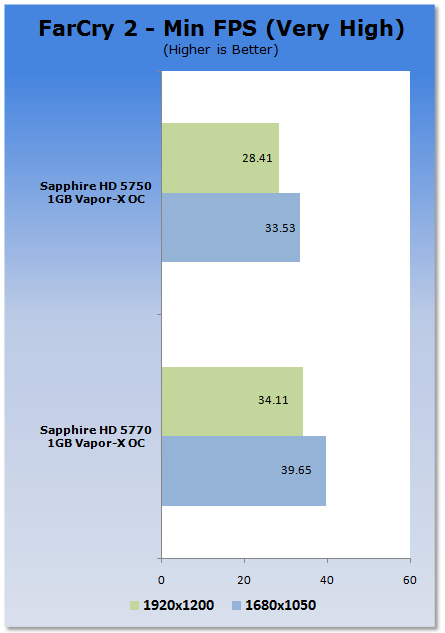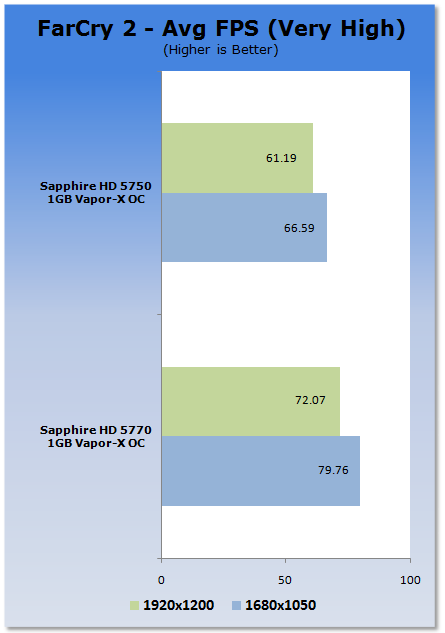 We can see that the extra power on offer from the Sapphire HD 5770 Vapor-X manages to push us over that 30 FPS minimum at 1920 x 1200 and gives us a nice boost at 1680 x 1050.
Benchmarks - World in Conflict
World in ConflictVersion and / or Patch Used:
1.0.0.10
Timedemo or Level Used:
Built-in Test
Developer Homepage:
http://www.massive.se
Product Homepage:
http://www.worldinconflict.com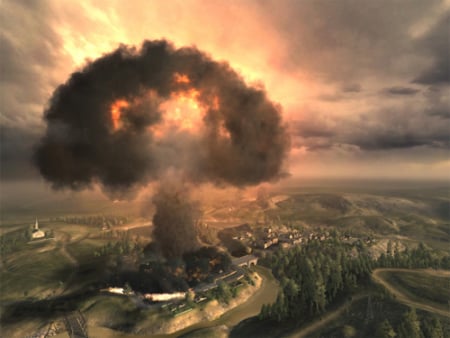 World in Conflict is a real-time strategy video game by Massive Entertainment and to be published by Sierra Entertainment for Windows (DX9 and DX10).
The game is set in 1989 where economic troubles cripple the Soviet Union and threaten to dissolve it. However, the title pursues a "what if" scenario where, in this case, the Soviet Union does not collapse and instead pursues a course of war to remain in power. It is an intensive new game that is sure to put plenty of stress on even the latest graphics cards. We use the built-in benchmarking for our testing.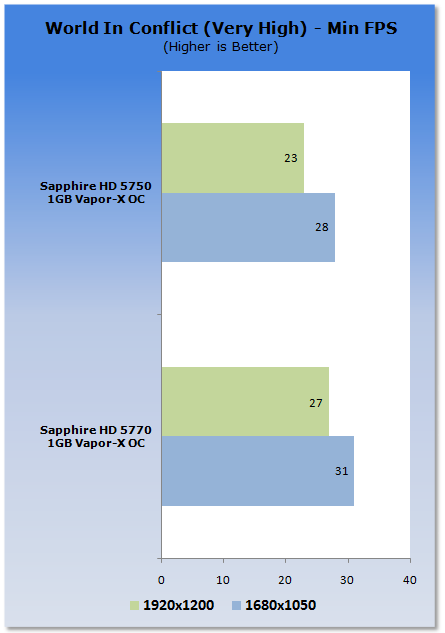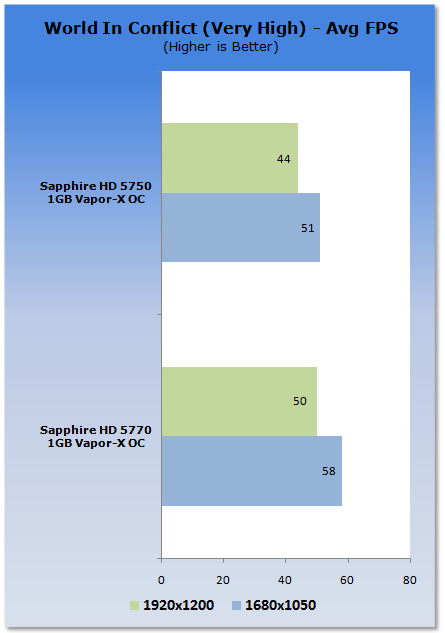 While we can see WIC struggles to get over 30 FPS with the HD 5750, the HD 5770 manages to get us over the mark at the lower resolution. If you want to play at 1920 x 1200 a detail drop should give you those extra few FPS you need.
Benchmarks - Batman Arkham Asylum
Batman Arkham AsylumVersion and / or Patch Used:
1.1
Timedemo or Level Used:
Built-in Test
Developer Homepage:
http://www.rocksteadyltd.com
Product Homepage:
http://www.batmanarkhamasylum.com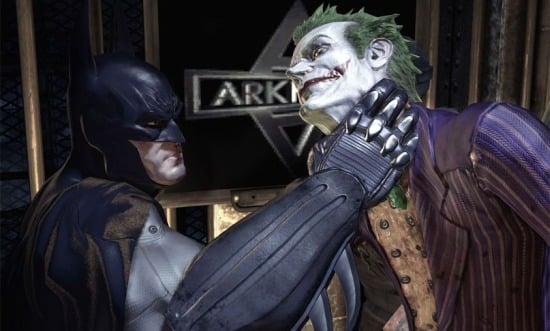 Batman: Arkham Asylum exposes players to a unique, dark and atmospheric adventure that takes them to the depths of Arkham Asylum - Gotham's psychiatric hospital for the criminally insane. Gamers will move in the shadows, instigate fear amongst their enemies and confront The Joker and Gotham City's most notorious villains who have taken over the asylum.
Using a wide range of Batman's gadgets and abilities, players will become the invisible predator and attempt to foil The Joker's demented scheme.
Batman: Arkham Asylum features an original story penned exclusively for the game by famous Batman author and five-time Emmy award winner Paul Dini, whose credits include Lost season one and Batman: The Animated Series.
Note:
With support for PhysX NVIDIA based cards will be tested with the technology on and off, while ATI cards will be tested with the technology off due to it not being supported on their cards.
Without PhysX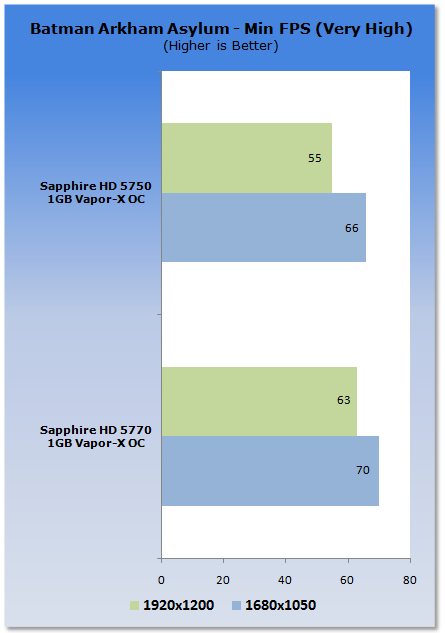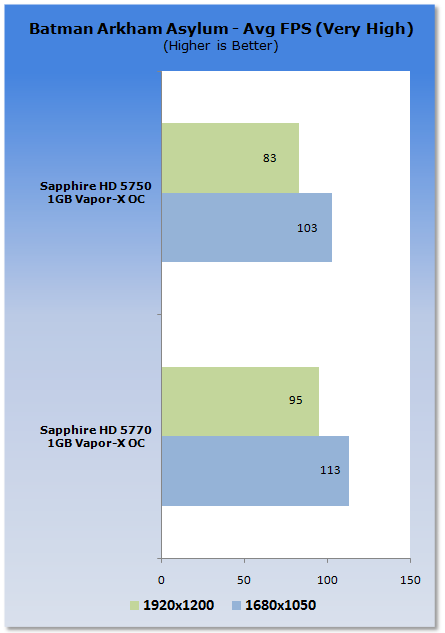 We see great numbers across the board from both cards and while there's a little difference between the two cards, it's not going to affect game play.
Benchmarks - Darkest of Days
Darkest of DaysVersion and / or Patch Used:
1.4
Timedemo or Level Used:
Built-in Test
Developer Homepage:
http://www.phantomefx.com
Product Homepage:
http://www.darkestofdays.com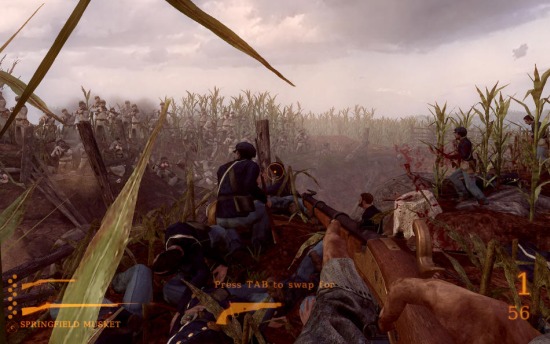 Darkest of Days takes the player through time into historic battles in an effort to save key individuals from certain death. The battles range from Custer's Last Stand at the Battle of the Little Bighorn in 1876 to fighting in Pompeii as ash and fire rain down from an erupting Mt. Vesuvius in 79 AD. Other locations include the battles of Antietam and Tannenberg, and a German World War II P.O.W. camp. There are different missions in every time period and the game takes about 4 hours to complete.
The game features over twenty weapons, both from the original time period as well as those brought back from the future. In addition, there are artillery weapons from different time periods to assist in battle.
Note:
With the PhysX set to Medium or High, Darkest of Days takes advantage of the NVIDIA PhysX abilities. For that reason we will test ATI cards at the Low preset, while NVIDIA based cards will be tested at Low and High.
PhysX set to Low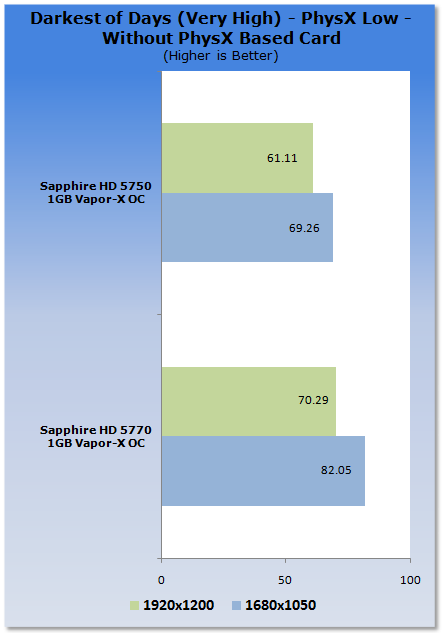 While the HD 5750 manages to get over that 60 FPS average we want to see, the extra power on offer from the HD 5770 Vapor-X really manages to give us a nice little boost which is going to make your gaming experience nicer.
Benchmarks - BattleForge
BattleForgeVersion and / or Patch Used:
Auto Patched at Load
Timedemo or Level Used:
Built-in Test
Developer Homepage:
http://www.ea.com
Product Homepage:
http://www.battleforge.com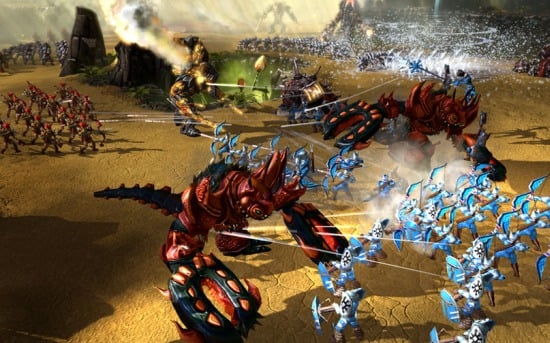 The Gods have disappeared and the old sun has died, letting a vile twilight engulf the world of Nyn. In exchange for all treasures the mortals possessed, the evil giants agreed to forge a new sun and hurl it into the sky.
But the deal was betrayed, the treasure stolen and now the mortals flee the wrath of the giants. Under the light of a new sun the mortals stumble into a world changed and twisted by an age of twilight. The long journey home has become a conquest of survival.
Note:
Supporting DirectX 11, we have separated the graphs for NVIDIA and ATI cards. While the numbers between the two brands can be compared, you have to make note that ATI based HD 5000 series cards are running DirectX 11.
DirectX 11 (ATI HD 5000 Series Only)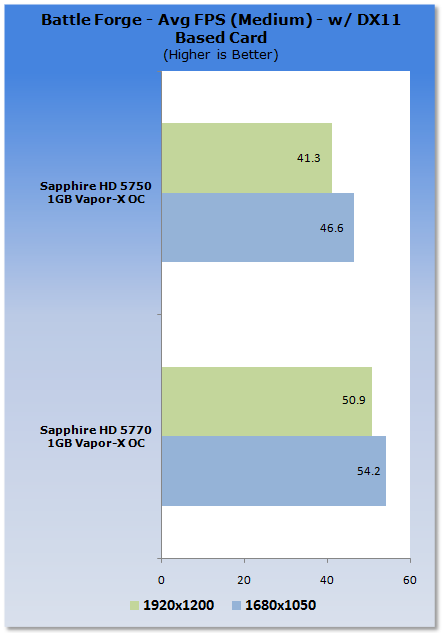 BattleForge is quite an intensive game and we can see that both cards don't manage to get over the 60 FPS average we want. The HD 5770 Vapor-X does manage to give us a nice boost, though.
Temperature and Sound Tests
Temperature Tests
With the TES 1326 Infrared Thermometer literally in hand we found ourselves getting real-world temperatures from the products we test at load (3D clock speeds).
There are two places we pull temperature from - the back of the card directly behind the core and if the card is dual slot and has an exhaust point we also pull a temperate from there, as seen in the picture.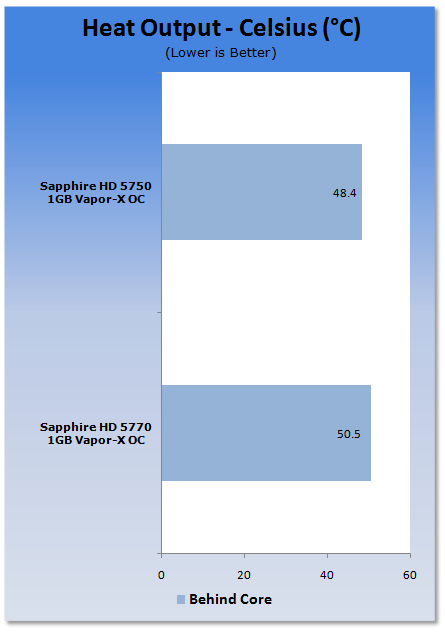 Even though the HD 5770 is a faster card, the extra heat coming off the back of the core is only minor thanks to the great cooling option.
Sound Tests
Pulling out the TES 1350A Sound Level Meter we find ourselves quickly yelling into the top of it to see how loud we can be.
After five minutes of that we get a bit more serious and place the device two CM away from the fan on the card to find the maximum noise level of the card when idle (2D mode) and in load (3D mode).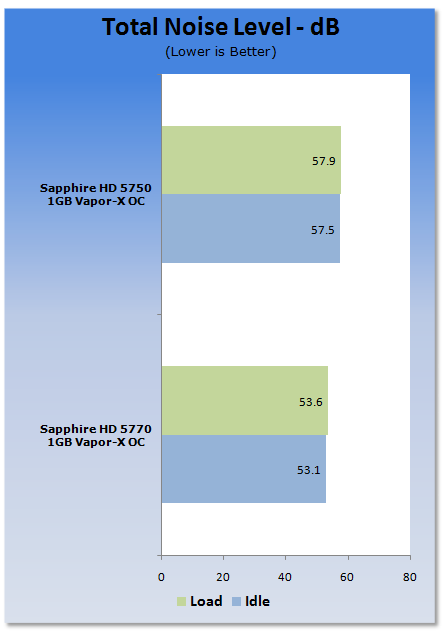 While both cards use the same cooler, the HD 5770 managed to run a fair bit quieter than the HD 5750.
Power Consumption Tests
Using our new PROVA Power Analyzer WM-01 or "
Power Thingy
" as it has become quickly known as to our readers, we are now able to find out what kind of power is being used by our test system and the associated graphics cards installed. Keep in mind; it tests the complete system (minus LCD monitor, which is plugged directly into AC wall socket).
There are a few important notes to remember though; while our maximum power is taken in 3DMark06 at the same exact point, we have seen in particular tests the power being drawn as much as 10% more. We test at the exact same stage every time; therefore tests should be very consistent and accurate.
The other thing to remember is that our test system is bare minimum - only a 7,200RPM SATA-II single hard drive is used without CD ROM or many cooling fans.
So while the system might draw 400 watts in our test system, placing it into your own PC with a number of other items, the draw is going to be higher.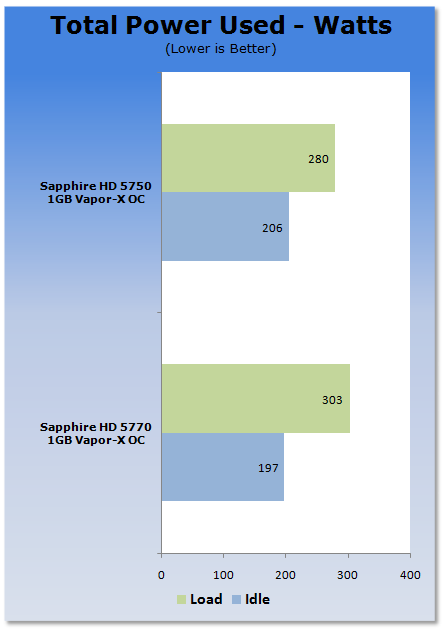 At idle we can see that both cards are quite similar when it comes to power draw. When we get into a load situation, though, it comes as no surprise that the more powerful card draws more power.
Final Thoughts
We've almost filled up the gaps we need with the release of the HD 5770 Vapor-X. As usual it's a bit disappointing to see that Sapphire is able to offer us these fantastic cooling numbers, yet when it comes to overclocking, the company chooses to only give us a small bump. In this case we see only the core has been increased and that was only by 10MHz.
There's of course always the option to overclock the card yourself and honestly, apart from that, it's hard to fault the card. The cooler does an excellent job of keeping noise and temperature down, and really, that's what the Vapor-X series is all about.
When it comes to the bundle as well, we've seen that Sapphire has done a good job of including all those normal goodies that we love including the Dirt II voucher. Considering we have also tested Dirt II in a big performance analysis when the demo came out, we know that the HD 5770 is very capable of running the game in DX 11 mode.
As usual Sapphire has done an excellent job with another graphics card and if you're looking for something that's a bit more exciting than the standard model, this is a card you should be looking at.
While the model is going to cost slightly more than a standard cooled HD 5770,
at $174.99 over at Newegg
the Vapor-X is hardly an expensive card and still manages to offer fantastic value for money.
With good performance at 1920 x 1200, great cooling and noise numbers, there's not much you can complain about when it comes to the Vapor-X version of the HD 5770 from Sapphire. If you're looking for a good version of the model then this is one you should be keeping an eye out for.
PRICING: You can find products similar to this one for sale below.

United States: Find other tech and computer products like this over at Amazon.com

United Kingdom: Find other tech and computer products like this over at Amazon.co.uk

Australia: Find other tech and computer products like this over at Amazon.com.au

Canada: Find other tech and computer products like this over at Amazon.ca

Deutschland: Finde andere Technik- und Computerprodukte wie dieses auf Amazon.de