LUXA2 H1-Touch iPhone Mobile Phone Holder Video Review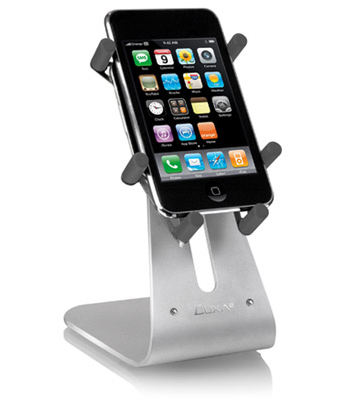 Pretty much everything that is designed for Apple's line of products, especially for the iPhone, is usually over the top expensive for what you are getting.
LUXA2 enters the fray with its H1-Touch iPhone mobile phone holder. This piece of aluminum will set you back around $50 USD and all it does is hold your iPhone (and similar devices) as well as some other mobile phones. But it does it pretty well.
Some may think spending 50 bucks on a piece of aluminum that holds your iPhone is crazy, and they may be right. LUXA2, however, does it in style. The blinged up cradle is complete with two Swarovski Elements crystals at the base of the holder near the stylish and well placed logo.
The gadget doesn't just use any aluminum, it is built using all high quality parts and as you'll see in the video below, it's designed rather well with 360 degree angle adjustable dock for different viewing angles.
Watch our video below to find out if it's for you!